New Age Islam News Bureau
2 Jul 2017
• Talk Shows, Islamist • • • • Women and Post-Arab Spring Media
• Abaya Trends in UAE Constantly Evolving In 'Clash' Between Fashion And Religious Modesty
• Amal Awad: 'Arab Women Have Traditionally Been Written About In A Very Patronising Way'
• How the Triple Talaq Case Became an Excuse For Muslim-Bashing
• Bangladesh: 3 suspected women militants detained with firearms in Kushtia
Compiled by New Age Islam News Bureau
URL: https://www.newageislam.com/islam-women-feminism/islamic-state-document-shows-trade/d/111744
-------------
Islamic State document shows trade of women abductees
Posted on July 2, 2017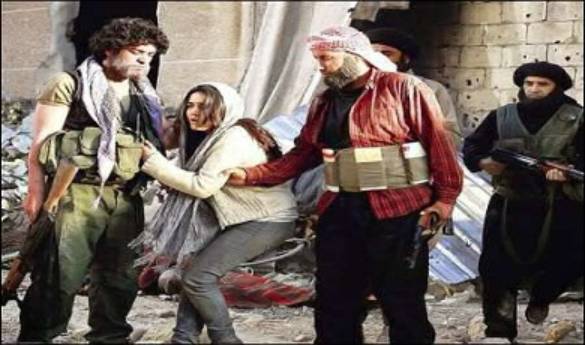 Photo: Representational image. Islamic militants in Syria. Photo: SN
-----------
MOSUL,— As the Islamic State group (IS) is announced defeated in the major Iraqi city of Mosul, their atrocities, especially inhuman abuses against women are being revealed with more details. The recently found evidences show the extremist group systematically traded women captured during war.
According to documents published BasNews, IS court in Mosul on 16th August 2016 sold a woman abductee at a price of $1,500. The document is prepared by the group's Notary Public, and fingerprinted by two individuals described as seller and buyer.
The woman, which is considered by IS rule as slave, is named as 'Najma Sa'id', 20 years old and 130 centimetres tall.
Since its emergence in Syria and Iraq, IS has abducted thousands of women, among them a thousands of Kurdish Yazidi girls, trading them among its members as sex slaves.
On August 3, 2014 Islamic State group captured most parts of Sinjar district, home to around 400,000 Yazidis, in northwest Iraq which led thousands of Kurdish families to flee to Mount Sinjar, where they were trapped in it and suffered from significant lack of water and food, killing and abduction of thousands of Yazidis as well as rape and captivity of thousands of women.
Islamic State document shows trade of women abductees
Click on image to enlarge the full document. Islamic State document shows trade of women abductees, 2017. Photo: Bas News
According to Iraqi officials a total number of 7,000 Yazidi women, children and girls were abducted. The women are forced into sex slavery and are subjected to systematic rape. Even underage girls at the age of nine are not spared from sexual assault by the Islamic jihadists.
More than 3,000 Yazidi women are believed still held captive by IS, according to the community's leaders.
ekurd.net/islamic-state-trade-women-2017-07-02
----------
Talk shows, Islamist women and post-Arab Spring media
More than six years ago, protests across the Middle East and North Africa were organised, publicised and written about - often in a negative manner - through a variety of media.
Emboldened by online social networks and as surveillance technology was not quite as performative as it is today, millions poured onto the streets to demand more rights and greater freedom of expression.
Traditional media outlets, controlled by the government, had for years failed to serve the public and provide the truth.
After such monumental uprisings, many of which led to overhauls of governments, has the media changed much? Do women have a greater role? And is there greater press freedom?
INTERACTIVE: Where are journalists under attack?
These were some of the questions a team of scholars explored over four years from 2013 as part of a research project to discover more about media in political transition.
Led by Salah Eddin Elzein, director of the Al Jazeera Centre for Studies, and Roxane Farmanfarmaian, lecturer at the University of Cambridge, and director of the Centre for the Study of the International Relations of the Middle East and North Africa, over two dozen researchers investigated the situation in Morocco, Turkey and Tunisia.
Al Jazeera spoke to Farmanfarmaian about today's media landscape, the findings of the "Media in Political Transition in the Southern Mediterranean after 2011" research, and what the future holds.
To view the research, presented in an interactive format, click here.
Al Jazeera: How would you characterise the role of social media since the popular uprisings that began in 2011?
Farmanfarmaian: There was an explosion of social media across the Middle East and North Africa following 2011 that was clearly an expression of the desire for social protest and political change.
Since then, governments have become more savvy in how to control and narrow the range of social media activists in the three states we explored.
The drive and purposes for becoming involved were also deflected.
People wave flags during celebrations marking the sixth anniversary of Tunisia's 2011 revolution in Habib Bourguiba Avenue in Tunis [File: Zoubeir Souissi/Reuters]
In Tunisia, the outcome was an obvious success story with the shift in government reflected in its abrupt adoption of a free media.
While in Morocco, there is more central authoritarianism and power; there's less room for social media activists there. Likewise in Turkey, after the Gezi Park protests, there has been learning on the part of Erdogan's government on how to reduce the number of opposition groups and activists engaged in social media use.
Yet, a huge area has opened, occupied by entrepreneurial activists and young people who are using social media sites and the internet to not only promote freedom of expression, but also offer good news coverage, commentary, investigative journalism - we see that in all three countries.
"We are the internet generation. We know how it works and we know how to make it work for us," one Tunisian freelance journalist told me.
Al Jazeera: Some of your research focused on gender, especially women on television talk shows. What did you discover?
Farmanfarmaian: In Tunisia under Ben Ali, there were no talk shows. They tend to be free-form and under an authoritarian regime, it's scary to say things live. When the revolution took place, there was an outpouring of new talk shows, partially because they're quite cheap to do in the studio.
One development was women's talk shows. Our researcher observed what a rough and ready model it was at the time; they didn't know how to run talk shows at that point.
Many of the Islamist women had not had a chance to fulfil a recognised role in Tunisia until then. They had spent time abroad, they weren't able to wear hijab - there was no voice for them.
Before the revolution, any women on television had a very different look. Until then, they were very westernised.
In Turkey, the talk show is a flourishing instrument of public TV. But it's much more superficial, reflecting the changes taking place there, incorporating 'New Turkey' narratives into public expression.
Today, there is real debate over how the women's movement had been fought and interpreted. Islamist women felt they had to carry on the fight underground or go abroad, that the nature of the gender rights they were prioritising wasn't quite the same as those by more westernised women who argued for internationally defined rules and freedoms.
Meanwhile, the westernised women felt they had held the road open and fought that fight in the absence of those [Islamist] women.
There were real differences debated by these two women groups on talk shows - and even showed up in how they countered men.
There is huge debate about the norms and values of religion - what's acceptable in the press, and the women's role.
Men were condemning women for being too politically active. Things got pretty hot on these shows in Tunisia.
In Morocco, it's a more subdued situation all around. Expression is free, but only within an accepted range.
There are both highbrow and populist shows hosted by women - some wear hijab, some exclusively focus on women's issues, some don't.
Violence against women, protecting rights in the workplace and pay parity are some of the issues tackled. It's more couched in a gradual exposure of the problems, as an opportunity to bring them to public debate - but certainly not in revolutionary terms.
In Turkey, the talk show is a flourishing instrument of public TV. But it's much more superficial, reflecting the changes taking place there, incorporating 'New Turkey' narratives into public expression.
Researchers looked at a show by Seda Sayan - it epitomises the conflicting issues surrounding women and is vastly popular across audiences of every age.
The host has had shows on a number of different channels.
There is a voyeuristic element that attracts viewers. Sayan is a singer, very religious, dresses provocatively and has long blonde hair. She brings on guests who are extreme, even sometimes cultish. She comes from an abusive family and often talks about practising forgiveness.
[She reflects] the multiple identities that Turkey is grappling currently with - combining modern, somehow westernised and yet also deeply traditional sets of values.
The show has been closed down several times for being too outrageous.
(Advertisers once quit deals with Sayan's show after she supported a man who murdered his spouse, saying the victim was not a good wife. The show was pulled off the air.)
Al Jazeera: In the case of Tunisia, many argue there has been a vast improvement in terms of press freedom. Do you agree and do you think this exists elsewhere in the region?
Farmanfarmaian: There is a big [positive] difference in Tunisia, but the freedom of expression that came from the first bloom of revolution has been toned down enormously, partially because there have been public responses against the use of the media in ways that push the edges of religious tolerance. Public acceptance of threats to traditional or conservative practices is lower than many originally thought. New red lines on the press are primarily originating from the street.
Then there has of course been an upsurge of terrorism across Tunisia's borders … Anything that questions the actions of the security forces against terrorism have now been removed from debate in the press.
But the great difference in Tunisia is that investigative journalism is still possible, growing, and there is room for it.
In a place like Morocco, investigative journalism has been constrained to the social arena, and to websites with very small audiences.
Q&A: Tunisian Amira Yahyaoui on press freedom and fake news
Outside the political dimension, the authorities encourage sharp journalism, for example on radio shows, seeing it as a way to improve local problems, build awareness and make officials more responsible. So, non-politicised reporting is blooming in Morocco.
In Turkey, there is an agenda being promoted in an atmosphere of enormous political contention. We see increasingly narrowed space in terms of who can talk and what line of political approach they take. In shutting down of those accused of supporting the Gulen movement, for example, radio and television channels with an Islamic but alternative view of the government were removed; secular media with an ethnic approach (Kurdish/Syrian for example) - those, too have been removed.
There has been a rise in Islamic reporting, small advertising-based news channelling supported by entrepreneurial activity and endowment activity. Endowments were never allowed to be owners of channels - a new law since the failed coup now allows it.
Al Jazeera: On the subject of Turkey, it grabs international headlines almost every day. It's difficult to find balanced coverage of events there. Why is this, and how would you characterise the media?
Farmanfarmaian: The key element is that close to 50 percent support Erdogan. For too long the legacy of Ataturk had separated the fundamental belief systems that Turkey represented, that people felt, that were part of its culture, from its government.
It's been a long process. Erdogan has become the emblem of the people and government that brought those strands together.
He may be doing it with a heavy hand, even those that support him recognise the risks and threats have been enormous – but also how significant the change is.
This is new territory - it needs a new language such as the New Turkey discourse. It can't go back to the values of Ataturk.
There is upheaval internally and externally that impact Turkey's tolerance for media freedom. Turkey is uniquely hemmed in geopolitically - it's gone from no problems with its neighbours to having the most problematic neighbours in the world.
In terms of freedom of expression, the government's perspective on the rights of the population to project their views will likely narrow before it loosens. The geopolitical situation - Syria, refugees, to name just two issues - have no solution yet. We can anticipate this will cause further friction - and no matter what political system a country has, when it is facing threats to its borders and its sovereignty, one key liberty that inevitably suffers is media freedom.
Al Jazeera: If you were to imagine the media landscape in the countries you have researched in 10 years' time, what would it look like, and what would that depend upon?
Farmanfarmaian: It's very dependent on political tolerance and the level of authoritarianism and democratic practice - how willing is the government to open up a space for popular expression.
I would imagine that if Tunisia can continue on track, it will be the freest environment for political expression in the entire region. [But] it is very hemmed in by unsupportive neighbours - it's small, and terrorism is going to be the critical force.
Since the revolution began, Tunisians have told me over and over again that the most important gain of the revolution was freedom of expression. It needs to develop a tradition of good media practice, however, to ensure media freedom continues.
A cameraman films in front of a destroyed TV van at Taksim square in Istanbul in June 2013 following anti-government protests [File: Kostas Tsironis/AP]
It's not just about opening up the environment, it requires building a tradition of strong reporting, good investigative journalism and courts that will protect journalists.
In Morocco, the situation since the revolution period has gone deteriorated. There is less freedom of expression, fewer opposition voices in the media landscape, fewer journals critical of the government. There is simply not a range of media operating as a form of public conscience as there was before. We don't see that getting better from the perspective of a "western" question. Journalists that have been critical have been dismissed, put on trial, face perpetually delayed trials and experience house arrest. It's a soft but definitive way to keep voices shut down.
In Turkey, it's more radical. Until the situation improves in terms of a sense of security, the media situation is unlikely to open up significantly.
In Egypt too, there is deteriorating freedom of expression that is following a pattern we see throughout the southern Mediterranean: increasing centralisation of media into big conglomerates through crony capitalism tied closely to the financial and government power centres. Media is increasingly at risk of being a public relations tool for public officials and corporate leaders.
Overall, the landscape is not likely going to change in the short term based on the trend lines we're seeing. 2011 is unlikely to be repeated, especially with civil wars taking place in Syria and Libya. Certain gains were made in 2011 and 2013 during the Gezi Park uprisings, but some outcomes were negative and the public is not ready for more uncertainty at the moment. And what happens in the media is inevitably very much a reflection of what happens in politics.
aljazeera.com/indepth/features/2017/06/talk-shows-islamist-women-post-arab-spring-media-170601035724497.html
-----------
Abaya trends in UAE constantly evolving in 'clash' between fashion and religious modesty
July 2, 2017
The utilitarian robe held dear by Arab women is undergoing a change that reveals it as an elegant and graceful garment available in a range of colours and fabrics, while retaining its traditional appeal.
DUBAI // Emirati women's intrinsic desire for change, integration, self-expression and need to stay up to date has transformed the abaya from a utilitarian garment to a "style statement symbolising grace, elegance and charm".
That is the conclusion of researchers from the Lebanese American University in Beirut, who held focus groups and interviews with Emirati women to examine how the "clash" between contemporary trends and conventional religious modesty has affected UAE women's fashion needs and influenced the evolution of abaya designs.
"The research has shown that a major transformation has taken place in the perception of fashion and, accordingly, abayas," said Dr Zahy Ramadan, who co-authored the study along with Dr Mona Mrad.
"Given the changes in the needs and wants of Emirati consumers, understanding this market is of utmost importance for both academics and marketing practitioners from a fashion perspective."
Dr Ramadan said the UAE is the largest country after Saudi Arabia in terms of Muslim apparel consumption and that, according to recent report by Thomson Reuters, the Islamic fashion market is expected to be worth US$484 billion (Dh1.04 trillion) by 2019.
"The UAE market was specifically chosen for this study as it is planning to become the centre of Islamic fashion," said Dr Ramadan.
The study, Fashionable Stereotypes and Evolving Trends in the United Arab Emirates, was published in the May edition of the journal Customer Needs and Solutions.
"A set of fashion motivators emerged from the study describing Emirati women's need for change, integration, self-expression, and need to stay up to date that this paper grouped under what we coined the 'fashion motivator moment of truth'," said Dr Ramadan.
Emirati abaya designer Alia bin Omair could not agree more with the study's findings. Since the 27-year-old launched her Dubai-based label, Darya, she has witnessed the evolving trends.
"Before we used to wear only black, but about two years ago the ladies started wearing beige, white, grey colours," said Ms bin Omair. Fabrics also evolved from silk or polyester to linen and even wool during the winter months.
"My mum used to only wear the same fabric for years – the same fabric. Even my aunt and anyone that I know, they used the same fabric. I feel it is better to change a bit and use other fabrics."
As the researchers noted in their findings, the modern styles do not tend to "undermine the abayas' local and traditional look, which UAE fashion designers still consider a symbol of respect and tradition that women in the UAE should maintain".
For Fatma Al Mosa, the 38-year-old designer and owner of Folak Couture in Abu Dhabi, the abaya's cultural roots and role in the UAE society will always be No 1 in guiding styles and cuts.
"This is our priority, it is our religion, it is our culture. For the Gulf Arabian ladies, it is part of their identity and religion that they need to wear abayas. This is how they have been identified," said Ms Al Mosa. "But at the same time nowadays, we don't just wear it for religious reasons, it is becoming for very fashionable as well."
So much so, that for the past two years a growing number of expatriates have turned to Ms Al Mosa to purchase the latest abayas – mostly of the coloured and linen variety, she said.
"They feel it is very practical and something that they like to experience, even in their countries," said Ms Al Mosa. "I think it's very promising. For us, the abaya is part of our culture, part of our identity and I think it is a pride for all of us when someone non-Arab buys a piece and they find it very nice and comfortable and they like to have it, and they want to wear it even abroad."
Dr Haifa Al Anjari, founding faculty member and assistant professor of fashion design at the College of Fashion and Design Dubai, said the abaya had come a long way from its utilitarian origins as a means of modesty and protection from the weather. Early abayas were black and made of goat hair, said Dr Al Anjari.
"If I'm using the original abaya – the first one that was invented in the Arab world – I would never wear it in my life," said Dr Al Anjari, who is Kuwaiti.
Nowadays, the right modern abaya can create a look of instant appeal, she said.
"It is actually very elegant, especially when it brushes against your skin you feel so luxurious, you feel so feminine.
thenational.ae/uae/heritage/abaya-trends-in-uae-constantly-evolving-in-clash-between-fashion-and-religious-modesty-1.1545
-----------
Amal Awad: 'Arab women have traditionally been written about in a very patronising way'
In our series Beauty and the books, we chat to those who love both books and beauty products. Here the author talks about her enduring love of kohl eyeliner, Marian Keyes's novel Watermelon and speaking up for Arab women
Wednesday 14 June 2017 01.03 BST Last modified on Friday 23 June 2017 18.19 BST
With insight into both the western and Arabic worlds, the author Amal Awad explores how these cultures intersect and what it means for women like her. She interviewed more than 60 women in Australia and the Middle East about feminism, religion, love, culture and more for her latest book, Beyond Veiled Cliches: The Real Lives of Arab Women ($35, Penguin). And while kohl eyeliner may not have been top of her list of questions, it's still something she wonders about.
What's thrilling
I'm excited about my own book because I feel like it hasn't been done before in this way, what I've done with these women's voices. I call my book a co-creation because it is the result of so many people coming together and talking about their lives in an unfiltered way. It's not a book designed to convince you of anything: it's just meant to show you how other people live and I find that really exciting. We're constantly inundated with other people's ideas and being told how to think and feel, and I wanted people to understand there are other ways of thinking about things.
Benjamin Law: 'What do I want to smell like? I feel like I've just nailed it'
I grew up being told that because I'm an Arab woman and Muslim, well, Muslim women who like the scarf just don't know any better. I don't wear it but I have before and I always found it really insulting that people thought you had to be really simple to want to do something that they wouldn't want to do.
We are at this crossroads right now: racism is so prominent in our lives as a discussion point and reality for some. This is the time to understand the impact of bringing your culture into another country. How does that impact the people who have to straddle both cultures, especially if you're female? And what about the women who are actually brought up and raised in those countries where your parents come from?My main motivation was for Arab women to have the opportunity to talk about their lives in a way that mattered to them and I think that people will actually come to those stories if they find it interesting or meaningful.
The thing that excites me the most about beauty is that there are a lot of ethical and cruelty-free brands coming up now. I'm on a mission to get an eyeliner from bareMinerals. I'm increasingly becoming aware of the ethical elements, the animal testing, I'm thinking a lot more about that.
In terms of [my beauty] routine, what excites me is that I haven't had to change it. For six or seven years I have been using Perfect Potion Rosewater Eye Gel ($35, perfectpotion.com.au) for my bags and Sunsense Daily Face Invisible Tint ($27, priceline.com.au). I don't like fuss. Somebody tried to get me on to a brand once that had a seven-step skin routine and I just couldn't do it. It gave me a headache just thinking about all the steps involved in having to take care of my face.
What I keep going back to
I really have a sentimental attachment to kohl eyeliner. My mum used to have a little metal pot with a flourish, it was very Arabian. It was the proper kohl so she would dip a metal stick into it and then tap it across her lower eyelids. I can't look at eyeliner in any shape now and not think of that beautiful look. I wear eyeliner and I model it after my mum: I wear it on my lower eye, not my upper. I'm very critical of all the imagery of Arab women of being just eyeliner but I love eyeliner. It is so much a part of the look of my heritage [although] I think it's overused as a symbol.
Jessica Friedmann: 'I was opening a door into a world I always knew was there'
What's nostalgia-inducing?
I always go back to my eyeliner. I don't wear a lot of makeup; I wear blush sometimes. I went through a lip gloss phase but nowI find it really sticky. My eyeliner is the one thing I wouldn't travel without or I wouldn't go anywhere without. I feel weirdly naked without it.
The other book that was formative is Persuasion by Jane Austen. And I know Austen is probably the pick for so many people, but Persuasion was different because it was about a woman who made a mistake by turning down the man she loved and, 10 years later, was still single. Maybe it was because I felt eternally single at the time: I was in my late 20s, and I'm Muslim so I wasn't allowed to just date like everyone else. I remember feeling so much affinity for this character because she was stuck in this life. It was like, "What do you do if you don't do the things that you're supposed to?," which is get married and have kids. There's a letter in Persuasion where he says, "You pierce my soul." The language of Persuasion just killed me. It was such a beautiful book to read.
I get sentimental about Watermelon and Persuasion. If I just opened up any page in them, I'd feel like I was sinking into a pair of well-worn slippers. Everything has a certain connection. With those books, I'm not afraid of the time it takes me back to because I grew. It's a strange connection to make. They're so symbolic of my journey so they are always my go-to.
theguardian.com/lifeandstyle/2017/jun/14/amal-awadarab-women-have-traditionally-been-written-about-in-a-very-patronising-way
-------
How the triple talaq case became an excuse for Muslim-bashing
01-07-2017
They say reality is little more than a perception that refuses to go away. Much has been written about the "triple talaq case" now awaiting the Supreme Court judgment. Outside of court, the case became an excuse for Muslim-bashing and showing Islam out to be a collection of outdated ideas followed by a regressive community.
The "left liberals" suddenly found themselves on the same side of the argument as the Hindu right leading to awkward exchanges between bedfellows that would be comic if they weren't so tragic.
As I set out to examine some persistent perceptions in a new light, I want to make one thing clear for the record. I condemn the practice of the so-called instantaneous triple talaq and have consistently taken a stand against it. However, the reason I object to the practice is that I believe it is un-Islamic, being contrary to the manner of divorce prescribed in the Quran, which mandates a period of reconciliation followed by mediation.
For this reason, I believe the practice should find no place in Muslim personal law. Although there were a number of proponents of this view before the Supreme Court and various interpretations of the Quran and "Hadith" were debated at length in course of arguments on both sides, the debate in popular media has not been about nuances of Islamic jurisprudence so much as it has been about showing that Muslim personal law provides a less just scheme to women than "secular law".
The triple talaq case became an excuse for Muslim-bashing and showing Islam out to be a collection of outdated ideas followed by a regressive community.
The first idea we must rid ourselves of is that there is a "secular" law of marriage and divorce governing any community in India.
Each community in India is governed by its own set of laws in matters of marriage, divorce and succession. The majority of Indian citizens, Hindus, Jains, Buddhists and Sikhs, who are all statutorily covered under the definition of "Hindu", are governed by the Hindu Marriage Act, 1956.
And before we get carried away extolling the virtues of the principles contained in the Hindu Marriage Act, it bears mention that Section 29(2) of the Act saves and continues in force all customs relating to dissolution of marriages prevailing prior to enactment of this statute. The customs that have been recognised by courts under this provision include a custom among the Kummari caste of Andhra Pradesh, where a married woman eloping with another man constitutes a divorce without anything further being required, and another custom recognising divorces decreed by "caste elders". The latter, which suggests a possibility of the law recognising divorces decreed by khap panchayats in the name of "custom", is problematic to say the least.
Hence, stripped of its shiny wrapping, this debate is basically the majority community speaking down to a minority from a moral high ground borne out of a largely unsubstantiated, but dearly held idea that the Hindu Marriage Act provides a more just scheme to women than Muslim personal law. I have attempted here to examine the historical basis of this idea, not with the intention of showing down one or the other system of law, but to show how this idea evolved.
The Muslim Personal Law (Shariat) Application Act, 1937, was passed by the Central Legislative Assembly and received assent on October 7, 1937. The Act comprises merely six sections the crux of which is that in matters concerning succession, special property rights of women, marriage, dissolution of marriage, maintenance, dower, guardianship, gifts, trusts, trust properties and waqfs, the rule of decision in cases where the parties are Muslims shall be Muslim Personal Law or Shariat overriding any custom or usage to the contrary prevailing in any region or among any section of Muslims.
Section 5 of the Act also provided Muslim women the right to obtain dissolution of their marriage from a court on grounds mentioned in that section. Section 5 was subsequently repealed and was replaced by a dedicated enactment for this purpose, the Dissolution of Muslim Marriages Act, 1939.
Muslims in India who had converted from other religions had continued to adhere to practices they or their ancestors had followed prior to their conversion and courts had been enforcing these practices as "customary law". The stated purpose of the Shariat Application Act as seen in its "statement of objects and reasons" was to give effect to the long-cherished desire of Muslim women to be governed by Muslim Personal Law, which was considered a far more progressive body of law concerning women's rights, compared to the demeaning traditions prevalent in "customary law".
The "statement of objects and reasons" of the act state: "All the Muslim women organisations have therefore condemned the customary law as it adversely affects their rights. They demand that the Muslim Personal Law (Shariat) should be made applicable to them."
Simply put, Muslim women and women's organisations were objecting to the demeaning customs prevalent among the Hindu castes and communities that they or their ancestors had converted from which were still being applied to them in the name of customary law. These women sought that the Muslim Personal Law be made applicable to them since "the introduction of Muslim Personal Law will automatically raise them to the position to which they are naturally entitled".
The debates in the Central Legislative Assembly on "The Moslem Personal Law (Shariat) Application Bill" are indicative of the context in which the Act was passed and the environment and circumstances then prevailing in British India.
The bill was a private member bill moved by one of the so-called "muhammadan" members of the Legislative Assembly, a large number of who, at that time, were elected from seats reserved for Muslims.
One of the customs that was repeatedly highlighted in course of the debates as being derogatory to women was one under which upon the death of a man, his wife acquired no rights in his property and merely obtained a life interest that she lost upon remarriage. (Incidentally, this custom was part of Hindu law and continued to be in force even after Independence and can be seen to be enforced by the Indian courts as in Gurdial Kaur versus Mangal Singh, AIR 1968 P&H 396.)
Abdul Qaiyum, a lawyer and a member of the Assembly from the North-West Frontier Province, speaking in support of the bill, had said: "I submit, sir, that the dead hand of customary law must be removed. We are living in an age in which very important changes are taking place. When many other things are going the way of all flesh... I submit that it is high time that we got rid of this dead hand of custom. After all custom is a horrible thing as far as this particular matter is concerned, and by endorsing the principles of this Bill we would be doing justice to millions of Indian women who profess the Muslim faith."
And then in parting, he prophetically expressed an aspiration that other communities would follow the lead taken by Muslims and reform their personal laws to safeguard women's rights. "I hope, sir, the day is not far off when other communities will also bring similar measures and when in India women and men will be treated equally in the eyes of the law in the matter of property, political rights, social rights and in all other respects."
Another member, Sir Muhammad Yamin Khan of the United Provinces, in his speech, said: "If women can adorn the benches in the legislatures and preside over municipalities and district boards and become presidents and vice-presidents of councils, there is no reason why they should be ignored by this House and their just and legitimate rights be denied to them. This bill does not seek to give woman anything which is not her due; it only seeks to do away with the injustice done to her for a long time by people who do not want to part with their property. And in that view I hope the whole House will support her case."
Dr GV Deshmukh, a legislator from Bombay and an advocate of women's rights, speaking in favour of the bill expressed the hope that Hindu society would follow the example being set by the Muslim community and look to reform their own personal laws.
He emphatically stated: "And in the 20th century, it is up to us, who have any pretentions to call ourselves educated or civilised, to see that the other half of society has an equal status to the male half of the society. If we cannot recognise it, then let us shut up our shop, let us shut up everything that is put forward in the name of civilisation and progress."
Mohammad Ali Jinnah piloted the Moslem Personal Law (Shariat) Application Bill through the Central Legislative Assembly.
He continued: "Therefore, I say, sir, that this bill, which in principle gives economical status to one half of the society, has my whole hearted support. What I say is this that, if today the Muhammadan society progresses, in the future every society in India will follow the same example, not that in Hinduism the principle does not exist. On account of custom, and more even than custom the British Courts' custom, the customs have crystallised into law, and thus the chilling hand of custom has barred all progress of society of womenfolk so far as India is concerned."
"I, therefore, think, that unless the female half of society progresses, unless this paralysis, or what we in medical term call hemiplegia, of the Indian society disappears by progressive and enlightened legislation, there is no hope, and it is futile to say we will build up a nation. Therefore, I say, this example will also be followed by other societies, and the women folk will get the same economical status with that of the males in the country, and in this way the future nation of India will be built."
Responding to questions about the Kutchi Memons of Bombay and other minorities within the Muslim community, Mohammad Ali Jinnah, who piloted the bill through the Assembly, assured the House that under the provisions of the bill, they would be given the option of whether they wanted to be bound by the law of Shariat or not, and only if they signed a declaration choosing to be bound by the Act would it apply.
He said that a majority of the Kutchi Memons of Bombay (900 out of a community 1,500 or 1,600) had already signed the declaration and the remaining portion was so small that given the equitable nature of the measure, they should also be brought under the act.
Speaking about the Khojas, Memons, Maplas, Baluchis and other Muslim minorities generally who were bound by the customary law of their ancestors, he said that "however much they may want to change, they are governed by it; and, therefore, something has to be done in order that they should be brought under some other system of law if the customs and usages are not desirable, and the customs and the usage which have the force of law are certainly unjust and particularly unjust with regard to the female heirs as to their succession in the property".
George Joseph, a legislator from the modern-day Madurai and Tirunelveli, said that it was a misfortune that in the year 1937 there were still people who wanted to maintain personal laws for Hindus, Muslims and other communities instead of the House taking up the responsibility of codifying the law of succession for the whole of India without reference to the religion of the person concerned.
Responding to him, Jinnah said that George Joseph is an idealist who wants to have a utopia where there is only one system of law in the world but we have not achieved that ideal yet.
He said that different people have different codes of law and cited the example of Europe, where also the rules of succession differ. Jinnah concluded by saying that he does not believe in visionary ideas and dreams and cannot wait for utopia.
"I find, I have no hesitation in saying this, that the Islamic code of law with regard to succession is the most just and equitable, the most advanced and progressive. I, therefore, say, let the Muslims at least be governed by it," he said.
This, not long before independence, were the representatives of the Indian people, many of them stalwarts of our freedom movement, lauding the measure to make Muslim Personal Law applicable to Muslim women in matters of marriage, divorce and inheritance overriding the "dead hand" of Hindu customs and hoping that Hindus would follow suit.
Contrast this a mere decade later with the same Central Legislative Assembly, reconstituted as the Constituent Assembly, debating the directive principle now contained in Article 44 of our Constitution.
Article 44 states the state shall endeavour to secure a uniform civil code throughout the territory of India. Muslim members of the Constituent Assembly opposed this amendment expressing fears that the "tyranny of the majority" would ride rough-shod over the rights of minorities. The arguments made in support of the directive principle degenerate at times to the level of — do Muslim countries hold the personal law of each minority above civil law? Then why should we?
Alladi Krishnaswami Ayyar, whose arguments in defence of the present Article 44 were adopted by Dr BR Ambedkar, had said, "A further argument has been advanced that the enactment of a civil code would be tyrannical to minorities. Is it tyrannical? Nowhere in advanced Musim countries the personal law of each minority has been recognised as so sacrosanct as to prevent the enactment of a Civil Code. Take for instance Turkey or Egypt. No minority in these countries is permitted to have such rights."
The discussion around minorities within the Muslim community is also dramatically different from what it had been at the time of the passing of the Shariat Application Act.
While at that time, the desire of these communities to rid themselves of the dead hand of custom and come within the fold of Muslim Personal Law had been cited and demonstrated, Alladi Krishnaswami Ayyar suggested that Shariat was forced down the throats of communities converted from the Hindu faith who wanted to stick to their old customs by the Muslim majority. He then used this as a basis to ask the question, where were the rights of minorities then?
"When the Shariat Act was passed or when certain laws were passed in the Central Legislature in the old regime, the Khojas and Kutchi Memons were highly dissatisfied. They followed certain Hindu customs; for generations since they became converts they had done so. They did not want to conform to the Shariat; and yet by a legislation of the Central Legislature certain Muslim members who felt that Shariat law should be enforced upon the whole community carried the point. The Khojas and Kutchi Memons most unwillingly had to submit to it. Where were the rights of minorities then?"
Jinnah, a leading lawyer of his time, had during the debates on the Shariat Act cited laws of Europe to show that even in more advanced legal systems, the rules of succession applicable to different communities is different.
The example of Europe was now given by Alladi Krishnaswami Ayyar to show the exact opposite, that advanced jurisdictions do not allow different laws of succession that India was being asked to perpetuate (even though specific examples of some European constitutions had already been cited in the Constituent Assembly, where the personal laws of minorities were granted protection).
He posed a rhetorical question and proceeded to answer it: "I should like to know from Mr Pocker whether different personal laws are perpetuated in France, in Germany, in Italy and in all the continental countries of Europe, or whether the laws of succession are not co-ordinated and unified in the various states. He must have made a detailed study of Muslim jurisprudence and found out whether in all those countries, there is a single system of law or different systems of law. Leave alone people who are there. Today, even in regard to people in other parts of the country, if they have property in the continent of Europe, where the German Civil Code or the French Civil Code obtains, the people are governed by the law of the place in very many respects. Therefore, it is incorrect to say that we are invading the domain of religion."
dailyo.in/politics/triple-talaq-muslims-converts-supreme-court-constitution-hindus/story/1/18117.html
-------
Bangladesh: 3 suspected women militants detained with firearms in Kushtia
Dhaka, July 1, 2017
3During the campaign, a woman tried to attack the police wearing a suicide vest.
Police have arrested three women - including the wife of neo Jamaat-ul-Mujahideen Bangladesh's (JMB) leader Amir Ayub Bachchu from a suspected militant den in Bheramara in Bangladesh's Kushtia district.
Cops also recovered arms and ammunition, including several suicide vests from Bheramara town. The operation began on the first anniversary of the Gulshan attack on Saturday.
Kushtia's Superintendent of Police SM Mehedi Hassan said that they detained a woman, identified as Amir alias Sajib's wife Tithi.
Deputy Commissioner of Police's Counter Terrorism Unit Mahibul Islam said that Amir Ayub Bachchu, who was involved in the Gulshan attack, used to go to that house.
Mehedi said that the tin-shed house was hired almost two months ago by the militants.
According to the information of Counter Terrorism Unit, the house at the town's Taltala Mosque owned by Nasima Khatun, was surrounded by police on Friday midnight. Later, a counter-terrorism unit and district police jointly started operations around 3 am.
Mehedi said, "During the campaign, a woman tried to attack the police wearing a suicide vest." The police caught her before the explosion. Later, two more women were arrested.
He said, among the detainees, apart from Amir's existing wife, are wives of second-in-command Arman Ali and Rajikul of Daulatpur village of Bheramara.
Police got hold of suicide vests, a pistol, a magazine, and some gunpowder.
indiatoday.intoday.in/story/bangladesh-three-women-militants-firearms-detained-kushtia/1/992115.html
URL:
https://www.newageislam.com/islam-women-feminism/islamic-state-document-shows-trade/d/111744