New Age Islam News Bureau
24 May 2015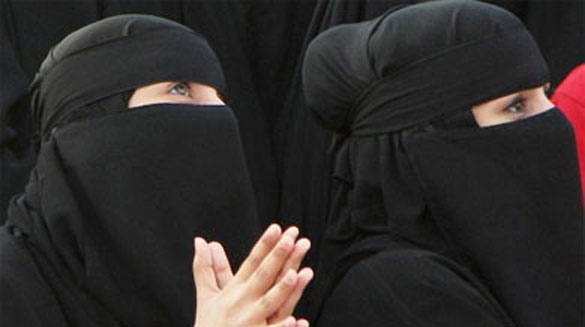 Saudi Woman Power to Be Tested At Civic Vote
---------
• Saudi Woman Power to Be Tested At Civic Vote
• Nigeria: Baby Born With Traditional Beads in Lagos
• Stark Reality of Saudi Schools: Female Students' Have Dashed Ambitions
• Marina Mahathir says will leave Malaysia if Hudud arrives
• Women Hold High Status in Kingdom: Rights Panel
• Burmese Women Could Be Forced To Have Fewer Children under New Law
• Turkey Elections: Gay, Transsexual Candidates Spotlight LGBT Rights
• Females 'Can't Be Ignored In Sports': President Saudi Youth Welfare
Compiled by New Age Islam News Bureau
URL: https://newageislam.com/islam-women-feminism/islamic-state-claims-forced-sex/d/103129
--------------
Islamic State Claims Forced Sex Is Not Rape and Calls Michelle Obama A Prostitute
24 May, 2015
Islamic State (Isis) has released a five-page document claiming that "forced sex" is not rape, but is an Islamic practice which is inspired by the Prophet Mohammed.
The document also brands Michelle Obama as a prostitute whose "price won't exceed a third of a dinar".
These horrific remarks were made by a Jihadi bride, Umm Sumayyah Al-Muhajirah, in the ninth edition of its propaganda magazine Dabiq, in a feature entitled: "Slave girls or prostitutes".
In a previous edition of Dabiq, Al-Muhajirah calls for other Muslim women – her "sisters" – to immigrate to Syria and become wives to IS extremists.
In the latest article, she claims that keeping enemy prisoners of war and civilians as slaves during war is justified in the "great prophetic Sunnah (teachings of Mohamed) containing many divine wisdoms and religious benefits" in Islamic traditions.
For years IS has been enslaving and sexually abusing the women it captures – particularly from Iraq's minority Yazidi community – and sending the "prettiest virgins" to depraved auctions, a United Nations envoy claimed this week.
The terror group justifies the horrendous sex crimes as Sunnah – a way of life prescribed by Mohammed's life and the Quran's teachings.
While the Quran does detail rules for the ownership and ethical treatment of slaves, it also advises slave owners to free slaved people, even if this required buying them first.
Islamic scholars have estimated Muhammad and his family released nearly 40,000 slaves.
First Lady is worth "third of a dīnār"
In her five-page-document the extremist writer insults Michelle Obama saying that "who knows, maybe Michelle Obama's price won't even exceed a third of a dīnār, and a third of a dīnār is too much for her!"
The fanatical writer admits that IS has looted villages and kidnapped women, saying: "As for the slave-girl that was taken by the swords of men following the cheerful warrior then her enslavement is in opposition to human rights and copulation with her is rape?! What is wrong with you? How do you make such a judgment? What is your religion? What is your law? Rather, tell me who is your lord?' Allah has opened the lands for His awliya [supporter], so they entered and dispersed within the lands, killing the fighters of the kuffar [non-believer], capturing their women, and enslaving their children."
A UN envoy who interviewed dozens of sexual abuse victims in the region said earlier this month that Isis is using widespread and systematically sexual violence as a "terrorist" tactic to spread fear.
IS has carried out 'systematic sexual crimes' against Yazidi women and girls, having captured hundreds of them from northern Iraq over the last two years, Human Rights Watch has said.
In early April, more than 200 Yazidi women, children and elderly were released near Kirkuk after being taken hostage by Islamic State extremists last June.
http://www.ibtimes.co.uk/islamic-state-claims-forced-sex-not-rape-calls-michelle-obama-prostitute-1502767
----------
Saudi Woman power to be tested at civic vote
24 May, 2015
JEDDAH: Saudi women will be able to contest and vote for the first time in municipal elections, adding another element to the upcoming polls.
The move aims at meeting the aspirations, dreams and needs of all citizens, particularly in municipal and developmental issues.
Any citizen, holding a valid ID, can participate in municipal elections as a voter or a candidate if he or she meets the set conditions.
Citizens wishing to vote should be 18 on the day of the election, which coincides with 1/3/1437 Hijri. They should also be residents of the electoral district where they cast their ballots.
Men and women, aged 25 or above and without any criminal record, can contest elections in the area where they have been registered as voters.
Citizens, who had been dismissed from the public service, for disciplinary reasons within three years of the election date cannot contest elections.
Local regulations also require the candidates to hold high school certificates.
Article 66 of the new municipal law states the need to draft the relevant procedures and regulations that guarantee women's participation in compliance with Shariah regulations.
Local committees will carry out the task of choosing and preparing independent and separate electoral centers for women, meeting international norms and standards of equality.
Nearly 30,000 citizens are expected to be involved in the process of organizing the elections. The number did not exceed 16,000 during the past two elections.
Judai bin Nahar Al-Qahtani, spokesman of the General Committee for Municipal Elections, said that 16 local committees would organize the elections across the Kingdom.
The number of male and female employees in these committees is expected to be 30,000.
Women will be partners in organizing the elections, preparing polling locations and developing the committees and procedures for women voters.
Al-Qahtani said the local committees of the municipal councils choose suitable locations for voter registration and receive nomination papers.
Most of the locations will be in school buildings, he said.
Authorities are also looking at places such as universities or other government buildings as possible venues for poll-related work.
There are 285 councils organizationally linked to the ministry. They are legal entities with financial and administrative independence.
http://www.arabnews.com/featured/news/751321
-----------
Nigeria: Baby Born With Traditional Beads in Lagos
24 May, 2015
Despite adopting several family planning strategies, a 52-year-old grandmother, Mrs. Funke Adamson, has ended up giving birth to a baby girl clutching white 'Ileke' (Yoruba name for beads) on her hands. Funke, a traditional worshipper said she was delivered of the baby that has now been described by many as a "miracle child" on Monday, May 11, 2015 at a Trado-medical home in Apapa.
Speaking to Vanguard, she said: "I received a message from an Osun Custodian who said that a child is on the way for me. I didn't believe him. I didn't realize until the baby was three and half month old when I began to experienced flow of membranous fluid."
When Vanguard visited the home of the Adamson at No.16 Olayinka Street, Ijora, Apapa-Iganmu Local Council Development Area, LCDA last Monday during the naming ceremony, it was gathered that Funke and her husband, Mr. Hamzat Adamson, 63-year-old never planned to have a child at this time.
Sources said that Funke who celebrated her 50 years birthday two years ago had already entered her menopause age. The baby named Bukola came three years after another 32-year-old single mother, Mrs. Kikelomo Ilori was delivered of a baby boy in a Cherubim & Seraphim Church, purportedly clutching a Holy Quran. On the signs discovered during her pregnancy, Funke noted that prior to her discovery, she couldn't sleep comfortably for two months.
"So I started praying before I later discovered that I was pregnant. Also, while trying to open a perfume, it caught fire, which made me suffer severe burns. After discovering the pregnancy, I couldn't sleep without having a dream. In these dreams, I often found myself sitting at the shore," Funke added. After her birth, the grandmother explained that the traditional healers who attended to her raised alarm that they found the baby clutching white beads.
"When I heard this, I was afraid. I told them to inform my husband for any possible solution. Rather than demand that they discard the beads, he said they should be kept. After regaining my strength I removed the beads and tied it on her wrist," she said. Corroborating her story, the husband, Hamzat said "I was surprised when I saw the baby delivered holding beads in his hands. But I realized that the beads are important and that was why we have decided not to throw it away."
Similarly, Rashidat Ojesanmi, the Osun custodian who gave the family the prophesy said "I was consulting the deities when I got the revelation that she would be blessed with a unique gift, which I told her. But she didn't believe. Later, when the revelation was further revealed that she will be blessed with an important child, she declined, saying that she cannot conceive at her age.
She said so because of the family planning she had earlier done and considering her age. But as prophesied, few months later, she called me and told me of the signs she discovered." Also speaking, a midwife, Mrs. Adenike Adeyemo, described the case as one out of ten cases, saying "it is rare to have such cases because at this age, the woman may have entered menopause stage."
http://allafrica.com/stories/201505221002.html
---------
Stark reality of Saudi schools: Female students' have dashed ambitions
24 May, 2015
That state of school buildings plays an important role in the overall education of a student as good facilities appear to be an important precondition for learning.
Buildings are places where students learn basic skills and other valuable information that will help them in their lives; therefore, students should be provided with an environment that is conducive to learning and teaching and also enhances the education process.
According to a report in Al-Sharq Arabic daily, female students continue to voice concerns about shortcomings at girls schools and how these shortcomings affect their educational development.
Reem Saud is a fifth grade student who says schools should be reasonable when asking students to buy school supplies.
Art classes in particular, according to Saud, are financially taxing, especially for low-income families.
"I think I speak on behalf of all schoolgirls when I say schools burden students with a lot of work for art class throughout the year. What bothers us is that schools don't consider the financial status of students; some students come from poor families and can't afford to buy the supplies art teachers ask students to buy every month," said Saud.
Another problem is that school administrators often fail to accommodate the needs of students with disabilities.
For example, students who suffer from low vision are not given priority when it comes to the distribution of seats in classes.
Saud suffers from poor vision but she has been assigned a seat in the back of the class because of a school policy that states students' assigned seating should be changed at the beginning of every semester.
"I can't see the blackboard from the back of the class. Besides, I get a terrible headache when I have to strain my eyes to try to make out what's written on the blackboard from the back of the class," she complained.
Saud also said her school's cafeteria is too small to handle the number of students, which results in long lines during lunch and recess.
"Many students are unable to buy something to eat at the cafeteria during recess because of the long lines. Moreover, there is only one window where you can buy food," she said.
Complaints and more complaints
Amirah Salim, a sixth grader, has to study in a rented building as her school does not have its own premises.
Salim said the air-conditioners in the building are unable to cool classrooms which makes it hard for students to concentrate.
She also said the school does not pay enough attention to students with special talents.
"The school should nourish and develop the special talents of students and provide them with courses and take them out on field trips just like male students. Many of our demands remain unfulfilled because the condition of the school building is so poor," Salim said while calling on the Ministry of Education to inspect boys' and girls' schools in Al-Ahsa as most of them are in dilapidated condition.
In some neighborhoods, like Al-Rashidiya, there aren't enough schools for all educational grades and residents end up having to commute to neighboring districts so they can attend the right school.
Class schedules
Sarah Al-Sebaee, a middle school student, said the first week of each academic year is hard on students because they have to carry all their books with them until schools issue class schedules.
"Schools do not give students their class schedules until the second week of classes even though most teachers and administrative staff begin working a week before that start of the year. They should take advantage of this time and set class schedules and spare students the trouble of carrying all of their heavy books around," she said.
Lack of resources
Wajdan Al-Eneizi, also a middle school student, said many schools are unequipped to handle emergency medical situations.
She also wants girls' schools to introduce physical education classes, as well as more activities that improve students' English, computer and public speaking skills.
"I love architecture and engineering but I know I cannot study to be an engineer because girls are not allowed to specialize in these two fields. If girls were allowed to specialize in these fields, I would do my master's and PhD in one of them," she said.
Noora Salih, a high school student, complained about the small size of her school's library.
She also said students should be given crash courses to prepare them for the general aptitude test, the results of which determine what university and program students will be accepted to.
Salih wants to be a lawyer and believes that women make better lawyers than men because they can talk more eloquently and are more convincing.
Academic achievement
According to sociologist Monirah Hamad, the condition of most school buildings is unsuitable for an academic institution and this has a negative impact on students' psychological state and academic achievement.
"Authorities should provide PE classes to students and allow them to take field trips and provide rooms for extracurricular activities," she said.
http://english.alarabiya.net/en/perspective/features/2015/05/23/Stark-reality-of-schools-Female-students-dashed-ambitions.html
---------
Marina Mahathir says will leave Malaysia if hudud arrives
24 May, 2015
Datin Paduka Marina Mahathir says she will leave Malaysia if hudud law is implemented in the country.
"I cannot live in a country where people want to cut off hands, I'm sorry, or stone people to death," Marina told Malay Mail Online in a recent interview here.
"I would never live in Saudi Arabia. I don't want to live in a country where this is official policy," the prominent social activist added.
PAS president Datuk Seri Abdul Hadi Awang has submitted a private member's bill to Parliament in a bid to remove the legal obstacles that prevent the implementation of the Islamic penal code in Kelantan.
Hadi said Tuesday that the Kelantan state government run by the Islamist opposition party will meet with the Barisan Nasional (BN) federal government to discuss plans to implement hudud in the state. BN has yet to state its official stand on hudud.
Critics of hudud have lambasted the strict Islamic criminal law, which punishes theft with amputation of limbs, as well as apostasy and adultery with death by stoning, as unconstitutional in secular Malaysia.
Marina, who is the eldest child of former prime minister Tun Dr Mahathir Mohamad, related an incident where she attended the United Nations women's conference in Beijing in 1995 and Iranian women living in exile in the US had opposed a session about including religion in feminism.
She said the Iranian women, who were middle-class elites living in New York, had sounded bitter and were aggressive about keeping religion out of everything, noting that their counterparts had stayed back in Iran and fought from within, when women's rights were rolled back after Iran became an Islamic state following the 1979 revolution.
"I look at these women and thought ― I never want to be like that. I never want to be a bitter exile. So I always thought okay lah ― I will stay and fight," said Marina.
She said, however, that she would emigrate if hudud were to be implemented.
The activist, who speaks out about women's rights and freedom of speech among other issues, said her strength to continue fighting is instinctive as she was brought up to be honest and considerate of others.
"It's natural to me, if I see something wrong, to say something, or to do something," said Marina.
"It's a form of worship. It's how I act out my life as a Muslim. If you say it's a way of life, it's not just about rituals. It's acted out by trying to do good, to be charitable and to ensure justice," she added.
http://www.themalaymailonline.com/malaysia/article/marina-mahathir-says-will-leave-malaysia-if-hudud-arrives#sthash.lX2YZEG6.dpuf
---------
Women hold high status in Kingdom: Rights panel
24 May, 2015
RIYADH: Women enjoy a high status in the Kingdom and are continuing to contribute to society in a considerable way but efforts should be made to further push their cause, the Human Rights Commission (HRC) has stated in its report.
The HRC, in cooperation with a number of entities, has prepared a detailed report on women's status in the Kingdom, which includes suggestions related to their health, education and social issues.
The HRC has also underlined the need to further promote women's participation in the public sphere in the Kingdom in a manner that conforms to the Shariah norms.
Ahmad Abdulaziz Al-Yahya, general supervisor for public works at the HRC, said a royal decree was issued two years ago to study women's status and claims and rumors about it outside the Kingdom.
He said that many issues and regulations were reviewed during a two-year study, which concluded that there are many false rumors about the Kingdom, even as many solutions for negative practices were suggested.
Al-Yahya said that during the past decade, women have made huge strides such as entering the Shoura Council as full members and acquiring professional and academic skills. "We now have more than 160,000 scholarship students (both male and female). Women have the chance to participate in municipal councils as voters and candidates," he said.
"Women's forums offer lectures and seminars to educate women about their rights in municipal councils."
Custodian of the Two Holy Mosques King Salman has stressed on human rights that guarantee equality and justice for everyone and said the Kingdom is committed to achieving human rights for everyone regardless of color, origin and gender.
The king underlined the role of establishments interested in human rights and confirmed the fact that the government is a sponsor of human rights according to the Shariah.
Al-Yahya said talks are under way on a system with special focus on the rights of women and children, besides the disabled and sick.
"Each human being has rights and duties, but in the rights field we try to focus on the vulnerable such as prisoners and inmates of welfare centers, the elderly, people with disabilities and women," Al-Yahya said.
He said the HRC focuses on local as well as international issues.
The domestic side has many branches such as supervising the performance of government apparatuses in implementing regulations, whether by monitoring the performance of welfare houses, prisons or other relevant bodies, and following up on cases that interest Saudi citizens such as women and children with disabilities, Al-Yahya added.
http://www.arabnews.com/saudi-arabia/news/751256
-----------
Burmese women could be forced to have fewer children under new law
24 May, 2015
Burma's president has signed off on a law requiring some mothers to space their children three years apart despite international objections that it could be used to repress women and minorities such as the Rohingya Muslims now fleeing the country for other parts of south-east Asia.
The population control health care bill — drafted under pressure from hard-line Buddhist monks with a staunchly anti-Muslim agenda — was passed by parliamentarians last month.
US deputy secretary of state Anthony Blinken said he warned Burma's leaders during face-to-face talks last week about the dangers of the bill. On Saturday, hours after the diplomat left, state-run media announced president Thein Sein had signed it into law.
As predominantly Buddhist Burma started moving from dictatorship to democracy four years ago, newfound freedoms of expression lifted the lid on deep-seeded hatred for minority Muslims — including Rohingya now arriving on south-east Asian shores in crowded, rickety boats.
Many are fleeing persecution and violence that has left up to 280 people dead and forced another 140,000 from their homes in western Rakhine state. They are living under apartheid-like conditions in dusty, crowded camps, with little access to education or adequate medical care. They also have little freedom of movement, having to pay hefty bribes if they want to pass police barricades, even for emergencies.
The population law — which carries no punitive measures — gives regional authorities the power to implement birth-spacing guidelines in areas with high rates of population growth.
Though the government says the law is aimed at bringing down maternal and infant mortality rates, activists argue that it steps on women's reproductive rights and can be used to suppress the growth of marginalised groups.
Hard-line Buddhists have repeatedly warned that Muslims, with their high birthrates, could take over the country of 50 million even though they currently represent less than 10% of the population.
"It's very disappointing," Khin Lay, a women's rights activist, said of the president's decision to sign off on the law. "If the government wants to protect women, they should strengthen laws already in place to do that."
Blinken, who met with Thein Sein, the army's commander in chief and other government officials during a two-day visit to Burma, said he expressed "deep concern" about the law and three others in the assembly aimed at protecting race and religion.
"The legislation contains provisions that can be enforced in a manner that would undermine reproductive rights, women's rights and religious freedom," Blinken told reporters Friday. "We shared the concerns that these bills can exacerbate ethic and religious divisions and undermine the country's efforts to promote tolerance and diversity."
http://www.theguardian.com/world/2015/may/24/burmese-women-could-be-forced-to-have-fewer-children-under-new-law
----------
Turkey Elections: Gay, Transsexual Candidates Spotlight LGBT Rights
24 May, 2015
Turkey appears poised to elect its first openly gay member of parliament in next month's elections, despite a rising tide of social conservativism in the Muslim-majority country.
The four LGBT activists running include 37-year-old Baris Sulu, who made history once already when he and his same-sex partner applied — unsuccessfully — for a marriage license in a test case that is still going through the courts.
"We are here in this society, we have our problems and we want to be able to have our say," he told NBC News.
Another candidate is transgendered Deva Özenen, who is standing for the recently-founded secular nationalist Anatolia Party. She has been out campaigning on the streets of Izmir, a relatively liberal coastal city.
Homosexuality hasn't been illegal in Turkey since 1858 — during the dying days of the Ottoman Empire — but it is far from accepted. Recep Tayyip Erdogan, the country's president, has previously described it as a "sexual preference" that is "contrary to the culture of Islam."
Turkey's military, for which all citizens must carry out a mandatory period of national service, categorizes homosexuality as a mental illness and until recently required intimate photographic evidence or family testimonials from anyone seeking exemption because of sexuality.
But while the inclusion of LGBT candidates on the ballot paper is a sign of growing acceptance, analysts and campaign groups say there is little hope of progress towards ending widespread discrimination or creating legal rights for gays and lesbians.
"There is a degree of acceptance and many [LGBT] people are able to lead normal lives in Turkey," said Andrew Gardner, Amnesty International's researcher on Turkey. "However, it is a tolerant society but also a country badly served by its government and its media in terms of the negative stereotypes about gay people. There has been a long history of negative statements by public officials and the government is incredibly reluctant to recognize that people have rights or any protection in law."
Turkey has a visible gay scene, especially in comparison to its Arab neighbors. Istanbul's annual gay pride march attracted more than 100,000 participants in 2014 — including many attending from other countries in the region where similar events are banned. Role models in popular culture include celebrated transgender singer Bülent Ersoy.
"If you're out and you're a celebrity then it is OK but if you're a normal person you suffer discrimination," Gardner said. "People have been kicked out of their jobs. A lot depends on people's socio-economic status."
He explained that greater visibility and awareness had come from activism rather than state protection.
"The change, where it has come, has come from civil society and LGBT groups," Gardner addd. "In previous years there was a situation where virtually all [LGBT rights groups] faced closure on grounds of public morality. Largely, this isn't happening anymore — there are fewer of these cases now."
References to gay culture are sometimes censored from Western television imports and 85 percent of Turks say they would not like to have gay neighbors, according to the 2014 World Values Survey, compared to 20 percent of those surveyed in the United States.
There are still instances of violence against members of the LGBT community, even as the country seeks membership of the European Union, which upholds equal rights.
In 2008, student Ahmet Yildiz was shot by his father after coming out as gay, a crime billed as a so-called "honor killing." His case has since been made the subject of a film, "Zenne Dancer."
And there seems little prospect of change on the horizon. The government of Erdogan's AKP party has introduced new rights popular with its own support base, such as allowing women to wear headscarves in state-run higher education facilities, but rights for others are not on the agenda.
"I'm very pessimistic about the prospects from this government of bringing [equality] laws into force," said Gardner. "There was a time, up until a few years ago, when generally there was legislation improving protection for human rights. During the last couple of years generally we have seen new laws presented that actually weaken human-rights protection so the trend is definitely negative."
Equality is well off the campaign agenda for the June 7 poll, with the economy and nationalist issues instead leading the debate.
http://www.nbcnews.com/news/world/turkey-elections-gay-transsexual-candidates-spotlight-lgbt-rights-n363076
------------
Females 'Can't Be Ignored In Sports': President Saudi Youth Welfare
24 May, 2015
RIYADH: Prince Abdullah bin Musaed bin Abdulaziz Al Saud, president of Youth Welfare, has stressed the need for promoting women's sporting activity through welfare clubs.
He made this observation while answering questions through "Kingdom Dialogues", a subsidiary channel of King Abdulaziz Centre for National Dialogue (KANCD). The program was organized in response to prejudices against women's sports at various clubs.
He said the top leadership of the country has underlined the need for youth care since taking over the Presidency of Youth Welfare. Today, GPYW is strongly concerned about the affairs of young men and women in the Kingdom, as that there was some negligence in the past. In answering the top 20 questions by the participants, the prince said: "I can assure dear listeners that the subject of youth is the first concern of the presidency. The organization will host soon workshops on the initiatives and projects for the young people who are the real wealth of the Kingdom."
On the issue of intolerance among some sports fans raised through various media outlets, he explained that currently there is a committee to address this issue, adding that the Ministry of Culture and Information is a member of the committee.
The prince expressed his displeasure over fanatical views aired through mass media and social networking sites. He described them as racially motivated that neither serve the community and nor reflect the reality.
http://www.arabnews.com/saudi-arabia/news/751296
-----------
URL: https://newageislam.com/islam-women-feminism/islamic-state-claims-forced-sex/d/103129