New Age Islam News Bureau
17 Apr 2017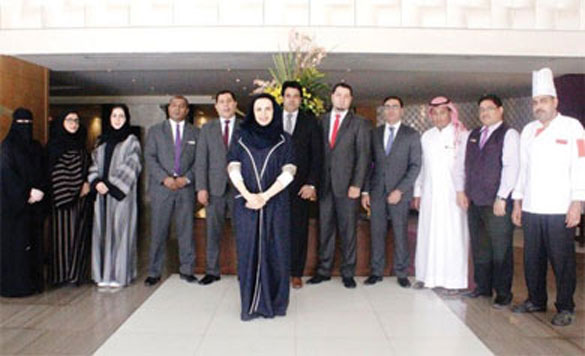 Hessa Al-Mazrou, general manager of Suite Novoel Hotel Riyadh, with hotel staff.
----
• Noreen Not A Terrorist, She Was Kidnapped: Father
• Saudi Shoura Member In Favour Of Women Driving
• Accor Hotels Appoint First Female Saudi Hotel Manager
• Christian Man Tortured In Sheikhupura for 'Befriending' Muslim Woman
• Saudi woman's plea for help exposes risks runaways face
• Entrepreneurship Initiative for Sharjah Women Expands
Compiled by New Age Islam News Bureau
URL: https://www.newageislam.com/islam-women-feminism/islamic-sheikh-tells-teenage-girls/d/110797
--------
Islamic Sheikh Tells Teenage Girls They'll Go to Hell for Having Non-Muslim Friends
Apr 17, 2017
A fundamentalist male sheikh has made international headlines after he told girls at a youth night that they would go to hell if they befriended non-Muslims or plucked their eyebrows.
Sheikh Mohamad Doar told a room of teenage girls in Sydney's west that they needed to stop being friends with non-believers in a lecture that also covered Islamic fashion and grooming.
'The reality is, my sisters, any friendship that is not built on the fear of Allah is only going to lead to hell fire so you need to be cautious.
Sheikh Doar, from the Ahlus Sunnah Wal Jamaah Association, also told the forum, held at Punchbowl, that women would also be cursed by Allah if they plucked their eyebrows, waxed their
body or shaved.
'The lady who plucks her eyebrows and the one who gets them plucked, they're both cursed by Allah.'
He was referring to the hadith, describing the actions of the Prophet Mohammad, as part of a question and answer session organised by Muslim charity Sisters United.
Taking questions from the girls, Sheikh Doar told them they needed to wear their hijabs loose and with no bright or colourful patterns.
'It cannot be see-through showing skin. The hijab needs to be as plain as possible,' he said.
'It cannot be an imitation of the disbeliever's dress code. It cannot be attracting to the eye. It cannot resemble the dress of men. It can't be a showing-off cloth.'
He also warned them they would face criticism about their dress sense from other Muslims and kafirs, a sharia-law term for non-believers.
The sheikh's advice is generally rejected by secular Muslims, who also shun sharia law.
https://www.nigeriatoday.ng/2017/04/islamic-sheikh-tells-teenage-girls-theyll-go-to-hell-for-having-non-muslim-friends/
--------
Noreen Not A Terrorist, She Was Kidnapped: Father
April 17, 2017
LAHORE - "My daughter is not a militant, she was kidnapped a few months ago," said father of Noreen who was arrested in Lahore on Friday night.
In an interview with BBC on Sunday, Dr Abdul Jabbar Leghari, who is serving in the Sindh University as a teacher, said he did not know what had happened in Lahore. To a question about Noreen, Jabbar said he was unaware of anything about her after she went missing.
Noreen's father had not been informed about recovery of his daughter through an authentic government source till Sunday's noon.
SSP Hyderabad Irfan Baloch said on Saturday night that he did not know the girl held in Lahore was actually Noreen. After getting an FIR registered, Jabbar told BBC that her daughter was kidnapped. In this connection Jabbar had also held a press conference in Hyderabad Press Club. He said her daughter had no contacts with anyone.
The suspect's father Jabbar Leghari said that Noreen had left home for university to attend morning classes on February 10 and had been missing since then. Rejecting the claims of Hyderabad police and other LEAs, Professor Laghari said his daughter's views were not so 'radical' that she could leave home and join a militant organisation.
Noreen's brother Afzal Leghari said if the girl held in Lahore was Noreen, then she might have been kidnapped by a terrorist organisation.
http://nation.com.pk/national/17-Apr-2017/noreen-not-a-terrorist-she-was-kidnapped-father
--------
Saudi Shoura Member In Favour Of Women Driving
Apr 17, 2017
RIYADH: According to Arab News, Abdulrahman Al-Rashed, head of Shoura Council's committee on economy and energy, said he is in favor of women driving "as long as there is a clear system to enable them to drive."
He said in an interview with Okaz newspaper that Shoura Council members should not be silent on this issue.
Al-Rashed said the extent of criticism they receive indicates high expectations from the council. He said the council does not serve a certain category of people but rather, plays a monitoring role, participates in legislations, studies government departments' reports and issues recommendations aimed at improving the performance of those entities.
He said all members deal with the issues discussed and vote on them, but do not form blocs.
Women's participation in the council is developing every day, he said. "Their presence in the council is positive. They propose discussions on important issues related to society."
Rejecting proposals or recommendations is done by the members of the council themselves.
"No hidden hands prevent the council proposals," he said. "There are no restrictions as Article 23 gives a member the right to file proposals."
He said the issue of women driving had been discussed in the council, and the traffic department does not have a law preventing them from driving.
He said the question is how to enable them to drive — if there is a clear regulation that allows women to drive "then I am with it, especially as there is no Sharia restriction on the issue."
http://nation.com.pk/international/17-Apr-2017/saudi-shoura-member-in-favor-of-women-driving
--------
Accor Hotels appoint first female Saudi hotel manager
17 April 2017
Al-Hokair Group for Tourism and Development appointed Hessa Al-Mazrou as the general manager of Suite Novotel Hotel Riyadh, making her the first Saudi woman to hold this position in the Al-Hokair Group in particular and in the Saudi hospitality sector in general.
Sami Al-Hokair, managing director and the CEO of Al-Hokair Group, said the group seeks the empowerment of women in all aspects of the Saudi hospitality sector as part of the Kingdom's Vision 2030 to encourage the participation of Saudi women in both social and professional fields.
He also added that this is not only a great achievement for the group, but is also a great achievement for the Saudi hospitality sector.
"We are very confident that this step will encourage women to pursue their career aspirations. That is why it gives us great pleasure to welcome Hessa Al-Mazrou. We believe that her extensive experience will enhance the hotel's status and success in the competitive hospitality market of Riyadh," he said.
Al-Mazrou expressed her gratitude, asking Allah to help her raise to the expectations of the group and its leaders.
Al-Mazrou has over 10 years of experience in hospitality, brand management and promotion, strategic planning and development and event management, as well as managing the group's social responsibility programs, customer loyalty programs and public relations.
http://www.arabnews.com/node/1085696/corporate-news
--------
Christian man tortured in Sheikhupura for 'befriending' Muslim woman
BILAL SHEIKH
Apr 17, 2017
A Christian man was reportedly assaulted and burnt with hot iron rods, allegedly by the family of a Muslim woman in Sheikhupura district, for having "friendship" with her, it has been learnt.
The victim had received severe burn wounds and after failing to get proper medical care in Sheikhupura, he was shifted to Mayo Hospital, Lahore, on Sunday for further medical treatment.
The incident happened earlier this month and a police case has also been lodged against the father and brothers of the woman, who were reportedly against the friendship between the two and allegedly tortured 21-year-old Ansar Masih.
According to the First Information Report (FIR) undersigned by Masih's sister in Sheikhupura's Saddar police station, Masih first established contact with the woman two years ago and their friendship grew with time.
They often spoke on phone and Masih would also visit the woman neighbourhood to meet her, the FIR stated.
When the woman's family learned of the friendship, her father, Manzoor, and her brothers called Masih's father asking him to tell his son to stay away from the woman, warning them of dire consequences if their instructions were not followed, the FIR added.
On April 1, Ansar's mother sent him to run an errand in the woman's neighbourhood where Ansar was allegedly kidnapped by the accused and his two sons, the report stated, adding the three unclothed him, beat him and burned him using hot iron rods.
The FIR further states that the accused then brought Ansar to his house and told his family that he had been in a traffic accident.
Ansar's family then rushed him to Sheikhupura's District Headquarters Hospital where, after gaining consciousness, he narrated the incident.
Subsequently, on April 5, his sister lodged the FIR following which the police took the accused into custody.
Speaking to DawnNews, the victim's father claimed that the family was under pressure by the accused as well as the area police to reconcile and take back the case.
When contacted, the officials at DHQ confirmed that Ansar had been shifted to Lahore's Mayo Hospital as the facility in Sheikhupura lacked equipment and necessary supplies to treat patients with serious burn injuries.
Ansar's condition is reportedly stable now. However, his medical treatment is underway.
https://www.dawn.com/news/1327428/christian-man-tortured-in-sheikhupura-for-befriending-muslim-woman
--------
Saudi woman's plea for help exposes risks runaways face
Apr 17, 2017
A young Saudi woman's plea for help after she was stopped in an airport in the Philippines en route to Australia where she planned to seek asylum has triggered a firestorm on social media and drawn attention to the plight of female runaways.
For runaway Saudi women, fleeing can be a matter of life and death, and they are almost always doing so to escape male relatives.
The male guardianship system in Saudi Arabia bars women from traveling abroad, obtaining a passport, marrying or even leaving prison without the consent of a male relative.
The mystery around what triggered Dina Ali Lasloom's cry for help has only added to concerns for her safety. In an online video, the 24-year-old says her passport was taken from her at an airport in the Philippines on her way to Australia last week.
"If my family come, they will kill me. If I go back to Saudi Arabia, I will be dead. Please help me," she pleads.
Wearing a beige coat, the woman does not show her face in the video. Most women in Saudi Arabia cover their face with a veil known as a niqab. Many do so believing it is a religious obligation, in addition to covering their hair and body. Some also cover their faces due to social pressure.
"I am kept here as a criminal. I can't do anything," Lasloom says in the video. The Associated Press could not independently verify the video's authenticity.
Women's rights advocates in Saudi Arabia say Lasloom was ultimately forced to board a plane to the kingdom with two of her uncles, who flew from Riyadh to stop her. They said authorities then took her to a women's shelter because of the attention around her case.
She cannot leave, however, without a male guardian's permission. Activists say only officials and relatives can contact her there.
Although there are no public statistics on how many Saudi women attempt to flee abroad, the issue has gained attention through a number of publicised cases. This despite gains made in recent years for Saudi women, including the right to run in, and vote in, local elections in 2015, and a government effort to increase women's participation in the workforce.
Women who have managed to flee abroad say they were barred from marrying or forced into marriages. Others have told rights groups that male relatives were abusive and confiscated their salaries.
"Many of them, they just want to be free," said Moudi Aljohani, who fled last year and is seeking asylum in the US.
Aljohani, 26, says her family felt she'd become "too Americanised" after a year of study in Miami. What was supposed to be a week long visit home turned into months of confinement, she says.
"The eight months of being locked in Saudi Arabia has created an angry, rebellious person inside of me that I don't want to be silent anymore," she said. "What happened to me in Saudi Arabia created a person who just wants to speak out."
For the past 15 years, four of the late King Abdullah's daughters, Princesses Jawaher, Sahar, Hala and Maha — all in their 40s — have allegedly been held in a royal compound in Saudi Arabia. Their mother, who lives in London, has spoken out in the British press to try and bring attention to their plight. Two of the princesses managed to release videos in recent years pleading for help.
Saudi courts have heard numerous cases of women asking for a transfer of their guardianship to more sympathetic male relatives — in some cases to their own sons.
A Saudi women's rights activist reached by phone in Riyadh said Lasloom was apparently trying to flee relatives in Kuwait who threatened to send her to live in Saudi Arabia.
"There have been a lot of Saudi girls who sought asylum abroad, but now it's a trend. A lot of younger girls in their 20s are seeking asylum," she said, speaking on condition of anonymity for fear of reprisal.
"When they say honour killings do not exist, it's not true. It's just invisible," she said, referring to the killing of daughters in the name of family honour.
Sara Leah Whitson, the Middle East director at Human Rights Watch, says Saudi women fleeing their family can face so-called "honour" violence if returned against their will. She called on Saudi authorities to protect Lasloom from her family.
According to the Philippines' Inquirer news website, Lasloom was barred from her Australian-bound flight by Saudi Embassy officials in Manila who asked airport officials to stop her.
The Saudi Embassy in the Philippines wrote on Twitter that what occurred was "a family matter in which a girl was returned with her family to the homeland."
When asked by The Associated Press whether Saudi diplomats in the Philippines had requested that authorities in Manila stop Lasloom from boarding a flight to Australia, Foreign Ministry official Osama Nugali said: "Saudi embassies abroad respect the institutions and laws of host countries and do not interfere in their affairs."
Manila Airport General Manager Eddie Monreal told the AP he had no knowledge about the case. An immigration official reached by the AP said the airport's immigration officers neither detained nor held any passenger under that name.
In Saudi Arabia, activists tracking her plea for help attempted to meet Lasloom at Riyadh airport overnight Wednesday. They say instead, another activist, Alaa al-Anazi was detained by security officials at the airport and transferred to a girl's detention center in the capital.
The Interior Ministry did not immediately respond to requests for comment.
A Human Rights Watch report released last year on guardianship laws in Saudi Arabia found that even with greater opportunities for women in the kingdom, a woman's life rests largely on "the good will" of her male guardian.
http://nation.com.pk/international/16-Apr-2017/saudi-woman-s-plea-for-help-exposes-risks-runaways-face
--------
Entrepreneurship initiative for Sharjah women expands
April 16, 2017
Sharjah: NAMA Women Advancement Establishment is expanding their entrepreneurship initiative, which is focused on creating a generation of female entrepreneurs, to more communities in Sharjah, it was announced.
NAMA, an organisation dedicated to developing opportunities for women in the economic, professional and social spheres, said the expansion of their Jeel Entrepreneurship Initiative will help more Emirati women benefit from the free tuition and mentoring designed to improve their business skills.
The Jeel programme was launched in December 2015 under the patronage of Shaikha Jawaher Bint Mohammad Al Qasimi, wife of His Highness Dr Shaikh Sultan Bin Mohammad Al Qasimi, Supreme Council Member and Ruler of Sharjah, to build the capacity of women in remote areas of Sharjah to convert their ideas into viable businesses.
Shaikha Jawaher is also the chairperson of the Supreme Council for Family Affairs and NAMA Women Advancement Establishment.
Reem BinKaram, Director of NAMA said that "Jeel was established to build the capacity of women entrepreneurs by converting their business ideas into fully functional operating enterprises, and to equip women who are passionate about starting their own businesses with the requisite skills to do so. Jeel is ideal for women looking to transform their ambitions into viable business plans, with the successful ventures that result being vital for the UAE's small business sector and assisting its economic growth."
Jeel 2017 follows on from the success of the first Jeel programme, which targeted female entrepreneurs in Sharjah's Dibba Al Hisn community. The programme is conducted in collaboration with Education For Employment — Global (EFE-Global), a regional organisation that works to create job opportunities for unemployed youth in the Middle East and North Africa by providing world-class professional and technical training.
Participants in the first Jeel programme have undergone three phases of training and mentorship in business skills; including participation in workshops that tested their business acumen and strategy seminars that taught them how to create workable business plans.
As a first step in initiating Jeel in 2017, the project team is hosting open houses in five locations where the initiative is expanding to. The open houses are scheduled to take place from April 17 to 20 and April 25 in Kalba, Khorfakkan, Dibba Al Hisn and Al Dhaid.
Organised for women interested in participating in the programme, the activity aims to introduce Jeel and attract attendees to its three-day 'Business Ideation Boot Camp.'
Applicants can contact jeel@namawomen.ae or call +971 56 788 5091 to avail more information on the venues of the open houses, requirements for application and the process.
http://gulfnews.com/news/uae/society/entrepreneurship-initiative-for-sharjah-women-expands-1.2012417
--------
URL: https://www.newageislam.com/islam-women-feminism/islamic-sheikh-tells-teenage-girls/d/110797
New Age Islam, Islam Online, Islamic Website, African Muslim News, Arab World News, South Asia News, Indian Muslim News, World Muslim News, Women in Islam, Islamic Feminism, Arab Women, Women In Arab, Islamophobia in America, Muslim Women in West, Islam Women and Feminism