New Age Islam News Bureau
8 Oct 2017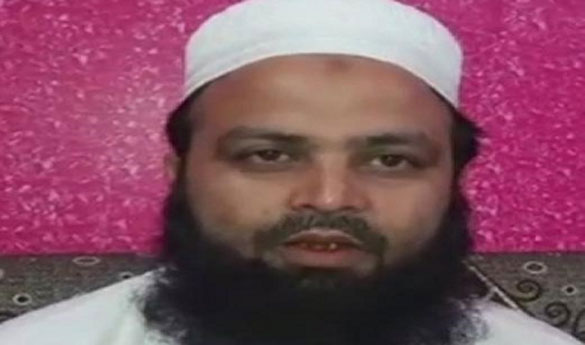 Photo: According to reports, a Muslim man from Uttar Pradesh's Saharanpur had sent a query to the seminary seeking to know if haircut and eyebrow doing were allowed in Islam. (Photo: ANI)
--------
• Women Over 45 Years of Age May Soon Go On Haj without Male Kin
• Hadiya Case Didn't Warrant Probe by NIA, Kerala Government Tells Supreme Court
• JIHADI BRIDE 'ARMY': Brit ISIS White Widows Plotting Huge Attack In UK
• Once Women Take The Wheel, Saudi Arabia Will Never Be The Same
• OIC Calls For Enhancing Women's Presence In Media
• Hear Them Roar: Afghan Female Football Fans Show Their Support
Compiled by New Age Islam News Bureau
URL: https://www.newageislam.com/islam-women-feminism/islamic-seminary-darul-uloom-deoband/d/112805
-------------
UP Islamic school issues fatwa, bans women from shaping eyebrows, cutting hair
ANI Published : Oct 8, 2017
Darul Iftaa, which issues the Darul Uloom Deoband's edicts, has termed all such hair-grooming activities as 'un-Islamic'.
Deoband (Uttar Pradesh): The Darul Uloom Deoband, an Islamic school, issued a fatwa (religious edict) on Saturday that banned women from plucking, trimming and shaping their eyebrows and also cutting their hair.
Darul Iftaa, which issues the Darul Uloom Deoband's edicts, has termed all such hair-grooming activities as 'un-Islamic'.
"Darul-Uloom Deoband has issued fatwa against Muslim women cutting their hair and shaping their eyebrows," Maulana Kazmi of Darul Uloom Deoband said.
According to reports, a Muslim man from Uttar Pradesh's Saharanpur had sent a query to the seminary seeking to know if haircut and eyebrow doing were allowed in Islam.
In a response to the query, Darul Iftaa said such acts violate Islamic laws.
Women activist Mariya Alam questioned the fatwa issued and said, "Darul Uloom is also becoming the part of world's conspiracy against Muslims, where they are portrayed as extremists, terrorists and are believed to torture women."
She further said that it is misrepresentation of Islam and shows it of carrying anti-women values.
"Islam is not about putting restrictions on women but about empowering women," Alam said.
She further added that no one can decide for Muslim women, they themselves can take decisions.
Darool Uloom Deoband issued many fatwas in the past.
In January 2012, it issued a fatwa calling for the author Salman Rushdie to be barred from entering India to attend a literature festival because he had offended Muslim sentiments.
In May 2010, Darool Uloom Deoband issued a fatwa stating that men and women cannot work together in public offices unless the women are properly clothed.
In September 2013, it issued a fatwa banning photography as un-Islamic.
asianage.com/india/all-india/081017/up-islamic-school-issues-fatwa-bans-women-from-shaping-eyebrows-cutting-hair.html
---------
Women over 45 years of age may soon go on Haj without male kin
Mohammed Wajihuddin | TNN | Updated: Oct 8, 2017
MUMBAI: From next year, women aged over 45 could make the Haj pilgrimage without their 'mahram' or close male relatives if travelling in groups of four or more, Union minority affairs minister Mukhtar Abbas Naqvi said on Saturday.
Naqvi made the announcement after a Haj review committee+ , headed by retired IAS officer Afzal Amanullah, handed him the new policy report listing several recommendations+ . Some might be implemented from next year.
"Some sects among Muslims don't allow the travel of women unaccompanied by mahram, while others do. It is up to the sects to use this option," said Amanullah. He added that the Saudi authorities had permitted the government to employ the norm. Terming it "progressive", Naqvi said the Haj Committee of India might consider implementing the recommendation from next year.
Predictably, women's rights activists welcomed the move. "This is a huge leap, which will help remove the perception that Islam considers women inferior to men," said Islamic scholar ZeenatShaukat Ali. However, orthodox clerics termed it "interference with Sharia".
"A Muslim woman has to be accompanied by a mahram if they travel such a distance," said Mufti Mohammed HuzaifaQasmi of Jamiat-ul-Ulema-e-Hind.
timesofindia.indiatimes.com/india/women-over-45-years-of-age-may-soon-go-on-haj-without-male-kin/articleshow/60989406.cms
---------
Hadiya case didn't warrant probe by NIA, Kerala government tells Supreme Court
Written by ANANTHAKRISHNAN G | New Delhi | Updated: October 8, 2017
Four days after the Supreme Court said it would examine the question whether the Kerala High Court could annul the marriage of a Muslim man to a Hindu woman who had embraced Islam, the Kerala government told the apex court Saturday that a state police investigation into the matter had not found anything that would warrant a probe by the National Investigation Agency (NIA).
Shafin Jahan, whose marriage to AkhilaAsokan alias Hadiya was set aside in May by the Kerala High Court which entrusted her custody to her parents, had sought recall of the Supreme Court's earlier order which directed the NIA to probe whether there was a wider pattern of alleged love jihad in the case.
Last Tuesday, the bench of Chief Justice of India Dipak Misra and Justices A M Khanwilkar and D Y Chandrachud said they would hear Shafin Jahan's plea on October 9.
On Saturday, Kerala Additional Chief Secretary, Home Department, Subrata Biswas, in an affidavit filed in Supreme Court, said: "Investigation conducted so far by the Kerala Police has not revealed any incident relating to commission of any scheduled offences to make a report to the central government under Section 6 of the National Investigation Agency Act, 2006."
The state government said the police investigation was on when the Supreme Court directed the NIA to conduct an investigation into the case. "The Kerala Police is competent to conduct the investigation in such crimes and would have reported to the central government if any scheduled offences (were) found to have been committed during such investigation as per the provisions of the NIA Act," it said.
Akhila alias Hadiya's marriage was set aside in May by the Kerala High Court after her father, K M Asokan, petitioned that she was forcefully and fraudulently converted to Islam.
Shafin Jahan moved the Supreme Court against the High Court order. But a two-judge bench, headed by the then CJI Justice J S Khehar, ordered an NIA investigation and said it would also examine the contention raised by her father that her conversion to Islam was done fraudulently. The court, however, agreed to hear the woman before taking a final decision on the matter.
In its preliminary report, the NIA said the case did not appear to be an isolated one, and it had found a pattern in some other cases too.
Justice Khehar retired in the last week of July following which Shafin Jahan again approached the Supreme Court, seeking recall of its earlier order.
indianexpress.com/article/india/hadiya-case-didnt-warrant-probe-by-nia-kerala-government-tells-supreme-court-4879826/
---------
JIHADI BRIDE 'ARMY': Brit ISIS White Widows plotting huge attack in UK
8th October 2017
MI5 fears the jihadi pair are recruiting female Muslim converts to carry out atrocities here.
Spy chiefs say "White Widow" Lewthwaite and Jones represent one of the most dangerous terror threats to the UK.
It is understood that cyber experts at GCHQ have intercepted dozens of encrypted messages and phone calls.
They indicate that British female Muslims are being targeted by Islamic State.
Last night one source said: "Jones and Lewthwaite are at the top of the UK's and the US most-wanted list. They are two very dangerous, manipulative terrorists.
"The Islamic State in Syria and Iraq may be close to collapse but the war will go on and these two women are recruiting other females to their death cult."
ISIS' last stand: The forces advancing on the jihadi's final strongold, Tal Afar
With ISIS holed up in their final hiding place after being driven out of Mosul, Iraqi prime minister Haider al-Abadi has promised jihadi fighters 'You either surrender or you die.' We take a look at the recent fighting around the town in northern Iraq
e towards Islamic State (IS) group positions as they head towards the village of Shwah, south of the city of Tal Afar Shiite fighters from the Hashed al-Shaabi (Popular Mobilisation) paramilitary units advance towards the village of Shwah, south of the city of Tal Afar
They added: "Both women have hallowed status in IS.
"They have huge influence and wield quite a lot of power within the male-dominated group.
"Intelligence suggests that they are now attempting to recruit in the UK and other European countries and they are targeting white converts."
The MI5 fears come as IS called on women to take up arms.
In a new edition of its Arabic language newspaper, the group told female supporters it was an "obligation" for them to wage jihad.
It said: "Today, in the context of the war against the Islamic State, it has become necessary for female Muslims to fulfil their duties on all fronts in supporting the mujahedeen in this battle."
IS is desperate to recruit more white converts.
It thinks they are less likely to be identified as jihadis and will have more chance of carrying out terrorist outrages.
Jones, 50, from Kent, was married to 7/7 Tube bomber Germaine Lindsay, She is high on the Pentagon's 'kill list' because she is believed to have masterminded dozens of plots.
She fled Britain to join IS in 2013 alongside lover Junaid Hussain, taking her then-nine-year-old son JoJo with her.
Hussain was killed by a US drone strike in 2015 aged 21.
Lewthwaite, from Aylesbury, Bucks, is wanted over atrocities carried out by African-based Islamic terror group al-Shabaab.
dailystar.co.uk/news/latest-news/650595/terror-jihadi-women-muslim-army-attack-UK
---------
Once women take the wheel, Saudi Arabia will never be the same
Saudi Arabia is finally freeing itself from the grip of decades of religious fundamentalism. The key to this change?Car keys. On September 26, the Saudi government formally announced that it would lifted the ban on women driving. Saudi writers have compared the struggle that led to this day to the battle of the royal decree to open the first government girls' school in the kingdom. The decree came three decades after the founding of Saudi Arabia. But this revolutionary moment is about so much more than driving. It is about changing the very direction of the country.
Denying women the right to drive has imposed huge costs on Saudi citizens. Up to 1.5 million foreign men must be paid to work as drivers. Many neither speak nor read Arabic, and some of these "drivers" have never driven a car before. A paltry 15 percent of Saudi women work outside their homes, in part because hiring a private driver can cost between one-third and two-thirds of a woman's salary. Saudi men must be responsible for the transportation of their wives, sisters and mothers. In desperation, women without access to male drivers have put boys as young as 9 years old behind the wheel, propped up on pillows to see over the dashboard. It is no wonder that the kingdom has among the highest traffic fatality rates in the world.
Beyond the social and economic costs, literally forcing women to remain in the back seat has hobbled Saudi Arabia's global progress. It has the world's second-largest proven oil reserves but ranks behind Cyprus and Malta on the United Nations Human Development Index. Now at last we have a path forward: an open Saudi society for men and women.
Driving is a start. It can help end the larger oppressive guardianship system, which requires women to obtain permission from a male relative for the most basic decisions and activities. (Interestingly, the kingdom has announced that a woman will not need permission from her guardian to obtain a driver's license.)
Today, guardianship and control over women are less about ancient traditions inside the kingdom - after all, the prophet Muhammad married a successful businesswoman - than about fundamentalist religious forces enforcing their grip on society. Many of the current restrictions on women were imposed after the neighbouring Iranian Revolution and the armed seizure of Mecca's Grand Mosque by Sunni radicals for two weeks in 1979. Following those events, women disappeared from Saudi state television and newspapers, coupled with a huge crackdown on women employment. Fundamentalists also renewed their calls to end women's education. But the current generation of Saudi women has refused to listen. Women now make up more than half of all Saudi university students - 51.8 percent as of 2015, according to the Ministry of Education.
More change is coming. For the first time in the kingdom's history, leadership is passing to a younger generation. Saudi Arabia has long been known for its octogenarian kings, but today the crown prince, Mohammed bin Salman, is only 32.
Seven years ago, I cried on the streets of Saudi Arabia. I cried because after a doctor's appointment, I could not find a male driver to take me home. I had to endure harassment as I walked alone. I had an American driver's license and I knew how to drive, but the government would not allow it. To drive while female was punishable by arrest and jail time.
Indeed, in May 2011, I was arrested and jailed after I drove on Saudi streets as part of the June 17th movement to protest the ban. Last week, I cried again, but my tears were tears of joy. In June 2018, seven years after that protest, Saudi women will be free not only to drive their own cars but also to be the drivers of their own lives.
Al-Sharif, a women's rights activist, is author of "Daring to Drive: A Saudi Woman's Awakening." Washington Post
watoday.com.au/comment/once-women-take-the-wheel-saudi-arabia-will-never-be-the-same-20171006-gyvnha.html
---------
OIC calls for enhancing women's presence in media
Arab News | Published — Sunday 8 October 2017
MANAMA: The Islamic Educational, Scientific and Cultural Organization (ISESCO) in coordination with the Bahrain National Commission for Education, Science and Culture and the Supreme Council of Women in Bahrain, held a workshop in Manama on ways to highlight the role of women in society and enhance their presence in the media.
Maha Mustafa Akeel, the information department director of the OIC, revealed that the workshop made recommendations aimed at empowering women in the Islamic world and enhancing their presence in the media.
She pointed out that "the most prominent recommendations were to establish a network for women media figures under the supervision of the General Secretariat of the OIC, as well as documenting the achievements of women leaders."
She also said that women participants asked the appropriate governmental institutions to review the image of women in school curricula at all stages, as well as in religious and community discourse to be more equitable to their status and achievements.
The recommendations urged the media of all kinds in Islamic countries not to perpetuate the misperceptions of women which limits their concerns in cosmetic and fashion matters and using them in commercial advertising, and to promote the presence of women in media institutions.
The OIC and ISESCO also called for joint media activities to correct misinformation and stereotypes about women in the Western media in the context of addressing the phenomenon of Islamophobia and racial discrimination against Muslim minorities and communities in Western countries.
The workshop called upon government institutions and NGOs in the Islamic world to enable women to play their role in economic construction, social development and the promotion of political stability.
It said that this can be achieved through "the development and upgrading of national strategies, laws, policies and plans designed for women, enhancing their capabilities in the field of the media, and setting specific targets and benchmarks."
arabnews.com/node/1174196/saudi-arabia
---------
Hear them roar: Afghan female football fans show their support
AFP | Published — Sunday 8 October 2017
KABUL: ShibaRahimi, a demure pale pink hijab covering her hair, sits forward in her seat and does a shrill two-finger whistle at the male footballers darting around the all-weather field in Kabul.
The university student is one of dozens of football-mad women sitting in the female section of the Afghan capital's main stadium enjoying a rare opportunity to have fun in public in patriarchal Afghanistan.
"Women are not harassed or bothered by anyone here. It is a good place for women," 21-year-old Rahimi tells AFP, as she sits with her family watching the Afghan Premier League (APL) clash between ToofanHarirod and Simorgh Alborz.
A cross section of women — students, professionals and grandmothers — hold red "Goaaal!" posters and wave Afghan national flags as they scream the names of their favorite team, their faces beaming.
Women, some partially veiled to only show their eyes, trickle into the stadium throughout the game. To reach their segregated seating next to the VIP section they must walk past a men's stand under the gaze of scores of eyes.
It is a scene that would have been unthinkable during the Taliban's repressive and misogynistic regime when women were largely confined to their homes and, when they did venture outside with a male escort, hidden from view under burqas.
The ground where the game is under way is close to the old stadium where matches held under the Taliban's 1996-2001 rule featured public executions with criminals hanged or shot and thieves' hands cut off.
In the sixteen years since the Taliban was toppled by a US-led invasion, women have been allowed to attend men's matches and even play the sport.
Only a few female supporters went to games in the beginning but as memories of the Taliban years faded and women footballers and fans appeared more frequently on television they began showing up in greater numbers — but only with the permission of their husbands and families.
Still, that is greater freedom than women in some other Muslim countries, such as neighboring Iran and Saudi Arabia, enjoy.
Morsal Sadat is one of the lucky ones. The 16-year-old high school student says her family lets her play and watch football.
"I came here to watch and learn some new tricks from our players," Sadat says.
Despite being vastly outnumbered by men in the 6,500-seat stadium, the enthusiastic female fans overshadow their male counterparts with their exuberant support.
The men do not appear bothered by their female counterparts — some even use their proximity to girls to flirt through the barrier.
Afghanistan has made strides to promote female football — it has a national side and three years ago launched its first all-women's football league that ran in parallel with the men's APL.
But this year the female teams were sidelined by a lack of funding.
Security is a major concern for spectators attending sporting venues in Afghanistan where large gatherings of any kind are often targeted.
During last month's Shpageeza Cricket League a suicide bomber blew himself up meters from the stadium, killing three people.
But in a country where daily life is often interrupted by deadly attacks by insurgents the female football fans say they refuse to be intimidated into staying home.
Khatira Ahmadi, 20, says: "It is true that there is widespread insecurity in Afghanistan, and we witness one blast or two blasts every day, but we don't get frightened. (We) cannot ignore the sport we love."
arabnews.com/node/1174261/sports
URL: https://www.newageislam.com/islam-women-feminism/islamic-seminary-darul-uloom-deoband/d/112805