New Age Islam News Bureau
23 Jun 2013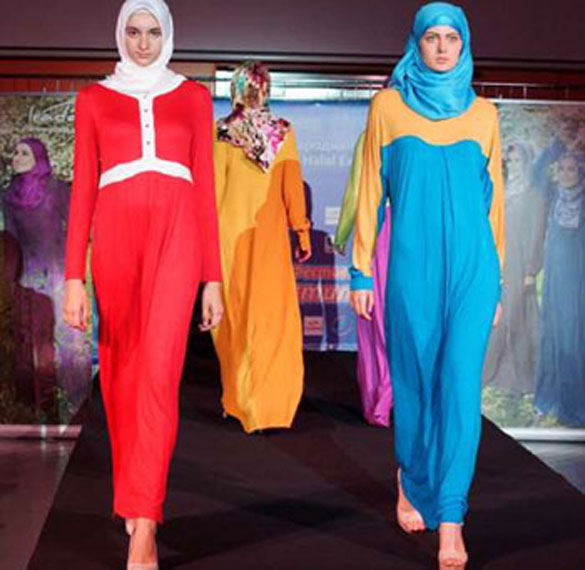 Photo: Islamic Fashion Gaining Popularity in Moscow
----------
• Al-Qaida-linked Gunmen abduct 2 sisters in southern Philippines
• 'Better Access to Information Does Little to Help Women in Pakistan': Aurat Foundation
• Women Reps in Local Govt of Bangladesh Face Gender Discrimination
• Non – Saudi Woman Married To a Saudi Moves Court for Custody of Her Girls
• 'First Lady' of Malaysia: Leave Women's Issues Alone
• Tahmima's Story Wins Praise in Indian Daily
• Islamic Fashion Gaining Popularity in Moscow
• Marriage Fund, Emirates ID Organise Mass Wedding
• Leading female Libyan activist wins international prize
• Five-year-old girl raped in Islamabad
Compiled by New Age Islam News Bureau
URL: https://newageislam.com/islam-women-feminism/islamic-fashion-gaining-popularity-moscow/d/12236
--------------
Islamic Fashion Gaining Popularity In Moscow
June 21, 2013
Maxim Laguyenko, special to RBTH Asia
Russian designers are ready to dress Muslim women according to all the precepts of high fashion.
The Russian capital hosted the Islamic Style 4th International Fashion Festival on 15 June; the event was held as part of the Moscow Halal Expo. Several Russian fashion designers who specialize in Islamic fashion and style demonstrated their new collections.
Casual Muslim style
There are many stereotypes about Muslim dress. One of them is that the cuts and the colour schemes tend to be largely the same. But participants of the Islamic Style festival tried to make their collections as casual as possible, without contravening any Muslim canons. They have made good use of popular European fashion elements, such as long skirts, lacework, and various accessories.
One of the most distinctive features of the fashion items on display was intricate use of colour and texture. There were interesting combinations of pastels and bright patterns, as well as various ornaments. Classical narrow-waist floor-length dresses were contrasted with loose-cut designs, often with belts and shawls of matching colour, as well as trousers with long shirts and blouses tucked into skirts.
"I wanted to demonstrate that the same individual pieces can be used to create several interesting combinations, which can be interchanged quite easily, and produce a very different effect," says one of the participating designers, Dilyara Sadriyeva. "I am really not interested in making clothes that simply look good on the catwalk. My goal is to make clothes for real life. I want every Muslim woman, or just any woman whatever who wants to dress without showing lots of skin, to be able to look good."
Global expansion
There is now little doubt left that global fashion will increasingly turn towards Muslim traditions and culture. The world's leading fashion houses have long begun to include Muslim dress elements in their collections, including high neck, covered shoulders, long skirts and dresses, and loose cuts.
In Russia, too interest in Islamic fashion has been growing in recent years. Nevertheless, it would be premature to say that this style has already become fully distinct.
"Talking about the highest tiers of fashion, we are talking about two or three leading designers, no more," says Rusudan Kobyakova, fashion designer and founder of Laboratory 13. "I am talking about renowned professionals who offer interesting and unique solutions of their own," she told an RBTH correspondent. "But talking about the mass category, there are many more designers who have adopted this style." Kobyakova believes that even though this particular segment of the fashion market is undersupplied, the gap is closing because there is rapidly growing demand for Muslim dress and Islamic style as a whole. Russia already has some respected schools of fashion design, and Russian designers often travel abroad to learn tricks of the trade.
The main consumers of modern Muslim fashion in Russia are women who follow the canons of Islam, but also want to keep up with the latest international trends.
A smaller but constantly growing group of clientele is women who espouse various religions but prefer a stylishly covered look. "I receive a lot of custom from non-Muslim women who simply prefer well-designed covered dress," says Dilyara Sadriyeva. "Showing too much skin, the look of permissiveness is something many women as well as many men have grown tired of."
"Modern fashion designers have left women practically in a state of undress, and now they need to be dressed up again," Dilyara argues. "In the 1980s, at the peak of the 'anything goes' style, women's fashion was extremely exposed. Now the pendulum is swinging back, and women are dressing themselves up again. I am talking about long skirts, pinafore dress, and European interpretations of eastern-style trousers. That is why many fashion design elements will be borrowed from Muslim fashion. The designers who can combine covered Muslim dress with European trends will be the winners."
Russian style of Muslim fashion
Even though the Muslim style of dress is gaining popularity in Russia, experts do not believe that the streets of Russian cities will soon be full of women dressed like the denizens of Qatar, Saudi Arabia or other countries of the Arab East.
"We are not an Arabic country, and Arabic dress does not suit us," says Rusudan Kobyakova. "Russian Muslim fashion will always be different from any Eastern or Muslim fashion; it will be closer to the European style. Eastern Muslim dress is very strict, orthodox and nationally distinct. There is simply nowhere to wear such clothes for women in Russia."
Meanwhile, the more relaxed Russian style of Muslim fashion is gaining popularity in the European markets as well as the Arabic countries. "Even though this is a fairly new style of fashion in Russia, we can offer our own distinctive look," says Dilyara Sadriyeva. "Our ideas attract quite a bit of interest abroad. We have achieved strong sales in the foreign markets. We receive a lot of custom from Europe as well as the Arabic countries. We work with these customers via the Internet, and there is constantly growing interest in what we have to offer."
http://rbth.asia/society/2013/06/21/islamic_fashion_gaining_popularity_in_moscow_47475.html
------------
Al-Qaida-linked Gunmen abduct 2 sisters in southern Philippines
Jim Gomez, The Associated Press
June 23 2013
Suspected al-Qaida-linked gunmen have abducted two Filipino sisters who traveled to a dangerous mountainous area in the southern Philippines to work on a film about Muslim farmers, police and military officials said Sunday.
Nadjoua and Linda Bansil were taken by about 10 gunmen Saturday in Sulu province's Patikul town where they filmed coffee farmers. At least three companions of the sisters, who were in a van, fled on a motorcycle or were left behind by the gunmen, Patikul police chief Senior Inspector Christopher Gutierrez said.
Police were trying to locate the gunmen and their victims, Gutierrez said.
"We're trying to track down the abductors and the victims and possibly launch a rescue operation with the help of the military," Gutierrez said by telephone.
Marine Col. Jose Cenabre said the gunmen belong to the Abu Sayyaf, a group notorious for ransom kidnappings, beheadings and other atrocities, but Gutierrez said police were still checking if the abductors were from an allied group of young gunmen behind several kidnappings.
Gutierrez said the women, who were guests of a Sulu-based sultan, did not coordinate with police before their trip to the dangerous Patikul hinterlands. They reportedly visited Mount Sinumaan, a rugged mountainous area where the Abu Sayyaf maintains a camp, and were on their way back to the provincial capital of Jolo when they were stopped by the gunmen.
The sisters were born in Algeria from an Algerian mother and a Filipino father but grew up in the Philippines, where they have been involved in recent years in producing independent films. One of their works, a short film about the travails of impoverished Filipino sea gypsies, has won praise, according to a close relative who spoke on condition of anonymity for security reasons.
Abu Sayyaf militants have been holding a number of hostages in the jungles of Sulu, including two European bird watchers and a Jordanian journalist who were kidnapped last year. The militants are active in Sulu, a predominantly Muslim province about 950 kilometers (590 miles) south of Manila, where they have survived in their jungle encampments despite years of U.S.-backed Philippine offensives.
Veteran Jordanian TV journalist Baker Atyani and his two Filipino crewmen were kidnapped last June by Abu Sayyaf militants whom they had sought to interview in Patikul's jungles. His two Filipino companions were freed in February but Atyani, who gained prominence for interviewing Osama bin Laden in Afghanistan a few months before the Sept. 11, 2001, attacks, remains in captivity, police say.
Bird watchers Ewold Horn of the Netherlands and Lorenzo Vinciguerra of Switzerland are also believed to be held in Patikul by the Abu Sayyaf, police say.
http://www.thejakartapost.com/news/2013/06/23/gunmen-abduct-2-sisters-southern-philippines.html
----------
'Better Access to Information Does Little to Help Women in Pakistan': Aurat Foundation
June 23, 2013
KARACHI: Increased access to knowledge and rapid flow of information has not brought much relief to Pakistani women in terms of curtailing gender-related violence and discrimination at home or at the workplace.
The Aurat Foundation on Friday published five research studies covering gender-based violence, including domestic violence, sexual harassment, customary practices leading to discrimination, social and legal responses to rape, and internal trafficking of women and girls in Pakistan.
Commenting on the studies, Sindh Assembly's member, Saira Shahliani, said that women still faced psychological, physical and mental abuse. "They are being tortured physically as well as mentally. We need to unite and fight against these crimes," she stressed. Shahliani was of the view that all stakeholders, including politicians, landlords, media persons and members of civil society, needed to come together to curb these inhumane offences against women.
Domestic violence
The research studies showed that almost 100 per cent respondents viewed domestic violence as a serious matter. The findings also revealed that domestic violence had long-lasting effects on women and children. It became clear that children often repeated the acts of violence they witnessed at homes.
Mahnaz Rahman, the resident director of the Aurat Foundation, Karachi, said that there was no law in the Pakistan Penal Code that covered domestic violence specifically. "Among educated couples, conflict rates are high. Moreover, no particular occupation had a direct bearing on the level of violence," she added. Rahman said that a lack of statistical data on domestic violence and evasive attitude of victims made it difficult to ascertain the magnitude of the abuse in Pakistan.
The research indicated that culture and custom both played a significant role in the subjugation of women. The factors contributing to the unequal power relations between men and women included socio-economic forces, the institution of family-where power relations were enforced, fear and control over female sexuality, belief in the inherent superiority of males, legal and cultural endorsements that have traditionally denied both women and children an independent social status.
Matters related to children remained the leading cause of disputes in more than 58 per cent of the households. Issues related to their discipline, education, and marriage remained the major bone of contention, the research added.
Sexual harassment
On the sexual harassment research, the general public and the working class shared their views and attitudes towards it. The information gathered by respondents included the level of awareness, their opinions about it and what they would actually do if they encountered such a situation. The foundation's findings also indicated that harassment on the street was more prevalent than at workplace. About 33 per cent respondents were victimised in Peshawar, just 3 per cent in Karachi and 13 per cent in Islamabad.
It further said that 94 per cent men in Karachi and 91 per cent in Islamabad had heard about the sexual harassment incidents at workplaces. Female are more susceptible to harassment. Sexual harassment occurred in all age groups, ethnic backgrounds and economic levels, it further stated.
More interestingly, the study revealed that a majority of the victims were dressed conservatively in a shalwar kameez with a veil at the time of the incident. The harassers belonged to dominant ethnic groups of the city.
Customary practices
For this research, Faisalabad, Jacobabad, Dera Ismail Khan and Quetta were selected and the findings showed how the stereotypical attitudes and behaviours of the society affected women. People still believed that a 'real man' was the one who earned livelihood. Of those who had witnessed violence in the family mostly recalled their father beating up their mother.
Early marriages, Watta Satta, honour killings and denial of property rights were the most prevalent customary practices that lead to gender-based violence in the districts. Illiteracy and poverty are other major reasons behind violence. The analysis of the studies explained that the main perpetrators of such violence were family members, including mother-in-law or husband, and in some cases, both.
The study said that early marriages was a norm in Jacobabad, while honour killings were mostly reported more in Quetta and Watta Satta was widely practiced in Faisalabad and Dera Ismail Khan.
Social, legal responses to rape
In male-dominated societies, women are treated as a personal property and rape has become a means of violence against women and also a form of revenge to settle scores amongst men.
Contradicting media and police reports, the foundation's findings on the topic showed that rape victims were mostly unmarried young girls. "The rape of unmarried women is usually kept secret," the study added.
Referring to the study, Muneezeh Saeed Khan, the senior officer monitoring and evaluation, said that 30 per cent of respondents, mostly female, said that they did not know how the victims of sexual assault responded to the incident.
A police official said, "It was considered as a matter of great dishonour for a Thana to register a rape case." Khan also said that the policemen needed to be trained on conducting interviews of rape survivors. "Our society needs to understand the honour of the victim," she stressed.
Internal female trafficking
Sharing the findings, Aurat Foundation's Shahida Sajid Ali said that the study reviewed a range of cultural practices and traditions such as Vani, Watta Satta and Swara. Elaborating on the factors, she said that human trafficking thrived because of poverty, desperation, discrimination, corruption, deceit, trickery, violence, political conflict and criminality.
The study revealed that the perpetrators were confident about not getting prosecuted.
Poor families seeking employment opportunities for themselves or their children often fall prey to internal trafficking.
http://tribune.com.pk/story/567044/better-access-to-information-does-little-to-help-women-in-pakistan/
--------------
Women Reps in Local Govt of Bangladesh Face Gender Discrimination
23 June 2013
Women representatives of the country's local government bodies cannot perform efficiently because of gender discrimination, said speakers at a views exchange meeting in the capital yesterday.
They were speaking at the meeting organised by Bangladesh Mahila Parishad (BMP) in its Kobi Sufia Kamal Bhaban auditorium.
BMP Chairperson Ayesha Khanam, its Dhaka Division's Co-Chair Saraban Tahura, Central Committee Campaign Secretary Rekha Chowdhury, General Secretary Maleka Banu, and Public Relations and Media Department Secretary Kazi Sufia Begum, among others, spoke on the occasion.
Ayesha Khanam said lack of logistic supports like adequate transport facilities and security at their workplace also prevent the women representatives from fulfilling their responsibilities.
Rekha Chowdhury said an inadequate maternity leave of only four months is one of the main difficulties faced by the women representatives.
Most often, the representatives are given lesser or fewer responsibilities due to gender discriminatory mentalities of chairpersons of the bodies, said Kazi Sufia Begum.
It can also be because of the barriers set up by the families, who do not allow women to take up certain responsibilities, said Maleka Banu. The women representatives also often do not get proper cooperation from their male counterparts, she said.
http://www.thedailystar.net/beta2/news/women-reps-in-local-govt-face-gender-discrimination/
--------------
Non – Saudi Woman Married To A Saudi Moves Court For Custody Of Her Girls
June 23, 2013
JEDDAH — Nawal Yaseen, a doctor, is seeking the custody of her three daughters, who live with their half-brothers, after their father died seven years ago, Al-Watan newspaper reported Saturday.
Nawal, who is not a Saudi citizen, was married to a Saudi and had three daughters with him. Her husband was already married and had children from his first wife when he proposed to her.
Seven years ago, he drowned in a water tank, and her stepchildren accused her of causing his death. However, investigations have cleared her of any suspicions.
Her husband's oldest son kicked her out of the family house, and took her three daughters forcibly from her.
Nawal said she lodged many complaints with the concerned authorities, pleading to cancel an order to deport her from the country.
Makkah Emir Prince Khaled Al-Faisal ordered the immediate protection for Nawal and to admit her to a social protection home in Taif.
She remained at the home for six months, during which time, an amendment committee intervened in the case, and she forfeited her right to SR170, 000 inheritances in exchange for keeping custody of her daughters.
Full report at:
http://www.saudigazette.com.sa/index.cfm?method=home.regcon&contentid=20130623170891
--------------
'First Lady' of Malaysia: Leave Women's Issues Alone
Jeswan Kaur
June 23, 2013
Some people just refuse to learn from their mistakes, as is the case with self-proclaimed 'first lady' of Malaysia, Rosmah Mansor, who by virtue of being prime minister Najib Tun Razak's wife seems to have taken the 'title' too seriously.
So taken in is Rosmah as the premier's wife that there is little else she wants to do except be the 'unofficial' spokesperson for her husband.
But alas each time Rosmah opens her mouth, little good comes out of all that she says. All that is said is at best a case of 'shoe shine' at work.
Take for example Rosmah's remarks made during the recently held Women's Summit that Malaysian women are already emancipated and as such there is no need for them to take to the streets to fight for their rights.
Full report at:
http://www.freemalaysiatoday.com/category/opinion/2013/06/23/leave-womens-issues-alone/#sthash.JMWpHye0.dpuf
--------------
Tahmima's Story Wins Praise in Indian Daily
23 June 2013
Bangladeshi-born acclaimed British writer Tahmima Anam's work published in the fourth edition of Granta's publication "Best of Young British Novelists" has earned encomium in a review in the leading Indian daily newspaper "Business Standard".
Tahmima's story "Anwar Gets Everything" is a story about a Bangladeshi labourer at a construction site in Dubai.
Full report at:
http://www.thedailystar.net/beta2/news/tahmimas-story-wins-praise-in-indian-daily/
--------------
Marriage Fund, Emirates ID Organise Mass Wedding
(WAM) / 22 June 2013
The UAE Marriage Fund (MF) and Emirates Identity Authority (Emirates ID) organized the "ID Third Wedding" with the participation of 60 Emirati bride grooms and a number of the Emirates ID employees.
The ceremony was held at Ittihad Towers Hotel in Abu Dhabi on Thursday.
This mass wedding was organized by UAE Marriage Fund and Emirates ID in a bid to alleviate the wedding cost for young Emirati couples so that they avoid borrowing from banks; and to start a happy trouble-free life.
Full report at:
http://www.khaleejtimes.com/nation/inside.asp?xfile=/data/nationgeneral/2013/June/nationgeneral_June360.xml&section=nationgeneral
----------
Leading female Libyan activist wins international prize
Sami Zaptia
June 23 2013
TRIPOLI – Well-known and leading female Libyan NGO activist Alaa Murabit was awarded the annual Golden Apple 2013 international category prize in Rome.
The award by the Marisa Bellisario Foundation recognizes the top twelve female achievers in a variety of categories ranging from entrepreneurship, design and up to sport.
The award was presented to Alaa Murabit, founder of the Zawia-based NGO Voice of Libyan Women, by Italian Foreign Minister Emma Bonino.
Full report at:
http://www.saudigazette.com.sa/index.cfm?method=home.regcon&contentid=20130623170882
--------------
Five-year-old girl raped in Islamabad
2013-06-23
ISLAMABAD: A five-year-old girl was subjected to rape in the capital's rural area, police said on Friday.
The minor is dumb and deaf and was a daughter of house servant of a sitting legislator.
The police said a constable found her standing along roadside with blood staining her clothes.
The constable inquired about the injuries but did not get any reply from her. After assuming that she might have been injured in a road accident he took her to Shahzad Town police station.
But later she took her to hospital when her condition started deteriorating. The doctors after examining the girl declared that she was physically assaulted.
The police started a search for her family and came to know that they were also looking for her child, who disappeared from Chatha Bakhtawar, of Bani Gala police station.
http://beta.dawn.com/news/1020102/five-year-old-girl-raped
--------
URL: https://newageislam.com/islam-women-feminism/islamic-fashion-gaining-popularity-moscow/d/12236