New Age Islam News Bureau
18 Sept 2014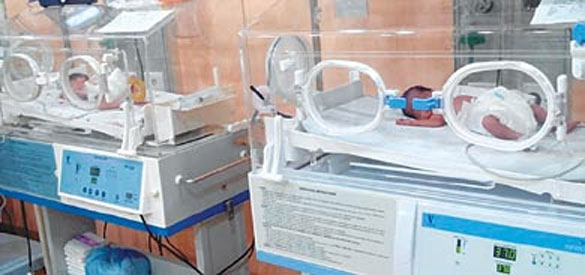 TWO of the quintuplets in incubators at the hospital's nursery Online
--------
• West Virginia Students Try Muslims' Hijab
• Basketball Body Allows Head Coverings on Trial Basis
• Kurdistan Official: IS Crimes against Women Need World Action
• Pakistani Woman Embraced By Islamic State Seeks To Drop US Legal Appeal
• Asian Olympic Boss Suspects Saudis Excluded Women for 'Technical Reasons'
• Six Iranian including 3 Women sentenced to 91 Lashes for Pharrell 'Happy' Video
• Woman Gives Birth to Quintuplets, Four Girls and a Boy, In Karachi, Pakistan
• Female Bank CEOs Deepen Malaysia Expertise Pool: Islamic Finance
Compiled by New Age Islam News Bureau
URL: https://www.newageislam.com/islam,-women-and-feminism/new-age-islam-news-bureau/islamic-extremist-groups-recruiting-french-women-and-girls-en-masse/d/99142
-------------
Islamic Extremist Groups Recruiting French Women and Girls En Masse
Sep 18, 2014
Recruiters for Islamic extremist groups are increasingly targeting French women and girls, with nearly 100 either in Syria or on their way and 175 being monitored at home, security officials say.
The number of those that security officials believe are preparing their trip has climbed exponentially — from just four being monitored in France at the beginning of 2013, to 74 at the beginning of this year, according to a French official who spoke on condition of anonymity to discuss security matters.
French recruits make up about 900 of the approximately 2,000 Europeans who have fought in Iraq and Syria. Security officials fear the fighters will use new-found battlefield skills — and European Union passports — to carry out attacks back home, and are increasingly alarmed about the rise in girls and women.
Five people, including a sister and brother, were arrested Tuesday and Wednesday suspected of belonging to a ring in central France that Interior Minister Bernard Cazeneuve said specialized in recruiting young French women.
The arrests came weeks after a series of detentions of adolescent girls around France, including a 16-year-old caught at the airport in Nice as she prepared to leave for Turkey and ultimately Syria, and three teens who were planning to travel abroad together and corresponded on social networks.
France's Interior Ministry on Tuesday posted video showing anguished family members of young people who left to fight alongside extremists, including a young man whose 15-year-old sister set out for what she thought was a humanitarian aid mission. She has not returned.
"They told her she would be valued more in Syria than in France. That she was chosen for this," Fouad El Bathy says in the video.
France has Western Europe's largest Muslim population, about 5 million people. France is trying to make it harder both to recruit and to leave to fight alongside jihadis. A measure expected to come to vote Wednesday would let the government seize the passports of suspected would-be Jihadi fighters and block Internet sites luring French to the battlefield.
http://www.haaretz.com/news/world/1.616313
-----------
West Virginia Students Try Muslims' Hijab
Sep 18, 2014
CAIRO ­– Offering West Virginia students in Marshall University a chance to try the Islamic headscarf, a group of Muslim students held a Hijab event to raise awareness about the Islamic headscarf and correct misconceptions surrounding it.
"We want to revive the Muslim Student Association group because we haven't been involved as much as we would like, lately," Suzann Al-Qawasmi, graduate from Marshall University, who helped in coordinating the event, told Marshall Parthenon on Tuesday, September 16.
"So, we set up a table and brought scarves for girls to try on, just to see what it's like. One girl said she still felt pretty even with the scarf on. That was the kind of reaction we were hoping for."
Organized by the Muslim Student Association (MSA), the event was held on Tuesday from 11am to 3pm at the Memorial Student Centre.
At the event, several students tried Hijab, sharing their experience after donning it for the first time.
"One girl wanted to try the Hijab on, and then her whole group of friends she was with tried them on," Al-Qawasmi said.
"They walked around campus afterward with the Hijabs still on, so they could see the reactions from other people."
For C.J. Payne, a business major, the event has educated her on interesting details about Hijab.
"I learned that the only men that Muslim women want to see in their full beauty are the men who are closest to their hearts," Payne said.
"It is for modesty."
Not only students but also university staff has tried the Hijab.
"It was an experience for me," said Allyson Jasper, elementary education major specializing in pre-k, who tried on the Hijab for the first time at the event.
"I put the Hijab on, and I still felt like me. It made me realize that you can shine through and be yourself no matter what you're wearing."
Islam sees Hijab as an obligatory code of dress, not a religious symbol displaying one's affiliations.
US Muslims are estimated to be between six to seven millions and a recent Pew research found that American Muslims are the most moderate around the world.
The research showed that US Muslims generally express strong commitment to their faith and tend not to see an inherent conflict between being devout and living in a modern society.
http://www.onislam.net/english/news/americas/477541-west-virginia-students-try-muslims-hijab.html
-----------
Basketball Body Allows Head Coverings on Trial Basis
Sep 18, 2014
MIES, Switzerland — International basketball's governing body said that players will be allowed to wear religious head coverings, such as Hijabs or turbans, on a trial basis in some competitions.
FIBA's central board met over the weekend at the men's world cup and voted to allow a two-year testing phase that would let players wear head coverings.
Previous FIBA rules only allowed a player to wear a 5-centimeter headband to control hair and sweat. That drew objections that the group was discriminating against Muslim and Sikh players, who wear head coverings for religious reasons.
"We welcome this policy change by FIBA because it allows Muslims, Sikhs and others who wear religious head coverings to take part in the sport that they love while maintaining their beliefs," said the Council on American-Islamic Relations National Communications Director Ibrahim Hooper. "FIBA should be congratulated for responding positively to all those who sought reasonable religious accommodation for athletes of all faiths."
Indira Kaljo, a Bosnian-American Muslim who played college basketball at Tulane, was proud when she heard the news. She called it an "amazing first step."
Kaljo said she didn't wear a Hijab in college or while playing professionally in Ireland, but after deciding to adhere more closely to her faith, she started to last year.
She wasn't able to play overseas because of the decision. She played with the head covering on in an American summer league and didn't want to return to Europe if she wasn't allowed to wear it.
"I would love to go back and play in Bosnia now or some other country," she said.
During the trial, a national federation must petition FIBA to allow players to wear the head coverings. Once approved, the federation will have to submit follow-up reports twice a year.
FIBA also said it will allow players to wear head coverings in its 3-on-3 competitions unless it presents a direct threat to the safety of players on the court.
The central board will evaluate the rule again in 2015 and determine whether testing at the lowest official international level should begin next summer. A full review will be done in 2016 on whether it will be a permanent rule change after the 2016 Olympics.
"It's a start and the right move," said Val Ackerman, a former WNBA president and proponent of the move who served on FIBA's board from 2006 to this past August. "My read from being on the board is that there are places in the world where conforming to cultural dress norms are a precondition for being able to play. So if this is what it takes to open up opportunities for women to play the sport of basketball in those countries, it's a huge plus."
In 2012, football's governing body FIFA changed its rules to allow female Muslim players to wear headscarves, after a campaign by executive committee member Prince Ali Bin Al-Hussein of Jordan.
http://www.saudigazette.com.sa/index.cfm?method=home.regcon&contentid=20140918218535
-----------
Kurdistan Official: IS Crimes against Women Need World Action
Sep 18, 2014
DUHOK, Kurdistan Region – The world cannot remain silent about crimes committed by the Islamic State (IS) against women and girls in Iraq, said Pakhshan Zangana, head of the High Council of Women Affairs in the Kurdistan Region.
"We need strong resolutions from the United Nations and the European Union condemning what happens to our women and children," she said, calling for the world to speak out against the kidnapping of women and children by the Jihadi militants.
The exact number of victims remains unknown, but hundreds of women and children are still held captive. Women are forced to marry or are victims of rape; children are gathered in orphanages or given to Muslim families to raise. Witnesses have said they have seen girls as young as 13 sexually abused.
"These are crimes against humanity," Zangana said, "and against everything else, even religion."
Women have reported being imprisoned in big buildings in IS bastions like Mosul, and being raped daily and repeatedly.
A 17-year old who was interviewed by phone by the Italian newspaper La Repubblica said that her captors gave phones to women to let the world know what is happening to them.
"To hurt us even more, they told us to describe in detail to our parents what they are doing," the young woman said. "They laugh at us because they think they are invincible."
Yezidi women have in slowly growing numbers recently been able to escape prisons and slavery by the IS. Some appear to have been freed when IS fighters holding them fled after US airstrikes.
Local aid workers in the region of Duhok in Iraqi Kurdistan say they know of 29 women who have recently been reunited with their families, but that they expect unreported numbers to be higher.
In some instances IS members had shown remorse and given women the chance to flee, escaped victims reported.
A 16-year old who spoke to Rudaw said that civilians had broken open the house that was her prison when the captors were away.
The Yezidi girl said she was transported last month from a village in the Shingal area to a number of different places, ending up in Mosul. There, she was pressured to convert to Islam by way of diminishing food rations. When the women held captive with her decided to pretend to convert, they were given Quran lessons.
Then strangers started to come and take the girls, the prettiest first. Others were given to IS leaders. "We would hear them say to their emirs: this is our gift to you," said the teenager, who together with another girl who became her companion was recently reunited with her family.
Zangana expressed disbelief about the silence of Arab and Islamic states "about these crimes made under the flag of 'there is no God but Allah.'"
She called on countries that have supported IS in the past, and all those that have some influence with the radical group, to push for the release of all women and children.
Kurdish government institutions are working to solve the case of the kidnapped women, but reports that they are buying women back from IS are not true, Zangana stressed. "We want to save them, but it's not even in our power to find them."
She called on all those holding the women let them return to their families, and "to realize they are not slaves but human beings, with mothers, sisters, daughters."
There have been some stories of women who were bought from the IS by Arabs and then returned home safely in secret.
Zangana also stressed that women and girls returned from IS prisons should be taken back by their communities and not ostracized in any way for the sexual abuse forced on them.
"We ask the leaders of all the communities involved -- Yezidi, Turkmen, Shabak, Christian -- to make clear to their flock that they should be looked upon as victims, and not as if they are guilty for the terrible things that have been done to them."
http://rudaw.net/english/middleeast/iraq/170920141
-----------
Pakistani Woman Embraced By Islamic State Seeks To Drop US Legal Appeal
Sep 18, 2014
NEW YORK: Pakistan-born neuroscientist Aafia Siddiqui has become a rallying cry for militant groups demanding her release from a US prison. But in a little-noticed move she is trying to abandon her legal fight for freedom, saying the US court system is unjust.
Islamic militants in Syria, Algeria, Afghanistan and Pakistan have made Aafia's release a condition for freeing certain foreign hostages. Islamic State, for example, proposed swapping American journalist James Foley for her, but he was executed after their demands, which also included an end to US airstrikes in Iraq, were not met.
A 42-year-old mother of three with degrees from the Massachusetts Institute of Technology and Brandeis University, Aafia is serving an 86-year sentence in a prison medical centre in Texas. A jury in 2010 convicted her of attempting to shoot and kill a group of FBI agents, US soldiers and interpreters who were about to interrogate her for alleged links to Al Qaeda.
Aafia, who during her trial interrupted proceedings repeatedly and at times was removed from the courtroom, wrote to US District Judge Richard Berman in Manhattan on July 2 seeking to end her most recent appeal.
"I refuse to participate in this system of total injustice that has punished and tortured me repeatedly, and continues to do so, without my having committed a crime," she wrote.
Also read: IS demanded Dr Aafia's release in exchange for Western hostages
Aafia said she wanted to be sent home to Pakistan through diplomacy, not through the legal system. But her lawyer Robert Boyle told the judge he was concerned she did not fully understand that as a consequence of her request she might not have another opportunity to challenge her conviction.
US prosecutors were scheduled to respond to Aafia's letter with their own letter by late on Wednesday. Aafia was likely unaware of the attempt by Islamic State to free her in a prisoner swap for Foley, Boyle told Reuters. Federal Medical Center Carswell severely restricts her contact with the outside world, he said.
Aafia already lost one appeal. In 2012, an appeals court rejected arguments that her trial was unfair and upheld her conviction.
Her latest appeal, filed in May, argues that Aafia received an unfair trial because she was not allowed to fire defence lawyers who were paid by the Pakistani government, and that US prosecutors failed to turn over important evidence.
Widespread kidnappings
In 2003, Aafia was wanted by the FBI for questioning for possible ties to Al Qaeda and was detained by Pakistani authorities, according to US media reports at the time.
US officials alleged that when the Afghan police captured Aafia in July 2008, she was carrying two pounds of sodium cyanide, which releases a highly toxic gas, notes that referred to a mass casualty attack, and a list of US landmarks.
Aafia was never charged with links to terrorism. The FBI agents, US soldiers and interpreters said that as they were about to interrogate her at an Afghan police compound in Ghazni, Afghanistan, she grabbed a rifle and began shooting at them. None of them were wounded, but Aafia was shot in the abdomen when they returned fire.
More on this: Competing for jihadi space
Aafia's family says she was raped and tortured at the US military's Bagram Air Base in Afghanistan. US officials have said they found no evidence of that, but militant groups say her case is an example of the worst excesses of the US war on terror.
Earlier this month, while speaking to Dawn, Aafia's sister Fauzia Siddiqui said she had never heard of IS before, adding that her family had no contact with the militant group. She said she had recently been discharged from a hospital two weeks ago where she couldn't watch TV or talk on the phone due to a throat problem.
Fauzia added that the family had no contact with the IS and had never heard of them before.
At her trial, Aafia's lawyer urged an acquittal because there was no evidence the rifle had been fired. No bullets, shell casings or bullet debris were recovered and no bullet holes were detected, the lawyer said. Prosecutors cited testimony from witnesses and said the witnesses had no motive to lie.
Freeing Aafia or winning her repatriation to Pakistan has at a times been a popular cause in her homeland, where her trial was seen as unfair. In 2011, the Pakistani Taliban claimed responsibility for the kidnapping of a Swiss couple and said they could be freed if Aafia was released.
In Afghanistan, the Taliban asked for her release as part of a deal to free US Army Sergeant Bowe Bergdahl. In May, Bergdahl was released in a prisoner swap that freed five Taliban leaders held at the prison at Guantanamo Bay, Cuba.
Calls for Aafia's release were made by Al Qaeda-linked kidnappers in Algeria in January 2013.
A few months later, two Czech women who had been kidnapped in Pakistan appeared in a video demanding the scientist's freedom in return for their release. It was not clear who was holding them.
http://www.dawn.com/news/1132737/aafia-sidddiqui-seeks-to-drop-us-legal-appeal
-----------
Asian Olympic Boss Suspects Saudis Excluded Women for 'Technical Reasons'
Sep 18, 2014
Asia's top Olympic official is unsure why Saudi Arabia excluded women from their team for the Asian Games and says he thought the Islamic kingdom had "broken the ice" when they picked female competitors for the London Olympics.
Saudi Arabia is the only country among the 45 competing nations at the Asian Games, which start in South Korea on Friday under the slogan "Diversity Shines Here", to have selected an all-male team. Their decision has drawn criticism from Human Rights Watch but Saudi officials have defended their stance, saying their female athletes were not "competitive" enough for the Asian Games, a multi-sports event held every four years. Sheikh Ahmad Al-Fahad Al-Sabah, the president of the Olympic Council of Asia (OCA) that organises the Asian Games, said there were no rules forcing countries to pick females but he was surprised Saudi Arabia had not chosen any after being widely applauded for including women at the last Olympics. "Saudi Arabia broke through the ice when they participated at the London Olympics with a female," he told Reuters in an exclusive interview. "It showed they are ready, they are capable to have women participate. "I don't know why they are not participating here, maybe for technical reasons." Saudi team officials said they recently discussed the matter with the International Olympic Council (IOC) and had promised to include women in their team for the 2016 Rio Olympics. But Human Rights Watch, which campaigned heavily for Saudi Arabia to include women in London in 2012, said the decision to exclude females from the Asian Games raised doubts about whether the ultra-conservative state was serious about change. "Two years after the London Olympics, the time for excuses is over - Saudi Arabia needs to end its discrimination against women and ensure women's right to participate in sport on an equal basis with men," said Sarah Leah Whitson, Middle East and North Africa director at Human Rights Watch. "Refusing to send women to the Asian Games casts doubts on Saudi Arabia's commitment to end discrimination and allow Saudi women to participate in future competitions." Despite their criticism over Saudi Arabia's stance at the Asian Games, Human Rights Watch said the world's top oil exporter had made some small but positive steps in recent years. A year ago King Abdullah appointed 30 women to the 150-member Shoura Council. Last year, Saudi Arabia officially lifted a ban on sports in private girls' schools - a groundbreaking rule for a state where women are banned from driving and need formal permission from male relatives to leave the country, start a job or open a bank account. Saudi Arabia's appointed Shoura Council, which advises the government on policy, also asked the education ministry to look into including sports for girls in state-run schools with the proviso they should conform to Sharia rules on dress and gender segregation. But the country's cautious social reforms to improve women's rights have also been met with resistance from religious conservatives, who fear the kingdom is losing its Islamic values in favour of Western ideas. "Women's sports have a long way to go in Saudi Arabia," Whitson said. "Now is the time for Saudi Arabia's sports officials to lay down concrete plans for female sports in girls' schools, women's sports clubs, and competitive tournaments, both at home and abroad."
http://asia.eurosport.com/olympic-games/asian-olympic-boss-suspects-saudis-excluded-women-for-technical-reasons_sto4405183/story.shtml
-----------
Six Iranian including 3 Women sentenced to 91 Lashes for Pharrell 'Happy' Video
Sep 18, 2014
The six Iranian singers who were arrested for appearing in a viral video dancing to Pharrell Williams' song "Happy" have been sentenced to six months in prison and 91 lashes.
The group became famous in May when their music video for the hit song circulated on YouTube, racking up more than 150,000 views before attracting the attention of Iranian authorities.
It featured three men and three unveiled women singing and dancing along to the four minute song in the street and rooftops of Tehran, mimicking the style of Pharrell's official video.
Authorities arrested the group for contravening Iran's strict vulgarity laws, which prohibit public displays of dancing, and paraded the six on state television, forcing them to express remorse for their behaviour.
The Islamic Republic condemned the video as a "vulgar clip which hurt public chastity" and in a trial on Wednesday sentenced the participants to a suspended sentence of six months in prison.
The director of the video was handed a suspended sentence of one year, while the whole group was told they would receive 91 lashes each.
"A suspended sentence becomes null and void after a certain period of time," their lawyer, Farshid Rofougaran, told Iran Wire.
"When it's a suspended sentence, the verdict is not carried out, but if during this period a similar offense is committed, then the accused is subject to legal punishment and the suspended sentence will then be carried out as well."
Speaking shortly after the group's initial arrest, the brother of one of the video's star told The Telegraph that their confessions on state television were "outrageous".
Siavash Taravati, who lives in the US, said: "The IRIB's (Islamic Republic of Iran Broadcasting) action in showing the "confession" of my sister and her friends (...) is just outrageous.
"Apparently they first arrest people without any charge or civil right to defend themselves, then interrogate them and then make them confess and finally broadcast their show."
Pharrell Williams responded to Iran's actions on his Twitter account in May, saying: "It's beyond sad these kids were arrested for trying to spread happiness."
http://www.telegraph.co.uk/news/worldnews/middleeast/iran/11103542/Iranians-sentenced-to-91-lashes-for-Pharrell-Happy-video.html
-----------
Woman Gives Birth to Quintuplets, Four Girls and a Boy, In Karachi, Pakistan
Sep 18, 2014
KARACHI: A woman delivered quintuplets — four girls and one boy — on Wednesday at a private hospital in Karachi, DawnNews reported.
The couple had been childless for 16 years.
Tragically, one baby girl passed away whereas the four others have been kept in the hospital's Intensive Care Unit (ICU), along with the mother, hospital sources told Dawn.
Zahid Khan, father of the four babies, spoke to media representatives and expressed joy at the birth of the children, adding that he would like to see them in the medical profession in future.
He also revealed that he was a resident of Quetta who had come to the metropolitan city only two weeks ago.
http://www.dawn.com/news/1132521/woman-gives-birth-to-quintuplets-in-karachi
-----------
Female Bank CEOs Deepen Malaysia Expertise Pool: Islamic Finance
Sep 18, 2014
In her native Malaysia, Hong Leong Islamic Bank Bhd. Chief Executive Officer Raja Teh Maimunah Raja Abdul Aziz says she has never felt discriminated against on the basis of her gender. Overseas, it's a different matter.
"I was speaking at a conference in Europe when somebody got up and said how can you be speaking about Islamic finance when you're a woman?," the 46-year-old who took over as head of the unit of the country's fourth-largest bank in 2011, said in a Sept. 9 interview in Kuala Lumpur. "In Malaysia, there is a conscious effort by the government on gender diversity."
Two of the nation's 16 Islamic lenders now have female CEOs and three of the 11-member central bank Shariah Advisory Board are women, becoming role models for Prime Minister Najib Razak's push to raise the female labour participation rate to 55 percent by 2015, from 52.4 percent now. The push, which mirrors similar efforts in Japan and South Korea, aims to widen the pool of available talent and help Malaysia maintain its position as the world's preeminent centre for Islamic finance. Only one Shariah bank in the Middle East has a female CEO.
"Because Malaysian banks don't discriminate between genders when recruiting, that mean they can tap a larger pool of talent," Abas A. Jalil, chief executive at Kuala Lumpur-based consulting company Amanah Capital Group Ltd., said in an interview yesterday. "The size of Malaysia's Islamic finance industry speaks for itself. Having women in executive positions allows the banks to have a more diverse point of view."
Full report at:
http://www.bloomberg.com/news/2014-09-17/female-bank-ceos-deepen-malaysia-expertise-pool-islamic-finance.html
-----------
URL: https://www.newageislam.com/islam,-women-and-feminism/new-age-islam-news-bureau/islamic-extremist-groups-recruiting-french-women-and-girls-en-masse/d/99142