New Age Islam News Bureau
9 Nov 2019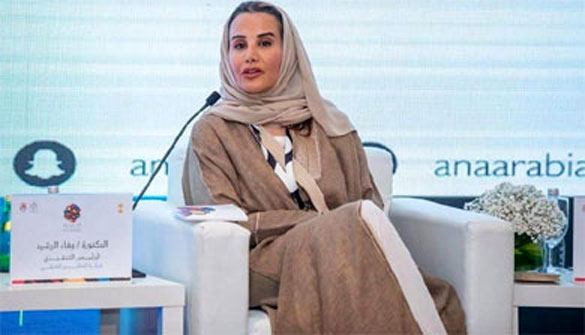 Dr. Wafa Al-Rasheed said that the economic returns of the exhibition contributes to its development, in addition, to supporting charities. — Courtesy photo
-----
• 250 Arab Women to Showcase Their Talent in 'Ana Arabiah' Fair
• Muslim high school student's dress code violation leads to protest and one arrest
• 'My Skills Create My Future' Project Promotes Female Empowerment in Kingdom
• Muslim Women's Literary Conference at Hamline University
• US Somali Election Winners Urge Women Back Home to Take Up Politics
• Wembley Sell-Out Proves Boom Time for Women's Football in England
• Egypt: Women's Squash Champion Hopes Winning More than Male Peer Marks New Era
• In Lebanon's Streets, Women Denounce a Double Burden
Compiled by New Age Islam News Bureau
URL: https://www.newageislam.com/islam-women-feminism/islamic-exorcisms-used-cure-homosexuality/d/120223
--------
Islamic Exorcisms Used As a 'Cure' For Homosexuality in Indonesia: 'If I Am Muslim, I Can't Be Gay'
Emily Johnson
November 9, 2019
JAKARTA, Indonesia – It was in December 2017, as anti-LGBTQ sentiment was peaking in Indonesia, when Acep Saepudin's father decided something needed to be done about his son.
He sought out a spiritual teacher in their town of Purwakarta in West Java Province and asked the ustad to give the young man an Islamic exorcism that would cure him of being gay.
Saepudin, now 23, went along willingly enough. It was a frightening time to be gay. Being straight would make his life a lot easier. He was also ashamed.
"I still believed that if I am Muslim, I can't be gay," he said. "Because I had studied at an Islamic school about six years and studied at an Islamic university. So it affected my thoughts."
The ustad performed a ruqyah: an exorcism that in Indonesia is used to cure everything from poor health to bad relationships by ridding the afflicted person of demons known as jinn. The teacher prayed over Saepudin, who cried and then felt calm. Saepudin was instructed to sleep with Quran verses under his pillow.
"I did it for a month but nothing changed," he said. "I am still gay. For me, the hardest part was not during the ruqyah, but after it, when I had to keep pushing myself to be straight. It was frustrating and made me depressed."
In Indonesia, a widespread belief that 'homosexuality is a disease'
LGBTQ people and rights advocates in the Southeast Asian nation – the world's most populous Muslim-majority country – say there has been an increase in people seeking ruqyah as a form of conversion therapy since 2016.
Early that year, incendiary statements by high-ranking officials, coupled with a countrywide shift to the religious right, set off a cascade of hate and persecution directed at gay and transgender people. More than 300 people were arrested in 2017 alone, according to Human Rights Watch, many of them during raids on homes, nightclubs and hair salons.
This "moral panic," as many have taken to calling the current climate, is one manifestation of a rise in Islamic fundamentalism that represents a new chapter for this vast archipelago country which has long touted its pluralism as its greatest strength.
"In general, nationwide in Indonesia, there is so much belief that homosexuality is a disease," said Andreas Harsono, senior researcher for Human Rights Watch in Indonesia. "That it is not natural."
"And with the spread of this belief that homosexuality is a disease, of course, there is a rise among traditional 'medical' practitioners who perform ruqyah. In every city, you open Facebook, you open local advertisements, you will see someone performing ruqyah services, of course, for money."
Major television stations such as Trans TV have broadcast segments about performing ruqyah as a "cure" for homosexuality. In 2017, one such episode showed a young gay man screaming as an ustad attempted to drive out his jinn. The video has been viewed more than 57,000 times on the program's official YouTube account.
Harsono stated that he is not opposed to people seeking out traditional treatments such as ruqyah for various ailments if it aligns with their beliefs, but said that when used for the purpose of conversion therapy, it can be harmful.
"I once met a gay man who was shackled because he himself, and his family, believed he was possessed by a gay spirit," he said.
More than 20 regulations aimed at criminalizing homosexuality
In September and October, the streets of Jakarta erupted with protests. The demonstrations, which drew tens of thousands, were among the largest the country has seen since the fall of the Suharto regime in 1998. A new law that limits the power of Indonesia's independent anti-corruption agency was a major driving force behind the unrest, along with anger over a proposed overhaul of the colonial-era criminal code that would, among other moralistic restrictions, ban sex outside marriage.
It isn't illegal to be gay in Indonesia except in Aceh, a partially autonomous province ruled by Shariah law – at least not yet. Since there is no gay marriage, a ban on extramarital sex would effectively outlaw homosexuality while neatly sidestepping discriminatory language.
Successive versions of the proposed code have failed to pass Parliament in recent years and the pushback against this one has been fierce, so in the meantime, anti-LGBTQ crusaders have set their sights on smaller but more winnable battles.
More than 20 regulations aimed at criminalizing homosexuality are in the works at local levels all across Indonesia. And while it may be unlawful to arrest people for their sexuality or gender, that hasn't stopped police, often acting on tips from militant Islamist groups, from doing so and using existing laws such as a decadeold ban on pornography as justification.
In November 2018, 10 women suspected of being lesbians were arrested in Padang, the provincial capital of West Sumatra. Two weeks later, city Mayor Mahyeldi Ansharullah led several thousand people in an anti-LGBTQ march through the city, declaring that he would increase the number of civil service police in order to achieve a "sin-free Padang."
"To the perpetrators of sin, let them repent and those who protect them immediately be aware, because they will face opposition from all parties and communities in Padang as well as security forces," Mahyeldi said at the time, according to national news agency Antara.
The detained women were referred to social services. The mayor then partnered with local religious organizations to provide ruqyah exorcisms for their "rehabilitation."
Speaking at his office, the mayor said no one had been forced to undergo a ruqyah, but that the service was one of many resources offered to people he said needed help.
"We believe that the only thing that will set them free is their own determination to be cured," Mahyeldi said. "That's why we need to help them to strengthen their determination."
He has also enlisted support from psychiatrists, the religion ministry and the military, he said, and introduced a new bylaw that bans parents from allowing anything that could encourage LGBTQ behavior in their children, such as allowing a boy to wear a dress or play with girls' toys.
"We are looking for everything that we can do to minimize the LGBT influence, and this is one of the ways. Then we have to open a dialogue with them," Mahyeldi said.
Not just exorcism: Counseling, rehab, acupuncture and hypnotherapy
Different ruqyah practitioners can have different techniques for driving out jinn, from placing their hands on the "afflicted" person's head to administering herbal drinks or praying over salt and then sprinkling it on the person's food.
At the Abu Albani Clinic in east Jakarta, patients can choose from a variety of therapeutic treatments including acupuncture, hypnotherapy, and exorcism. A ruqyah costs Rp 125,000, or just under $9.
"In this clinic, we don't just exorcise people," said Ustad Abu Albani, who runs the center. "There's counseling and rehab as well."
Albani said LGBTQ people have been influenced by Western countries into thinking their sexuality or gender is acceptable. He views them as afflicted by a dangerous illness that is capable of spreading to straight people.
"If there is someone who has a sexual disorder and feels no guilt about it, it's important to keep an eye on them," he said. "For example, it's like a murderer who thinks what he does isn't wrong. If we questioned him, 'why?' and he says, 'because I like to kill people,' are we going to agree? Of course, not. So I tell them that [ruqyah] is the solution."
'Not a choice. It is given'
Some 250 miles east of Jakarta is Yogyakarta, a city of fewer than 500,000 people in central Java that is known as the spiritual home of Javanese culture. A little way outside the center of town, down a series of narrowing alleyways, is a bright, traditional Javanese housing with a courtyard.
These days, it houses an Islamic boarding school, or pesantren, named Pesantren Al-Fatah.
Al-Fatah is like no other pesantren in Indonesia. It is run by Shinta Ratri, commonly known as "Ibu Shinta." She is a transgender woman, as are all of her students. In Indonesia, "trans" women are known as waria, a portmanteau of the Indonesian words for "man" and "woman."
"It's not easy being a 'trans' woman as a Muslim," Shinta said recently, seated in her courtyard, wearing a pink headscarf.
She believes a ruqyah can be a beautiful and curative experience to comfort your soul when you're sad or depressed, but that using it to try to "fix" someone's gender identity is misguided. A number of her students have experienced this version of a ruqyah, either voluntarily or because their parents pressured them to do so.
"It happens because their parents didn't understand what a 'trans' woman is," Shinta said. "Because they just believe this is a disease, that being LGBT is a disease. So we always educate people that 'trans' women are given from God. In the Javanese culture, we have 'trans' women, too, so this makes it easier to explain that being a 'trans' women is not a choice. It is given."
Homosexuality classified as a mental disorder
In a country where the Indonesian Psychiatrists Association classifies homosexuality, bisexuality and transgenderism as mental disorders by definition, and something that can be cured through proper treatment, convincing society at large that someone's sexuality or gender isn't a choice but an uphill battle to fix, especially when many LGBTQ people themselves don't believe it.
Nearly two years after his ineffectual ruqyah, much has changed for Saepudin. He's a recent college graduate living in Jakarta, where he has found a supportive community. He is also HIV positive and, via a massively popular YouTube account where he goes by the name Acep Gates, a highly visible advocate for HIV testing.
Three of his gay friends have attempted to convert themselves with a ruqyah in the past year, he said, and he sometimes receives messages on Instagram from followers who are considering undergoing one. These days, however, he is unlikely to advise them to give it a try.
"Now I don't want to be straight anymore," he said, laughing. "No, I just want to enjoy my gay life."
This story was produced in association with the Round Earth Media Program of the International Women's Media Foundation. www.iwmf.org
https://www.usatoday.com/story/news/world/2019/11/08/indonesia-lgbt-landscape-islamic-exorcism-ruqyah-used-therapy/2507538001/
--------
250 Arab Women to Showcase Their Talent in 'Ana Arabiah' Fair
November 8, 2019
RIYADH — An exhibition dedicated to female designers from all over the Arab world will kick off in Riyadh on Sunday.
The General Entertainment Authority (GEA) is organizing the exhibition, titled "Ana Arabiah" (I am an Arab), as part of the ongoing Riyadh Season festival. Prizes amounting to a total of SR700,000 would be given away to the most distinguished designers at the six-day event.
More than 250 of the most talented women within the Kingdom and the Arab world will celebrate their talent and creativity with having a platform to showcase their creations.
It is one of the major initiatives of GEA, headed by Turki Al Sheikh, who is also chairman of the Riyadh Season.
The exhibition is a creative expression of art and design that brings to light the power and achievement of Arab women in cultural growth and evolution as it pays homage to traditional crafts with a modern age touch.
Faisal Bafart, CEO of the Authority, said that the exhibition would be a major economic support for the innovators in the fields of fashion and design, innovation and entrepreneurship. "The efforts exerted for it are great and elaborate," he said.
For her part, Dr. Wafa Al-Rasheed, CEO of Tamkeen Company, said that the business trip as part of the preparation of the event was a resounding success in view of the tremendous response for the exhibition since its announcement.
More than 4,000 applicants came out from the first day onwards and that indicates the exhibition was of a great matter of concern for many professionals in the fashion industry.
Dr. Al-Rasheed said that the exhibition is sponsored by major Saudi companies. "Moreover, the exhibition is specialized for women and was supported by all applicants through the selection of the best works, ideas and advanced companies, especially in light of the exact criteria for acceptance and participation in this global exhibition, which shows an Arab identity," she said.
Dr. Al-Rasheed said that the economic returns of the exhibition contributes to its development, in addition to supporting charities, including deserving families of martyrs on duty, as well as widows, divorcees and others who suffer from difficult social and economic conditions.
Meanwhile, Honaida Al-Seir said participation in the exhibition will be amazing according to the studies since the exhibition includes a lot of quality programs presented by giant international companies.
She said that the prizes, amounting to a total of SR700000, would be distributed to distinguished designers at the exhibition.
The grand prize will go to the gems and fashion sectors, where the winner will receive SR10,000 while the winners in the sectors of home accessories, gourmet, perfumes and cosmetics will get prizes from a total of SR500,000.
It is worth mentioning that the exhibition has allocated the proceeds from its tickets to three charities: "Wajib" — the charity for the families of martyrs on duty; Tarawuf" — the Orphans Care Society in Hafr Al-Batin region and Joud Women Charity Society.
http://live.saudigazette.com.sa/article/582079/SAUDI-ARABIA/250-Arab-women-to-showcase-their-talent-in-Ana-Arabiah-fair
--------
Muslim high school student's dress code violation leads to protest and one arrest
November 9, 2019
A dress code violation lead to multiple fights between students and one arrest at a Louisiana high school on Thursday.
Ted Beasley, the director of communications for Jefferson Parish Schools, told WGNO that on Thursday, a staff member at Helen Cox High School in Harvey, LA, asked a female Muslim student to remove her hoodie, as the item is a violation of the school's uniform policy.
According to Beasley, students are not allowed to wear hoodies as they threaten school safety. Beasley stated that hoodies could be pulled tightly around the face to "conceal a student's identity," which would possibly prevent staff from keeping non-students out of the building.
Some women who follow or practice Islam keep their arms covered for religious purposes. As the female Muslim student was not wearing a long sleeve shirt underneath her hoodie, she refused to remove it because "she didn't want to expose her (bare) arms," according to Beasley.
"Hoodies are against our dress code policy, and it is common that when the weather starts getting colder we will see them more often in our schools," Beasley tells Yahoo Lifestyle. "I've seen a number of social media comments that claim the student was asked to remove her hijab and that is not true. The student was asked to remove a hoodie."
Some students began to defend the female student and the small protest spread across the school. Other students, who heard "rumors," pulled the fire alarm. During the confusion, multiple fights broke out among groups of students and Jefferson Parish police were called. Ultimately, the incident ended with a 16-year-old male student's arrest for battery on a police officer, resisting an officer, and interfering with an educational facility.
"We had students walk out this afternoon in a planned protest over a dress code violation. When other students noticed the small protest, it prompted a larger walkout. Some students pulled the fire alarm, prompting more students to leave their classrooms and exit the building. During this time, a few student fights occurred," Principal Brandon Van Vleck told parents in a statement, provided to Yahoo Lifestyle. "As student safety is paramount... we called in additional law enforcement support to ensure the safety of our students."
https://www.yahoo.com/lifestyle/dress-code-violation-leads-to-protest-and-an-arrest-000501664.html
--------
'My Skills Create My Future' project promotes female empowerment in Kingdom
RASHID HASSAN
November 08, 2019
RIYADH: More than 120 female students from King Saud University in Riyadh participated in the first edition of the "My Skills Create My Future" project, which finished on Thursday.
The project was a collaboration between the British Embassy, the British Council and the university, and aimed to help train the students for the job market through a four-day series of workshops on communication, public speaking and negotiation run by trainers from the UK.
The British Ambassador to Saudi Arabia Simon Collis said the project supports the goals of Saudi Vision 2030 to realize the full potential of the Kingdom's younger generation. The UK is one of Saudi Arabia's strategic partners for the delivery of Vision 2030.
"Empowerment of women and girls is a UK priority and over the last few years the Embassy project team has worked with many local organizations to deliver projects to support our common gender-equality goals," he said.
"A country's vision can only be realized through its people," he continued. "The 'My Skills Create My Future' project supports Vision 2030's goal of investing in training to realize the full potential of the next generation of professionals so they are better prepared to contribute to their country's future and economy."
KSU Rector Badran Al-Omar said the workshops were conducted "in line with Vision 2030 and the guidelines of the leadership: King Salman, Crown Prince Mohammed bin Salman and the Ministry of Education to empower the women of our country."
"These workshops were intended to help students develop skills required for today's workplace," he continued. "We hope this workshop was beneficial to our KSU female students and will help them with their future careers.
"KSU will continue to work toward developing female talents because they are the future of our Kingdom," Al-Omar said.
Amanda Ingram, deputy director of the British Council in Saudi Arabia, said, "Investing in education and training is vital to support the transformation that the Kingdom is currently undergoing, particularly in equipping young graduates for the jobs of the future. This pilot project is very much focused on increasing women's confidence, changing attitudes, and empowering and inspiring women to apply newly acquired skills and knowledge to succeed in the workplace and beyond.
"An inclusive society means increased opportunity for women and young people to play an active and positive role in their communities, and this project represents our vision and commitment on female empowerment," she continued. "Through the project, we hope all students take away that you don't just acquire and learn these lifelong skills but continue to hone, utilize and build on them in different aspects of your life."
Speaking to Arab News, Alaa Shaikh, who is pursuing a master's in biochemistry from KSU and participated in the training, said, "I am very thankful to the British embassy and the council for choosing to host this workshop at KSU. I thank the KSU rector and all who contributed to this project. Before attending this workshop, there was a hesitation in us, and we had professional weaknesses and needed to overcome them.
"Throughout this intensive workshop we learned how to overcome them for our professional growth and personal development by developing soft skills," she said. "Trainers at the workshop really helped us to understand what exactly the needs of the market are, and we have realized that there is a chance of greater development to reach Vision 2030."
https://www.arabnews.com/node/1581081/saudi-arabia
--------
Muslim Women's Literary Conference at Hamline University
November 9, 2019
Hamline University's Muslim Student Association (MSA) will co-host the fifth annual Muslim Women's Literary Conference in partnership with the educational nonprofit Rabata and Daybreak Press. The all-day event will be held in the Hamline University Anderson Center on Saturday, November 9.
With a theme of, "Contemporary Challenges Facing Muslim Writers and Readers," the goal of the conference is to raise Muslim women's voices in the literary landscape.
The schedule includes panels and workshops planned specifically for Muslim women who are authors and for those who aspire to write. Daybreak Literary Awards will also be conferred.
Local writers and Muslim women leaders will appear on panels throughout the day, including Dr. Tamara Gray, Kaltun Karani, Najiyah Maxfield, Maryam 'Umm Juwayriyah' Sullivan, Juwayriyah Ayed, Dr. Saadia Mian, Khadijah Rashid, Nusaiba Imady, Jenny Triplett, Tayyaba Syed, Sara Bawany, Louma Sebaihi, Huda bint Adnan, Afshan Malik, and Asma Nizami.
Previously, Hamline's MSA has invited Rabata founder Dr. Tamara Gray to their events and members of the MSA have attended functions at the DayBreak Bookstore so the student organization was happy to co-host the female-focused literary conference.
"We believe this event will serve to strengthen the voice of Muslim women in our community and we hope that the conference will serve as a space for building relationships, advancing our spiritual and educational process, and learning how to engage with the world through our piety," said MSA co-leader Halima Ahmed.
MSA co-leader Sherina Dyrma added, "We hope that through this event we can create a long-lasting partnership that will enrich the Hamline community and the Twin Cities community with continuous educational opportunities."
https://www.hamline.edu/News/2019/MSALiteraryConference.aspx
--------
US Somali Election Winners Urge Women Back Home to Take Up Politics
By Mohamed Olad Hassan
November 08, 2019
Two Somali-American women who won local elections this week are calling for full participation of women in Somalia's politics, peace and development efforts.
Voters on Tuesday elected Nadia Mohamed for an at-large seat in St. Louis Park, a western suburb of Minneapolis, in the Midwestern state of Minnesota, and chose Safiya Khalid to represent a ward in Lewiston, in the northeastern state of Maine.
Both ran as Democrats and will be the first Somali immigrants on their respective councils. Both also are 23 and are black, hijab-wearing Muslims.
The two new city council members are urging women in Somalia to follow their path.
"I was elected with respect being a woman, a young, a Muslim, and hijab-wearing. So that, I would like to see Somalia doing the same because a woman can do sometimes better what a man can do," said Mohamed.
"I would like to send a call to Somali women in Somalia, saying that they can do whatever they want, regardless of the challenges they face from the men who hold the country's politics in monopoly," Khalid told VOA Somali.
In Somalia's conservative society, women's participation in politics has have traditionally been low, and a controversial topic.
Khadiijo Mohamed Dirie, Somalia's minister of youth and sports, said the success of young Somali politicians in the United States and Europe is a reminder of how women can be empowered in Somali society.
Right now, she says, female politicians as young as Mohamed and Khalid would have zero chance of being elected to public office in Somalia.
"Women rarely envision a position of a higher political leadership in our male-dominated social system," Dirie told VOA. "Those who are successful in the U.S and Europe politics got an opportunity of living with a developed society in a political maturity."
Somalia's provisional constitution gives women 30 percent quota in both houses of the parliament. However, women currently make up less than a quarter of parliamentarians.
https://www.voanews.com/usa/us-somali-election-winners-urge-women-back-home-take-politics
--------
Wembley Sell-Out Proves Boom Time for Women's Football in England
November 8, 2019
LONDON — England will round off a transformative year for women's football in front of a sold-out Wembley against Germany on Saturday, with the Football Association hoping the World Cup boom will have a long-lasting legacy.
The record attendance for a women's game in Britain of 80,203 for the 2012 Olympic final between the United States and Japan is expected to be smashed, with 90,000 tickets sold for the clash between World Cup semi-finalists England and the Olympic champions.
The attendance for the friendly will also obliterate the previous record of 45,619 for an England women's home fixture, against Germany in 2014.
On the back of the Lionesses' run to the last four in France this year, attendance records have already been broken in the opening months of the Women's Super League.
Boosted by the hosting of selected matches at larger stadiums normally reserved for men's football, the opening weekend of the WSL attracted 62,000 supporters compared with a reported 92,000 across all 110 games last season.
But the impact of the World Cup is not just being felt by bigger crowds.
According to figures released by the FA this week, there has been a spike of 850,000 women aged 16 or over playing football in England since the tournament, taking take the total participation figures to 2.6 million.
"The growth we've experienced is proof of the 'see it, play it' mantra which is at the heart of our ethos to inspire participation across all age groups," said Louise Gear, the FA's head of women's development.
"In the Lionesses we're fortunate to have a wonderful group of role models performing at the highest level of the game, who inspire females of all ages to have the confidence to get out and give football a try, be it for fitness, competition or fun."
A television audience of more than 11 million tuned in to watch Phil Neville's England's agonising semi-final defeat by the United States in July.
The task for the FA is to maintain that interest over the next 18 months until England host the Women's European Championship in 2021.
"Euro 2021 will be the next big game changer," FA executive Marzena Bogdanowicz told the recent SportsPro FAN Conference in London.
"Euro 2021 will take this country in the same way as the 2012 Olympics did and I think it will have the same impact on women's sport."
In an effort to promote the game further, the FA announced the first Women's Football Weekend in November, with a men's international break creating a pause in the Premier League and Championship calendars.
The FA is calling on supporters to attend a women's match at any level in the pyramid on Nov. 16 and 17.
But pressure is also building for the FA to follow the examples of Australia, New Zealand and Norway and adopt equal pay and conditions deals for England's men's and women's teams.
"Australia have taken their first step and hopefully many more teams will join in with that," Chelsea and England midfielder Beth England told the BBC.
"If that was to happen with England as well it would be amazing because we still train, we still do all the hard work the same as the men do." — AFP
http://saudigazette.com.sa/article/582062/Sports/Wembley-sell-out-proves-boom-time-for-womens-football-in-England
--------
Egypt: Women's Squash Champion Hopes Winning More than Male Peer Marks New Era
6 NOVEMBER 2019
By Rosa Furneaux
London — 'This is a big, big step for women. Hopefully other sports can see exactly what we can see in squash, and do the same.'
Nour El Sherbini was six-years-old when she first followed her brother onto a squash court in Alexandria, Egypt, and she was competing in tournaments at the age of eight.
Although neither of her parents play the sport, and despite suffering repeated injuries, the athlete is now one of the world's top squash players and the youngest to gain four world titles.
But last week she also notched up another record - becoming the first female player to earn more prize money than her male equivalent when she won the CIB PSA Women's World Championship in Egypt.
El Sherbini, 24, was awarded $60,800 from a pot of $430,000. The men's champion will earn $45,600 out of a purse of $335,000 at their equivalent tournament in Qatar later this month.
She said she was thrilled her country was championing women's success in the sport.
"We have to be proud that we are doing this," she told the Thomson Reuters Foundation in a telephone interview. "This is a big, big step for women."
"Hopefully other sports can see exactly what we can see in squash, and do the same."
The increase in prize money came after sponsor CIB pledged an additional $100,000 to the tournament pot.
Alex Gough, CEO of the Professional Squash Association (PSA), said prize money for the women's championship was at its highest level after increasing 65% since 2015.
But the equity between winnings for men and women's squash players contrasts to many other world sports in which women receive a fraction of that earned by their male counterparts.
In March the U.S. women's soccer team sued governing body U.S. Soccer alleging gender discrimination in earnings.
Last year Australian basketball player Liz Cambage tweeted that National Basketball Association referees made more than female players in the Women's National Basketball Association.
A 2017 BBC study found about 83% of sports rewarded men and women equal prize money - but that did not take into account other disparities such as salaries and sponsorship.
For sponsors and the media it can come down to return on investment, and squash's popularity in Egypt may be helping drive the change, El Sherbini said.
"Everyone is following squash and knows the players," she said. "We grew up watching a lot of good Egyptian players, so when we were young we wanted to be like them.
"Once I grabbed the racquet ... I didn't leave it."
Egypt has produced world-class squash players since the 1930s. President Hosni Mubarak increased government funding for the sport and staged tournaments in front of the Pyramids.
Currently four of the top five female squash players in the world are Egyptian.
Coaches and sponsors "now believe in women," El Sherbini said. "They can play sports. They can achieve something big."
As for the athlete's brother?
"He's not playing anymore," El Sherbini laughed.
- Reporting by Rosa Furneaux, Editing by Belinda Goldsmith
https://allafrica.com/stories/201911080589.html
--------
In Lebanon's Streets, Women Denounce a Double Burden
8 November, 2019
Marching along with hundreds of other women in Lebanon's capital, 41-year-old Sahar says she had twice the reasons to join in the nation's mass anti-system protests than any man.
"As women, we're doubly oppressed," she said passionately, while around her hundreds waved Lebanese flags.
Women have been at the forefront of Lebanon's mass street movement since October 17 demanding an overhaul of a political system seen as incompetent and corrupt.
Like their male counterparts, they have denounced their inability to alleviate a raft of woes from a deteriorating economy to unclean water and endless power cuts, AFP reported.
But in a country viewed as one of the most liberal in the region, they are also crying out against discriminatory laws and religious courts governing their lives.
"On top of everything we suffer as Lebanese people, there's a whole bunch of laws that are unfair for women," said Sahar, bouncing on her toes in a green T-shirt and jeans.
In a country where 37 women have died from domestic violence since the start of 2018, female protesters are demanding better prevention and application of a 2014 law to punish battery.
Instead of what they see as antiquated religious courts, they want a national law for all Lebanese -- whatever their sect -- to grant civil marriage, and rule on issues of divorce and child custody.
They ask for the amendment of a century-old law governing citizenship that does not allow Lebanese women to pass down their nationality to their children.
- Custody battles -
During a women's march on Sunday, protesters held up a long banner inscribed in red paint with the words: "Our revolution is feminist".
"I can't get my mother's nationality, but I can defend her revolution," read another sign, referring to the 1925 law that deprives children of Lebanese women from their rights as citizens.
Zoya Jureidini Rouhana, head of a the Kafa non-governmental organization, explained the challenges ahead in the tiny multi-confessional country.
"There is no single law for personal status but different legislation for each court from 15 different religious sects in Lebanon," she said.
Among the most contentious issues is child custody, with religious authorities for each community applying a different limit to a divorced mother's custody.
- 'Part of the revolution' -
Rim, a 24-year-old student, said she has been taking to the streets since October 17 -- for cleaner water, fewer power cuts and an end to perceived state graft.
"As a young Lebanese woman, I demand a secular system and for religious courts to be abolished," she said.
Women have been at the forefront of the protests since they started last month, sparked by a proposed tax on phone calls via free applications like WhatsApp before blowing up into general rage against the system.
In the movement's first few days, a woman who kicked an armed ministerial bodyguard in the groin became a symbol of the growing protests.
In recent days, female high school and university students have eagerly spoken to local television stations to ask for politicians to stop wasting their future.
Women have taken to Beirut's main square after dark holding candles and banging pots and pans, in a clamouring racket that echoed around the capital's homes.
Debate around women's rights has gained momentum in recent years, but activists says much remains to be done.
According to AFP, in 2014, parliament passed a law to punish domestic violence, but rights advocates have demanded it be reformed to accelerate trials and increase sentences.
Among the protesters, Roba, 33, a lawyer, said women's rights were crucial for radical change.
"Women's issues are an integral part of the revolution," she said.
"Any revolution that doesn't address women's issues is wanting."
https://aawsat.com/english/home/article/1982386/lebanons-streets-women-denounce-double-burden
--------
URL: https://www.newageislam.com/islam-women-feminism/islamic-exorcisms-used-cure-homosexuality/d/120223
New Age Islam, Islam Online, Islamic Website, African Muslim News, Arab World News, South Asia News, Indian Muslim News, World Muslim News, Women in Islam, Islamic Feminism, Arab Women, Women In Arab, Islamophobia in America, Muslim Women in West, Islam Women and Feminism