New Age Islam News Bureau
4 Jun 2012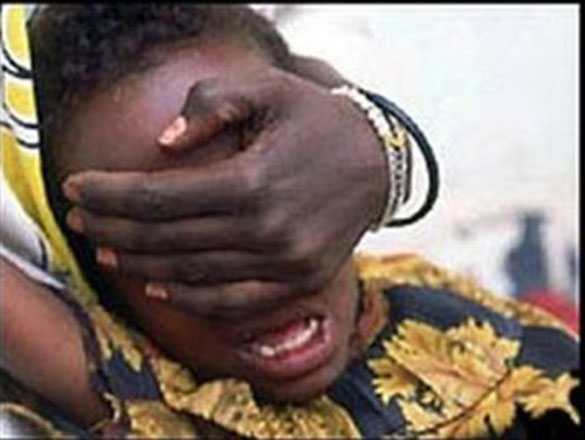 • Sex and Sleaze that goes on in 'Devoutly Muslim ' Dubai Revealed
• "My Body, My Choice" Turkish Women protest plans to curb abortion
• UN Secy. Gen.'s wife appeals for women's empowerment
• Indonesia, Tasikmalaya law to make Muslim women wear veils
• Poor Muslim women connect to global fashion with crafts
• Woman risks life to bring bowling to Afghanistan for 'total peace of mind'
• Pak SC probing 'killing' of women sentenced to death for 'fornicating' at wedding
Complied by New Age Islam News Bureau
Photo: Devout Muslims jailed for genital mutilation of their four daughters
URL: https://newageislam.com/islam-women-feminism/islamic-couple-convicted-mutilating-genitals/d/7525
----------
Islamic Couple Convicted for Mutilating Genitals of Four Daughters in France
04 Jun 2012
Paris, June 4 (ANI): A Guinean Islamic couple in France has been convicted for carrying out genital mutilation on their four daughters aged between 11 and 20.
The father was sentenced to two years and his wife got 18 months for allowing a 'doctor' to remove parts of their daughters' vaginas.
They were charged with 'complicity in voluntary violence having led to mutilation by an older person of a minor under the age of 15 years', a crime punishable by a maximum of 20 years jail.
According to The Daily Mail, the case has shocked France and was branded as a 'grave crime' and an 'intolerable affront to women's dignity by a female government minister.
The couple originally came from the West African state of Guinea where according to a 2007 study, 96 percent of young girls have their genitals mutilated in the name of religion.
At the trial in Nevers in central France the two youngest victims had declared themselves plaintiffs under French law, but the elder daughters withdrew their complaint and sided with their parents.
Nathalie Bouvier-Longeville, a lawyer representing the two youngest sisters told the court: ' By what right were the parents able to appropriate parts of their daughters' bodies?
Moroccan- born Najat Vallaud-Belkacem, 35, Minister of Women's Rights in the new government of François Hollande, has now pledged a crackdown on the illegal practice.
She vowed to track down what she called ' executioners' who have performed covert surgery on an estimated 50,000 young girls in France. (ANI)
http://www.newstrackindia.com/newsdetails/2012/06/04/113-Islamic-couple-convicted-for-mutilating-genitals-of-four-daughters-in-France.html
----------
Sex and Sleaze that goes on in 'Devoutly Muslim ' Dubai Revealed
04 Jun 2012
London, June 4 (ANI): Dubai, which is one of the world's most devoutly Muslim countries, still manages to attract a number of people from Britain with three things in mind - to strip off and get a tan, get trashed and have sex.
In Dubai, it is forbidden for women even to venture out with an sleeveless top on, as showing skin is provocative in Muslim culture. So is dancing and pop music.
To drink alcohol is one of the ultimate sins, yet there are at least 100,000 people from Britain living here and it attracts a further three million British holidaymakers a year.
It's a volatile mix, the two polar-opposite cultures often clashing with frightening consequences.
One Brit to feel the wrath of the Dubai authorities is expat Rebecca Blake. The 29-year-old got so hammered on a ten-hour drinking binge two weeks ago that she was arrested.
She claims to have had alcohol amnesia, but a taxi driver says she was getting naked in the back of his car with a male pal, prompting the driver to turn them in to the cops.
The recruitment consultant was then slung in a cockroach-infested jail for five days and sacked from her 100K pound-a-year job.
In Dubai most of the drinking is done at clubs and bars inside hotels. Alcohol is not found in shops, so hotels end up full of Westerners getting plastered day and night.
The country has also become an international sex centre, where girls brazenly sell themselves to Westerners in the downtown bars.
Authorities turn a blind eye and certain places have become sex supermarkets where men can buy a girl of almost any nationality for as little as 40 pounds a night.
Friday is the Muslim world's holy day, when no work is done by locals, and for expats in Dubai it is the equivalent of Saturday.
All-day benders start at noon at any of the infamous 'brunch parties' hosted by hotels. For between 70-150 pounds Brits can eat and drink as much as they possibly can.
The most raucous party is at Yalumba restaurant at the Meridien Airport Hotel.
"The girls are so up for it out here, it's much easier to get laid here than back home. I think it's something to do with the heat," the Sun quoted one partygoer, an expat called Joe who sells swimming pools in Dubai, as saying.
"It's the new Ibiza, except there are no drugs because the penalties are so harsh," he said.
A group of girls from Liverpool are seen whooping and spining on a makeshift dance floor.
"I was told the hotel grass you up to the police if they see you take a bloke back to your room but I've s****ed two fellas this week and no one's said anything," one of the girls said.
Outside, the air is filled by the Imam calling his faithful to prayer on a loudspeaker.
As the sound mingles with the staccato throb of the pumping dance music, it is an eerie reminder for Brits that they are a long way from home.
Inside, at the prostitute-ridden York Bar, girls grab men the moment they walk in, some even putting their hands inside their trousers.
In broken English they coo crude offers of sexual acts. Asking some their nationalities reveals there are girls from Thailand, Ethiopia, Russia, Belarus, Estonia and the Philippines.
Those who are here legally must take an Aids test once a year, as do any expats, including Brits.
"I like English men very much, my favourite," one prostitute said.
"You look like David Beckham. Shall we go to my apartment? Despite the drinking starting at noon it continues long into the night," she said.
Most places are open until 3am, many of them Irish or British-themed bars.
The Foreign Office warns British holidaymakers and expats that there is a "zero-level tolerance for drugs and alcohol" in Dubai, while sex outside marriage is illegal.
But despite that, the strictly Muslim Arab emirate has become a magnet for Westerners hungry for all three.
Although alcohol is served in licensed hotels and clubs, it is an offence to drink or to be under the influence of alcohol in public.
Drinking risks up to six months in jail and a fine of up to 340 pounds, while sex outside marriage can get you up to three years
Possession of even small amounts of drugs can lead to a minimum of four years. People can also be arrested for kissing in public and women must dress modestly. (ANI)
http://www.newstrackindia.com/newsdetails/2012/06/04/186-Sex-and-sleaze-that-goes-on-in-devoutly-Muslim-Dubai-revealed.html
----------
"My Body, My Choice" Turkish women protest plans to curb abortion
Jun 3, 2012
ANKARA (Turkey): Hundreds of abortion rights demonstrators on Sunday staged the largest protest yet against plans by Turkey's Islamic-rooted government to curb abortion, which critics say will amount to a virtual ban.
Women carrying banners that read "my body, my choice" and shouting anti-government slogans gathered in Istanbul's Kadikoy district. Prime Minister Recep Tayyip Erdogan has called abortion "murder" and his government is reportedly working on legislation to ban abortion after four weeks from conception, except for in emergencies. It is now legal in Turkey up to 10 weeks from conception.
Erdogan has long urged Turkish families to have at least three children to keep up the country's population growth rate, but the government's plans to curb abortion stoked concerns over whether Erdogan is intent on pushing a stronger Islamist agenda.
Erdogan banned alcoholic beverages at city-run coffee shops when he was Istanbul's mayor in the mid-1990s. His government also tried to criminalize adultery after coming to power in late 2002 but had to step back under pressure from the EU.
Some analysts say Erdogan is pursuing a delicate strategy of beefing up Turkey's regional power with a large population while trying to balance the country's demographics in the face of high birth rate among the country's Kurds, a source of concern for Turkey since it is engaged in a bitter fight against Kurdish rebels who want autonomy in the largely Kurdish southeast.
"They say it is my body, my choice. Feminists say this," Erdogan said Saturday during a rally in the country's southeast. "No one has the right to abort a fetus in a body."
http://timesofindia.indiatimes.com/world/europe/Turkish-women-protest-plans-to-curb-abortion/articleshow/13781754.cms
----------
UN Secy. Gen.'s wife appeals for women's empowerment
FADIA JIFFRY
3 June 2012
Yoo Soon-taek, wife of United Nations Secretary-General Ban Ki-moon, along with the wives of United Nations delegates from Belgium, Indonesia, Morocco, Algeria and China visited Dar Al-Hekma yesterday.
The reception was held in the presence of the faculty members and the students of Dar Al-Hekma.
Adviser to the president at Dar Al-Hekma, Saleha Abedin, welcomed the gathering in her welcome speech and gave an introduction of the college, the outstanding achievements of its students and the success of the institution. She also mentioned how the college resonated the interest of the Ban's advice.
"We are very delighted to have Mrs. Ban Ki Moon and the other delegates wives from the United Nations. We are glad that they were pleased with what they saw and heard. I would like to thank them for taking their time to come visit us," said Dr. Saleha.
Yoo in her short talk thanked the faculty of the college for inviting them. "It is a great pleasure and honor to meet all of you intellectual women here. I am very much impressed by your level of education and women empowerment. Educating women is very important for development and humanity. So I wish you all the best to continue your work for your community and for your country and hopefully the whole world. I am asking you to go beyond your nationality. I hope you will be interested in global issues," said Yoo.
Dr. Lamya Gazzaz, vice dean of student affairs, and Dr. Amal El-Tijani, vice dean of finance and administration, presented a talk on special community service and volunteerism.
"I am honored to host Mrs. Ban Ki-Moon and the delegation. I hail Mrs. Ban Ki-Moon's commitment to community service, volunteering and empowering women and families," remarked Dr. Suhair Qurashi, dean at DAH.
The event also featured a slideshow presentation on Special Education, prepared by Reem Al-Kudri and a talk on the subject by Dr. Amal Al-Yamani, director of special education at DAH.
http://www.arabnews.com/saudi-arabia/ban%E2%80%99s-wife-appeals-women%E2%80%99s-empowerment
----------
Indonesia, Tasikmalaya law to make Muslim women wear veils
Yuli Tri Suwarni
06/04/2012
Tasikmalaya, West Java, will soon require all Muslim women, residents and visitors alike, to wear veils to enforce its Sharia ordinance.
"We are finalizing a city regulation so that [the 2009 Ordinance on Islamic-based Values of Community Life] can come into effect as soon as possible," Tasikmalaya City Secretary Tio Indra Setiadi told The Jakarta Post on Monday.
"Hopefully, it will be finalized this month so it can be immediately promulgated."
He said the city administration might need to establish a Sharia police force to ensure enforcement because the National Police were not able to handle Sharia violations.
Tio said the enforcement of the ordinance would be different from that in Aceh because cases would still go to existing courts.
"Law enforcement here will be different from that in Aceh. For example, there will be no canning. This ordinance is aimed more at educating people to live in an Islamic way," he said.
The ordinance, signed on Sept. 24, 2009 by Tasikmalaya Mayor Syarif Hidayat, was enacted amid local concerns that globalization would harm residents in a city known for its many Islamic schools.
Full report at:
http://www.thejakartapost.com/news/2012/06/04/tasikmalaya-law-will-make-muslim-women-wear-veils.html
----------
Poor Muslim women connect to global fashion with crafts
June 04, 2012
New Delhi: Marginalised Muslim craftswomen and weavers in Uttar Pradesh, Bihar and in the capital are making an international connection with their work thanks to two projects by the Self-Employed Women`s Association (SEWA), one of the country`s oldest crafts and women`s empowerment organisations.
One project, "Ruaab: SEWA Artisans Producer Company", is empowering nearly 1,500 Muslim women in the eastern fringe of the capital with full-time jobs as embroiderers and designers to international brands like Zara, Gap Inc-Banana Republic, Monsoon, NEXT, Newlook and Vero Moda.
The women work both at the SEWA centres and out of their homes.
Another cooperative project with 100 Bhagalpur silk weavers in Bihar is empowering at least 90 Muslim families with women leading the trade, a spokesperson for the organisation said.
Their creations, mostly saris and yardage, are finding global platforms through the foreign missions like the German, American and Canadian embassies in India, the government`s Handloom Commission, Silk Mark and private organisations like KPMG and Aircel.
In April, hundreds of Muslim women weavers employed with SEWA created a range of embroidered home furnishings - mostly hand-beaded cushions - for London-based designer Tracey Boyd`s 'Aboydbazaar' - a show marking his return to the world of accessory and apparel design after a small break.
Full report at:
http://zeenews.india.com/entertainment/art-and-theatre/poor-muslim-women-connect-to-global-fashion-with-crafts_112678.htm
----------
Woman risks life to bring bowling to Afghanistan for 'total peace of mind'
Mon, 04 Jun 2012
Washington, June 4 (ANI): A woman from Afghanistan, whose family fled from the country when the Taliban took power and is one of many Afghans who have since returned, is doing something no one else has ever done.
Behind a blast proof door and through a cordon of armed guards searching for hidden weapons, Meena Rahmani is planning her day one strike at a time.
Welcome to Strikers, Afghanistan's first and only bowling alley. It's a stark contrast to the world outside, which is filled with barbed wire, armed soldiers, and concrete blast-proof barriers.
Inside, it's a different world - strobe lights, a menu with nachos and pizzas, and families enjoying a night out together.
"I'm responsible for taking part in rebuilding the country," ABC News quoted her as saying.
The bowling alley is so authentic, so western, you'll even hear the latest Rihanna tunes blaring from the alley's many speakers.
Full report at:
http://www.newstrackindia.com/newsdetails/2012/06/04/184-Woman-risks-life-to-bring-bowling-to-Afghanistan-for-total-peace-of-mind-.html
----------
Pak SC probing 'killing' of women sentenced to death for 'fornicating' at wedding
04 Jun 2012
Islamabad, June 4 (ANI): Taking suo motu notice of media reports of the killing of four women who were earlier given a death sentence by a Jirga in Kohistan for defying strict tribal customs, Chief Justice Iftikhar Muhammad Chaudhry has summoned Chief Secretary of Khyber-Pakhtunkhwa, District Police Officer of Kohistan and Deputy Inspector General Khyber-Pakhtunkhwa on June 6.
Media reports of the alleged killing of four girls and a fifth for being 'an accomplice' were presented before the chief justice by the registrar of the Supreme Court, reports The Express Tribune.
Full report at:
http://www.newstrackindia.com/newsdetails/2012/06/04/230-Pak-SC-probing-killing-of-women-sentenced-to-death-for-fornicating-at-wedding-.html
----------
URL: https://newageislam.com/islam-women-feminism/islamic-couple-convicted-mutilating-genitals/d/7525