New Age Islam News Bureau
17 Sept 2019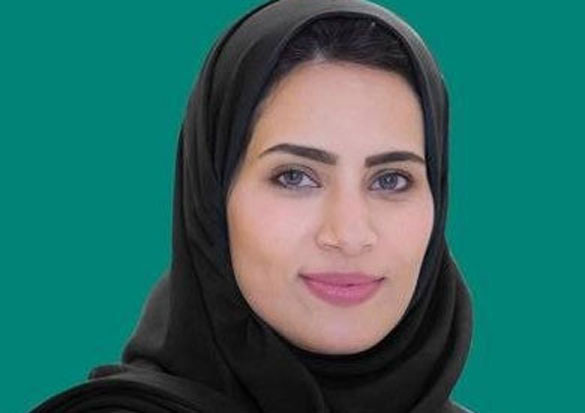 Ibtisam Al-Shehri, spokesperson of the Ministry of Education, Saudi arabia.
----
• Pakistan Jamaat-e-Islami Chief Asks Women To Raise Strong Voice In Support Of Kashmiris
• Saudi Women to Be Hired As Drivers of School Buses
• Mississauga's Sisterhood Softball League Encourages Muslim Women to Play Ball
• Modanisa Targets First Turkish Unicorn Status with Muslim Women's wear
• CM Withdraws Dress Code Order for KP Schoolgirls After Outcry
• Iraqi Women Urge Parliament To Approve Domestic Abuse Bill
• Egypt Promotes Women Economic Empowerment Through National Conference
Compiled by New Age Islam News Bureau
URL: https://www.newageislam.com/islam-women-feminism/islamic-corporation-development-private-sector/d/119765
--------
Islamic Corporation for the Development of the Private Sector and We-Fi Meet To Build a Better World for Saudi Women Entrepreneurs
September 16, 2019
JEDDAH — With the aim to discuss how the Islamic Corporation for the Development of the Private Sector (ICD) and Women Entrepreneurs Finance Initiative (We-Fi) can expand their relationship and integrate the gender themes into ICD's operations and businesses, a meeting was held between Ayman Amin Sejiny (CEO of ICD), Ms. Wendy Teleki (Head of We-Fi secretariat), and Samir Suleymanov (Director Strategic Initiatives, World Bank) at ICD's premises in Jeddah on Sept.14, 2019. The parties discussed the development and promotion of women's entrepreneurship through innovative sustainable solutions to increase women's access to economic opportunities in developing countries.
Ms. Teleki highlighted the main objectives of We-Fi which is to support women entrepreneurs around the world through programs that provide financing, capacity building and also promote enabling environments that allow women to become entrepreneurs and grow their businesses. The We-Fi work using an ecosystem approach to develop programs at country level that will break down barriers and create more opportunities for women.
Ayman said "ICD and We-Fi are working together to enhance their initiatives and mandates in supporting the female society in all ICD's member countries. We want to ensure that our lines of finance and our relationship with the 102 directly connected financial institutions we are dealing with will further enhance the funding, training to women entrepreneurs and to provide the required necessary support to women in all our member countries."
Ms. Teleki added that We-Fi has six Implementing Partners (IP) and the Islamic Development Bank (IsDB) is one of them. "IsDB, along with ICD is supporting women entrepreneurs in fragile countries. In Yemen, they have a very interesting ongoing program named BRAVE Women. They target to train up to 500 women to learn to develop business plans in fragile and high-risk contexts and up to 400 of them will get access to funding on a matching grant basis. This program aims also to develop the relationship between those women entrepreneurs with the local banks and also lead companies to make sure those women have access to finance and markets to grow their businesses. Moreover, the IsDB and ICD will be implementing soon this BRAVE Women program in two other countries to improve the women's entrepreneurship potential in key economic sectors and we look forward to seeing those programs happening in future" she said.
We-Fi is a global platform which seeks to support over a hundred thousand women around the world in the next five years and mobilize at least $2 billion from the public and private sector for further activities.
The BRAVE WOMEN is a multi-country program aims to enhance the resilience of MSMEs owned/managed by women in fragile context as potential engines for innovation, employment, and improved quality of life. The Program will promote female owned/ led Micro, Small and Medium Enterprises (MSMEs) to increase their opportunities for business growth through facilitation of direct and indirect investments, as well as improve their entrepreneurial ecosystem and business formation and growth through business resiliency capacity building, support to market development, a matching grant facility and business coaching support. — SG
http://saudigazette.com.sa/article/577496/BUSINESS/ICD-and-We-Fi-meet-to-build-a-better-world-for-women-entrepreneurs
--------
Pakistan Jamaat-e-Islami Chief Asks Women To Raise Strong Voice In Support Of Kashmiris
Umer Jamshaid
16th September 2019
LAHORE, (UrduPoint / Pakistan Point News - 16th Sep, 2019 ) :Jamaat-e-Islami Chief Senator Sirajul Haq has asked the Pakistani women to raise a strong voice in support of their Kashmiri sisters and brothers who are compelled to spend a miserable life under the shadows of terror in Indian held region.
Addressing a "Hijab Conference" at a local hotel on Monday, the JI chief said the humanitarian crisis was worsening in IHK with every day passing.
JI Women Wing Lahore chapter organized the event in connection with International Hijab Day.
Siraj said the people were starving to death in Occupied Kashmir as food shortage crisis gripped the area. The Indian forces, he said, unleashed a new wave of terror on already besieged people since August 5. He said the peace in the region could not be attained until the settlement of Kashmir issue according to the wishes of the people of the affected area.
"The dispute of Kashmir should be resolved under the UN Resolutions giving right to self determination to the people of the area," he said.
https://www.urdupoint.com/en/pakistan/ji-chief-asks-women-to-raise-strong-voice-in-713267.html
--------
Saudi Women to Be Hired As Drivers of School Buses
September 16, 2019
By Zekra Al-Solami
JEDDAH – The Ministry of Education will hire Saudi women drivers to transport school students, according to Ibtisam Al-Shehri, spokesperson of the ministry. Speaking to Okaz/Saudi Gazette, she said that both men and women will be hired as school bus drivers.
"Tatweer Company for Educational Services has signed contracts with a number of school transport operators. There is no provision in the contract, specifying the gender of the drivers whether they are men or women. This enables transport contractors to hire those women who fulfill the required terms and conditions to work as school bus drivers," she said.
Al-Shehri said that the terms and conditions include the age between 30 and 60, holder of public driving license, a certificate showing no criminal background, passing medical test, in addition to intensive training courses in safe driving of school buses.
http://saudigazette.com.sa/article/577455
--------
Mississauga's Sisterhood Softball League Encourages Muslim Women to Play Ball
Sept. 16, 2019
Hina Mirza likes to think of the Sisterhood Softball League as a Field of Dreams-like story in Mississauga.
Since 2016, it has given Muslim women the opportunity to play softball in a safe environment.
"When anyone steps out of their comfort zone to do anything, all they need is support and safety," said Mirza, who co-founded the league along with her best friend, Maryam Dadabhoy, after they saw how much fun their husbands were having playing in a church league.
"If you can create that for anyone, it's going to have such a profound impact."
Certain accommodations are in place to make sure the women feel safe playing. While the women usually wear long robes or head scarves, those types of clothing can be modified on the diamond so they can move around better. As well, the league encourages only female spectators so the participants feel comfortable playing.
The women play every Sunday throughout the summer. Mirza believes one of the staples in the league is the time between games women spend praying before listening to a motivational talk from Mirza about faith and how they can contribute to their community. "I think all the women really enjoy that five or 10 minutes of grounding on that Sunday morning," she said.
When the Sisterhood Softball League started, Mirza said she and Dadabhoy had to "beg and pry" just to get 20 players, barely over the minimum needed to play a game.
Over time, it has grown to 100 players on eight teams. The league recently had its first all-star game and raised $12,000 for Human Concern International, enough to build four water wells in support of the organization's Water Well Campaign.
In the past, the SSL has also raised funds to support a women's shelter. Players have also volunteered at local food banks and soup kitchens as a way to give back to their community.
"It started out with just wanting to play softball, but it's grown into so much more. It's about the friendships we've cultivated, the support group and positivity," Dadabhoy said. "Sisterhood comes first."
https://www.thestar.com/news/gta/2019/09/16/mississaugas-sisterhood-softball-league-encourages-muslim-women-to-play-ball.html
--------
Modanisa Targets First Turkish Unicorn Status with Muslim Women's wear
Laura Pitel
September 17, 2019
It was conversations with female friends and relatives that gave Kerim Ture the idea for his business. The marketing graduate realised that Muslim women in Turkey who chose to cover their hair and dress conservatively were underserved.
"Women who wanted to be stylish and obey the rules of modesty didn't have much of a choice," he says. "There were stories that people were buying two short-sleeved T-shirts and making them into one long-sleeve top."
Together with four friends who clubbed together and provided a total of $500,000 start-up capital, in 2011 he founded Modanisa.com, an online fashion portal for Muslim women. The name is a reference to the Koranic chapter al-Nisa, which means "women" in Arabic.
Today, the company works with 800 clothes producers — most of them small Turkish ateliers — and links them up with customers around the world.
The past few years have been a whirlwind of expansion and growth. In 2017, the company broke even for the first time, turning a profit the following year. It has received several rounds of investment including from Goldman Sachs and the European Bank for Reconstruction and Development (EBRD).
The business has tapped into a global market of Muslim consumers with growing purchasing power. A report on the global Islamic economy published last year by Thomson Reuters and DinarStandard, a US-based strategy and research group, found that Muslim shoppers spent $270bn on fashion in 2017 — a figure the authors expect to rise to $361bn by 2023.
Shelina Janmohamed, vice-president at Ogilvy Noor, a division of the London-based marketing agency Ogilvy that helps brands target Muslim consumers, says that Modanisa is a prominent success story among a global group of modest fashion retailers that also includes Indonesia's Hijup and The Modist in Dubai.
"We've seen some brands moving to the next step and starting to commercialise on a bigger scale, of which Modanisa is one of the biggest," she says. "Everyone talks about it."
Today, the company says that its website — which bursts with ranges in bright jewel colours and sugary pastels — hosts 150m unique visitors each year. Mr Ture says that the company has 3.5m returning customers who have purchased from the site more than once. The site, which takes a cut from each sale, has estimated annual revenues of $120m to $150m, according to analysts.
Part of its success can be attributed to the way Modanisa has taken advantage of Turkey's longstanding position as an important textiles producer and Istanbul's reputation as a trendsetting city.
The country's location — sandwiched between Europe and the Middle East — makes it a natural hub for an ecommerce business with a customer base that stretches from New York to Kuala Lumpur. The company has also boosted its global profile by being the main sponsor for "Modest Fashion Weeks" in Istanbul, Dubai, Jakarta and London.
Bakhrom Ibragimov, a senior banker with the EBRD's venture capital investment programme, says that the bank liked the way that Modanisa linked up Turkey's small and medium-sized enterprises (SMEs) — many of which are run by women — with the rest of the world.
"They are really focusing on SMEs that until today haven't had a global channel; they had been primarily selling offline in small shops in Turkey," he says.
The EBRD, which in March this year took an equity stake in the group for an undisclosed sum, also valued the company's "strong team". Mr Ibragimov says: "The business model seems to be working. We believe and hope that [it] will become a big global category winner."
Modanisa has seen a slower pace of growth within Turkey after an economic slump in the wake of last year's sharp devaluation in the lira.
But the domestic market makes up only 20 per cent of total sales, according to the company which says sales in other regions have been "growing well".
Global fashion brands have begun to wake up to the large market of Muslim consumers who want to cover their hair or wear less revealing clothes. H&M, Banana Republic and Macy's have all experimented with modest fashion items or lines.
Mr Ture says that he does not see these efforts as a threat, but rather as "complementary". He wants well-known brands to use Modanisa as a gateway to a new consumer base.
"We are an enabler," he says. "We have the reach, the marketing power and the capabilities. We know our customers, and who wants what."
Mr Ture's ambitions for the years ahead are bold. "We want to be Turkey's first unicorn," he says, referring to privately held start-ups that reach a valuation of $1bn or more. His eventual aim is to launch a public offering that would see it listed on the stock market in 2023 or 2024.
The company, which has 550 employees, has moved to a larger office in Istanbul's Altunizade district. A London office that will focus on marketing to the English-speaking world is due to open before Christmas. "Our aim is to make modest fashion mainstream," says Mr Ture. "It's a lifestyle, not a seasonal thing. This is a big market and people need to realise that."
https://www.ft.com/content/c8564530-b50c-11e9-b2c2-1e116952691a
--------
CM Withdraws Dress Code Order for KP Schoolgirls After Outcry
Mohammad Ashfaq
September 17, 2019
PESHAWAR: Following widespread public criticism, the Khyber Pakh­tunkhwa government deci­ded on Monday night to withdraw its earlier province-wide order instructing female students of secondary and higher secondary government educational institutions to wear the veil.
The initial directive had been defended by government representatives as required if school-going girls were to protect themselves against "unethical incidents" — harassment.
Earlier on Monday morning, the district education officer (DEO) for females, Peshawar, had issued a circular addressed to the heads of all government girls schools, directing them to "properly follow school timings and instruct all students to wear the gown/chador to veil/conceal/cover up themselves in order to protect them from any unethical incident. The matter may be treated as most urgent important and important," read the circular.
The move came just days after the district education department in Haripur issued a similar circular.
Sources told Dawn that KP Chief Minister Mahmood Khan directed the secretary of elementary and secondary education, Arshid Khan, to withdraw the controversial order as it had been issued unnecessarily.
"The orders issued by different DEOs will be withdrawn early Tuesday morning," secretary Arshid Khan told this newspaper, quoting the chief minister as having said that the law and order situation in the province was normal and there was no need or urgency for such orders. The secretary said that the DEOs had not taken the chief minister and the department into confidence over the matter.
The move had invited widespread outrage on social media (though some users did support it); in a tweet, anchorperson Amber Rahim Shamsi commented that this amounted to putting the onus of harassment on the victims. "As if women who wear the hijab and abaya don't get harassed. Well done KP. Well done," she wrote.
Earlier on Monday, the adviser to the chief minister on elementary and secondary education, Ziaullah Bangash, had defended the orders, telling Dawn that during a recent door-to-door enrolment campaign, parents had expressed concerns about the harassment and security of female students. He had explained that wherever harassment cases had been reported, police guards have been deployed during schools' closing hour. He had added that the government had also decided to ensure that female students veiled themselves.
Sources told Dawn that the adviser had directed all women's district education officers to issue the directives. However, these sources questioned the wisdom behind the move, given that students already cover themselves properly, often with a gown, chador or veil.
"It was neither necessary nor was there logic behind it; rather, it was just for media consumption," the source said. He said that no consultation had taken place with any official in the provincial education department, and argued that girls already cover themselves as per cultural percepts and it was unjust to impose restrictions on them.
Another source also questioned the move on the grounds that instead of going after males who harass, the government was imposing further restrictions on females.
When contacted, District Education Officer (Female) Samina Ghani had told Dawn that most schoolgirls were already using different types of veil when going to school. "This decision will encourage parents to send their daughters to schools, she had said.
Similarly, Mr Bangash had explained the decision as being "in accordance to the religion, culture and will of parents," although, according to him, some NGOs portray the veil negatively 'for their personal interest'.
https://www.dawn.com/news/1505649/cm-withdraws-dress-code-order-for-kp-schoolgirls-after-outcry
--------
Iraqi Women Urge Parliament To Approve Domestic Abuse Bill
Mina Aldroubi
Sep 16, 2019
Iraqi women are calling on Parliament to pass a draft bill banning domestic abuse against women, which has the backing of President Barham Salih but has not progressed since it was proposed eight years ago.
Forced marriage and violence against women has increased in Iraq as it tackles the aftermath of years of war and widespread corruption.
Mr Salih said that the bill, which was sent to Parliament on Sunday, aimed to protect Iraqi families, especially women and girls, from "all forms of gender-based violence".
It would also punish the perpetrators, provide protection to victims and compensate them for damages.
If passed, the draft will also help to provide women with the necessary care and rehabilitation through the establishment of "safe centres for victims of abuse", Mr Salih said.
But it could again languish because of vocal opposition among member of religious parties.
Women's rights groups have been pushing for the legislation of the bill since 2011, Sohaila Al Assam, a prominent women's rights activist, told The National.
"Violence against women in Iraq is increasing day by day because there are no laws that protect them from domestic abuse and violence," Ms Al Assam said.
She said granting women legal protection would be beneficial for them, society and the country.
Progress on the bill has stagnated due to divisions in Iraq since the overthrow of former dictator Saddam Hussein, and especially since religious parties took over leadership of the government and sought to impose their values on society.
The draft law must be supported by the police, interior and health ministries, Ms Al Assam said.
"We need their help and assistance in passing this law," she said.
Ali Al Bayati, a board member of the Independent High Commission for Human Rights in Iraq, said that it was imperative that the law included clear penalties for anyone who tried to abuse women or children.
"It is necessary to accelerate the enactment of this law," Mr Al Bayati said.
"It must include preventive programmes to eradicate the idea of gender discrimination within the family and the enslavement of women or children."
He said Iraqi women had been subjected to "catastrophes" that increased after ISIS seized large areas of the country.
"They assaulted Iraqi families and raped and enslaved women and girls," Mr Al Bayati said.
Iraq's personal status law enshrines women's rights regarding marriage, inheritance and child custody, and has often been held up as the most progressive in the Middle East.
But domestic violence is yet to be addressed and observers fear the bill will not be given Parliament's approval.
Although the Iraqi constitution expressly prohibits "all forms of violence and abuse in the family", only the Kurdistan Region of Iraq has a law on domestic violence.
For a law to be successfully introducedit would need a strong institutional and societal infrastructure that does not exist in Iraq, said Balsam Mustafa, a researcher on Iraqi politics and society.
"This law will face many barriers hindering its implementation," Ms Mustafa said.
She said that corruption, bribes and a lack of integrity would present obstacles.
Ms Mustafa said that religious parties claimed the women's rights bill was not in keeping with their values.
https://www.thenational.ae/world/mena/iraqi-women-urge-parliament-to-approve-domestic-abuse-bill-1.911071
--------
Egypt Promotes Women Economic Empowerment Through National Conference
10 September, 2019
The National Consultation on Women's Economic Empowerment in Egypt - organized by the Ministry of Investment and International Cooperation in collaboration with the Organization for Economic Cooperation and Development (OECD) and the Embassy of Sweden – kicked off on Tuesday in Cairo, with the participation of diplomats and representatives of international organizations.
Gabriela Ramos, OECD chief of staff, valued the presence of eight women ministers in the Egyptian government, pointing out that the OECD sought to support the Egyptian government's plans to empower women and its economic reform agenda.
"Increasing women's employment rates from the current 23% to 50% will improve the growth rate by about 7%, so we must emphasize that women's empowerment is an economic issue, not just a social issue," she said.
Ramos added that Egypt assumed a great role in the region in the empowerment of women, pointing out that many African countries have taken Egypt as an example in implementing economic reforms in this regard.
Egyptian Minister of Investment and International Cooperation Sahar Nasr said that the ministry was working on legislative reforms and investment policies for the economic empowerment of women, and attracting investors to inject new investments in Egypt, especially businesswomen.
Nasr emphasized the ministry's focus on providing job opportunities for women and the youth, adding that Egyptian President Abdel Fattah El-Sisi has stressed, since the beginning of his term, the need to support the empowerment of women in all fields.
https://aawsat.com/english/home/article/1895781/egypt-promotes-women-economic-empowerment-through-national-conference
--------
URL: https://www.newageislam.com/islam-women-feminism/islamic-corporation-development-private-sector/d/119765
New Age Islam, Islam Online, Islamic Website, African Muslim News, Arab World News, South Asia News, Indian Muslim News, World Muslim News, Women in Islam, Islamic Feminism, Arab Women, Women In Arab, Islamophobia in America, Muslim Women in West, Islam Women and Feminism