New Age Islam News Bureau
10 Jun 2014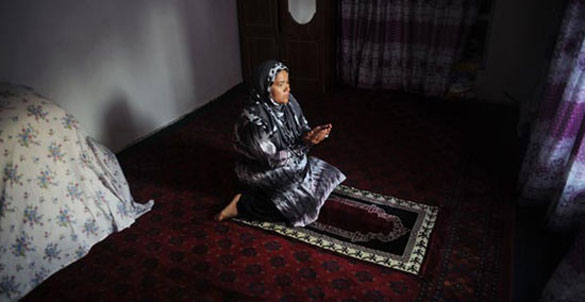 Sara Bahai prays at her residence in the northern town of Mazar-i-Sharif in Balkh province. (AFP photo)
----------
• At Least 20 Young Mothers Abducted In NE Nigeria: Sources
• Kenyan Schoolgirls Attack Colleague for 'Going against Islam'
• Cultures Clash over Forced Child Marriages in Pakistan
• King Fahd, His 'Secret' Christian Wife and the Missing £12 Million
• World Leaders Face Pressure to Act against Sexual Violence at UK Summit
• Afghan's First Female Cabbie Says 'Driving a Taxi Isn't a Bad or Un-Islamic Thing'
• Pakistan: Punjab Yet To Benefit From Anti-Child Marriage Law
• China Police Arrest Woman over Twitter Comment: Media
Compiled by New Age Islam News Bureau
URL: https://newageislam.com/islam-women-feminism/islam-kurdish-customs-justify-murder/d/87451
--------------
Islam and Kurdish Customs Do Not Justify Murder of Child-Bride
10 June, 2014
Sleman Ziad Yonis, the 45-year-old who murdered his 15-year-old child-bride, Dunya, has broken his silence in a video message in which he alleges he had found the teenager in bed with another man, and that his actions had been motivated by "honour."
The killer, who has been in hiding since the murder last month, appears in the video with a Quran in front of him, on which he appears to take an oath and speaks only in Arabic. He pleads to the Kurdistan Regional Government (KRG), claiming that his actions were justifiable by tribal and religious reasons, due to the circumstances in which he allegedly found his teenage wife.
Under no circumstances is the gruesome mutilation of the child-bride acceptable in Islam or Kurdish tribal custom. But if we were to entertain the notion of honour as it exists within a religious spectrum, we would inevitably come to the understanding that, even within religion where adultery is frowned upon, murder is not justifiable.
In Islam, a judge is required to sentence those accused of adultery with the testimony of four eyewitnesses. The harsh sentencing of an adulterer in most instances is theoretical, because those who commit adultery will not bring four witnesses to watch them commit the act. In theory, the harsh sentencing is supposed to deter adultery, but in reality it is nearly impossible to sentence someone to death because of the evidence-based requirements.
The only reason I mentioned the Islamic paradigm regarding this case is because Sleman wants to rely on religious justifications to get away with murder. Even within religious discourse, his actions are unjustifiable. Not only that Kurdistan does not operate under tribal laws, nor does the Kurdistan constitution follows this method of sentencing accused adulterers.
It is important for people to not doubt Dunya's innocence because she is no longer with us to defend herself, and it is our duty to defend her dignity. Sleman is purposely trying to distort the image of an innocent 15-year-old child bride who, according to her own mother, was a victim of domestic violence for the past year. Alongside this, she was murdered in the most gruesome and horrific manner.
Her eyes were gouged out, breasts cut off, genitals mutilated. Her body was tied to a car and dragged around. Nothing justifies this. Honor is not an excuse to murder little girls, and religion does not veil murderers from punishment. We must not be afraid to challenge those who use religious rhetoric as a means of escaping the legal punishment they deserve.
The Kurdish people must ensure that Dunya becomes an example for other women who are victims of domestic violence or those child brides who are looking at the case of Dunya, wondering what would happen to them if they attempted to escape their marriages.
In order to send a clear and strong message to women who are victims of domestic violence, the KRG must disregard claims of adultery made by Sleman, because he should not be the judge of Dunya's character. His words are worthless. In fact, in his video he inevitably admits that he is the sole person responsible for murdering her. In other words, he has already accepted accountability and is attempting to justify his heinous crime with fallacious claims that can't be substantiated, because the victim is dead.
I am left to wonder, even if the claims of Sleman are theoretically true, does Dunya really deserve the gruesome ordeal that she went through? She was a child after all, who was sold into marriage. Even if she did commit adultery, she does not deserve to be murdered in this unfair manner. The idea of a 15-year-old, who was subject to domestic abuse, bringing a man into her bedroom, seems not only incredibly unlikely but clearly a fabrication to distort the image of Dunya's innocence.
My concern is no longer Dunya, because she is dead. Instead, the women who are forced to accept abusive marriages and those who have no choice but to endure abusive partners should be our focal concern.
This case sends a distorted message to other women, unless it is dealt with appropriately. It tells other women that if they choose to escape violent marriages they will meet a similar fate to that of Dunya. Unfortunately, it tells a woman that her reputation can be tarnished by the claims of a partner.
In order to illustrate to women in Kurdistan that the law stands on the side of justice -- on their side -- perpetuators of violence must be brought to justice through Kurdistan's legal system.
http://rudaw.net/english/opinion/09062014
--------------
At Least 20 Young Mothers Abducted In NE Nigeria: Sources
10 June, 2014
Suspected Boko Haram gunmen kidnapped at least 20 young mothers near a town in northeast Nigeria where more than 200 schoolgirls were abducted nearly two months ago, sources told AFP on Tuesday.
There were conflicting reports of how many women were abducted from the nomadic settlement near Chibok in Borno state, with one local leader putting the number as high as 40.
But the latest kidnappings, which happened on Saturday in and around the village of Garkin Fulani, eight kilometres (five miles) from Chibok, were the latest in a spate in the area.
"Available information revealed that the gunmen came around noon (1100 GMT) and abducted 20 women and three young men left to keep watch on the village," said Alhaji Tar, of a local vigilante group.
"All the males in the settlement were away in the bush with their herd (of cattle) for grazing when the abductors came to the village."
There was no immediate indication of where the women were taken and there had been no contact from the kidnappers.
A local official of the Miyetti Allah Cattle Breeders Association of Nigeria (MACBAN) said 40 young mothers were singled out and put into vehicles before being driven to an unknown location.
MACBAN is the umbrella organisation of the nomadic Fulani cattle herders in Nigeria.
Similar kidnappings for ransom have been going on in the area for some time but locals were too afraid to speak out in fear of reprisals from the Islamist militants, the official said.
"This is not the first time women are being kidnapped in this area and only released when we pay cattle ransom to the kidnappers. It has happened several times," said the official.
"They come and go door-to-door bringing women outside and select young women and take them away in their vehicles and demand between 30 and 40 cows for their release", he explained.
Locals always paid the ransom but do not inform the authorities, he said.
A Borno state government official, speaking on condition of anonymity, said the authorities were aware of the kidnapping of women from the village but denied knowledge of previous abductions.
"This is the first time we are hearing abduction of Fulani women and we are working to establish the circumstances surrounding the kidnap and necessary action to take," he added.
http://english.ahram.org.eg/NewsContent/2/9/103337/World/International/At-least--young-mothers-abducted-in-NE-Nigeria-Sou.aspx
------------
Kenyan Schoolgirls Attack Colleague for 'Going against Islam'
10 June, 2014
Isiolo, Kenya: Asha* (not her real name) would now be dead had a watchman not acted fast and rescued her from her schoolmates who had attacked her, accusing her of participating in activities that were forbidden by the Islamic faith. The 17-year-old Form Three student sustained serious wounds on her back, shoulder, chest, head and hands and suffered a broken finger after the group of about 15 girls armed with crude weapons descended on her within the school compound on Saturday night at about 8pm. Earlier in the day, 49 students from the school's Journalism Club had visited the neighbouring Isiolo Boys Secondary School where beside's the day's business, modelling and music were also showcased. ''It was a whole day trip for members of the club and all went on well and we came back to school at around 7pm,'' said Asha, the club's chairlady and also a prefect. Asha spoke to The Standard yesterday at Isiolo Police Station, where accompanied by her relatives led by her mother, she recorded a statement. As they had supper, a student informed her that there was a sick student in the dormitory who required urgent assistance. Being a prefect, Asha hurriedly left her meal to go and render her assistance. Unbeknown to her, she was going to be beaten up. ''Between the dining hall and the dormitory, a group of about 15 students attacked me. They were armed with clubs, sticks and stones,'' she said. She was accused of mixing journalism with modelling and music, activities her attackers claimed were contrary to the teachings of Islam.
''They said they will go to paradise if they kill me and they went on beating me senselessly. No one came to my rescue as more students gathered around me,'' said Asha. It took the intervention of the watchman who scared away the irate students and rescued the girl from the jaws of death. Three teachers took Asha, who was bleeding profusely, to Waso Nursing Home where she was treated and discharged after three hours. She spent the night at home that night.
http://www.standardmedia.co.ke/thecounties/article/2000124187/schoolgirls-attack-colleague-for-going-against-islam
--------------
Cultures clash over forced child marriages in Pakistan
10 June, 2014
SWAT VALLEY, Pakistan — Tabassum Adnan married at 14. Such was the norm in the small village in Swat Valley, a conservative region in Pakistan near the Afghan border. What's unusual is that she escaped.
"I was forced into marrying a man who was 20 years older than me," Adnan said. "For 20 years, I stayed with him and endured his abuse and mental and physical torture — he made me suffer."
Pakistani lawmakers are set to adopt a bill to ensure other girls aren't forced into marriage by increasing the punishment for the practice, already illegal under a 1929 law widely disregarded in the country. The measure has led to a fierce debate, intensifying an ongoing cultural clash in the country over secular and Muslim values.
Advocates for harsher laws against child marriage argue that it's an oppressive practice that traumatizes young girls, while traditionalists say it goes against the Koran to pass such a law. According to the Muslim holy book, the Prophet Muhammad married minors.
More than 140 million girls younger than 18 will be married to men as old as 60 in the next decade, the United Nations Human Rights Council estimated recently. About 50% of the marriages will occur in South Asia, the council found.
In Pakistan, poor families commonly marry off girls as young as 10, shifting the cost of supporting them to their new husbands.
Secular-minded lawmakers want to amend Pakistani law to impose two-year jail sentences and $1,000 fines for child marriage. Current penalties for breaking the law are only a month in jail and a $10 fine. The laws, which are rarely enforced, apply to parents and clerics who perform marriages.
Officials in Sindh province — where Karachi, Pakistan's largest city, is located — have strengthened local laws against the tradition. Police there have raided wedding parties to enforce it, shocking Pakistani conservatives.
Traditionalists are now mounting an effort to prevent the bill. The Council of Islamic Ideology, an official panel that advises the government on Islamic law, recently ruled that the 1929 law, as well as the proposed amendments, was "un-Islamic."
"Girls as young as 9 years old are eligible to be married if the signs of puberty are visible," said Council Chairman Maulana Muhammad Khan Shirani. "Parliament should not create laws which are against the teachings of the Koran."
Anti-child marriage advocates lamented how Shirani is allowed a say in the measure. Rubina Saigol, a Lahore-based activist, said the council is a legacy of Pakistan's authoritarian past.
"The Council for Islamic Ideology should be disbanded and removed through a constitutional amendment," she said. "It was created by a dictator, Ayub Khan, to further his own interests as a ruler. It was not created by a democratic assembly."
Pakistan is a signatory to international accords that prohibit child marriage, Saigol added. The country needed to stop adopting laws to save face abroad while flouting the norms of decency at home.
"It is rape and a very serious form of child abuse prohibited by law, as well as international human rights instruments," he said. "A girl should be allowed to marry only if she is 18 or above and with her full consent, not through violence or coercion."
But strengthening laws will make a difference only if officials enforce the new penalties, said Zohra Yousuf, chairwoman of the independent Human Rights Commission of Pakistan. Activists need not only to overcome traditional Muslim supporters of child marriage but also work to make sure the government has the capacity to challenge them, too.
"The exploitation of these marginalized groups will increase if there is no legal cover," Yousuf said.
Adnan agrees, and that's why she created an all-female Jirga — a tribal council that often settles disputes and creates laws in rural Pakistan — that works for justice for women in her community.
Adnan said she was reluctant to leave her marriage out of fear of shaming her family, indicating how social pressure is a key factor in perpetuating child marriage. But in the end, she said she knew she had to get out.
"I decided that my family's honor is not larger than my life," she said. "I walked out of that marriage and decided to work for women like me who are going through the same situation."
http://www.usatoday.com/story/news/world/2014/06/07/pakistan-child-marriage/10003047/
--------------
King Fahd, His 'Secret' Christian Wife and the Missing £12 Million
10 June, 2014
The "secret" Christian wife of the late King of Saudi Arabia has won the right to pursue his son for a vast sum of cash and properties that she says he promised her before he died.
Janan Harb, 65, claims she was married to King Fahd in 1968, when she was 19 and he was a prince and minister of the interior. He later promised to provide for her financially for the rest of her life, she says.
She also claims that the King's son, Prince Abdul Aziz, told her more than a decade ago that he would honour his father's promise and offered her £12 million in cash and two high value central London properties – but so far has not given her anything.
Details of the case emerged at a hearing at the High Court in London on Monday, where Mrs Justice Rose ruled that the claim could proceed despite Prince Aziz claiming "state immunity" from the British legal system. The decision opens the way for a potentially embarrassing full hearing which could shine a light on the dealings of the House of Saud.
"After 12 years of persistence I am very happy and relieved," Mrs Harb told reporters after the ruling. "If the prince is going to appeal, I am going to accept the offer of the movie of the book I have written – I am going to spill the beans."
Now a British citizen, Mrs Harb claims she was forced to leave Saudi Arabia before King Fahd ascended to the throne in 1982. She says his son made her the offer of cash and properties – on Cheyne Walk in Chelsea, an exclusive street overlooking the River Thames – at a meeting in 2003, two years before his father died.
The judge said Prince Aziz, who did not attend the hearing, had not made any response "as regards the accuracy or otherwise" of Mrs Harb's allegations, but had instead restricted himself to "contesting the jurisdiction of the court".
She added that the Kingdom of Saudi Arabia had expressed its support for the prince's claim for state immunity in the form of a letter issued through its London embassy.
The judge's decision rested on whether immunity could be extended to everything that King Fahd had done while he was head of Saudi Arabia, even after he was dead. She ruled that it could not.
A Christian who was born in poverty in Palestine, Mrs Harb has previously claimed she met the King at a party in Beirut and that while she was married to him, she was not allowed outside the palace walls and was prohibited from having children.
She claims she was eventually ordered to leave the country because the rest of the Saudi royal family did not approve of the marriage, but that she had remained in touch with the King by telephone throughout his life.
Her solicitor, Mandeep Kaur Virdee of Neumans LLP, said: "We are delighted with the outcome of this judgment. The law surrounding this area has already established, confirming that personal immunity ceases when a head of state is no longer in office for any reason."
A spokesman for Neumans added: "Mrs Harb is passionate about sharing her personal account of what it is truly like to be married to a Saudi King and believes the exposure will be of public interest.
"Her story has received international interest from film producers and she is currently in detailed discussions to progress the adaptation of her book into a film. There are also negotiations under way with regard to the publishing of her book in advance of this."
http://www.independent.co.uk/news/uk/home-news/the-late-king-of-saudi-arabia-his-secret-christian-wife-and-the-missing-12-million-janan-harb-threatens-to-spill-the-beans-if-promised-money-isnt-paid-9517343.html
--------------
World leaders face pressure to act against sexual violence at UK summit
10 June, 2014
The kidnapping of 200 Nigerian girls and several recent horrific murders of women are expected to raise pressure on the world community to take concrete action to punish those responsible for sexual violence at a global summit in London this week.
Invited by Hollywood actress Angelina Jolie and British Foreign Secretary William Hague, government ministers, military and judicial leaders and aid workers from about 150 nations will join the first global summit to end sexual violence in conflict.
The June 10-13 summit follows a run of shocking cases of violence against women including the kidnap of schoolgirls by Islamist Boko Haram, the stoning to death of a pregnant woman in Pakistan in a so-called "honour killing", and the gang-rape and murder of two Indian teenagers who were hanged from a tree.
Hague said too often those who committed these crimes never faced justice and the summit would agree the first international protocol on how to document and investigate sexual violence in conflicts.
"Often it is the lack of evidence that means that these things go unpunished," Hague told Sky television on Sunday.
"Now this will lead to prosecutions. None of this will be achieved overnight but this is a problem which has been getting worse in recent decades and is utterly unacceptable in the 21st century."
The conference, with 1,200 attendees including U.S. Secretary of State John Kerry, will be co-hosted by Hague and Jolie, special envoy of the UN High Commissioner for Refugees (UNHCR), who joined forces in 2012 to tackle rape and sexual violence in conflict and post-conflict situations.
Oscar-winner Jolie's involvement in humanitarian issues dates back to 2001 when she travelled to Sierra Leone as a UNHCR Goodwill Ambassador and was horrified to see the impact of years of civil war when an estimated 60,000 women were raped.
Unlikely Pair
The unlikely pair have travelled together to witness the legacy of sexual violence in war and the work to help victims.
Earlier this year they went to Bosnia where more than 100,000 people, most of them civilians, were killed in the 1992-95 war when an estimated 20,000 women were believed raped.
Figures from UNICEF estimate an average of 36 women and girls are raped daily in the Democratic Republic of Congo where up to 200,000 women have suffered sexual violence since 1998.
Alice Allan, head of advocacy at CARE International, said the world had been horrified by several recent cases of violence on women which would raise the bar at the summit.
"Violence against women is not new but social media has helped bring these cases to the fore and helped galvanise governments to commit to taking action," Allan told Reuters.
"These cases have been horrific but hopefully it will lead to greater action this week and public commitments from governments to which they will be held accountable."
The summit comes after Hague and Jolie last year launched a Declaration of Commitment to End Sexual Violence in Conflict that pledged to end impunity, promote accountability, and provide justice and safety for victims of sexual violence.
So far about 150 countries have signed the declaration that calls for funding to tackle violence and help survivors, improved collection of data and evidence for court action, and a ban on amnesties for sexual violence in peace agreements.
All signatory countries were invited to the London summit where the fate of the missing Nigerian schoolgirls will be debated at a ministerial meeting on Thursday.
But the need for concrete action after four days of talking at the summit was seen as critical if there was to be progress.
"Just because Burma signed the international declaration on sexual violence, it doesn't mean they will do anything about it. There should be a six-month deadline for seeing implementation of the declaration in Burma," said Zoya Phan, campaign manager at Burma Campaign UK.
http://english.ahram.org.eg/NewsContent/2/9/103222/World/International/World-leaders-face-pressure-to-act-against-sexual-.aspx
------------
Afghan's first female cabbie says 'driving a taxi isn't a bad or un-Islamic thing'
10 June, 2014
When Afghan taxi driver Sara Bahai has male passengers in her cab, she takes the chance to lobby them on female rights -- and she hopes the country's next president will also listen to her arguments.
Bahai has been driving the streets of Mazar-i-Sharif city for 10 years, during which Afghanistan has experienced huge changes, including limited improvements in the lives of many women after the harsh years of Taliban rule.
Now, ahead of the Saturday's run-off election, she says the new president must push ahead with reforms in the face of opposition from Islamists who seek to reverse gains as the US-led intervention winds down this year.
"Sometimes I argue with male passengers all the journey to convince them a woman driving a taxi isn't a bad or un-Islamic thing," Bahai, who is thought to have been Afghanistan's first-ever female taxi driver, told AFP.
"I have many expectations for the next government. They must pay serious attention to women.
"Women should be given bigger roles, they should be given seats as ministers. And female teachers should be paid more to help female education.
"I see a lot of changes for Afghan women in the past few years. Many are setting up businesses to do whatever they want. Much work has been done, but it is not enough -- women are aware of their rights."
Under the Taliban, who imposed a strict version of Islamic law, all Afghan women were barred from work and education, and the all-encompassing burqa was compulsory on rare trips outside the home.
The improvement in women's rights has been hailed as one of the major successes of the US-led effort in Afghanistan, but most women still live strictly confined lives and very few build an independent career such as taxi-driving.
'Working has emboldened me'
"I am not afraid of anyone now," said Bahai, 40, who is unmarried and took up her job to provide for her two adopted sons and her sister's seven children.
"When I first got the licence after the fall of the Taliban, everybody laughed at me. But working has emboldened me and I want to show that women are not just meant to marry and have children.
"Many women, when they see their taxi driver is female, remove their veils or burqas and talk, they trust me more," she said, adding she earns about $9 a day plying the streets of Mazar-i-Sharif in the relatively peaceful north of Afghanistan.
"Some people would say I am setting a bad example, and I have suffered insults. But it is my passion, and I was determined not to give in to the pressure."
The two presidential candidates, Abdullah Abdullah and Ashraf Ghani, have both stressed that they would work to boost women's dire status in society, but entrenched patriarchal views remain strong nationwide.
Activists say the flagship 2009 Elimination of Violence Against Women law has been rarely implemented, and horrific recent abuse cases have included women executed for alleged affairs, as well as stonings and mutilation.
The United Nations, Human Watch Rights and local campaigners fear that women's rights could already be deteriorating as the NATO military withdraws and attention on Afghanistan's development fades.
"A female taxi driver is one example of the success we had in the last 14 years, but there have been only limited improvements on the ground," Hasina Safi, director of the Afghan Women's Network, told AFP.
"I hope to see more female drivers. This shows the evolution of Afghan women. The election will bring positive changes for women's rights -- if the government stands by its international commitments."
Earlier this year, a global campaign nudged President Hamid Karzai into ordering amendments to a proposed law that would have banned family members from testifying against male relatives in abuse cases.
In other areas, women's seat quotas on provincial councils were cut, and a draft law suggesting the reinstatement of stoning for adultery was rejected only after the proposal became public.
For one of Bahai's satisfied customers, hailing a female taxi driver offers hope for the future despite the many challenges that Afghan women face.
"When a women drives, it shows progress," said Lida, a 22-year-old university student. "It shows the women can stand on their own feet, without anyone else's help."
http://www.hindustantimes.com/world-news/sara-bahai-afghan-s-first-ever-female-taxi-driver-meters-out-election-advice/article1-1227926.aspx#sthash.oY6Vdkqb.dpuf
--------------
Pakistan: Punjab Yet To Benefit From Anti-Child Marriage Law
10 June, 2014
LAHORE: As the Child Marriage Restraint (Amendment) Bill 2014 introduced in the National Assembly in March faces strong opposition from the Council of Islamic Ideology (CII), civil society actors in Punjab continue to press the provincial assembly to make marriage between individuals less than 18-years-old a cognizable offence, with strict punishments for those violating the law.
The executive director of a child rights NGO, Saleem Malik, shared a proposed bill titled 'The Child Marriage Prohibition Punjab Act 2014', which is drafted by a network of organizations, called Alliance against Child Marriage, with The News.
According to Malik, consultation workshops and the process of drafting the bill began in early 2012 and thereafter the bill was proposed to a number of parliamentarians in the Punjab Assembly and officials in the Department of Social Welfare Punjab. Malik says while parliamentarians have in the past gave warm response; the civil society proposed bill is yet to be taken up by an MPA and presented in the Punjab Assembly for debate.
The Child Marriage Prohibition Punjab Act 2014, a collective effort of the Alliance against Child Marriage, serves to fill in the gaps left by the 85-year-old 1929 Child Marriage Restraint Act adopted by the government of independent Pakistan. As the 18th Amendment to Pakistan's Constitution effectively made child and women rights a provincial subject, it is important to note that the 1929 Act currently applies to Islamabad Capital Territory (ICT) alone. On April 28 this year, the Sindh Assembly used these additional provincial powers and passed 'The Sindh Child Marriage Restraint Act 2013' thereby strengthening punishments for perpetrators in the province. Rest of the provinces are yet to follow suit, laments Saleem Malik
Salient features of the proposed Child Marriage Prohibition Punjab Act 2014 include: increasing the required minimum age for marriage of a girl to 18 years (16 in 1929 Child Marriage Restraint Act); a compulsory requirement of a computerized National Identity Card of both parties for registration of marriage or Nikah Nama; minimum punishment of at least three years rigorous imprisonment with a fine of at least 200,000 rupees for offending parties including Nikah Khawans; and a clause investing responsibility of the child marriage with the parents of both the bride and bridegroom, the Nikah Khawans, Nikah registrar, bridegroom if over 18 years of age, and the witnesses of the Nikah.
The bill prepared by various child rights groups, including Action Aid Pakistan and Child Rights Movement Punjab Chapter, states that the appearance of the person or the start of puberty shall be no ground to consider any person an adult or child. It also gives the right to courts to dissolve child marriages after hearing both contracting parties, demand return of any dowry received before and after solemnization of marriage, provisions for maintenance and residence for female child contracting party, to decide custody and maintenance of children born out of child marriage, issue injunctions prohibiting child marriages, and to apply Code of Criminal Procedure Code 1898, The Muslim Family Laws Ordinance 1961, and the Guardian and Ward Act 1890 in court trails.
In contrast to the 1929 Child Marriage Restraint Act that prescribes a punishment of one-month imprisonment and a fine of Rs 1000 for child marriage, the Child Marriage Prohibition Punjab Act 2014 outlines penalties including rigorous imprisonment of three years at least and a 200,000 rupees minimum fine for male adults marrying a child, and for those performing, conducting, directing or abetting in solemnizing any child marriage. Additionally, the bill also prescribes minimum one-year imprisonment and Rs 200,000 fine for those found guilty of promoting or permitting solemnization of child marriages. These offences are further deemed cognizable, non-bailable, and non-compoundable criminal offences. For purposes of implementation, the government is ordered to arrange capacity building of all union council (UC) members, leaders of communities, Nikah registrars, and Nikah Khawans on the law, in addition to holding periodic sensitization and awareness training of relevant government officers, police and members of the judiciary.
The concluding clause of the bill states that the relevant provisions of Punjab Destitute and Neglected Children Act 2004 shall be amended to allow residency of child party to child marriage in established or recognized child protection institutions.
Talking to The News, Malik said the Alliance continues to hold consultations on the bill and shares the draft of the proposed bill with parliamentarians but to no avail. Malik attributes the successful passage of Sindh Child Marriage Restraint Act 103 to the dominance of progressive parties, namely Pakistan People's Party and Muttahida Quami Movement in Sindh Assembly. The child rights activist said the CII's statement on child marriage exercises influence in Punjab, where the traditional vote banks of the ruling party are invariably conservative and resistant to change.
Responding to low national identity card registration of females, Malik said the compulsory requirement of a CNIC card will compel families to register their women. He expressed hope that the situation of child rights in Punjab might improve with Chief Minister Shahbaz Sharif committing to anti-child marriage legislation in Women Empowerment Package 2014.
Program officer at Action Aid Pakistan, Ambreen Fatima told The News that the health risks to the female child including low maternal mortality rates are becoming more problematic with the passage of each year. Fatima said child marriage deprives child brides and bridegrooms of the right to education and childhood and other important constitutional rights. The member of the Alliance against Child Marriage said child marriage impacts girls more than boys in Pakistan.
"She faces ill-health, the danger of losing her own life or her children's as well as derision and abuse - mental and physical. Child marriages also restrict the mental and social development of girls. Such females are less likely to complete their education and more likely to suffer from poor health. Pregnancy-related deaths are the leading cause of mortality for girls between the ages of 15 and 19," said Ambreen Fatima.
She said the Child Marriage Restraint Act 1929 is insufficient, discriminatory to the girl child and is completely ineffective. There has never been a conviction under this law, claimed Fatima.
Child Rights Movement Punjab spokesperson Iftikhar Mubarik, talking to The News, said the legislators in Punjab should bring a new comprehensive law making the punishment and implementation stricter. The monitoring and implementation of the law should be mandatory, while the law should be publicized properly so that everyone in the country knows about it. The direct stakeholder such as Nikah Khawan and Nikah registrar need to be notified about it, said Mubarik.
Mubarik further noted that Pakistan had ratified the UN Convention for the Rights of Child in 1990 and Article 25 (A) of Pakistan's constitution endows every child in the country between the ages of 5 and 16 with the right to free primary education.
Addressing concerns regarding slow progress in Punjab, Punjab Commission on the Status of Women Chairperson Fouzia Viqar said a Committee on Muslim Family Law Reforms had been tasked by Law Minister Rana Sanaullah to make recommendations and suggest changes in the law. Viqar added that the results are yet to surface.
Chairperson, Child Protection and Welfare Bureau and member of that committee PML-N MPA Saba Sadiq said proposals for amending the 1929 Act including raising the minimum age of a girl to 18 years, fine to 20,000 rupees and prison time to 2 years have been referred to the National Assembly by the committee.
Reacting to a need for anti-child marriage legislation in the province, PML-N MPA and Women Parliamentary Caucus Punjab Chair Azma Zahid Bokhari told The News that it was important to create social consensus on child marriage before presenting a bill in Punjab Assembly, as it may run the risk of facing opposition and religious backlash. She said many people in the province do not possess CNIC cards and are unaware of registration processes.
She said incentives should be provided to parents and noted that more women registered for CNIC cards after the initiation of Benazir Income Support Program (BISP). Bokhari said the Women Caucus is open to holding consultations with diverse segments of society on child marriage, approaching religious scholars and media opinion-makers, and using mainstream media to create a favorable environment for child marriage prohibition legislation in Punjab.
Yet, a delay in the process of drafting and debating on any anti-child marriage bill may increase problems facing the province's children. According to Pakistan Demographic and Health Survey (2006-07) almost half of the girls of 15 to 18 years of age were already pregnant or had a baby to take care of. UNICEF Innocenti Research Center has mentioned that 37 per cent of Pakistani women are married before reaching the age of 18 years.
http://www.thenews.com.pk/Todays-News-5-255069-Punjab-yet-to-benefit-from-anti-child-marriage-law
--------------
China police arrest woman over Twitter comment: Media
10 June, 2014
Chinese police have arrested a woman for comments made on Twitter, state media said, with the detainee apparently a student who posted about the 1989 Tiananmen Square crackdown.
The arrest comes after authorities stepped up censorship and detained dozens of people ahead of last week's 25th anniversary of the crackdown, in which soldiers killed hundreds, by some estimates more than 1,000, protesters.
Authorities in Beijing arrested a 22-year-old surnamed Zhao for using Twitter to "spread news of law-breaking methods", the China News Service said on Monday.
The details given in the report appeared to match the Twitter account of Zhao Huaxu, a student in Beijing, who had posted a plan to use a transmitting station to broadcast information about the Tiananmen crackdown via SMS.
Twitter is blocked in China by a system dubbed the "Great Firewall of China", although some users circumvent controls to use the service. Arrests for comments made on the US service are rare.
A phone number listed for Zhao was not answered on Tuesday, and Beijing police were not immediately available for comment.
Authorities launched a campaign against online "rumours" relayed on domestic social media sites last year which saw hundreds of people, including several prominent government critics, detained.
Separately, police on Monday denied bail to Pu Zhiqiang, a celebrated human rights lawyer detained in May for attending a private seminar about the 1989 crackdown, friends said.
More than 40 journalists, lawyers, scholars and activists were held under various forms of detention ahead of the June 4 anniversary, Amnesty International said, in a larger clampdown than in previous years.
http://english.ahram.org.eg/NewsContent/2/9/103330/World/International/China-police-arrest-woman-over-Twitter-comment-Med.aspx
------------
URL: https://newageislam.com/islam-women-feminism/islam-kurdish-customs-justify-murder/d/87451