New Age Islam News Bureau
22 Feb 2018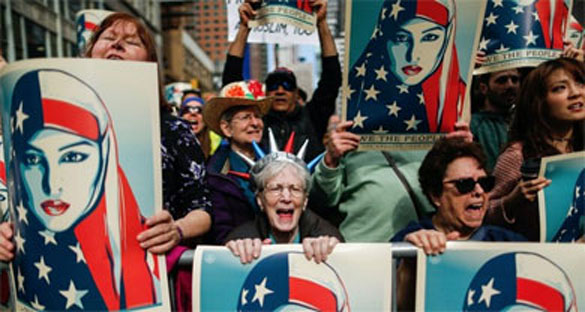 People take part in a rally to show solidarity with Muslim women, New York City, Feb. 19, 2017.
-----
• World Hijab Day: Fighting Islamophobia with Solidarity?
• Over 100 Girls 'Missing' After Boko Haram School Attack
• Iran: At Least 70 Dervish Women Protesters Taken To Qarchak Prison
• First Hindu Woman Senator of Pakistan to Be Nominated Next Month
• Unfair ISIS Trial in Iraq Hands Women Harshest Sentences
• Women Lead the Hunt for Abducted Men in Yemen
Compiled by New Age Islam News Bureau
URL: https://www.newageislam.com/islam-women-feminism/islam-allows-women-propose-good/d/114374
--------
Islam allows women to propose to 'good' men: Azhar cleric
Taha Sakr
February 21, 2018
A high-ranking cleric and member of the Fatwa committee of the Sunni world's main Islamic institution Al-Azhar Ahmed Refa'at said that women are allowed to ask a man for marriage who she considers to be "good".
He added in a statement to private TV channel of Al-Nahar that the Islamic sharia law allows a father of a girl to choose a good man for his daughter and ask him to marry her.
He further explained that Islam allows women to ask good men for marriage, saying that this took place during the era of the religion's prophet Muhammed while adding that there are conditions coming with the practice.
"A woman can do this only, if the man is good, not handsome or rich, and should be done within the framework of Islamic law," he stressed.
Recently, MP Atta Selim, member of parliament's Legislative Committee, introduced a draft law suggesting to establish a Marriage Loan Fund for youth, without requiring them to pay interest.
According to the details of the draft law published on his Facebook page, Atta said that 70 MPs have approved the draft law which seeks to support young men and women.
The Youth Marriage Loan Fund intends to finance youth and provide an incentive for marriage by setting up loans to enable them to get married. The value of the loan is estimated to be up to LE60,000, and the loan will not include interest during the repayment process.
He noted that there are more than 10 million unmarried young men and women in Egypt, according to statistics from Egypt's Central Agency for Public Mobilization and Statistics (CAPMAS).
He added that the high cost of marriage coupled with the absence of an effective state-led role in confronting the phenomenon deemed it necessary to suggest the draft law.
http://www.egyptindependent.com/islam-allows-women-to-propose-to-good-men-azhar-cleric/
--------
World Hijab Day: Fighting Islamophobia with solidarity?
LINDA HYÖKKI
February 22, 2018
On Feb. 1, women of all faiths and ethnic backgrounds around the world joined in a global movement of solidarity with those Muslim women who struggle for their right to don the hijab and wore a headscarf for a day. They participated in the now well-established World Hijab Day (WHD), which has been organized as a worldwide event every year since 2013.
The Bangladeshi born, now U.S. national Nazma Khan, founded the World Hijab Day. In middle school and high school her decision to wear the headscarf caused her to go through painful experiences of discrimination and verbal harassment. With the WHD her aim has been to pave the way for more tolerance towards women and girls like her, as well as to raise awareness about the struggles that Muslim women wearing the hijab around the globe go through every day.
The event was celebrated but also contested on social media under hashtags such as #StrongInHijab and #WorldHijabDay. While participant testimonies applauded aspects such as the empowerment women experienced while covering their hair in whole or part, opponents disapproved of the event and referred in their criticism to recent demonstrations by Iranian women against the country's dress code policies. The WHD is seen as romanticizing the headscarf and at the same time ignoring that in some social contexts women are trying to break free from rules that impose the headscarf on them.
In any case, it is important to raise awareness of Muslim women's headscarf as a question of choice. While in some women struggle for their right to wear the headscarf, others struggle for their right not to do so. In both cases, however, women's agency is held captive and we should acknowledge that advocacy for freedom of choice should not be a one-way street. To stand for women's right not to wear the headscarf but oppose the right to wear it, or vice versa, would be hypocritical.
But, while I as well was invited on social media to join the WHD and share its initial message, that of tacking prejudices about the hijab as well as increasing solidarity between Muslim and non-Muslim women, I started to ponder, to what extent can or should we expect such events to succeed in their mission?
If self-determination is a common interest that all women around the world want to fight for, participation in the WHD is a means to question imposed definitions of covered Muslim women as oppressed or backward.
Islamophobia as a set of attitudes is detrimental for the women who wear the headscarf as it reduces them to the mere scarf and to the "symbolic meaning" the Islamophobe thinks that the scarf has. By donning the hijab for a day, a non-Muslim woman can educate her social circle in which Muslim women might not be represented, about the way in which the hijab might cover part of a woman's body, but that it should not be a barrier for anyone to see her as a human being with a personality that goes beyond the piece of cloth on her head.
Also, participants of the WHD may raise awareness about the fact that the headscarf as a practice of dress should not be bound to certain localities or times. Any woman, in any country, in the 21st century should be free to choose the headscarf as part of her dress and wear it based on her decision not to reveal what she does not want to, except to those whom she chooses. Forcing her to abandon the scarf is as much of an imposition as forcing any woman to wear a piece of cloth that she does not feel comfortable with. The headscarf is thus part of the woman's right for bodily integrity.
Studies on Islamophobia in Europe such as "Forgotten Women" by the European Network Against Racism and the "EU-MIDIS II Second European Union Minorities and Discrimination Survey Muslims – Selected findings" by the European Agency for Fundamental Rights, have shown, that Muslim women, especially, are victimized on a daily basis and discriminated against in the labor market, suffering even more from verbal harassment and violence than Muslim men or even those Muslim women who do not wear the headscarf. Without a doubt, the WHD has a positive influence on fighting prejudices, but Islamophobia has often-deep-rooted institutionalized forms which we have to acknowledge and find sustainable solutions for.
For this reason, even though the one-day experience of the non-Muslim women who participate in the event might be "empowering," it is far from the lived experiences of Muslim women who cover up. This experience is bound up with other aspects such as race and ethnicity, often even social class, and most importantly, religious experience.
The latter, especially, cannot be shared or experienced, if one does not have the recognition of and emotional connection to the scarf as a religious practice. For those women who don the hijab out of the deep consciousness that it is part of their religious experience, it is a significant part of their identity, their view of the world and themselves in it. Thus, bearing the consequent discrimination or harassment is extremely traumatic as any hateful comment or hate crime targets the woman for what she is. Someone who can remove the scarf the next day without having to go through a complex inner conflict about the decision and its possible effect on one's identity cannot possibly live that experience.
Since the headscarf is often the one thing that identifies the woman as a Muslim within the masses, it is this visible difference in appearance that the Islamophobe does not want to be confronted with. The "Muslimness" of a woman does not change if she is forced to take off her headscarf and any ban will not contribute to the decreasing of Muslim presence in non-Muslim countries. Bans merely contribute to the decrease of Muslim visibility.
As long as Islamophobia is manifested in discourse, or in physical or verbal attacks, or institutionalized intolerance that targets the hijab due to its essence of being a religiously motivated practice, events such as the WHD cannot dismantle this pernicious discrimination. There is much more work that needs to be done.
For example, in order to factually influence policy and support the counter narrative in which too often Muslims stand alone, those supporting the Muslim women's right for hijab should communicate with their local politicians to advocate for the equal treatment of Muslim women, support civil society's work against Islamophobic legislation, raise awareness about racial and religious discrimination in the labor market and at workplaces, and of course manifest civil courage by speaking up when witnessing harassment of Muslim women in public spaces.
Islamophobia is a social pathology that requires everyone's attention in each of the remaining 364 days of the year, as much as the hate the hijab receives on World Hijab Day.
https://www.dailysabah.com/op-ed/2018/02/22/world-hijab-day-fighting-islamophobia-with-solidarity
--------
Over 100 girls 'missing' after Boko Haram school attack
February 22, 2018
DAMATURU - More than 100 girls were missing on Wednesday, police said, two days after a boko haram attack on their school in northeast Nigeria that has raised fears of a repeat of the 2014 Chibok kidnapping that shocked the world.
Militants stormed the Government girls Science Secondary school in Dapchi, Yobe state, on Monday evening. Locals initially said the girls and their teachers fled. But fears have been growing about the whereabouts of the students.
Around 50 parents and guardians converged on the school on Wednesday to demand answers, as police said 111 were still missing . The police commissioner of Yobe state, Abdulmaliki Sumonu told reporters in the state capital, Damaturu, that "815 students returned to the school and were visibly seen, out of 926 in the school".
"The rest are missing . No case of abduction has so far been established," he added.
The length of time since the attack and Boko Haram's use of kidnapping as a weapon during its nearly nine-year insurgency has increased fears of another mass abduction.
The militants gained worldwide notoriety in April 2014 when they abducted 276 girls from their school in Chibok, in neighbouring Borno state.
Fifty-seven escaped in the immediate aftermath and since May last year, 107 have either escaped or been released as part of a government-brokered deal. A total of 112 are still being held.
Abubakar Shehu, whose niece is among those missing from Dapchi, told AFP: "Our girls have been missing for two days and we don't know their whereabouts.
"Although we were told they had run to some villages, we have been to all these villages mentioned without any luck. We are beginning to harbour fears the worst might have happened. "We have the fear that we are dealing with another Chibok scenario."
The state-run boarding school in Dapchi caters for girls aged 11 and above from across Yobe state, which is one of three worst affected by the insurgency.
Inuwa Mohammed, whose 16-year-old daughter, Falmata, is also missing , said it was a confused picture and that parents had been frantically searching surrounding villages. "Nobody is telling us anything officially," he said. "We still don't know how many of our daughters were recovered and how many are still missing . "We have been hearing many numbers, between 67 and 94."
Yobe's education commissioner, Mohammed Lamin, said the school had been shut and a rollcall of all the girls who have returned was being conducted. "It is only after the head-count that we will be able to say whether any girls were taken," he said.
Some of the girls had fled to villages up to 30 kilometres (nearly 20 miles) away through the remote bushland, he added. Nigeria's information minister said he would visit Dapchi on Thursday with the defence and foreign ministers. boko haram has seized thousands of women and young girls , as well as men and boys of fighting age during the conflict, which has left at least 20,000 dead since 2009.
Some 300 children were among 500 people abducted from the town of Damasak in November 2014.
Getting accurate information from the remote northeast remains difficult. The army still largely controls access and infrastructure has been devastated by nine years of conflict.
In Chibok, the military initially claimed the students had all been found but was forced to backtrack when parents and the school principal said otherwise.
As the issue gained world attention, spawning the hashtag #BringBackOurGirls, the then president Goodluck Jonathan was increasingly criticised for his lacklustre response.
The mass abduction and Jonathan's handling of it was seen as contributing to his 2015 election defeat to Muhammadu Buhari, who promised to bring the boko haram insurgency to an end.
But despite Buhari's repeated claims the group is weakened to the point of defeat, civilians remain vulnerable to suicide attacks and hit-and-run raids in the remote northeast.
Security analysts told AFP on Tuesday that government ransom payments to secure the release of the Chibok girls could have given the under-pressure group ideas for financing.
"They need money for arms, ammunitions, vehicles, to keep their army of fighters moving across the borders," said Amaechi Nwokolo, from the Roman Institute of International Studies. "They're spending a lot of money on arms and logistics."
https://nation.com.pk/22-Feb-2018/over-100-girls-missing-after-boko-haram-school-attack
--------
Iran: At least 70 dervish women protesters taken to Qarchak Prison
21 February 2018
Seventy of the women arrested during the dervishes' gathering in Golestan Haftom Ave. in Tehran, have been brutalized and taken to the Quarantine Ward 3 of the notorious Qarchak Prison in Varamin.
A spokesman for the State Security Force acknowledged that at least 300 people were arrested during a raid on the protest gathering of dervishes in Tehran launched on Monday night, February 19 and carrying on until Tuesday morning, February 20, 2018. The actual number of those arrested must be considered higher.
A large number of those arrested were women, 70 of whom have been transferred to an overcrowded ward in the notorious Qarchak Prison for women.
There is no information available on the fate of other women arrested in the dervishes' gathering.
The NCRI Women's Committee issued an urgent call on February 20, urging international human rights organizations to undertake immediate measures to have the arrested women released.
http://women.ncr-iran.org/iran-women-news/4823-iran-at-least-70-dervish-women-protesters-taken-to-qarchak-prison
--------
First Hindu Woman Senator Of Pakistan To Be Nominated Next Month
February 21, 2018
LAHORE: Krishna Kumari Kohli from Thar in Pakistan's Sindh province will become the first-ever Hindu woman Senator in the Muslim-majority country, the Pakistan People's Party said today.
The Election Commission of Pakistan has accepted the papers of the 39-year-old who was nominated by the ruling PPP for a Senate seat on minority from Sindh Assembly. The election will take place on March 3.
"Kohli will be the first-ever Dalit woman in Pakistan who becomes a Senator," a PPP spokesman said in a statement today.
Ms Kohli's caste is mentioned at No. 23 in the Pakistani Schedule Castes Ordinance-1957.
"The honour to nominate first-ever non-Muslim Senator is also enjoyed by the PPP, which elected a Dalit, Dr Khatumal Jeewan, as Senator in 2009 on a general seat. Likewise, Engineer Gianchand is the second Dalit to be elected as Senator in 2015 by the PPP also on a general seat," the spokesman said.
Bilawal Bhutto Zardari-led PPP also nominated and got elected Hariram Kishorilal as Senator on seat reserved for non-Muslims from Sindh in 2012.
"With the election of Krishna Kohli and Anwar Laldean, a Christian worker of the party, the number of non-Muslims elected so far as Senators by the PPP would grow to six, an unmatched representation in the Upper House for minorities by any other political parties in the 70 years history of Pakistan," the spokesman added.
Ms Kohli belongs to a remote village in Nagarparkar district of Thar in Sindh province.
Born to a poor peasant, Jugno Kolhi, in February 1979, Ms Kohli and her family members spent nearly three years in a private jail owned by the landlord of Kunri of Umerkot district. She was a grade 3 student at the time when held captive.
She was married to Lalchand at the age of 16, when she was studying in 9th grade. However, she pursued her studies and in 2013 she did masters in sociology from the Sindh University.
She had joined the PPP as a social activist along with her brother, who was later elected as Chairman of Union Council Berano.
Ms Kohli also actively participated and worked for the rights of downtrodden people of marginalised communities living in Thar and other areas.
She is from the family of the valiant freedom fighter Rooplo Kolhi, who had waged a war against the invading British colonialist forces when they had attacked Sindh from Nagarparkar side in 1857. Subsequently, he was arrested and hanged by the Britishers on August 22, 1858.
https://www.ndtv.com/world-news/first-hindu-woman-senator-of-pakistan-krishna-kumari-to-be-nominated-next-month-1815479
--------
Unfair ISIS Trial in Iraq Hands Women Harshest Sentences
Belkis Wille
February 21, 2018
Six months after about 1,400 foreign women and children surrendered with Islamic State (ISIS) fighters to Iraqi security forces, Iraq's courts are sentencing the women to life in prison and even to death for non-violent crimes.
It's just one indicator of how people viewed as colluding with ISIS are receiving unfair trials.
The women have been charged with illegally entering Iraq and, in some cases aiding, abetting or having membership in ISIS, which carries the penalty of life in prison or death under Iraq's counterterrorism law.
In January, Baghdad's Criminal Court sentenced a German woman to death. Two days ago, the same court convicted 11 Turkish women and an Azeri. One of the Turkish women was sentenced to death, and the rest [PS2] to life in prison.
The chief justice said that in these cases, unlike earlier ones of ISIS suspects, the defendants had lawyers present during their interrogations, which would be a positive development.
A courtroom observer said that the women's lawyers contended that the defendants' husbands or others had tricked them into going to ISIS territory, but maintained that none of the women had been implicated in any violent acts. One woman said in court that her husband took their 2-year-old son and told her to follow him to Iraq or she wouldn't see her son again.
The observer said the prosecution did not present evidence contesting the defense. Yet, the judges found all the women guilty of ISIS membership. The woman sentenced to death was found to have knowingly travelled to ISIS territory to join the group with her husband. Human Rights Watch opposes the death penalty in all circumstances as an irreversible, degrading, and cruel punishment.
The Iraqi authorities should develop a national strategy to prioritize the prosecution of those who committed the most serious crimes. For those suspected only of membership in ISIS without evidence of any other serious crime, the authorities should consider alternatives to criminal prosecution. In these cases, the women are getting the harshest possible sentences for what appears to be marriage to an ISIS member or a coerced border crossing. The Iraqi courts need to redirect their priorities.
https://www.hrw.org/news/2018/02/21/unfair-isis-trial-iraq-hands-women-harshest-sentences
--------
Women Lead the Hunt for Abducted Men in Yemen
By Glen Carey
February 22, 2018
The hotline rang every day for about three weeks in December at the Abductees' Mothers Association. Yemeni families were desperately searching for male relatives in the shattered country after Yemen's former president was killed.
The group, run by 20 women, was there to help. Amid the destruction as rebel Houthis allied to Iran fight Saudi-led forces, its members have found a key role in a country and region where women are so often shut out.
The association started in April 2016 and now has a research department and one for public relations to campaign for the release of men. It has a team of people secretly tracking down missing persons in areas of the country controlled by Houthis. Yemen is a male-dominated society, but there's a flip side: a woman can do things men can't during the sectarian conflict such as seek help from powerful clerics in the hunt for the abducted.
"Yemeni culture is closed," Esma Mohammed, a 23-year-old member of the association, said at a meeting with journalists at the end of last month on a Saudi-organized visit to Marib, east of the Yemeni capital Sana'a. "If the men talk to the Houthis, they go to jail. It's less of a risk for women."
The escalating battle continues to inflict civilian casualties and cause extensive damage to public and private infrastructure. Half of the Yemeni population live in areas directly affected by war, many of whom are suffering from the deliberate targeting of civilians and other apparent violations of international law, according to the United Nations.
The Shiite-rebel Houthis seized Sana'a in September 2014 and tried to consolidate power across the country. The women's initiative started about a year after Saudi-led coalition forces intervened in March 2015. Saudi-led airstrikes killed hundreds of civilians, hit homes, markets, hospitals and schools.
On the other side, Human Rights Watch accused the Houthis of enforced disappearances, torturing detainees and arbitrarily detaining numerous activists, journalists, tribal leaders, and political opponents. In December, rebels said they killed former President Ali Abdullah Saleh, the dominant figure in Yemeni politics for decades.
The Abductees' Mothers Association is more than another wartime tale of bravery and camaraderie. Its members had spent plenty of time outside prison gates in Yemen seeking information about missing relatives before they united.
In the first half last year, the association documented 1,866 cases of people being abducted, including 35 women and 48 children, in areas controlled by the Houthis, according to its report for the first half of 2017. It says 723 have been released.
Umm Ibrahim's 20-year-old son was one one of the missing. The young man, who was active on social media and opposed to the Houthis, went to a wedding and never returned home.
Fighting back tears, Ibrahim spoke of her son's health when she was first allowed to visit him by Houthi authorities. "I couldn't believe he was my son," she said. "They wanted him to admit that he was an agent for the coalition."
Tawfiq al-Mansouri, 33, a journalist at the online al-Masdar newspaper originally based in Sana'a, was arrested by the Houthis in June 2015. His mother's voice was weak when she tried to talk about the ordeal her family has been through. Her other son, 30-year-old Wadah, explains that Tawfiq was moved a number of prisons. The last time the family was able to visit him was seven months ago.
Controlled Visit
Yemen and Saudi government officials didn't allow the group of journalists to visit any Shiite Houthi rebels being detained by the Saudi-led coalition.
The Associated Press reported in June last year that nearly 2,000 men have disappeared into clandestine prisons run by the United Arab Emirates, a Saudi-led coalition partner, and the Yemeni government. It cited lawyers and family members. The Emirati government has denied the allegations.
In the Bilquis Hotel in Marib, where Saudi officials organizing the trip scheduled the interviews with the women from the association, the war seemed distant. Armed men walked through the hotel lobby with packages of qat. Leafs from the narcotic Yemenis chew on a daily basis littered the hotel's corridors.
There was a dusty a souvenir shop, an empty pool and plenty of food. New roads are being built, trucks are visible and the city's population has grown significantly.
Many of the families interviewed by Bloomberg fled to Marib to escape the violence: Wadah with his brother's three kids, their mother and other relatives. Esma was originally from Sana'a and answered the hotline calls from Marib.
Although the conflict has split along sectarian lines, the association isn't politically affiliated. They will investigate reports that Houthi rebels have been abducted in territory controlled by government forces. If they are political prisoners or prisoners of war, the association doesn't lobby on their behalf, the women said.
"Our core work is humanitarian," said Umm Omer, 38, a member of the association whose husband was taken while he was teaching at a high school in Sana'a and held for one month. "We care about the job, not the politicians."
https://www.bloomberg.com/news/articles/2018-02-22/women-lead-the-hunt-for-abducted-men-in-yemen
--------
URL: https://www.newageislam.com/islam-women-feminism/islam-allows-women-propose-good/d/114374
New Age Islam, Islam Online, Islamic Website, African Muslim News, Arab World News, South Asia News, Indian Muslim News, World Muslim News, Women in Islam, Islamic Feminism, Arab Women, Women In Arab, Islamophobia in America, Muslim Women in West, Islam Women and Feminism