New Age Islam News Bureau
24 Feb 2015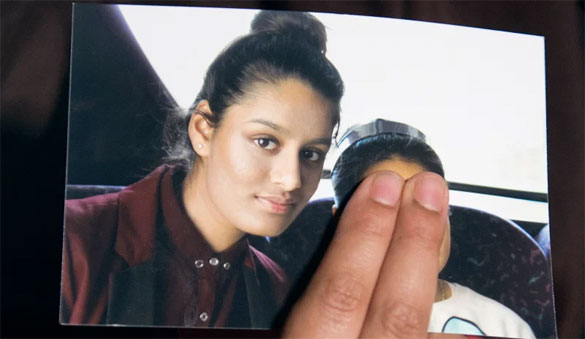 Renu Begun, sister of teenage British girl Shamima Begun, holds a photo of her sister as she makes an appeal for her to return home at Scotland Yard in London on Feb. 22, 2015 Reuters
-----
• Women Have 'Valuable Role to Play ... To Combat Extremism'
• Muslim Student Union Raises Awareness about Islam
• Young Iraqi Girl Says She Hopes God Will Forgive ISIS
• Maharashtra Government Appoints Officers to Protect Women under Domestic Violence Act
• Harassment of Muslim Women on the Rise in Melbourne
• Bombay High Court to Hear Plea Challenging Ban on Women in Haji Ali Sanctum on March 16
• Syria Girls: Shamima Begum Used Older Sister's Passport
• Aussies Stand Up For Muslim Activist After She Was Threatened With Beheading In Twitter Hate Campaign
• Recruitment of Female Domestic Workers Cost More than Males
• Yazidi Woman Shares ISIS Horror in Jolie Film
• Heinous Crime: Three-Year Old Raped In Bannu
• Lebanon's Haifa Wehbe Teases Fans with Selfie, Gets Mixed Reactions
Compiled by New Age Islam News Bureau
URL:https://newageislam.com/islam,-women-and-feminism/new-age-islam-news-bureau/isis-using-facebook,-twitter-to-recruit-muslim-girls-in-uk/d/101675
------------
ISIS using Facebook, Twitter to recruit Muslim girls in UK
Reuters | Feb 24, 2015
Islamic State is using social media and the promise of adventure to lure British Muslim girls to join its cause, an anti-extremism think tank said on Monday, as police attempt to trace three London schoolgirls believed to be heading to Syria.
The three friends, two aged 15 and one 16, left their east London homes last week and caught a Turkish Airlines flight to Istanbul without telling their families.
The Quilliam Foundation said there had been a concerted effort from Islamic State to use websites like Twitter, Ask.fm and Facebook to groom young girls into believing they have a moral duty and obligation to join the militant group.
For girls from conservative Muslim families in Britain, who may be denied the same opportunities as their brothers and male peers, messages offering the chance to "do something with your life" can prove tempting, said managing director Haras Rafiq.
"Many of these girls are not allowed out, or to do certain things in society," Rafiq told the Thomson Reuters Foundation.
"When they are online, they are being targeted with messages of empowerment... 'Come and do your bit... Reject Western values -- you'll never get what you want there'".
Islamic State, the militant Sunni Muslim group, declared an Islamic caliphate across parts of Syria and Iraq last summer. It has killed thousands in what the United Nations has called a reign of terror.
The Quilliam Foundation estimates some 600 people from Britain, around 10 percent of them female, have travelled to Syria and Iraq to join the conflict, mostly with Islamic State.
Rafiq said girls targeted by Islamic State recruiters were being misled by the promise of adventure and excitement abroad.
A manifesto attributed to an-all female branch of Islamic State and translated into English by the think tank said girls may marry at nine, the "most pure" will be wed by 17 and all women should consider motherhood the purpose of their existence.
"These girls are going abroad because they are not really achieving what they consider to be much in Britain," he said.
"But we want to inform young girls that the way [Islamic State] are targeting them and the story they're selling them is not reality."
In a report released in November 2014, The Quilliam Foundation said female supporters of Islamic State were using social media to persuade European Muslims to travel to Iraq and Syria with "the promise of an Islamist utopia".
http://timesofindia.indiatimes.com/tech/tech-news/ISIS-using-Facebook-Twitter-to-recruit-muslim-girls-in-UK/articleshow/46352258.cms
----------
Women have 'valuable role to play ... to combat extremism'
Feb 24, 2015
Muslim women hold a crucial position on the front line in the battle against the radicalisation of young people, according to human rights activists.
The community's women have a "valuable role to play ... to combat extremism" said Sara Khan, director of human rights organisation Inspire.
Ms Khan was hosting a session for Muslim women in Birmingham, giving practical tips on challenging what she called the "hateful, bigoted and extreme views" of Islamic State (Isil) and other jihadi militant groups and their supporters.
The workshop is part of a national series under the campaign banner #MakingAStand, which has Government backing.
It comes as the search continues for three London schoolgirls believed to have fled to Syria to join Islamic State.
Relatives of Shamima Begum, 15, Kadiza Sultana, 16, and Amira Abase, 15, have issued heartfelt pleas for the youngsters to come home amid fears they may have been recruited by jihadists online.
It is thought as many as 60 British women have travelled to Syria.
Ms Khan said: "We've heard this weekend about three girls from east London who've left the UK, allegedly to join Isil.
"This is something we hear time and again - the fears and worries that mothers in particular have, and they want to know what they can do to protect their children from extremists."
She said the programme was about "empowering women", and there had already been successes since it launched, with the backing of Home Secretary Theresa May, in September.
"I believe women are crucial in the battle against extremism and have made substantial differences," said Ms Khan.
"I know of many examples of women who have challenged extremist preachers, challenged things that have been happening in mosques and madrassas and been able to challenge their own children because they have the confidence from attending our programme.
"We know it can be prevented."
About 20 women from around the Midlands attended today's session, discussing steps to tackle the problem of radicalisation, discussing religion with family members, and openly challenging extreme views within their community.
Mother-of-three Hifsa Haroon-Iqbal, of Stafford, said it was important to talk to children about their religion from an early age, so they could develop informed opinions.
"Too often, children ask, 'why do we do this?', and the answer has simply been, 'because you're a Muslim'," she said.
"It's important to give them the right answers, so they develop the confidence to be able to come to you to discuss these issues."
Gina Khan, an activist in Birmingham, said she believed the struggle was as much about overturning a tradition of male-dominated leadership among some portions of the Muslim community.
She said: "I firmly believe that if you empower Muslim and Asian women they will create change.
"We've had 20 or 30 years of men running the mosques, and I haven't seen great change, I haven't seen anything remotely credible standing up for Muslim women and challenging radicalisation."
Ms Khan said the Muslim community needed to let women take the lead on the issue.
"We've been very slow as a Muslim community to create change and do something," she said.
"Sadly, barring a few good men, nothing has really happened.
"Muslim women need to lead the way, break the chains and break their silence."
Referring to the disappearance of the three schoolgirls, she said she believed the youngsters had been "groomed" online and parents needed to the recognise this "real" and "dangerous" risk to their children.
"It's happening in our communities, to people we know - it is close to home," she added.
"They're only 15 and 16-year-old girls, so it's everybody's responsibility.
"Whatever has gone on has gone on in a very confined and secretive world.
"We've heard a lot about the internet, and parents need to be just as concerned as they are about sexual grooming that this sort of grooming is going on."
The workshop campaign is continuing its nationwide tour, travelling next to Luton.
http://www.asianimage.co.uk/news/11812281.Women_have__valuable_role_to_play_____to_combat_extremism_/
----------
Muslim Student Union Raises Awareness About Islam
Iman Siddiqui
Feb 24, 2015
A religious service hosted by the Muslim Student Union (MSU) welcomed students and community members of all backgrounds to join in a sermon and prayer last Friday.
"I really liked the feeling of unity during the prayer and the calm and friendly environment," said Tiffany Pham, a second-year biological sciences major. "The speaker really connected everyone together and I felt really comfortable."
The event, held in Pacific Ballroom, was part of MSU's Islam Awareness Series. The series is put on annually by the student organization in order to dispel misconceptions about Islam and inform students about Islamic beliefs and practices, and to encourage dialogue among the campus community. This year's theme was "Root of our Identity, Basis of our Unity."
Throughout the last two weeks, MSU hosted a gamut of events, many of which were held on Ring Road and the Student Center terrace. One booth was an interactive discussion about the concept of God and Islamic values, while another provided students with the opportunity to prepare peanut butter and jelly sandwiches for a Santa Ana homeless shelter.
"We held a sandwich-making booth because MSU is very committed to charity work, which is a reflection of Islamic principles and teachings," said Huda Herwees, a third-year MSU member.
The highlight of the series' first week was a performance of Rohina Malik's "Unveiled," a one-woman play that depicts the challenges that Muslim American women of different ethnic backgrounds faced after 9/11. Attended by students, faculty and local community members, Mailk's play was borne out of her desire to challenge stereotypes about the Muslim community.
"The play was inspired by some real-life stories, but the biggest motivation for me to write the play was knowing that negative stereotypes and degrading language, if left unchallenged, create an atmosphere for hate crimes," said Malik, who was recently awarded by the World Young Women's Christian Association for her work toward preventing racism and empowering women.
In light of the murder of three Muslim students in Chapel Hill, NC, MSU also held a vigil in front of the flagpoles during the first week of the series. Approximately 200 students gathered to commemorate the lives of Deah Barakat, his wife Yusor Abu-Salha and her sister Razan Abu-Salha.
"The tragic incident in Chapel Hill is a testament to the importance of spreading awareness in order to prevent additional hate crimes," said Samah Malik, a fourth-year business and information management major.
Hassan Elwan, a local Islamic scholar and leader who led the Friday sermon, referenced the Chapel Hill shooting during his service. Elwan stressed the importance of interfaith work and getting to know members of other communities to preserve tolerance and safety.
"The reason any crime happens is because people do not know each other," said Elwan. "Instead of blaming the media, which is not in our control, we can and should control our actions and reactions."
Drew Alyeshmerni, manager of the OC Jewish Campus Leadership Initiative, said that the sermon and prayer helped to foster interfaith relationships between students and the community.
"I think that this message was refreshing and I think that this message needs to spread," said Alyeshmerni. "As an American on the outside, all we see is terrorism and what happened in Paris. After hearing this, I feel hopeful. We don't need to be afraid. We need to build interfaith relationships and forge trust among students and the community."
On Wednesday of last week, MSU held Islam 101, an information session about the basic beliefs of Islam and common misconceptions held about Islam. The session was led by local religious director Mustafa Umar in the Cross-Cultural Center.
"The questions asked about extremism and ISIS during the Q&A show us why it's especially important for us to clear misconceptions about Islam and to show how these actions of violence are politically-based rather than religious," said Ana Mendoza, a third-year religious studies major.
Other often-misunderstood topics about Islam that were discussed included Islamic manners and values and the life of Muhammad, whom Muslims revere as the final prophet of Islam. MSU sought to give extra attention to these topics by reaching out to students on Ring Road with interactive activities and games.
"It was interesting to learn about Islam's value of human life and the importance of not harming oneself or anyone else," said first-year Ashleen Shergill, who participated in the games at the booth. "I am Sikh and I saw many parallels between Sikhism and Islam."
Saamiyah Ahmed, an MSU member and a first-year student, was optimistic about the results of MSU's awareness series.
The series held one last event this past Monday: a discussion about the legacy of Malcolm X, led by Professor Sohail Daulatzai.
"Ultimately we hope that these events help us strengthen our connections with other members of the community," said Ahmed. "We are eagerly looking forward to next year's series, but we anticipate many additional interfaith and community events in the meantime."
http://www.newuniversity.org/2015/02/news/msu-raises-awareness-about-islam/
----------
Young Iraqi girl says she hopes God will forgive ISIS
Feb 24, 2015
A young Christian refugee in Iraq has said she hopes God will forgive Islamic State.
Myriam, whose family fled their village near Mosul as ISIS advanced and now lives in an unfinished shopping mall in northern Iraq, was asked by a reporter from the Arabic Christian station SAT-7 how she would wish to retaliate.
Myriam told the reporter how much their lives had changed in the mall in Erbil, where she and her family live with dozens of other families.
"We used to have a house and were entertained, whereas here we are not. But thank God, God provides for us."
Asked to explain further, Myriam said: "God loves us and wouldn't let ISIS kill us." explained.
The reporter followed this up with her question about retaliation.
Myriam said: "I won't do anything to them. I will only ask God to forgive them."
She also thanked the reporter at the end for the interview. "You felt for me. I had some feelings and I wanted people to know how I feel."
Two other girls from her village, Qaraqosh, were also interviewed. Flourine and Maryouma were asked what they missed.
Florine said: "Our school and our church."
Maryouma said: "Jesus will be with us no matter where we go."
Asked whether Jesus was with them, Flourine said: "Yes, in our hearts."
The children and women who did not escape the advance were kidnapped and forced into sex slavery.
http://www.christiantoday.com/article/young.iraqi.girl.says.she.hopes.god.will.forgive.isis/48716.htm
----------
Maharashtra government appoints officers to protect women under Domestic Violence Act
Feb 24, 2015
The Maharashtra government has started the process of appointing protection officers under the Protection of Women from Domestic Violence Act (DV Act) to help aggrieved women.A division bench of justices Abhay Oka and Anil Menon expressed satisfaction at the substantial compliance made by the government in appointing protection officers.
Government pleader Abhinandan Vagyani informed the HC that they have started training programmes for these protection officers after which they will assume full-time duty.
The government has acted after the HC had threatened to issue contempt for failing to comply with orders since 2010 to appoint protection officers under various pretexts. The HC had also rapped the government for its "insensitive approach" towards women's safety and domestic violence faced by women.
The government has said that they have created 142 more posts of protection officers, in addition to the existing 216. Appointment letters have been issued to 105 candidates so far. Of these, recruitment of 65 candidates was in the last phase. Plus the government has earmarked 45 seats for Maratha and Muslim candidates which will be filled soon.
The advocate general had informed the HC last month that within six months 358 multipurpose employees and assistants to protection officers will also be recruited.
The court was hearing a public interest litigation filed by advocate Rajendra Anbhule, which has contended that protection officers have not been appointed in many districts.
Initially, the government had not made the appointments saying that they do not have sufficient funds. Last year, the government had said that they have stayed the process of appointing POs as the issues of Maratha and Muslim reservations are pending before the HC.
Irked by this, the HC had said, "Earlier you (government) kept saying that you don't have enough funds. Now you are saying that the issue of reservations is pending. Enough is enough."
Under the DV Act, a protection officer shall conduct inquiry into allegations of domestic violence and arrange for meetings if needed between the disputing parties. A protection officer also forwards legal assistance to women as required under the DV Act.
The HC has kept the PIL for hearing on March 10.
http://www.dnaindia.com/mumbai/report-maharashtra-government-appoints-officers-to-protect-women-under-domestic-violence-act-2063569
----------
Harassment of Muslim women on the rise in Melbourne
Feb 24, 2015
The verbal abuse of women in headscarves is on the rise in Melbourne, say Muslim women, with some being shoved and spat on while walking.
Noble Park mother Reem Hakem said her 14-year-old daughter was recently yelled at by a man while walking home from school with her younger brother.
She will be running a cross-cultural workshop in Craigieburn on Wednesday, organised by the Uniting Church, to allow Muslim women to share their concerns and offer solutions to tackle public violence with Victoria Police, lawyers and community groups.
While community leaders say religious hatred should never be tolerated, some say the abuse of those who choose to don a hijab was becoming so common the incidents were often "brushed off" by the victims.
Mrs Hakem's daughter was wearing her school uniform when an older man driving past reportedly wound down his car window, gave her the finger and told her to "f--- off".
Ms Hakem said it was her son who first told her about the incident. When she asked her daughter about it the teenager said she had not mentioned it straight away because she "thought it was normal" to be singled out because of her headscarf.
"That response really broke my heart," she said. "She's just walking home from school and she's a child."
The Islamophobia Register, which collects reports of violence and harassment against Australian Muslims, is aware of a number of incidents where women have been abused in front of their children.
These cases of abuse reportedly spike during and after events that reflect negatively on the Islamic community, such as the Sydney Lindt Cafe siege and recent debate about banning the burqa.
Community advocate and lawyer Lydia Shelly accused Prime Minister Tony Abbott of encouraging attacks with "inflammatory statements" made during Monday's national security statement suggesting Muslim leaders may not "mean it" when they speak out against extremism.
"If the rhetoric continues [from] the Prime Minister and people in positions of power it's going to be very difficult and perhaps unsafe for ... Muslim women to fully participate in Australian public life," she warned.
Meadow Heights kindergarten educator Rehab Ayoubi believes violence against Muslim women can only be addressed through "knowledge".
"If people really know what Islam is about then they would know there is no link between Islam and whatever is being portrayed in the media," she said.
"Do your part and get to know your Muslims. Give it a go."
Melanie Schleiger from Victoria Legal Aid said often people who had been abused in the streets did not realise that a criminal offence had been committed "and they have a right to make a complaint to the police and the right to make a civil claim if they want to".
She encouraged people to report incidents of religious and racial abuse and advised victims to make sure they took down witnesses details.
http://www.smh.com.au/national/harassment-of-muslim-women-on-the-rise-in-melbourne-20150224-13ngg1.html
----------
Bombay High Court to hear plea challenging ban on women in Haji Ali sanctum on March 16
Feb 24, 2015
The Bombay high court on Monday informed that on March 16, it will hear a public interest litigation (PIL) challenging the ban on the entry of women into the sanctum of the Haji Ali Dargah, which houses the mazaar (tomb) of the saint.
A division bench of Justices VM Kanade and AR Joshi heard a PIL filed by activists Noorjehan Niaz and Zakia Soman of the Bharatiya Muslim Mahila Andolan, who experienced "first hand the restriction" which was imposed in 2012. Their petition says that right from their childhood, they were allowed unimpeded access to the inner sanctum (mazaar), but now there is a barricade.
Another bench at the preliminary hearing on January 28 had framed constitutional questions for the petitioners to respond. Advocate Raju Moray, appearing for the petitioners, submitted their response and told the court that the prayers are innocuous and could be worked out.
Advocate for the Haji Ali Dargah Trust said the ban was imposed to avoid sexual harassment of women, and that he would rely on two Supreme Court judgments. The judges then said they would hear the matter and decide on it in three weeks', on March 16.
http://www.dnaindia.com/mumbai/report-bombay-high-court-to-hear-plea-challenging-ban-on-women-in-haji-ali-sanctum-on-march-16-2063560
----------
Syria girls: Shamima Begum used older sister's passport
Feb 24, 2015
One of the three schoolgirls believed to be heading to Syria to join Islamic State militants flew to Turkey on her older sister's passport, it has been confirmed.
Shamima Begum, 15, used the passport of her 17-year-old sister Aklima to leave the UK on Tuesday.
The other girls are Amira Abase, 15, and Kadiza Sultana, 16. They are pupils at Bethnal Green Academy in London.
UK police officers have gone to Turkey but their role has not been confirmed.
A Scotland Yard said: "Officers are working closely with the Turkish authorities who are providing a great deal of assistance and support to our investigation."
Security services have been criticised after it emerged that - before leaving the UK - Shamima sent a Twitter message to Aqsa Mahmood, who left Glasgow for Syria in 2013 to marry an Islamic State fighter.
According to a lawyer for Ms Mahmood's family, her Twitter account has been "monitored" by police since she left Britain - and he said authorities should have seen Shamima's message and taken action before she and her two friends followed.
'Impressionable'
The girls were all studying for their GCSEs at the east London school, which reopened on Monday after half term.
Dr Muhammad Abdul Bari, from the East London Mosque and a former teacher at Bethnal Green Academy, said all the parents "were shocked".
"Children running away from home or disappearing is every parent's nightmare," he told BBC Breakfast.
He said the girls were "talented and dynamic" but "impressionable" and that they could end up "with the most vile and dangerous group on earth" was "heartbreaking" for the parents.
The message from the school would be one of unity and that every pupil's safety was the priority, he said.
Bob Milton, former Met Police commander, said there was a counter-radicalisation programme at the school and the girls had been spoken to.
"They had satisfied the person that they were no longer at risk but that clearly wasn't the case," he said.
How they left the country was a different matter and the lack of exit control was "shameful", he added.
The girls boarded a Turkish Airlines flight from Gatwick, and would have needed a visa for Turkey and a passport.
Children between seven and 12 years old can travel alone on Turkish Airlines but declaration forms must be filled in at the check-in counters and signed by parents or guardians.
'Think twice'
The Archbishop of Canterbury Justin Welby has spoken about the girls, saying it was a "nightmare situation" for the families.
The archbishop, who was addressing business and church leaders on community cohesion in Birmingham, said: "It's a deception, isn't it - and the families are absolutely devastated by it."
The families of the girls have made appeals for them to come home.
Shamima's sister, Renu Begum, said she hoped her sister had gone to Syria to bring back another girl from Bethnal Green Academy who went there in December.
Ms Begun said Shamima and her friends were "young" and "vulnerable" and if anyone had tried to persuade them to go to Syria it was a "cruel and evil" thing to do.
"We don't want her to do anything stupid - she is a sensible girl," she added.
"We just want her home, we want her safe."
Amira's father, Abase Hussen, said: "The message we have for Amira is to get back home. We miss you. We cannot stop crying. Please think twice. Don't go to Syria."
Holding a teddy bear Amira had given her mother, Mr Hussen added: "Remember how we love you. Your sister and brother cannot stop crying."
In an appeal to Kadiza, her sister Halima Khanom said: "Find the courage in your heart to contact us and let us know that you are safe and you are OK. That is all we ask of you."
http://www.bbc.com/news/uk-31581739
----------
Aussies stand up for Muslim activist after she was threatened with beheading in Twitter hate campaign
Feb 24, 2015
AUSTRALIANS are standing up for a human-rights activist after she was inundated with vicious online abuse.
Lawyer Mariam Veiszadeh, who started a campaign in October encouraging women to post "hijab selfies" to show solidarity with their Muslim sisters, was recently singled out by the far-right Australian Defence League.
Now she has become the victim of a sickening hate campaign, with Twitter users sending her photos of decapitated pigs' heads and telling her they would behead her and her mother "and bury you all with pigs".
Other shocking tweets told her to "go home" and be "stoned to death", as well as ominously warning: "Your [sic] next whore".
Ms Veiszadeh says the barrage of abuse was triggered by a disturbing article about her published by what appears to be a US Neo-Nazi website called Daily Stormer, which she said has encouraged its followers to verbally attack her.
"In terms of receiving vitriol on social media, it's a daily occurrence," Ms Veiszadeh told news.com.au. "I kind of expect it, not that that makes it any easier. It's something I'm accustomed to, but it's really stepped up since the ADL post, in intensity, frequency and viciousness."
The hashtag #IStandWithMariam has now started trending in Australia as other Twitter users have spoken up for the 30-year-old. But she said it's hard to see the positive comments amid the terrifying threats.
"When I log on to Twitter, my timeline is horrifying. Some of these followers have threatened me with violence. I've also received private emails with threats."
Ms Veiszadeh runs a Facebook page called Islamophobia Register, which records assaults and abuse targeting Muslim women, and is an ambassador for refugee group Welcome To Australia. Now she has become a lightning rod for online racism.
A 22-year-old woman from Queensland was charged earlier this month with verbally abusing Ms Veiszadeh after allegedly calling her a "rag head" and telling her to return to her "sand dune country", the Brisbane Times reported.
The woman will appear at Ipswich Magistrates Court on March 11.
Her alleged comments on Ms Veiszadeh's Facebook page came after the activist complained about a singlet on sale in Cairns Woolworths bearing a picture of the Australian flag and the words: "If you don't love it, leave".
Ms Veiszadeh, who fled Afghanistan aged seven, posted an image of the singlet on Twitter in October, saying she was outraged that the store was allegedly selling the "bigoted" item.
The ADL picked up her tweet last month and shared it with the group's 5000 fans on Facebook, cropping out the words on the singlet to make it seem as though Ms Veiszadeh's objection was to the Australian flag.
Social media users then started sending threatening Twitter and Facebook messages to the Canberra-based lawyer.
Ms Veiszadeh is standing up for herself. She has shared the Twitter handles of her harassers and asked her followers to report them, with several accounts being suspended. She has also obtained legal advice.
She has since received tweets of support from MPs including Greens deputy Adam Bandt and Craig Laundy, Liberal member for Reid in NSW, who called her "a great Australian".
The Muslim activist tweeted that she was in tears, "not because of the vitriol that's directed at me, but because of the LOVE u have all shown me".
She added: "Don't underestimate my strength. Threaten me with death and I'll threaten you with legal action."
The activist says the hate campaign has only made her more determined.
"I'm determined to bring the perpetrators to justice, if not through legal action then by exposing them," she said, adding that she saw it as a pattern of abuse, with other women having contacted her for advice on how to stop this sort of attack on themselves.
"It's actually empowered me in some ways to keep fighting against bigotry. It's come at a personal cost to me but I don't want my suffering to be in vain."
http://www.news.com.au/technology/online/aussies-stand-up-for-muslim-activist-after-she-was-threatened-with-beheading-in-twitter-hate-campaign/story-fnjwnhzf-1227237634731
----------
Recruitment of female domestic workers cost more than males
Feb 24, 2015
Female domestic workers registered the highest recruiting costs on the Ministry of Labor's Musaned web page, with an increase of more than ten times the costs to recruit men in other professions, according to the latest data posted on the website.
Costs to recruit a Vietnamese female worker stood at SR21,000, while Indian house maids second in the list with SR18,000, followed by Sri Lankans with SR16,000 and Filipino workers standing at SR14,000.
The time frame for a Vietnamese, Sri Lankan and Indian worker to come to the country is generally 5 months, while a Filipino worker takes 6 months to arrive in the Kingdom.
However, prices experience a steep drop when it comes to their male counterparts. According to Musaned, the costs to recruit a male Sri Lankan house worker generally stands at SR2,000, but it costs even less to recruit a male Indian house maid, only SR1,800.
In other trades, worker's costs vary according to the job. For example recruiting a foreign driver can affect the employer's budget more or less, depending the country the employee hails from. The costs to recruit an Indian or Sri Lankan driver, with the cheapest prices at Musaned, ranged between SR4,000 to SR5,000, with the time frame to begin work between three and four months respectively.
Recruiting an Egyptian or Sudanese driver will cost somewhere between SR5,000 and SR6,000 with a time frame of arrival estimated at four to six months, while a Yemeni or Moroccan driver amounts to SR6,000 to SR9,000 and a period of six months for the worker to begin his job.
The price lists of the various recruiting firms and companies on Musaned website showed large disparities in recruitment rates of other professions that didn't include visa fees, which is estimated at SR2,000.
The Labor Ministry recently issued binding directions for recruiting firms and companies to disclose the costs of recruiting foreign workers on its Musaned website. This move is aimed at helping all interested parties by spreading the principle of transparency.
http://www.arabnews.com/featured/news/709151
-----------
Yazidi woman shares ISIS horror in Jolie film
24 February 2015
A Yazidi mother who was seized by militants from the Islamic State of Iraq and Syria (ISIS) has shared her memories with Hollywood star and special envoy for the United Nations' High Commissioner for Refugees Angelina Jolie as part of a of a new film by UNHCR, the Huffington Post reported.
Naseema, who lost her husband, two daughters and three sons, was seized by the extremists last summer and separated from her family.
The 45-year-old was released in January before taking shelter in an abandoned building in northern Iraq.
"As they were capturing us, my eldest daughter was screaming. She was shouting at them, 'I will never go with you!'" Naseema remembers. "After they took her outside, they closed the door and she disappeared."
The U.N. agency made three films telling the stories of women captured by ISIS.
During her last trip to northern Iraq, Jolie called for international action to help millions of displaced Syrian refugees and Iraqis who have been left homeless.
Jolie visited the Khanke Camp for internally displaced people and spoke to victims of the extremist group.
http://english.alarabiya.net/en/perspective/features/2015/02/24/Yazidi-woman-shares-ISIS-atrocities-in-Jolie-s-new-film-.html
-----------
Heinous crime: Three-year old raped in Bannu
February 23, 2015
BANNU: A three-year old boy was allegedly raped in Sokari Hafizan area of Bannu Cantonment on Monday.
The boy's father, a resident of Sokari Karim Khan, told the Cantonment Police that he was visiting Hafizan to attend an event at a relative's place. He added that he had brought his three year-old son Bilal*, as well.
He recalled that that the boy, whose mother had died, was playing with other kids in the house when he went missing. Upon discovering that Bilal was missing, the family started searching for him.
The boy was later recovered from another house in the area in a semi-conscious state with bloods stains on his clothes.
The police took the minor to the hospital where doctors confirmed that he was sexually abused.
Bilal's father accused Sher Qayuum of sexually assaulting his son. The police then raided Qayuum's house and arrested him. They claimed that during initial investigations, the accused had confessed his crime.
He was subsequently presented in a local court which approved a day long remand in police custody.
http://tribune.com.pk/story/842997/heinous-crime-three-year-old-raped-in-bannu/
-----------
Lebanon's Haifa Wehbe teases fans with selfie, gets mixed reactions
24 February 2015
A wave of comments flooded social media this week after Lebanese singer and actress Haifa Wehbe posted pictures from the shoot location of her upcoming Ramadan series.
The star posted pictures to her Facebook and Instagram accounts wearing a figure-hugging, short blue dress.
Fans left mixed reactions on Wehbe's social media pages, with some praising her looks and others furious at what she'd be wearing on TV screens during the holy month of Ramadan, which falls in June.
Her new series "Mariem" will reportedly be aired during the Muslim fasting month that also witnesses a wave of television premieres.
Haifa has previously sparked controversy in the Arab world when a film she starred in last year was pulled from Egypt's cinemas for being sexually explicit.
http://english.alarabiya.net/en/variety/2015/02/24/Social-media-users-react-to-Lebanese-diva-TV-series-pictures-.html
-----------
URL: https://newageislam.com/islam,-women-and-feminism/new-age-islam-news-bureau/isis-using-facebook,-twitter-to-recruit-muslim-girls-in-uk/d/101675