New Age Islam News Bureau
3 March 2017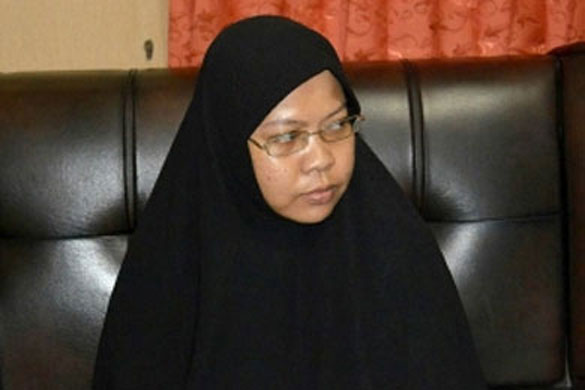 This picture taken on Dec. 11, 2016, shows Dian Yulia Novi in Jakarta STR/AFP/Getty Images
---------
• ISIS Unveiled: The Story behind Indonesia's First Female Suicide Bomber
• Muslim Female Fighters Give Shout Out to Pakistanis
• Rawalpindi Court Decides Case In Favour Of British Pakistani Woman
• Securities and Exchange Commission of Pakistan Vows To Facilitate Women Entrepreneurs
• Use Women Cops at Polling Booths to Check Burqa-clad Voters: BJP to EC
Compiled by New Age Islam News Bureau
URL: https://newageislam.com/islam-women-feminism/isis-unveiled-story-behind-indonesia's/d/110273
------
ISIS Unveiled: The Story behind Indonesia's First Female Suicide Bomber
March 3, 2017
There is a flawed relationship between size and power. Bears and lions provoke fear, yet the mosquito is the more ferocious killer. Humans can be similar. Take Dian Yulia Novi. She stands less than 5 ft. tall, but her true power is in her will. And in the pressure cooker packed with explosives she planned to detonate at Indonesia's presidential palace. Recruited online by the Islamic State (ISIS), she was determined to die as a martyr for global jihad. Until her arrest on Dec. 10, the 27-year-old was set to become the first female suicide bomber in the world's most-populous Muslim-majority nation.
"In Islam, men and women are different," she tells TIME in an exclusive interview at Kelapa Dua prison, south of Jakarta. "But now, jihad is mandatory for all Muslims, just like praying. Everyone must do jihad."
Dian is friendly and chatty, wearing a long dark brown hijab and gray gloves, which occasionally bring a small bottle of eucalyptus oil to her covered nose. "For nausea," she says. Only her dark, piercing eyes are visible through her full-face niqab veil, a habit she picked up during a stint as a migrant worker in Taiwan. That was also where she was radicalized online. Indonesia has battled for decades against homegrown Islamic extremism, but ISIS presents an entirely new challenge, inciting "lone wolf" attacks and propelling women into the front line for the first time. A few days after Dian's arrest, another woman, Ika Puspitasari, was arrested for plotting a suicide bombing in the tourist island of Bali on New Year's Eve. "Nowadays more men are hiding from waging jihad," says Dian. "So why can't a woman volunteer?"
The rise of ISIS comes as Indonesia's fledgling, secular democracy is increasingly under threat from a resurgent Islamist right. While Europe has so far felt the brunt of ISIS-inspired terrorist plots, these forces threaten to turn the Southeast Asian nation of 250 million into a maelstrom of radicalization. In a 2014 survey, Indonesian scholar Al Chaidar recorded 2 million ISIS followers in Indonesia. More than 600 Indonesians are currently fighting with ISIS in Syria, helping to spread the group's warped ideology to compatriots back home. Their goal is a Southeast Asian caliphate governed by Shari'a, similar to that hewed in the dusty borderlands of Iraq and Syria by ISIS. And with more than 191 million Indonesian Muslims targeted by ISIS as potential recruits, the tiniest uptick in radical support could have hitherto unseen repercussions across the planet.
'Maybe there are many Dian Yulia Novi'
Indonesia's Islamists traditionally struck from jungle hideouts across its vast archipelago of 6,000 inhabited islands, mirroring the Pattani-Malay insurgents of Thailand and the Moro rebels of the Philippines. But in recent years, the nation's burgeoning migrant worker community — toiling in factories and glitzy apartment buildings predominantly in Hong Kong, Singapore, Taiwan and Saudi Arabia — has proved especially vulnerable to online radicalization, with serious repercussions for global security.
"The challenge now is we can't identify them," says Siti Dorojatul "Dete" Aliah, director of Jakarta's Institute for International Peace Building, who has interviewed more than 50 female jihadis. "Maybe there are many Dian Yulia Novi scattered around Indonesia. We don't know how to approach them because they don't belong to any groups."
In January last year, five ISIS devotees attacked a Starbucks in central Jakarta with bombs and guns, leaving seven dead including the attackers. In July, a botched suicide bombing at a police station in central Java killed the attacker and injured one officer. In November, police foiled a plot to bomb the Myanmar embassy in Jakarta. These attacks broke seven years of relative calm since the last major attack by Jemaah Islamiyah (JI), Indonesia's al-Qaeda-affiliated terrorist group. But now new recruits — often self-indoctrinated online like Dian — are being targeted by fanatical JI splinter cells. Three such groups have claimed to represent ISIS in Indonesia, of which the most prominent is Jamaah Ansharut Daulah (JAD).
Read More: ISIS Opens a New Battlefront in Asia With Jakarta Attacks
JAD ensnared Dian. But her jihad ended unsuccessfully after a raid by Indonesia's elite antiterrorism squad, Detachment 88, at the boarding house she had rented three days earlier in the Bekasi district, east of Jakarta. "JAD has a network in Bekasi," Detachment 88 chief Edi Hartono tells TIME in a rare interview. Dian's landlord, who asked to simply be called Andy, didn't suspect anything untoward when this slight young woman paid cash for Room 104, around 20 sq m of whitewashed walls and Finding Nemo bathroom tiles. And he certainly didn't expect the monumental clean-up job around the corner. Dian kept largely to herself, each morning pottering across to the small warung, or eatery, opposite the building that dolls out bowls of mung-bean porridge. "But we did notice five strange men hanging around the warung next door," Andy tells TIME, surveying the spot where a controlled explosion demolished half his wall.
Those men were Detachment 88 officers, who had been monitoring Dian for some time. When she went to a nearby post office, they followed and retrieved the package she mailed to her parents in their hometown of Cirebon in northwest Java. It contained some clothes and her will, which simply said she had left them "to do good deeds." The officers then followed Dian as she was driven by two men back to the boarding house, exiting the car with a black backpack. When the officers knocked on the door, Dian was reading the Quran. "The bomb arrived in the morning, and the police arrested me that same day," she laughs.
Dian — like disaffected young Muslims the world over — was radicalized online, but she had some very real-world conspirators. One was Nur Solihin, who was recruited by Bahrun Naim, the most infamous Indonesian fighting with ISIS in Syria. Bahrun is JAD's chief provocateur and he ordered Nur Solihin to find a "bride" for a suicide bombing. He also gave the order for Dian to attack the presidential palace during the changing of the guard. The bomb contained the explosive materials triacetine triperoxide and glycerin, designed to send the accompanying 3 kg of 5-cm nails barreling through flesh up to 300 m away at 5,300 m per second. A similar device was used in the Boston Marathon bombing of April 15, 2013, which claimed three lives and injured hundreds more. "Presidential security protects the President, who applies the law created by people," says Dian. "They replace the Quranic law with human law. Do you think that's not breaking Shari'a?"
The call for Shari'a to be implemented in Indonesia represents a challenge to its secular founding tenets. Since the end of colonial rule in 1945, Indonesia's leaders have guarded against religious extremism through the state ideology of Pancasila — belief in one God, a just and civilized humanity, national unity, democracy through deliberation, and social justice for all. But Islamist groups that were repressed, often brutally, under postcolonial authoritarian governments have become louder and more influential since democratization in 1998.
The most prominent of these is the Islamic Defenders Front (known by its Indonesian initials FPI), which has taken to the streets in recent months in an attempt to oust Jakarta's governor, Basuki Tjahaja Purnama, who is an ethnic Chinese Christian. Popularly known by his Hakka nickname Ahok, he is fighting a blasphemy charge after he told a crowd that they had been "lied to" by hard-line Muslims, like FPI's firebrand leader Rizieq Shihab, who cite a Quranic verse as supposed proof that Muslims should not have a Christian leader. "Today, Islamist groups like FPI are the most influential part of Indonesian civil society," says Sidney Jones, director of the Jakarta-based Institute for Policy Analysis of Conflict (IPAC). "For a democratic society, that's very frightening."
'They are ready to die'
For Indonesia's police chief Tito Karnavian, groups like FPI are troublesome because, he says, members can easily make the jump into terrorist groups or become lone-wolf attackers. "FPI talk about establishing Islamic Shari'a in Indonesia, and this is also one of the objectives of terrorist groups," he tells TIME over coffee and cake in his Jakarta home. "They want to create a caliphate — Daulah Islam — so they have a common interest. They both think the state apparatus is the enemy."
Tito is Indonesia's real-life action hero. Less than a week after becoming the nation's top cop in July, he joined a special task force that killed Indonesia's most-wanted terrorist, Santoso, in the steamy jungle of Central Sulawesi province. He previously led the national counterterrorism agency and Detachment 88, where he helped dismantle the JI network after the 2002 Bali bombings, and in 2010 launched a raid on a militant training camp in Aceh, which led to the arrest of JI founder Abu Bakar Bashir and chief JAD ideologue Aman Abdurrahman. Enormous posters of Tito in military fatigues hang outside police stations across Indonesia. "I've done all types of police work, including murder, then armed robbery, then drugs. But terrorism is the apex of criminality," he says, eyes suddenly sparkling. "Because they are ready to die and are actually seeking death."
It would be wrong to characterize Indonesians as overly prone to radicalism. Despite the several hundreds fighting with ISIS in Syria, proportionally they are one of the least represented nations: just two ISIS fighters per million of population, compared to 27 for Denmark or 40 for Belgium. But Indonesia's sheer size means even a slight increase could have calamitous consequences. And for Tito, the U.S. drawdown in the Middle East, combined with Russia's increasingly prominent role supporting embattled Syrian President Bashar Assad, spells problems — perhaps leading to the end for ISIS in the Middle East. While that is, of course, desirable per se, it would likely mean hundreds of battle-hardened fanatics swarming home."The threat, of course, is considerable," says Tito. "Firstly, because the radical mind-set is already in place. Secondly, the military capability."
Indonesia has weathered such storms before. But while only 197 JI operatives joined al-Qaeda training camps across Afghanistan and Pakistan, returning home following the U.S.-backed invasion, more than three times that number fight with ISIS today. Says Tito: "So you see the magnitude of the threat."
http://time.com/4689714/indonesia-isis-terrorism-jihad-extremism-dian-yulia-novi-fpi/
--------
Muslim Female Fighters Give Shout Out to Pakistanis
March 3, 2017
An Instagram account has taken the initiative of breaking stereotypes about Muslim women by posting pictures of female fighters from all over the world.
The Instagram account, 'Muslim Female Fighters' is managed by kick boxer Sara Kawthar who frequently shares pictures of Muslim women rarely captured by the media.
"The media crafts this narrative that Muslim women are submissive all the time. So I understand why people might initially think that," Sara said while speaking to Vice magazine. "Traditionally, Muslim women haven't been involved in too many sports, let alone combat sports."
29 powerful images of Muslim women marching for their rights
Sara has a personal motivation in showcasing the vast community of Muslim fighters. "I've grown up participating in football leagues, found my way into taekwondo, and now kickboxing," says Sara, who wears the Hijab while competing. "I know a lot of women who were given ultimatums to either take that [their headscarf] thing off, or to forfeit."
However, Sara intends to change the general perception. Citing the example of Pakistan, she said that presence of women in contact sports has been growing in the past few years. "Women's boxing was non-existent in Pakistan and is now blossoming all over the country with hopes of Pakistan sending a female boxer to the next Olympics," she said.
Syrian Arab women battle IS, social stigma
"Egypt and Malaysia are grooming a lot of female Muslim MMA fighters. Even Turkey and Morocco have a vibrant women's kickboxing and Muay Thai scene. And Maryam El Moubarik won a gold medal for Morocco in an international Muay Thai competition, clad in hijab," she added.
Here are a few images of Muslim female fighters from all over the world:
https://tribune.com.pk/story/1344894/muslim-female-fighters-give-shout-pakistanis/
-------
Rawalpindi Court Decides Case In Favour Of British Pakistani Woman
March 03, 2017
Rawalpindi - A family court on Thursday decided dissolution of marriage case in favour of a British national woman who sought divorce saying her husband mistreated her.
The Civil Judge 1st Class Family Court, Muhammad Azeem Akhter laid down verdict in favour of Malaika Aqsa Noor, the British national of Pakistani origin, after her ex-husband Muhammad Ali Mumtaz, who is British national and resident of Sheikhupura, did not respond to court notices.
According to details, Malaika Aqsa Noor, daughter of Waqas Javed, resident of Street Number 7A, Mohallah Cha Sultan near Glass Factory, filed a suit for dissolution of marriage on the basis of 'Khula' (plea for separation) through Advocate Chaudhry Muhammad Aalam Bhangoo, stating her marriage was solemnized with Muhammad Ali Mumtaz on 25, September 2016 against the dower in shape of 50 tolas gold ornaments and flat consisting of three bed rooms, which was still unpaid.
She added the marriage between her and Ali was solemnized in the United Kingdom (UK) and the marriage certificate was in possession of defendant.
The plaintiff stated after marriage she started living with her husband who from very beginning remained very cordial with her but later on his attitude was totally changed and he started mistreating her.
Malaika Aqsa Noor pleaded court that she wanted divorce. The Civil Judge Muhammad Azeem Akhter issued notices to husband of the plaintiff but he did not respond after which the court summoned the plaintiff and recorded her statement in which she said she wanted divorce.
The court decided the dissolution of marriage case in favour of Malaika Aqsa Noor, the British national woman.
On the other hand, a Swedish national of Pakistani origin sought police protection during his stay in Pakistan stating his sisters allegedly occupied his house in Sadiqabad area and hurling threats of dire consequences.
SSP (Operations) Irfan Tariq Khan, after accepting complaint from Sheraz Rana, son of Zulfiqar Ali Rana, ordered DSP New Town Circle to provide protection to the complainant and to inquire the matter.
In the application, Sheraz Rana stated he is Swedish national and her mother Pervin Akhter had gifted a house number 77-B Afandi Colony to him through legal process. He added her sisters Saima Rana along with her two sons and Sonia Anila Rana, who returned from USA, have been residing in the house and quarrelled with mother after knowing she had transferred the property to her son.
He said he had arrived Pakistan from Sweden on 27 February 2017, and went home to meet his mother but the maid told him to leave the house as his two sisters could harm him. He said that he left the house to save his life.
The Swedish citizen demanded police protection. Taking action SSP (Operations) Irfan Tariq ordered DSP New Town to provide protection to applicant and to inquire the matter.
http://nation.com.pk/islamabad/03-Mar-2017/court-decides-case-in-favour-of-british-pakistani-woman
-------
Securities and Exchange Commission of Pakistan Vows To Facilitate Women Entrepreneurs
03-Mar-17
ISLAMABAD: As part of its 'Jamapunji' awareness campaign, the Securities and Exchange Commission of Pakistan (SECP) in association with The Indus Entrepreneurs (TiE) and the US-Pakistan Women's Council (USPWC), held its first preparatory session with regard to Supply Chain Diversity Expo for incipient entrepreneurs at TiE's WECREATE centre.
The objective of this event was to encourage gender diverse supply chains where men and women avail equal opportunities in benefiting from new markets without any gender discrimination.
The SECP assured the audience that in collaboration with TiE it would do everything possible to facilitate women entrepreneurs. The SECP officials briefed the audience on the company registration process and corporate structure of start-ups. The audience was told about compliance requirements to be followed after company incorporation as well as the regulation of the corporate sector, common forms of businesses and their pros and cons.
The SECP's role in empowering fledgling entrepreneurs through its e-services was highlighted. The participants were encouraged to go for corporatisation in order to have a sustainable growth of their businesses. The audience was also briefed on recent facilitation measures taken by the SECP to encourage corporatisation, including keeping the SECP's regional offices in Islamabad, Lahore, and Karachi open on Saturdays and the establishment of facilitation counters where customers are assisted with the incorporation process.
Details of recently launched 'Swift Company Registration Scheme', which has made the company registration an easy, quick, and hassle-free process, were also shared with the audience.
The session was followed by an activity in which the participants underwent a mock process of company registration in order to understand its simplicity and technicalities. The participants greatly appreciated the SECP for raising awareness about start-ups.
http://dailytimes.com.pk/business/03-Mar-17/secp-vows-to-facilitate-women-entrepreneurs
-------
Use Women Cops at Polling Booths to Check Burqa-clad Voters: BJP to EC
March 3, 2017
Lucknow: The BJP on Thursday urged the EC to deploy women force at polling booths in the last two phases of the UP Assembly polls to check identity of burqa-clad female voters and prevent bogus voting, leaving some Muslim bodies fuming.
In a letter to the Chief Election Commissioner, the party said, "The BJP demands that to establish the identity of Burqa-clad female voters in the sixth and seventh phase of the UP polls, women police and central paramilitary forces be posted at sensitive and hyper-sensitive polling booths".
BJP leaders J P S Rathore and Kuldeep Pati Tripathi said in the letter that a large number of Burqa-clad women exercise their franchise and there was a possibility of false voting.
"Adequate deployment of female police would ensure proper checking of women voters, and at the same time, minimising incidents of bogus voting," they said.
A large number of constituencies going to polls in the last two rounds on March 4 and 8 fall in Muslim-dominated districts of eastern Uttar Pradesh.
The demand by the saffron party, however, did not go down well with Muslim organisations, with some of them accusing BJP of deliberately indulging in "polarisation politics".
Mahila Muslim Personal Law Board Chairperson Shaista Amber said, "Till now, the election and voting process have been rather smooth, and the Election Commission deserves a round of applause for this. However, in a bid to polarise the votes in the sixth and seventh phase, the BJP has now come up with this strange demand".
She said this act of BJP smacked of its "sick mentality".
"Whether a woman is wearing Burqa or Ghoonghat, no one has the right to offend her womanhood and dignity," she said.
Shia Personal Law Board spokesperson Yassob Abbas said, "This is a deliberate tactic of the BJP to polarise the votes.
We would not tolerate even an iota of insult to Burqa."
He said even non-Muslim women living in villages wear 'Pallu' (veil).
"Will the Pallu (of non-Muslim women) be removed to check and verify their identity?" he asked, adding "It is better not to do any politics over Burqa".
Senior member of All India Muslim Personal Law Board Khalid Rashid Firangi Mahali said, "Ever since the Uttar Pradesh assembly elections have started, a conscious attempt has been made to target Muslim women".
"It started with triple Talaq, which has fallen flat on the face of the BJP," he said.
He also said that as per the laid down provisions of law, a voter is allowed to cast his or her vote only after the poll official cross-checks and verifies the Electors Photo Identity Card (EPIC) card.
"I think that there is a planned attempt to keep Muslim women voters away from voting," he said.
Saharanpur-based Islamic seminary of Darul Uloom Deoband refused to comment.
Muslims make up around 19-20 per cent of UP's population of nearly 200 million.
Out of 403 assembly constituencies in UP, there are nearly 120 seats where the percentage of Muslim voters is more than 20 per cent (Muslim-dominated seats) and in certain parts of eastern UP, their population is up to 27 per cent.
http://www.news18.com/news/india/use-women-cops-at-polling-booths-to-check-burqa-clad-voters-bjp-to-ec-1355548.html
-------
URL: https://newageislam.com/islam-women-feminism/isis-unveiled-story-behind-indonesia's/d/110273
New Age Islam, Islam Online, Islamic Website, African Muslim News, Arab World News, South Asia News, Indian Muslim News, World Muslim News, Women in Islam, Islamic Feminism, Arab Women, Women In Arab, Islamophobia in America, Muslim Women in West, Islam Women and Feminism