New Age Islam News Bureau
8 Aug 2014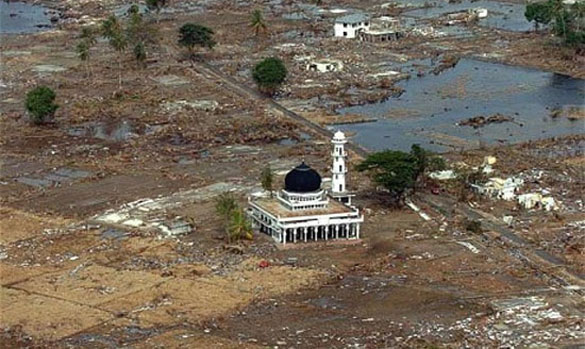 2004: Indian Ocean earthquake and tsunami (AFP)
----------
• Some Nigerians Call for Banning the Hijab to Prevent Female Suicide Bombers
• More Than 91,000 Under-Aged Turkish Girls Impregnated Within Seven Years
• Muslim Conservatives Boo 'Jilboobs' In Indonesia
• Saudi Woman's Quest for Childhood Nanny Touches Heart of a Nation
• Feminization of Shops Creates 65,000 Jobs
• Indonesian Girl Swept Away By 2004 Tsunami Reunited With Parents
• Uighurs' Veils Signal Protest against China's Restrictions
Compiled by New Age Islam News Bureau
URL: https://newageislam.com/islam-women-feminism/isis-targeting-western-women-signal/d/98485
---------
ISIS Targeting of Western Women May Signal New Role of Female Jihadist
08 Aug, 2014
The Syrian militant group Islamic State of Iraq and Syria (ISIS) has launched a new online marketing campaign aiming to lure Western women to fight on its behalf, reports The Daily Beast.
The terrorist organization is pitching women by focusing on the "pleasure of providing the domesticity that a warrior waging jihad needs and by doing so serving Islam," writes reporter Jamie Dettmer.
The recruitment of Western women, in particular and the recent emergence of women-only brigades may be a sign of the changing role of women in the jihadist movement.
The appearance of female brigades in such a conservative group, coupled with the increasing inflow of foreign female jihadists into Syria, is a sign of how women's roles may be changing in an environment where militant groups have established themselves as de facto governments, writes Amy Stoller in Foreign Policy Today.
According to CNN, jihadist terror groups are actively employing social media, including Twitter and chat rooms, to lure Westerners, including women, to the battlefields of Syria.
Women fighting in ISIS ranks appear contradictory, considering the terror group's staunch adherence to Islamic law governing women.
ISIS, for example, published guidelines in July detailing how females should appear in public, including having their hands and feet covered, and to always have a male guardian with them while walking on the streets. They have even required shopkeepers to cover their store mannequins with full-face veils, according to The Guardian.
However, women have emerged in seemingly contradictory positions since the war in Syria began more than two years ago.
In 2013, Syrian President Bashar Assad formed a paramilitary unit known as the Lionesses of Defense to guard checkpoints and perform other security operations, London's Independent newspaper reported.
Rami Abdul Rahman, founder of the Syrian Observatory for Human Rights, a monitoring group based in Britain, told The New York Times that an estimated 5,000 revolutionary women were now engaged in fighting and military logistics, though the exact number is unknown.
ISIS is even using women to take on the role as enforcers of their strict Islamic moral codes. Shortly after capturing the city of Raqqa in 2013, ISIS formed the al-Khansaa Brigade, an all-female moral police, reported the website Syria Deeply.
Abu Ahmad, an ISIS official in Raqqa, told Syria Deeply that jihad "is not a man-only duty. Women must do their part as well."
http://www.newsmax.com/Newsfront/ISIS-jihad-recruitment-Western/2014/08/07/id/587508#ixzz39jpfFrQP
------------
Some Nigerians call for banning the hijab to prevent female suicide bombers
08 Aug, 2014
(RNS) In northern Nigeria, mounting fears of militant female suicide bombers have raised calls to ban the hijab, or the veil that covers the head, chest and, in some cases, the entire body.
Last week, four women believed to be members of the Islamic militant group Boko Haram carried out attacks in Kano, a city in northern Nigeria. Men belonging to the group have taken to wearing the hijab, too, according to reports.
On July 27, a female suicide bomber detonated a bomb outside a Roman Catholic church in Kano, killing four people and injuring 70. Around the same time, security agencies arrested two girls aged 10 and 18 with explosive belts under their hijabs.
"We have this worrying situation where the bombers are turning out to be girls dressed in the hijab," Roman Catholic Bishop John Niyiring of Kano said.
Banning the hijab is crucial to curbing the trend, said Emmanuel Akubor, a historian at Obafemi Awolowo University in Ile-Ife in western Nigeria.
"The best thing for now is to place a temporary ban on hijab, not for religious, but security reasons," he told News Agency of Nigeria.
But Niyiring said he thinks such a ban would be resisted.
Muslims are opposed to the ban, saying it will not curb insecurity, while the Nigeria Bar Association says women have a right to the covering, meant to convey a sense of modesty.
At the same time, attacks by female suicide bombers are fueling speculation that Boko Haram may have turned the 200 schoolgirls it abducted in April into deadly killers. That speculation is so far unfounded.
http://www.religionnews.com/2014/08/07/nigerians-call-banning-hijab-prevent-female-suicide-bombers/
------------
More Than 91,000 Under-Aged Turkish Girls Impregnated Within Seven Years
08 Aug, 2014
Some 91,208 Turkish girls under the age of 18 have been impregnated in the last 7 years, according to figures provided by the Health Ministry, highlighting the deep problem of child marriage the country faces.
"Istanbul topped the list with 6,586 cases followed by İzmir, which had 5,714 cases," Minister Mehmet Müezzinoğlu said in a response to a parliamentary question by the Nationalist Movement Party (MHP). The south-eastern province of Tunceli remained the least problematic province with a mere 32 cases, the Health Ministry figures showed.
Data collected from Child Watch Centres in 13 provinces showed 2,792 children faced sexual abuse last year, while 263 were victims of underage marriages.
The minister's response read that a notice was sent to health institutions to report to the local courts if there were any pregnancy cases involving unmarried girls under the age of 18. The notice also said health institutions should look for any signs of forcefulness and violence involving pregnant girls over the age of 15.
However, the minister acknowledged they do not have any information in the number of such cases so far.
http://www.hurriyetdailynews.com/more-than-91000-under-aged-turkish-girls-impregnated-within-seven-years.aspx?pageID=238&nID=70060&NewsCatID=341
------------
Muslim conservatives boo 'jilboobs' in Indonesia
08 Aug, 2014
JAKARTA, Indonesia - In Muslim-majority but secular Indonesia, the government does not regulate clothing for Muslim women the same way Islamic countries do. You can find Muslim women either fully covered from head to toe, dressed in a revealing tank top and miniskirt, or somewhere in between.
But a trend combining the conservative and the revealing dubbed "jilboobs" has drawn the ire of conservatives and a fatwa, or religious edict, from the country's highest authority on Islam.
Drawn from the words jilbab, or the Muslim headscarf in Indonesia, and, well, boobs, the word refers to a Muslim woman who wears a headscarf and a tight-fitting shirt or dress that emphasizes their assets.
'Jilboobs community'
While Muslim women in Indonesia have been dressing this way for years, a Facebook account called Jilboobs Community created in January 2014 put a spotlight on the trend, triggering heated discussions online and offline. The account, which a user named Michael Brain claims to have created to showcase the influence of Western culture on Indonesia's morals, features 26 photos of women in the so-called jilboobs fashion.
A user named Mita Maharani Bahriah commented that the phenomenon showed moral decadence. "The jilbab is meant to cover, to wrap, to protect the body, not to expose it. What you are doing here is dressing but (looking) naked," she said.
Another user, Nadiya Ahyati, responded and encouraged people not to judge others by what they wear.
She quoted Mufti Ismail Musa Menk, an Islamic scholar, as saying: "When you see a female dressed in a manner that is unacceptable in Islam, do not for a moment think that she is lower than you spiritually. If you do that, you are lower than her ... She might have a heart that is tons better than yours. She might have one weakness that is outward, and you may have 50 weaknesses that are hidden."
Indonesia has a young population, with around half below 30 years of age and 37% below 20 years old, according to 2010 figures. This young generation is growing up in an increasingly cosmopolitan Indonesia, where major international clothing companies like Zara, Forever21 and H&M are popular.
Religious edict
The issue went mainstream on Thursday, Aug. 7, when the Indonesian Council of Ulema (MUI), the country's highest authority on Islam, waded into the issue and issued a fatwa against jilboobs.
"There is already a MUI fatwa on pornography. This means you cannot show the shape of your body, wearing a jilbab but with tight clothing. MUI strictly forbids it," MUI vice chairman Ma'ruf Amin said, as quoted by the Globe Journal.
A fatwa, however, is not legally binding. In Indonesia, only the province of Aceh imposes the Islamic Sharia law, and there women whose attire are deemed improper – like tight jeans – can be punished by up to 6 lashes if caught by the morality police.
But Hidayat Nur Wahid, a politician from biggest Islamic party, Prosperous Justice Party (PKS), said people should not react so negatively to the jilboobs phenomenon.
The fact that people, especially young teenagers, are willing to wear a hijab is a small step that should be appreciated, he said according to Detik.com, adding that it was understandable that they still want to look trendy.
"Wearing a jilbab in Indonesia is also a part of fashion," Hidayat said. "However, they should have a commitment to fully cover the body, to gradually dress with the hijab better, as it is originally meant to be."
http://www.rappler.com/world/regions/asia-pacific/indonesia/65619-muslim-conservatives-jilboobs-indonesia
------------
Saudi woman's quest for childhood nanny touches heart of a nation
08 Aug, 2014
When Saudi freelance journalist Rawan Radwan set out to locate her childhood nanny, she never imagined that her search would become an international news story, warming hearts around the globe.
Three years ago, the 29-year-old Saudi woman and her sister, Hadeel, discovered a deeply touching personal letter written to their mother by a woman from the Philippines 22 years ago.
"The discovery of that letter sparked my curiosity to find this person," said Radwan. "She was our nanny, and her full name was Marie 'Ning' Bernardo. Many of our happy childhood memories are associated with her."
With time and distance working against her, Radwan was frustrated time and again in her quest to locate the long lost nanny.
"I wanted to know where life had taken her," she told Arab News. "She was very caring; it was she who instilled a sense of discipline in us; she was the one who read bedtime stories to us; she was the one who taught us English."
The then-youngsters were particularly attached to Marie because of the nature of their parents' jobs. "My father, the late Mohammed Jamil Radwan, was a diplomat posted in Jakarta; my mother, Fatma M. Zain, was a lecturer in Jeddah. Both had very busy work schedules, and so we were left in our nanny's care most of the time at that formative, impressionable age, and so everything good that she did for us remained deep within."
Radwan said she and her sister may have had 10 nannies after Marie, but "no one could replace her in kindness and goodness, and that is why I wanted to reach her."
Armed with the nanny's name and that letter, Radwan scoured the Internet. "I went to every single social networking site — Google, Facebook, Twitter, LinkedIn. I would enter her first name, her middle name, her last name, and the name of her city and her country — everything ... I searched her with every possible permutation and combination, but I drew a blank," she said.
After three years of off-and-on search, Radwan had almost given up when two weeks ago she Googled "Quezon," the province from where the letter had been posted.
"I came up with the province's official webpage. On that website was a telephone number. I dialed and spoke with Eva Palma, an assistant in the governor's office. I told her my purpose and gave her the address that was mentioned in the letter. She took down my contact details and promised to call me back. I even e-mailed our nanny's picture to her."
It seems Palma was not able to find the address, so she contacted Danny Estacio, a journalist at Manila Bulletin newspaper, and passed on all the details to him along with the photo.
Sensing a brilliant story, Estacio ran a piece in his newspaper along with Marie's picture. "Our nanny saw her photograph in the newspaper and came to Palma's office with three albums full of photos that connected her with us," said Radwan. "All those pictures that are now in the Philippine newspapers and television stations are from her."
The nanny was then approached by a Philippine television station. GMA News TV's "Kapuso Mo Jessica Soho" got the nanny into the studio, and Radwan was connected from Jeddah. "The two of us saw each other for the first time after 22 years," she said. "It was an incredible, fascinating fairytale."
Marie is now in Candelaria, a town in Quezon Province.
Radwan, her mother, sister and a brother, who was very small when Marie left them, are over the moon. "Good people have a way of weaving their way into our hearts. She was extremely nice to us, and the things that she wrote in that famous letter were extremely heartwarming. There was a special note for my younger sister. I was six at that time, and she was four. She doesn't remember her a lot, but from the letter it was pretty evident that Hadeel was Marie's favorite. She called me Roona affectionately and my sister Looli. We called her Dada."
On the television program, Radwan said to Marie: "Dada, we missed you; we love you, and I hope you are good and happy. I hope you finally found the love of your life and the life that you always wanted. I wish you more blessings. And, I hope to see you soon."
Radwan wants to thank all those who helped her locate her nanny. "I would like to express my gratitude to Eva Palma for accepting my offer to help find my nanny. I wouldn't have been able to start my initial search without her. I want to thank Estacio for publishing my story and making my voice heard, and lastly I would like to also thank the team at the 'Kapuso Mo Jessica Soho' television show for taking the time to tell my story and making my nanny the star that she deserves to be."
For Radwan, all is well that ends well. She wants to meet her in person. "There are so many things that we have planned for her," she said. "She was our role model, and she will continue to be one — forever."
http://www.arabnews.com/news/saudi-arabia/612871
------------
Feminization of shops creates 65,000 jobs
08 Aug, 2014
A top Labor Ministry official says the third phase of feminizing women-only shops will include maternity and jalabiya (long gown worn by women) shops, which will be implemented in the next six months.
Fahad Al-Tukhai? said that a time frame, a plan and a draft decision had been prepared in this regard with the employers. The decision involves setting out a time frame for the shops that are to have female employees in addition to making the work environment suitable for women.
Violators of the decision will be punished and special attention given to improving the work environment, which is proving to be one of the biggest challenges facing women in these shops, he added.
Conditions laid out for feminizing the shops include the stipulation that women in these shops have to be Saudi citizens, the provision of a space to pray and rest, working hours to last from 9 a.m. to 11 p.m., and the availability of Saudi female supervisors on the job.
"Statistics have confirmed that 13,000 shops are covered under the feminization policy and that 65,000 Saudi women were employed in the first and second phases of the feminization of shops," said Al-Tukhai?.
He explained that the project, which was launched three years ago, has impacted social, economic and cultural change in society.
"The decisions regarding women's work are only specific to women-only shops. However, some conditions still have to be met to employ women in factories and firms although Saudi women have already entered the dairy and poultry plants," Al-Tukhai? added.
The employment of Saudi women does not require extra procedures such as obtaining a license and filing a recruitment application. "They will, however, need to apply to the Human Resources Development Fund and other agencies and programs, which support the salaries of Saudi employees," Al-Tukhai? explained.
He added that the number of Saudi women employees will double in the third phase.
"There are more than 200 malls across the Kingdom. Each one of these malls has shops for women that definitely require feminization," he pointed out.
The third phase of the feminization of shops involves counting all women-only shops at malls and along the streets, their licensing types, the number of workers, the nature of work, databases to plan the marketplace and the time frame within which to feminize each individual shop.
A thorough and comprehensive evaluation will be made to know the exact challenges facing the process in terms of the training needed, the qualifications available, the regulations, the transportation means available, the work environment and the nurseries offered for women with children.
"All these elements, as well as defining the working hours, will be included in an extensive study and evaluation to tackle the emerging challenges which, when overcome, will increase the number of women working in these shops," he added.
He said the official orders limited the work of women to women's shops and imposed strict punishments on employers if they were found to employ non-Saudi women.
The punishments include closing the shop and banning the employer from recruiting foreign workers for three successive years, he said, asserting that the project especially targets employment for Saudi women.
http://www.arabnews.com/news/saudi-arabia/613241
------------
Indonesian girl swept away by 2004 tsunami reunited with parents
08 Aug, 2014
An Indonesian girl swept away by the devastating 2004 tsunami has been reunited with her family a decade after she was given up for dead, her mother said Thursday.
"God has given us a miracle," said Jamaliah, the mother of Raudhatul Jannah, who went missing when she was just four years old.
Jannah and her seven-year-old brother were carried off when huge waves struck their home in West Aceh district on December 26, 2004.
Jamaliah, 42, and her husband survived the quake-triggered tsunami that killed tens of thousands in Aceh, on western Sumatra island, and had long ago given up hope of finding either of their children alive.
But in June, Jamaliah's brother spotted a girl in a village walking home from school who bore a striking resemblance to Jannah.
He made inquiries and found out that the girl had been caught up in the tsunami, and was swept from Aceh to some remote islands southwest of the province.
A fisherman rescued the girl, took her back to the mainland and handed her to his mother, who raised the youngster, according to Jamaliah, who like many Indonesians goes by one name.
After the tip-off from her brother, Jamaliah and her husband visited the girl, now aged 14, in late June -- and discovered it was indeed their daughter who went missing a decade earlier.
"My husband and I are very happy," Jamaliah told AFP. "I am so grateful to God for reuniting us with our child after 10 years of being separated."
"My heart beat so fast when I saw her. I hugged her and she hugged me back and felt so comfortable in my arms," she said, adding that she could not stop the "tears from flowing" during the emotional reunion.
Jannah, who was called Wenni by the elderly woman who raised her, returned to her hometown to be with her parents on Wednesday.
Her brother, Arif Pratama Rangkuti, also survived after being swept away to the same islands, Jamaliah said, but added his whereabouts were unknown.
The tsunami killed more than 170,000 people in Aceh, and tens of thousands of others in other countries around the Indian Ocean.
http://english.ahram.org.eg/NewsContent/2/9/107974/World/International/Indonesian-girl-swept-away-by--tsunami-reunited-wi.aspx
------------
Uighurs' Veils Signal Protest Against China's Restrictions
08 Aug, 2014
URUMQI, China — Fond of denim and lace, fluent in multiple languages and proud of her success as an international business translator, Luna appears to be a model of the assimilated Uighur that the Chinese government is striving for. She grew up in the far-western region of Xinjiang, where marrying and mothering was the paramount role for women of her largely Muslim, Turkic-speaking minority ethnic group, and eventually moved to distant Beijing, where she feels more comfortable among the country's Han majority than in the conservative world of her youth.
But Luna, who like others interviewed for this article asked to be identified by a nickname to avoid retaliation by the police, is increasingly torn between her professional ambition and her outrage toward official restrictions targeting the Uighur way of life. "The more the Chinese government forces us to live a Han lifestyle, the more we will find ways to express our Uighur identity," she said.
As the Chinese authorities in Xinjiang intensify an increasingly deadly campaign framed as a battle against Islamic separatists, they have cast their net over a wide range of Uighur practices, including the wearing of veils and long beards, which are seen as dangerous signs of religious extremism. Some Uighurs have responded with alarm, redoubling efforts to safeguard centuries-old traditions they fear could disappear. Critics argue that the government's increasingly assertive policies have inadvertently bolstered the appeal of conservative Islam, with its emphasis on morality and traditional roles for women.
Stuck in the middle of this intensifying culture war are Uighur women who want to embrace modernity without forsaking their heritage.
"Uighur women are really the first victims of mounting tensions and repression in Xinjiang," said Nicholas Bequelin, a senior researcher at Human Rights Watch in Hong Kong. "They are under pressure from the state to adopt new standards, and pressured by their communities to cut ties with a society seen as unclean."
At a popular night market here in Urumqi, the capital of the Xinjiang region, women in black burqas hawk fake designer undergarments next to stalls doing a brisk business in bluejeans and silk head scarves decorated with the Louis Vuitton logo. One scarf vendor, her face framed by a yellow hijab, explained the concealment of her hair as an act of piety. "Allah tells us women to be modest, so we cover up," she said.
But the state is making life increasingly difficult for faithful Uighurs. Along with deploying security forces armed with heavy weaponry, officials have instituted a wave of prohibitions meant to forcibly assimilate Uighurs into the Chinese nation.
During the Muslim holy month of Ramadan, which ended late last month, students and government workers were prohibited from fasting. A drive to repress female head coverings in some areas, marked by street checkpoints, Uighurs say, and barring such coverings at hospitals, schools and banks, gained sharper teeth on Wednesday when Karamay, a city in northern Xinjiang, banned men with long beards and women in veils from riding public buses. The stricter rules add to longstanding grievances among the country's 10 million Uighurs, who resent policies they say favor Mandarin over the Uighur language in schools and have made them a minority in their traditional homeland.
Eager to win over Uighur women, the government in 2011 introduced Project Beauty, a campaign to discourage women from wearing veils and head scarves that urges them to "show your pretty faces and let your beautiful hair fly in the wind." Officials say the campaign promotes female empowerment while nurturing a local fashion and cosmetics industry said to be worth $480 million. To drive home the message of gender equality, the campaign uses films, fashion shows and the state-controlled media, some of which claim that veils cause depression and scare children.
Wang Jianling, party secretary of the government-run Xinjiang Women's Association, denied the existence of checkpoints and insisted that it was "extremely rare" for Uighur women to wear veils. Still, she praised Project Beauty as vital for encouraging Uighur women to embrace modernity. "It would be impossible to empower women and realize their full potential if you don't say goodbye to outdated practices designed to hold women down," she said in a phone interview.
Despite the cheerful propaganda, veils have become a point of contention for violent clashes. In May, protesters in southern Xinjiang beat up a school principal they had accused of helping the authorities round up female students wearing head scarves. Police officers opened fire on the angry crowd, killing at least four people, Uighur activists say. In June, four Uighur men were shot and killed during a confrontation with officials who had lifted a woman's veil during a house inspection.
The battle over the female dress code is part of a larger struggle over what it means to be Uighur in Xinjiang, a place long known for its moderate brand of Sunni Islam. Though some Uighur women cover their hair and faces for religious reasons, a growing number appear to be embracing the practice as a gesture of quiet defiance. "Whenever I go home to Xinjiang, I wear a head scarf to show that I cherish my culture," said Luna, the business translator.
As the self-appointed protector of Uighur culture, the government is fond of using the state-controlled mass media as a tool for guiding sartorial public opinion. On television, Uighur women are invariably typecast as loyal, exotic props in a state-scripted patriotic epic that stars the ruling Han majority. Their costumes — traditional ethnic dresses, embroidered caps and long braids — reinforce the official message that veils and head scarves have no place in Uighur daily life.
Just as there are women in other countries who see the veil as a symbol of female repression, some Uighur women reject the conservative religious traditions of their ethnic group. "In traditional Uighur culture, women are below men," said Zoe, a proudly assimilated Uighur magazine editor, who never covers her hair and has a Han boyfriend, despite her parents' objections. "Many young women like me don't want to follow the same rules as their mothers did."
Beijing has spent heavily wooing women in Xinjiang. From 2000 to 2010, according to government figures, well over three million ethnic minority women enrolled in classes that taught tailoring, cooking and computer skills. In Kashgar, the ancient Silk Road oasis that is predominantly Uighur, officials have distributed about $640 million in microloans to women since 2011, said Ms. Wang, the women's association party secretary.
In some ways, Beijing's heavy-handed governance has overshadowed its measurable success in bolstering opportunities for Uighur women. "Before, when families wanted to find a bride for their son, they looked for a girl who could cook," said Rahile Dawut, director of the Xinjiang Folklore Research Center at Xinjiang University in Urumqi. "Now, they want an educated girl with a job."
Ms. Dawut is particularly inspired by her female master's students, an intrepid band of academic achievers who travel across Xinjiang to record oral histories. But these days, Ms. Dawut's pride is tinged with alarm as more Uighur women turn to conservative Islam.
The shift is visible on the streets of Urumqi, long a bastion of secular cosmopolitanism, where head scarves and veils now mingle with pants, skirts and high heels.
"Some of my friends come back to Urumqi and say, 'This is not the place where we grew up,' " she said. "Every day we feel like things are changing around us."
http://www.nytimes.com/2014/08/08/world/asia/uighurs-veils-a-protest-against-chinas-curbs.html?_r=0
------------
URL: https://newageislam.com/islam-women-feminism/isis-targeting-western-women-signal/d/98485