New Age Islam News Bureau
17 Sept 2014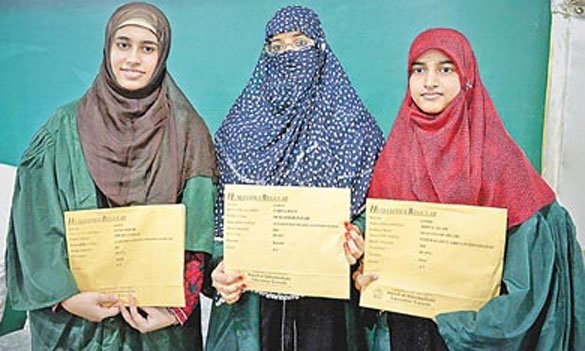 TOP position-holders with their certificates on the BIEK premises on Monday.—White Star
-------
• Headscarf Protests Resume In Turkey
• Saudi Women Seek Alternative Therapies during Pregnancy and Labour
• Pakistan: K-P's Women Police Officers Leading from the Front
• Gaza Widow Offers Insight into World of Spies
• Saudi Society for Women Joins Traffic Campaign
• Four Brave American Muslim Women Break the Silence around Their Sexual Assaults
• Game-Changers Malala, Sharmeen to Receive Asia Society Award
• Pakistani Girls Get Top Positions in Humanities Group Exam
• PTI Wants More Women at Its Friday Gathering
Compiled by New Age Islam News Bureau
URL: https://newageislam.com/islam-women-feminism/isis-target-ameri-women-with/d/99125
----------
ISIS Target American Women with 'Cash-For-Babies' Scheme
17 Sep, 2014
American women are being targeted by members of the Islamic State (IS) in Syria, who promise money in return for bearing children for militants, the Times reports.
Around 130 westerners are thought to have been recruited by extremists who primarily use social media to target vulnerable women.
Female members of at least three Somali families in Minneapolis, Minnesota, have gone missing in the past six weeks, in addition to a 19-year-old from the same area who is known to have flown to Turkey in secret before crossing the border into Syria.
A second 19-year-old, Shannon Conley from Denver, Colorado, last week pleaded guilty to conspiring to provide material support to IS.
She was arrested in April as she attempted to board a flight to meet a Tunisian IS militant whom she had met online. The man had proposed, and asked Conley to join him in fighting with the terrorist organisation.
According to documentation from the case, Conley told FBI agents that she had planned to use her nursing training to help IS militants, and officials found CDs with teachings by radical Muslim cleric Anwar al-Awlaki among her belongings.
The Times reports that the Twin Cities area of Minnesota, which is home to the largest Somali community in the US, has been "plagued by terrorist recruiting" in recent years.
US citizen Douglas McAuthur McCain, who was killed in battle alongside IS in Syria last month, was one of an estimated 15-20 men fighting in the area with links to the Minnesotan Somali community.
Having grown up in the state, McCain converted to Islam from Christianity a decade ago according to his Twitter account, where he wrote that this decision was "the best thing that ever happen to me" [sic].
Of the new drive for female recruits, professor at the centre for terrorism and security studies at the University of Massachusetts, Lowell, Mia Bloom said: "They are selling them this mystical sisterhood of going to the caliphate and being able to be a Muslim in this idealised, utopian society.
"They are targeting these young girls in a very predatory way – the way child sex abusers target young children."
Young women are apparent offered cash for each child they can produce, as well as other 'benefits'. Those of "prime fertility age" are usually recruited, and are usually used to cook and clean – despite often being promised the glory of fighting alongside militants.
There are now concerns that women may be targeted for use as suicide bombers, however.
Bloom said they are "ideal for targeting civilians" as they are less conspicuous in a public setting.
"Until recently, Isis has been attacking soldiers – a woman is going to stand out like a sore thumb there," she explained.
"Whereas if you change your tactics and target mosques or schools, that's when women are really quite ideal."
http://www.christiantoday.com/article/isis.target.american.women.with.cash.for.babies.scheme.offered.money.for.bearing.militants.children/40679.htm
http://www.thetimes.co.uk/tto/news/world/americas/article4207633.ece
----------
Headscarf protests resume in Turkey
17 Sep, 2014
On Sept. 7, a group of conservative women and men brought together by a nongovernmental organization called Ozgur-Der (Freedom Association) held a protest at Sarachane Park in Istanbul. Some of the protesters were as young as 13 and almost all women wore headscarves. Their quest: freedom to wear the headscarf at any school level. Their slogans read: "New Turkey with old and constraining laws," "Why can't I attend whichever school I prefer?" "Children are ours, not the state's" and "Right to wear a headscarf now and everywhere."
The headscarf has been a sore, highly politicized subject in Turkish politics for the last two decades. Hijabis — the women who prefer to wear the headscarf — suffered years of discrimination in higher education and government employment. The Justice and Development Party (AKP) has campaigned intensively since its establishment in 2001 against any ban that would limit Islamic freedoms, and the hijab was at the top of the list. In October 2013, a new law allowed women to wear the headscarf anywhere, except for certain professions with a uniform, such as police officers, soldiers or judges. It was a major accomplishment for hijabis. For the rest of the country, it was assumed that the headscarf would no longer divide the Turkish electorate.
Before the headscarf freedom law, in November 2012, another regulation allowed public school students some freedom of dress. Previously, all students from the first through the 12th grade had to wear a uniform; the November 2012 regulation eliminated this requirement for all public schools. In terms of allowing head coverings, the regulation was less far-reaching, suggesting that girls be allowed to cover their heads only at religious Imam Hatip high schools and during elective Quran classes. This angered many conservatives who felt the regulation did not go far enough in allowing the use of the headscarf. Ozgur-Der's statement, read by its director Ridvan Kaya, was particularly harsh. Kaya said, "We warn the AKP and the Ministry of Education not to take steps against our beliefs and identity, including bans and coercive regulations in the name of expanding freedoms in this or that area. Our beliefs and identity are non-negotiable. Freedom of religion is a bleeding wound of this country." Kaya made a crucial point: "Partial solutions will not resolve issues related to freedom."
Public schools are allowed to determine their own appropriate dress codes. Most parents at the protest complained that their daughters are told to go to Imam Hatip schools if they prefer to wear the headscarf. The students are left at the mercy of the school administrators. If the administrator chooses not to protest, the girls can cover their heads. If the administrator enforces a strict "no hijab" policy, the girls either have to find a new school or remove their headscarf. This ambiguity leads to further victimization on both sides. In some cases, administrators who enforce these ambiguous rules are punished as well. For example, in March 2011, three administrators had asked a student to remove her headscarf to take the university entrance exam. The girl removed her headscarf but later sued the administrators, and the courts decided the administrators had abused their power. The sentence was five months' jail time.
Can a secular country allow public school students to wear religious symbols and observe their religious values? In France, headscarves have been banned in public schools since 2004. Can the Turkish Ministry of Education exempt a Jewish student from attending class during the Yom Kippur holiday? Can students be allowed to wear a cross, Star of David, takke or kippah? Observant Muslims believe a girl reaching puberty must wear the hijab.
Seyma, a 15-year-old tenth-grader, told Al-Monitor, "I attend a private school. My mother is a hijabi but not my older sister. Once the hijab was legal and some of our teachers wore it, I wanted to wear it. I wear a hijab in the colors of my school uniform. In my school the policy against hijab is 'Don't ask, don't tell.'" Seyma's mother, Ayse Akturk, told Al-Monitor, "After Seyma wore the headscarf, everyone thought I forced her. I had not forced her older sister. Why would I force Seyma? There is no coercion in Islam. We are respectful of personal differences."
Both Seyma and her mother are well aware that the situation is difficult. Seyma's older sister, Sena, told Al-Monitor, "I went to a public high school. There were only a few hijabis. They would have to remove their headscarf before entering the school. Even after October 2013, when the bans were lifted for teachers, students were told they could not attend the classes with a headscarf."
Allowing minors to wear hijab is a tricky issue, and the government has chosen a gradual approach in which the public will be eased into having hijabis in elementary and high schools. Secular parties choose to ignore the issue, because it's a lose-lose situation for them. If they oppose the right of minors to wear the headscarf, they will be labeled as the enemy of Islam and against personal freedoms. In 2010, Kemal Kilicdaroglu, the chairman of the Republican People's Party, said, "The headscarf may not be allowed for elementary or high school students. There are certain dress codes we all have to obey, just like a parliamentarian cannot attend a session in the parliament without a tie. We all must abide." His words were used in conservative neighborhoods during political campaigns since 2010 to convince these voters that if it were not for the AKP, hijabis would not be welcome in public life.
However, if secular parties support the hijab for minors, they will alienate their own base. There is strong fear that minors from secular families — being more susceptible to school or peer pressure — will be coerced or convinced to wear the hijab. After all, conservative Muslim demands do not end there. There have already been requests for gender segregation for classes, complaints about girls and boys using the same stairs and cafeterias from the conservative sectors of society. On Sept. 15, Education Minister Nabi Avci made headlines with his attempt to clarify the confusion of whether Islamic worship is now a requirement in schools. Naci said, "Not all schools are required to have worship areas, just the ones that have a demand for a worship area are allowed to have it."
The issue of the hijab for minors may not be present in the daily rhetoric of any political party. But the public debate is intense and continuous. One can find hundreds of comments on online public forums and over social media. Conservative media outlets frequently report about young victims of discrimination over the hijab, keeping the issue alive for these communities. These outlets complain that pro-AKP newspapers deliberately choose to ignore the suffering of these young girls.
Ambiguous democratization packages — the AKP's most prized accomplishments — are indeed causing suffering for both the Islamic and the secular segments of society. The AKP has failed to guarantee freedom for everyone, handing out rights as rewards to certain sectors of society. The Turkish public is now brought to a juncture where it will decide if religious rights are more important than other human rights, and if so, which religion's rights are the most important. While an Alevi 15-year-old is coerced into attending religion classes, her Sunni classmate is forced to remove her headscarf. Who benefits from their suffering?
http://www.al-monitor.com/pulse/originals/2014/09/turkey-headscarves-protestes-resumes-education.html#ixzz3DZRNh6Hy
----------
Saudi Women Seek Alternative Therapies during Pregnancy and Labour
17 Sep, 2014
DUBAI // More mothers-to-be are choosing to forgo conventional medical treatments and interventions in favour of a natural pregnancy and childbirth.
While Caesarean sections, epidurals and procedures to induce labour recommended by midwives and doctors remain popular, many woman are opting to go drug free through their full term and labour, often seeking alternative therapies to help with the pain and discomfort.
"The norm these days is that women are made to believe that they are unable to birth naturally or that birthing naturally is inherently risky and should be avoided, or that if you choose to take the risk then at least do it in a hospital, surrounded by well-trained obstetricians," said Karen Wilmot, a midwife and holistic birthing specialist who runs workshops for women in the UAE and around the Gulf.
"What I am seeing more of is women encouraged to have an induction for reasons that are not necessarily medical."
The convenience of knowing they are going to deliver on a certain day is often too good for many mothers-to-be to turn down.
"They will probably happily jump at the opportunity to have the baby medically induced on a specific date, especially if they have visiting relatives, something common with expatriates or, strangely enough, they are just tired of people asking them when the baby is coming, or perhaps just fed up waiting, or if the doctor even mentions the words 'big baby'."
Ms Wilmot, who is based in Oman, said often women will not ask about the risks associated with medical procedures or think to look into alternatives.
While the internet has helped mothers, information – and misinformation – has reinforced some people's fears.
"With the amount of information available on the internet, more women are realising that they need to educate themselves, but it is a double-edged sword," said Ms Wilmot. "They also read horror birth stories and have access to information that can be misinterpreted."
During her pregnancy with daughter Aurora, Kay Vosloo Bodanza used acupuncture and acupressure to help alleviate six months of nausea and morning sickness she suffered as well as other ailments, such as sluggish digestion and fatigue.
While they helped "tremendously", Ms Bodanza said, the downside was the cost. "It's very expensive and if you don't have these treatments consistently, they are less effective. The alternatives are not covered by health insurance."
Ms Bodanza, a holistic nutrition expert, also used a doula, often a former midwife, hired to give support towards the end of pregnancy and during labour.
Although this cost Dh4, 500, Ms Bodanza said the support she gave was invaluable, empowering the mum-to-be to insist that her every wish was met during the birth, such as not being offered or given drugs of any kind.
However, her determination not to have anything other than a natural birth did cause problems. When she refused to be induced at 42 weeks after being told she was having a "big baby" and there was risk of shoulder injury, Ms Bodanza's doctor told the first-time mother she would no longer work with her.
But Ms Bodanza was very clear on her reasoning for sticking to an all-natural birth. "When you're induced, it produces fake oxytocin [hormone that helps the body prepare for and cope with childbirth] so your body isn't producing it naturally, which means it starts to give fake contractions.
"Your body doesn't have time to adjust so mentally and physically you struggle to manage the contractions. The pain is more severe, which affects your ability to control your breathing, thereby reducing the oxygen going to the baby, resulting in a distressed baby," she said. Invariably the latter leads to an epidural or Caesarean section.
Ms Bodanza, whose daughter is now four months old, said more women should be educated on what treatments are available during pregnancy and labour to help them make informed decisions,.
http://www.thenational.ae/uae/health/women-seek-alternative-therapies-during-pregnancy-and-labour#ixzz3DZVqcOGW
----------
Pakistan: K-P's Women Police Officers Leading from the Front
17 Sep, 2014
When you meet Shahzadi Gillani and Rizwana Zafar ­ — two strong female police officers from Khyber Pakhtunkhwa — you can't help but smile.
Shahzadi grew up on army bases across Pakistan. Her father served in the forces and from an early age she wanted to follow in his footsteps. "I had this burning desire to serve my country," she says. She tried very hard to get inducted into the army, but women were only serving as doctors or nurses at the time and she was unsuccessful. "I wanted to be on the frontlines, I wanted to be part of the action. You only live once and you should live a life that serves as an example of bravery," she says. So instead, she joined the police force.
Her family hesitated at first, and placed conditions on her. She could only join, if she brought along a friend. So, Shahzadi reached out to Rizwana who readily agreed.
Rizwana grew up as the daughter of a labourer in Haripur, Punjab who played a major role in shaping her personality. He fought for labour rights and always played a 'front and centre' role in labour disputes. "I would watch my father work day and night, in overtime shifts to support our family and would think that I needed to be just like him; hardworking and brave."
Two police officers from KP defy every preconceived notion anyone may have about the capability of Pakistani women
She answered a newspaper advertisement recruiting women for the police force and when Shahzadi reached out to her, the timing was perfect.
After training, they went to Abbottabad where Shahzadi was the SHO at the women's police station and Rizwana served alongside her. Over the years, they attended commando courses in Punjab and served in different areas in KP including Hangu, where they trained a new batch of policewomen inducted into the force. In 2005, they returned to Abbottabad and in October their police station was destroyed in the earthquake. They pitched a tent and started helping families in Balakot and surrounding areas. "We lived in a tent for two years and after that we moved into a container for the next three years. Our people lost everything and as long as they didn't have homes, we didn't want one," says Shahzadi.
Shahzadi and Rizwana's duties vary, from serving VIPs to conducting raids and searching homes for criminals. "We are often called in to search homes," says Rizwana. The culture in KP is such that male police officers often hesitate entering into homes in case there are women inside. "We lead from the front," says Rizwana. "Once we enter, then the male police officers follow us. So I would say we are four steps ahead of men, because we knock on the door and enter first," she says with a glint in her eye and wry smile.
It is definitely not an easy job. Female police officers conduct night raids, spend years away from family, live in harsh conditions and serve long hours. Currently, some 600 women serve in the 60,000 police force in the province. "We do exactly the same duties as men do," says Rizwana. "If our male colleagues sleep, we sleep, if they eat, we eat. We don't ask for special privileges just because we are women."
Their favourite story is of a raid they conducted in a mountainous area near Abbottabad. "The trek was arduous," says Shahzadi. "We walked for hours to conduct this investigation and our male police officers accompanied us. At one point, we turned around and we couldn't see them. Rizwana and I were perplexed, had we veered off the track? But then we looked back and saw them struggling up the hill. They did finally catch up to us." That raid is particularly memorable to them because of the toughness they displayed.
Rizwana recalls one dangerous raid, which they conducted in the middle of the night at a house, which harboured suspected terrorists. "It was a very cold night, and three female police officers including myself accompanied the raiding party. Once we reached the house, we were unsure how many terrorists were inside but we did know that they were armed and ready for an encounter, so I volunteered to go in first and scaled the walls," she says.
The police cordoned off the house while Rizwana entered. She jumped in and the terrorists started firing but she managed to open the front door and the raiding party overpowered them so they were arrested. "I am not afraid of death, we all have to die one day," she says
Shahzadi and Rizwana come from humble beginnings but they have a vision and a desire and they have fought to make their dreams a reality. They have served in the police force for close to 20 years now and have become examples in their family and community. Countless other young women have followed in their footsteps and joined the police force.
To me, these women represent the best of Pakistan. I have always said, Pakistan's biggest assets are its women. They shine bright and when you meet these two and shake hands with them you can see just why that is so true.
http://www.dawn.com/news/1131517/k-ps-women-police-officers-leading-from-the-front
----------
Gaza widow offers insight into world of spies
17 Sep, 2014
GAZA CITY: The 48-year-old Palestinian woman's husband was shot to death in 2012 by militants in the Gaza Strip for spying for Israel. A mother of seven, she herself was jailed by Gaza's Hamas rulers for aiding and abetting a spy — her husband.
The widow's account to The Associated Press gave a rare look into the secret espionage side of the war between Israel and the Hamas militant group. According to her, Israeli security agents took advantage of her late husband's financial troubles a decade ago, luring him into collaborating by offering him a permit to work in Israel.
She was later recruited when she was allowed to take one of their children to Israel for medical treatment. "Our life was hell. We were scared," she said of their years feeding Israel information. "I used to look over my shoulder when I am out in the market, get scared when I see a police car."
The woman, who was released in December, spoke on condition of anonymity because Hamas does not allow freed collaborators to talk to the press. Israel has historically relied on collaborators against Palestinian militants and activists, recruiting them with methods ranging from entrapment and blackmail to cash and perks.
Hamas, in turn, has done whatever it can to stop collaborators — particularly by killing them in public as a deterrent to others — since it holds them responsible for helping Israel assassinate dozens of its top figures.
The issue emerged again with the latest round of fighting in Gaza, which ended late last month. During the war, militants gunned down 22 suspected spies, almost all of them on a single day after three senior Hamas military operatives were killed in an Israeli airstrike apparently guided by collaborators.
Palestinians human rights groups sharply criticized Hamas for carrying out extra-judicial killings. "It was a terrifying message to society and a deterrent to other collaborators," Salah Abdel-Atti of Gaza's Independent Commission for Human Rights said.
But rights concerns win little sympathy among Palestinians, who widely see informing for Israel as unforgivable treason — even among Gazans opposed to Hamas' iron fisted control of the territory since 2007.
Ramiz Abu Jazar, a Gazan whose brother was killed by Hamas in intra-Palestinian fighting in 2007, said he's all for killing collaborators. They are "like cancer in society," he told the AP. "They sold their souls to the devil."
There have been instances of Palestinians collaborating out of political conviction. Most embarrassing to Hamas, the son of the group's co-founder Sheik Hassan Youssef spied for Israel between 1997 and 2007, dubbed "the Green Prince."
Now in the US, Mosab Yousef later wrote that he did so in part out of revulsion at Hamas' actions. But the large majority of collaborators are believed to do so because of blackmail or financial gain.
"Everything starts and ends with money," said an operative from Israel's domestic intelligence agency, Shin Bet, which runs Palestinian informants. Many are recruited at Erez, Israel's border crossing with Gaza, when they seek an entry permit, said the operative, who spoke on condition of anonymity because he is not authorized to discuss the issue with the media.
On the Gaza side of Erez, a large sign put up by Hamas warns travelers against being recruited by Israelis. An AP reporter this week witnessed firsthand how the Israeli military uses access to Israel through Erez to get information from Palestinians.
On the Israel side outside the crossing terminal, a Palestinian businessman who had just entered from Gaza sat waiting for his brother, who was crossing with him but was held up by border officials inside the terminal.
A uniformed army lieutenant speaking Arabic approached the man and promised to help his brother, but first asked him dozens of questions about life in Gaza, from the number of factories damaged in the latest war, to the mood on the streets and power supply. The questioning — casual in tone — lasted about 15 minutes, and the man answered with little hesitation.
In the end, the officer insisted on taking the man's mobile phone number. The brother emerged soon after. Hamas' Interior Ministry, which is in charge of security, says it has executed 12 collaborators since 2007 after closed-door trials. Rights groups say another 53 alleged collaborators were gunned down by Hamas militants in that same period.
Often, they were dragged out of prisons where they had been detained on suspicion of spying and were shot. The husband of the widow who spoke to the AP was recruited around a decade ago, when Israel still directly controlled Gaza before its withdrawal from the tiny Mediterranean coastal territory in 2005. The man once worked in Israel as a garbage collector, at a time when thousands of Gazans were allowed to enter Israel daily for work.
But his permit was revoked because of his involvement in a car theft, his wife said. His wife began making frequent trips to neighboring Egypt to buy goods to sell in Gaza. When he tried to do the same, Israeli security agents stopped him on the Gaza side of the border. They offered him his Israel work permit back in exchange for collaboration, the wife told the AP.
Later, his wife grew suspicious because he was frequently going up on the roof of their house to make phone calls. When she confronted him, he confessed and told her, "I am not hurting anyone. I just give them a phone number, a name or information on a tunnel."
She did not join her husband in collaborating until 2008, when she was allowed to accompany one of their children being treated at an Israeli hospital. She was asked to go to the hospital's security office, and there an Israeli gave her money to buy presents for herself and her children. A few days later, he gave her $14,000 along with instructions to leave the cash in various drop points around Gaza to pay other informants.
"We left money under rocks, in garbage bins and by walls," she said. Shortly before their arrest in 2011, she said, the husband received a call from the Israelis, who described a car to him and asked him to head immediately to the main road outside his home and wait for it. When he saw the car, he called the Israelis and reported that two people were in it. More than an hour later, she said, the Israelis bombed the car, killing its occupants — apparently militants.
During the last round of Israel-Hamas fighting in 2012, several senior Hamas figures were killed in an airstrike, and the husband and five other alleged collaborators were pulled from prison by masked men and shot to death at a Gaza intersection. The body of at least one of the six was also dragged in the street by a motorcycle, though it's not known if it was that of the husband.
The widow was convicted in a Hamas court and sentenced to seven years in prison. She was pardoned in December to look after her children. Now she struggles to raise her children with little money. She did not speak of being harassed because of her conviction, but said: "the neighbors give me insincere smiles, but I know what they are thinking of us."
She reflected little about the rights or wrongs of working with Israel — showing a mix of denial, a desire to defend her husband's reputation and a relief that the fear of those years was over. "My husband was a kind man," she insisted. "He would never hurt anyone."
http://www.dawn.com/news/1132509/gaza-widow-offers-insight-into-world-of-spies
----------
Saudi Society for women joins traffic campaign
17 Sep, 2014
JEDDAH — The Saudi society for the care of widows and divorcees has committed to work with other concerned government bodies in combating traffic accidents. They took action because accidents are the single biggest reason why women become widows. The society's statute has included an article to this effect in its list of main services, which also include raising awareness through the media to limit divorce cases, improve the living conditions of the people it helps, and utilizing the skills and expertise of divorced and widowed women. The society provides its services for free, and is obliged to develop the cultural and social awareness of such women to allow them to easily integrate with the community and also provide courses and workshops for women who could not complete their education.
http://www.saudigazette.com.sa/index.cfm?method=home.regcon&contentid=20140917218450
----------
Four Brave American Muslim Women Break the Silence around Their Sexual Assaults
17 Sep, 2014
After years of crushing silence, four Muslim-American women are opening up about the sexual abuse they've suffered at the hands of someone they trusted.
The women are featured in filmmaker Nadya Ali's upcoming documentary "Breaking Silence," talking for the first time on camera about the painful childhood experiences they've kept hidden for years.
"I stayed silent for 16 years and it's very simple why I didn't talk about it," said one survivor. "Because we don't talk about sex in a Muslim, Desi household. And if they do, it's always 'Don't have sex. This is Haram.'"
Ali, 23, was inspired to create the film after a close family friend revealed that she had been sexually assaulted by an uncle as a child. Over the course of the next few years, Ali said she found out that several more young girls were assaulted by the same family member. The man was never brought to justice.
In fact, Ali says, the perpetrators behind all four of her interviewee's assaults were never punished for their crimes.
"The women felt their family wouldn't believe them, or would say they were lying, or had misconstrued what happened because they were children," Ali told the Huffington Post. "It's that sort of culture of impunity that really perpetuates the problem."
One of the goals of the film is to distinguish between culture and religion. Ali chose to focus on Muslim women because that is the community that she grew up in. However, she emphasized that the problem is universal.
"It's not Islam that causes people to act like this," Ali said, pointing out how the prophet Muhammad had spoken out against such crimes. "I hope that the film can help people not familiar with our religion to understand that."
The women featured in "Breaking Silence" have all agreed to appear on camera and reveal their names. It's a decision that they are hoping their families will accept.
"A lot of parents don't realize how often this happens, or ignore it when it does," Ali said. "The very first step in changing the dialogue around sexual assault is to start talking about it."
Ali and her team are currently campaigning on Kickstarter to help fund post production for their film. It is slated to premiere in January 2015.
http://www.huffingtonpost.com/2014/09/16/muslim-women-breaking-silence-sexual-assault_n_5830640.html
----------
Game-Changers Malala, Sharmeen to Receive Asia Society Award
17 Sep, 2014
Pakistan's sole Oscar-winner filmmaker Sharmeen Obaid-Chinoy and teenage peace activist Malala Yousufzai have been nominated for the first-ever Asia Game Changer Awards announced by the Asia Society — a global organisation highlighting achievements of individuals who excel in various spheres of life.
The awards ceremony will be held on October 16, at the United Nations Complex in New York, where several other prominent figures will also be in attendance.
This is not the first time award-winning filmmaker Obaid-Chinoy or the brave young activists Malala have been internationally honoured.
Obaid-Chinoy shot to fame after her compelling documentary named Saving Face in 2012 and won hard-earned praise on a global level. Co-directed by US-based Daniel Junge, Saving Face narrated the story of a Pakistani plastic surgeon Mohammad Jawad who performs re-constructive surgery on acid attack survivors in Pakistan.
Her first big documentary Children of the Taliban also won the Emmy Award for best documentary in 2010.
Obaid-Chinoy was honoured along with Asia Society's Asia 21 young leaders, the network has also given vast credit to her work which is based on human rights.
The forum quoted Obaid-Chinoy as saying once "by bringing the voices of the ordinary people faced with extraordinary challenges to television screens around the world, I hope to affect change in one community at a time".
She recently presented for screening in Karachi a series titled 'I Heart Karachi'. The series comprises five short documentaries, describing the life of Karachi-based individuals who constantly imperil their lives to serve others.
"I'm 35 years old. I started working when I was 14 and it has been over 12 years since I've been making documentaries. I've made 17 films in over 12 countries. So I'm not a one-hit wonder. In the global world, I know where I am. I know if I want to pick the phone and call a television channel anywhere in the world and give them my credentials, I'll get a film commissioned. So I'm not worried about the naysayers," she had said.
Malala stands proud
The Asia Game Changer Awards list includes the 16-year-old Malala Yousufzai as well from Pakistan, who survived a Taliban assassination attempt back in 2012 for her anti-Taliban views.
Malala is also a Nobel Peace Prize nominee and an advocate for girls' education. She has widely campaigned for the educational rights of the marginalised communities on global platforms.
She also had the honour of addressing the United Nations last year, where she fiercely reiterated her stance against extremism and voiced in favour of promotion of educational rights worldwide.
"I want education for the sons and daughters of the Taliban and all the terrorists and extremists. I do not even hate the Talib who shot me. Even if there is a gun in my hand and he stands in front of me I would not shoot him." The extremists were and they are afraid of books and pens, the power of education. The power of education silenced them. They are afraid of women," she had said.
Malala was recently in Nigeria to support an international campaign for the release of the teenage students abducted in mid-April by the insurgent group Boko Haram.
Below are the names and contributions of the other 2014 recipients selected by the Asia Society.
Game Changer of the Year, Jack Ma, Chairman of the Alibaba Group — for history-making business and philanthropy in China.
Shigeru Ban, Founder, Shigeru Ban Architects — for finding beauty, and hope, in the landscapes of disaster.
Madhav Chavan, Co-Founder and CEO of the Pratham Charitable Trust — for bringing the gift of literacy to millions of Indians.
Illac Diaz, Founder, MyShelter Foundation and Liter of Light — for bringing light, literally, to so many lives. Fashion Girls for Humanity — for demonstrating that 'looking good' and 'doing good' can be one and the same.
Kuntoro Mangkusubroto, Minister and Senior Advisor to the Indonesian President — selected for providing a brilliant blueprint for responding to disaster.
Saad Mohseni, Chairman of the MOBY Group — for bringing news, information and entertainment to a barren landscape.
Jacqueline Novogratz, Founder and CEO of Acumen — for changing the way the world tackles poverty. Playing for Change — selected for using the power of music to spread a global message of hope.
Pawan Sinha, Professor at the Department of Brain and Cognitive Sciences at MIT — for a truly visionary approach to treating India's blind.
Zhang Minxuan, Professor at the Shanghai Normal University — for leveling the playing field by providing quality education to millions in China.
http://www.dawn.com/news/1132510/game-changers-malala-sharmeen-to-receive-asia-society-award
----------
Pakistani Girls Get Top Positions in Humanities Group Exam
17 Sep, 2014
KARACHI: " I'm satisfied with the current examination system as it is more transparent. Still there is room for improvement in the course and syllabus," said Ashna Aslam of Federal Government Girls Inter College, who stood first with 918 out of 1,100 marks to get an 'A-1' grade with 83.45 percentage in Humanities group (regular) as the Board of Intermediate Education Karachi (BIEK) announced the results here on Monday.
All the top six position holders in the subject category happened to be girls. Ashna was followed by Tarfia Khan (884 marks) of Zubair Public Higher Secondary School and Sania Sohail (883 marks) of DA Degree College for Women, Phase VIII.
Tarfia Khan said she felt that the standard of education of private colleges was far better than that of government colleges. "I also feel that the teachers of government colleges pay little attention on how their students are doing in class due to which there is also drop in attendance at these institutions," she said while sharing her ambitions of becoming a teacher herself one day.
Sania Sohail, too, said the government should take notice of the falling standards of government colleges. "There are so many government colleges here which don't even have electricity as it has been disconnected due to non-payment of bills," she said.
The Humanities (private) group also saw three girls bagging the top positions. Saba Idrees with 905 marks out of 1,100 was first, Warda Farid Khan (880 marks) was second and Nazia Bano (870 marks) was third.
Saba Idrees highlighted the problems faced by girls when stepping out of their homes. "The biggest problem I faced was our transport system. It was too wayward and expensive for me. Added to this is the law and order situation of Karachi," she shared.
Warda Farid Khan said that she was distressed to see everyone so interested in the education of boys. "We girls work extra hard to prove mettle in this scenario," she said.
In the special candidates regular group for humanities though the top positions at least were taken by boys. Muhammad Saleem of Ida Rieu School & College for Deaf stood first with 995 out of 1,100 marks. He was followed by Syed Bilal Asif (980 marks) of Dewa Higher Secondary School and Batool Ashfaq (972 marks) also of Dew Higher Secondary School.
All three special candidates pointed out that there were several government and private colleges for normal students but they, unfortunately, have very few choices in that department.
Meanwhile, BIEK Chairman Anwar Ahmed Zai said: "There is nothing simple or easy about arts and humanities so they are not to be taken lightly, too."
He questioned, "How else are we going to get experts in different languages, sociology, political science, psychology, etc.?"
The top 20 position holders in all subjects would be awarded scholarships by the board.
http://www.dawn.com/news/1132198/girls-get-top-positions-in-humanities-group-exam
----------
PTI wants more women at its Friday gathering
17 Sep, 2014
ISLAMABAD: Pakistan Tehreek-i-Insaf (PTI) on Tuesday asked its Punjab chapter to bring more women to the sit-in on Friday and also make arrangements to get all party workers released from jail.
The direction was issued at a meeting of the PTI Punjab held at a hotel in Melody Market, which was attended by Chaudhry Ejaz, Jehangir Tareen and Azam Swati.
A senior PTI leader told Dawn that a message of the party chairman, Imran Khan, was also conveyed to the participants that the party should show its strength on Friday.
"The target of 100,000 people has been set for Rawalpindi district alone," he said, adding that the meeting discussed the strategy to avoid further arrest of the party workers.
Party's Pindi chapter given target of bringing 100,000 people to sit-in
He said PTI Rawalpindi had been asked to bring maximum number of women to the sit-in as it would not be possible for the government to arrest them.
"The party chairman expressed his dissatisfaction over the working of the district chapters and local MPAs in gathering exact number of workers arrested by the police during the last three days.
Many parents approached the party leadership to find out the whereabouts of their arrested children but the local office-bearers had no information," he said.
The PTI leader said all district presidents and general secretaries had been asked to visit police stations, jails and the district administration offices and compile lists of the arrested people so that the party could file petitions with the courts for their bail.
During the meeting, it was also decided not to violate Section 144 in Rawalpindi to avoid arrest of party workers and supporters.
"If people come in form of rallies, the Punjab police will stop them in Rawalpindi. Therefore, all those coming to the sit-in should arrive at Faizabad individually before entering the federal capital," he said.
The PTI leader said the party's Punjab chapter president also expressed dissatisfaction over the performance of Rawalpindi district as it could not meet the targets on Saturday.
"The local leaders and MPAs had been asked to shun their differences as it was affecting the number of participants from Rawalpindi district," he said.
When contacted, PTI Punjab President Chaudhry Ejaz said the meeting was called to review the performance of district chapters, especially after the detention of party workers.
"The office-bearers have been directed to make arrangements to get party workers released. Most people were arrested and detained in farmhouses and cattle pens and were being mistreated," he claimed.
He said the party wanted to get all workers and supporters released. In reply to a question, he said the party had set the target for all district chapters across the province but the figure of 100,000 was for the twin cities alone.
He said people had been advised not to violate Section 144 in any part of the province to avoid arrest before reaching the sit-in venue.
http://www.dawn.com/news/1132412/pti-wants-more-women-at-its-friday-gathering
----------
URL: https://newageislam.com/islam-women-feminism/isis-target-ameri-women-with/d/99125