New Age Islam News Bureau
20 Dec 2014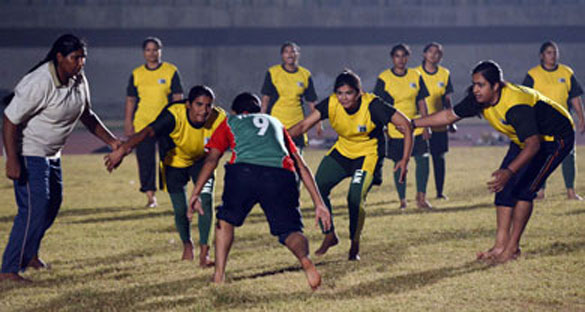 This picture shows members of the Pakistan women's Kabaddi team during a practice session. — AFP/File
------------
• Former Burlesque Dancer Ditches Booze and Converts to Islam
• Muslim Women Sue in US Courts for Right to Wear Islamic Garb on the Job
• Israel 'Targeting' Muslim Women Defending Al-Aqsa
• Women Step Closer To Combat Role in UK Army
• Youth Killed For 'Honour' In Pakistan
• CEDAW and the Quest of Iranian Women for Gender Equality
• India: Bihar Panchayat Bans Jeans and Mobiles for Girls
• Pakistan Women's Team Win Bronze in Kabaddi World Cup
• Half of Saudi Businesswomen Invest In Education
• Saudi Women Investors Seek Support to Fight Red Tape
• Malaysian Court Says Transgender People Aren't Bad Muslims, They're Just Mentally Ill
Compiled by New Age Islam News Bureau
URL: https://www.newageislam.com/islam,-women-and-feminism/new-age-islam-news-bureau/isis-supporters--offering-cash-to-british-girls-to-become-jihadi-brides'/d/100605
------------
ISIS Supporters 'Offering Cash to British Girls to Become Jihadi Brides'
20 Dec, 2014
Girls as young as 14 are reportedly being offered cash to become jihadi brides for Isis fighters after being groomed online by extremists.
"Facilitators" based in London help the teenagers apply for passport and sometimes even shepherd them to the terrorist group's strongholds in Syria, the Evening Standard reported.
Haras Rafiq, an expert at counter-terrorism think-tank the Quilliam Foundation, told the newspaper the average age of "brides" is falling and some are as young as 14.
"There are people here who have facilitated passports," he added.
"Girls who are under a certain age are being accompanied by an adult over 18, usually a woman, to go help them. Help them apply for a passport, and even take them out there."
The news comes after police stopped a plane taking off at Heathrow Airport to prevent a 15-year-old girl travelling to join Isis in Syria earlier this month.
She was taken back home to her family but another teenage girl reportedly got away.
Dozens of young women are believed to be among more than 500 British people who have travelled to join Isis in Iraq and Syria.
Some are reportedly running "Sharia police" units for Isis to implement its draconian ideology, while marrying and having children with fighters to populate its so-called Islamic State.
One prominent member is Aqsa Mahmood, a privately-educated Glaswegian 20-year-old who fled to Syria last November. Another woman, calling herself Khadijah Dare, appeared in a television documentary showing her life married to an Isis fighter.
Other female jihadists, such as one who goes by the name Al Britaniyyaa, record their experiences on Twitter and encourage other girls to join them.
Ruth Manning, a Quilliam Foundation volunteer, wrote on the think-tank's website that accounts like hers aim to entice other recruits, tweeting images of sunsets and Starbucks Frappuccinos to present a positive picture of life under Isis.
"Ultimately this network is being used as a recruitment tool to encourage women to join Islamic State," Ms Manning wrote.
"Tweeting images of kittens and coffee make extremism appear as a normal lifestyle decision for many disaffected Muslims. Moreover, positive interactions between network users generate a sense of sisterhood among the female jihadists, which seeks to embolden disillusioned Muslims to come and live under Isis rule."
Other girls claiming to be with Isis in Syria chronicle daily tasks, including school work and cooking, while still following Justin Bieber and other celebrity accounts like a normal teenager.
Ms Manning suggested that many girls are drawn to the cause by the prospect of an easy life staying at home, alongside a feeling of empowerment and freedom from their parents, and the search for belonging.
"Perhaps the absence of strong relationships offline has pushed them towards virtual communities," she wrote, urging communities and families to foster better support networks.
The Government has brought in passport bans on suspected extremists as part of a package of counter-terrorism measures aimed at stopping Brits travelling to join Isis.
It is also funding several anti-extremism programmes working with young people to prevent them being drawn to Islamic fundamentalism.
http://www.independent.co.uk/news/uk/home-news/isis-supporters-offering-cash-to-british-girls-as-young-as-14-to-become-jihadi-brides-in-syria-9935047.html
-----------
Former Burlesque Dancer Ditches Booze and Converts to Islam
20 Dec, 2014
Before she met the love of her life, party girl and burlesque dancer Claire Birkill enjoyed nothing more than guzzling booze, twirling her nipple tassels and scoffing bacon butties in the morning.
But after converting to Islam, she has now overhauled her unhealthy lifestyle, swapping a 40-a-day cigarette habit for a five-times-a-day prayer routine.
Claire, who has changed her name by deed poll to Jameela, admits that her conversion has come at a cost, with some friends disowning her and locals in her hometown of Nottingham branding her a "terrorist".
But the 37-year-old insists she has never been happier since falling in love with her "soul mate", Sarif Jallow, 28.
Speaking about her risqué past, the mum-of-three says: "I used to love weekly burlesque classes. I would strip down to silky corsets and do sexy dances. Now I am so ashamed of my past - I can hardly look at the old photos. I feel like I've been reborn."
Jameela, who now travels miles to her nearest Halal butchers, puts the transformation down to meeting Sarif.
She explains: "My eight year marriage broke down in 2013 around the same time as I decided to study tourism at college. A year later, as part of that course, I travelled to Gambia. That's where I met Sarif.
"It was love at first sight. He was a teacher - so intelligent and kind. On the last day of the trip in March he told me he loved me. As I left the airport I cried and cried for three hours straight."
ack home, Jameela spoke to Sarif on the phone every night and he proposed just weeks later. After listening to him talk about his religion, she decided to research it on the internet.
"I immediately felt a connection," Jameela says. "It's about peace, empathy, love and kindness, all things I believe in. I realised I needed to become a Muslim."
She converted in a special ceremony in June, where she read lines in Arabic and declared her love for Allah.
Jameela also began observing Ramadan, saying: "It was difficult but incredibly fulfilling. Romantic thoughts are forbidden during Ramadan, so I banned myself from talking to Sarif in daylight hours because I got too turned on by his voice."
The transformation was a far cry from her old hedonistic lifestyle, where bacon butties – strictly not Halal – were one of her weaknesses.
She says: "I travel ten miles to ensure I only buy Halal meat from a specialist butcher.
"I used to joke, 'Don't wake up in the morning unless you're bringing me a bacon butty and coffee' – I'd never say that now. Giving up bacon has been the hardest thing but Halal prohibits it."
Jameela goes on: "Before becoming a mum, I'd think nothing about bringing a man home after a night out. Normally it was alcohol induced but I'd never do it now.
"I used to smoke 40-a-day. I was like a chimney and nearly always had a cigarette in my hand. I used to get through at least a bottle of gin every week too.
"I was a huge G&T fan and would relax with a few in the evenings. That was just a normal week. If I went out with the girls, I'd drink more. I loved cocktails and would work my way through the menus in bars.
"But I can't imagine ruining my body like that now. I'm so ashamed of how I behaved."
In the summer of 2012, Jameela – whose children are aged 18, 16 and six – started attending burlesque classes at her local dance studio.
She explains: "I wanted to improve my body confidence. I would perform routines, starting off fully dressed and ending up in just silky pants and nipple tassels. I'd never dream of doing it now. Looking at pictures of me in a pink silk Basque I see it is very un-Islamic. Islam believes a woman's body is just for her husband."
Speaking about how she revealed her past life to Sarif, Jameela says: "He was heartbroken but he knows how committed I am now and believe I've changed.
He's my soul mate and without him I am nothing. He treats me like a queen and I have never felt love like it before. He is the man I was born to love. He tells me every day he loves me and I am his world, his reason for breathing, his reason for living."
In her old life, if Jameela saw 1.15am it usually meant a heavy night on the booze, but now it is for very different reasons - morning prayers.
She explains: "I pray five times a day including at 1.15am and 11.20pm, depending on the location of the sun and moon in the sky. I've also started reading the Quran in translation as I don't not speak Arabic fluently."
But her transformation has caused her a number of problems socially.
Jameela says: "I've been abused. Some friends don't want to know me anymore and others are refusing to call me by my new name. In the street one person asked why I wasn't wearing a letterbox, meaning a Burqa. It's so disrespectful. I've heard laughing in the playground when I've picked my son up from school and been sneered at in Primark by teenage girls.
"People I know locally are pulling coats over their head and running round shouting, 'I'm Jameela'. I've also been called a terrorist by strangers and even former friends."
However, for all the friendships she has lost, Jameela is happy to have gained new ones.
She says: "The Muslim community is very welcoming. I've been invited into their homes and made to feel more welcome by them then I ever was as a Methodist.
"I've never been happier or healthier than now. And that's all thanks to meeting Sarif."
http://www.mirror.co.uk/news/real-life-stories/former-burlesque-dancer-ditches-booze-4836669
-----------
Muslim Women Sue in US Courts for Right to Wear Islamic Garb on the Job
20 Dec, 2014
The Supreme Court has just agreed to hear a case concerning the rights of a woman to wear Hijab, a headscarf, while working at Abercrombie and Fitch. This case began in 2008, in Tulsa, Oklahoma on behalf of then seventeen-year-old Samantha Elauf and is known as Equal Employment Opportunity Commission vs Abercrombie and Fitch Stores, Inc.
France has banned the Burqa (a head, face, and full body covering), as well as the Hijab (headscarf); to do so in a religion-neutral way, they chose to ban all other religious insignia in certain settings such as public schools for both staff and students and for those who "deliver public services." Other governments (Denmark, Germany, Turkey, Russia, and China) have also banned the headscarf in school or in general. Yes, even Turkey– although, paradoxically, it has begun to force more children into religious schools where Hijab is mandatory.
In this case, it is our own federal government which has brought the suit against Abercrombie and Fitch, Inc.
At least ten "friends of the court" briefs have been submitted by religious and civil rights organizations, including the American-Arab Anti-Discrimination Commission, the American Jewish Committee, the National Jewish Commission on Law and Public Affairs, the Becket Fund for Religious Liberty, and the Council on American-Islamic Relations aka the Muslim Brotherhood in America and the un-indicted co-conspirator in the Holy Land Foundation lawsuit.
The issue is framed in this way:
Whether an employer can be liable under Title VII of the Civil Rights Act of 1964 for refusing to hire an applicant or discharging an employee based on a 'religious observance and practice' only if the employer has actual knowledge that a religious accommodation was required and the employer's actual knowledge resulted from direct, explicit notice from the applicant or employee.
Similar right to wear Hijab cases have been brewing all across America for the last decade.
In 2004, the U.S. Justice Department supported a lawsuit brought on behalf of a sixth grade student in Oklahoma who wanted to wear Hijab in her public school. That same year, the school reviewed their policy, amended their dress code, paid the student an undisclosed sum, and allowed her to attend classes wearing Hijab.
In 2006, in a small claims matter in Michigan, a Muslim woman, Ginnah Muhammed, refused to take off her face mask (Niqab) while she testified. Judge Paul Paruk dismissed her case. Muhammed sued, and the ACLU backed her. They argued for a "religious exception" to courtroom attire. Although Muhammed's small claims case was against a car rental agency, here is what Michael Steinberg, legal director of the ACLU of Michigan stated:
The Michigan Supreme Court should not slam the door of justice on a category of women just because of their religious belief…Under the proposed rule, women who are sexually assaulted do not have their day in court if they wear a veil mandated by their religion.
Sexual assault was not at issue nor was the victim afraid that testifying might lead to her death. Leave it to the ACLU to almost always get it wrong.
On June 17, 2009, the Michigan Supreme Court, in a 5-2 vote, ruled that a Judge had the power to "require witnesses to remove head or facial covering as (the witness) was testifying."A Judge has the right to see a witness's "facial expressions" to determine her "truthfulness "while she testifies.
Both the American Civil Liberties Union (ACLU) and the Council on American-Islamic Relations (CAIR) have gone to court in Florida (2002), California (2005), Michigan (2008), and Oklahoma (2008) to fight for a Muslim woman's right to cover her hair or face—whether it is while being photographed for a driver's license or for a police mug shot or while working at McDonald's or at Abercrombie Kids.
In 2007, CAIR wrote a letter on behalf of a Muslim woman in Georgia who refused to remove her headscarf in order to enter a courtroom to plead "not guilty" to a traffic ticket.
Religious Muslims are outraged that Christians can wear crucifixes, nuns and priests can wear habits, Jews can wear skullcaps or wigs and head coverings, Sikhs can wear turbans, Hindus can wear veils and saris, but Muslims cannot wear Hijab, Burqas or Niqab.
They have a point. The face mask (Niqab) and the Burqa (ambulatory body bag) mask all five senses and make human interaction impossible. But what's wrong with Hijab (a head covering)?
Over the years, I have interviewed a number of religious Muslim women who are completely westernized, educated, modern, and certainly anti-Jihad. They "cover" their hair for religious, ethnic, and feminist reasons. It is a statement of "who they are" and what they believe in. This sometimes includes a desire to publicly signify a belief in God and to separate themselves from a secular, promiscuous world in which women dress provocatively.
Religious people do not want the government telling them how to dress or limiting their religious practices. Many secular feminists have viewed Islamic "coverings" as either a Muslim woman's religious right or as her culturally sanctioned expression of modesty. In addition, many progressives see the ban on the Burqa (not to mention discrimination against hijab) as a form of "racial profiling," or as "Islamophobic."
I am on record as calling for an American ban on the Burqa (face mask, ambulatory body bag) as a violation of woman's rights and a health hazard. Dr. Daniel Pipes is on record about the Burqa being a national security risk. A head covering is more problematic. The Qur'an mandates "modesty" for both men and women. Mullahs have interpreted the Hadith as requiring women to cover their hair.
However, some people fear that if America legally accepts Hijab in the public square that doing so may represent the proverbial "nose of the camel." Once the camel's "nose" is permitted in the tent, soon enough, the demands for Halal food, separate classes for boys and girls, separate swimming facilities, breaks for prayer, and the recognition of Muslim holidays in public, tax-funded public schools and in government employment may soon follow.
Some counter-terrorism experts fear that permitting what is Arab and Islamic clothing on the job, at school, in the United States at this time in history may not be the same as allowing a nun, a priest, a rabbi, or a religious Jew or Sikh to wear a head covering. Why? Because no other religious ideology calls for supremacy over infidels or for violent Jihad against infidels and against other Muslims who do not adopt extremist views. None of the other religions mentioned views the state and religion as one or views non-co-religionists as "kafirs," infidels, whom Muslims are supposed to dominate, tax, persecute, and convert via the sword. Islam is also the only religion among them in which believers are commanded to kill all those who leave the religion. In addition, since global Jihad is upon us, permitting head coverings at work may frighten or offend some customers and may not comport with the expected dress code on the job.
I am not suggesting that any individual hijab-wearer would kill anyone. But neither will she necessarily oppose those who exercise such rights under Sharia law.
The Supreme Court will have to carefully balance the separation of religion and state; freedom of religion; the nature of public space and business bottom lines; and individual civil rights—over and against the meaning that the Islamic headscarf may have in such dangerous times.
I eagerly await the oral arguments and the Supreme Court ruling.
http://www.breitbart.com/national-security/2014/12/18/muslim-women-sue-in-us-courts-for-right-to-wear-islamic-garb-on-the-job/
-----------
Israel 'Targeting' Muslim Women Defending Al-Aqsa
World Bulletin/News Desk
20 Dec, 2014
Islamic Movement in Israel leader Sheikh Raed Salah on Thursday accused the Israeli authorities of "targeting" female Palestinian Muslim worshippers and religious students who had gathered in East Jerusalem's flashpoint Al-Aqsa Mosque compound with the aim of defending it from Jewish settlers.
"The Israeli occupation is trying to take revenge on Palestinian female worshippers and religious students by assaulting, detaining or banning them from the compound," Salah was quoted as saying by the Al-Aqsa Foundation for Endowments and Heritage, a Palestinian NGO.
According to a statement released by the NGO, the remarks were made at a meeting in the northern Israeli city of Tiberias with a group of female Jerusalem resident who were banned by Israeli authorities from entering the Al-Aqsa compound.
Since September of last year, Salah himself has been banned from visiting the holy site.
"Israeli escalations specifically targeting women came after they [the Israelis] saw the magnitude of sacrifice offered by [female Muslim worshippers] for the holy site," the firebrand cleric said.
In recent months, the Israeli authorities have banned several Palestinian women from entering the site for periods ranging from two weeks to several months for standing up against repeated intrusions into the site by Jewish settlers.
There are no precise figures for the number of women banned by Israel from entering the holy site.
Tension had already been running high in the Palestinian territories since Israeli authorities briefly closed the Al-Aqsa compound in late October following the shooting of an extremist rabbi in West Jerusalem.
The closure of Al-Aqsa, along with the subsequent killing by the Israeli army of a young Palestinian man suspected of shooting the rabbi, has prompted angry protests by Palestinians in East Jerusalem.
For Muslims, Al-Aqsa represents the world's third holiest site. Jews, for their part, refer to the area as the "Temple Mount," claiming it was the site of two Jewish temples in ancient times.
Israel occupied East Jerusalem during the 1967 Middle East War. It later annexed the holy city in 1980, claiming it as the capital of the self-proclaimed Jewish state in a move never recognized by the international community.
In recent weeks, several Israelis have been killed and injured in a spate of separate Palestinian attacks both inside Israel and in the occupied territories.
Tension has continued to mount in Jerusalem – and in the rest of the occupied West Bank – since the abduction and murder of three Jewish settlers this summer and the subsequent abduction and murder of a Palestinian teenager in East Jerusalem.
Both incidents directly preceded a devastating Israeli military onslaught on the Gaza Strip in July and August that left over 2,160 Palestinians dead – the vast majority of them civilians – and another 11,000 injured.
http://www.worldbulletin.net/news/151104/israel-targeting-muslim-women-defending-al-aqsa
-----------
Women Step Closer To Combat Role in UK Army
20 Dec, 2014
LONDON: Women have moved a step closer to front line fighting in the British army from 2016, following a review of the current ban published Friday.
The paper examining whether women should be allowed to serve in ground close combat roles — where the primary duty is to close in on and kill the enemy — found the change would not damage troop cohesion.
Defence Minister Michael Fallon backed the idea of women serving in infantry roles but any such move will be dependent on research into the physiological effects on female troops.
"Roles in our armed forces should be determined by ability not gender," Fallon said.
"I hope that, following further work on our training regimes and equipment, we can open up combat roles to women in 2016."
Women in the land army cannot join the infantry and armoured corps, but can serve on the front line in a non-combat role. In the other armed forces, they do serve in a variety of combat roles across the forces, including as fighter pilots and sailors, and, from this year, submariners.
The review, launched in May, was carried out by Nicholas Carter, the professional head of the army.
The paper "has ended the long-held view that mixed close ground combat units would have an adverse effect on cohesion between troops," the Defense Ministry said in a statement.
"However, it also calls for further research into the physiological demands placed on those in close combat roles before a final decision is made on lifting the current exclusion on women."
The ministry said it was important to explore the impact on women's health, saying allowing women into the front line without doing so would be "irresponsible."
"The physiological research program will investigate how training regimes can be constructed to allow women to integrate safely, whilst protecting combat effectiveness."
Some 10 percent of the 156,630 regular British armed forces personnel are women.
Col. Mike Dewar, a military historian, said women would be "incapable" of meeting the current battle fitness requirement for soldiers to be able to pick up another man, with his rifle and equipment, and carry him 200 meters.
"I think it's politically driven," he told BBC radio, adding that he had recently spoken to eight senior army generals who thought it was "utter and total madness."
http://www.arabnews.com/world/news/676831
-----------
Youth Killed For 'Honour' In Pakistan
20 Dec, 2014
SHEIKHUPURA: A man killed a youth for contracting court marriage with his sister in Wandiala Nasir, Ferozewala, police said.
Ruqia Kausar had eloped with Mohsin and contracted court marriage three weeks ago. When they came back to home, Ruqia's brother Adnan along with his accomplice kidnapped Mohsin and shot him dead.
Ferozewala police are looking into the mater.
DEMO: The Punjab Teachers Union held a demonstration outside the press club in protest at the abduction of a female teacher from Khanqah Dogran two weeks ago.
The protesters, led by union office bearers Ghulam Mustafa, Iqbal and Fiaz, told reporters teacher Lubna along with her sister-in-law was travelling in a rickshaw on Khanqah Dhaban Road when six people in a vehicle abducted both of them.
No whereabouts of both women have not been ascertained since then. They said police had arrested any suspect so far. They demanded the police officials recover both women.
http://www.dawn.com/news/1152012/youth-killed-for-honour
-----------
CEDAW and the Quest of Iranian Women for Gender Equality
20 Dec, 2014
A basic right for Iranian women could be guaranteed within an Islamic framework of governance provided those in government were inclined to interpret the faith in the spirit of equality, says Shirin Ebadi.
Iran's moderate president Hassan Rouhani has a chance to enact one of his campaign promises to promote women's right by signing the Convention on the Elimination of All Forms of Discrimination Against Women (CEDAW). CEDAW urges its signatories to address laws, practices and customs that discriminate against women.
Today, 18 December, CEDAW turns 35. Since its adoption by the UN General Assembly in 1979 it has been ratified by188 countries. This global majority includes 51 Muslim countries that are party to the Convention.
Today gender equality is considered a universal norm and is easy for governments to accept. Nevertheless CEDAW and its internationally-accepted understanding of equality remain controversial in some parts of the Muslim world. This is especially true in the Islamic Republic of Iran.
In Iran, conservative politicians and religious figures reject the universal approach for gender equality in CEDAW and instead propose their own "Islamic" alternative. Indeed, according to Ayatollah Ali Khamenei, Iran's Supreme Leader, it was the Islamic Revolution of 1979 that elevated women to their rightful place in Iran. He has said, "Islam introduces Fatima [the daughter of the Prophet Mohammad] the outstanding and distinguished celestial being—as a model and an ideal for Muslim women." Using Fatima as the role model, Iran's Leader and other members of the conservative religious establishment promoted the idea that women and men are equal parts of God's creation but that the two genders have manifestly different social roles and duties.
This view results in a host of blatantly discriminatory practices that affect women in their public and private lives. For example, in courts the monetary damages for causing the death of a women is half that of a man's. A women's testimony is also worth half of that of a man's and women are barred from being judges. Women should cover themselves with Hijab. Within the family, husbands have the legal power to control whether their wives can hold a job or obtain a passport and travel out of the country. Iranian woman cannot pass their nationality onto her child if their father is not Iranian. Men are granted automatic guardianship to children.
To some religious leaders and conservative politicians these laws reflect social roles where women, while spiritually equal to men, are not charged with the same level of social, economic, and political responsibility, and thus are not given agency in these fields. So for them, CEDAW's notion of equality in all areas of life is at odds with Islam.
But these views are not as clear cut in Iran as some want us to believe. Indeed women's rights have always been seen as a challenge to the ruling ideology. Iran's governmental institutions are supposed to be grounded in Shi'ite Islam. Doctrinally, however, Shi'ite Islam is supposed to allow for different interpretations. Grand Ayatollahs can and do offer variant interpretations on Islam and women's rights, including ones that support the framework of ideas found in CEDAW. As the Nobel Peace laureate and women's rights activist, Shirin Ebadi, says, "a basic right for women could be guaranteed within an Islamic framework of governance provided those in government were inclined to interpret the faith in the spirit of equality."
And it is not insignificant that nearly every Muslim country worldwide has ratified CEDAW. Perhaps the real reason Iran has not ratified the Convention has less to do with religion, and more to do with the fact that women's rights are in conflict with the interests of the predominantly male political elite.
Ratification of CEDAW will give advocates of women's rights a framework that they can invoke when pushing for better policies and laws. Moreover, with ratification the State will submitted itself to review by UN bodies. This process has led to substantial legal reforms in Muslim countries, like Morocco and Egypt, which have improved the status of women.
To be fair, Iranian officials have discussed ratifying CEDAW during two distinct periods in Iran. First, between1995–1997, toward the end of the presidency of Ali Akbar Hashemi Rafsanjani, For Rafsanjani however, the economic and social reconstruction of the country after the Iran-Iraq War took priority over women's rights, and ratification never gained much momentum.
CEDAW remerged between 1999–2003 during the "reform era", born out of the presidency of Mohammad Khatami. Reformists pledged then to advance civil and political rights within an Islamic framework. As part of a series of progressive legislative measures, the reformist-dominated Sixth Parliament actually ratified CEDAW. However, the Guardian Council, which is charged with vetting and approving all legalisation to ensure compatibility with Iran's Constitution and Islamic precepts, rejected the bill. The Council cited supposed religious objections, but never actually specified what those objections were.
Last year, the victory of Rouhani, a moderate cleric, renewed some hope. Rouhani's campaign promised to determine why CEDAW was rejected and eventually ratify it. In fact, in his first press conference as president, Rouhani stressed that the goal of women should be to remove all "primitive behaviour" which inhibits greater participation by women in public life and just ensures the appointment of "token" female ministers. While this was in part a defence of the lack of women in his cabinet, Rouhani's echoing of CEDAW's broad challenge to legal and customary gender discrimination is grounds for guarded optimism.
For now, however, the large conservative majority in the current Parliament is a clear obstacle to movement on the Convention. However, if moderate and reformist politicians regain the majority in the 2016 Parliamentary elections, then there could be a new push for Iran to ratify CEDAW. The Parliament will, nonetheless, be subject to oversight by the Guardian Council, which will not only vet any bill to ratify CEDAW, it will vet the Parliamentary candidates before they can even be allowed to run for office. In turn the conservative religious establishment will continue to maintain considerable power within the political sphere.
These political challenges are why the President must start to develop the legal and religious ground work for CEDAW ratification now. If he honours his promises and the country joins CEDAW we will be on the road to significant changes in the legal status of women in Iran.
https://www.opendemocracy.net/5050/leila-alikarami/cedaw-and-quest-of-iranian-women-for-gender-equality
---------
India: Bihar Panchayat Bans Jeans and Mobiles for Girls
20 Dec, 2014
A village Panchayat in Bihar's Gopalganj district has, in a diktat, banned girls from wearing jeans and using mobile phones as this increase the chance of the girls "going astray". Confirming that such a diktat has been issued in Singha Panchayat in Hathua block of the district, Hathua Block Development Officer Jitendra Kumar said the decision was taken at a general meeting of Panchayat officials in which Mukhiya Krishna Chaudhary and Sarpanch Vinay Kumar Shrivastav were present.
"According to the Panchayat decision, the ban will be enforced within its jurisdiction with mutual understanding and without any coercion," the BDO said. Mukhiya Krishna Chaudhary said jeans, trousers, and cell phones for girls have been banned as these have "pernicious effect" on them – mentally and physically. These also increase the chance of their "going astray".
"The ban will come into effect from January 1, 2015. We have already requested parents and guardians in our area not to buy jeans and mobile phones for girls in their families.
There will be no coercion in enforcing the ban," Chaudhary said. There are no provisions to fine or punish if anybody flouts the ban, he added.
http://indianexpress.com/article/india/india-others/bihar-panchayat-bans-jeans-and-mobiles-for-girls/#sthash.n8KpiyDz.dpuf
-----------
Pakistan Women's Team Win Bronze in Kabaddi World Cup
20 Dec, 2014
BARNALA: Pakistan's women defeated Denmark on Friday to grab the 3rd position in the 2014 Kabaddi World Cup being played in India.
Pakistan scored 38 points, whereas the Danish women team managed to score only 28. As the match began in Barnala, a city in the state of Indian Punjab, Pakistan women resorted to aggressive game play and by the end of first half, the team in green were in lead with 18 points to Denmark's 14.
Taking the game away from Denmark, Pakistani women dominated the match throughout the second half and ended up with a decisive lead. The women's team had earlier lost 19-47 to India in their last-four clash.
On the other hand, the Pakistan men's team cruised into the summit clash of the Kabaddi World Cup. The men's team trounced Iran 56-28 in Sangrur to set up a tantalising final against India on Saturday with the hosts routing England 54-33 in the other semi-final.
http://www.dawn.com/news/1151856/pakistan-womens-team-win-bronze-in-kabaddi-world-cup
-----------
Half Of Saudi Businesswomen Invest In Education
20 Dec, 2014
Since a high percentage of the Kingdom's residents enrol their children in private schools, Saudi businesswomen have found a unique and rewarding area of investors.
Estimates show that around 47 percent of Saudi stakeholders opt to invest in the education sector, mostly driven by their passion to invest in areas that contribute to society and human development.
Investor Malha Al-Qahtani says education is one of the first fields in which Saudi women stakeholders decided to invest in as it has fewer limitations than other fields.
She added that many facilities are present in this sector, since the education departments are independently-ruled by women, which translates to more flexibility for women in their workplace. Advanced stages, however, include mixed-gender administrations.
Al-Qahtani has been granted several prizes for her role in empowering the education sector in the Kingdom. With the grant of funds to establish a school five years ago, she has implemented new ideas that focus on development and change. An example of these ideas can be found in "My rights in my childhood" project and another one for the academically challenged children who have some problems such as hyperactivity and attention deficit disorder. She explains that her goal is to develop children and empower their abilities. "Children were not accepted in public schools, and found obstacles to join private ones.
Their parents also feared that enrolling them in centres of the disabled would result in regressing their situation instead of developing it," she clarified, adding that such pioneer projects for the academically challenged children allow more students to enrol in her school.
For investor Alia Al-Essa, this women-ruled sector calls for regulation since the growing investment in education has given rise to inexperienced stakeholders.
"The investors should have experience in the education field so that they don't close down their projects in the very first year, especially when the private school projects are facing many challenges given the government's nationalization drive," she said.
She explained that the inability to pay the state-fixed salaries for local employees —SR 5600 — has led to "closure of many schools across the Kingdom because managing investments requires the ability to confront and manage crises as well as working out the viability studies."
AL-Essa added that government bureaucracy has made investors willing to put money in this sector face many challenges. "The requirements and conditions change on a daily basis that require clear laws to help resolve these issues," she said, adding that the licensing process can take more than two years to conclude. Other problems are related to insufficient funding, lengthy process of receiving funds and Saudisation which doesn't apply in some of the jobs such as bus drivers. "Saudisation threatens our investments as it prevents us from recruiting qualified foreign skills when we don't have the local equivalent," she added.
Investors called on the authorities to provide support for this sector by developing a comprehensive developmental concept.
"We need to regulate this sector so it doesn't only prioritize commercial goals," Al-Qahtani declared, adding that higher bids sometimes mean more qualitative projects which eventually lead to good profits.
http://www.arabnews.com/saudi-arabia/news/677106
-----------
Saudi Women Investors Seek Support to Fight Red Tape
20 Dec, 2014
A local businesswoman here has called on the government to ease red tape for women entrepreneurs in Saudi Arabia.
Current regulations and bureaucracy is hampering the development of businesses run by women, said Aisha Natu.
"Women don't only want to be seen, they want to actively participate and translate their aspirations into reality."
Natu said she uses her weekly column in a local Saudi newspaper to write about the challenges facing women.
"I am not a writer but a citizen wanting the nation to know how women are suffering in terms of having to deal with various laws and procedures."
Natu said she was always encouraged by her parents to be a staunch Muslim and work hard.
She completed an arts degree and then constructed a building close to the Grand Mosque in Makkah.
"When the project was successful, I started to think that I could be a businesswoman. I never planned it, but this building played a role in shaping my future," she said.
She became the head of the board of directors for Eye to Eye Optics, a company that was started in 1990, and became one of the 27 fastest growing firms in Saudi Arabia. The company then split into three, which included optometry, training, and advertising and media.
She now runs the three companies, which has 100 employees. "I'm part of the team and we are all part of this success."
Other Saudi businesswomen have also complained about bureacratic hurdeles in the past.
http://www.arabnews.com/featured/news/677146
-----------
Malaysian court says transgender people aren't bad Muslims, they're just mentally ill
20 Dec, 2014
BANGKOK, Thailand — There's some good news for transgender Muslim women in Malaysia. An influential court ruling says cops can't persecute them under religious law just for wearing dresses and lipstick.
Keeping the police away, however, may require a demeaning concession: getting certified as mentally ill.
Malaysia is a bastion of conservative Islam, a tropical Southeast Asian nation where Muslim scholars warn against the wicked effects of Valentine's Day and yoga.
Homosexuality isn't just taboo in Malaysia. It's punishable by $300 fines, jail time or even public whippings. Muslims, who constitute two-thirds of the nation, are bound by a system of Sharia law. Those codes, derived from the Quran, explicitly forbid men from dressing as women.
But in a break from their typically conservative bent, judges ruled in November that arresting lifelong "cross dressers" is "degrading, oppressive and inhuman." Their reason: The so-called cross-dressers suffer from a mental illness called "gender identity disorder."
The judges may be out of synch with 21st-century Western thought, which increasingly views transgender discrimination as a new civil rights frontier. But this ruling is actually quite forward-thinking in Malaysia, where orthodox Muslims have great sway.
"This is a courageous decision by the court," says Syahredzan Johan, an attorney who provided a legal opinion to judges during their deliberation. "It will hopefully spark scrutiny on Sharia amendments throughout the country."
He suspects it will also spark backlash from conservatives warning about homosexual tolerance, as they see it, tainting Malaysia's piety. "They tend to say, 'Look, this shows the enemy's at the gates and liberalism is threatening the fabric of our society,'" Johan says.
The ruling came about after three transgender women — Muslim men in the government's eyes — grew fed up with frequent arrests by police citing Islamic law. A court brief acquired by GlobalPost indicates the trio willingly submitted to a battery of tests from psychiatrists to prove their "gender identity disorder."
The doctors' findings: "cross dressing is intrinsic to the appellants' nature" and "this abnormal condition is incurable."
Judges therefore ruled that Sharia law — specifically the ban on men in female clothing — puts transgender women in an "untenable and horrible situation."
So far, this ruling only applies in their home state, Negeri Sembilan, a flat, industrialized area outside the capital of Kuala Lumpur.
But Sharia codes are fairly consistent across all of Malaysia's states. This ruling, Johan says, could kick off a domino effect in which transgender Muslims challenge Sharia's cross-dressing laws throughout the country. (Transgender Malaysians who aren't Muslim enjoy more protection; Islamic law is only enforced on those labeled as "Muslim" on state IDs.)
Malaysian cops can be a menace to transgendered people. Evidence gathered by Human Rights Watch reveals a litany of horrors they sometimes endure in police custody including fondling, poking genitals with batons and outright rape.
However demeaning, transgender Malaysians might find it easier to ward off police abuse if they ask doctors to deem them mentally abnormal.
"To rely on this groundbreaking case," Johan says, "they'd need to get a medical certificate that says, 'This person suffers from gender identity disorder.'"
http://www.globalpost.com/dispatch/news/regions/asia-pacific/141217/malaysian-court-says-transgender-people-aren-t-bad-muslims
---------
URL: https://www.newageislam.com/islam,-women-and-feminism/new-age-islam-news-bureau/isis-supporters--offering-cash-to-british-girls-to-become-jihadi-brides'/d/100605