New Age Islam News Bureau
21 May 2015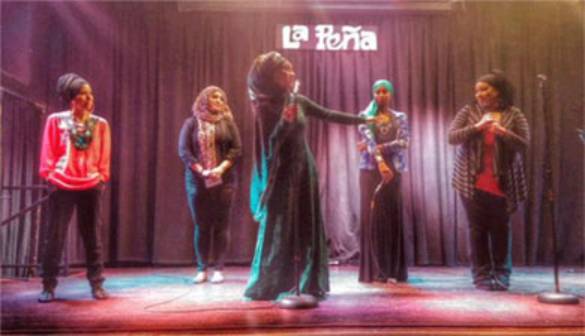 The Hijabi Chronicles: Muslim Women Enter Hip-Hop Arena
------
• The Hijabi Chronicles: Muslim Women Enter Hip-Hop Arena
• Women Scholars in Egypt Reflect On the Intersection of Islam and Feminism
• Saudi Woman Yearly Spends Over SR12, 000 on Cosmetics
• Pakistan: Cabinet Approves Bill on Violence against Women
• Hundreds Women, Girls and Children Saved From Boko Haram Now In Military Custody
• Swiping Right in the Islamic Republic As Tinder Takes Off In Tehran
• Two Muslim Girls Top Kerala Medical Entrance Exam
Compiled by New Age Islam News Bureau
URL: https://newageislam.com/islam-women-feminism/isis-sending-prettiest-virgins-become/d/103078
------------
ISIS Sending 'Prettiest Virgins' To Become Sex Slaves: Zainab Bangura from UN
21 May, 2015
Young girls have been stripped and handed over naked to slave bazaars, according to Zainab Bangura from the United Nations (UN).
She discovered the extent of ISIS's cries against young women after getting information from Syria, Turkey, Lebanon and Jordan.
The Special Representative on Sexual Violence in Conflict said: "Women and girls are at risk and under assault at every point of their lives."
A report from Human Rights Watch found 'systematic sexual crimes' had been carried out against women and girls from Iraq's Yazidi minority - and now Ms Bangura said some are sold naked in cities such as Raqqa and Mosul.
The buyers take three or four girls each and keep them for a couple of months before they get bored. Then they are sold again.
Ms Bangura visited the Middle East last month and met women who had escaped ISIS and survived sexual violence.
She said: "We heard of one girl who was traded 22 times, and of a leader who had written his name on the girl's hand to show that she was his 'property'.
"Tens of thousands of the ISIS members expect that they will [get] women to [marry] following their recruitment."
There have also been reports of mass rapes carried out by ISIS jihadists.
Ms Bangura also said ISIS militants had burned a young girl alive after refusing to carry out what she described as "extreme sexual acts".
She also said that some young women had their headscarves taken away after some of them used them to commit suicide.
In April more than Yazidi 200 women and girls who had been held hostage after being taken last June were released.
Among them was a pregnant nine-year-old girl who had been sexually abused by 'no fewer than' ten men.
One Yazidi girl, known as Hanan, who had been kidnapped by jihadists near Mosul, said ISIS had taken girls as young as 10 as sex slaves.
An article titled "The revival of slavery before the hour" in ISIS online magazine Dabiq outlines the group's perverted reasoning and guidelines for the enslavement of Yazidi women.
It said: "One should remember that enslaving the families of the kuffar (infidels) and taking their women as concubines is a firmly established aspect of Sharia."
http://www.express.co.uk/news/world/578767/ISIS-sex-slaves-virgins
------------
The Hijabi Chronicles: Muslim Women Enter Hip-Hop Arena
21 May, 2015
CALIFORNIA: From Lauren Hill to Missy Elliot, women have long been making strides in hip-hop, breaking stereotypes that the genre is male-centric.
In the same vein, a group of Muslim women who call themselves The Hijabi Chronicles have stepped up to the challenge, one rhyme at a time.
The group is the first of its kind to launch an event at La Peña Cultural Center in Berkeley, California where they aim to convey the message that Muslim women belong in hip-hop.
The group's founder, Alia Sharrief, explained in a video how the genre has traditionally been male-dominated but that Muslim women belonged in hip-hop despite it being frowned upon in more conservative corners of the Muslim community.
"We're knowledgeable, we have rhymes, we have soul and we have something to say," Sharrief said.
She and other artists associated with the collective make it a point to address current issues in their rhymes, particularly related to matters of race and gender.
"I rhyme about helping people, protesting, speaking up for humanity, having dignity, and self-respect," Sharrief wrote last year in a feature on Muslimah Montage, an online platform for Muslim women.
Born and raised in Sacramento, Sharrief released her debut album Mental Cycles and Mood Swings in 2012. Work on her second album, Back on my Deen is under way and its first single "Who ready" was released earlier this year.
Many took to social media to support the women.
http://tribune.com.pk/story/889408/the-hijabi-chronicles-muslim-women-enter-hip-hop-arena/
-------------
Women Scholars in Egypt Reflect On the Intersection of Islam and Feminism
21 May, 2015
When Omaima Abu-Bakr was a teenager in Egypt, she wore miniskirts and high heels — in line with the fashion of the time. But she says the freedom in fashion didn't translate to equity in education or work or family life.
Now a professor at Cairo University and co-founder of The Women and Memory Forum, a women's rights NGO, she dresses much more modestly, including wearing a headscarf. But she says women in Egypt actually have more rights now than they did when she was young. And she believes that with a bit of re-interpretation of classic texts, Islam and feminism can work hand-in-hand.
"We're correcting [and] we're reforming past, patriarchal interpretations of the religion," she says.
Most of the conflicts between Islam and modern women's rights she attributes to culture, rather than the actual religion. She sees Islam as a dynamic religion, adaptable to the times.
In her research, she digs into the Quran and other sources of Sharia law, analyzing from what she calls a perspective of "equality and justice."
"I still am, day in and day out, trying to deal with these conflicting orders or diversions to discourses. Trying to deal with them on a personal level because I have a personal stake," she says. "This is part of my self-perception. I'm a practicing Muslim person and a feminist too," she says.
Abu-Bakr represents one of several perspectives on how observant Muslim women can merge their religious beliefs with their feminist values.
Amna Nosseir is also exploring this path. She teaches Islamic philosophy and comparative religion in the women's section at Al-Azhar University. She also served as the dean of the section for a decade before she "quasi-retired" to focus on teaching and advocating for a stronger role for women at the government-affiliated religious institution and in society in general.
She often comments on women's issues on television, and says she gets a lot of questions from young women studying at the conservative Al-Azhar about what Islam says about their rights as women.
"I welcome the feminist movement. I accept any new ideas, whether feminism, women's rights or their future, provided they don't wander away from the fixed teachings of our Islamic law," she says.
She argues if you go far enough back, to the origins of Islam, the original writings and meanings grant women the legal and social rights they need.
The important rights of women, whether in inheritance, education or participating in society, are all taught at Al-Azhar.
But other scholars think trying to apply the social rules from a 1,400-year-old religion to the modern world is a bit unrealistic.
Marwa Sharafeldin is among them. She helped found several women's rights NGOs in Egypt and works with the international organization Musawah, which advocates for family law reform in several countries.
"When we say 'Islamic feminism,' for me it's a kind of feminism that draws inspiration from an Islam that calls for equality and justice, but it's also a notion that does not exclude the lived realities of women and men today," she says.
Sharafeldin considers herself secular, but believes feminists need to accept that religion has a role to play in the women's rights movement.
Islamic feminists differ over whether laws need to be reformed to better reflect the original Islamic jurisprudence or whether the religiously-based laws should be tossed out all together.
For instance, Sharafeldin gives the example of preferential treatment for men in family inheritance laws, which are based on Islamic law. She argues that maybe that made sense back when men were the sole source of income for extended families, but not anymore.
"Today in Egypt, one-third of Egyptian households are headed by women," she says. "They are the main breadwinners. How are you going to talk about men being the protectors and providers of women according to Islamic law when you have this kind of reality here?"
Sharafeldin is among many women's rights activists watching carefully to see whether calls by Egyptian president Abdel Fattah el-Sisi for a "religious revolution" will extend to revolutionizing the way Islamic laws are applied to women.
"I think that Islamic feminism is actually going to be the entry point for this whole renewal of Islamic discourse," she says. "So it will be up to the Muslim women themselves who are not willing to let go of their religion, but at the same time, are not willing to accept being treated as second class citizens because of a certain version of religion."
This is why scholars like Cairo University's Omaima Abu-Bakr are encouraged by channels of communication that have opened with Al-Azhar and the government regarding these issues. She says that type of political engagement is a holdover from the Arab Spring, when average Egyptians began calling their government to account.
She hopes the debate not only inspires her students, but also those outside the Muslim world who think the ideas of Islam and feminism cannot coexist.
"People need to rethink this idea of Islamic feminism as an oxymoron," she says. "Put it in the context of Christian feminism. ... There's Jewish feminism. There's Buddhist feminism. So it is not a freak phenomenon. It's not even something that came out of the blue. It's not one paradigm. It's not one shape."
http://www.pri.org/stories/2015-05-20/women-scholars-egypt-reflect-intersection-islam-and-feminism
-------------
Saudi Woman Yearly Spends Over SR12, 000 on Cosmetics
21 May, 2015
JEDDAH — International experts expect the Saudi consumption of perfumes and cosmetics during 2015 to exceed SR35 billion, a 17 percent increase over last year.
According to a study that was discussed at the 12th Dermatology Conference at Saudi German Hospital that finished on Monday, last year SR30 billion was spent on such products, while the average Saudi woman spends more than SR12,000 annually.
In recent years the markets witnessed a boom in the volume of consumption of cosmetics, perfumes and weight loss drugs.
Experts participating in the conference, held under the chairmanship of the hospital's dermatology head Dr. Jamal Hashim, agreed that the Saudi market is the first in the region with regard to perfumes and cosmetics.
It is one of the biggest international markets in terms of growth in the field of cosmetic medicine over the last 10 years, they said.
Hashim presented during the three-day conference a thorough explanation of the development in dermatological surgeries and expressed happiness that practitioners were keeping abreast of new developments in dermatology and cosmetics in Saudi Arabia and worldwide.
He thanked the Saudi Society of Dermatologists for its help in holding such conferences, which are held in cooperation with university professors in the Kingdom and the Arab region.
The conference was attended by numerous pharmaceutical companies concerned with introducing modern methods in treating dermatology diseases, such as the Saudi Ozone Company in the Kingdom that uses health and beauty ozone to treat such conditions.
The opening of the conference was attended by Dr. Ali Al-Raddadi, representative of the Saudi Society for Dermatologists; Dr. Mustafa Abu Zaid, head of the dermatology department in Al-Azhar University; Dr. Hani Numan, consultant dermatologist and member of the Saudi Society for Dermatologists and many doctors from around the Kingdom.
http://www.saudigazette.com.sa/index.cfm?method=home.regcon&contentid=20150521244499
-------------
Pakistan: Cabinet Approves Bill on Violence against Women
21 May, 2015
LAHORE: A meeting of the cabinet, chaired by Chief Minister Shahbaz Sharif, on Wednesday approved the Punjab Protection of Women Victims Against Violence Bill-2015. Amendments to the Punjab Maternity Benefits Ordinance 1958, Stamp Act 1899 and the Punjab Commission on the Status of Women Act were also approved.
The meeting decided to launch e-stamp papers throughout the province under a phased programme. The meeting also reviewed the ongoing wheat procurement campaign, the law and order situation and security for the visiting Zimbabwean cricket team.
Addressing the cabinet, the chief minister said the e-stamp paper project would be launched from July 2015. "Billions of rupees will be collected in revenue through the reform. It will also help curb irregularities and fraud in the stamp papers business. The electronic stamp papers will eliminate the illegal occupation of land through bogus stamp papers," he said.
The chief minister directed the ministers to base the e-stamp paper project on the existing registration of land system. He said that final recommendations in this regard should be presented soon.
"The wheat procurement campaign is continuing successfully. So far, 2.95 million metric tonnes of wheat has been purchased. The government has electronically registered 242,000 farmers," he said. The chief minister said that the data should be used to improve the wheat procurement process in the coming years. The chief minister praised the minister for food, the chief secretary and the food secretary for their role in the procurement process.
"The visit of Zimbabwean cricket team is an important step towards revival of international cricket in Pakistan. The Punjab government has made foolproof security arrangements for the visit," he said. He directed the cabinet committee on law and order to review the security measures on a daily basis.
The Punjab Vigilance Committee Bill 2015 was presented in the meeting.
The chief minister said that terrorism was a major challenge the country faced. "All segments of society will have to play their role in dealing with the menace. The vigilance committees are of vital importance for ensuring community participation in the fight against terrorism," he said. The chief minister directed that recommendations about the bill be finalised after consulting the ministers and departments concerned.
He directed the ministers to ensure the implementation of the Marriage Functions Act. The chief minister said that the proposal to review the Marriage Functions Act 1998 to allow serving of soup in winter and cold drinks in summer be considered.
"Such measures are important for minimising the disparity between the rich and the poor," he said.
http://tribune.com.pk/story/889744/legislative-steps-cabinet-approves-bill-on-violence-against-women/
------------
Hundreds women, girls and children saved from Boko Haram now in military custody
21 May, 2015
YOLA, Nigeria (AP) — All 275 women, girls and children rescued from Boko Haram and taken to the safety of a northeast Nigerian refugee camp have been taken into military custody amid suspicions that some are aiding the Islamic extremists, a camp official and a Nigerian military intelligence officer said Wednesday.
They said soldiers on Tuesday took the group from Malkohi Camp to the airport at Yola city, where a military plane flew them to an unknown destination.
Spokesman Sani Datti of the National Emergency Management Agency, which manages the camp, said he was aware that soldiers removed the group but said he had no other information about an "entirely military affair."
The army spokesman for 23rd Armoured Brigade in Yola could not be immediately reached for comment.
An intelligence officer told The Associated Press the move followed fears that some women were communicating at night with Boko Haram. The camp official said the suspicions were voiced during trauma counseling sessions. Both requested anonymity because the affair is sensitive.
The group — which includes 67 women and girls and the rest young children — was brought to Malkohi on May 2.
They told The Associated Press heartrending stories of their captivity and the trauma of their rescue from a Sambisa Forest camp, where Boko Haram fighters stoned several of them to death. Others were crushed accidentally by a military armored car and three women died when a land mine exploded. All the rescued children were badly malnourished.
One young woman, Binta Ibrahim, told how at 16 she rescued three children aged between 2 and 4, cared for them during a year of captivity under Boko Haram and brought them to the safety of the refugee camp.
Ibrahim's humanity so moved U.S. U.N. Ambassador Samantha Power that she called her an inspiration at the commencement address for the University of Pennsylvania this week.
"Binta is a Muslim. The three kids she saved are Christian. Tell me a more powerful rejection of Boko Haram's perversion of Islam than Binta's love for those kids," she said.
http://www.seattletimes.com/nation-world/hundreds-saved-from-boko-haram-now-in-military-custody/
-------------
Swiping Right in the Islamic Republic As Tinder Takes Off In Tehran
21 May, 2015
Tinder, the dating app phenomena that since its 2012 inception has made more than six billion matches across the globe, like me has Iranian roots. After several months of matching, messaging and arranging meet-ups through Tinder, I was surprised to learn that two of its Los Angeles-based founders, Sean Rad and Justin Mateen, are both of Iranian descent. But back in Iran, a country that is considered the world's most internet censored nation, let alone a place that restricts interactions between unrelated women and men, is such an app accessible?
I recently returned to Tehran after two years, defying incessant and increasing calls from my family to marry, and had the opportunity to find out firsthand. During my time in Iran's capital, I noticed that dating had evolved from being a covert operation to something quite commonplace. Even though on several occasions I'd been stopped by the patrolling moral guidance authorities who questioned my relationship with the woman I'd been walking with, in many other ways dating is no longer as complicated as it once was.
Aside from illicit parties while mum and dad are out of town (or even illicit parties while mum and dad are in the house), an increasing number of cafés, restaurants and parks are popping up, making meeting and subsequently dating so much easier. But I wondered how much easier things might get for Iran's young hopefuls with the introduction of dating apps. Having just arrived from London, staring down at Tinder's familiar red flamed icon on my mobile, I was excited to find out if the app would work in Iran, and if so, how many here would be using it.
Even before mobiles got smart, their increasing presence in the socially conservative Islamic republic seemed to bring about a profound cultural shift. For the nation's bulging post-1979 Revolution baby boomers – the under thirty-fives that still account for nearly half the nation – mobile phones allowed individuals to interact with one another with less interception from moral authorities, be it the paramilitary militia known as the Basij, the Moral Guidance authorities or parents. But with my recent visit I noticed that things had shifted up a gear, with the nation's largest network operator offering cheap and widely available 3G and its closest competitor advertising a new 4G service. It is with the introduction of services like these that Iranians can more freely access app-based, location-sensitive dating services.
With Tinder, Facebook details are selectively displayed for others to swipe right to show interest or left to reject – mutual interest gets a "match", allowing for messaging and then more. Tinder has shaken off its reputation as a hook-up (read casual sex) app since going worldwide, representing itself more as a game for which users are asked if they want to "continue playing or chat" after each match is made.
For this player, Tehran's Tinder total availability tallied at 20 throughout my two-week visit. My preset London settings had only allowed me two swipes to the left before a message popped up below my profile picture telling me that there was "nobody new nearby". Realising that two kilometres – my default distance setting – doesn't cover much of Tehran's ever-expanding metropolitan area of nearly 9 million residents, I slid my profile settings wide open, 50 kilometres and 18-50 age range. With this change, I saw my profile quickly linked with, among others, Sara, 22, not her real name, which goes for others in this article. (Publication was also delayed to protect the privacy of those who may have been active.)
Sara's first profile picture showed her casually dressed, wearing a loose, white V-neck top and without a headscarf. I swiped right indicating to Tinder that I'm interested. Later that night it appeared she'd done the same as a message flashes up on my mobile informing me that we'd made a "match". Following a brief exchange of messages and numbers, we made vague plans to meet.
To set up Tinder, you need to be on Facebook, but unsurprisingly social networking sites such as Facebook and Twitter are blocked in Iran. Even with these blocks at least 4 million Iranians use Facebook, according to the government's own statistics, with the Supreme Leader – or at least his office – being an avid tweeter, boasting 122,000 Twitter followers.
A site can be blocked outright, like the BBC, or filtered for containing a suspicious word in its name, like the Sussex police website. Despite such restrictions many Iranians continue to access these sites.
Within a day of arriving in Iran, a tech-savvy friend kindly set me up with one of the more common methods used by Iranians to evade the blocking, a virtual private network, or VPN. With his local bank card he'd pulled up a local site, made a payment of about one pound for a month's access, tapped in a few setting changes on my mobile, and as far as any server is concerned, I'm back accessing the digital world from the United Kingdom. My mobile's GPS however, still recognising me as a local to Iran, lets the active Tehran-based Tinder users know I'm in the same city.
"Hey Sara, how's your weekend going so far?" I begin in English, confident that she can speak the language based on her profile warning me that she doesn't "reply to boring clichéd messages, in case you are wondering".
Fluency in English in Iran can suggest a certain status, but I use it just as much for practicality, what with my Persian being on a par with any Iranian pre-schooler. "Well so far everyday has been a weekend for me since i came back", she responds, reassuring me that she does at least respond to clichéd if not boring messages. "How's yours?"
We shoot a few messages back and forth before I invite her to meet me at a café. "Im actually dying to find some decent coffee here," she somewhat snobbishly answers, re-establishing her transient association with Iran and playing the foreign-thus-better card right back at me. I suggest a fancy new joint in a wealthy neighbourhood in the north of Tehran, a place that boasts urban-industrial chic interior design and more than 22,500 Instagram followers. She agrees, and we both round up by pretending to be busy over the coming days, leaving a vague timeframe by which we'd meet.
Then it was over to Leila, my second match, a young woman proudly wearing the Bayern Munich strip in her third profile picture. Leila seemed to be different from the average girl in Iran who likes to make an ostentatious display of herself. Leila wore little make-up and her hair seemed to be a natural colour.
"So tell me about yourself? In either language ;)" she writes.
I pick up.
A red bubble eventually pops out beside her smiling profile icon, "27, female".
"27 and female!" I respond, not typing out how I'm figuratively ROFLing - rolling on the floor laughing.
I remind myself that she is female by looking once again at her profile pictures and notice that she's made a little update between my exchanges with Sara. "I like the new pictures", I tell her, referencing her cute smile. "Thanks fer the compliment", she says. "U have great headshape".
I tell her that I've not had that one before. "I had to come up with st", she says.
Leila tells me she Is between jobs. "So you have time to meet during the day to go for coffee?" I ask.
"I'm hesitant," she says. I ask why.
"Bad memories…Bad experiences with tourists slash visitors."
In an attempt to reassure her I send a link to some of my writing online, to which she types out a smiling smiley and adds, "trust building?"
After some additional reassurance from me she writes, "…then no superior gaze?"
"Haha! That's funny," I respond.
"To you maybe :D" she writes back, before feeling comfortable enough to suggest we go for a stroll in the park in the coming days. And with that, like Sara before her, she leaves the specifics for later.
Several other unspecified plans chop and change during an afternoon as I take myself to Tehran's newly developed and hugely popular recreational area, known as the Park of Water and Fire. The park displays both of the elements, and also provides a massive dose of polluted air up top the adjoining double decker bridge that oversees the city, as well as a hideous highway. I take myself to the large skate park at the far end hoping to take shots of the skater girls and biker boys flipping their inline skates, skateboards, and adapted mountain bikes.
As the sun sets and the temperature drops from cold to unbearable, I pick up the conversation with Sara in a WhatsApp message and ask her to join me at a nearby popular food court named Wooden Road – a series of international restaurants separated by little bridges arching over synthetic waterways. She agrees to join me there instead of our previously planned location, but lets it be known that I apparently now have terrible taste in venues.
We meet, take a seat, order and get straight to business. She tells me about her digital startup and her hopes for it. We discuss facts and figures about Iran and its evolving online market, noting a buzz based on a rumoured $200m budget for digital startups in Iran by a South African company. Sara is frank and direct, questioning the details as I talk about my experiences of working in Iran, reconfirming my suspicion that we're having a business meeting rather than a date. She drops authors' names and book titles before stating that she believes everything, absolutely everything, should be commodified and commercialised.
"I believe that capitalism is the answer to our problems," she confidently asserts. I accept the challenge and question her about functions of the state, more specifically about how street lighting should be paid for. She doesn't up-and-leave, but the conversation intensifies as I notice the coffee kicking in – dating is easier with an alcoholic drink or three…when a nation's laws allow it, of course.
My meet-up with Leila, date number two, took place at another nearby park, probably Tehran's strangest. It is sunk into the ground and hosts a variety of odd animals - mostly exotic birds - caged up and taunted by a frightening number of street cats. The park is situated half-way up Tehran's longest street, Vali Asr, which once bridged two of the former Shah's palaces.
This was the street where I met Leila, shook her hand and stood silenced by how tall she was. Thankfully she was stumped too.
"Hi, I don't know how to do this. What do I say now?" she asks me, avoiding eye contact.
"How are you?" I both ask and answer. She answers with another question. "Where should we go?"
I continue the game and awkwardly ask, "How'd you get so tall?" before taking the lead and guiding us through the entrance.
She continues to avoid looking in my direction, made easier by us walking beside one another, but she puts an end to the question game, and begins to open up: "My parents are doctors, quite religious I guess, but I have nothing in common with them. They find me odd."
She doesn't see my lack of surprise and continues to tell me about how she'd studied engineering and was now between jobs. I'm reminded that although Iran has the largest student gender ratio difference across the world – with more females than males studying at university – finding work thereafter is hard for women, even before international sanctions were imposed. She asks herself a few more questions and helpfully answers them too before asking me why I'm in Iran, what I do for a living as well as general questions about my confusing background.
We meander through the park, aimlessly choosing from the many paths separating banks of grass and trees, each with an adjoining bench and on each, a single cat shifting for the breaks of sunlight beaming through the trees that towered above. Our conversation was as fractured as the park layout, with mostly Leila feeding me parts of her life in patchwork. We passed a bench where an old woman sat feeding a large congress of cats, undeterred by the four men loudly commentating while playing on one of the park's fixed football tables. "Crazy cat lady," says Leila, humorously in English, causing the cats to turn to see why I'm laughing.
I ask about her experiences on Tinder in Tehran and more specifically about the "superior gaze". She tells me about her last date, also with an English man, but unlike me, fully so. I didn't fully understand what had happened, mostly due to my poor Persian, but it sounded like she had a good case for sexual harassment. She continued, telling me that she's not a prude but should her parents learn about her sexual activities she'd likely be kicked out of the house. On the other hand, she was clear that she doesn't take kindly to being treated like a sex object.
Both of my dates concluded with a simple handshake, followed by a slightly insincere "see you later," although in the case of Sara, this still remains my hope. There was however one last Tehran Tinder encounter, but upon my return to London, which can occasionally happen when jumping between locations. I matched with Mena, 27, and after a brief exchange she asked me, "Is this a business trip?"
I then realised what had happened.
"Tinder thinks I'm still in Iran. I was there on business, pleasure and seeing family," I respond to which she quickly replies, "So you're back home :)"
Returning to London and seeing profile pictures of girls in bars, drinks-in-hand or leaping into the air, star-shaped, in a bikini before a sunset, reminded me that yes, I was indeed back. Her message however, sent another reminder to me: I slide my settings back down to a more narrow two kilometre range and 26-36 and "continue playing."
Both of my Tinder dates in Tehran – although destined to be nothing more than just one-offs – were probably more successful than several of my London attempts. Tinder can be quick and callous, but this is how dating is in Iran, where the classic method of cruising here can display girls left and right, before a brief exchange that hopefully leads to a further exchange of numbers.
Although there aren't many users at the moment, I believe that Tinder is set to take off in Iran, not only because of the nation's quick adoption of most things digital but also because of the further empowerment that this type of technology enables the youth – allowing them to quite literally take things into their own hands for a change.
http://www.theguardian.com/world/iran-blog/2015/may/21/tinder-tehran-iran-dating-censorship
-----------
Two Muslim girls top Kerala Medical Entrance Exam
21 May, 2015
Kozhikode: Two Muslim girls have topped the Kerala Medical Entrance Examination, result for which were announced by P K Abdur Rabb, the Minister for Education in Thiruvananthapuram on Wednesday.
Securing 954.7826 marks, P Hiba, a resident of Manchery in Malappuram district, bagged the first rank in the examination while the second rank went to Mariam Rafi of Aluva in Ernakulum district. Mariam Rafi is daughter of Abdul Rafi and Ancy Rafi. Mariam got 944.3478 marks. Securing the two first ranks, the duo also broke into the male bastion, which has been continuing for last few years in the entrance examinations in the state.
Hiba, a daughter of late Abdulrahman Kutty and Sainaba completed her plus two education in Manjeri Government Boys Higher Secondary School. She told reporters here that she wanted to be a good doctor with social commitment and will use the opportunity to serve the society. She dedicated her victory to her late father, who dreamt about making her daughter to be a doctor. Her father Abdulrahman Kutty succumbed to cancer in 2012.
"If you are driven by stern decision towards anything, you will get for sure," she said.
Hiba is now looking to appear for the All India Entrance Examination and will decide the future plans after the result of All India Entrance Examination is out.
Hiba's sister Adila is pursuing her studies in BBA while brother is eighth class student of Manjeri Government Boys Higher Secondary School.
Mariam termed her victory as grace of Allah and help and support extended by the parents and sister. She told a local news website that she never expected such an achievement. Mariam is also preparing for the All India Medical Entrance Examination and will join All India Institute of Medical Science (AIIMS) if she is blessed with the chance.
http://twocircles.net/2015may21/1432187114.html#.VV2v89KeDGc
-------------
URL: https://newageislam.com/islam-women-feminism/isis-sending-prettiest-virgins-become/d/103078