New Age Islam News Bureau
18 Sept 2015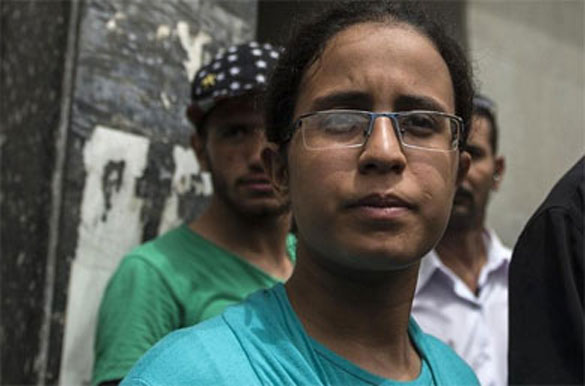 A file picture taken in Cairo on September 8, 2015, shows Egyptian student Mariam Malak, 19, leaving the Forensic Medical Authority headquarters (AFP)
• Egypt's 'Zero Schoolgirl' Demands Independent Probe
• Queen Rania Receives Walther Rathenau Prize
• Islamic Terrorist Shot Dead After Berlin Attack on Policewoman
• Obama Invites Pro-Abortion Nun, a Gay Bishop, and A Transgender Female to Meet the Pope
Compiled by New Age Islam News Bureau
URL: https://newageislam.com/islam-women-feminism/isis-recruit-child-soldiers,-force/d/104633
------------
ISIS recruit child soldiers, force marriages on young women in Afghanistan
Sep 17 2015
The loyalists of the Islamic State of Iraq and Syria (ISIS) terrorist group are recruiting child soldiers and force marriages on young women and girls in eastern Nangarhar province of Afghanistan, it has been reported.
According to the local tribal elders the affiliates of the terror group have also executed hundreds of people including civilians amid ongoing violence in parts of Nangarhar province where brutal clash also continue between the ISIS and Taliban militants.
Haji Azim Khan, a tribal elder in Achin district, said the terror group has also started forced recruitment of young men and children to fight for the group.
The ISIS loyalists were also going from house to house to identify young women and girls and forcing marriages on them, Khan told The Telegraph, adding that anyone who had previously worked with the government was considered a spy and had been executed.
Frustrated with the growing atrocities of the terror group, the district governor of Achin has called for a public uprising against the loyalists of the terror group.
"Everyone who has a gun, a sword, anything, should fight these cruel people," Muhahid said, warning that the district was badly suffering due to the growing insurgency activities of the terror group.
This comes as the Speaker of the Upper House of the Parliament – Meshrano Jirga, Fazal Hdi Muslimyar called on First Vice President Gen. Abdul Rashid Dostumto lead an operation against the loyalists of the terror group in eastern Nangarhar province, similarly as he led operations in northern provinces.
Speaking during a session of Meshrano Jirga on Sunday, Muslimyar expressed concerns regarding the deteriorating security situation of Nangarhar and growing activities by Daesh affiliates in this province.
Criticizing the government's lack of attention on deteriorating situation of Nangarhar, Muslimyar called for an immediate action to rescue the residents of this province.
http://www.khaama.com/isis-recruit-child-soldiers-force-marriages-on-young-women-in-afghanistan-1526
------------
Egypt's 'Zero Schoolgirl' Demands Independent Probe
18 September 2015
The lawyer for Mariam Malak – a schoolgirl who became an anti-corruption icon in Egypt after receiving a zero grade on her final high school exams – called for an independent probe into her case at a press conference Thursday.
Malak, 19, gained media attention after surprisingly failing her final exams although she had scored 97 percent in her previous two years.
The pupil claims her exam papers were replaced with someone else's and that the handwriting on the papers is not hers.
Egypt's prosecution ruled the handwriting was indeed hers.
Speaking at a press conference Thursday, Malak said the prosecution's investigation had not delivered her "rights."
Malak's lawyers said her exam answers had been switched, possibly with those of another student who was not doing well and could be the child of an influential person.
Al Arabiya News spoke to Malak's brother, who said his family is urging President Abdel Fattah el-Sisi to swiftly intervene in his sister's case.
"We call on the president to swiftly intervene and to allocate an independent panel of experts [to look into the case]," Mina said.
"The handwriting attributed to Mariam is drastically different from hers," Mina said.
"People are convinced that she is a victim."
Mariam has met former Prime Minister Ibrahim Mahlab amid a nationwide campaign calling for a probe into her results.
Egyptian student Mariam Malak (C), 19, talks to the press outside the syndicate of journalists in the capital Cairo on September 17, 2015. (AFP)
Hoping to study medicine like her two older brothers, Mariam has the chance to continue her tuition abroad.
"She received a couple of scholarship offers to study abroad…She has not rejected, any but no decisions will be made at this stage," he said.
Mina said it was still essential to prove that his sister was a victim of "corruption."
Egypt's education ministry said a handwriting test showed that the handwriting on the exam papers belonged to Mariam.
However, a handwriting test performed by Mariam on Egyptian television which showed that her handwriting was remarkably different.
http://english.alarabiya.net/en/News/middle-east/2015/09/18/Egypt-s-zero-schoolgirl-demands-independent-probe.html
------------
Queen Rania receives Walther Rathenau Prize
Sep 18,2015
AMMAN — Her Majesty Queen Rania on Thursday received the Walther Rathenau Prize in recognition of her work as an outstanding advocate for peace and understanding between East and West.
She was presented the award by German Chancellor Angela Merkel, and dedicated it to the people of Jordan, Her Majersty's office said in a statement.
The ceremony was held at the Federal Foreign Office in Berlin, and was attended by over 400 influential figures in politics, media, civil society and business.
"I am humbled to accept this prize. And I do so on behalf of the people of Jordan who, everyday, through their words and actions, demonstrate the values that defined the life of Walther Rathenau, values such as courage and compassion, equality and understanding, tolerance and mutual respect. In other words, basic human decency," she said in her acceptance speech at the ceremony.
The Queen conveyed the pressing need for empathy and compassion, or "basic human decency", to awaken on a global level in response to the growing crisis of refugees and unnecessary suffering that prevails around the world today.
Queen Rania voiced appreciation of the people of Germany's humanitarian contributions and relief efforts for those in need, particularly Syrian refugees.
"The people of Germany are imaging what the refugees have endured and what they have lost."
She underlined the ability and power of imagination, combined with the willingness to understand the exhaustion, anxiety, and bewilderment that refugees might feel following their perilous journeys, to rally one's instinct to help.
Her Majesty also described the considerable effort that Jordan has committed to, receiving 1.4 million Syrians in Jordan, amounting to 20 per cent of the population. Queen Rania recognised that, in addition to asylum and access to services like health and education, stood the individual acts of generosity, pointing to the "countless acts of kindness" that have been a part of the response.
All this, Her Majesty insisted, "despite the fact, that we're burdened by poverty and unemployment." She noted, "We do our best with what we have. And I could not be more proud of the selflessness and kindness of Jordanians."
Queen Rania called for a more empathetic "global family" in the speech.
"Without compassion, we weaken the very foundations of our common humanity," and pointing to the hyper-connectivity of our globalised world, she maintained that "basic human decency is the strongest currency our global family has."
After conveying the values that underpin global citizenship, Her Majesty continued to highlight the forces working against these ideals, among them, destructive and misleading language like the words used in headlines, hashtags, and sound bites that run through social media.
The interchangeability of "migrant" and "refugee" was one example of this violation that does not differentiate between the migrant's agency and the refugee's powerlessness, she noted.
Referring to refugees, "They are entitled, under international law" Queen Rania reminded her audience, "to protection and asylum. To justice and dignity".
In the same way, she continued, the misuse and false matching of "Muslim" and "extremist" have caused similar and even vilified misunderstandings —"One is a follower of Islam", she said, "my beloved religion of peace, compassion and understanding". The other, "irreligious, evil and has no regard for the sanctity of human life."
Referring to the current debate on refugees, Queen Rania added, "Rather than evoke an unprecedented tide of human kindness, some segments of society have, instead, unleashed a new and ugly lexicon in our newsfeeds."
Her Majesty highlighted the power of language to influence the thoughts, actions and prejudices of people; and in that way, its ability to sometimes fuel suspicion, intolerance and fear, build walls and feed into "a downward spiral of mistrust and miscommunication."
Instead of being limited by labels, Queen Rania encouraged her audience to "look beyond" them, beyond names, and beyond stereotypes, and discover the basic humanity that joins people and unites them in their common needs and aspirations.
"Let it remind us that no matter where we come from… how we dress... or what language we speak, who we worship or how we got here, that, in the end, we share the same dreams and want the same things."
To find a sustainable solution to the problem, Queen Rania said that it must also be viewed from the vantage point of Europeans and stressed that much of the unfortunate reactions that have emerged towards refugees find their roots "not out of malice but out of fear of the unknown." Here, Queen Rania said, is where much work remains to be done to dislodge prejudice and, using language and actions based in basic human decency, approach the crisis as an opportunity for the global community to forge a greater collective response.
"Today, we face a crisis of exceptional magnitude. One that demands exceptional solutions."
These solutions, Queen Rania maintained, require creativity, expanded vision, and open hearts. Building on that foundation, "Let us all imagine a sustainable solution to the crisis we face today," she said.
The Walther Rathenau Prize has been presented annually since 2008 to honor outstanding personalities who have made remarkable contributions to international politics and dialogue. It commemorates a foreign minister of Germany who was killed by opposition who rejected his foreign policy of reconciliation.
While presenting the prize to Her Majesty, Chancellor Merkel called Her Majesty a "bridge builder", highlighting her work in building bridges between cultures and describing her as a shining role model who deserves worldwide recognition.
The Chancellor continued to say that Her Majesty's work encourages dialogue, empowers women, reforms education, protects children, and empowers and prepares youth for the labour market.
Chancellor Merkel, also, praised Jordan's humanitarian efforts in addressing the refugee crisis and described Jordan as a safe haven and a sanctuary in an unstable region.
Earlier at the ceremony, Werner Hoyer, Chairman of the Walther Rathenau Institute, also said that he was honoured to welcome Her Majesty, who raised her voice courageously above cultural boundaries and advocated for better education and for tolerance, especially for the young generation, and her voice is internationally heard.
Prior to the ceremony, Queen Rania had also met with Gerd Müller, German minister of economic cooperation and development, and discussed with him areas of cooperation between the two nations.
During her stay in Berlin, Her Majesty attended part of the G7 Forum for Dialogue with Women from politics, business and civil society, hosted by Chancellor Merkel, to discuss the empowerment of women and girls worldwide. The Queen also visited Fab Lab Berlin, an open digital fabrication studio that seeks to train the public on machine-related skills, linking craft-making with technology.
http://www.jordantimes.com/news/local/queen-rania-receives-walther-rathenau-prize
------------
Islamic terrorist shot dead after Berlin attack on policewoman
By Justin Huggler
17 Sep 2015
A known Islamic extremist has been shot dead by police in Berlin after he stabbed and seriously wounded a woman officer in an apparent terror attack.
The assailant has been identified as Rafik Y., a 41-year-old Iraqi citizen who had already served a prison sentence in Germany for his part in a 2004 terror plot.
Police were called to Berlin's Spandau district on Thursday morning after concerned members of the public reported a "madman with a knife" in the area.
Rafik Y. attacked a woman police officer as she got out of her patrol car, stabbing her in the neck just above the top of her protective vest.
Police officers sweep the area for evidence in Berlin, Germany
Police officers sweep the area for evidence in Berlin, Germany Photo: EPA
The woman officer's partner immediately drew his gun and shot Rafik Y. four times.
The woman police officer, who has not been named, was rushed to emergency surgery and was said to be out of danger on Thursday evening.
As well as the wound to her neck, she was also hit in the kidney by a stray bullet.
Four more patrol cars quickly arrived on the scene and at least one other police officer is believed to have opened fire.
File photo: Rafik Y arriving to the multipurpose hall of the higher regional court back in 2008 was sentenced to eight years of imprisonment after a planned attack on former Iraqi PM as member of the islamist group Ansar-al-Islam
File photo: Rafik Y arriving to the multipurpose hall of the higher regional court back in 2008 was sentenced to eight years of imprisonment after a planned attack on former Iraqi PM as member of the islamist group Ansar-al-Islam Photo: EPA
Paramedics attempted to resucitate Rafik Y. at the scene but he died in an ambulance on his way to hospital.
He was one of three men found guilty of a plot to assassinate the former Iraqi prime minister Iyad Allawi during a visit to Berlin in 2004.
The three were also convicted of membership of Ansar al-Islam, a jihadist group established in Iraqi Kurdistan with links to Al-Qaeda.
Rafik Y. was sentenced to eight years for his part in the plot at the 2008 trial. He was released early in 2013 but electronically tagged and allowed to remain in Germany.
Traces marked by chalk circles after a fatal shooting that occurred on the sidewalk of a street in Berlin, Germany
Traces marked by chalk circles after a fatal shooting that occurred on the sidewalk of a street in Berlin, Germany Photo: EPA
Bild newspaper claimed the electronic tag had only been removed from his leg hours before the attack on Thursday morning.
For several hours after the incident, police were treating it as a random act of violence by a mentally disturbed man.
It was only after Rafik Y. was identified in the late afternoon that it became clear that it was a terror attack
"The person killed is an Iraqi citizen known to us who was convicted in 2008 of membership in a foreign terrorist organisation and sentenced to eight years imprisonment," Dirk Feuerberg, Berlin's chief prosecutor, said in a statement.
Rafik Y. reportedly threatened police officers and a judge at a hearing after his release in 2013.
Until now, Berlin has not seen major Islamic terror attacks such as the 7/7 Tube bombings in London or the Charlie-Hebdo shootings in Paris.
The incident is likely to add to tensions over the influx of tens of thousands of Syrian refugees into Germany.
http://www.telegraph.co.uk/news/worldnews/europe/germany/11872727/Islamic-terrorist-shot-dead-after-Berlin-attack-on-policewoman.html
------------
Obama invites pro-abortion nun, a gay bishop, and a transgender female to meet the pope
By Rick Moran
September 17, 2015
President Obama and Pope Francis may be sympatico on climate change, capitalism, and other far-left issues, but when it comes to the teachings of the Catholic Church, they don't agree on much.
The president will put this to the test, because he has invited a pro-abortion nun, a gay bishop, and a transgender female to the White House to meet the pontiff.
Pope Francis has shown himself to be tolerant, but isn't this a slap in the face to so publicly challenge Catholic doctrine?
Breitbart:
President Obama will apparently test just how far Pope Francis' notorious tolerance will go by inviting a rogue's gallery of people opposed to Catholic teaching to greet the pontiff at the White House during his visit next week.
In a stunning show of political indecorum, Obama has invited a series of individuals who publicly flout Catholic teaching, including a pro-abortion religious sister, a transgender woman and the first openly gay Episcopal bishop, along with at least two Catholic gay activists.
The White House was illuminated in gay pride colors on June 26, 2015, after the Supreme Court legalized gay same-sex marriage.
One of the invitees, retired Episcopal bishop Gene Robinson, made history by becoming the first openly gay episcopal bishop in 2003 and subsequently the first to divorce his gay partner in 2014, after having previously separated from his wife of 14 years. He has attended a number of religious events with the Obama administration, offering a prayer at President Obama's inauguration in 2009 and taking part in the 2014 National Prayer Breakfast.
Mateo Williamson, a cross-dressing woman and former co-chairman of the Transgender Caucus for Dignity USA, has also received an invitation to the White House for Pope Francis' visit. Williamson says that though she now thinks of herself as a man, she continues to be attracted to males. "Today I identify as a gay man and before that was difficult to understand because I thought that in order to be transgender, in order to be a transgender male that I had to be attracted to females but I never have throughout my entire life."
Though Pope Francis has said that he doesn't believe in judging persons and is ready to welcome anyone in Christ's name, he has also said that Catholics do not accept the modern mentality of transgenderism and once said that gay marriage is the devil's "attempt to destroy God's plan."
I want to see him try this with the next Muslim cleric who comes to the White House. Maybe he can invite gay and transgender Muslim apostates when he meets Supreme Leader Ayatollah Khamenei of Iran. That will go over big, I imagine.
This is inexplicably boorish. Is he trying to show up the pope and the Catholic Church? Francis, an experienced diplomat, will graciously accept the slight, but anyone who thinks these invites aren't an insult doesn't know anything about the Church and its teachings.
Tolerant or no – and this is a pope that leads by example – Francis has been firm on Church teachings regarding gay marriage, transgenderism, and abortion. To throw those doctrines back in his face makes the U.S. president look small and petty.
http://www.americanthinker.com/blog/2015/09/obama_invites_3_catholic_renegades_to_meet_the_pope.html
------------
URL: https://newageislam.com/islam-women-feminism/isis-recruit-child-soldiers,-force/d/104633