New Age Islam News Bureau
23 Jan 2015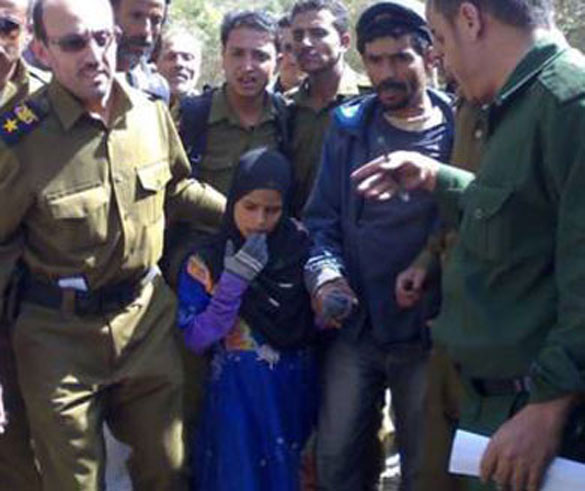 The Yemeni minor girl who was about to get married ;the girl with the police. Photos by Yasser Ubbad /Gulf News Archive
--------------
• Egypt's First Female Referee Tells Ahram Online Her Job Easier Than Men's
• Minimum Age Set For Marriage in Yemen
• Detroit Muslim Woman Says Police Made Her Remove Islamic Scarf
• 'Kenji Is Not an Enemy of Islam': Japan Hostage Mother
• Female Employment: Saudi Kingdom Still Has Miles to Go
• ECOWAS women affairs ministers seek end to terrorists' abduction of girls
Compiled by New Age Islam News Bureau
URL: https://newageislam.com/islam-women-feminism/isis-pamphlet-sex-with-female/d/101176
-----------
ISIS Pamphlet on Sex with Female Captives Shows Abuse of Quranic Verses
23 Jan, 2015
Everything anyone might want to know about the Islamic State (Isis) is a few keyboard strokes away on the Internet. From its fighters' daily activities, recipes cooked by the militants' wives, to the terror network's bigger agenda in forming a new caliphate across the Middle East.
Isis has savvy strategists who look after their online propaganda, and this includes producing content to convince others to take up their cause.
One of their recent productions is a pamphlet with Quranic verses on female slaves that they have manipulated and used to their benefit.
"Isis is well structured but the two main departments that they focus on are the online team and their (physical) armies. They are strong because they know how to get through to the masses using the social media and online media. They know where to find people who would submit to their beliefs," said a source working in counter-terrorism.
Intelligence officials said Isis recently published a pamphlet which was shared through one of its Twitter accounts in November.
The hardcopy version is printed by its publishing house, the Al-Himma Library, and is titled Su'al wa-Jawab fi al-Sabi wa-Riqab, or Questions and Answers on Taking Captives and Slaves.
In the pamphlet, certain Quranic verses are used to justify the acts of taking slaves for sex and having sex with underage girls.
Using the question-and-answer format, one of the questions in the pamphlet asks: "Is it permissible to have intercourse with a female captive?"
In the answer, it says this is permissible and cites: "Allah the almighty said: '(Successful are the believers) who guard their chastity, except from their wives (or the captives and slaves) that their right hands possess, for then they are free from blame (Quran 23:5-6)'..."
"Quranic verses are being manipulated over and over again to show that their actions are permissible, (it is) the same with killing non-Muslims and that it was not a sin to kill them," said the source.
The verses, read in isolation, lead many to believe in Isis cruelty when the Quran should be read as a whole to understand its context, the source added.
"They came up with their own holy book using Quranic verses to convince people. Those who lack knowledge and are seeking guidance can be easily influenced.
"One verse is linked to another so one should read as a whole. This is the problem with those seeking guidance but are not reading correctly," he said.
Another problem, however, is that propaganda material, like the pamphlet, is easily available online.
So far, Malaysian police have yet to confiscate any such material in printed form from Malaysians arrested for their links with Isis. It is learnt that the items seized have mainly been flags and small items.
To date, 67 Malaysians are known to have gone to Syria and Iraq, Home Minister Datuk Seri Ahmad Zahid Hamidi was reported as saying recently.
Another 120 people are in police custody for suspected Isis links or for being sympathisers, he had also said.
The Malaysians fighting alongside Isis forces in the Middle East were influenced to take up the struggle via social media, intelligence sources had said previously.
Five, so far, have been killed in fighting there.
Some, like former Kedah PAS Youth information chief Lotfi Ariffin who was killed in Syria, had not only posted about their activities with the militants on Facebook, but had issued call-to-action messages, too.
On November 26, Parliament approved the White Paper on combating the threat posed by Isis, with a promise to enact a new law to help prevent such threats in future, Bernama had reported.
Zahid had said that the proposed Anti-Terrorism Act would stress on prevention.
http://www.themalaysianinsider.com/malaysia/article/isis-pamphlet-on-sex-with-female-captives-shows-abuse-of-quranic-verses#sthash.s3I2s9Ff.dpuf
-----------
Egypt's First Female Referee Tells Ahram Online Her Job Easier Than Men's
23 Jan, 2015
The occasional off-ball ranting and angry outbursts in Egyptian football could notably decline should female referees take charge of matches; Sara Samir said after a picture of her firmly brandishing a yellow card to a male player went viral on social media.
Egypt's first female referee Samir is hoping she can alter a tradition of exclusively assigning football matches to male officials, saying she had faced no difficulties in climbing up the refereeing ladder in the conservative country.
"I believe that it will be a very good idea if more female referees take charge of men's football matches. Players become highly disciplined when I take charge of any match in the lower divisions," Samir said in a phone interview with Ahram Online.
"We are in an eastern society where men usually refrain from obscenities in the presence of women. For instance, in the fourth division players usually hurl a barrage of insults but when I refereed some matches in that tier, I found nothing but respect."
Samir, who started her refereeing career in 2007, mainly officiates lower-division matches as well as youth games, but she seems on course to break into the elite Premier League.
Ahly's left-back Hussein El-Sayed made headlines for the wrong reasons when he appeared to spit at the referee during his side's 1-1 draw with Petrojet on Tuesday, a scene that might vanish should Samir and her fellow female referees take a more prominent role.
No problems
"My family did not have any objections over my job. They know that I'm aware of what would benefit me in my career," Samir added.
"On the official level, everyone was also supportive. Many ordinary people also phoned me to congratulate me and wish me luck."
Samir has her eyes set on a place among the Premier League referees. Her ultimate and long-term aim though is to take charge of World Cup matches, a feat last achieved by Essam Abdel-Fattah, who is the current refereeing chief, at the 2006 World Cup.
"I want to take part in more than World Cup. I'm still young, I have a chance to do so," she enthusiastically said.
http://english.ahram.org.eg/NewsContent/6/51/120922/Sports/Egyptian-Football/Egypts-first-female-referee-tells-Ahram-Online-her.aspx
-----------
Minimum age set for marriage in Yemen
23 Jan, 2015
Sana'a: Yemen has taken an important step towards tackling child marriage in the country by incorporating a sentence in the new constitution fixing minimum marriage age at 18.
For years, human right activists have been lobbying for issuing a law establishing 18 as minimum marriage age to curb the common practice of underage marriage in the poor country.
Under the new constitution, article 124 of the second chapter says minimum marriage age is fixed at 18.
Olfat Al Doubai, a member of constitution-drafting panel, told Gulf News that there was a short argument between the panel members while they formulated the article.
AdTech Ad
"The argument ended when the members realised that fixing the marriage age was one of the outcomes of National Dialogue Conference." she said.
When the National Dialogue Conference began in 2013 after the departure of the former president Ali Abdullah Saleh, activists pressured the participants to include a fixed marriage age, despite opposition from some Islamists who see minimum marriage age as a violation of Islamic law.
Child marriage has become a widely-debated issue in Yemen in the last three years after local and international media reported on girls as young as ten years old getting married. Some of those girls reportedly died either on the wedding night or while giving birth. Some of these cases occurred in the northern province of Hajja.
Yahya Kodiesh, a journalist from Hajja said, "Child marriage is widespread in Hajja. I have recorded many cases of girls getting married at the age of 10 to 15," he said.
Kodiesh says social norms as well as poverty are the main driving factors behind child marriage.
The new draft constitution has yet to be approved by the powerful Al Houthi movement which over the past week held the government hostage demanding larger representation in the government. However, the movement has not shown any opposition to setting a minimum age for marriage.
http://gulfnews.com/news/gulf/yemen/minimum-age-set-for-marriage-in-yemen-1.1445215
-----------
Detroit Muslim Woman Says Police Made Her Remove Islamic Scarf
23 Jan, 2015
A Muslim woman filed a lawsuit Thursday accusing Dearborn Heights police of violating her constitutional rights by making her remove her Islamic headscarf after they arrested her for driving on a suspended license.
The lawsuit, filed in federal court in Detroit, asks for Dearborn Heights to "modify its current policy" so that Muslim women can wear Islamic headscarves during booking procedures.
Malak Kazan of Dearborn Heights was pulled over by police in July on a traffic violation and then taken into custody on a traffic misdemeanour because of her suspended license, according to the lawsuit. The male police officer then asked Kazan to remove her headscarf to take her booking photo, which usually requires no head coverings or hats.
Kazan objected, saying her Islamic faith required her to cover her hair and neck in the presence of men who are not part of her immediate family, the lawsuit said.
For Kazan, "wearing a headscarf is a reminder of her faith, the importance of modesty in her religion ... as well as a symbol of her own control over who may see the more intimate parts of her body," the lawsuit said. "To have her hair and neck uncovered in public ... is ... deeply humiliating, violating, and defiling experience."
Kazan said she asked to have a female officer take her photo, which he refused to do, said the lawsuit. The officer talked to a supervisor, who told him to proceed as usual.
The lawsuit says that wearing hijab is rooted in Islam, "based on...the Koran, the primary holy book of the Muslim religion; the hadith, oral traditions coming from the era of the Prophet Mohamed. ... The word hijab comes from the Arabic word 'hajaba,' which means to hide or screen from view or to cover."
The lawsuit was filed against the city of Dearborn Heights, its police department and police chief, saying that Kazan's constitutional rights to free expression of religion were violated. It claims the First, Fourth and 14th amendments were violated.
Dearborn Heights Mayor Dan Paletko and Dearborn Heights Police Chief Lee Gavin did not return calls and messages seeking comment on the lawsuit.
The lawsuit is the latest filed in recent months involving Arab-American Muslim residents in Dearborn Heights who say that police and school officials are being biased toward them. Last year, the Crestwood School District in Dearborn Heights reached a settlement with the Department of Justice over concerns it discriminated against Arab Americans.
http://www.freep.com/story/news/local/michigan/wayne/2015/01/22/muslim-woman-sues-dearborn-heights-police-hijab-removal/22189017/
-----------
'Kenji is not an enemy of Islam': Japan hostage mother
23 Jan, 2015
The distraught mother of one of two Japanese men being held by Islamist militants pleaded for his release Friday and urged Tokyo to pay a $200 million ransom hours before a deadline expires.
A sobbing Junko Ishido told foreign journalists her son was a humanitarian who worked to better the lives of children.
"I say to you people of the Islamic State, Kenji (Goto) is not your enemy. Please release him," she said.
"Kenji was always saying 'I hope to save lives of children on battlefields'. He was reporting war from a neutral position."
The Islamic State movement has threatened to kill her son, a respected freelance journalist, and Haruna Yukawa, a self-employed contractor, whom they have been holding since last year, if the Japanese government does not pay the ransom.
The group released a video earlier this week in which Goto and Yukawa apparently knelt in a desert as a British-accented man loomed over them brandishing a knife.
"You now have 72 hours to pressure your government into making a wise decision by paying the $200 million to save the lives of your citizens," he said.
Tokyo believes the deadline will expire at 2:50 pm (0550 GMT) on Friday.
"I've been sobbing for the last three days, feeling very sad," Ishido said. "It is impossible to describe this feeling."
Asked if Ishido wants the Japanese government to pay the ransom, she replied: "Yes, I very much hope so.
"Japan has maintained a friendly relationship with Islamic nations.
"The time remaining is scarce. I beg you Japanese government officials, please save Kenji's life."
http://www.al-monitor.com/pulse/contents/afp/2015/01/japan-syria-iraq-conflict-hostage-mother.html#ixzz3Pav3IDK9
-----------
Female Employment: Saudi Kingdom Still Has Miles to Go
23 Jan, 2015
Saudi Arabia still lags behind its GCC counterparts in women employment despite a slight increase in the rate to 18.2%, which is much less than that of Qatar, which holds the first position among the six-member group with 50.8%, followed by the UAE 46.6%, Kuwait 43.4 percent, Bahrain 39.4% and Oman 28.6%.
A study prepared by Khadija bint Khuwailed Center at the Jeddah Chamber of Commerce and Industry in Jeddah confirmed that Saudi Arabia is seeing continuous improvement in the participation of women in the nation building process. Positive outcomes included improved education and foreign scholarship opportunities for women, as well as supportive government policies that involve women in the process of economic development. All of these factors have contributed to promoting women's in leadership positions and family businesses.
With regard to family businesses, the study indicated that many family companies in the Gulf would see the handing of their management to third generation of these families over the next five to 10 years. It also presents an opportunity for these businesses to benefit from the skills provided by female members.
Commenting on the results of the study, Basma Mosleh Omair, executive director of the Khadija bint Khuwailed Center, said: "Due to the attention of the GCC states to the economic role of women, a supportive environment has been created in which the family businesses are benefiting form the contribution of female members."
Omair pointed to a number of trends that have contributed to the increasing leadership roles of women over the past two decades, including changes in social conditions, a higher average age of marriage, as well as greater efforts by women to acquire the necessary skills to take on wider and more diverse roles in the business field.
As for challenges facing women's participation in the family businesses, the study revealed the ongoing cultural concepts about female roles, gaps between necessary skills and education level, and the lack of interest or poor motivation by women to participate in the family businesses.
These challenges are described as demonstrative of the importance for women to develop their skills to compete with male counterparts.
Despite important steps achieved by GCC states in the context of women's education, female participation in the labor force still remains lower than rates in developed countries, where the average rate of participation among Gulf women is about 30%, compared to 70-80% within most OECD countries.
http://www.arabnews.com/featured/news/693711
-----------
ECOWAS women affairs ministers seek end to terrorists' abduction of girls
23 Jan, 2014
MINISTERS in charge of women, children and social issues in member states of the Economic Community of West African States (ECOWAS), have called for an end to the abduction of women and girls by the terrorist group, Boko Haram.
The call is part of resolution reached by the ministers at the end of a two-day meeting held in Dakar, Senegal where three fundamental documents on gender issues were adopted for implementation at all levels of regional intervention.
A statement issued by the ECOWAS Commission in Abuja, named the documents as the Draft Supplementary Act on Equality of Rights between Women and Men for Sustainable Development within the ECOWAS Region, the Draft ECOWAS Plan of Action on Gender and Trade, and the Draft ECOWAS Gender and Migration Framework and Plan of Action.
The ministers unanimously adopted a declaration on the abduction of the 200 Chibok girls and other persons, mainly women and children, carried out in northern Nigeria by insurgents, and demanded their immediate and unconditional release.
The abductions were condemned and described as criminal. The ECOWAS gender ministers also condemned the recruitment of young girls to carry out suicide attacks, bombings, burning of villages and destruction of infrastructure in northern Nigeria by Boko Haram.
Among other issues raised at the meeting was the need for women to have access to credit, for those of them in livestock farming and fishery. Attention was also drawn to the need for the implementation of the ECOWAS Gender Policy.
The Draft Supplementary Act on Equality of Rights between Women and Men for Sustainable Development within the ECOWAS Region was adopted subject to certain amendments. The meeting agreed to have the finalized document transmitted to the ministers of gender before onward presentation to the ECOWAS Council of Ministers.
The Draft ECOWAS Plan of Action on Gender and Trade was also adopted subject to the inclusion of certain points on animal products and fishery, while the Draft ECOWAS Gender and Migration Framework and Plan of Action was adopted without reservation.
The ministerial meeting also considered several other documents such as the Accra Declaration on Social Protection, the situation of the 200 school girls abducted in Chibok, northern Nigeria in April 2014 by the Boko Haram terrorist group, implementation of the ECOWAS Gender Policy, report on the Gender situation in West Africa in 2014 and the response to the Ebola virus epidemic in the region.
The report on the gender situation in West Africa was adopted subject to consideration of observations made by the participants. Member states were however asked to update their data on gender and transmit to the ECOWAS Gender Development Centre based in Dakar, so that current realities can be reflected.
With respect to the Ebola virus disease in the region, the meeting while commending measures taken by the ECOWAS to halt the spread of the disease, recommended among other things, the setting up of a fund for managing diseases (post epidemic period) as well as the conduct of a study on gender and Ebola in West Africa to encourage government funding.
Meanwhile, indications have emerged from the presidency that pledges made by individuals and some committee to support victims affected by insurgency in the North East are yet to be redeemed.
Specifically it was learnt that committees including the Oil and Gas and Bankers Committee, among some private individuals who made donations during the dinner held at the presidential villa to raise fund for the Internally Displaced Persons, are yet to come up with their pledges.
It was learnt that Gen. T.Y Danjuma who is the president of the committee has only redeemed N10million of the $10million that was pledged during the dinner.
http://www.ngrguardiannews.com/news/national-news/194974-ecowas-women-affairs-ministers-seek-end-to-terrorists-abduction-of-girls#sthash.Ddm1FprW.dpuf
-----------
URL: https://newageislam.com/islam-women-feminism/isis-pamphlet-sex-with-female/d/101176