New Age Islam News Bureau
16 Oct 2015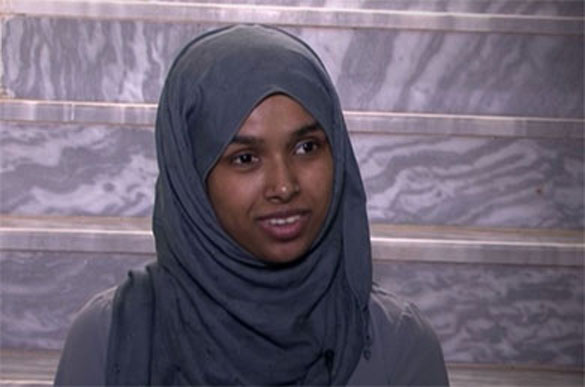 A British mother, Shukee Begum, who took her five children to Syria (Picture: Youtube/Channel 4)
-----------
• ISIS 'Not My Cup of Tea', British Muslim Woman Who Fled To Syria Says
• Aseefa Bhutto takes up SMBB Medical College issue with CM
• Inside the Outlawed Group of Muslim Women Patrolling the Temple Mount
• Jewish-Muslim Women's Network Is Launched With UK Government Support
• Female Emirati F16 Pilot Conferred Prestigious Award
• Why Are 'Ladies First' In Saudi Arabia?
• Hard Life for Women in Daesh Strongholds
• UAE pledges $500,000 to United Nations Women
Compiled By New Age Islam News Bureau
URL: https://www.newageislam.com/islam,-women-and-feminism/new-age-islam-news-bureau/isis-'not-my-cup-of-tea',-british-muslim-woman-who-fled-to-syria-says/d/104942
----------
ISIS 'Not My Cup of Tea', British Muslim Woman Who Fled To Syria Says
Oct 15, 2015
LONDON: A 33-year-old British Muslim woman who fled to Syria with her five children has said that the dreaded Islamic State terrorist group was not her "cup of tea" and that she wanted to return home to Britain.
Shukee Begum, from Manchester, said she went into the territory held by the jihadist group, also known by its acronym ISIS, only in an attempt to convince her husband, Jamal al-Harith — a former Guantanamo Bay detainee who had joined the terror group — to return with her.
"There was a gangster kind of mentality among single women there. Violent talk — talking about war, killing. They would sit together and huddle around their laptops and watch ISIS videos together and discuss them and everything. It was just not my cup of tea," she told Channel 4 News, from somewhere in Syria.
"I would love to go back to the UK. The UK is my home. I grew up there, my friends are there, my family are there. That is where I consider to be home but I am just not sure at the moment of the track record of the current government if the UK is somewhere I can come back to and achieve justice," she said.
Explaining why she took her children aged nine, seven, five, three and 11 months to the war zone, the law graduate said she thought they would be a powerful reminder of what her husband, who joined ISIS 18 months ago, was missing.
She said: "I was seeing on the news at this point that ISIS was going from bad to worse ... So I decided that I was going to try and speak some sense into him."
"He's my husband and all of a sudden he's not there. It didn't feel like home any more. I was trying to manage school runs, things like that. I was thinking about the children's futures. Was he part of it? Will he come back? All these things go through your mind."
After she was reunited with her husband, who refused to help her leave, ISIS authorities would not allow her to go, she claims.
"This is what I want to make clear as well to other women thinking of coming into ISIS territory ... that you can't just expect to come into ISIS territory and then expect that you can just leave again easily. There is no personal autonomy there at all," Begum said.
She was smuggled out of the territory before being held captive in the city of Aleppo, and is now living somewhere close to the border with Turkey.
The circumstances of her release are unclear, although according to Channel 4 News, Syrian rebels from the Nusra Front intervened to facilitate it.
http://timesofindia.indiatimes.com/world/middle-east/ISIS-not-my-cup-of-tea-British-Muslim-woman-who-fled-to-Syria-says/articleshow/49389095.cms
----------
Pak Sc Grants Bail to Waliha Irfat Accused of Blasphemy
NASIR IQBAL
October 16th, 2015
ISLAMABAD: The Supreme Court on Thursday granted the bail plea of a woman who had been incarcerated for three-and-a-half years under blasphemy charges.
A three-judge bench, headed by Justice Mian Saqib Nisar, granted bail to Waliha Irfat – currently incarcerated at the Kot Lakhpat Jail, Lahore – with directions to submit bail bonds worth Rs25,000, on an appeal against an Aug 28 Lahore High Court verdict rejecting a similar plea.
Rights activist Asma Jahangir represented Ms Irfat before the apex court and argued that she be granted bail until the case was concluded.
Soon after the court order, Ms Jahangir told Dawn that Ms Irfat had been detained since 2012, despite the fact that under the third proviso incorporated into Section 497 of the Criminal Procedure Code (CrPC), no woman could be kept behind bars for more than six months, unless convicted.
Take a look: Rise of blasphemy charges: Saudi Arabia, Iran, Indonesia in perspective
In her petition, Ms Jahangir pleaded that her client was innocent and being a Muslim, she could not even conceive of committing such a heinous crime.
Both the complainant Abdul Manum Shah and the prosecution witness Mohammad Boota have categorically stated, in their statements as well as sworn affidavits, that they had not seen the alleged desecration themselves, the appeal argued.
Abdul Manum Shah, who was a security guard at the Punjab Housing Society in Lahore, had filed an FIR on March 3, 2012, at the Factory Area Police Station under Section 295B, which deals with desecration of the Holy Quran.
In his complaint, the security guard had stated that he saw a woman crying near the Dogar Service Station. Upon inquiry, she accused Ms Irfat of defiling the holy book.
Soon after her arrest, Ms Irfat applied for bail, which was rejected by an additional sessions judge on July 10, 2012. She then applied for post-arrest bail before the LHC, but that was withdrawn on July 31.
She then filed a second bail petition before the additional sessions judge, which was also dismissed on Sept 27, 2013. She then applied for bail a third time before the same judge, who dismissed the petition again on April 11 this year.
Finding no reprieve, she then moved the LHC, seeking bail on June 13. The bail matter was heard by four different benches and finally, on Aug 28 bail was denied.
She then moved an appeal before the Supreme Court, which was finally allowed.
Ms Irfat's appeal stated that the evidence recovered from her was planted with the connivance of another prosecution witness, due to a previous enmity. In addition, it claimed, the petitioner suffered from a mood disorder and displayed impulsive personality traits, and her treatment was not possible in prison since she needed drug treatment and psychotherapy.
Published in Dawn, October 16th, 2015
http://www.dawn.com/news/1213428/sc-grants-bail-to-woman-accused-of-blasphemy
----------
Aseefa Bhutto takes up SMBB Medical College issue with CM
October 15, 2015
KARACHI: Aseefa Bhutto Zardari held a meeting with Sindh Chief Minister Syed Qaim Ali Shah at Chief Minister's House on Thursday to discuss the issues pertaining to Shaheed Mohtarma Benazir Bhutto Medical College, Lyari and few other matters related to Health, especially anti-Polio campaign in Sindh province.
Local Government Minister Nasir Shah, Deputy Speaker Sindh Assembly Shehla Raza, Secretary Health Saeed Ahmed Mangnejo and others attended the meeting. On the occasion Chief Minister Syed Qaim Ali Shah gifted traditional Sindh Ajrak to Aseefa Bhutto Zardari.
Former UN Ambassador for Polio Eradication Aseefa Bhutto Zardari had personally visited SMBB Medical College Lyari a few days back and listened to the problems of both students and faculty. She brought up the issues of SMBB Medical College to the attention of Chief Minister and sought his intervention for improvements in the College education and facilities for the students.
During the meeting with CM Sindh Aseefa Bhutto Zardari also discussed the issues being faced by the polio workers specially their salaries and security. Need of improvement of facilities at Civil Hospital, Naushero Feroz also came up for discussion.
http://nation.com.pk/national/15-Oct-2015/aseefa-bhutto-takes-up-smbb-medical-college-issue-with-cm
----------
Inside the Outlawed Group of Muslim Women Patrolling the Temple Mount
Oct 16, 2015
Fatema Salaime says she doesn't understand why the Israeli authorities think she is being provocative when she prays, holds her Koran and calls out "Allahu Akbar" ("God is great").
"We come here, to Haram al-Sharif, to study and pray," says Salaime, referring to the holy site known to Jews as the Temple Mount and Muslims as the Noble Sanctuary. "I see the soldiers – some of them are younger than my children – and they think they have the power because they have guns. And when I hold up my Koran and say 'Allahu Akbar' to the soldiers and policemen, it is to remind them that the real power belongs to God. We must all – Israelis and Arabs – be modest, not arrogant."
Once a week, the 63-year-old retired schoolteacher takes a chartered bus from her home in the Lower Galilee and, along with other women from the region, rides for nigh-on three hours to the Al-Aqsa Mosque. There, she spends the day studying and praying, often while fasting.
Salaime is part of the Mourabitat, an organization of women who – together with a parallel men's group called the Mourabitoun – have taken it upon themselves to create an ongoing presence to protect the Al-Aqsa Mosque from what they are convinced are Israel's intentions to seize the site.
The Mourabitat and Mourabitoun were outlawed last month by the authorities, who view them as partly responsible for the recent outburst of violence on the Temple Mount. But in rare conversations with Haaretz, two Mourabitat activists insist the group is not even a formal organization and that they are motivated solely by their deep religious faith and devotion to Al-Aqsa.
The terms Mourabitat and Mourabitoun roughly translate to "defenders of the faith," and come from a phrase in the Koran that obliges every Muslim to be a defender of Islam's holy places.
----------
Jewish-Muslim Women's Network Is Launched With UK Government Support
15 October 2015
A Jewish-Muslim women's network aimed at breaking down religious and cultural barriers has been launched with government backing.
About 150 people attended the launch of Nisa–Nashim – meaning women in Arabic and Hebrew – at the Islamia Girls' school in north London on Wednesday, against the backdrop of worsening violence in Jerusalem. Melanie Dawes, the senior civil servant at the department for communities and local government, told the meeting she was "proud of the diversity in this country's communities". The government has supported the network with a £30,000 grant.
Julie Siddiqi, the Muslim co-chair of the network, told the Guardian: "The timing makes this more important, not less – it encourages and motivates us more."
Laura Marks, the Jewish co-chair, said: "Obviously there is some suspicion, especially this week when things are so awful in the Middle East. Some people will say, what's the point, but we have to try."
The network has three principal aims: to bring women from the two communities together, to promote women's leadership and be "active in wider society". Marks said: "We need to show that Jews and Muslims have more in common than that which drives us apart. Women are genuinely looking for ways to engage with one another, and reach out to do something. Nisa–Nashim gives us permission and confidence."
Among initial activities, the network has organised educational visits to mosques and synagogues, hosted kosher-Halal meals, launched a business network and is supporting programmes to help refugees.
Addressing the launch meeting, Siddiqi said current tensions and violence in Israel and the Palestinian territories meant it was "even more important for people like us to be doing what we're doing". Referring to "my Jewish sisters", she added: "The more friendships develop, the more we grow and learn together, the more I understand that those trying to divide us will not succeed."
http://www.theguardian.com/uk-news/2015/oct/15/government-supports-jewish-muslim-womens-network-with-30000-grant
----------
Female Emirati F16 Pilot Conferred Prestigious Award
October 15, 2015
Dubai: Mariam Al Mansouri, an F-16 fighter pilot of the UAE air force, yesterday received the Asia Game Changer Award at Asia Society's Game Changer Awards dinner and celebration at the United Nations (UN) Headquarters in New York.
Organisers said Al Mansouri, who is among nine honorees, is a role model for women throughout the Arab world for battling stereotypes, and terror, from the air. Al Mansouri served in the army in other capacities before starting flight training.
As a fully qualified, highly trained, combat-ready pilot and wing leader in the UAE air force, Al Mansouri was an active member of the UAE mission participating in the air strikes being conducted by the global coalition against Daesh in Syria. She received the Mohammad Bin Rashid Pride of the Emirates medal for excellence in her field.
Ambassador Lana Nusseibeh, the Permanent Representative of the UAE to the UN, attended the awards ceremony along with representatives of states, senior UN officials, and members of the diplomatic community at the UN.
Nusseibeh congratulated Al Mansouri, saying the recognition is an honour for all Emirati women.
She lauded the policy adopted by the UAE government of ensuring that women leaders were provided real opportunities for empowerment.
She noted that Al Mansouri, the first female squadron leader in the UAE air force, was an example of the role of women in a moderate, tolerant Muslim country like the UAE.
http://gulfnews.com/news/uae/society/female-emirati-f16-pilot-conferred-prestigious-award-1.1601381
----------
Why are 'ladies first' in Saudi Arabia?
Oct 16, 2015
We Saudis usually comply with rules when we are in another country and even boast about it, whereas while in the Kingdom we often break our own rules.
I was standing in a line at the reception desk of a hotel in a Gulf country. I had placed my key card in the same pocket as my cell phone and the data on the magnetic strip was erased. I wanted the receptionist to fix the problem so I could go up to my room. This had happened to me several times before and the receptionist knew why I was standing in the line. I did not even need to tell him what the problem was, I just handed over the card to him and he fixed it and gave it back to me.
While waiting, two young women jumped the line and went straight to the receptionist. They showed no respect for the people waiting. There was a Western lady standing in the line who appeared annoyed. One of the two women whispered to the other to speak English so that no one would know which country they came from. I heard them talking because I was close to them.
I thought to myself that there was no need to speak in a different language since we Saudis are the ones who invented the phrase "ladies first." We live by this rule. Our society does not let women stand in a line and allows them to go to the front so that they can get what they want and go back home to take care of their children. In fact, "ladies first" in our society is based on the notion that women belong at home and should be given priority when standing in a line, as if there was something wrong with a woman standing in a line at a government office or anywhere else.
However, the position of women in our society has changed, and today they are viewed as equals. They can go out daily, travel alone, demand their rights and are no longer viewed as weak human beings who should not leave home. Despite this change, our society is still controlled by the notion of "ladies first." This is one of our traits that has been passed down to us from previous generations and it seems that we will pass it down to the next. Saudi women are smart and they know how to take advantage of this situation. The problem arises when they believe that they have the right to receive the same treatment outside the Kingdom.
http://saudigazette.com.sa/saudi-arabia/why-are-ladies-first-in-saudi-arabia/
----------
Hard life for women in Daesh strongholds
October 14, 2015
Somewhere in Syrian territory controlled by Daesh (the self-proclaimed Islamic State of Iraq and the Levant) militants, a fighter from the Netherlands posted a cheerful photo on Twitter, showing off an Oreo cheesecake that she had made.
It was a fizzy propaganda moment that she shared with others who might be thinking about travelling to Syria to join the cause. It also had a unique twist: the cheesecake was photographed next to a grenade.
About 320 kilometres to the south, in an oven-hot refugee camp in Jordan, Rudeina, 17, said her life under Daesh in northern Syria, which she fled in April, was miserable. She said she stayed inside her house near the city of Raqqa, the Daesh capital, for more than a year, terrified that if she went outside she would be abducted and forced to marry a foreign fighter.
"They cut the internet, but we didn't even want it anymore," she said. "If we looked at the internet, we would see people living in the outside world. That made us sad. Seeing the outside world was just another sorrow."
In Daesh propaganda, life for women in the self-declared "caliphate" is filled with love, children and the joys of domestic life, such as an Oreo dessert. But the reality is often far more harsh for women who have moved there from the Arab world, Europe or the United States, according to specialists who monitor Daesh social media postings.
Those women, usually drawn by romantic notions of supporting revolutionaries and living in a state that exalts their religion, can quickly find themselves part of an institutionalised, near-assembly-line system to provide fighters with wives, sex and children. And when their husbands are killed, they are expected to celebrate their "martyrdom" and then quickly marry other fighters.
The situation is even worse for millions of women in Syria and Iraq who have found their cities and towns overtaken by Daesh, according to interviews, conducted via Skype and in person, with more than three dozen people who live in militant-held areas or have recently fled to Turkey, Jordan and government-controlled areas of Iraq.
Their accounts are impossible to verify because Daesh does not permit journalists and other independent observers to enter its territory — and it has beheaded several of them. But the accounts of the people interviewed were remarkably consistent and are similar to statements given to aid organisations and human rights workers.
"Our biggest fear was that we would be put in the women's prison," Rudeina said, sitting in the metal hut where she now lives in the Azraq refugee camp in northeastern Jordan, along with 20,000 other Syrians. Like many of those interviewed, she declined to give her last name for security reasons.
She said the militants would use any pretext to detain women: "They use the women prisoners for wives for the foreign fighters. If you go to prison, you are given away to God-only-knows-who."
Her mother, Nabiha, 42, said that happened to a neighbour's daughter, who had been jailed because her husband was a soldier in the Syrian army.
"They told her, 'Either you marry a fighter, or we will cut off your head and hang it in the square,'" Nabiha said. "So she married the fighter, and we never heard of her again."
In Daesh's ideology, a woman's place is in the home, tending to her husband and producing children. "Her creator has ruled that there was no responsibility greater for her than that of being a wife to her husband," according to "Women of the Islamic State", a manifesto issued this year by the Al Khanssaa Brigade, a women's group inside the Daesh strongholds.
The manifesto, translated into English by Charlie Winter, senior researcher at the London-based Quilliam Foundation, offers one of the most comprehensive windows to date into the treatment of women by Daesh militants.
It says that women should leave their homes only in specific circumstances, including going to study religion or to work in situations where women are strictly segregated. The manifesto rails against Western values.
Women who choose to join Daesh, whether they are foreigners or locals who believe in the militants' ideology, seem to accept or even relish their new role. Some form loving marriages and embrace a system that rejects Western ideals of fashion and beauty.
But many local women find the restrictions extreme, backward and terrifying, according to those interviewed.
The rules are especially jarring for residents of urban areas such as Raqqa and the Iraqi city of Mosul, where women have always dressed modestly but where many used to simply drape a scarf over their hair and wear jeans and sandals. These days, they must wear full-face veils and robes in public, and they can't leave their homes without a male relative.
Amina Mustafa Humaidi, 40, who fled Raqqa in May, said she used to keep her 9-year-old daughter at home because she feared the militants.
"We heard many stories of girls kidnapped off the streets by the foreign fighters," she said, sitting in her hut at the Azraq camp. "When they first arrived, they made an announcement that they were going to take a girl from every house and marry them to foreign fighters. It never happened. I think they just said that to terrify us."
But Humaidi's fear for her young daughter is justified: The "Women of the Islamic State" manifesto says girls can be married at age 9.
Daesh also has systematically made sex slaves out of thousands of women and girls from the Yazidi minority in Iraq, according to groups including Human Rights Watch and Amnesty International. The militants themselves, in the October 2014 issue of their publication "Dabiq", said that female Yazidis had been given to fighters essentially as "spoils of war".
An official Daesh document published late last year set forth guidelines for how the slaves are to be treated, stating that it is permissible to beat them and to have sex with them before they reach puberty, according to Human Rights Watch.
The parents of Kayla Mueller, an American aid worker in her 20s who was held hostage Daesh, told reporters in August that their daughter had been taken as a "wife" and repeatedly raped by Abu Bakr Al Baghdadi, the group's leader, according to accounts of a Yazidi teenager who was held with her. Mueller died while being held by Daesh, but the exact cause of her death is unclear.
Among their own members and the millions of Iraqi and Syrian women living in their conquered territory, the militants have created an elaborate social architecture to ensure a steady supply of brides and sex for fighters.
When a married foreign fighter and his children arrive in Daesh territory, they are given a house, which usually has been confiscated from local families who either have fled, been killed or forced out.
Unmarried foreign women are required to stay in a hostel, where they get food and a monthly "allowance", according to a recent report by the Institute for Strategic Dialogue in London, which studied the experiences of a dozen foreign women by tracking their social media postings.
Shiraz Maher, a researcher at the International Centre for the Study of Radicalisation and Political Violence at King's College in London, said single fighters are permitted to come to the unmarried females' hostel, meet the women and ask them to remove their veils. If the men like what they see, they can become engaged immediately. Maher said women in Daesh strongholds may have some say over whom they marry — but not much.
"There's not a long process," he said. "You meet that morning; you are engaged by evening."
Still, Maher said that with local Syrian families keeping their daughters away from the militants, there has been a shortage of available wives for foreign fighters. He said some fighters, including one from Britain, have complained on Twitter about being unable to find a spouse — a rare sign of discord in the flow of rosy propaganda from the militants.
"Some of these guys are getting really frustrated," Maher said.
A woman who calls herself Shams, a Daesh State online propagandist, described her marriage on her Tumblr account. She said she had lived as a single woman in Syria for two months after arriving in February 2014 and found single life "quite hard", so she decided to marry a fighter after meeting him twice.
She posted a picture of herself fully veiled in white, with only her eyes showing, and her husband, who is wearing a white short-sleeved shirt and a black skinny necktie. The photo is captioned: "Marriage in the land of jihad. Till martyrdom do us part."
Shams has identified herself as a 27-year-old physician from Malaysia and her husband as a Moroccan-born fighter. She posted what she called a selfie of the wedding couple: a stethoscope wrapped around an AK-47.
There is growing frustration among foreign women who come to Daesh not to marry, but to fight, which is forbidden by the militants.
We've seen a number of women who are not that happy with fact they are not allowed to fight and who are quite vocal," said Peter Neumann, director of the radicalisation institute at King's College.
Neumann said some of the complaints reflect a clash between the Western societies — mainly Europe — where these women were raised, and their new home, which is largely modelled on Islamic society from 1,400 years ago.
"They are obviously attracted to a medieval ideology, and at the same time, some of their attitudes are very Western," Neumann said.
Erin Marie Saltman, a senior researcher at the Institute for Strategic Dialogue, said the frustration among foreign women was evident from their increasingly harsh social media posts.
"There are more women now, and more Western women, and they are actually taking on the more violent voice," she said.
Saltman said many of the women also are shocked to discover that life here is filled with violence and many shortages, including of electricity and clean water — far from the paradise portrayed in propaganda.
"When you arrive in the Islamic State, it's never going to be what it says on the can," Saltman said. "You almost are forced to radicalise further to justify the journey that you made, to justify leaving your home behind."
Some women have been given a quasi-fighter role as members of female police brigades that enforce the Daesh's regulations, especially on women's dress and activities. Others have reportedly been used to help search women at checkpoints.
But according to the Daesh manifesto, women will be placed in fighting roles only if a religious fatwa is issued stating that the "situation for Muslims has become desperate".
Neumann said Daesh inevitably would start using women as suicide bombers, as Al Qaida, which gave rise to Daesh, did in Iraq. Already, there are signs that at least some women have suicide vests prepared in their homes.
According to the Institute for Strategic Dialogue report, a woman calling herself Umm Khattab wrote on Twitter in December about hearing gunshots in Raqqa and being afraid her home was about to be attacked.
She wrote that she was so worried, "I put the belt on and everything."
By definition, Daesh will nearly always be at war, as its stated aim is to establish a global "caliphate" by force. That means endless deaths of its fighters and countless young widows who will be encouraged to remarry again and again.
When a fighter is killed, his widow observes the traditional Islamic mourning period of four months and 10 days. After that, she is available to be married to another fighter.
Although many Daesh marriages seem to be purely pragmatic arrangements for producing children, Saltman said that many also involve a deep attachment between husband and wife.
"There is a romantic, escapist element for many of these women," Saltman said. "When you are younger, had their child, they are your provider. It's not the love we see in a Western teen movie, but this is an attachment to somebody. And it's a very deep love in its own way."
http://gulfnews.com/weekend-review/features/world/hard-life-for-women-in-daesh-strongholds-1.1600528
----------
UAE pledges $500,000 to United Nations Women
October 15, 2015
NEW YORK The UAE has pledged $500,000 (Dh1.83 million) to UN Women, to be utilised in countering extremism within the context of Women, Peace and Security (WPS).
The announcement was made by Ambassador Lana Zaki Nusseibeh, UAE's Permanent Representative to the UN in New York, while delivering a statement to the Security Council during the Open Debate on Women, Peace and Security.
The debate focused on addressing the challenges facing the full implementation of the WPS agenda.
In her speech, Nusseibeh welcomed the unanimous adoption of Resolution 2242 by Council members, and announced the UAE's co-sponsorship of this resolution. She said, "Now, more than ever, it is crucial that we recognise the important and necessary contributions that women make in international peace and security efforts. We know that empowering women and including their perspectives as part of inclusive peace building is essential to creating functional, just, and stable societies.
The UAE's Permanent Representative to the UN continued, "It is the UAE's core belief that it is critical to tackle the root causes of extremism before it becomes violent extremism. This requires collective international interventions to confront extremist ideology and propaganda, but at the national level, it also requires supportive policies directed towards girls' education and women's empowerment, religious tolerance, and a constitution that guarantees equal treatment and opportunity."
She pointed out that, "In the UAE, ensuring there are real opportunities for women's leadership throughout society has also been an important policy priority."
Nusseibeh underscored the UAE's National Strategy for the Advancement of Women, which was launched by Her Highness Shaikha Fatima Bint Mubarak, Chairwoman of the General Women's Union, Supreme Chairwoman of the Family Development Foundation and President of the Supreme Council for Motherhood and Childhood, in 2002, later updated for the 2015 to 2021 period. She clarified that the strategy prioritises the participation of women in the national development process in both public and private sectors, and strengthens the concept of gender equality in policies, programmes, and legislation.
Nusseibeh offered four concrete ways to achieve the full implementation of the WPS agenda. First, she called for strengthening the meaningful participation of women in achieving international peace and security, including in efforts to combat, reduce, and prevent terrorism and violent extremism. Second, she emphasised that holistic approaches to conflict prevention should aim to address the root causes and drivers of conflict and cycles of violence including violent extremism, and not just their impacts on women, men, girls, and boys. Third, she called for greater advocacy for UN System Leadership to deliver on WPS over the next decade. Lastly, she added that political will needs to translate into effective action by member states in order to move the WPS agenda forward.
Nusseibeh concluded by offering the UAE's full support to the UN in advancing this critical agenda.
http://gulfnews.com/news/uae/society/uae-pledges-500-000-to-united-nations-women-1.1601256
----------
URL: https://www.newageislam.com/islam,-women-and-feminism/new-age-islam-news-bureau/isis-'not-my-cup-of-tea',-british-muslim-woman-who-fled-to-syria-says/d/104942