New Age Islam News Bureau
14 Aug 2016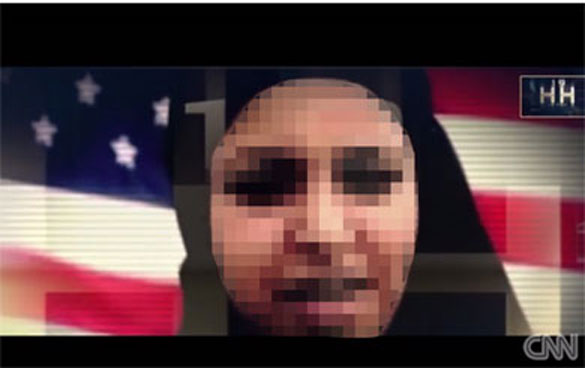 Photo: CNN video featuring Michigan Muslim womanSource: CNN/The Daily Dot
-------
• For Black Muslim students, a two-pronged fight for solidarity
• Muslim fencer who is the first US Olympian to compete while wearing a hijab wins bronze in the women's sabre
• Burkini ban: Second French Riviera resort follows Cannes as mayor says Muslim beachwear is 'unwelcome'
• CNN Used Michigan Muslim Woman's Face in Video About ISIS Recruitment — She's Not in ISIS
• Muslim, youngest-ever Swedish minister resigns over drunk drivingAida Hadzialic, 29, a former Bosnian refugee, leaves post after being caught at the wheel with proscribed level of blood alcoholBY AFP August 14, 2016, 3:53 am Tweet
• Muslim women ask Trump: #CanYouHearUsNow?
• Women in mini skirts don't become suicide bombers': Muslim president of ex-Soviet republic causes outrage with terrorism quote
• Anti-Muslim hate speech causes harm
• Mississippi woman gets 12 years on federal terrorism charge
• Muslim Peer impregnates 300 women in Pakistan Muslim Peer Baba who imgregnated over 300 women who desired sons arrested by Punjab policeMake money by sharing this news. Become a Social Blaster! THE PATRIOT. - blogspot.com Muslim women at the beach THE PATRIOT. - blogspot.com Muslim women at the beach ADVERTISEMENTS
• Don't ban the burqa, but restrict where it is worn
Compiled by New Age Islam News Bureau
URL: https://newageislam.com/islam-women-feminism/isis-jihadi-brides-encouraging-girls/d/108264
------
ISIS jihadi brides 'encouraging girls to launch UK terror attacks'
Lizzie Dearden | The Independent | Aug 14, 2016, 01.58 PM IST
In ISIS, the role of women is strictly limited to that of mother and wife
British teenage girls Shamima Begun, Amira Abase and Kadiza Sultana (L-R) walk through security at Gatwick airport before they boarded a flight to Turkey on February 17, 2015. (Reuters Photo)British teenage girls Shamima Begun, Amira Abase and Kadiza Sultana (L-R) walk through security at Gatwick air... Read More
Lured by the false promise of an Islamic utopia and an adoring husband, dozens of British women and girls fled to join Isis+ , but as military operations against the group intensify they are now trapped with "zero chance" of escaping alive. At least one British recruit+ , 17-year-old Kadiza Sultana, is understood to have been killed in air strikes and the outlook for her two friends is bleak as Isis' enemies advance on its ever-diminishing territories in Syria.
Her family said she quickly became disillusioned with life under the so-called Islamic State+ after arriving with Amira Abase and Shamima Begum early last year. The three friends fled from their homes in east London in the Easter holidays, sparking an international police search and emotional appeals from their families for them to return home.
But the trio swiftly reached ISIS' de-facto capital of Raqqa+ and were married to militants+ to take the role of dutiful wives and mothers proscribed by the group's ideology. They were just three among at least 56 young women and girls known to have travelled from the UK to join ISIS in Syria+ in 2015 alone.
Tasnime Akunjee, a solicitor for all three families, told The Independent Shamima and Amira were still alive. He told how Kadiza had become desperate to escape the group by late last year, discussing plans with her sister but giving up hope after an Austrian jihadi bride was publicly beaten to death after being caught trying to flee. "I don't have a good feeling, I feel scared," she told her sister in a phone call in November. "How am I going to get out?" Less than five months later she was reportedly killed in a Russian air strike.
"For me personally the hope is that if there is anything that can be salvaged from this tragic situation it is that people will take it as a warning," Mr Akunjee said. "Unfortunately we are in this Playstation generation where people play war games and don't take it seriously. But Syria is a war zone and people do get killed — my advice to anyone still out there would be to get out as fast as you can."
But experts warn that it is almost impossible for women to leave ISIS, with its interpretation of Sharia law meaning they cannot leave the house without a male guardian. While Turkey has closed its border along Isis territory, the terrorist group itself has launched a brutal crackdown on defectors, publicly executing anyone accused of trying to flee or attempting to smuggle people away.
Sara Khan, the co-founder of the anti-radicalism Inspire group, told The Independent the chance of jihadi brides returning to the UK was "zero" once they are inside the group's territory. "They quickly become disillusioned and realise that it's not the utopia that it's made out to be," she added. "The reality is that for women and girls it's incredibly difficult to leave ISIS because of the control the group exerts on their movements."
The role of women is strictly limited to that of mother and wife, with occasional exceptions for designated tasks as Sharia police and nurses. They are immediately married off to ISIS fighters, being handed to a new husband upon the first's death if they are lucky, or passed around as a "sexual present" if not. Clothing infractions are met with flogging, a lack of "meekness" with beating, alleged adultery or blasphemy with death.
Nikita Malik, a senior researcher from the Quilliam Foundation, told The Independent the violent reality is far from the rosy depiction given by ISIS propaganda. Dabiq, ISIS' English language propaganda magazine, has contained several articles addressed to "our sisters" presenting life in its territories as a kind of empowerment as a Muslim woman free of the pressures of Western conformity.
"It's more based in philosophy, about what it is to be a good person, a good wife, a good mother," Ms Malik explained. "There is a sense of female empowerment, building the caliphate and being part of a sisterhood." She said that many of the girls joining ISIS may come from conservative Muslim communities where they expect an arranged marriage and feel they are asserting themselves by fleeing to Syria.
There are even rumours of a specialist dating website where budding jihadi brides can select a husband. Ms Malik said: "They view it as a romantic adventure, a journey where they have more of a choice and they are making an active decision to leave." Researchers for the Institute for Strategic Dialogue said that like their male counterparts, female ISIS recruits often share feelings of isolation and conflicting identity, a sense of Muslim persecution and idealistic goals of a utopian "caliphate" where they can belong. In its annual report on terrorism in the European Union, Europol said that while the number of foreign citizens joining Isis was decreasing, women made up an increasingly "significant percentage".
"An increasing proportion of women have travelled from some EU member states — for example from the UK, Belgium and, more markedly, the Netherlands," the security agency said. "Women may also seek to radicalise others, take part in on and offline recruitment, and actively finance and facilitate terrorist groups and departure to them."
That role is fostered by ISIS, which allows foreign women internet access on the understanding they will use it contact "sisters" at home. "They only escape they get is online and they are given that access to have the opportunity to go and chat with other British women and radicalise them," Ms Khan said.
Aqsa Mahmood, a former Scottish university student, has already been put under international sanctions for her role as an online recruiter. An increase in surveillance and counter-terror initiatives since the group's lightning advance in 2014 has also made it far more difficult for European recruits to swell its ranks in Syria and Iraq.
With waning success on the battlefield and the loss of key strongholds, ISIS has turned its attention from domestic operations to international terrorism — a change reflected in its propaganda.
"If you look at what Daesh propaganda is saying they are not encouraging people to travel anymore — instead they are encouraging attacks in the UK," Ms Khan said. "We have seen communications where that is very much a concern...they need to be prevented from believing the propaganda, from believing the UK is their enemy."
timesofindia.indiatimes.com/world/uk/ISIS-jihadi-brides-encouraging-girls-to-launch-UK-terror-attacks/articleshow/53695987.cms
------
For Black Muslim students, a two-pronged fight for solidarity
BY OMAR ETMAN August 13, 2016
Mariyamou Drammeh arrived at New York University in the fall of 2014 poised for action.
The Black Lives Matter movement was pulsing in response to police violence against Black people, and the 3,000-member-strong Islamic Center on campus was engaging in exciting interfaith work. Yet as a Black Muslim, the 20-year-old New Yorker felt self-conscious about how she would fit into both communities.
Less than two years later, Drammeh was at a vigil at the school's student center honoring three young, Black men — two of whom were Muslim — who had been shot dead in Fort Wayne, Indiana. Also in attendance was Noor Rostoum, president of the Muslim Students Association (MSA). He was scheduled to speak at the event.
As he prepared his remarks in early March, he was approached by members of his community asking why the MSA had chosen to mourn these lives.
For many young Muslims, college is the first time they practice their faith in a multi-ethnic and multi-racial community. Religious communities in America are often divided along ethnic or racial lines—a Pakistani mosque on this side of town, a Black mosque on that side. A 2001 study conducted by the Council on American-Islamic Relations found that only 5 percent of American mosques are truly diverse.
But college is supposed to be different. It should be where the separation comes undone. But the undertones of doubts that swirled around the vigil crystallized for Rostoum something Drammeh had felt for years: American Muslim communities have a deep-seated race problem.
Tracing Black Muslims in the U.S.
For as long as there have been Black people in the U.S. there have been Black Muslims. Social scientists estimate up to 30 percent of all slaves to America — as many as 1.2 million people — were Muslim. They were kidnapped mostly from modern-day West African countries like Senegal, where over 90 percent of the population is Muslim.
Black Muslims, immigrants and native-born, remain a large portion of the Muslim community in America. According to a 2015 Pew Research study, 28 percent of American Muslims identify as Black, making them the second-largest grouping of Muslims in the U.S.. This is fewer than white Muslims, a category that includes most Arabs, and greater than Asian Muslims. Among native-born Muslims, over 40 percent describe themselves as Black.
Yet experts say despite the demographics, much of the prevailing public American Muslim mindset focuses on an Islam from thousands of miles east.
Alaina Morgan, a lawyer and Ph.D candidate at NYU studying the history of Black Muslims in the African diaspora, said there's a "hierarchy of authority and authenticity" within Islam.
"Even among African-Americans who converted to Islam, they have historically looked at the Middle East and North Africa as a source of authority," she said. "South Asian and Arab imams are looked at as more authentic."
In the U.S., that global cultural hierarchy is mapped over a hierarchy of race.
As Muna Mire said in the The New Inquiry, "Part of the covenant of the American Dream is an agreement non-Black immigrants enter into when they land on U.S. shores. It's an implicit contract with explicit aims: when you come to America, you'd better not ally yourself in any way with Black people or Blackness if you expect to get ahead…For Arabs and South Asians who make up a significant portion of the U.S. Muslim community, this manifests in a model-minority ethos that uses Black Americans as an example of what not to do and who not to affiliate with."
The result for Black Muslims in American Muslim communities, Mire wrote, is a contradiction: "invisible despite being the foundation for the faith in the country."
Like many college Muslim communities, NYU's is predominantly South Asian. Growing up, I practiced in an American Muslim community that was happily diverse, a trait I did not yet know was rare. Upon arrival to NYU three years ago, I attended a welcome activity as part of my introduction to the school's Islamic Center. It was an ice cream social, but by the time my Egyptian friend and I arrived, what was left of the dessert had melted. We were instructed to sit in a large circle. The event organizer, like nearly everyone else in the room, was a South Asian student. We were the only Arabs in the circle of about 40 people. If there were Black Muslims, I didn't see them.
Once situated, the organizer asked us to introduce ourselves and mention where we were from. Before she finished, a loud voice interjected, "We all already know!" The circle, except my friend and me, cracked open with laughter.
The first MSA was launched in 1963 at the University of Illinois at Urbana-Champaign. Its foundation coincided with the peak of the Civil Rights movement. In the early 1970s the MSA conducted a survey to learn how it could better serve its membership.
"A significant portion of the surveys that are still in existence indicated that members who are Arab and South Asian wanted to include and reach out to the African-American Muslim community," Morgan said. "They felt like there weren't enough efforts to include them."
Drammeh, a public policy and sociology major, said she felt that she would need to learn to accept being the only Black person in a room, just as she had learned to do in her classes.
The problem at the Islamic Center was social, she said. "For me, first semester, I felt excluded, because I didn't really feel anyone was like, 'Hey Mariyamou, come sit with us.' I didn't really feel invited."
And the feeling of exclusion isn't just a product of freshman nerves. Husam Ahmed, an upperclassman from North Africa, is a serious man with a big smile. He is in the Islamic Center's prayer room every day of the workweek. He had an emergency appendectomy last winter, during the crush of final exams; he was out for four weeks. Friends outside the Islamic Center noticed his absence, but no one within it reached out to him.
"If I'm back home in a regular mosque," Ahmed said, "if you miss three days in a row people will go to your house, will call you, will reach out to you. But two weeks and nobody bothered?"
Searching for solidarity on college campuses
The three young Black men were murdered "execution-style" in Fort Wayne, Indiana, 120 miles north of Indianapolis, on Feb. 26 — a week before NYU's vigil. Muhannad Tairab, 17, Adam Mekki, 20, and Mohamedtaha Omar, 23, were members of a diaspora community from Africa's eastern Sahel region. Omar and Tairab were Muslims and Mekki was Christian, according to the Associated Press.
On the evening of March 2, more than 100 students gathered on the marble front steps of NYU's student center to mourn their loss, crammed against the wall to make room for passersby on their way to class.
The sight of grieving students, searching for consolation in the harried aftermath of police violence or terrorism, had become familiar at this campus and ones like it across the country.
Over a year earlier the Muslim world unified in its outrage after three young Arab-Americans were gunned down in North Carolina. The vigil held in their honor at NYU came the day after the attack, and attracted over twice as many community members on the same steps.
Student response to those deaths was definitive: it was a hate crime, no doubt about it. In comparison, after the death of #OurThreeBrothers, as Muhannad, Mekki, and Omar became known online, students raised questions about why the community was mourning their deaths in the first place.
In his speech, Rostoum, visibly angry, repeated some of those questions: "Was it a hate crime? Was it gang-related violence? Was it Islamophobia? Was it racism?"
The faces that lined the steps — a mix of Black, brown, and white, Muslim and non-Muslim — looked back at him.
Some students were surprised by the MSA president's rapid-fire directness, but Drammeh said she felt seen. Finally, an ally had decided to speak up, she thought.
In conversations with a dozen Black Muslims at universities across the country, I heard story after story of exclusion. Being a Black Muslim within American Muslim communities means learning to navigate the precarious intersection of two marginalized groups, they told me, simultaneously fighting for respect from their Muslim peers and safety within a national system of violence. At NYU and other colleges, they're searching for allies within their own Muslim communities.
NYU student Fadumo Osman, a California-raised daughter of Somali immigrants, said she noticed the reticence of the Muslim community to engage in issues affecting Black people in the winter of 2014. During those months, the police officers who killed Michael Brown and Eric Garner were acquitted in quick succession. New York erupted.
Fadumo immediately took to the streets. But she said her Muslim friends from the Islamic Center were reluctant to participate, saying they felt justice would be served.
Reassurance often came in the form of inshallah, Fadumo said, using the Arabic term for "if God is willing," a phrase regularly deployed by Muslims to outsource daily responsibilities to God. "Inshallah it will get better, inshallah it will be okay," Fadumo said she was told. But then… nothing. No action.
In the Black Lives Matter crowds rallying for the causes that matter to her, she said she felt herself wondering: "Where are the Muslims?"
Muslims today, Black or otherwise, are confronted with a stream of hate and violence. The Islamophobia entrenched in some circles since 9/11 has resurfaced with the rise of anti-immigrant campaigns across the globe, most of which, spurred by the refugee crisis and taken to their extremes by far-right politicians, have targeted Muslims. This year alone, 233 anti-Muslim acts have been committed, according to The Huffington Post.
And hate isn't only perpetrated by individuals. In 2012 it was discovered that the NYPD had for years been secretly tracking the activity of Muslim student communities at colleges across the Northeast, including at NYU. The department even planted undercover officers at universities within city limits.
At NYU, where fear was made real by systemic suspicion, many Muslims are hesitant to put their already-uncertain standing in jeopardy. For international students, there's an additional concern of losing visa security in the case of an arrest. Fadumo says she understands these considerations. But for Black Muslims, whose Muslim struggle is compounded by the reality of being Black in America, the urgency to act leaves little room for hesitation.
NYU junior Fadumo Osman. Photo by Emilio Madrid-Kuser
'You'll have to choose: Black or Muslim'
When Ikhlas Saleem, 27, prepared to leave her hometown of Atlanta, which in an essay for BuzzFeed she called a "black Muslim Mecca," a friend's older sister told her, "When you get to college, you'll have to choose: black or Muslim."
In her first few weeks at Wellesley College she said she felt the tug between the MSA and the Black Students Association. In the end, she committed to neither.
"I gave up a part of myself to hang with each group that made up my identity," she wrote. "I would hide from my Muslim friends on my way to parties. I pretended to be an international Ghanaian student for at least three years of college. I figured it was easier to just drop some parts of myself in exchange for the simplicity of a singular identity, depending on the circle."
Saleem told me that she felt her only choices were communities that treated race and religion separately. Attempts to insert race into religious conversations, or vice versa, were met with resistance.
Drammeh said when she brings up race in Muslim company, and she frequently does, she is often confronted with people who believe conversations about race have no place in Islam. Sometimes people argue with her by citing Hadith, the teachings of the Prophet Muhammad.
"People love bringing up the Hadith where the prophet says, 'You are not better than anyone else in this world in terms of race or culture except by your deeds.' It's the famous line that everyone pulls out to say like, hey, don't exclude people who are different from you," she said.
And when students are willing to bring race into the conversation, they can be reluctant to consider the ways that their attitude blocks attempts at engagement, according to Drammeh.
Last November, the MSA at the University of California, Berkeley, hosted an event called "Is the Ummah Racist?" (Is the global Muslim community racist?) The heavily-attended conversation was moderated by three Black Muslim students.
Fatima Ibrahim, a rising junior at Berkeley whose family is from Cameroon, was in attendance. She said several students in the crowd of mostly Middle Eastern and South Asian Muslims grew defensive as the panelists discussed the ways Black Muslims are ignored.
Ibrahim said she heard them say, "Well I'm not racist but my parents are," "Don't attack my character, don't attack me," or "That's just the way I was brought up."
Sustainable inclusivity
This past April, Drammeh was awarded the Community Outreach Award at the Islamic Center's end-of-year ceremony for her work to expand conversations about race within the Muslim community. The crowd of several hundred Muslims, including three of her siblings, whooped and hollered when her name was called.
In a Facebook post the following night, Drammeh wrote, "Honestly, this time last year, I felt so out of place in this community but Alhamdulillah" — praise be to God — "so much has changed since then and I sincerely owe it to the love and support of the members of this community."
A week earlier, she was elected the Community Service Chair for the 2016-2017 academic year. In her new role, she plans to launch a mentorship program at a local school with majority Black students.
"Bringing people from the [Islamic Center] into schools and for them to have an idea of what it means to be Black, like myself — that all opens your awareness," she said. "It takes you out of your comfort zone and helps you appreciate the struggles of people who are within your community who might not be like you."
But Mariyamou knows her successes are not a guarantee that future Black Muslims at NYU will encounter a similarly welcoming community. The challenge, she said, is building cultures of inclusivity that are sustainable, even in the absence of Black leadership.
This weekend, NYU's MSA hosted a conference called "We Are Power" to teach Muslim students how to organize around causes that matter to them, and causes they may not think enough about. One of the scheduled events is called "Intersections of Race, Gender, Class & Faith." Another is "Racial Profiling of Muslim Communities."
University efforts join a national movement to train young people in the practice of inclusive leadership. The Muslim Anti-Racism Collaborative, the two-year-old group behind the hashtag #BlackInMSA, offers racial justice training to Islamic schools, MSAs and independent organizations.
With the yearly turnover of students, maintaining an infrastructure of inclusivity can be especially difficult at the university level, Margari Hill, cofounder of MuslimARC, said. The work of sustainability, then, falls to chaplains and MSA alumni, she said, because inclusivity is too important to be left susceptible to flux.
The bigger struggle may be helping young graduates transition their toolkit of "cultural proficiency" to their mosques back home, where they might encounter resistance to their activism-streaked brand of Islam.
The eager graduates can hit a wall, often in the form of a "boys club" of elders, Hill said. That's no reason to be discouraged, though. "If you hit a wall, that means a bunch of other people hit a wall too."
If the elders don't respect you at first, fine, she said. Unite with the other frustrated Muslims to build a welcoming community. "In the end, after they see what you produce, they will respect you. Don't wait for anybody to create that space for you."
pbs.org/newshour/updates/black-muslim-college-students-issue-call-allies/
------
Muslim fencer who is the first US Olympian to compete while wearing a hijab wins bronze in the women's sabre
14 August 2016
Ibtihaj Muhammad, has won a bronze medal along with her teammates
30-year-old is the first US Olympian to wear a hijab during competition
US clinched the first women's medal in fencing for the Americans in Rio
The first US Olympian to wear a hijab during competition, fencer Ibtihaj Muhammad, has won a bronze medal along with her teammates in the women's team sabre event.
Muhammad came to the Rio Games determined to show the world that Muslim-American women can excel in sports and she will return home to New Jersey with proof that she was right.
The U.S. routed Italy 45-30 to clinch third place Saturday and the first women's medal in fencing for the Americans in Rio.
Bronze: Ibtihaj Muhammad won a bronze medal along with her teammates in Rio Saturday
'This is sport. It doesn't matter what hair color you have, or what religion you are. The point is to go out there and be the best athlete you can be,' said teammate Dagmara Wozniak. 'We're the best explanation of what American is. A mix of so many different cultures and races, and everything all together.'
Muhammad made headlines around the world Monday simply by wearing a hijab on the piste, adhering to the tenets of her Muslim faith.
The attention for the team event was much more focused simply on fencing — and Muhammad reminded folks why she made the Olympic team in the first place.
'This has been a long journey for us,' Muhammad said. 'To be able to compete at the level that we've worked toward, on the world's biggest stage, the Olympic Games, is truly a blessing for us... I'll never forget this moment.'
The Americans opened against Poland, blowing an 11-point lead before two-time Olympic champion Mariel Zagunis got the US through with a deft torso touch for the win.
Russia won the first four of the nine-bout semifinals to go ahead 20-12, but Muhammad slowed Russia's momentum with a narrow victory over second-ranked Yana Egorian.
US women's fencing team celebrates after defeating Italy during the Bronze medal competition
US women's fencing team celebrates after defeating Italy during the Bronze medal competition
Sofya Velikaya of Russia (left) and Ibtihaj Muhammad of the United States (right) compete in a women's team sabre fencing semifinal
Sofya Velikaya of Russia (left) and Ibtihaj Muhammad of the United States (right) compete in a women's team sabre fencing semifinal
After Zagunis picked up another win, Muhammad had by far her best moment of the Olympics.
She peppered Ekaterina Dyachenko with touch after touch, 10 in all, until the US found itself with an improbable 35-34 edge.
'Our plan was that, no matter what happened, to just focus on these four voices,' Muhammad said of teammates Zagunis, Wozniak and Monica Aksamit. 'We were only listening to each other, and I just kept hearing "Just get one. Just get one".'
But Sofia Velikaya pulled the Russians back in front with six straight points, a margin even Zagunis was unable to overcome.
Still, the US team had yet to medal in a tournament all season. The Americans seized their chance to do so in Rio.
The US built a 25-15 lead after five matches, and Zagunis — who declined to speculate on her future in the immediate aftermath of her fourth straight Olympics — made that edge insurmountable.
dailymail.co.uk/news/article-3739419/Muhammad-US-teammates-win-bronze-sabre-fencing.html#ixzz4HJ5hWS6C
------
Burkini ban: Second French Riviera resort follows Cannes as mayor says Muslim beachwear is 'unwelcome'
Aug 14, 2016
'In France, one does not come to the beach dressed to display religious convictions,' mayor says
Volunteer surf life saver Mecca Laalaa runs along a beach in Sydney, 2007 Reuters
A second French Riviera resort has announced a ban against "burkinis" as uproar continues over the prohibition in Cannes.
Lionnel Luca, the mayor of Villeneuve-Loubet, said the prohibition of full-body swimsuits worn by some Muslim women was for sanitary reasons.
"I was told that there was a couple on one of our beaches where the wife was swimming fully dressed, and I considered that unacceptable for hygienic reasons and unwelcome given the general situation," he told the AFP news agency.
A woman gets into the sea wearing traditional Islamic dress in Marseille, France, on 4 October (AP)
"In France, one does not come to the beach dressed to display one's religious convictions, especially as they are false convictions that the religion does not demand."
Mr Luca did not stipulate how the ban would be enforced.
A new local by-law states that throughout the summer, until 31 August, the burkini is banned on the region's popular beaches.
It stipulates that only clothing that "is respectful to morality and secular principles, and in compliance with hygiene and safety rules" is allowed.
It is unclear whether the rule would also apply to wetsuits or other clothing worn for swimming.
Cannes announced its decision last week, also citing "secularism", while a water park in Marseille cancelled an event for women wearing burkinis after organisers received death threats.
An order issued by the mayor of Cannes, David Lisnard, claimed that swimwear "manifesting religious affiliation in an ostentatious way, while France and its religious sites are currently the target of terrorist attacks, could create risks of trouble to public order".
World news in pictures
The ban has provoked strong criticism from Muslim groups and anti-discrimination organisations, who argue that women should have the freedom to dress how they wish.
France already has a controversial country-wide "burqa ban", which outlaws full-face veils in public, and analysts have said the beach rules could worsen feelings of alienation and fuel extremist propaganda.
The latest move has been interpreted as a reaction to recent terror attacks in France, including the murder of a Catholic priest by two Isis supporters in Normandy and an attack that killed 85 people in Niece.
Writing in The Independent, Huda Jawad argued that France was imposing "fundamentalist secularism" in opposition to its values of liberté, egalité and fraternité.
"Since when was wearing a burkini, in most cases a loose fitting nylon version of a wetsuit, become an act of allegiance to terrorist movements?" she wrote, saying women's bodies were being used "to score points in ideological wars".
The Collective Against Islamophobia in France was planning to file a lawsuit challenging the the legality of the ban in Cannes
independent.co.uk/news/world/europe/burkini-ban-second-french-riviera-resort-follows-cannes-rules-as-mayor-says-muslim-beachwear-a7189151.html
------
CNN Used Michigan Muslim Woman's Face in Video About ISIS Recruitment — She's Not in ISIS
August 13, 2016
A Michigan Muslim family was left shocked on Thursday when they recognized the face of their family's matriarch in a CNN video about jihadi recruitment in France on CNN's website, according to the Daily Dot.
The subject of the video is Omar Omsen, the man whom CNN reports French authorities hold responsible for "recruiting about 80% of French-speaking jihadis heading to Syria and Iraq," according to CNN.
The woman's husband recognized his wife's face in the clip. Though she has no ties to the Islamic State, the woman's face was featured in the clip for a few seconds.
Daily Dot confirmed the identity of the woman, whose family sought help from the American-Arab Anti-Discrimination Committee in getting CNN to remove the video and issue a retraction. The website withheld her identity at the woman's request.
"Imagine seeing a video about ISIS recruitment, and suddenly, there's your picture," Abed A. Ayoub, policy director at the American-Arab Anti-Discrimination Committe, told the Daily Dot. "She was shocked at first, angry, and there's a sense of disbelief by her husband as well."
According to the Dot, CNN acquired the footage from a decade-old video of the woman singing the U.S. national anthem, with the American flag waving behind her. The family doesn't know how they found the footage or how they deemed it appropriate for a video about ISIS recruitment in Europe. As of Thursday afternoon, the video was taken down.
According to Ayoub, the family is concerned for their children's safety, should people they know begin to suspect the woman of being a terrorist.
The Daily Dot said they are further investigating whether the footage may have been used by ISIS and later republished by CNN.
mic.com/articles/151478/cnn-used-michigan-muslim-woman-s-face-in-video-about-isis-recruitment-she-s-not-in-isis#.h7kBIbPkX
------
Muslim, youngest-ever Swedish minister resigns over drunk drivingAida Hadzialic, 29, a former Bosnian refugee, leaves post after being caught at the wheel with proscribed level of blood alcoholBY AFP August 14, 2016, 3:53 am Tweet
STOCKHOLM, Sweden — Sweden's youngest ever cabinet minister, who came to the country as a refugee from Bosnia, announced her resignation on Saturday after being caught driving under the influence of alcohol.
Aida Hadzialic, 29, minister for secondary and adult education, revealed that she had been stopped by police in the southern city of Malmo and tests showed she had an alcohol level of 0.2 grams per liter of blood — just the level considered an offense in Sweden.
"That was the biggest mistake of my life… I will take responsibility. I announce my intention to resign from my ministerial post," an emotional Hadzialic told a press conference at government headquarters in Stockholm.
"I understand that a lot of people are disappointed in me. And I am angry with myself, and certainly I deeply regret it," added the young politician seen as the future of the Social Democrat party.
Hadzialic was born in Bosnia and immigrated to Sweden at the age of five, in 1992, with her parents. They were Muslim refugees fleeing the war in the Balkans.
She became involved in the Social Democrats youth movement in high school and went on to be elected a municipal councilor at age 23.
Then in 2014, at 27, she became the youngest ever government minister in Sweden's history.
She is not the only politician to have to drop out since Sweden's political left returned to power two years ago.
Deputy premier and environment minister Asa Romson from the Green party resigned in May after a series of gaffes, the last being to describe the 2001 terrorist attacks in the United States as "the accidents of September 11."
Housing minister Mehmet Kaplan, of Turkish origin, had to step down in April after comparing Israelis to the Nazis, and Mona Sahlin, the national coordinator for protecting democracy against violent extremism, was forced to resign in May after media revealed that she had made false income declarations for her bodyguard to help him obtain bank loans.
timesofisrael.com/muslim-youngest-ever-swedish-minister-resigns-over-drunk-driving/
------
Muslim women ask Trump: #CanYouHearUsNow?
August 13, 2016
Without any other response to give, Donald Trump attacked the mother of slain captain Humayun Khan for not speaking during her husband's passionate DNC address. "Maybe she wasn't allowed to speak," he said, "I don't know, you tell me."
Muslim women on social media responded to Trump's stereotype with countless examples, using the hashtag #CanYouHearUsNow. Watch the video above to hear some of their voices.
qz.com/751064/muslim-women-ask-trump-canyouhearusnow/
-------
'Women in mini skirts don't become suicide bombers': Muslim president of ex-Soviet republic causes outrage with terrorism quote
13 AUG 2016
BY JON DEAN
President of Kyrgyzstan Almazbek Atambayev said women in his country had been wearing short skirts for decades 'but never thought about wearing an explosive belt'
Women who wear full Islamic garb are more likely to become terrorist suicide bombers, a Central Asian leader has claimed.
President of Kyrgyzstan Almazbek Atambayev said women in his country had been wearing miniskirts for decades "but never thought about wearing an explosive belt".
The premier was making the comments to journalists during a national debate on cultural identity in Kyrgyzstan, where 80% of the population is Muslim.
President Atambayev attacked those who criticise females for wearing less traditional clothing.
The debate was held amid weeks of controversy over government-sponsored adverts in the capital Bishkek encouraging women not to wear orthodox Muslim items such as the hijab, niqab and burka.
Terror on Swiss train as passengers are attacked by man with 'fire and knife' leaving carriage covered in blood
The hoardings showed contrasting photos of women in traditional Kyrgyzstan clothing alongside those in Islamic veils.
The caption reads: "Poor people! Where are we heading to?"
President Atambayev said: "When we erected banners some smart people appeared and started pointing at miniskirts.
"Our women have been wearing miniskirts since 1950s, and they never thought about wearing an explosive belt.
"You can wear even tarpaulin boots on your head, but do not organise bombings.
azattyk.orgKrygyzstan government advertsKrygyzstan government adverts sparked outrage among some of the country's Muslim majority
"This is not religion. Let them wear even miniskirts but there must not be any blasts."
The president described the wearing of Islamic dress as potentially dangerous.
He said. "Terrorists are insane people.
Former Premier League footballer Hakan Sukur accused of "being a member of an armed terror group"
GettyGerman Chancellor Angela Merkel (L) and Kyrgyzstan's President Almazbek Atambayev (R) pose for a photograph before their meeting at Kyrgyzstan Presidency in Bishkek, Kyrgyzstan on July 14, 2016.German Chancellor Angela Merkel and Almazbek Atambayev ahead of their meeting in July
"When we were searching for prisoners who had escaped a detention centre, Melis Turganbayev [former interior minister] came to me and said that they had been eavesdropping on telephone conversations of wives and mistresses of criminals.
"Their wives and mistresses wore sacks on their heads and they wanted to organise bombings.
"If you do not like Kyrgyzstan you can leave our country and go wherever you want.
"We can pay your travel expenses, even to Syria."
mirror.co.uk/news/world-news/women-mini-skirts-dont-become-8624765
-------
Anti-Muslim hate speech causes harm
Recent attacks by a presidential candidate targeted a grieving American Muslim Gold Star mother, Ghazala Khan, who is still trying to overcome the loss of her son, U.S. Army Capt. Humayun Khan — a Bronze Star and Purple Heart recipient. Those attacks are also affecting American Muslim children.
Whenever candidates or commentators talk about Islam or Muslims, they should think about the effects of their words on the lives of American Muslim children across our nation. Anti-Muslim hate speech is dangerous because of the hate crimes it can incite and its harmful message, especially to American Muslim girls. It can shatter their hopes for a better future, of a life fulfilled and of the American dream.
To the millions of American Muslim girls growing up across our country, I say as a strong, independent, hijab-wearing and law-school-educated American Muslim woman attorney: You have the right to grow up with the same hopes and dreams as any young person. You can be an American and a practicing Muslim.
I am a proud American and a proud practicing Muslim. I am a U.S. citizen and a registered voter. I was born in Lawrence, Kan., and grew up in Corpus Christi, Texas. My parents encouraged me to be an ambassador of my faith. They taught me to be humble and grateful for God's blessings, no matter the hardships in life.
American Muslims share our country's strong family values and are dedicated to raising and educating their children.
I love my family. My parents worked hard to provide for my sister, brother and me. They taught us to be productive citizens and proud Americans. I work hard to make my parents proud.
My parents taught me Prophet Muhammad's teaching that Muslims, both women and men, should pursue higher education. Inspired by this Islamic teaching, my mother holds three master's degrees — mathematics, education and counseling — and I worked hard to get into the South Texas College of Law and now work as an attorney. I volunteer at Seattle Children's Hospital and serve on the board of Lawyers Helping Hungry Children. My sister is a medical student and graduated as valedictorian of her high school class.
American Muslims believe in the freedom of all U.S. citizens to live and worship in their own way.
A Gallup Poll found that American Muslim women are the second most highly educated religious group of women in the U.S. and are just as likely as American Muslim men to have a college degree or pursue higher education.
American Muslims believe in the freedom of all U.S. citizens to live and worship in their own way. American Muslims uphold the Constitution and U.S. laws and share the same American values and freedoms that we all cherish, knowing that we are all in this together. Thousands of American Muslims serve in our nation's military, and several have made the ultimate sacrifice. Hundreds of thousands of American Muslims are volunteers, law-enforcement officials, public-school teachers, firefighters, nurses and business owners building our economy. There are about 50,000 American Muslim doctors saving lives every day.
Never before in our nation's history have reported anti-Muslim hate crimes been as high as in 2015. Throughout 2015, the Council on American-Islamic Relations' offices nationwide received, on average, at least one to two daily reports of anti-Muslim hate attacks. While no federal agency collects data on discrimination targeting children based on religion, about 80 percent of American Muslim youths, according to surveys, have been targets, often in front of school administrators.
Hate speech leads to hate crimes. When hate speech and conspiracy theories against a minority are constantly spread publicly and go unchallenged, they foster an atmosphere that leads to hate crimes.
In times like now, everyday Americans and fair-minded leaders have a duty to affirm the American value of religious freedom and to publicly tell stories of the lives and contributions of American Muslims. It will remind millions of American Muslim children that they have the right to grow up with the same hopes and dreams as any young American.
caller.com/opinion/forums/anti-muslim-hate-speech-causes-harm-39cf9eb9-befe-0401-e053-0100007f4054-390037201.html
-------
Mississippi woman gets 12 years on federal terrorism charge
August 13, 2016
A Mississippi woman who once sought to disguise a planned journey to join the Islamic State group as her honeymoon was sentenced by a federal judge Thursday to 12 years in prison on a terrorism charge.
Vicksburg native Jaelyn Young broke down in heavy sobs during her sentencing by U.S. District Judge Sharion Aycock. Young pleaded guilty in March to one count of conspiring to provide material support to a terrorist organization.
Young had faced up to 20 years in prison.
Her parents pleaded for leniency at Thursday's hearing. Young, amid sobs, said she was ashamed of her actions.
Her fiance, Muhammad Dakhlalla, pleaded guilty March 11 to a similar charge and is set to be sentenced Aug. 24. Prosecutors have said Young, who converted to Islam while studying at Mississippi State University, had prodded Dakhlalla into the plan.
The two were arrested in 2015 before boarding a flight from Columbus, Mississippi, with tickets for Istanbul, Turkey.
"I found the contacts, made arrangements, planned the departure," Young had written in a farewell letter to her family. "I am guilty of what you soon will find out."
Young and Dakhlalla were among a number of people arrested around the country for Islamic State sympathies. Like many, authorities said, they had developed views supporting the Islamic State in part by watching online videos and were arrested after social media posts attracted the attention of the FBI.
The daughter of a school administrator and a police officer who served in the Navy reserve, Young is a former honor student, cheerleader and homecoming maid at Vicksburg's Warren Central High School.
The two were arrested in August 2015 before they could board the flight from Mississippi with tickets for Istanbul purchased using her mother's credit card without permission, according to court records. Authorities said the couple had contacted undercover federal agents in May, seeking online help in traveling to Syria. Both remained jailed in Oxford since their arrests.
WE SELECTED FOR YOU:
Court papers say Young announced her conversion in March 2015 and began wearing a burqa, a garment worn by some Muslim women to cover their face and body. "After her conversion, Young distanced herself from family and friends and felt spending time with non-Muslims would be a bad influence," prosecutors wrote.
A court statement said Young increasingly complained about the treatment of Muslims in the United States and United Kingdom. Prosecutors said that, after watching videos included pro-Islamic State messages from a British Muslim preacher who faces criminal charges of supporting the group — she began to view the fighters as liberators.
"Young continually asked Dakhlalla when they were going to join (the Islamic State group) and began to express hatred for the U.S. government and to express support for the implementation of Sharia law in the United States," prosecutors wrote.
By May 2015, she had begun seeking advice online on how to travel to Syria, eventually making contact with undercover FBI employees, according to prosecutors.
Young told the undercover FBI employees that she and Dakhlalla would like to be medics treating the wounded. Dakhlalla, in online contacts, said he was good with computers and media and wanted to contribute to the Islamic State's struggle. Court papers say Dakhlalla said online that he wanted to become a fighter and learn "what it really means to have that heart in battle."
At one point, Young said she planned to camouflage the couple's journey as a honeymoon, but later dropped that idea.
kvue.com/news/mississippi-woman-gets-12-years-on-federal-terrorism-charge/297213832
-------
Muslim Peer impregnates 300 women in Pakistan Muslim Peer Baba who imgregnated over 300 women who desired sons arrested by Punjab policeMake money by sharing this news. Become a Social Blaster! THE PATRIOT. - blogspot.com Muslim women at the beach THE PATRIOT. - blogspot.com Muslim women at the beach ADVERTISEMENTS
A Muslim Peer is a religious man; a man of god.He is supposed to be a guide who helps the layman to stay firm on the path to God. A Peer is a part of the Sufi tradition of Islam and most Peer's are greatly respected and revered. The Sufi tradition is strong in India and Pakistan as such they are mostly prevalent in the Indian sub-continent. Many Peer's are hereditary and the son becomes the peer in place of the father.
Pakistan was carved out of India and has a 98% Muslim population. Because of the prevalence of Sufism in Pakistan, particularly in the provinces of Sind and Punjab, many Peer's abound. Some of them are however, fakes but the people at large cannot distinguish between them.
Exploits of the Peer
In the Punjab province, a Muslim Peer who was fairly young was arrested by the police on a charge of having impregnated nearly 300 women. However, this figure is debatable. In Pakistan the desire for a son is overwhelming and girls are not preferred. This desire to beget a son by married women led them to this Peer. He promised a son and induced the women to sleep with him. It will surprise western readers that the desire for a son was so strong among these women that they went to the extreme to sleep with the Peer.
The Baba claimed that he had the power to gift a son to any woman who slept with him. However news of the Peer's "exploits" leaked and rationalists approached the Police. Hearing the police were after him the Peer escaped but he was arrested later.
Last word
The Pakistan Penal Code is a legacy of the British Raj. The Punjab police have arrested the Baba on a charge of rape, but the charge will probably not be proved in the court as no woman wants to give evidence against the peer. It is not known how many of the women impregnated by the Peer had sons. Such a statistic would be interesting.
Even if the man is tried under the Hudood ordinance the charge of rape cannot be proved as there is a requirement for four male witnesses to the actual act. A man from Lahore explained that the man is out on bail and the trial is just lingering on. People have varied opinions about the religious leader. One lady has commented that the Peer did a good thing to give childless women a new life by impregnating them as otherwise in Pakistan society the lives of these women is pure hell. #Crime #Preacher
us.blastingnews.com/world/2016/08/muslim-peer-impregnates-300-women-in-pakistan-001064407.html
-------
Don't ban the burqa, but restrict where it is worn
14/08/2016
'In Arab societies, male self-control is a foreign concept, and women are temptresses
to be hidden from view to save men from sin'1
'In Arab societies, male self-control is a foreign concept, and women are temptresses to be hidden from view to save men from sin'
There were happy photographs from Syria last week. In Manbij, just liberated from the putrid embrace of Isil, a young man beamed ecstatically as someone cut off for him the heavy beard required by the Islamist 'style police' and a young woman smiled serenely as she added her hated garment to a bonfire of niqabs. There was nothing happy about the recent past, where - as we were shown in a photograph from an abandoned headquarters of religious police - weapons like chains and pipes were used to beat men and women who committed sartorial sins.
Last week too, there was a row about Islamic clothing in Cannes, where women have been banned from wearing burkinis, swimsuits that cover everything except face and feet, on the grounds that they "symbolise Islamist extremism". In Germany, politicians debated joining France, Belgium, the Netherlands and parts of Bulgaria, Italy, Switzerland and Catalonia in variations of a ban on veils.
Over in Rio, encased from head to ankle in black, Kariman Abuljadayel, the first Saudi Arabian woman to compete in the 100m, won sympathy and support from all over the world as she gamely sought, but failed, to qualify.
I dislike Islamic dress, not least because it so often consigns women to a public life wearing shapeless black while their menfolk can wear whatever the hell they like. Even if the men also conform - in Saudi, for instance - they're in white, which suits a hot climate. But the veils are an appalling imposition that sends a hostile signal to non-Islamic society by preventing any kind of normal social intercourse.
The worst is the all-enveloping burqa - invented in Persia three centuries after Mohammed died and now ubiquitous in Afghanistan and Pakistan, as well as parts of the Arab world and recently West Africa - which has a mesh screen through which women peer. The niqab - which doesn't actually cover the eyes - was a variant imposed by the fundamentalist Wahhabis who came to dominate Saudi in the 20th Century.
On Radio Ulster the other week, I was engaged in a long-distance debate on the issue with a guy called Muhammad. I said that although I was against an outright ban, I hated face veils and thought their wear should be restricted. Having, in the beginning, made the issue one of the human right of people to wear what they like, Muhammed then later took refuge in the claim that veils had to be allowed because they were a religious requirement.
This is rubbish, for, as I pointed out, there is nothing in the Koran about women having to cover their faces. (The key passage is: "Say to the faithful women to lower their gazes, and to guard their private parts, and not to display their beauty except what is apparent of it, and to extend their headcoverings (khimars) to cover their bosoms (jaybs).")
He then lost it, claiming that I hated Muslim women (which vexed me, for I've been writing about their oppression for years), so I added that face coverings were a manifestation of misogynistic Arab cultural practices (incidentally, for the delectation of their husbands, many of the better-off women dress like hookers under those robes).
The simple truth is that in Arab societies and those following their culture elsewhere, male self-control is a foreign concept and women are temptresses who must be hidden from view to save men from sin. Isil is the most degraded manifestation of this sickness, peddling a view of Islam that is solely in the interests of men and permits sexually repressed males to take sex slaves and rape them in the name of Allah.
We didn't get on, Muhammad and I, but then I rarely get on in discourse with the kind of Muslim apologist who explains that women love covering up. Sure, the occasional young woman does so as a gesture of rebellion against liberal parents or society in general, but there are many immigrant communities in Europe where they are imprisoned in their homes and forbidden to learn English, become educated, get a job or make their own decisions about whom they marry.
Of course, the vast majority have no option but to do what suits the men who call the shots and give the orders.
My social liberalism makes me disinclined to have the state interfere without good reason in how other people live their lives, but there are very good reasons for imposing restrictions on face coverings. Security comes first: there was a crazy period in the UK when women with burqas were waved through passport control.
With Muslim terrorism threatening Europe, and some enterprising male jewel robbers putting on the burqa before entering shops in England and Canada, no one should be allowed to pass a security point without showing their face, nor should anyone be allowed to work in the public sector with a covered face - or enter universities (I'm told some have appeared in the University of Limerick), courts, social welfare offices, hospitals and any other public places where people's expressions matter. It should also be banned for anyone under 18 - for it is child abuse.
Women were treated like second-class citizens until comparatively recently in most Christian countries, but with nothing like the brutality they are accorded in many Islamic societies.
It's a disgrace to see so many on the left allying themselves with fundamentalist Islam and turning a blind eye to hideous practices like female genital mutilation or honour killings. When it comes to the battle of the burqas, we can be more tolerant than France, but we don't have to be pathetic, favour-currying cultural relativists smiling on woman-hating customs imposed by bigots like those just driven from Manbij.
independent.ie/opinion/columnists/ruth-dudley-edwards/dont-ban-the-burqa-but-restrict-where-it-is-worn-34963441.html
URL: https://newageislam.com/islam-women-feminism/isis-jihadi-brides-encouraging-girls/d/108264
New Age Islam, Islam Online, Islamic Website, African Muslim News, Arab World News, South Asia News, Indian Muslim News, World Muslim News, Womens in Islam, Islamic Feminism, Arab Women, Womens In Arab, Islamphobia in America, Muslim Women in West, Islam Women and Feminism