New Age Islam News Bureau
23 Sept 2014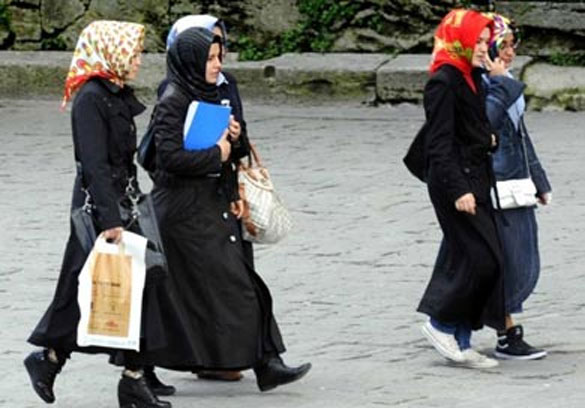 A file photo of Turkish students PHOTO: AFP
-----------
• Child Rights Activist Says Enough Proof of Underage Prostitution in Malaysia
• Plight of Married Muslim Women Shook Delhi Commission for Women Chief
• Despite Religious Ire, Egypt TV Resumes Belly-Dance Show
• Turkey Lifts Ban on Headscarves at High Schools
• PPP MPA Claims Husband Forced Her Resignation at Gunpoint
• Queensland's Muslim Women Targeted amid Terrorism Hysteria
• Muslim Women in Conference First, In Derbyshire
• First World Assembly for Women held in Tokyo
Compiled by New Age Islam News Bureau
URL: https://newageislam.com/islam-women-feminism/isis-recently-become-popular-girls/d/99219
-------------
ISIS Has Recently Become a Popular Girls' Name
23 Sep, 2014
Isis is the Egyptian goddess of health, marriage, and love, known for being an ideal wife and mother. ISIS is the acronym for the Islamic State of Iraq and Syria, a fearsome terrorist group that recently beheaded two journalists and an aid worker on camera.
Isis Martinez, a 38-year-old woman who lives in Miami, was surely not named in honor of the latter. But now, current events are taking their toll.
"Whenever I was at a public place or a restaurant, there would be TV monitors with tickers at the bottom: 'ISIS warns,' 'ISIS kills,' 'ISIS threat,'" she told the Miami Herald. "Every word after my name is incredibly negative."
She is not alone in her plight. David Taylor, the data scientist and writer behind the blog Prooffreader, recently trawled the U.S. Social Security database for the most popular names from Greek, Norse, Egyptian, and Roman mythologies. It turns out that parents have been liking the sound of "Isis" for their little (pink) bundles of joy lately.
In some ways, the chart makes perfect pop-culture sense. "Venus" peaked during the 70s, right after the Dutch band Shocking Blue topped the charts with a song by the same name. (She's got it! Yeah baby she's got it!)
Minerva and Vesta, a virgin Greek warrior goddess and a virgin Roman goddess of the hearth, respectively, have faded over time. It often takes about 100 years for baby names to stage a resurgence, but the heyday for those two was in the 1940s—so it's still a few decades too early for their comeback.
The baby-name problem is a fairly small part of the broader "what-to-call-these-people" dilemma. Organizations that go by the acronym ISIS have been begging news media to call the Sunni extremist organization something different. And to some extent, it's working. As National Journal's Matt Berman points out, the Associated Press has moved to "Islamic State group" and The New York Times is going with IS. The U.S. government has increasingly said "ISIL"—the Islamic State of Iraq and the Levant. Egypt's Islamic authority, Dar al-Ifta, proposed "al-Qaeda Separatists in Iraq and Syria," or QSIS, and France recently announced it would use the Arabic acronym "Daesh." ISIS really hates that word though, and according to The Washington Post, has threatened to cut out the tongue of anyone who uses it.
Being named Isis right now may not be as challenging as being named Osama right after 9/11. But it does make you realize just how quickly history can turn. (President Obama once quipped that his middle name, Hussein, must have been given to him by "someone who never thought I'd run for president.") Almost overnight, certain words can go from perfectly fine to completely untouchable, just like ISIS went from being like a "junior-varsity" basketball team to the biggest terrorist threat the U.S. has faced in years.
We can only hope that we never face an enemy whose acronym is EMMA—the second-most-popular girls' name last year.
http://www.theatlantic.com/international/archive/2014/09/isis-girls-name-popular/380532/
------------
Child rights activist says enough proof of underage prostitution in Malaysia
23 Sep, 2014
A child rights advocate who appeared in a recent documentary on underage sex trafficking in Malaysia has denied attacking the police, but said she had assisted the police in providing them with information before.
Dr Hartini Zainuddin (pic, right) was responding to a statement by Bukit Aman's secret societies, gambling and vice division principal assistant director, SAC Datuk Roslee Chik, who criticised her for not furnishing evidence of her claims of underage sex trafficking.
Hartini, who was interviewed in a video titled "Trapped – The underage sex industry in Malaysia", said that some of the girls involved in prostitution had forged documents to hide their real age.
"To say I've never stepped forward to provide information to the authorities is not true. I always have and always will," the activist told The Malaysian Insider, adding that she has a good relationship with Bukit Aman's D11 (Sexual and Child Investigation Division).
"Maybe he (Roslee) wants to meet with us more often so we can assist them with gaps and provide more information. No one is attacking police - we're saying there are huge gaps collaboration and system."
The 22-minute video documents the underage sex trade in Kuala Lumpur and features interviews with the police, child activists, psychologists and three underage sex workers seasoned in their trade.
The video, the result of two years of research by journalists Mahi Ramakrishnan and Rian Maelzer, has so far received more than 155,000 views on YouTube.
Mahi told The Malaysian Insider that she stumbled on the story of foreign children used in the sex trade by accident, saying she had never imagined that such a thing was happening in Malaysia.
"I never knew that such a thing existed in Malaysia. I mean, everyone knows that this happens in Thailand but I really had no idea that the underage sex trade was alive and well here," she had said.
In its response, Bukit Aman downplayed the video, and said it was wrong to use the word "industry" to describe the problem.
"Sex is not an industry in Malaysia, the term 'sex activities' is more accurate," Roslee was reported saying, adding that "industry" implied that the profits derived from prostitution in Malaysia was as big as in Thailand, where prostitution is legal.
Hartini questioned this and asked if Bukit Aman was equating underage sex trafficking with gambling.
"Bukit Aman said there is a difference between an illegal activity and syndicate. That underage sex trafficking is an illegal activity here. Like gambling? Shouldn't we make it a crime? Didn't we sign the UN protocol on sale of children for prostitution and pornography, making it a crime?"
Meanwhile, Damansara Utama assemblyman Yeo Bee Yin (pic, left) took the police to task for attempting to whitewash the issue, saying she was greatly disturbed by Bukit Aman's response to the video.
"How is a RM3 billion prostitution market not an 'industry' but an 'activity to Bukit Aman? Bukit Aman should not take the problem of illegal sex trade lightly," she said in a statement.
She noted that Havocscope, an international organisation that specialises in collecting global black market information, estimates that the size of the black market value of prostitution in Malaysia was US$963 million (RM3.1 billion).
"Is a RM3 billion illegal sex trade market not big enough to be considered an 'industry' to Bukit Aman?"
"Such lukewarm attitude towards the complex problem is not acceptable," said Yeo, referring to Roslee's response.
Yeo said Bukit Aman should instead focus on providing solutions to deal with the problem.
"The video highlighted the glaring issue of underaged sex workers, we need to know how many children - foreign or local - are kidnapped, cheated or trafficked into selling their bodies and what we can do to help them."
She pointed out that the issue of human trafficking was also highlighted in the video, which should serve as a reminder to Putrajaya on Malaysia's "Tier 3" ranking by the US over its poor progress in fighting human trafficking.
"The video reveals shocking facts about Malaysia that most Malaysians are not aware of.
"As a responsible government, instead of brushing aside, finding fault or denying it, it is better to find solutions to this complex problem, through better legislation and enforcement," she added.
http://www.themalaysianinsider.com/malaysia/article/child-rights-activist-says-enough-proof-of-underage-prostitution#sthash.n68GZOnA.dpuf
------------
Plight of Married Muslim Women Shook Delhi Commission for Women Chief
23 Sep, 2014
She may have annoyed a few party colleagues in the Congress party by seeking a review of the Muslim Personal Law but Delhi Commission for Women chief Barkha Singh says women welfare and the responsibility of her constitutional post are above party affiliations and stands.
Quite different from her party colleagues' views, Barkha Singh, 55, a former Congress legislator, wants a change in the Muslim Personal Law to protect Muslim women from exploitation and violence in marriages.
She also wrote a letter to Prime Minister Narendra Modi on the issue. "I am concerned about the plight of women, especially Muslim. These women are facing exploitation which I want to stop," says Singh, a poetess who has won the Tribhasha Sammelan Award and authored a book: "Bhid Me Jab Hum Akele".
Explaining her move of writing the letter to the PM, the Commission chairperson says: "The commission is a non-political body thus the letter to the Prime Minister should not be taken as a political stunt."
"I hold a constitutional post which is apolitical. For me, women welfare is more important than views of politicians," she says, admitting that not all in her party agree with her. Muslim women are being exploited by husbands who have more than one wife. "Some of them are struggling to get their daily meals," she says.
"I feel that women from the Muslim community are facing violence and living in constant fear of not getting legal help in marriage-related matters," she says.
Asked why she did not write such a letter to the previous prime minister, despite heading the commission for over five years, she says: "As the new government is in majority, it can assure better reforms in Muslim Personal Law."
She says: "Any law must ensure dignity of individuals and protection from exploitation, if it does not then it must be abolished."
The former R K Puram legislator hit the headlines earlier when she had issued notice to former law minister and Aam Aadmi Party leader Somnath Bharti over his controversial raid against women from African nations living in Khirki Extension area in January.
She weathered a storm when the AAP government recommended her removal from the commission to Lieutenant Governor Najeeb Jung. She managed to convince Jung that her constitutional post gave her immunity against political decision to remove her.
http://www.deccanherald.com/content/432098/seeing-plight-married-muslim-women.html
------------
Despite religious ire, Egypt TV resumes belly-dance show
23 Sep, 2014
An Egyptian private TV channel has defied the religious establishment by resuming a controversial belly-dancing show that was described as corrupting to morals.
When it was first aired this month, Egypt's leading Islamic authority Dar al-Ifta said extremists could use the show as a pretext to depict the country as anti-Islamic.
Al-Qahera Wal Nass TV temporarily suspended "The Dancer." It said the decision was taken to "honor" 11 Egyptian policemen killed in an attack in the Sinai. It did not cite religious anger as a reason.
Writer and media analyst Yasser Abdul Aziz told Al Arabiya News: "Dar al-Ifta has absolutely no power in dictating what can and can't go on air."
He said the channel likely resumed the show after assessing the pros and cons, including the political and social impacts.
Tamer Habib, one of the judges on the program, told Al Arabiya News: "The show was never stopped. It had just been postponed out of respect for the 11 martyrs killed in Sinai."
Habib said: "We never said we would halt it, despite the critics we faced after the first episode."
It was just like any other talent show, including "Arabs Got Talent" and "Arab Idol," he added.
Role of Islam
The debate over the "The Dancer" has led analysts to highlight the importance given to Islam by Egyptian presidents and its changing role in the country.
"Egypt was, and will remain, an overtly conservative country that applies restrictions on the media," Abdul Aziz said.
President Abdel Fattah al-Sisi "calls upon Islam for his ideology and society related matters, but never let religion interfere in his political decisions, unlike ousted Islamist President Mohammed Mursi, who was using Islam as a weapon to manipulate Egyptians," Abdul Aziz added.
While famed in Middle Eastern countries for centuries, belly-dancing is still seen as immoral by Egypt's conservatives.
Critics
Prominent media figure Tamer Amin slammed the channel following the airing of the second episode.
The bigger problem, he added, is that the channel is wrongly claiming that extremists are behind the criticisms and are preventing freedom of the arts.
However, Habib said: "For sure Salafis and extremists are behind all these critics. They don't recognize belly-dancing as a respectable art."
http://english.alarabiya.net/en/media/television-and-radio/2014/09/22/Despite-religious-ire-Egypt-TV-resumes-belly-dance-show.html
------------
Turkey lifts ban on headscarves at high schools
23 Sep, 2014
The Turkish government announced it was lifting a ban on female students wearing the Islamic headscarf at high schools, in a move denounced by opponents as undermining the basis of the country's secular society.
President Recep Tayyip Erdogan, who co-founded the ruling Islamic-rooted Justice and Development Party (AKP), has long been accused by opponents of eroding the secular values of the modern Turkish state.
Deputy Prime Minister Bulent Arinc, a close Erdogan ally, said that an amendment was made to the dress code regulations for female students to say they will not be forced to keep their heads uncovered.
"I know that some female students were longing for (this amendment) to high school regulations," Arinc told reporters after the cabinet meeting late on Monday.
Prime Minister Ahmet Davutoglu welcomed the amendment as an effort for "democratisation."
"This should not only be seen as the lifting of the ban on the wearing of headscarf," Davutoglu told the private NTV television Monday.
"There has been an effort for freedoms and democratisation in every sphere."
Kamuran Karaca, head of the Egitim-Sen education union, said that the measures would provoke a "trauma" in Turkey.
"Turkish society is heading back to the Middle Ages through the exploitation of religion," he said.
Last year, Turkey lifted a long-standing ban on women wearing the headscarf in state institutions as part of a package of reforms to bolster freedoms and democracy -- which drew the ire of secularists who denounced the move as an attempt to Islamise the staunchly secular country.
Women can already wear the Islamic headscarf -- known as the hejab -- in universities. The wives of most AKP ministers wear the hejab, as does Erdogan's wife Emine.
The founder of modern Turkey, Mustafa Kemal Ataturk, based the post-Ottoman republic on a strict separation between religion and state.
Critics accuse Erdogan, who last month moved to the post of president after over a decade as prime minister, of seeking to undermine Ataturk's legacy, charges he denies.
http://english.ahram.org.eg/NewsContent/2/8/111469/World/Region/Turkey-lifts-ban-on-headscarves-at-high-schools.aspx
------------
PPP MPA claims husband forced her resignation at gunpoint
23 Sep, 2014
KARACHI: Perveen Jun­e­jo of the PPP has denied that she willingly resigned as me­m­ber of the Sindh Asse­mbly and accused her husband of having forced her to sign the resignation paper at gunpoint.
Ms Junejo, who won the PS-76 (Dadu-III) seat in last year's general elections, said she was surprised to see reports on Friday that Speaker Agha Siraj Durrani had accepted her resignation.
She alleged that her husband Aziz Junejo had got her signature on a typed resignation paper at gunpoint in the presence of Faryal Talpur, sister of PPP Co-Chairman Asif Ali Zardari, and MNA Rafique Jamali.
She appealed to PPP Chairman Bilawal Bhutto Zardari and Asif Zardari to take notice of the matter.
Talking to journalists here on Monday, she said she and Aziz Junejo, a former irrigation engineer, had estranged relations for about a year. On Sept 18, according Ms Junejo, her husband called her and asked her to see him at Zardari House in Karachi. Faryal Talpur and Rafique Jamali were present when she reached there.
She claimed that her husband had got her signature at gunpoint in their presence and asked her to leave the house immediately. He also accused her of having taken money from TMOs, although she was not allowed to visit her constituency during the past year, she added.
Ms Junejo asked how could her resignation be accepted by the speaker without inviting her to confirm it. She threatened to take the matter to court if the party leadership did not provide her justice.
http://www.dawn.com/news/1133714/ppp-mpa-claims-husband-forced-her-resignation-at-gunpoint
------------
Queensland's Muslim women targeted amid terrorism hysteria
23 Sep, 2014
DESPITE pleas for calm from the Queensland Premier and senior police, Muslims – particularly women – have been targeted in a series of hate attacks.
The Sunday Mail can reveal Muslim women are being singled out, including one victim who had coffee thrown in her face while she was stopped at traffic lights south of Brisbane.
The woman said a man in a car pulled up beside her and callously doused her in coffee before driving off along Beenleigh Rd.
"I was terrified,'' she said. "I feel unsafe. I feel like a stranger in my own country."
Other Muslim women have been abused and threatened, with one told to take off her headscarf – or hijab – at West End by a man who wanted to burn it.
The women did not want to be identified, and all believe they are "collateral damage" from recent police anti-terrorism raids which have fuelled fear and suspicion across the nation.
Sarah, 30, said she'd been waiting outside a shop in Logan Rd at Underwood with a 12-year-old girl when insults were hurled at her by a man riding past on a pushbike.
"He yelled f--- jihad, f--- off, go back home you c--- and continued to verbally abuse us,'' she said.
In the next 20 minutes she was abused twice by other men. "It's quite frightening to hear such vile language and hatred. I was fearful,'' she said.
Stacey, 27, said she had copped offensive insults online.
"I'm a seventh generation Australian,'' she said. "My family are as Australian as you can get and I'm scared."
Brisbane Muslim community leader Ali Kadri said: "We need to ensure that these acts stop immediately.
"This is how extremism starts. It starts in the mind, it comes out the mouth and ends up in violence ... we must all sit down and come up with some solutions.''
The Brisbane attacks come after a Mareeba mosque had the word "Evil" painted on it and the Logan and Holland Park mosques were targeted in anti-Islamic incidents.
Police Commissioner Ian Stewart urged victims to come forward.
"We need all parts of the community to work with us particularly those who are singled out and targeted and reinforce to them that police are there for them as well,'' Mr Stewart said.
On Thursday night – just hours after homes were raided by police – Mr Stewart, Police Minister Jack Dempsey and Multicultural Affairs Minister Glen Elmes held talks with Brisbane's Muslim community representatives to address their concerns about their safety and welfare.
'People need to see we are not extremists'
A BRISBANE imam has revealed how Australia's oldest mosque is helping convert young Muslims with extreme views.
Holland Park mosque's Imam Uzair Akbar said he worked with troubled young Muslims on a regular basis.
"We came to know that one of the problems we were facing in relation to the youth was that they were not affiliated with a mosque, they were affiliated with a centre,'' Imam Akbar told about 100 people on Friday afternoon when the mosque was opened to the public for an hour. "And there is not a set of laws pertaining to centres and anyone can come and preach and educate and we came to know that the information they were receiving though these centres was not proper, it was not mainstream.
"So a couple of years ago, myself, Ali Kadri (mosque spokesman) and a few brothers decided we should make a centre in which the youth could come …
"We did that, and I believe many, many children who had extreme views became mainstream by the grace of God almighty, and with the assistance of the government.
"… the majority, 99.99 per cent of Muslims, including youth, are very wise and they are understanding …"
Imam Akbar said the mosque condemned all acts of atrocity. "We stand for justice for all. So if there's any kind of barbaric act carried out anywhere out in the world, we should stand up united because we believe that justice is the reason why Australia is a beautiful country. Because God almighty said where justice is served, that country will prosper.''
Ali Dean, 79, said: "People need to come and see that we are not all extremists.''
Bid to take the Islam out of IS
EXPERTS have called on the Australian public to follow France's lead and start referring to IS under a new name to avoid associating the Islamic religion with extremism.
France has already declared it will be using the name "Daesh" to reference the terrorist group. The term is a loose Arab acronym for al-Dawla al-Islamiya al-Iraq al-Sham – or Islamic State of Iraq and the Levant in English.
Council of Imam's Queensland chairman Yusuf Peer appealed to the media and politicians to start referring to the terrorist group using the same or a similar name.
"Islam cannot be associated with terrorism," Imam Peer said. "You cannot kill innocent people. You cannot destroy churches and temples. You cannot destroy trees. You cannot mutilate bodies like these people are doing. These are very wrong actions."
QUT media and communications professor Axel Bruns said it was a good idea to avoid referencing the group as anything to do with an Islamic State. But he thought it would only be effective if the international community was able to come to a consensus on what to call the group.
"Names certainly matter to any organisation, but the real problem will be getting the global community to decide on what to call the group. "It's going to be very difficult for one entity – like France – to effect change by themselves."
http://www.couriermail.com.au/news/queensland/queenslands-muslim-women-targeted-amid-terrorism-hysteria/story-fnihsrf2-1227065256202
------------
Muslim Women in Conference First, In Derbyshire
23 Sep, 2014
MORE than 50 Muslim women attended a conference hosted by the five East Midlands police forces in Derbyshire.
Subjects covered at the conference, at the Westgate Function Suites in Long Eaton, included online safety, domestic abuse, extremism and the dangers of travel to combat zones such as Iraq and Syria. Speakers came from a variety of agencies including police, Cardiff University and local councilors.
Chief Inspector Karl Mortimer said: "This was the first conference of its kind held in the region and we were very pleased with the attendance on the day."
http://www.derbytelegraph.co.uk/Muslim-women-conference/story-22961673-detail/story.html#ixzz3E7tWJZjl
------------
First World Assembly for Women held in Tokyo
23 Sep, 2014
Hiroshi Inomata, Ambassador Extraordinary and Plenipotentiary of Japan to Pakistan, discussed the first World Assembly for Women held in Tokyo this week. The Ambassador has served the Japanese Ministry of Foreign Affairs since 1978 and prior to his appointment in Pakistan was posted in Thailand, the United Kingdom, the Republic of Korea, and the United States of America.
Q: What is the context in which Japan decided to host the first World Assembly for Women (WAW!) in September 2014?
A: In December 2012, Prime Minister Abe returned for a second term in Government after 5 years separation. Since then the Abe Administration has been dedicated to economic revival in Japan and as a part of that agenda, the Prime Minister put high priority on the women empowerment and against the backdrop of declining birthrate as well as aging society, announced to the United Nations General Assembly last year his intention to host the World Assembly of Women 2014. He has expressed his deep seated belief that real economic revival and strength is not possible without engaging the women of the world. The Prime Minister has set clear economic revival targets to create a society where women can shine.
Full report at:
http://www.dailytimes.com.pk/national/23-Sep-2014/first-world-assembly-for-women-held-in-tokyo
------------
URL: https://newageislam.com/islam-women-feminism/isis-recently-become-popular-girls/d/99219