New Age Islam News Bureau
13 Jan 2015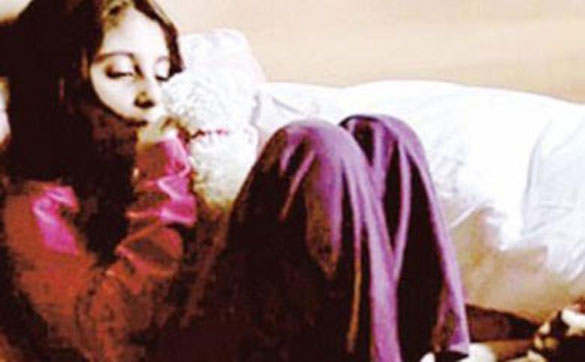 Nine-year-old Farah was made to act in a film without her father's permission. (Courtesy: Watan newspaper)
-----------
• Parents Hunt for Islamic State 'Bride' Hodan Abby
• 64 Indian Female Workers Transferred To Shelter in Kuwait
• Father Angry As Saudi Daughter 'Used' In Sex Abuse Awareness Video
• Religious Authorities Want Girls' Help in K-Pop Band 'Hugs and Kisses' Probe
• Saudi Women Seek Their Rights in Real Estate Ownership
• 4m Unmarried Saudi Women in the Next Five Years
• Jakarta Govt to Establish Domestic Abuse Hotline
• Women Will Receive More Degrees than Men in Bangladesh
• Remand Application for Two Austrian Female Jihadists
Compiled by New Age Islam News Bureau
URL: https://newageislam.com/islam-women-feminism/isis-forced-girls-give-transfusions/d/100995
-----------
ISIS Forced Girls to Give Transfusions to Keep Their Wounded Fighters Alive
13 Jan, 2015
A pregnant teenager who was captured by Islamic State militants has revealed how girls are being forced to give blood transfusions to keep their attackers alive.
Hamshe – who is understood to be the first Yazidi slave to reveal her identity – has told of how sickening Islamist jihadists have been using the blood of captured women and children for wounded fighters in the battlefield.
The 19-year-old, who also has a baby with her husband who is believed to have been murdered by militants, was held captive for 28 days before she escaped.
She said: 'When each of them took a Yazidi girl, one of them took me to his house and locked me inside a room and told me 'I will not give you food or water if you refuse to marry me'.'
'They forced the Yazidi girls to donate blood to IS wounded fighters. Which God allows these acts?'
Dressed in all black and wearing a headscarf while slumped on a dirty floor in Iraq, she described how she managed to run away from her captors while holding her baby.
'One night my baby was crying from thirst. I knocked at the door and saw all the guards sleeping outside. I took a bottle of water from them and I ran away with my baby and walked for four hours', she said.
She said she came across an Arab man who took her into his home and looked after her for three days. She added: 'Then they drove me to a Peshmerga checkpoint in Barda Rash. I was at the checkpoint for 7 hours. Then my brother came and took me back home.'
Her mother added: 'I couldn't imagine that my daughter will come back. We thank God for that. Our family is destroyed. The Yazidi community has been destroyed.
'This tragedy has done us enough damage for the rest of our lives.'
Speaking of the moment she was captured by IS militants and moved to a different location in Iraq, Hamshe added: 'I can never forget when they separated men and women from each other. It was very painful to witness women and girls being taken as a war spoils.
'Each IS fighter was holding the hand of a Yazidi girl and took her for himself. It was harder than facing death.'
Her plight – and that of many others – is revealed in a new documentary, Slaves of the Caliphate, which will screen on BBC Arabic tonight.
Activist Nareen Shammo has been keeping tracks of hundreds of kidnapped women and has worked tirelessly to locate them and negotiate their return. She said of the blood transfusions: 'I work on the Yazidi cases every day.
'This is the first time I've heard such a thing, they even take our girls and old women's blood. They use it for their wounded IS fighters.'
It is the latest example of the depraved lengths Islamist jihadists are willing to go to in the name of Islam.
The horror of Isis fighters taking Yazidi sex slaves was revealed in an Amnesty International report last December. It found that Islamic State is kidnapping thousands of women and girls as young as 12. They are then traded in open markets as sex slaves for as little as £16 each.
After being abducted from their homes, they are sold as playthings to the highest bidder, usually IS commanders, or gifted to the 'bravest' fighters as rewards for their services to jihad.
Ms Shammo, who has come under constant death threats, has been using Facebook to identify young captured slaves and communicates with them on their mobiles, which they hide from the militants.
At one point during the footage, a militant seizes the phone of a girl she is trying to rescue and adds: 'The truth is they're in IS hands, they will convert to Islam and live under IS protection.'
Another victim, who was captured by fighters at the age of 21, said she had been told to agree to be a gift for Abu Bakir Al Baghdadi, the head of IS, but she had refused.
She said: 'I saw everything, I saw girls being raped, I witnessed their torture. I saw babies separated from their mothers. Some children were 5 and 6 years old when they were taken from their families.
'They killed our fathers, uncles and everyone. There is no horror I haven't experienced. I lost my senses.
'There is nothing worse than rape.
'One of the leaders took a 13-year-old girl to his house, locked the room and told his children she is a Yazidi girl who converted to Islam, that he will teach her how to pray and read the Koran.
'In fact he was raping her during that time. She told me she was raped there for three days.'
The Islamic State believe that captive Yazidi women are like property, exchanging them in some cases for as much as $10,000 each.
Over 300 women have been released since August 2014 but it is estimated that over 2600 women remain captive.
The Yazidi religious minority community in Iraq says 3,500 of its women and girls are still being held by the so-called Islamic State (IS), many being used as sex slaves.
Escaped slaves have told how they are traded in vile markets where men barter for their bodies.
According to adocument, obtained by websiteIraqinews.com, just £27 will fetch a Yazidi or Christian woman aged between 40 and 50.
Chillingly, a child between one and nine will fetch four times that.
One escaped slave told the BBC: 'They put us up for sale. Many groups of fighters came to buy. We couldn't sleep properly because new groups came at all hours,' she says, almost whispering.
'Sometimes they brought girls back who had been beaten, injured. When they recovered, they were sold again. Eventually, they took all the girls. The women were left behind [and sold last].
'Whatever we did, crying, begging, it made no difference. An Islamic State sheikh took the money. It wasn't much. A fighter showed us 15,000 Iraqi dinars [$13; £8] and said: 'This is your price.''
Last December, a pamphlet revealed how IS has given out orders on the proper use of women as slaves.
The extremist group's Department of Research and Fatwas (religious edicts) issued a document with the chillingly matter-of-fact title: 'Questions and Answers on Taking Captives and Slaves'.
Posted on a jihadist web forum, and allegedly given out after prayers in Mosul, Iraq, it says Christians, Jews and Yazidi women can all be taken as slaves.
Women can be bought, sold, and given as gifts; they can be disposed of as property if a fighter dies.
The pamphlet's Q&A format includes the following:
Question: Is it allowed to have intercourse with a female captive immediately after taking possession of her? Answer: If she is a virgin, her master can have intercourse with her immediately after taking possession. But if she is not, you must make sure she is not pregnant.
Question: Is it allowed to have intercourse with a female slave who has not reached puberty? Answer: You may have intercourse with a female slave who hasn't reached puberty if she is fit for intercourse. However, if she is not fit for intercourse, it is enough to enjoy her without.
IS has even recorded the practice in its official publication, Daqib. It states:
'After capture, the Yazidi women and children were then divided according to Sharia [Islamic law] amongst the fighters of Islamic State who participated in the Sinjar operations…
'Before Satan sows doubt among the weak-minded and weak-hearted, remember that enslaving the kuffa [infidels] and taking their women as concubines is a firmly-established aspect of Sharia.'
A spokesman for Amnesty has said: 'Despite worldwide condemnation, the IS has shown no intention of putting an end to the war crimes and crimes against humanity which its fighters have been committing on a large scale, including against the Iraqi women and girls they have abducted and continue to hold captive.
'Any party, in Iraq or outside, with any influence over the IS should use that influence to secure the release of these captives.
'A small proportion of those abducted have managed to escape IS captivity, many after having been subjected to acts of unspeakable brutality.
'But the survivors interviewed by Amnesty International are not receiving the help and support they desperately need.'
http://www.dailymail.co.uk/news/article-2906312/I-raped-forced-blood-jihadi-captors-Yazidi-sex-slave-held-ISIS-baby-reveals-forced-girls-transfusions-wounded-fighters-alive.html#ixzz3Ojnv78Dx
---------
Parents hunt for Islamic State 'bride' Hodan Abby
13 Jan, 2015
THE parents of a young Sydney woman who flew to Syria to join the Islamic State death cult have flown to the Middle East in a desperate bid to find her and bring her home.
Hodan Abby, 18, and her friend Hafsa Mohamed, 20, went to Syria last month, becoming the first Australian women to travel independently into the conflict zone.
Ms Abby's parents were said to be "devastated" when they discovered their daughter had travelled to the war-ravaged country with Ms Mohamed, who boasted about her love for the IS death cult and desire to become a martyr for ''the sake of Allah".
It is understood Ms Abby's father is still in the Middle East, but her mother returned home to Western Sydney last week.
Ms Abby has spoken to her parents at least once on the phone but told them she refused to come home.
Meanwhile, Ms Mohamed's uncle travelled to Turkey in search of his niece last month.
The former childcare worker posted online messages in the months leading up to the trip, saying it was her dream to go to Syria and that she wanted to "marry a mujahid (jihad fighter) and die along with him as a martyr".
Both girls lied to their families about where they were going and sent messages once they crossed the border into Syria.
Ms Mohamed last posted on social media 29 days ago, when she said she was "in no way ashamed" of her decision to go to Syria.
http://www.dailytelegraph.com.au/news/nsw/parents-hunt-for-islamic-state-bride-hodan-abby/story-fni0cx12-1227182634858
---------
Father Angry As Saudi Daughter 'Used' In Sex Abuse Awareness Video
13 Jan, 2015
JEDDAH — The Bureau of Investigation and Public Prosecution (BIP) is considering a complaint from an expatriate father against a number of art production companies for allegedly using his 9-year-old daughter to act in a film about sexual abuse without his consent.
Local daily Al-Watan reported on Monday that the man, married to a Saudi woman, had also filed the same complaint to the Ministry of Culture and Information and the National Society for Human Rights (NSHR).
Sources close to the family said a relative took the daughter, Farah, to the film production company and forced her to perform some scenes in the movie without getting the father's permission.
The movie was aimed at increasing public awareness about sexual abuse.
The unidentified father said he was shocked when he saw the promotions of the film featuring his daughter.
He said: "I was surprised to see my daughter in the film. "I never gave the production companies my written or verbal consent.
I did not even know that she would be used to act in a film about harassment."
The father accused the production companies of human trafficking and said they trained his daughter to act.
"They exploited my daughter to act out scenes that were not suitable for her age," he added.
He also alleged that his daughter was forced to take off her clothes. The father said he has presented all evidence against the production companies, which he accused of defaming him.
He also accused the companies of causing rifts between him, his children and his wife of 10 years.
Omar Al-Kholi, professor of law at Jeddah's King Abdulaziz University and legal consultant of the NSHR, said the case was an act of human trafficking and a gross violation of the rights of the father.
He said the punishment for such charges, if proven, includes imprisonment and fines.
http://www.saudigazette.com.sa/index.cfm?method=home.regcon&contentid=20150113230372
---------
64 Indian Female Workers Transferred To Shelter in Kuwait
13 Jan, 2015
Sixty-four distressed Indian female workers in Kuwait have been shifted to a government-run shelter where they would be provided with free lodging and medical treatment.
Kuwait's Public Authority for Manpower opened a shelter for expatriate female workers in the country, Jleeb Al-Shuwaikh (Abbasiya) from December 23, 2014, Indian embassy in Kuwait said in a statement.
The shelter is providing free lodging and medical treatment, the statement said.
"Any distressed Indian female domestic worker who is in need of accommodation in Kuwaiti Government shelter, can contact the Embassy of India in Kuwait on a working day before 12.00 hrs for her transfer to the above Shelter, after completion of formalities at the Embassy," the statement said.
However, the Kuwait Government shelter will not accept any pregnant female domestic worker.
Around two million domestic workers are employed in the member states of the Gulf Cooperation Council (GCC). The majority come from the Philippines, India, Sri Lanka, Nepal, and Ethiopia to cook, clean households and care for children.
Kuwait is home to over 660,000 domestic workers, according to a Human Rights Watch report.
http://www.thehindu.com/news/international/south-asia/64-indian-female-workers-transferred-to-shelter-in-kuwait/article6781001.ece
---------
Religious Authorities want girls' help in K-Pop band 'hugs and kisses' probe
13 Jan, 2015
Local religious authorities have asked for the three tudung-clad Malay girls, who were seen behaving in an improper way on stage with a K-Pop band, to come forward over the controversy, The Star Online reported today.
The three had been seen in a YouTube clip getting hugs and kisses from members of the K-Pop band B1A4 at a mini-concert held at the Live Centre in Jalan Sultan Ismail, Kuala Lumpur on Saturday night.
Federal Territory Islamic Religious Department (Jawi) said today that the three K-Pop fans will be able to assist in its investigations.
The Star Online quoted Jawi director Paimuzi Yahya as saying that the actions of the women and band members went overboard, as it was against Islamic teachings and offended the sensitivities of the Muslim community.
"The Jawi enforcement division has opened an investigation under Section 29 of the Syariah Criminal Offences ( Federal Territories ) Act 1977 (Act 599 Indecent Acts in Public Places.)
"Those who are involved are asked to come forward to help in the investigation," he said in a statement today.
According to The Star Online, Paimuzi explained that the particular Act can be enforced against people who behave indecently and in contravention of Islamic law in a public place, and is punishable with fines of not more than RM1,000 or six months jail or both.
The three-minute video clip of the B1A4 stars hugging and kissing the female fans on stage went viral on social media yesterday, drawing much criticism from viewers.
The Star Online also reported that TGM Events, the organiser of the mini-concert have since expressed their regret over the incident and declared that the three Malay girls had willingly stepped onto the stage.
http://www.themalaysianinsider.com/malaysia/article/authorities-want-girls-help-in-k-pop-band-hugs-and-kisses-probe#sthash.4pJ00Ukb.dpuf
---------
Saudi women seek their rights in real estate ownership
13 Jan, 2015
JEDDAH — Saudi women demanded the Ministry of Housing form a higher committee to directly tackle issues they face in the real estate industry.
Industry expert and real estate developer Ezdihar Batubara said the minister of housing should immediately earmark residential areas in Makkah and develop their infrastructure.
She said: "As real estate developers we need things to be done officially. "It is the only way we will achieve any progress.
"I also suggest that the Ministry of Housing include all real estate offices and developers in the planning and design of residential areas."
The vice head of the Jeddah Chamber of Commerce and Industry's real estate committee Shurouq Al-Sulaiman demanded the ministry grant women without sons the right to own a residential property.
She said: "The real estate industry lacks women specific services and real estate offices to serve the Saudi women.
"The first step toward guaranteeing the involvement of women in the industry is for the Ministry of Housing to open a female section in the ministry and all directorates dealing with it."
She also added the ministry should cooperate with the Ministry of Commerce and Industry and the Ministry of Justice in order to stay updated regarding the market.
Family consultant Fatima Al-Mardini claimed most landlords do not rent residential properties to female tenants unless they are accompanied by a guardian.
"There are many women in our society who are financially independent and fully able to live alone but do not have good ties with their guardians," said Al-Mardini.
Fatima Al-Qurban said the Ministry of Housing should set require legal contracts to be signed between landlords and tenants.
She said: "Tenants are being kicked out of their properties for no legitimate reason.
"Landlords replace tenants freely the moment they find another tenant who is willing to pay a higher rent.
"The ministry should unify and regulate rent prices based on the size of the property and the area it is in."
http://www.saudigazette.com.sa/index.cfm?method=home.regcon&contentid=20150113230375
---------
4m unmarried Saudi women in the next five years
13 Jan, 2015
The number of unmarried Saudi women will reach 4 million in the next five years. They are currently more than 1.5 million.
These figures have been included in a study conducted by Ali Bin Ibrahim Al-Zahrani, head of the department of education at the Islamic University in Madinah.
Al-Zahrani. He is also a member of the board of directors of the Usrati (my family) Charity Organization in Madinah.
These are not only large figures but they are really frightening.
I will not discuss here the causes of why women are unmarried. Among others, these causes include high wedding costs, huge dowries and a large number of Saudi men preferring to marry foreign women.
Many of these repetitive causes have vanished. They are no longer excuses used to justify the number of unmarried women. A large number of parents are now keen to see their daughters happily married at their own homes.
In my opinion, the main reasons behind the increasing number of unmarried women in our country are poverty and unemployment, which make many young men hesitant to get married.
The young men can benefit from the loans being extended by the Credit and Savings Bank to cover the wedding expenses. Some charitable organizations also provide financial assistance to young men and women about to marry.
The marriage costs may not, therefore, be a problem for the young men but what happens after marriage is the issue. How are they going to maintain their small families while they may be destitute and jobless?
Other causes include the determination of a number of young women to continue their studies, especially higher education. They want to do their postgraduate studies to get a good job. They will discover that they have spent long years chasing their education and they have crossed the age of matrimony. They will come to realize when it is too late that they have just missed the marriage train.
Furthermore, the authorities are keen to employ women rather than men. The employment of "Eve" is important but more important than this is the employment of "Adam" because he is the provider and the element in charge of establishing a family.
There is another factor that is not being mentioned though it is highly significant. This is women keeping themselves occupied by establishing friendships with men through telephones and social media.
They look for rosy dreams and nice talk on the Internet. They are made to believe that chivalrous knights will come to pick them up on their white horses. Years will pass while they are still waiting for the men of their dreams to come to them.
When they wake up from their fancy dreams, these women will find out that they have aged and their chances of marriage have dimmed.
The large number of unmarried women, no matter what its reasons may be, has become a phenomenon threatening our society as it encourages deviant behaviors such as harassment, illegal sexual relationships and a number of psychological and social illnesses.
The important thing here is the search for real solutions that are easy and applicable to put an end to the phenomenon of the increasing number of unmarried women.
In my mind, these solutions begin and end with annihilating joblessness and reducing the high costs of living. It is also important to spread awareness among our young men and women about the significance of marriage. We should teach them that family comes first.
All the suggested solutions are aimed at reducing unmarried women, but those who are already in this situation have gone into the oblivion and are being forgotten. But this is another story.
http://www.saudigazette.com.sa/index.cfm?method=home.regcon&contentid=20150113230315
---------
Jakarta Govt to Establish Domestic Abuse Hotline
13 Jan, 2015
Jakarta. The Jakarta City Council has announced plans to set up a hotline for victims of domestic abuse.
Noor Syamsu, head of the council's One-Stop Integrated Service Agency (BPTSP), said the telephone support service would connect victims to authorized agencies, which in turn could provide specialist support.
A consultation office and sessions with a psychologist would also be available.
"We have asked P2TP2A [Center for Women's and Children's Empowerment] to send their psychologists to our regional units, whether the psychologists should come daily or weekly is up to them," Noor said.
The BPTSP would coordinate with the P2TP2A to establish the service.
Noor said his agency would not have the authority to follow up or investigate domestic abuse cases. The agency would only facilitate the victims by connecting them to the authorized agencies.
A memorandum of understanding with the P2TP2A would be signed on Jan. 21, Noor said.
The National Commission on Violence Against Women, or Komnas Perempuan, reported 11,719 domestic abuse cases in 2013, although the figure is likely higher as in most cases abuse goes unreported.
http://thejakartaglobe.beritasatu.com/news/jakarta/jakarta-govt-to-establish-domestic-abuse-hotline/
---------
Women will receive more degrees than men in Bangladesh
13 Jan, 2015
Women will receive more graduation and post graduation certificates than men in the 49th convocation of Dhaka University on Tuesday. The convocation will begin at 12 noon.
Dhaka University Vice Chancellor AAMS Arefin Siddique said this at a press conference held at the VIP lounge in front of his office yesterday.
A total of 6104 students would be given graduation and post graduation certificates. Of them, 2,737 are men and 3367 women, he said, reading out a written statement.
Of them, 3160 students would receive honours certificates, 565 masters, 1625 MBBS, 319 BDS, 186 nursing and physiotherapy and 109 homeopathy and ayurvedic, he said.
He added some 42 students would receive PhD certificates, 20 MPhil and 49 MD-MS while 29 other students would get their graduation and post graduation certificates with gold medals.
Francis Gurry, director general, World Intellectual Property Organisation, will deliver his speech as the convocation speaker at the convocation, with President Abdul Hamid, also the chancellor of the university, in the chair.
"Farncis will be honoured with the Doctor of Laws during the programme for his outstanding contribution in reaching out technology to people in the developing and underdeveloped countries," Vice Chancellor Arefin said.
Cabinet members, members of parliament and diplomats, among others, will attend the convocation.
BNP-Jamaat panel of the university teachers have meanwhile vowed to boycott the convocation in protests of political unrest across the country and corruption in the university administration.
http://www.dhakatribune.com/education/2015/jan/12/women-will-receive-more-degrees-men#sthash.Jpi5mrun.dpuf
---------
Remand application for two Austrian female jihadists
13 Jan, 2015
VIENNA: The state prosecutor in Salzburg, Austria, filed an application Monday evening to have two young women remanded in custody on suspicion of involvement in Islamic State (IS), China's Xinhua news agency reported.
The two women, aged 16 and 17, were arrested respectively in the states of Salzburg and Upper Austria on Saturday, with allegations that they had intended travelling to Syria to take part in the holy war and to wed IS combatants.
The state prosecutor showed concerns in a press release that the two suspects might flee or reoffend.
The Salzburg Regional Court has now set a 48-hour deadline for reaching a decision on the application.
In news related to the case, it appears that the 16-year-old Chechnyan origin was the instigator of the plan, having managed to convince her 17-year-old Bosnian acquaintance to join.
Federal Minister for Women and Civil Service Gabriele Heinisch-Hosek indicated that she was "very sorry" that the two girls were willing to join the holy war, and that she would check to see how the two got connected and whether they had been picked up in schools, Xinhua reported.
http://www.nst.com.my/node/69507
---------
URL: https://newageislam.com/islam-women-feminism/isis-forced-girls-give-transfusions/d/100995