New Age Islam News Bureau
8 Oct 2015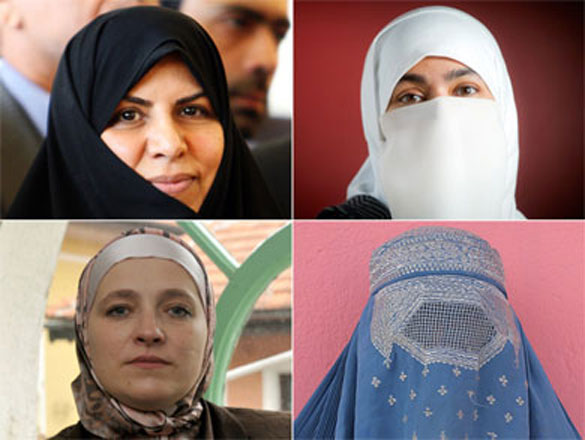 Different Islamic regions or cultures have adopted variations of modest female coverings. Clockwise from top left: a chador, a niqab, a burqa, and a hijab.
--------
• Palestinian Woman Shot near Al-Haram Al-Sharif and Stripped Naked
• Indian Muslim Man WhatsApps Triple Talaq to Wife from Dubai 30 Days after Marriage
• Jamaat-e-Islami Pakistan to Include Women in Top Decision Making Body
• 'There Are No Rules': A Look at the Niqab and Other Islamic Coverings in Canada
• Malala Yousafzai Opens Up About New Film, Dating and Mission to Educate Girls
• Bangladeshi Origin Nadiya Crowned Great British Bake Off Winner
• Saudi Woman under Trial for Supporting Daesh Openly
• Hijabi Street Style: These 14 Fashionistas Put The Urban In Turban!
• Pakistani Female Power lifter Twinkle Sohail Wins Gold at Asian Championship
• Saudi Prince Accused of Sexually Abusing Multiple Women At Three-Day Party 'Flees $37m
• London Film Festival Spotlights Women's Struggles
Compiled by New Age Islam News Bureau
URL: https://www.newageislam.com/islam,-women-and-feminism/new-age-islam-news-bureau/isis-fighters-in-love-affairs-with-many-saudi-women,-say-hackers/d/104842
----------
ISIS Fighters in Love Affairs with Many Saudi Women, Say Hackers
October 7, 2015
A majority of Isis supporters in Saudi Arabia are women and many have been lured into love affairs with Islamic State militants, a group of hackers in Saudi Arabia found after hacking into email and Twitter accounts of Isis sympathisers.
The cyber hacking group, called 'Cyber of Emotion', have hacked into scores of accounts as part of an anti-Isis campaign that they began last week.
The hackers hacked into several Isis-affiliated Twitter and email accounts, and even found 'love letters' exchanged between militants and women who support the group, Saudi media reported. The shocking revelation was that a majority of Isis supporters were women, the report said.
"In a Daesh (Isis) commander's inbox we found love emails he exchanged with one of his female supporters," the hackers told Al-Watan. It is, however, not clear how many accounts the group hacked into.
"The electronic war we unleashed on Daesh (Isis) targets their accounts and anyone affiliated with them. We will try hard to eliminate them and save our country from their evil designs," the leader of Cyber of Emotions was quoted as saying.
A study had revealed that quantitatively, the highest number of Isis-supporting Twitter accounts outside of the Islamic State's stronghold in Iraq and Syria were in Saudi Arabia. Saudis are also said to be one of the largest groups of foreign fighters within Isis ranks.
The Saudi hackers are continuing with their campaign despite receiving direct threats from Isis.
The Islamic State has claimed several terror attacks in the Kingdom over recent months, and several Saudi fighters in the Islamic State have threatened to kill their families.
http://www.ibtimes.co.in/isis-fighters-love-affairs-many-saudi-women-say-hackers-649560
----------
Palestinian Woman Shot near Al-Haram Al-Sharif and Stripped Naked
October 8, 2015
Ramallah: Hanin Doyat (20), a Palestinian woman, on her way to Wadi Al Jouz was shot near Al-Haram Al-Sharif in occupied East Jerusalem after an Israeli colonist harassed her.
Eyewitnesses reported that the Jewish colonist attempted to pull off her headscarf. She retaliated and hit the attacker with her handbag and was then shot at point-blank range. It was not clear whether she was shot by the colonist or by Israeli police.
Govt. Israel claims that the woman had a knife and stabbed the colonist but the eyewitnesses denied this claim.
Eyewitnesses told that the bleeding Palestinian woman was lying on the ground and she was stripped naked. Angry passerby Palestinians clashed with Israeli occupation forces.
The woman was rushed to an Israeli hospital. Her condition is not known. Her identity has also not been disclosed.
Eyewitnesses told that it was an attempt to judaise the holy city, erasing its Palestinian and Muslim character completely.
http://www.siasat.com/news/palestinian-woman-shot-point-blank-range-and-stripped-naked-848551/
----------
Indian Muslim Man WhatsApps Triple Talaq to Wife from Dubai 30 Days after Marriage
October 7, 2015
A Muslim man living in Dubai divorced his 21-year-old wife in Kerala by sending her a message on WhatsApp, just after 30 days of their marriage.
According to Times of India, the 27-year-old husband left for Dubai 10 days after the marriage and within three weeks send a message on WhatsApp, which said - "Talaq, Talaq, Talaq."
When the shocked family of the girl enquired with the groom as why he was taking such a drastic step, "...he said she was like an apple and he had already tasted it. So he did not want her anymore," Kerala Women's Commission member J Prameela Devi told TOI.
The girl, who was a student at a dental college, had to discontinue her studies for the marriage, so as to pay the groom a dowry of Rs 10 lakh and 80 gold sovereigns. After the divorce over the WhatsApp, the girl had to even leave her in-laws' house, it is reported.
The girl finally filed a complaint with the Kerala Women's Commission's adalat in Pala, Kottayam, which has questioned the validity of a 'WhatsApp talaq'.
The commission has ordered the department of Non Resident Keralites' Affairs (NORKA) to find the woman's husband, a resident of Vaikom in Kottayam. The local police also have been instructed to present the man's parents before the commission.
While the wronged Muslim woman is waiting justice, authorities in Kerala are debating on the validity of such a divorce. A member of the Samastha Kerala Jam-Iyyathul Ulama said that the talaq is valid. Sayyed Attakoya Thangal, the district president of the Ulama said, "The divorce, however, will be granted only after holding discussions with both the man and wife and their family members. If the husband sticks to his stand, divorce will be sanctioned."
The advent of technology has led to a significant increase in the number of digital divorces in the Muslim community, reports said. However, the All India Muslim Personal Law Board has clearly stated that "divorce through digital media" is not enforceable in the court of law.
"Islam and the Muslim Personal Law do not recognise this kind of practice," advocate Abdul Rahim Quraishi, assistant general secretary at the All India Muslim Personal Law Board told New Age Islam.
http://www.ibtimes.co.in/kerala-muslim-man-whatsapps-triple-talaq-wife-dubai-30-days-after-marriage-649587
----------
Jamaat-e-Islami Pakistan to Include Women in Top Decision Making Body
October 07, 2015
Iftikhar Alam
LAHORE –Jamaat-e-Islami Pakistan is expanding its top decision making body the 60-member Majlis-e-Shura (Upper Council) by adding 11 female members.
For the first time in its 74-year-old history JI will be giving women share in party's decision making. For the purpose the constitution of the party was amended in the Shura meeting recently held at Mansora (JI head office). The female members to become part of Shura will be elected by direct vote of party's women workers.
The move is considered a very progressive approach in contemporary times considering the fact that Islamist parties in Pakistan and all over the world hardly give women any representation in the decision making.
It also improves the public image of religious parties and also refutes the West's view that women are not given any rights in Islamist organisations.
Samia Raheel Qazi, female leader of the JI and daughter of party's former chief late Qazi Hussain Ahmed, told The Nation that 10 female members of the Shura would be elected through direct voting of party's women workers.
"Out of 26,000 JI workers in Pakistan 4,000 are females and they will directly vote for the Shura's women representatives," she said.
"Jamaat-e-Islami Women Wing Secretary General would be the 11th member of Shura," Samia explained.
When asked as to who are the popular candidates she said it was up to the voters to decide. "The voters will decide the suitable candidates," she said.
Samia being an advocate of women representation in political matters, however, was not in favour of fielding female candidates on general seats election for national or provincial assemblies. "There is no bar in the constitution for women contesting on general seats. However, our environment doesn't suit women to take part in election. If there will be suitable environment JI women workers will contest on general seats as well," she was of the view.
According to sources in the party the possible member of the Shura could be Samia Raheel Qazi, Durdana Siddiqui, Dr Firdus Kausar, Dr Humaira Tariq, Aisha Syed, Aisha Munawar and Dr Rukhsana Jabeen.
On a query whether the party's members from the religious minorities would also be included in the Shura JI's central leader and spokesperson for the party Ameerul Azeem said that Jamaat could consider the option for giving them representation in the near future. The party had minorities' representation for many years but the minority wing was formally established last year.
Since the election of Sirajul Haq as party chief Jamaat's style of politics is rapidly changing. About four months back party's meeting was held at Minar-e-Pakistan. Prominent personalities from all minorities were invited.
A professor of Islamic Studies from Punjab University having an in-depth knowledge about pan-Islamist organisations said that Jamaat is going to restructure all departments.
"The JI now speaks against privatization and advocates farmers' rights. It is a socialist touch of a purely Islamist party," he said on condition of anonymity. "JI is following the line of Muslim Brotherhood, which changed its old style of politics and eventually became a popular party of Egypt," he said.
JI foreign affair wing head Abdul Ghaffar Aziz, however, doesn't think that JI is following any other Islamic party's policy especially in case of giving women representation in its Shura.
"The Islamist parties in the world have many things in common but they make decisions according to their own society's need.
"The JI shouldn't be compared with the Muslim Brotherhood. Our working is different," Aziz said.
http://nation.com.pk/national/07-Oct-2015/ji-to-include-women-in-top-decision-making-body
----------
'There are no rules': A look at the niqab and other Islamic coverings in Canada
October 7, 2015
The niqab has become a defining issue of the 2015 federal election, with the Conservatives in favour of limiting its use in certain public circumstances, and the NDP and Liberals coming out strongly against such restrictions. The National Post's Vjosa Isai offers nine things you should know about niqabs and other forms of Islamic dress in Canada:
1. There are no hard numbers of how many Canadian women wear niqabs, hijabs or other Islamic garb. The provinces with the largest number of Muslim women are Ontario (288,025), Quebec (114,615), and Alberta (54,435), according to Statistics Canada's 2011 household survey.
2. There are 8,495 Muslim women working in Canadian public administration positions. Stephen Harper's musings about a ban on niqabs in the civil service would affect at best a small number of bureaucrats. Statistics from 2011 show only 1.8 per cent of 257,000 federal employees are Muslim women, and only a small subset of them is likely to wear face coverings.
3. Bill 62, introduced by Quebec's Liberal government in June, bans religious face-coverings such as the niqab, both for employees giving public services or anyone receiving them.
4. Alia Hogben, executive director of the Canadian Council of Muslim Women, says Islamic modesty is open to a wide range of interpretation. "There is a lot of controversy amongst Muslims about it (niqab), because every culture of Muslims has a different interpretation about what is modest and what should be, or should not be, covered.''
5. Although the term hijab means ''barrier'' in Arabic, it is also attributed to the overall concept of modesty in Islam, which includes dress and behaviour for men and women. The minimum area of the male body to be covered by loose clothing is between the navel and the knee.
6. Different regions or cultures have adopted variations of the covering. In places like Iran, women wear a chador, which is a cloak-like garment that also covers the forehead and has no hand openings or clasps. The burqa — a niqab with a grille added on to hide the eyes — is traditionally worn by Pashtun women in Afghanistan. Women can also style the hijab in different ways based on preference, like wrapping it on their head in a turban or draping it around their neck and shoulders.
7. When it comes to how to wear Islamic dress, Hogben said ''there are no rules. Everybody wears whatever they think is modest for them. And sometimes I think it's culturally appropriate or not appropriate.''
8. In a 2014 study of women in niqab by the Canadian Council of Muslim Women, none of 81 participants surveyed said they had been forced to wear it.
9. In practice, Muslim women wear Islamic dress only around men that they are technically eligible to marry. They do not have to observe it around men like brothers, their fathers, uncles, etc. or young children and other women.
http://news.nationalpost.com/news/canada/there-are-no-rules-a-look-at-the-niqab-and-other-islamic-coverings-in-canada
----------
Malala Yousafzai Opens Up About New Film, Dating and Mission to Educate Girls
Oct 7, 2015
Malala Yousafzai is an international activist, bestselling author and the youngest ever Nobel Peace Prize winner. Now she has a new title on her resume: movie star.
"He Named Me Malala," a documentary film that opens nationwide Friday, traces the arc of Malala's life -- from her childhood in Pakistan, to the Taliban's assassination attempt when she was 15 years old and her courageous stand for girls' education worldwide despite continued death threats.
Recently Yousafzai, 18, sat down for an interview with "Good Morning America" news anchor Amy Robach at a library in the French Institute Alliance Francaise (FIAF) in Manhattan. She was joined by her father, Ziauddin and Oscar-winning film director Davis Guggenheim (who is also Robach's brother-in-law).
Robach asked the teen whether it was easy to forgive her Taliban attackers.
"Before the attack I had a little bit fear that 'What if I'm attacked? What would happen? How would I feel?'" she said. "But after the attack I realized that now no one can stop me and I can now speak not just [for] people in Swat Valley or Pakistan, but [for] children across the world ... I felt stronger than before. They made a mistake."
A REAL-LIFE TEENAGE GIRL
Throughout the film, Malala is frequently shown bickering with her younger brothers. She describes the little one, 9-year year-old Atal, as "a really good boy," but of 14-year-old Khushal, she says, he is "the laziest one." And when Khushal describes his older sister as "the naughtiest girl in the world," she promptly beats him at arm wrestling.
It's one of several moments that show Malala not just a hero –- but a real-life teenage girl.
Robach asked Malala why she trusted Guggenheim to see her, flaws and all.
"I trusted him and I thought he was going to be more (about) how good I am," Malala answered, adding jokingly: "And then what came out was that my brothers were just speaking against me."
In one scene, Malala wonders out loud whether the students at her high school like her. She says that even though she has met rock stars and celebrities -- even England's Queen Elizabeth -- she still has to do homework, just like every student.
"To be honest I don't feel comfortable in my new school. My skirt is longer than most of the girls and then my life is quite different than their life," she said, adding that most of her peers have already had boyfriends. "It's quite difficult to tell girls who really I am."
In another scene, Malala is shown looking up various celebrities online, including actor Brad Pitt, tennis player Roger Federer, and cricket star Shane Watson. She insists she's just a fan, and when pressed about whether she would ever ask a boy out she answers that she couldn't because her parents would be so surprised.
When asked if she dates or has a boyfriend, Malala replied: ""I don't have much time. My focus is on my education. Being with my family, my friends and doing this campaign.""
MALALA'S MISSION
Malala's campaign –- to ensure that every child gets 12 years of schooling -– has taken her around the world.
The film shows her at a girls' school in Kenya, where she describes her life in the Swat Valley and asks students what they want to be when they grow up. In Nigeria, she meets with the parents of schoolgirls who were kidnapped by the militant group Boko Haram, and she celebrates her 18th birthday by opening a school for Syrian refugees at a refugee camp on the Lebanese border.
"I want to build more schools like that," Malala told Robach, adding that world leaders should bear responsibility to see that every child goes to school.
Guggenheim said he hopes daughters will take their fathers to see the movie.
"I think they'll learn that any girl anywhere can do something if Malala can do it," he said.
The film, which took two years to make, is in many ways a love story between Malala and her father Ziauddin, a schoolteacher in their small village in Swat. He described making the movie as "a healing process" that helped their family move on from "the worst trauma in life."
"We are one soul with two bodies," he said of his relationship with his only daughter. "But the beauty of this bond is freedom. I respect her freedom and she respects my freedom."
"A bit," Malala interjected, laughing. "We have a lot of fights, arguments all the time."
"When she challenges me, as a father I become happy," Ziauddin told Robach. "If she can't challenge me, then how can she challenge the world?"
Ziauddin named his daughter after Malalai of Maiwand, a famous Pashtun warrior from Afghanistan who rallied fighters against the British troops, but his daughter said she chose her mission.
"I'm here, standing on this stage, becoming the voice of children. It's all my choice. And I want to spread this message because I want women and girls to be independent in deciding their life on their own, and -- to believe that their decisions really matter," she said. "Through the film we want to call people to take action and to join us to ensure that every child has the right to go to school … to turn this movie into a movement."
http://abcnews.go.com/US/malala-yousafzai-opens-film-dating-mission-educate-girls/story?id=34322666
----------
Bangladeshi origin Nadiya crowned Great British Bake Off winner
October 08, 2015
Nadiya Hussain, Luton-born with Bangladeshi origins has risen to the occasion to be crowned as the winner of this year's Great British Bake Off.
Nadiya, 30, from Leeds, baked a "big fat British wedding cake" adorned with jewels from her own wedding day as the showstopper in Wednesday's final.
Ian Cumming faltered when he forgot to add sugar to the dough of his spiced buns for the signature bake.
And Tamal Ray struggled when the creme patissiere for his toffee and marmalade iced buns failed to set in time.
Nadiya has become the sixth winner in the show's history.
She said: "Bizarrely, I found the final was one of the least scariest [rounds] and I really enjoyed the experience the most out of all the filming days.
"I felt at that stage that I could do really well or really badly, I had nothing to lose, so I went into the tent and gave it everything I could.
http://www.thedailystar.net/world/bangladeshi-origin-nadiya-crowned-great-british-bake-winner-153760
----------
Saudi woman under trial for supporting Daesh openly
October 07, 2015
RIYADH — The criminal court here held the first hearing on Monday in the case of a Saudi woman who openly announced her support to the terrorist organization Daesh.
A source said the woman, a 27-year-old undergraduate student living in Unaizah in Qassim province, is the first Saudi woman to openly support the terrorist outfit.
"She announced her pledge to the leader of Daesh known by the name Abu Bakr Al-Baghdadi and hung posters of Daesh on a mosque.
She was convicted of posting heinous and violent tweets against the government, in support of terrorism and threatening the national security," said the source.
The source also said the woman demanded the release of some of the terrorists in prison. "She was also convicted of unlawful behavior when she smuggled 30 of her pro-terrorism posters into prison when she visited her uncle who is an inmate there.
She closely followed several terrorist accounts on Twitter," said the source. The source added the woman was also tweeting in support of terrorism during the incident of Ramadan 2014 when four security officers died in a terrorist attack in Sharourah.
"The woman began her active rally for terrorism when her uncle was imprisoned for nine years after being arrested for involvement in terrorist activities.
He was convicted of bombing a public area," said the source. The source also said her uncle was convicted of plotting to assassinate people who oppose the terrorist organization he supported.
"Her uncle was imprisoned for denouncing the leaders of the country and targeting public officials. She followed his footsteps in claiming that the Kingdom does not follow Islamic law," said the source.
It said the court would hold a series of hearings to investigate the actions of the woman before issuing a verdict.
http://www.saudigazette.com.sa/index.cfm?method=home.regcon&contentid=20151008259030
----------
Hijabi street style: These 14 fashionistas put the urban in turban!
October 8th, 2015
Hold on to your hijabs because these Muslim fashionistas are taking the internet by storm! Modest fashion is making a comeback, with the infamous fashion brand H&M announcing its first hijab-clad model. Pioneers of modern hijab fashion are showcasing their unique style on social media outlets like Instagram… but not everyone approves of the rise of hijabi fashion.
The hijab is a Muslim practice of covering of one's head and chest and dressing modestly. While most people associate such style with drab, black abayas, hijab is taking a somewhat daring step into the modern age with bright colors and stylish cuts… But this fashion revolution has ruffled a few more conservative feathers
Some critics accuse hijabi fashionistas of misrepresenting the true Islamic legislation on dress and appearance. The Quran states that women should not "expose their adornment except that which (necessarily) appears," suggesting that it is against Islamic doctrine to draw too much attention from one's appearance. Thus, some critics believe the idea of a hijabi fashionista somewhat inherently contradicts Islamic teachings.
There are also unconventional and edgier forms of the hijab which has become both increasingly popular and controversial, such as the turban. The more conservative old school hijabers say that the turban fails to cover the neck and ears, so it can't be considered modest. On the other hand, some supporters see the turban as a first step in the right direction for people new to wearing the hijab.
At the end of the day, hijab is a personal decision and it is in fact haram to judge the way that other women practice wearing it. So is it time to salute these style savvy hijabis and get with the times or keep it simple and cover up? Have a look and see!
http://www.albawaba.com/slideshow/hijabi-street-style-these-14-fashionistas-put-urban-turban-751108
----------
Pakistani Female Power lifter Twinkle Sohail Wins Gold at Asian Championship
October 02, 2015
Pakistani female powerlifter Twinkle Sohail has won the gold medal in the Asian Bench-Press Powerlifting Championship being held in Muscat, Oman.
The Pakistan female team has accompanied the men team for the first time at the Asian Powerlifting Championship being held in Muscat from Oct 1 to 5.
Seven powerlifters – three women and four men – are representing Pakistan at the event in Muscat.
The Pakistani women team comprises of Twinkle Sohail (57kg), Sonia Azmat (63kg) and Shazia Kanwal Butt (84kg+), while the national men's side is being represented by Mahmood Heera (120kg), Nadeem Hashmi (105kg), Sohail Butt (84kg) and Rashed Malik (93kg). http://www.geo.tv/article-199386-Pakistani-female-powerlifter-Twinkle-Sohail-wins-gold-at-Asian-Championship-
----------
Saudi prince accused of sexually abusing multiple women at three-day party 'flees $37m Beverly Hills mansion' after he was bailed for just $300k
8 October 2015
A Saudi prince accused of sexually abusing several woman during a raucous party at his lavish Beverly Hills mansion has allegedly fled while on bail.
Majed Abdulaziz al-Saud, 29, was arrested last month after women accused him of 'despicable' sexual conduct during a three-day celebration - including forcing a woman to perform oral sex.
He paid a $300,000 bail bond to get out of jail while investigations continue, and is due in court in Los Angeles on October 19.
But according to neighbors, the prince is nowhere to be seen. Speaking to The Times of London, several people said that al-Saud had not been seen anywhere near the rented home, which is a gated, hilltop compound complete with a swimming pool.
Others told Daily Mail Online: 'Numerous cars were coming in and out of the property, and it looked like the Prince was moving out.'
Meanwhile another neighbor, Eric Stiskin, added: 'I am sure he has taken off on his private jet by now. I don't think he even needs a passport to get out of here.'
A third, who wished to remain anonymous, said: 'He has all the wealth to disappear and not come back. He can make a quick getaway, never come back and the accusations could still remain here'.
'It's a cowardly way of dealing with things, when he should just face the music.'
The Los Angeles Police Department would not say whether al-Saud had fled. A spokesman said that if he misses his court date, a warrant for his arrest will be issued.
If al-Saud were to make it back to Saudi Arabia, which does not have a U.S. extradition treaty, American authorities would have no way to bring him back for trial.
Following his arrest over the oral sex claim, al-Saud was hit with claims from three more women.
According to the suit, seen by the Los Angeles Times, al-Saud's alleged victims described his behavior as 'extreme', 'outrageous', and 'despicable', saying they were 'imprisoned' for days.
Police reported a 'party atmosphere' when they arrived at the house after a bleeding woman was allegedly seen trying to climb out of the housing compound.
Officers said they expect more women to begin coming forward with allegations.
Los Angeles police were called to the gated community in the 2500 block of Wallingford Drive, Beverly Glen area, earlier today after a caretaker reported a 'disturbance', officials said.
When officers arrived, they interviewed Al-Saud's household and escorted some 20 people out of the house, officials said.
In addition to the sex crime charge, Al-Saud is also facing one count each of battery and false imprisonment.
Neighbor Tennyson Collins told the LA Times that a resident had reported seeing a bleeding woman screaming for help as she desperately tried to climb the 8-foot-high walls on the prince's property.
The Saudi embassy in Los Angeles and U.S. State Department were unavailable for comment.
Neighbor Collins said that the home has been rented out to various foreign nationals in the past year, including one tenant who posted armed guards at the gates.
But until the police arrived at the property Wednesday, he said the biggest disturbance had been the occasional raucous party.
Beverly Hills is fast becoming a playground for the mega rich from the Middle East.
For the past few summers, rich young Saudis, Qataris, Kuwaitis and other Middle Easterners, have flocked to the area, often accompanied by their personal Ferraris, Bugattis and Aventadors.
They opted for Beverly Hills after their former haunts in Paris, London, Cannes and Monaco became less receptive to the crush of super-expensive supercars with Arabic tags drawing crowds of gaping rubberneckers.
http://www.dailymail.co.uk/news/article-3263628/Bailed-Saudi-prince-flees-37m-Beverly-Hills-mansion-accused-sexually-abusing-multiple-women-three-day-party.html
----------
London film festival spotlights women's struggles
October 8, 2015
The London Film Festival opening on Wednesday with a screening of the British drama Suffragette has a special focus this year on women and their battles — from the right to vote to girls' education.
Festival director Clare Stewart said ahead of its opening that the team who had drawn up the programme had declared "2015 the year of the strong woman."
"The Time is Now is the rousing campaign for this year's opening night film Suffragette, and it seems a fitting call-to-arms" for the festival, she said.
The festival will also feature a European premiere of the documentary He Named Me Malala.
The film traces the experience of the young Nobel Peace Prize laureate Malala Yousafzai, who fought for girls' education in Pakistan's Swat Valley before an assassination attempt by the Taliban forced her to flee to the British city of Birmingham.
The work, by US director David Guggenheim, mixes archive images of the teenager at home, in school or travelling to refugee camps, with animation representing her life before the Taliban attack.
Australia's Cate Blanchett is to receive the highest honour of the British Film Institute, the BFI Fellowship, at the festival's award ceremony in recognition of her acting career.
A film in which she stars, Carol, a tale of love between two women in the 1950s by US director Todd Haynes, is to feature at the festival.
She also stars in a historical biopic, Truth, about a report by journalists Dan Rather (Robert Redford) and Mary Mapes in the CBS News investigative programme, 60 Minutes, that questioned the military service of then-president George W. Bush.
British actress Maggie Smith, 80, stars in biopic The Lady in the Van, a drama far from her work on Downton Abbey, inspired by the true story of a woman who lived on the London driveway of a writer for 15 years.
Going with the theme of the festival, US actress Geena Davis (Thelma & Louise) is to discuss her career and launch a symposium on gender and discrimination in the media.
Among the 238 feature films and documentaries shown during the 12-day festival, Breaking Bad star Bryan Cranston stars in Trumbo, a film about Hollywood screenwriter Dalton Trumbo, who was blacklisted for his membership of the communist party.
Stewart said she had tried to redress an imbalance by including more female directors.
"The festival is always streaks ahead of the market in terms of the number of films directed by women," she said.
"Almost 50 appear in the festival, which sounds fantastic. But that's still only 20 per cent of the programme."
Jonas Cuaron, the son of Alfonso Cuaron (Gravity) is to show his first feature film, Desierto, in its European premiere.
Exploring a theme in tune with current events, the drama stars Gael Garcia Bernal who plays a Mexican migrant who tries to illegally cross the US border and evade an anti-immigrant vigilante.
The festival will conclude with the European premiere of Steve Jobs by Britain's Danny Boyle, a film in which the late Apple boss is played by Michael Fassbender.
http://gulfnews.com/leisure/movies/news/london-film-festival-spotlights-women-s-struggles-1.1597217
----------
URL: https://www.newageislam.com/islam,-women-and-feminism/new-age-islam-news-bureau/isis-fighters-in-love-affairs-with-many-saudi-women,-say-hackers/d/104842