New Age Islam News Bureau
24 Jul 2014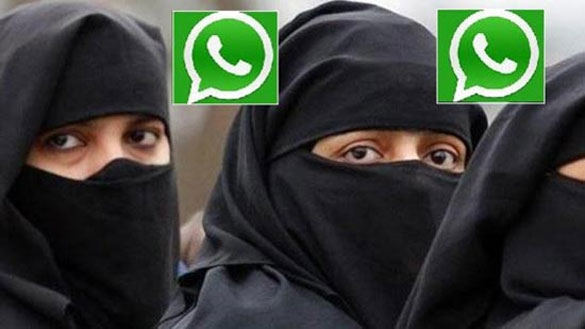 Lashed For 'Exchanging Insults' On WhatsApp
----------
• Two Saudi Women Lashed For 'Exchanging Insults' On WhatsApp
• India Home to One in Every Three Child Brides in World: UN Report
• 184 Rape Cases in Two Months: Bangladesh Mahila Parishad
• Unfair Distribution of Resources Fuelled Abduction of Girls in Nigeria
• Women Protest over İhsanoğlu Abortion Remark
• Yemeni Al-Qaeda Establishing: Women Not to Step out without Legal Male Company
• Parents of Nigeria's kidnapped girls still suffer; Mrs. Obama moves on
• Malay Muslim Judges Quit Panel in Two Key Interfaith Child Custody Cases
• Quran Contest Sees 40 Boys and Girls of Converts
Compiled by New Age Islam News Bureau
URL: https://newageislam.com/islam-women-feminism/isis-enforces-female-circumcision-mosul/d/98282
------------
ISIS Enforces Female Circumcision in Mosul
July 24, 2014
The Islamic State of Iraq and Sham (ISIS) group is asking all families in Mosul to circumcise their daughters or face severe punishment.
The Spokesman of Mosul Police Ahmed Obaydi told BasNews: "Baghdadi's decision to have all women circumcised is, as he claims, to prevent immorality and promote Islamic attitudes among Muslims. The decision was made by Baghdadi as a 'gift' for people in Mosul."
Civil Activist Asil Jamal spoke to BasNews about this decision of ISIS and said: "When ISIS was first arriving in Mosul, people were warmly welcoming them, but as a result of ISIS' horrendous wishes, especially forced female circumcision, it is becoming clear for people that these ISIS militants don't know anything else except torture."
"Now, people in Mosul believe that their decisions are dangerous, especially female circumcision [Female Genital Mutilation]. They believe that it is a violation against their rights," said journalist Saad Qasm in Mosul.
The decision of circumcising two million Iraqi females that is under control of ISIS group by Islamic State Caliphate Abubakr al-Baghdadi faced outrage and strong reactions by human rights organizations, calling the decision "inhumane," saying that circumcising females exposes them to a greater risk of sickness and weakens sex.
Zanun Majid is a citizen in Mosul who spoke with BasNews about the circumcision and stated: "Due to this decision, many girls fear for their lives, not knowing where to flee, otherwise risking severe punishment by staying."
http://basnews.com/en/News/Details/ISIS-enforces-female-circumcision-/27970
------------
Two Saudi Women Lashed For 'Exchanging Insults' On WhatsApp
July 24, 2014
The Criminal Court in the city of Jeddah sentenced two Saudi women to 10 days in jail and 20 lashes each for exchanging insults via text and WhatsApp messages, Okaz daily reported Tuesday.
One of the women had filed a lawsuit against her maternal cousin, accusing her of sending insulting messages and of distorting her reputation, the daily said.
The judge urged both women to reflect on their behavior, and to consider their family ties as well as the holy month of Ramadan.
When they both refused to reconcile, the judge passed sentence and made them pledge not to harm one another verbally or physically.
The women are appealing the verdict, and must do so within 30 days.
http://english.alarabiya.net/en/variety/2014/07/22/Saudi-cousins-sentenced-to-jail-lashes-for-insulting-each-other.html
------------
India home to one in every three child brides in world: UN report
July 24, 2014
India has the sixth highest prevalence of child marriage in the world with one in every three child bride living in India, according to a United Nations report.
Child marriage among girls is most common in South Asia and sub-Saharan Africa and India is among the top 10 countries with the highest rates of child marriage, UNICEF said in a report titled "Ending Child Marriage – Progress and prospects."
"South Asia is home to almost half (42 per cent) of all child brides worldwide; India alone accounts for one third of the global total," the report said. Worldwide, more than 700 million women alive today were married as children or before their 18th birthday. More than one in three — about 250 million — entered into union before age 15, the report said.
The 10 countries with the highest rates of child marriage are Niger, Bangladesh, Chad, Mali, Central African Republic, India, Guinea, Ethiopia, Burkina Faso and Nepal respectively.
In India, about 27 per cent of women aged between 20 and 49 were married before age 15. About 31 per cent of women in that age group were married after age 15 but before they turned 18. The report added that in India, the median age at first marriage is 19.
In the Dominican Republic and India, the wealthiest women marry about four years later than the poorest women.
UNICEF said that Female Genital Mutilation (FGM) and child marriage are the two practices that affect millions of girls across the globe.
With inputs from PTI
http://indianexpress.com/article/world/americas/india-home-to-one-in-every-three-child-brides-in-world-un-report/
------------
184 rape cases in two months: Bangladesh Mahila Parishad
July 24, 2014
In the last two months, 184 women and children had been raped as incidents of rape make a steady climb, said Bangladesh Mahila Parishad.
Around 110 women and children were raped in the first two months of the year and another 137 in March and April, Bangladesh Mahila Parishad revealed at a press conference at the Jatiya Press Club in the capital yesterday.
According to statistics provided by the organisation, at least 2,208 incidents of gender-based violence occurred over the last six months. Of them, 304 women and children were raped, 82 were gang raped, 45 were killed after rape and there were 51 cases of attempted rape.
The statistics were prepared on the basis of media reports. Many more incidents, however, go unreported, the Parishad said.
President of Mahila Parishad Ayesha Khanam expressed grave concern over the increasing trend of rape incidents, especially rape following abduction from streets and buses during travel.
The incidents are increasing day by day due to the prevailing culture of impunity, she said, alleging that almost in all the cases, the rapists are protected by their political identities and influences.
Even police are forced to delay the arrest of rapists and preparation of investigation reports upon directives from higher-ups, she claimed.
"The government should adopt a zero-tolerance stance against rapists," Khanam said, urging all to take steps to isolate the rapists socially and to ensure the safety and security of women and children.
Reading out the keynote paper, Masuda Rehana Begum, assistant secretary of the Parishad, described 14 incidents of rape or attempted rapes committed in different educational institutions by teachers or fellow students.
She recommended setting up of a separate women and children repression prevention tribunal to deal with such cases, establishing district-level shelter and rehabilitation centres for victims, and recruitment of specialist doctors for medical tests on rape victims.
Masuda mentioned 17 steps, including establishing rule of law, ensuring independent judiciary system, raising awareness and ensuring DNA and other medical tests with state expenditure to be taken to ensure justice to victims and to prevent oppression against women.
Maleka Banu, general secretary of the Parishad, among others, was present on the occasion.
http://www.thedailystar.net/184-rape-cases-in-two-months-34500
------------
Unfair distribution of resources fueled abduction of girls in Nigeria
July 24, 2014
LOS ANGELES – Three months after 276 young girls were stolen from the "safety" of the private Chibok School in Northern Nigeria by armed insurgents of Boko Haram, one native of the region with a deep understanding of the history and geopolitical dynamics, said the real story has not been told by the mainstream media.
According to Ebuna Naka, a successful businessman who made millions importing hair relaxer into his homeland during the jheri curl fad, and whose family served in politics, medicine and owned two hospitals, there is a back story that helps explain the kidnappings.
From 1967-1970, Nigeria was engaged in a vicious and bloody civil conflict known as the Biafran War which resulted from tribal factionalism and the pull out of colonial powers from the nation. The civil war ended when all the factions convened a meeting (Naka was present).
An informal agreement among the political elite in the ruling People's Democratic Party (PDP) was made and stated that the presidency and the vice presidency should alternate between North and South after every two four-year terms. For example when the president is a Christian Southerner, the vice president is an Islamic Northerner.
In May 2007, Alhaji Umaru Yar'Adua was sworn in as president of Nigeria. But he fell ill three years into his term. ar'Adua's extended absence from the country for medical treatment was said to have made many Nigerians anxious and generated calls for Yar'Adua to formally transfer power to his vice president, Azikiwe Jonathan, better known as "Goodluck" Jonathan.
As concerns mounted and there was no word from Yar'Adua on the request to transfer power to his vice president, members of Nigeria's National Assembly took matters into their hands and on Feb. 9, 2010, voted to have Jonathan assume full power and serve as acting president until Yar'Adua was able to resume his duties. Jonathan agreed and assumed power later that day, but it was unclear whether the assumption of power was constitutional.
When Yar'Adua returned to Nigeria on Feb. 24, 2010, it was announced that Jonathan would remain as acting president while Yar'Adua continued to recuperate. The next month, Jonathan asserted his power by replacing Yar'Adua's cabinet. The president never fully recovered, and died on May 5, 2010; and Jonathan was sworn in as president the following day.
According to published reports, widespread violence broke out in the North when Jonathan's presidential appointment was announced, with some residents claiming the assembly election was rigged. The next election is planned for February 2015.
Traditionally, Northern presidents funnel resources to their constituents and Southern presidents do the same. Naka says this is considered an equitable distribution of the wealth. However, the North interprets Jonathan's actions to remain president as a way to continue sending all the government funding to the South. The North is saying "now it's time to take care of us—provide hospitals, water, food—we are hurting, and you can afford to take care of the North."
According to a United Nations report, Nigeria has overtaken South Africa in 2013 as the country with the highest gross domestic product in Africa. Oil revenues have turned this country into an economic powerhouse. At the same time, Nigeria remains one of the most unequal societies in the world with the World Bank estimating it to be one of the poorest countries when it comes to wealth distribution. In addition, Nigeria is the country with the highest percentage of children not in school, according to a study by the United Nations Educational Scientific and Cultural Organization (UNESCO).
The sheer size of the country and endemic corruption has caused certain areas to become completely marginalized and neglected. There is the traditional division between the Northern and Southern areas, carefully taken care of in the country's political system, with power-sharing agreements at the center of a precarious balance in what is essentially a battle between different elites fighting over the administration of Nigeria's enormous economic potential.
In the context of vastly expanding wealth on the one hand, and a continuous marginalization of areas and communities on the other, it is easy to foretell the rise of radical currents of resistance, of which Boko Haram is the most prominent.
"It might be hard for you to understand as an outsider, but the reason there was no revolt here in the U.S. of this magnitude with the African American population is because they give you something," Naka explained. "You have public education. Maybe it stinks in the inner city but at least you have a school for your kids; they have free lunch. The U.S. is the only country in the world where poor people are fat. There are no fat poor people in Northern Nigeria. There are no schools. No roads, no clean water, no toilets for the poor in Northern Nigeria. So many resources are leaving Africa at discounted rates. If Africa could get a fair price for its goods, there would be no poor people in Africa."
According to Reuters, since 1960, $400 million in oil revenue has been stolen from the government. There are currently billions in surplus in the government coffers. However, according to reports there is $60 billion shortage and another $67 billion that is unaccounted for.
Boko Haram represents the country's Northern region and despite media reports claiming there is a Christian vs. Muslim issue, Naka says the true tension is the result of unequal distribution of resources.
Naka believes Boko Haram sees the Chibok school girls as the children of the Nigeria's rich who have stolen revenue from government exports—money which should have been sent to the North to build up their infrastructure.
Naka says, the North's attitude is, "We are dying anyway from malaria and dysentery so… we have nothing to lose."
There is speculation that teachers and administrators at the school may have been aware of the impending abduction. Naka goes on to describe how on April 14, the head administrator was away from the campus during the abduction. When questioned about her absence, she stated it wasn't unusual, telling reporters that she suffers from diabetes and was obtaining medical treatment in Maiduguri, the state capital.
Because of the head administrator's absence, her daughter, also a student at the school, was safe at home at the time of the abduction. Another parent, Watila Simon, talked about the last conversation he had with his daughter before the abduction.
"I asked her, 'Are you together with soldiers?' She said, 'No.' I asked about the police, and she said they were not with them, but that the girls were safe in the school." Simon said that when he spoke with her, the insurgents were still attacking the town and had not yet gone to the school.
"She equally told me that all the teachers had already left, and there was no elder person with them.," Simon said it was on the realization that there was no one guarding the school that he told his daughter to flee, if the opportunity arose.
"I told her that once the insurgents finished with the people in the town, they would turn to the school and she should run. When the sound of gunshots started in the town, the teachers were still with them but they later took to their heels, locked them in and ran away," he maintained.
"She even told me that the teachers instructed them to stay put and not to run; then one of the teachers locked the gate so there was no way for them to escape. Simon added, "I knew that my daughter was in trouble immediately. I called her again and she was no longer picking up her calls. This was further confirmed the next day, when I called the people in town and they told me all our daughters had been carried away."
Naka believes a green light to take the girls was given by someone of power; someone not happy with the treatment of the North and what he calls the "elite hustle."
He supports his contention with the following paragraph that ran in the Los Angeles Times on June 23: "A teacher said the school was on holiday after second semester examinations with only newly admitted students coming to the registration. 'I believe the casualty would have been much higher had the school not closed for holiday,' said the teacher, who requested anonymity for safety's sake."
Naka says the statement that ran in the L.A. Times was completely watered down and incomplete. According to Naka, the abducted girls were being supervised by faculty members who locked up the gates that night, teachers who were in charge of their welfare. The teachers then fled running for safety, leaving them at the mercy of the terrorist attackers. "It makes me believe the teachers were in on the conspiracy with Boko Haram."
Naka also believes that no one would have taken these types of measures unless they were connected to someone in government.
Interestingly, while most of the teachers were Northerners, the majority of the students were from the Southern region.
Naka believes the girls will be murdered if there is an attempt to rescue them. "These guys already have blood on their hands. However, I believe they know the world is watching."
http://newpittsburghcourieronline.com/2014/07/22/unfair-distribution-of-resources-fueled-abduction-of-girls-in-nigeria/
------------
Women Protest over İhsanoğlu Abortion Remark
July 24, 2014
ISTANBUL – A group of women protested against the opposition Republican People's Party (CHP) and Nationalist Movement Party (MHP) joint presidential candidate Ekmeleddin İhsanoğlu's statements on Tuesday at an iftar event in the western city of İzmir. Three women from the Turkish People's Houses tried to unfurl a protest banner following İhsanoğlu's speech at the event. It is reported that the group protested İhsanoğlu, who is the former secretary-general of the Organization of Islamic Cooperation (OIC), by alleging that he is a "misogynist."
One of the protestors, Gizem Coşkun, accused İhsanoğlu of attacking women's abortion rights due to his remarks that no one has right to claim a life given by God.
"Religion is the belief of people, we cannot bargain with it. If you have a religion, you will act in accord with it. If you are a believer, there is criteria in religion regarding abortion," said İhsanoğlu in an interview with the Gülen Movement-affiliated daily Taraf.
Meanwhile, CHP Vice Chairman and Yalova Deputy Muharrem İnce on Tuesday said that he does not approve of İhsanoğlu. Addressing citizens in his political rally, İnce said, "You can say that I do not approve of İhsanoğlu. But we did not nominate him for leftists voters. We nominated him [to receive supports of] a broad range of voters. At the beginning, I was opposed to it, but this [voting for İhsanoğlu] is the only way to save the country, we have to do this."
İnce urged citizens who will be on holiday during the presidential election to be held on Aug. 10 and asked them to go to the ballot box. On June 25, İnce made remarks on the joint candidacy and stated his opinion on the joint candidate, claiming he was not consulted in the nomination process and added that he reproached Kılıçdaroğlu over the issue. "I did not contribute to the process of candidate nomination. Our party leader [Kılıçdaroğlu] announced the joint candidate [İhsanoğlu] after he spoke with other party's leader [MHP leader Devlet Bahçeli]. The only duty that I have is to work for our joint candidate. I will do my best to win over [Turkish Prime Minister] Recep Tayyip Erdoğan."
Aug. 10 will be a milestone for Turkish politics. Three candidates, Erdoğan, İhsanoğlu and Selahattin Demirtaş, will compete with each other for the presidential chair. People will go to polls for the first time to elect their president. The people of Turkey voted for their right to elect their president in a 2007 referendum.
http://www.dailysabah.com/politics/2014/07/24/women-protest-over-ihsanoglu-abortion-remark
------------
Yemeni Al-Qaeda Establishing: Women Not to Step out without Legal Male Company
24, 2014
Al-Qaeda in the Arabian Peninsula (AQAP) is say to establish an 'Islamic Emirate' in the eastern Yemeni region based on strict Sharia principles, in a bid to match the Islamic State of Iraq and the Levant (Isis), which recently declared a Caliphate in a region encompassing parts of Iraq and Syria.
The Yemeni group, widely considered as the most dangerous and active arm of al-Qaeda, has issued scores of fliers in Hadhramaut region of Yemen about setting up the emirate.
Women have been warned not to step out of their houses without legal male company. The region already practices a stringent form of Islamic law and the AQAP is said to have only tightened the screws in the backdrop of intensifying changes in the Arab world.
"AQAP warns male and female Muslims in Wadi Hadramout that they must adhere to the laws of Islamic Sharia after the debauchery that we have seen in the souks. We warn all women that they have to adhere to the Sharia-enforced hijab and [wear gloves] ... men must not enter women's souks unless strictly necessary ... Whoever violates this, will have to bear punishment," according to a statement in the leaflet distributed in the region, reports local daily al-Ayyam.
According to the Sharia law, the hard-line framework of Islamic principles, punishment for such crimes includes flogging, mutilation or stoning to death.
The residents in the area have been given 10 days to fully adhere to the fresh rules. Young people in the region have also been ordered to avoid "meaningless conversations" in public.
The brochures were distributed by armed militants, who did not even cover their faces as they usually do, signalling their increasing belligerence against the Yemeni government.
Yemeni women are generally conservatively dressed with their bodies fully covered in hijabs. Although the Yemeni constitution is based on Islamic legislation, the harsher forms of Sharia are not strictly imposed.
Earlier, the al-Qaeda had openly condemned the extreme methods of its own offshoot Isis, which has captured several cities and swathes of northern Iraq and founded an Islamic Caliphate.
http://www.ibtimes.co.uk/yemeni-al-qaeda-its-way-establish-islamic-emirate-catch-isis-islamic-caliphate-1457912
------------
Parents of Nigeria's kidnapped girls still suffer; Mrs. Obama moves on
July 24, 2014
First Lady Michelle Obama, her and her husband's Hollywood sycophants, the U.S. news media and most of the world's governments may have moved on to other causes and issues, but the parents of more than 200 Nigerian schoolgirls are still suffering daily and 11 of them will never kiss or hold their daughters again. Nigeria's President Goodluck Jonathan met Tuesday with many parents of the 219 kidnapped Nigerian schoolgirls and some classmates who managed to escape from Islamic extremists, but some of the parents of those children are now dead themselves.
Although the children are still being held captive by the bloodthirsty, Islamist group Boko Haram, Mrs. Obama and others who posed for photos with signs pleading with the terrorists to "Bring back our girls" have moved on to other causes celebre.
Since the Islamist terrorist group Boko Haram perpetrated a mass kidnapping of schoolgirls three months ago, at least 11 of the parents are now dead and their village of Chibok is ruled by Muslim extremists, according to reports.
For example, one report indicated that seven of the fathers of kidnapped girls were among the more than 50 corpses laying in Chibok Hospital's makeshift morgue. The civilian men were killed in an attack on the nearby village of Kautakari earlier this month. Besides those killed by terrorists, four parents died from stress-related illnesses such as heart attacks, strokes and other causes.
Boko Haram is said to be closing in on Chibok and attacking nearby villages. Those who manage to survive the assaults are swarming into the town and creating crisis with shortages of food, fuel and other necessities.
Boko Haram sent the local news media a video in which the Islamist terrorists threatened to sell the students into slavery or as child brides. The video also showed a couple of the girls describing their alleged "conversion" from Christianity to Islam.
Chibok and nearby villages are targets because they are the homes to many devout Christians in predominantly Muslim area of northern Nigeria.
Boko Haram leader Abubakar Shekau in a new video released this week repeated his demands that Jonathan release detained extremists in exchange for the girls.
http://www.examiner.com/article/parents-of-nigeria-s-kidnapped-girls-still-suffer-mrs-obama-moves-on
------------
Malay Muslim Judges Quit Panel In Two Key Interfaith Child Custody Cases
BY IDA LIMJULY 24, 2014
PUTRAJAYA, July 24 — Two Muslim Court of Appeal judges who had previously advised the Attorney-General on unilateral child conversions issues have removed themselves from hearing two high-profile interfaith child custody cases.
Justice Linton Albert, who heads the three-man bench hearing both cases, said the two judges — Datuk Mohd Zawawi Salleh and Datuk Umi Kalthum Abdul Majid — have stepped aside to avoid possible conflict of interest.
The Court of Appeal is set to hear the matter before a fresh panel of judges headed by Linton on September 10.
"I have consulted both my brother Justice Zawawi and sister Justice Umi and both have indicated to me that in the interests of justice, justice must be seen to be done. They have agreed to recuse themselves from this case," Linton told a packed courtroom.
K. Shanmuga, the lawyer who represented the two Hindu mothers in the two cases, had pointed out earlier that Zawawi had in the past advised the AG on law reforms against unilateral child conversions.
Shanmuga said today that Zawawi had done so in his role as the head of the Shariah division in the Attorney-General's Chambers (AGC).
Umi said she sat in the same meeting on the law reforms in her role as the head of the AGC's civil division at the time.
Both Zawawi and Umi decided to recuse themselves despite an argument from Senior Federal Counsel Suzana Atan telling them there was not a need to.
The government lawyer said the judges were not looking at the "merits" of the cases.
Last month, the AGC and the Inspector-General of Police (IGP) filed for an application to be made third parties to these two cases.
Both want the police to be allowed a stay from acting on civil court orders directing them to recover and return children snatched by the Muslim convert fathers, and also any similar Shariah court orders.
http://www.themalaymailonline.com/malaysia/article/muslim-judges-quit-panel-in-two-key-interfaith-child-custody-cases#sthash.KFo7HWss.dpuf
------------
Quran contest sees 40 boys and girls of converts
July 24, 2014
The Quran competition saw over 40 children of converts who were all honoured, while top winners were gifted precious prizes.
The Islamic Affairs and Charitable Activities Department (IACAD) in Dubai, in a bid to enlighten new Muslims about the Holy Quran, organised a contest for young children.
According to a senior official, the competition saw 40 boys and girls of converts from different nationalities.
Yusra Al Qaood, Acting Manager of Religious and Cultural Orientation, IACAD, on Tuesday told Khaleej Times that the young Muslims had to memorise few small chapters of the Holy Quran, as well as the 99 Fairest Names of Allah.
"The contest is part of the department Ramadan Forum programme especially dedicated to new Muslims."
These assorted activities and programmes are meant to enhance their connection and interaction with the Muslim community, and support them in their early days of conversion, she added.
"Fresh converts do need support on these vulnerable days which see diverse challenges, basically a new daily schedule of worship, and unfamiliar life style activities, habits, and dealings." Al Qaood said the contest develops converts' awareness on the importance of the Holy Quran which is a method of life rather than a holy book to recite. "We educate them that the Quran is the main source for all pure ethics, values, principles, and teachings of Islam that guarantee their happiness, satisfaction, and great attainment in life and the Hereafter."
Huda Al Kaabi, Head of the New Muslims Section, IACAD, said the staff female preachers of her section have enlightened the attendees about the meanings of some verses of the Quran. "The Quran competition saw over 40 children of converts who were all honoured, while top winners were gifted precious prizes." Official statistics show that the Islamic Affairs and Charitable Activities Department in Dubai saw the conversion of over 1,000 people, men and women, from about 75 nationalities, into Islam this year so far as compared 2,269 residents in 2013."
Al Kaabi said the new Muslims convert to Islam on their own free will basically due to the tolerant and merciful treatment they receive in the country. "Islam is a peaceful religion which never discriminates people based on colour, languages, race or religion."
Adding, she said her section provides new Muslims with all the facilities needed to help them truly embrace Islam, officially authenticate their conversion, and reply to all their queries about the teachings of the new religion.
"They are also equipped with all possible publications, CDs, cassettes, and booklets on Islam in different languages and in an easy, attractive and persuasive way."
Earlier, Al Kaabi told Khaleej Times that her section saw 17,704 new Muslims — some 65 per cent women, between 1996 and 2011. "Should anyone be interested in embracing Islam, they need to fill in a special form, and submit certain documents, such as a passport copy, a valid residence permit, and a photograph to officially authenticate their conversion."
Introductory lectures and courses are then prepared for converts to help them understand the teachings of Islam, she explained. "They are also provided with brochures and simplified booklets on Islam in their own languages."
Al Kaabi said non-Muslims also have a good chance to meet new Muslims and listen to many conversion stories from their compatriots in their own languages; such a way proves an astounding success in imparting the right message of Islam. "People are touched by the merciful instructions of Islam which orders its followers to be honest, fair and kind to all people."
ahmedshaaban@khaleejtimes.com
http://www.khaleejtimes.com/kt-article-display-1.asp?xfile=data/nationgeneral/2014/July/nationgeneral_July144.xml&section=nationgeneral
------------
URL: https://newageislam.com/islam-women-feminism/isis-enforces-female-circumcision-mosul/d/98282