New Age Islam News Bureau
7 May 2017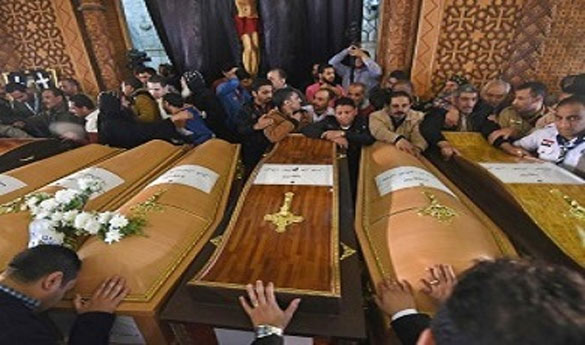 Photo: Mourners pray next to coffins of victims of the blast at the Coptic Christian Saint Mark's church in Alexandria during a funeral procession at the Monastery of Marmina in the city of Borg El-Arab (Getty)
• Maharashtra: 11.5k Women Raise Triple Talaq Issue with State Commission for Women
• Muslim Women Ignorant Of Their Faith, Says Jamaat-E-Islami Hind
• If You Want To Know About Muslim Women's Rights, Ask Muslim Women
Indian Woman 'Goes Missing' From Indian High Commission in Islamabad, Pakistani Husband Claims
• Women take On the Fight against Venezuela's Maduro
Compiled by New Age Islam News Bureau
URL: https://www.newageislam.com/islam-women-feminism/isis-defends-killing-women-children/d/111054
-------------
Isis Defends Killing Women and Children As Terror Group Loses Territory and Troops
Sunday 7 May 2017
Propaganda magazine seeks to gain new supporters by justifying atrocities
Forensics evidence is gathered at the site of a bomb blast that struck worshippers at the Mar Girgis Coptic Church in the Nile Delta City of Tanta Getty
Isis has launched an "extremely defensive" propaganda effort to defend its slaughter of women and children as it struggles to retain territory, troops and attention.
The latest edition of the terrorist group's Rumiyah magazine celebrated bombings that killed at least 45 people marking Palm Sunday at Coptic churches in Egypt.
Hundreds of people attended the victims' funerals, with Egyptians of all religions uniting to condemn the bloodshed and the government threatening a new crackdown.
Jean-Marc Rickli, a research fellow at King's College London and the Geneva Centre for Security Policy, said that even for some of Isis's supporters attacks on churches in the Arab world is "crossing a red line".
"Isis is really seeking to justify its actions, not only in the Middle East but also in the West and Asia. It's very defensive," he told The Independent.
"They've got a double challenge – as well as Isis is losing position, al-Qaeda is reinforcing theirs – especially in Syria.
"They still have to maintain momentum to attract new candidates but also they have to justify that what they're doing, which is contrary to what most people would think is right."
Opponents of Isis, including rival terrorist groups, have cited its killing of women and children – particularly Muslims – in indiscriminate terror attacks as proof of their takfir (disbelief).
Mourners pray next to coffins of victims of the blast at the Coptic Christian Saint Mark's church in Alexandria during a funeral procession at the Monastery of Marmina in the city of Borg El-Arab (Getty)
Christians are also afforded protection under sharia as protected "dhimma", and were required to pay a special tax under caliphates in the Islamic Golden Age.
In an "interview" in Rumiyah, the leader of Isis's faction in Egypt admitted that the "prevailing trend in many people's reactions is that of denunciation, as well as disassociation ... and of offering condolences".
But in a lengthy propaganda article, Isis sought to justify its actions by claiming that "belligerent" Christians in Egypt deserve no protection.
It said it was "permissible" to murder all men and take women, children, the elderly and ill as slaves.
"With regards to those of the non-combatant women and children from among the belligerent Christians who are killed unintentionally, their blood is waste," the article continued.
It claimed that the murder of women and children in indiscriminate terror attacks or bombardment was also allowed, citing Mohamed's use of catapults in a medieval city siege.
Isis also attempted to justify its own use of children as suicide bombers and child soldiers, having set up military training camps and even a jihadi alphabet app to start indoctrination as early as possible.
Parents escaping the group's rule have told of their efforts to resist Isis's bloody curriculum, which includes watching gory propaganda videos and bomb-making, and the group is now targeting mothers specifically with its propaganda.
"They [should] grow up with their eyes becoming accustomed to seeing weapons and equipment, including rifles, tactical vests, bullets, grenades, and explosive belts."
Isis encouraged women to force their children to watch and read its propaganda to "nurture the love of jihad and hatred towards their enemies".
The group conceded that mothers "may hear criticism from some people" but claimed there would be heavenly reward.
The propaganda magazine, which is published in many languages, also ordered foreign women to ensure their children learn Arabic "correct and free of linguistic errors".
Isis has increasingly used child fighters and suicide bombers to defend its waning territory in Syria and Iraq – most prolifically in the ongoing battle for Mosul, where thousands of militants have been killed.
A lengthy speech by the group's official spokesman, Abul-Hasan Al-Muhajir, acknowledged losses and told soldiers not to "weaken", while making a fresh pitch for new recruits.
After years of sustained condemnation for other terrorist groups, he claimed that Isis has "not closed its doors" on defectors from elsewhere.
"There has always been tremendous competition for jihadis," Dr Rickli said.
"In 2014 you had this constant flow of newcomers in Syria and Iraq and that's no longer the case, and on top of that they are being attacked by the anti-Isis coalition and suffering lots of casualties."
Al-Qaeda, which operates in Syria through the Islamist alliance Hayat Tahrir al-Sham, has vocally opposed Isis and used the global focus on its former subsidiary to expand its own territory.
Ayman al-Zawahiri, who succeeded Osama bin Laden when he was killed in 2011, has criticised Isis for killing and "slandering" his own jihadis and urged the "ones who seek the truth" to join al-Qaeda instead.
An audio message released earlier this year accused Isis of "madness and lies", more than a decade after he personally wrote to the group's leader opposing his militants' indiscriminate suicide bombings, targeting of Shia Muslims and hostage executions.
Isis has increasingly turned to terror attacks as a way of gaining momentum – and attention – as its territory shrinks and issued a new series of detailed guidelines for atrocities in the West.
As well as instructions on how to carry out lorry attacks, illustrated with photos including a gay pride parade and Piccadilly Circus, Rumiyah detailed new strategies of attack while praising "martyrs" including Westminster attacker Khalid Masood.
Grim new suggestions for followers included creating a fake job advert, advertising a property for rent or selling second-hand items online as a means of rounding up and slaughtering "disbelievers".
Dr Rickli said that after the deaths of hundreds of victims in years of international terror attacks, Isis is seeking to grab headlines and "maintain the momentum of terror", adding: "People are getting used to Isis' modus operandi and this decreases the Isis shock factor."
independent.co.uk/news/world/middle-east/isis-islamic-state-egypt-attacks-killing-women-children-suicide-bombings-child-soldiers-territory-a7721681.html
----
Maharashtra: 11.5k women raise triple talaq issue with State Commission for Women
Sun, 7 May 2017
The Maharashtra State Commission for Women along with Bharatiya Muslim Mahila Andolan (BMMA) conducted a seminar in the city to lend an ear to the accounts of the victims and cater to their demands.
Ahmednagar-based Maulana (Muslim scholar) gave divorce to his wife Aisha Sayed justs by saying 'talaq talaq talaq' in his mind while she was asleep. Just like Sayed, till date more than 11,500 Muslim women who have been victims of triple talaq from all over the state, have complained about the triple talaq issue to the Maharashtra State Commission for Women.
The Maharashtra State Commission for Women along with Bharatiya Muslim Mahila Andolan (BMMA) conducted a seminar in the city to listen to the victim's story and listen to their demands. Sayed, 29, who was divorced three years ago, said, "The marriage destroyed my life. I have a three-year-old daughter to look after. My husband gave me talaq when i was asleep and not aware about it. My husband first tried to escape by stating that he said 'talaq talaq talaq' in front of his parents and his friends and later confessed that he gave me divorce in his mind."
According to the BMMA members survey, over 78% of the triple talaq victims are home-makers who does not have financial income. BMMA members conducted an interview based survey of 4,700 Muslim women in 2015. 78% of the talaq are unilateral divorce (done orally, through social media or other platform), 55% women are married before 18 years of age, 44% of the women did not received meher during the marriage, 78% of the women did not get any compensation and 91% cases, custody of the child is with women.
Aayesha Shaikh, social woker, mother of two, converted her religion to marry a Muslim boy. Shaikh, said, "I got converted from Hindu to Muslim just to marry my husband at the age of 16 years. 11 years later, my husband gave me divorce by sending a letter by courier. I struggled a lot to save my married life. My in-laws told me not to step out of home. My husband left me when I had six-year-old daughter and a four-year-old boy with me. They don't provide me with financially help. Being a sixth grade fail woman, I do social work related to triple talaq and other Muslim law issues related to women and earn my living."
18-year-old Baramati-based Aarshiya Bagwan was married two years ago and got divorced two years later when she had seven-month-old boy with her. Aarshiya, said, "I got married when I was 16 years of age. My husband gave me divorce because I was arguing with my mother-in-law. He gave me a notice stating that he is following Sharia Law."
Pune-based Sajiya Khan, home-maker, said, "Early morning during Ramzan days, I was told by my husband that he want divorce from me. I was at my parent's home when i got a message on WhatsApp which stated 'talaq talaq talaq'. Even when a woman does not want to give talaq to her husband, she is forced to believe that she has been divorced."
Shabnam Khan, 29, another victim said, "My husband was already married to another woman and had two children which I got to know after my marriage. My in-laws and husband use to torture me a lot and also tried to kill me. They earlier demanded two lakhs rupeess before my marriage. I never complained about my in-laws to my parents."
Speaking about the complains filed by the women, Vijaya Rahatkar, Chairperson of Commission, said, "Many women came to us with the triple talaq issue and have been asking us for the solution. While more than 50 victims have came forward to speak about the matter, we have been receiving phone calls too. Through his platform we heard the women's issue and the demands. We will soon be taking further action.
dnaindia.com/india/report-muslim-women-speak-up-against-triple-talaq-2429799
--------
Muslim Women Ignorant Of Their Faith, Says Jamaat-E-Islami Hind
Omar Rashid LUCKNOW MAY 06, 2017
Justifies polygyny as "compatible with human nature"
While accusing the media and "anti-Islam forces" of showing Muslims in a negative light, prominent Islamic organisation, the Jamaat-e-Islami Hind, says the current debate on 'triple talaq' and objections raised on Muslim personal laws are a consequence of the "rot" and religious ignorance in Muslim society.
In a 16-page booklet titled "Problems Facing Muslim Women and their Solution," released as part of the Muslim Personal Law awareness campaign, the organisation lays the burden of preserving Islamic family tradition on the Muslim women.
Terming Muslim women as "supervisors" and "managers" of the family, the JIH says the "un-Islamic customs and traditions prevalent in society today are due only to the women unaware of her din (faith)."
The JIH also says those Muslim women who approached the Supreme Court against 'triple talaq' and polygyny are "irresponsible and ignorant of Islamic teachings" for thinking they are "oppressive to women." It also justifies polygyny among Muslims claiming it is "compatible with human nature."
While declaring that is a "great sin" for a man to pronounce three talaqs in one go, the booklet says it is not desirable if a man makes "haste in bringing his matrimonial life to an end."
Even as it claims that both men and women have rights to divorce under Islamic Law, the booklet discourages Muslim women from divorcing their husbands.
However, it acknowledges that women are being deprived of their rightful share of inheritance under Quranic laws.
It argues against taking disputes to court, saying that "when the cases are made public, anti-Islam forces get a chance to point fingers against Islam."
thehindu.com/news/national/other-states/muslim-women-ignorant-of-their-faith-says-jih/article18401437.ece
--------
If you want to know about Muslim women's rights, ask Muslim women
May 07, 2017
Susan Carland
Islam's patriarchy and western feminism have said a lot. Now Muslim women who fight sexism (yes we exist) must be heard
Muslim women in Australia
'The assumption is that Muslim women need to be extricated from the religion entirely before anything close to liberation or equality can be achieved.' Photograph: Lukas Coch/AAP
Sunday 7 May 2017 03.57 BST Last modified on Sunday 7 May 2017 04.50 BST
Within minutes of arriving to collect my professionally bound thesis, I found myself on the receiving end of an unsolicited and impenetrable rant about female genital mutilation.
"What's your paper on?" the shop owner inquired.
"It's on Muslim women and … ," I began, but before I could finish my sentence, he had launched into the subject.
The fact that I hadn't even mentioned the words "female genital mutilation" was irrelevant; merely saying "Muslim women" was a wide enough rabbit hole for him to dart down. My presence as a Muslim woman and my half-delivered topic were the only encouragement he needed.
That he felt authorised to deliver a lecture to me about his understanding of the allegedly sexist treatment of women in Islam, the very subject of my years-long PhD dissertation, didn't surprise me. This was not the first time a stranger had felt entitled to raise the potential religious interference of my genitals with me.
It's uncanny how often people try to demonstrate their concern about the alleged oppression of Muslim women by humiliating them. Even finding out the details of my research findings doesn't seem to deter them from baldly sharing opinions.
I have been asked, challenged, harangued and abused about 'Islam's treatment of women' countless times
When I was neck-deep in my doctoral research, I attended a black-tie journalism-industry dinner on a windy Sydney night. Some of Australia's most intelligent and perceptive thinkers were in the well-dressed crowd. I had grown accustomed to answering questions about my subject. I had also grown quite used to the standard responses I received to my thesis, and habitually gave ambiguous answers to avoid them.
A well-known and popular journalist approached me and asked what I did for living. His reaction, despite belonging to a group of people usually known for their cognitive skills, was so representative that I scribbled it down on a dinner napkin as soon as he left so I would not forget a word:
Journalist: So what do you do?
Me: I'm completing my PhD.
Journalist: On?
Me: (purposefully vague) Sociology and politics.
Journalist: But what is your exact research question?
Me: (inward sigh at what was inevitably to follow, but valiantly indifferent exterior) I'm investigating the way Muslim women fight sexism within Muslim communities.
Journalist: (with widened, alarmed eyes) That's dangerous waters!
Me: (through gritted teeth) Not really. It's been going on for many hundreds of years, and I've been spoiled for choice with the number of women who have been willing to be participants in my research.
Journalist: Did they want it known what they were doing? Or did they need it kept secret?
Me: (icy frustration descends into Arctic winter) Oh, many of them were happy to be identified in my research. In fact, some were angry when I suggested giving them a pseudonym, insisting they wanted to be known for this work.
Journalist: (now completely flabbergasted) But … but, did their husbands know of their apostasy?!
Me: (choosing to ignore use of "apostasy" as eyes take on glacial sheen) Actually, many of the women listed their husbands, or another Muslim man – like their father or imam – as their greatest supporters.
Journalist: (now quite literally speechless) …
I've had similar exchanges — too many to count — with non-Muslims over the course of my research. Commonplace is the firm conviction that sexism against Muslim women is rife, most often coupled with the utter disbelief that women who challenge sexism could exist, let alone that there are many of them, that they are not a new phenomenon, and that Muslim men often support them in their efforts. I often wonder how people can be so comfortable presenting these attitudes directly to me, a clearly identifiable Muslim woman in a hijab. They do not appear at all uneasy in making it apparent just how bad they think life is for any and all Muslim women, and how unengaged they believe Muslim women to be in confronting the sexism they invariably face.
I have received similar, but different, reactions within some sections of various Muslim communities when they found out the focus of my research. Often I would be purposefully vague when discussing my topic with them, too. I would restrict myself to saying that I was researching "Muslim women", and avoid highlighting the "fighting sexism" part, as there is a complicated, often suspicious attitude towards anything that may be perceived as "feminism" within Muslim communities. Or I would rush to reassure them that I was not framing this in an anti-religious perspective.
Their scepticism is perhaps an understandable reaction from a minority community that frequently feels under siege, particularly when it comes to women's rights. I hoped the fact that my research was being carried out from within a common faith, and that it drew explicitly and deeply on the theological resources afforded by this, reassured them that I, unlike many others, was not engaging in an attack on the faith and communities they held dear.
But still certain people within the Muslim community were scornful, rolling their eyes and calling me a feminist — not as a compliment, but a warning. They saw feminism and Islam as inherently at odds.
This is the terrain in which my research into Muslim women occurred. The subject is fraught on multiple fronts; the topic of "Muslim women and sexism" is a minefield of unflappable certainty and indignation from all corners. Yet for something about which so many people are adamantly sure, I feel there is very little information from the women actually involved. It seems to me that, in the argument in which Muslim women are the battlefield, the war rages on and the angry accusations zing past their heads from all sides. The main casualty is, ironically, women's self-determination.
Islam is arguably the most discussed religion in the west today, in both media and society, and, after terrorism, the plight of Muslim women is probably the most controversial topic of debate. I have been asked, challenged, harangued and abused about "Islam's treatment of women" countless times in person and online. Nonetheless, there is only a small amount of published work available on the topic of Muslim women fighting sexism within Muslim communities, and much of that focuses on women who see Islam as inherently part of the problem — if not the whole problem — that Muslim women face.
The assumption is that Muslim women need to be extricated from the religion entirely before anything close to liberation or equality can be achieved.
There are limited sociological accounts of Muslim women who fight sexism from a faith-positive perspective, and only a handful of studies that investigate the theological works of some Muslim feminists. The responses to, and motivations of, these women are dealt with coincidentally, as opposed to primarily. This small pool of available resources clashes with what I know anecdotally to be happening in many Muslim communities, as well as the historical accounts of Muslim women who, from the earliest days of Islam, have been challenging the sexism they have experienced by using religious arguments.
For years now I have been speaking about issues relating to Islam, Muslims and gender to the media, both Australian and overseas. In one sense I choose this, but in another it has been chosen for me, moulded by the way others attempt to define and restrict me, more or less obliging me to respond.
It's a common story. Jasmin Zine, a Canadian scholar, once observed that not just our actions but also our very identities are constantly being shaped by dual, competing discourses that surround us. There's the fundamentalist, patriarchal narrative, persistently trying to confine the social and public lives of Muslim women in line with the kind of narrow, gendered parameters that are by now so familiar. But there are also some western feminist discourses that seek to define our identities in ways that are quite neocolonial: backward, oppressed, with no hope of liberation other than to emulate whatever western notions of womanhood are on offer. This wedging chimes with my experience, and it's a problem because, as Zine argues, both arms deny Muslim women the ability — indeed the right — to define our identities for ourselves, and especially to do so within the vast possibilities of Islam.
It is as though male Muslim scholars and non-Muslim western feminists have handed down predetermined scripts for us to live by. And it is left to those people thought not to exist — Muslim women who fight sexism — to rewrite those scenarios and reclaim our identities.
theguardian.com/world/2017/may/07/if-you-want-to-know-about-muslim-womens-rights-ask-muslim-women
-------
Indian woman 'goes missing' from Indian High Commission in Islamabad, Pakistani husband claims
Foreign Office (FO) Spokesperson Nafees Zakaria on Sunday said that an Indian woman - married to a Pakistani man - who 'went missing' from the Indian High Commission in Islamabad last week is 'stranded' inside the building.
Uzma, an Indian national, met Tahir Ali, a resident of Khyber Pakhtunkhwa, while the latter was working as a taxi driver in Malaysia eight months ago, according to a request for help lodged at Islamabad's Secretariat Police Station by Ali.
The two contracted a court marriage on May 3 in Buner, two days after Uzma arrived in Pakistan via the Wagah border.
After the couple tied the knot, Uzma called her brother in New Delhi to relay the news to him. Her brother asked her to visit India on her honeymoon and told her she could find a man named Adnan at the Indian embassy who would be able to sort out their visas for the trip, Ali alleged.
In his request, Ali claimed, "At the Indian embassy window, she asked about Adnan. A while later, a man came out and took her inside through gate number six. I waited and waited, and then at 7pm I asked at the embassy gate if my wife Uzma was inside. They told me no one was inside."
He added that he then returned to the main gate on a shuttle bus, and noted that none of the three phones surrendered to the embassy by the couple at the time of entrance were returned to him, and his wife also remained missing.
The man asked the police to help him resolve the matter.
The FO said the Indian High Commission confirmed to police and the media that the woman is present inside the building but would only be let go after the matter is discussed with the FO.
Secretariat Police Station House Officer Hakim Khan confirmed he had contacted the diplomatic mission, but officials denied speaking to police, saying they would only speak to the FO.
The FO added that it is in contact with the Indian High Commission, and the issue would be resolved soon.
dawn.com/news/1331632/indian-woman-goes-missing-from-indian-high-commission-in-islamabad-pakistani-husband-claims
--------
Women take on the fight against Venezuela's Maduro
Alex VASQUEZ | AFP | Published — Sunday 7 May 2017
Army declares loyalty to Maduro as Venezuela braces for giant rally
CARACAS: Thousands of women dressed in white marched in Venezuela's capital Saturday to keep pressure on President Nicolas Maduro, whose authority is being increasingly challenged by protests and deadly unrest.
Led by opposition leaders, lawmakers and Lilian Tintori — the wife of jailed opposition leader Leopoldo Lopez — the crowd carried flowers and placards denouncing "repression."
Police and soldiers initially prevented it from reaching the interior ministry. But the women — led by several lawmakers — eventually made it to the Interior and Justice ministries.
"We are not going to be off the streets until we have set Venezuela free," conservative opposition leader Maria Corina Machado said. "We beg the armed forces: don't open fire on unarmed people."
Some women flashed their breasts in a pacifist move as some alongside Machado waved posters reading: "We have no firearms; just tits."
Similar anti-Maduro rallies took place in other cities, including San Cristobal and Aragua, where police fired tear gas canisters against marchers.
Protests Saturday night in Los Nuevos Teques, on the outskirts of the capital, and Barquisimeto in the country's west descended into clashes between demonstrators and the military. It was not immediately known if there were casualties.
More protests are set for Sunday with musicians and other celebrities marching to remember the dead.
The demonstrations were the latest in more than a month of anti-government protests, many of which have been countered by pro-Maduro crowds and security forces.
The death toll since April — when the protests intensified after Maduro's administration and the courts stepped up efforts to undermine the opposition — is at least 36, according to prosecutors, with hundreds more injured.
The last death in Venezuela's unrest, of a 22-year-old man, occurred Friday during looting in impoverished Venezuelan cities hardest hit by a worsening economic crisis. In Valencia, where he died, some areas looked like disaster zones with bars on shop windows bent and windows broken.
Demonstrators blame Maduro for the country's plight and the shortages of food and medicine. They are demanding elections to remove the leftist president.
Maduro, backed by the Venezuelan military, is resisting. He and the opposition have blamed each other of using armed groups to sow violence.
The president has started a process to rewrite the current constitution enacted under his late predecessor and mentor Hugo Chavez. The opposition and many protesters say his real aim is to dodge elections.
Maduro supporters also marched in Caracas, railing against what they called "violence by terrorists," Minister for Women Blanca Eekhout said.
"We are out here pushing for justice against those who are encouraging hatred and rage," she said, warning, "they are trying to set the stage for civil war."
The conference of Catholic bishops issued a statement quoting Pope Francis as expressing concern about the "dead, wounded and detained" in the protests and asking both sides to look for "negotiated solutions."
Maduro and his officials say the crisis rocking the country is a US-backed conspiracy designed to topple him and install a right-wing government.
The United States, which had remained relatively quiet over the situation in Venezuela, is now taking a stronger tone against Maduro's "violent crackdown on protesters."
The US ambassador to the UN, Nikki Haley, said in a statement that his "disregard for the fundamental rights of his own people has heightened the political and economic crisis in the country."
She called for the immediate release of "political prisoners," including Lopez, who has been "held on trumped up charges by the government since 2014."
Haley also raised the issue of Venezuela's detention of an American citizen, Joshua Holt, arrested in Caracas nearly a year ago on what US media said was false evidence planted by police.
arabnews.com/node/1095791/world
URL: https://www.newageislam.com/islam-women-feminism/isis-defends-killing-women-children/d/111054
New Age Islam, Islam Online, Islamic Website, African Muslim News, Arab World News, South Asia News, Indian Muslim News, World Muslim News, Womens in Islam, Islamic Feminism, Arab Women, Womens In Arab, Islamphobia in America, Muslim Women in West, Islam Women and Feminism