New Age Islam News Bureau
10 Jun 2017
• Fatima Sana Shaikh Shamed For Wearing a Swimsuit during Ramadan: 'You Aren't a Muslim'
• Mesa Swim School Sets Aside Time For Muslim Women to Swim Privately
• Austria to Ban Burqas from October
• Four Pakistani-Origin Women Contribute To Surge in Labour Votes
• Woman Detonates Bomb in Kerbala, Killing 30
• Women's Safety Audit Introduced in Pakistan to Make Public Transport Safe for Women: UN
Compiled by New Age Islam News Bureau
URL: https://www.newageislam.com/islam-women-feminism/isis-burns-19-yazidi-girls/d/111493
--------
ISIS Burns 19 Yazidi Girls To Death For Refusing Sex With Group's Fighters
Jun 10 2017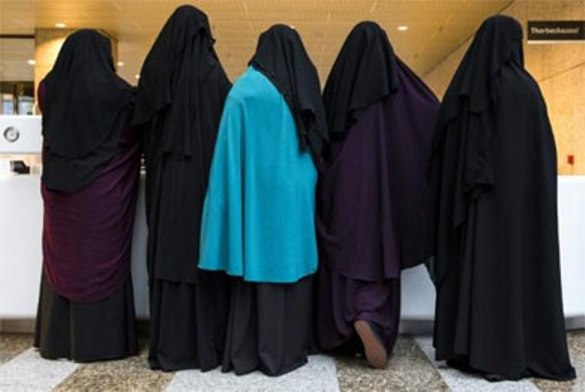 New Austrian legislation came into force Friday that will ban the full-face Islamic veil in public places from October 1.
The militants of the Islamic State of Iraq and Syria (ISIS) terrorist group have reportedly burnt at least nineteen Yazidi girls to death after they refused to remain as sex slaves with the terror group, it has been reported
According to the local activists, the incident has taken place during the recent days in the city of Mosul in Iraq.
Abdullah Al-Malla, a local media activist, has told the Kurdish news agency ARA News, that the girls were burnt alive after they refused to have sex with the fighters of the group.
"They were punished for refusing to have sex with Isis militants," Al-Malla said.
Another eyewitness has also said that the brutal execution of the girls was carried out in an open area and in front of the hundreds of people.
The eyewitness said the girls were locked inside the cage and were set on fire in front of the public as no one could do anything for the victims.
The terror group has been attempting to eliminate the Yazidi people as part of its ethnic cleansing efforts.
According to the reports, the terror group has taken thousands of Yazidi women and girls in their custody, mainly using them as sex slaves.
http://www.khaama.com/isis-burns-19-yazidi-girls-to-death-for-refusing-slavery-with-groups-fighters-02900
--------
Fatima Sana Shaikh Shamed For Wearing a Swimsuit during Ramadan: 'You Aren't a Muslim'
June 8, 2017
Dangal girl Fatima Sana Shaikh created a storm on the internet on Wednesday when she shared her latest photo shoot pictures wearing a swimsuit. Little did the actor know that she will be a target of trolling and so called moral police. As soon as the 25-year-old posted her hot pictures on Instagram, several hate messages started pouring in. And what invited her the wrath of social media users was her 'indecency during the month of Ramadan'. Yes, you read that right. Fatima's team got in touch with indianexpress.com and told us that the photoshoot actually happened two months back, and the actor had only shared some of the pictures recently.
Fatima who is currently in Malta shooting for her next, Thugs of Hindostan is being slut-shamed in the name of religion for wearing inappropriate clothes during the holy month. One of the internet users wrote while commenting on her photo, "show some respect n dignity towards the religion simply keeping the muslim name n doin indecent act wth only further malign Islam as it doesn't promote nudity… " Another comment read, "Hey saram karo yaar Ramadan ka month chal rha Fatima ye sab sirf duniya me acha lagta hai mar ne ke bad ye sab kaam nhi aaye ga sana hi but I know ap naam se Muslim lagti ho kaam se Muslim nhi ho u r non Muslim."
There are other comments from the 'Guardians of Islam' that followed one after the other. Though Fatima hasn't replied to any of the comments yet, still there were many of her fans who came out in support of the young actor. "You are beautiful and no matter what people say you will be an ideal for every girl in India or outside. You represent strength. And girl don't you just stop at that flawless bikini, you got what they don't have be proud of it and show it off because I am sure the gods are showing you off as their success ❤ stay strong," read one of the comments.
The photos that went viral on social media will feature in this month's edition of GQ India magazine. Slut-shaming Bollywood celebrities and scrutinising their attires has become a regular trend. Recently, Priyanka Chopra also became a victim when she met Prime Minister Narendra Modi in Berlin. But she soon gave a fitting reply to all the trollers. Even actors like Disha Patani, Kangana Ranaut, Sonam Kapoor, Nia Sharma and Monali Thakur have in the past lashed out at their haters and shut their mouths with a perfect reply. We hope to listen from Fatima soon too.
http://indianexpress.com/article/entertainment/bollywood/fatima-sana-shaikh-slut-shamed-for-wearing-a-swimsuit-during-ramadan-you-are-not-a-muslim-4694226/
--------
Mesa Swim School Sets Aside Time For Muslim Women To Swim Privately
June 9, 2017
The month of Ramadan began in late May, Muslims around the world observe this time by fasting during the day and taking more time for reflection and prayer. In the U.S., many Muslim communities will come together in neighborhood mosques to listen to recitations of the Quran, the sacred text of Islam.
All those terms — Ramadan, Quran, Islam — they may be unfamiliar to some Americans. Mosques hold open houses or panel discussions just for outsiders to the faith to teach them what it's all about. Everything from why some Muslim women cover their hair to what jihad really means.
In spite of the outreach, some Muslims in America are feeling unwelcome and afraid after the election. In a little bit we'll hear more about the strain on American Muslims, but first, a trip to a local business that tries to make Muslim women feel more comfortable. The Show's Annika Cline takes us there.
SWIMKids USA
If you're a swimmer you know the feeling of being surrounded by water. Weightless. Free. If you're a trained swimmer, you know the feeling of being obstructed by water.
Yeah that "eyes down" thing can be tricky, but it's important if you want to get anywhere fast. That's what four students are learning at SWIMkids USA, a swim school in Mesa.
"And this is their first opportunity to have formal swim lessons," said Lana Whitehead, SWIMkids owner. The four students are sisters from a Muslim family. And they're wading, splashing and paddling in full-body swimsuits. You might've heard the term "burkinis" used for these suits that provide coverage from ankle to hair.
"And a lot of time there's a lot of embarrassment. People don't understand. People are rude. So they don't feel welcome," Whitehead said.
Some women were telling Whitehead they simply don't swim at all in public pools because they don't feel comfortable doing so in their full-body suits. So Whitehead set aside a day and time for Muslim women to swim here privately. Women like this mom, who met Whitehead after bringing her 1-year-old daughter to SWIMkids.
"I was swimming since I was a kid back in my country," the woman said.
She doesn't want us to use her name because she's worried about the increased anti-Muslim hate crimes in the U.S. She had her own jarring experience firsthand at a Valley pool when she moved here years ago.
"And I went there to swim, and I had my full-body cover swimsuit," she said. She says in the middle of her laps, another swimmer stopped her to ask her what she was doing.
And then she asked question after question and all the questions was just making me very very unhappy and sad," she said. She says the other swimmer suggested she wasn't clean enough to swim in the pool. "And then she said what are you doing in the United States? And then I said I have a high level of education and then I'm working here. And she said 'you are spending our tax money.' And after like swimming three days a week, I didn't swim for 9 years."
She says maybe this level of harassment would have been rare. But she was also sick of being stared at wearing her fully-body suit. To stop swimming was a major decision, though, because it isn't just a hobby for her. She was a champion swimmer in Iran.
Now she has the option to swim at SWIMkids, where she feels respected by the staff.
"Who cares if we're in different religions and wear different clothing. Aren't they sweet, aren't they beautiful? They're women! And I want to stand up for the rights of other women," Whitehead said.
It's no championship pool. It doesn't go more than four and a half feet deep, the walls are lined with colorful pool noodles, waiting for eager kids to drag them into the water.
"I wish to swim in a bigger pool, in a like championship pool, but I like the respect and privacy more than a champion pool without that privacy and respect," the mom said.
Institute for Social Policy and Understanding
And now, to get a deeper look into the Muslim community, I'm joined by Meira Neggaz, executive director of the Institute for Social Policy and Understanding. The group earlier this year released its second American Muslim Poll. We ask Neggaz what are some of the key takeaways for her.
http://kjzz.org/content/487889/mesa-swim-school-sets-aside-time-muslim-women-swim-privately
--------
Austria to ban burqas from October
June 10, 2017
Vienna - New Austrian legislation came into force Friday that will ban the full-face Islamic veil in public places from October 1.
The outlawing of the burqa or other clothing concealing the face follows similar moves in other countries in the European Union, starting with France in 2011. In Austria, people who break the new law could be fined up to 150 euros ($168), according to the legislation approved by parliament in May and signed into law by the president this week.
Other measures include a clampdown on distributing extremist material, and immigrants being obliged to sign an "integration contract".
A 12-month "integration programme" will include courses in "values" and the German language. Failure to attend can result in cuts to social security payments. The legislation was hammered out by the centrist government amid strong support for the far-right and the arrival of 90,000 asylum-seekers since 2015.
The "grand coalition" under Chancellor Christian Kern collapsed last month and early elections were called for October 15.
The far-right Freedom Party (FPOe), whose candidate came close to winning the largely ceremonial presidency last year, is riding high in opinion polls ahead of the vote.
http://nation.com.pk/international/10-Jun-2017/austria-to-ban-burqas-from-october
--------
Four Pakistani-origin women contribute to surge in Labour votes
Atika Rehman
June 10, 2017
LONDON: The Labour party's British-Pakistani female candidates beat contenders by impressive margins, results released a day after the United Kingdom's parliamentary election showed on Friday.
The four Pakistani-origin women candidates given tickets by the Labour party took to their social media accounts and thanked voters and supporters for a tremendous turnout.
Naz Shah, who contested from Bradford West, was re-elected despite facing a vicious campaign during which she was heckled and called a 'Jew' and 'Zionist' as she spoke to potential voters days before election day.
Ms Shah bagged 29,444 votes and retained the seat, securing 64.7 per cent of the total votes cast. She beat Conservative candidate George Grant (7,542 votes) and another British-Pakistani, Independent candidate Salma Yaqoob (6,345). In 2015, Ms Shah secured 19,977 votes.
Born and raised in Bradford, the 41-year-old mother of three is a women's rights campaigner and the former chair of a mental health charity.
"I will continue to fight Islamophobia, misogyny, antisemitism and all other prejudices that we face on a daily basis," Naz Shah tweeted to followers days ahead of the polling.
Shabana Mahmood, the Labour candidate from Birmin­g­ham Ladywood, secured 82.7pc (34,166) of the total votes polled and was re-elected to her constituency.
Ms Mahmood defeated Conservative party's Andrew Browning (5,452 votes) and Liberal Democrat Lee Dargue (1,156 votes).
In 2015, she had secured the victory with 60.89pc (21,868) of the total votes polled.
A former barrister, Ms Mahmood worked for the treasury and on international trade. She protested the European Council of Justice's banning of clothes of faith.
Yasmin Qureshi from Bolton South held her seat securing 60.7pc (25,676) of the total votes cast in her constituency. She beat Conservative party's Sarah Pochin (12,550 votes) and UKIP candidate Jeff Armstrong (2,779 votes).
In 2015, Ms Qureshi had secured 50.45pc (10, 928) of the total votes polled.
Rosena Allin-Khan from Tooting was re-elected after securing 59.6pc (34, 694) of the total votes polled. She beat Conservative Dan Wat­kins (19,236 votes) Liberal Democrat's Alexander Grassbrook (3,057 votes).
In 2015, Ms Allin-Khan had secured 47.19pc (25,263) of the total votes polled.
An emergency room doctor, Mr Allin-Khan is proud of her working class roots and Pakistani-Polish heritage. She has raised her two children as Muslims.
London Mayor Sadiq Khan extended full support to Ms Allin-Khan, who is his successor in Tooting. "Here in Tooting, we're going door to door, street to street until 10pm for Dr Rosena," Mr Khan tweeted on Thursday night. The following morning, he hailed her victory as an "incredible result".
This story is part of a reporting project with Dawn, the Centre for Excellence in Journalism at IBA and the Medill School at North­western University.
https://www.dawn.com/news/1338648/four-pakistani-origin-women-contribute-to-surge-in-labour-votes
--------
Woman detonates bomb in Kerbala, killing 30
June 10, 2017
Kerbala - A woman detonated her explosive belt in a market east of the holy city of Kerbala on Friday, killing at least 30 and wounding 35, Iraqi security sources said.
Islamic State claimed the attack in the town of Musayab, south of Baghdad, in a statement on its Amaq news agency. It didn't identify the bomber.
A security officer said the assailant was a woman who hid the bomb under the customary full-body veil.
The attack comes as Islamic State is about to lose Mosul, the de-facto capital of the hardline group in Iraq, to a U.S.-backed Iraqi offensive launched in October.
The group is also on the backfoot in neighboring Syria, retreating in the face of a U.S.-backed Kurdish-led coalition attacking its capital there, Raqqa,.
Iranian-backed paramilitaries are taking part in the campaign fighting Islamic State in Iraq, attacking the group in the border region near Syria.
Islamic State declared a self-styled "caliphate" over parts of Syria and Iraq three years ago.
According to AFP, a suicide bomber blew himself up in a market in the town of Musayyib, south of Baghdad, on Friday killing at least 20 people, medical and security sources said.
"A suicide bomber blew himself up in Musayyib market, causing 20 civilian martyrs," an interior ministry spokesman said.
At least 34 other people were wounded in the attack in the centre of Musayyib, a town that lies about 60 kilometres (35 miles) south of the capital, a police officer and a medic at the local hospital said.
A source at Musayyib hospital said at least four of the wounded were in very serious condition following the blast, which rocked the market at around 11:30 am (0830 GMT).
The attack in Musayyib came hours after another, apparently failed attack in the Shiite shrine city of Karbala, a few kilometres (couple of miles) to the southwest.
Four civilians were wounded when a suicide bomber blew himself up at the entrance of the city's main bus station early Friday, police sources said.
Both attacks were claimed by the Islamic State militant group through its propaganda agency Amaq, which in both cases spoke of a "martyrdom-seeking operation" using an explosive vest. IS has carried out dozens of deadly suicide bombings targeting civilians but Iraq has been on heightened alert since the start of the holy Muslim fasting month of Ramadan.
More than 40 people were killed and dozens wounded in a spate of attacks on May 30, a few days after the beginning of Ramadan, including a devastating blast at an ice cream shop in central Baghdad's Karrada neighbourhood.
It was during Ramadan last year that IS carried out its deadliest ever attack in the Iraqi capital with a truck bomb that set two shopping arcades ablaze, also in Karrada, resulting in more than 320 deaths.
The bombings in Baghdad come as Iraqi forces fight to retake the last IS-held areas of Mosul, a city that was the militant group's emblematic stronghold.
Iraqi forces are almost eight months into a massive operation to recapture the second city and have already taken back its whole eastern side and much of the west.
http://nation.com.pk/international/10-Jun-2017/woman-detonates-bomb-in-kerbala-killing-30
--------
Women's safety audit introduced in Pakistan to make public transport safe for women: UN
June 10, 2017
The United Nations Women has launched its pilot project in Lahore to make public transportation facilities accessible, 'safe' and 'harassment-free' for women and girls.
The project, for now, has been launched in Lahore to conduct women's safety audit in public transport to assess women's perceptions of safety as well as actual safety, and increase their participation in local decision-making, said a press release here on Friday.
Internationally recognized as the 'best practice', a women's safety audit tool is being introduced in Pakistan for the first time.
Local studies on women's mobility reveal that women's movement and their use of public transport is compromised due to the discomfort, social stigma and fear of harassment when they are compelled to sit in close contact with unrelated men.
Women also face distinct challenges from men when accessing public transport, including threats to their safety when walking to and waiting at bus-stops and traveling on public transport.
The Government of Punjab has attempted to address these concerns through their transport policy by introducing separate sections in buses and running women-only buses. However, the challenges still remain in ensuring women's safety and comfort on public transport.
As a part of its 'Safe Cities' project, the United Nations Entity for Gender Equality and the Empowerment of Women (UN Women) in collaboration with Punjab's Women Development Department (WDD) and Aurat Foundation (AF) will pilot a Women's Safety Audit in Lahore City with support from the Government of Australia.
This initiative will be carried out together with the Punjab Safe Cities Authority (PSCA), the Chief Minister's Strategic Reforms Unit (SRU) and the Punjab Commission on the Status of Women (PCSW).
In addition to determining on-ground safety issues faced by female commuters, through interviews, focus group discussions and safety walks, the Safety Audit will: provide statistics on the types and level of threats faced by women; identify gaps and barriers of transport services to prevent and respond to harassment; and put forward actionable recommendations for the local government, transport authorities, corporations and other stakeholders to end violence against women travelers.
The Safety Audit will be conducted in select bus stops operated by the Lahore Transport Company (LTC) and the Metro Bus System (MBS).
Jamshed Kazi (Country Representative, UN Women Pakistan) speaking of the 'Safe Cities' project said: "Gender equality, women's empowerment and the prevention of violence against women in private and public spaces is a precondition for and objective of sustainable urban development.
It means that we are making cities sustainable for women and girls but it's also about making it sustainable for all. UN Women has recognized, he said, that violence against women and girls impacts not only women, but entire families, communities and cities.
We have taken an important first step to bring this neglected issue to the forefront by hearing first-hand from women and girls of sexual harassment and violence against them in public spaces, highlighting the impact and the universality of the issue", said Jamshed Kazi.
With our partners, we look forward to creating safer, smarter and more sustainable cities and communities where women and girls can move around easily, travel to school, markets, work or for leisure with equal rights, dignity and equal opportunities."
Speaking of the pilot, Bushra Aman (Secretary WDD) said: "In aspiring for a safe city for everyone, a focused initiative is being undertaken to assess safety of public spaces for women.
The planned Safety Audit will serve to supplement the government's priorities for women empowerment in Punjab. Safety concerns of the public transport in Lahore are being addressed to curb harassment of women in waiting areas and metro bus stations. Significant inputs leading to policy and implementation changes in urban planning are foreseen after the conclusion of the Audit being jointly undertaken by WDD and UN Women."
Mumtaz Mughal (Resident Director, AF) shared: "The Women's Safety Audit in public transport in Lahore is a unique initiative amongst many of the AF's past endeavors to address women's mobility and safety issues in public spaces. This pilot research project, will identify problems faced by female commuters on public transport.
The policy recommendations of this study will inform the provincial plans and policies and contribute towards making urban planning more gender-responsive".
https://www.pakistantoday.com.pk/2017/06/09/womens-safety-audit-introduced-in-pakistan-to-make-public-transport-safe-for-women-un/
--------
URL: https://www.newageislam.com/islam-women-feminism/isis-burns-19-yazidi-girls/d/111493
New Age Islam, Islam Online, Islamic Website, African Muslim News, Arab World News, South Asia News, Indian Muslim News, World Muslim News, Women in Islam, Islamic Feminism, Arab Women, Women In Arab, Islamophobia in America, Muslim Women in West, Islam Women and Feminism