New Age Islam News Bureau
2 March 2015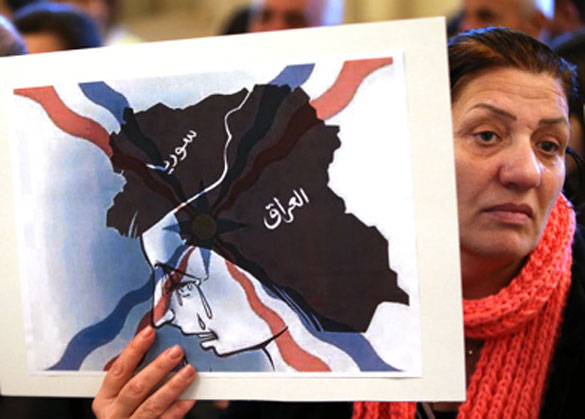 An Iraqi Assyrian woman who fled from Mosul to Lebanon holds a placard depicting the map of Iraq and Syria, during a sit-in for abducted Christians in Syria and Iraq, at a church in Sabtiyesh area east Beirut, Lebanon on Thursday
-------------
• Nigerian Female Bomb Suspect Beaten To Death by Mob
• Hijab Must Be Removed For Muslim Woman's Case to Be Heard, Quebec Court Rules
• New Arab Sports Council Set To Fight for Right for Muslim Women to Use Hijab
• 'We Have Better Things to Do Than Fine Muslim Women over Their Clothes': Johor Islamic Religious
• Pak Teenage Girl Killed For 'Honour 'By Her Cousin
• IS Backer Caught Smuggling Saudi Woman
• Arrested Female Fighters Exchanged for Abducted Female Aid Workers kidnapped by Taliban
• Up To $1, 000 Wage For Female Teachers in Paktika
• Dream Interpretation Turns Into a Nightmare for Some Saudi Women
• Many Girls in Africa and the Middle East Are Under Pressure to Leave School
• Being Young and Muslim In Scotland
Compiled by New Age Islam News Bureau
URL: https://newageislam.com/islam,-women-and-feminism/new-age-islam-news-bureau/isis-ability-to-recruit-women-baffles-west,-strengthens-cause/d/101783
------------
ISIS Ability to Recruit Women Baffles West, Strengthens Cause
02 March, 2015
A young woman who says she lives in the United Kingdom posted last August to a Tumblr page reportedly run by recruiters for the Islamic State group.
"i so badly want to go to Raqqa and live under the Shariah and live in the land of Khilafah but as a young Muslimah in the uk it's rly difficult," she wrote, using another term for the "caliphate" the extremist network also known as ISIS or ISIL claims to have founded. "it hurts my heart to live here. I yearn to be the wife of a Mujahid and support him and Khilafah all the way."
Moments later she received the same warm, welcoming and thoughtful response that so many others on the site had received before, reminiscent of a well-trained college campus tour guide.
"I swear by Allāh I completely understand the feeling," the responder began, piling on empathy for the young woman's fears of leaving her family at home for an unknown cause abroad. But the responder assured her she would find even more stability and support were she to travel to Syria and helps solidify territory the group had claimed proudly, in blood.
"I refused in the west to marry anyone unless he was a Mujahid, I wanted someone who fought for Allāhs Deen," the responder wrote. "And it is a beautiful feeling being married to a Mujahid."
The danger of sites such as these has grown incrementally stronger since last summer, as the Islamic State group continues to strengthen its gains in Syria and defy what Western intelligence agencies thought they knew about Islamic extremist networks.
As many as 20,000 foreign fighters have flocked to Syria and Iraq since the Islamic State group first laid siege to the region last summer, according to numbers compiled by the London-based International Centre for the Study of Radicalisation. Of those, as many as 4,000 have come from Europe, 600 from the U.K. alone. Roughly 100 have originated from the U.S. Of the Western migrants, as many as 550 have been women, according to New York-based security firm The Soufan Group.
If the British government and its Western counterparts have any inkling into what actually attracts their young people to an active war zone in Iraq and Syria, it so far hasn't yielded that publicly. Officials have offered a range of factors: Perhaps disenfranchised Muslim youth feel they can find the stability and acceptance under the Islamic State group that so far has eluded them in their adopted homes, as European countries struggle to shift from monochrome to increased multiculturalism. Others may simply want to participate in the gruesome violence they see constantly splattered across cable news reports. And maybe all believe there is at least some truth to the Islamic State group's assurances that Western governments have waged war against Islam itself.
The response from the West has been haphazard and largely ineffective. Most recently, headline space has been occupied by still puzzling reports of three healthy, affluent and educated young British women who reportedly travelled to Islamic State group strongholds to support the movement.
Amira Abase, 15, Shamima Begum, 15, and Kadiza Sultana, 16, went missing and were last seen having arrived in Turkey. The British government confirmed last week they had indeed crossed over into Syria, likely with the help of human smugglers. All three were described as "straight-A students" at their highly regarded east London school where they were studying for college entrance examinations. The girls' families have made emotional pleas for their safe return.
What inspired their journey is yet undetermined, though they will likely become brides of the extremist fighters there.
The Islamic State group now must reinforce a perception it has established a haven where Muslims, including young women, can enjoy the kind of excitement and purity they could not find in their Western homes, and directly contribute to breeding a new generation of believers.
According to propaganda videos, women can marry handsome fighters and raise strong warriors to protect their adopted homeland. Unlike most other Muslim extremist organizations, the Islamic State group has also not ruled out the possibility of women taking up arms themselves.
"The best thing for a women is to be a righteous wife and to raise righteous children," wrote one recruiter on a propaganda blog, according to a February study from The Soufan Group
"'This [migration] was never meant for ease but a lesson of patience & hardship to understand what Jannah [heaven] was always meant for & see if we're worthy of it,'" another wrote, according to the report.
The Reality
The truth these women face upon arrival is nothing short of bleak.
"It's heartbreaking to me whenever I look at their pictures," says Karima Bennoune, an Algerian-American professor at the University of California-Davis School of Law who studies the female casualties of Islamic extremist movements.
"Groups like ISIS believe they have a theological right to the bodies of women and girls," she says. "It's the most tragic thing you can imagine – I don't know whether they have an understanding or not."
Bennoune's book, "Your Fatwa Does Not Apply Here" documents the untold stories of female involvement – either by temptation or by force – in previous Islamic extremist movements and the consistent tragedies that traditionally befall them, such as forced marriages and sexual enslavement.
The U.N. documented some of the staggeringly gruesome accounts of rape and torture of women under Islamic State group control in a November report. Fighters prey particularly on unmarried women and girls as young as 13, the report states, forcing them to become brides. Captured women and children of enemy groups, such as the Yazidis in Iraq, were sold in public markets as "war booty."
A large contributor to the potent recruitment's success, Bennoune observes, is the immediate media attention to these actions of the Islamic State group, further magnified by its unprecedented ability to manipulate social media to glamorize its vicious conquest
One of the most high profile cases involves two Austrian teen girls, Samra Kesinovic, 17, and Sabina Selimovic, 15, who reportedly left a note to their parents saying they planned to fight with the Islamic State group. They now apparently claim they wish to come home, infuriating Islamic State group leadership.
The slick videos and flashy recruitment materials the group produces is much easier to pick up on and document than, say, the efforts of someone like Samira Salih al-Nuaimi. The Mosul-based human rights lawyer and activist was a leading voice against the Islamic State group's vicious actions against her countrymen, particularly young girls, before she was executed by the extremist network in September.
A Halting Response
The response from the West has so far been insufficient; at times seeming slow to recognize the complicated influences that lead young women and young men to gravitate to a life among terrorists.
When asked how the FBI can offset this troubling rise in Islamic State recruitment domestically, former Director Robert Mueller offered a tactical strategy of attacking the group from the top down, similar to the approach in supposed victories against al-Qaida during the last war in Iraq.
"My own view of ISIS is we need to go after the leadership," he said, while speaking at a breakfast meeting last week organized by the American Bar Association. He referenced U.S. coordination with U.K. and Turkish counterparts, as well as what he considered successes during the last decade in hunting al-Qaida in Iraq, the Islamic State group's precursor.
"You did not want to be the No. 3 person in al-Qaida in 2007, 2008, because the life expectancy in that particular position was rather short," he said. "Our success on the ground there was dependent on great intelligence, and focus, through our troops on the ground."
He later declined to comment on whether military gains abroad would overwhelm the Islamic State group's ability to recruit inside Western countries.
The quick and tidy victories from intelligence-gathering and military strikes create a partial illusion of success that could slowly erode perceptions of the group's invincibility. Meanwhile, the gruelling, long-term and difficult work at home of addressing radicalization domestically continues.
"It's bloody difficult to do," says Robert Milton, a retired commander of the U.K. Metropolitan Police Service at New Scotland Yard. "It's so much easier to do the hard things, it's so much easier to have border control."
"It's so much harder to deal with the human mind, the psychology of this issue," he says. "It require a huge amount of resources. It requires communities to trust us, and that's been a problem in the past."
Milton, now a consultant, has lectured at colleges in the U.S. that prepare students for law enforcement careers. He emphasizes the importance of finding the root of Islamic extremism in the true intentions of these groups and what they believe they can tangibly achieve. It isn't difficult to target and kill a leader, but it is extraordinarily difficult to address and offset why a young person believes Islamic State rhetoric that Western forces have declared war on all Muslims.
The British government has employed a program called "Channel." Instead of necessarily surveilling and arresting potential terror suspects, police spend time identifying young people who may begin to align themselves with extremist causes, then meet with them directly to determine whether they have the potential to develop into actual extremist fighters themselves.
Police had reportedly held such meetings with the three young British women who disappeared into Syria last week under the auspices of the Channel program. Troublingly to Milton, they passed the test.
"They persuaded that person ... that they were fine, that they weren't going to do anything," he says. "They hoodwinked these people. That demonstrates to me, you have to have the right level of training and expertise to have the right intervention."
"We're halfway down the route," Milton says.
Last week, the White House assembled domestic experts and international leaders to a first ever summit on Countering Violent Extremism. President Barack Obama challenged his foreign counterparts to develop internal plans for fighting extremism ahead of the next U.N. General Assembly in the fall.
By then, perhaps the U.S. too will have some comprehensive plan for providing an alternative narrative to those who believe American fighter jets bombing Syria and Iraq deserve a militant response.
http://www.usnews.com/news/articles/2015/03/02/isis-ability-to-recruit-women-baffles-west-strengthens-cause
---------
Nigerian Female Bomb Suspect Beaten To Death by Mob
02 March, 2015
A mob beat a woman to death in the north-eastern Nigerian city of Bauchi in the belief that she was a suicide bomber, police and witnesses say.
The woman - said to be a teenager - was attacked when she refused to be screened at the entrance to a market. No explosives were found on her.
A series of suicide bombings in northern Nigeria has been blamed on Boko Haram militants.
It wants to enforce strict Islamic law across the country.
Witnesses say the mob put a tyre sprinkled with petrol over the woman's head and set it on fire after she was beaten.
Police say that she was dead before they arrived on the scene to rescue her and disperse the mob. No arrests were made.
The exact circumstances of her death are unclear. Some reports say that the dead woman was accompanied by another woman but other accounts say they she had a male escort.
An eyewitness told the AFP news agency that the woman came under suspicion when two bottles were found strapped to both sides of her waist after she refused to be frisked with a metal detector.
"When her Hijab was raised over her head two bottles were found strapped to her waist and the crowd descended on the young woman," he said.
Police told the AP news agency that it was doubtful the woman was a bomber because she did not detonate any explosives when she was attacked.
Deputy Superintendent Mohammad Haruna described her as the victim of "mob action carried out by an irate crowd".
Another police source said that she may have been sent on a dummy run to see if it was possible to enter the bus station without being searched.
Boko Haram has taken to sending women on suicide missions, fuelling concern that its insurgency has entered a more ruthless phase.
Teenagers have been used to carry explosives into busy markets and bus stations, raising additional fears that some of Boko Haram's hundreds of kidnap victims may have been forced into carrying out bomb attacks.
This is done either by detonating explosives themselves or by carrying devices that are remotely triggered, police say.
February's presidential election has been postponed because of the unrest. The vote is now expected to take place on 28 March.
http://www.bbc.com/news/world-africa-31685928
---------
Hijab Must Be Removed For Muslim Woman's Case To Be Heard, Quebec Court Rules
02 March, 2015
MONTREAL - There was widespread outrage and condemnation from civil rights groups, politicians and others Friday in reaction to a Quebec judge's refusal to hear a woman's case unless she removed her Hijab.
Quebec Premier Philippe Couillard called the decision "disturbing," while the Canadian Civil Liberties Association deemed it troubling, discriminatory and a violation of the Canadian Charter right to freedom of religion.
Justin Trudeau declared it to be "just plain wrong."
On Tuesday, Quebec Court Judge Eliana Marengo told Rania El-Alloul inside a Montreal courtroom she had to remove her Hijab before the court would hear her case against the province's automobile insurance board, which had seized her vehicle.
Marengo said that she wanted her courtroom to be secular and El-Alloul's Islamic headscarf was inappropriate.
El-Alloul refused to remove her Hijab, and in response, Marengo suspended the case indefinitely.
On Friday, a spokesperson for the Prime Minister's Office said "if someone is not covering their face, we believe they should be allowed to testify."
The Liberal leader weighed in during an event in Montreal.
"The fact that in this situation, in a courtroom of all places, someone's fundamental rights weren't respected is absolutely unacceptable and we expect that there will be consequences," Trudeau said.
NDP Leader Tom Mulcair said the judge made a mistake.
"I expect this individual to be given a full and proper hearing in short order," Mulcair told reporters in Toronto. "It's a simple matter of that person's rights as a Canadian."
A spokeswoman for the Court of Quebec said Friday it is standing by Marengo's decision and the judge would not bow to public pressure.
Annie-Claude Bergeron repeated Friday that judges are masters of their courtroom and have the right to interpret the law and set the rules of the court as they see fit.
El-Alloul did not return messages from The Canadian Press, but told CTV News on Friday that she is planning to file complaint.
"It's my right, I'm Canadian," she said.
Couillard said that in his government's opinion, the only time one should be required to remove an article of religious clothing is if it creates problems for "communication, identification or security."
"I will be very careful because the judge is sovereign in her decisions, in her courtroom," Couillard told reporters in Quebec City. "I'm a little bit disturbed by this event, I must say."
Sukania Pillay, the Canadian Civil Liberties Association's executive director, said the state has no right to be in people's closets and to tell women what to wear.
"The courtroom has every right to be secular," said Pillay. "But that doesn't translate into telling people what they can and cannot wear in a manner that's incompatible with their freedom of religion."
Lucie Lamarche, a lawyer and a spokeswoman for Quebec's league for rights and freedoms, said there is "no judicial precedent" for Marengo's decision.
"The judge has the right to enforce the decorum in the courtroom," Lamarche said. "But there is no definition of decorum."
She said Marengo's decision was "extremely personal and discriminatory regarding what it means to be dressed properly in the courtroom."
Lamarche added that the chief justice of the Court of Quebec has the ability to remove a judge from a particular case and that El-Alloul can make that request.
Stephane Beaulac, law professor at Universite de Montreal, said Marengo's decision was a "blatant violation of the woman's fundamental rights and freedom."
El-Alloul exercising her freedom of religion by wearing a Hijab was not incompatible with the judge hearing her case, he said.
Beaulac said that El-Alloul can file a complaint with the body that oversees judicial conduct in Quebec, called the Conseil de la magistrature.
"This judge will need to face the music," Beaulac said.
http://www.huffingtonpost.ca/2015/02/27/court-of-quebec-stands-by_n_6769972.html
---------
New Arab Sports Council set to fight for right for Muslim women to use Hijab
02 March, 2015
An Arab Sports Council is set to be established after the idea was given the green-light during a meeting of the Union of Arab National Olympic Committees (UANOC) Executive Office in Oman.
It is hoped that the formation of the Arab Sports Council would help raise standards among the 22 National Olympic Committees (NOCs) of the Arab world.
"The 33rd meeting of the UANOC Executive Office will enhance the joint Arab action in developing sports," said Sheikh Khalid Al Zubair, chairman of the Oman Olympic Committee (OOC), who hosted the meeting at Shangri-La's Barr Al Jissah Resort and Spa in Muscat.
"We will all work with optimism for a promising future for the sport in the Arab region.
"There is no doubt that UANOC is playing a key role in the development of sports in the Arab nations and helping in spreading the Olympic Movement while instilling noble values and principles among our children and athletes."
Under the plans agreed by the UANOC, the Arab Sports Council will comprise 13 members of its Executive Office and seven from the National Olympic Committees and other administrators.
Among the early campaigns it is planning to run is the controversial issue of Muslim women using the Hijab at the international sports events.
It also plans to dedicate an Arab Sports Capital each year to help promote sport and recreation in that country.
The proposal will now be submitted to the Arab Ministerial Council, part of the Arab League, for final approval.
http://www.insidethegames.biz/anoc/continental-associations/oca/1025896-new-arab-sports-council-set-to-fight-for-right-for-muslim-women-to-use-Hijab
---------
'We Have Better Things to Do Than Fine Muslim Women over Their Clothes': Johor Islamic Religious
02 March, 2015
JOHOR BARU: The state religious authorities have more pressing issues than impose fines on Muslim women for, among others, wearing indecent clothes or not donning their head scarves.
Rubbishing an online posting claiming that there was a plan to impose such fines, Johor Islamic Religious chairman Abd Mutalip Abd Rahim said it was malicious and intended to paint a negative picture of the present administration.
"The posting, which has been circulating online for the past few days, is completely untrue," he said.
"My mobile phone has been inundated with calls and messages from Muslims wanting to know if Johor would impose such a ruling soon.
"I would like to reiterate that this is not true as we have other pressing issues concerning Muslims in the state," said Abd Mutalip.
The posting, which went viral over social media, warned that Muslim women who failed to don head scarves would be slapped with an RM80 fine for their first offence while they faced an RM120 fine for indecent dressing.
It also claimed that Muslims riding motorcycles with those unrelated to them would be punished by an RM80 fine for men and RM100 for women, and that all businesses had to stop operating from 12.30pm until 2.30pm on Fridays.
Those caught behaving in an "un-Islamic way" would also have to undergo counselling by the Islamic and Malay Heritage Council (Maidam), which is in Terengganu.
Abd Mutalip urged those who received such messages to first check their facts or clarify with the relevant authorities before forwarding these.
http://www.thestar.com.my/News/Nation/2015/03/02/We-have-better-things-to-do-than-fine-women-over-their-clothes/
---------
Pak Teenage Girl Killed For 'Honour 'By Her Cousin
02 March, 2015
MUZAFFARABAD: A teenage girl was shot dead by her cousin here allegedly in the name of honour.
A student of FSc, the girl had eloped with her neighbour (I), following which an application was lodged by her father with the Civil Secretariat Police Station on Feb 18, accusing the boy of abducting her.
Police arrested the couple in Rawalpindi and produced them before a court here on Feb 25.
The boy was sent to the lock-up and the girl was set free.
On Saturday forenoon, the girl's cousin Raja Babar allegedly shot her in the head, SHO Ansar said. She died on way to hospital.
Babar surrendered himself to police along with the weapon used in the crime and he had been charged with homicide, the SHO said.
http://www.dawn.com/news/1166664/teenage-girl-killed-for-honour
---------
IS Backer Caught Smuggling Saudi Woman
02 March, 2015
JAZAN — Police arrested an Arab expatriate for attempting to smuggle a Saudi woman and her three children into Yemen on Friday. Jazan Police spokesman Maj. Gen. Nasser Al-Duwaisy said the man was an accomplice of the self-styled Islamic State (IS). He added that the woman is from Makkah and in her 30s. She is married but was separated from her husband. She ran away from her home two months ago and took her children with her, aged 3 to 7.
http://www.saudigazette.com.sa/index.cfm?method=home.regcon&contentid=20150302235434
---------
Arrested Female Fighters Exchanged for Abducted Female Aid Workers kidnapped by Taliban
02 March, 2015
Reports indicate that three female foreign fighters have been exchanged with three female health workers in Faryab.
Ahmad Javid Baidar, spokesman for Faryab province has confirmed reports of the release of three Uzbek female fighters who were arrested two weeks ago in the area of Kunkum, maimana, the capital of Faryab province.
But he did not comment on the reports of the release of the female aid workers kidnapped by Taliban.
Though Hayatullah Bakhtari, director of CHA has confirmed the release of the aid workers.
These aid workers were kidnapped by insurgents in Khwaja Sabzposh District of Faryab province.
Insurgents had previously demanded the release of their three female fighters in the exchange for the abducted aid workers.
But when the demand of the insurgents was rejected by the authorities they killed a fourth one.
It is also reported that one of the female fighters is the wife and the other one is the daughter of an Uzbek Taliban commander Ahmad.
Ahmad was also killed in the military operation by the Afghan National Security Forces (ANSF) in Qaisar District of Faryab province awhile before.
http://www.khaama.com/female-foreign-fighters-exchanged-for-abducted-female-aid-workers-in-faryab-29122
---------
Up to $1, 000 wage for female teachers in Paktika
02 March, 2015
Officials of the Education Department of southeastern Paktika province say that they are recruiting female instructors for Girls schools who will receive a monthly wage of up to 1, 000 US dollars.
Kochai Zazai, head of the education department of Paktika province told Khaama Press that any female teacher looking to work as an instructor in girls schools Paktika Province will receive a monthly wage of up to 1, 000 US dollars.
Zazai said that they are recruiting female instructors who have studied at least up to 12th grade.
He said for instructors who are graduated from 12th grade the monthly wage is $600, the ones graduated from 14th grade the monthly wage is $800 and the ones with a bachelor's degree the wage is $1, 000.
According to Zazai this wage is being paid by the International Bank to improve educational system in Paktika province.
Kochai Zazai says that due to the lack of female instructors, there are fewer female students in Paktika province compare to any other province but they are trying to improve this number.
The announcement of such a high wage of $1, 000 for instructors in Afghanistan comes as there were only seven girl students graduated from 12th grade in entire province of Paktika in the educational year 1393.
Paktika is one of the volatile provinces of Afghanistan where the insecurity has also affected the educational system.
Indian
Also, an Indian author and health worker who was encouraging female for education and serving them as a health worker was shot dead by insurgents in Sharana, provincial capital of Paktika province.
The tragic incident took place in September 2013 after unknown gunmen took Sushmita Banerjee out of her residence and sprayed bullets on her.
Doctors found 20 bullet holes on the body of the community servant who had recently moved to live in Paktika Province together with her Afghan husband.
She was married to an Afghan who was also present at his residence by the time of the attack. but officials said that gunmen after breaking into the house of the community servant tied her husband, took her out and cruelly killed her.
http://www.khaama.com/up-to-1-000-wage-for-female-teachers-in-paktika-29120
---------
Dream Interpretation Turns Into a Nightmare for Some Saudi Women
02 March, 2015
Many Saudi women watch TV shows specializing in explaining and interpreting dreams but for some, these dreams turn into real nightmares.
Hoping to learn about the future, analyze the present and interpret things in dreams, many women seek dream interpreters. Not only do they believe what is being said, they are also willing to pay large sums of money to the so-called interpreters.
Haneen, a dream interpreter, said that women could face real problems if they are careful. She said that a growing number of unprofessional people claim to interpret dreams, especially on social media and TV. "This is a science and these people have not studied the subject," she warned. "They work forgetting all religious morals and values of honesty. I have been in this field for six years and I haven't heard of these problems until recently."
"Many women help the dream interpreter blackmail them as they confide personal and intimate details," said Haneen. "The intimate relationship with the husband, the wife's attitude toward her family, her body features, and love relationships are private topics that shouldn't be shared with those people who might use the information against them," she stressed.
As a dream interpreter, Haneen recommends women consult well-known and trusted interpreters to avoid risk. She cautions them not to be obsessed with interpreting dreams. From her experience, jealous women seek interpretations out of fears that their husbands will marry other women. Childless women ask about any dream that might signal that they will become pregnant. Young women ask about the interpretation of dreams that may mean they will marry.
Professor Abed Al-Aziz Al-Dakheil says interpreting dreams is not considered a science because "science has its origins, theories and systematic plans."
"Interpreting dreams have become a career and a way to earn money," he said. "These people seek money, fame, power and authority while others use it to blackmail women who comprise 70-80 percent of the people calling the shows for advice," he said.
Al-Dakheil believes women tend to have a more emotional side than men, making them seek dream interpreters and try to understand the unknown.
"What is the point of interpreting a dream?" Al-Dakheil asks. "Even if the interpretation is correct, how can we base our lives and reality on dreams?"
Al-Dakheil explained that the lack of education and the weakness of the media encouraged this culture and made it a desirable service. He called upon interpreters to advance their interpretations by scientific research and studies, follow up on their interpretation and tell the audience how many of their interpretations were correct.
Fahad Al-Assimi, a host of "The Dreams" show on a television channel, says that women comprise the majority of his audience. "According to a statistic I made on my website, I found that the women to men ratio were 3 to 1," he told Arab News.
When asked about dream interpreters who blackmail women, Al-Assimi said that they were a minority. He stressed that interpreting dreams was a science with origins and tools.
"Our goal is to solve problems and not show off our explanation skills," he said, encouraging interpreters to keep silent if they find dreams that might cause family problems.
http://www.arabnews.com/saudi-arabia/news/712436
---------
Many girls in Africa and the Middle East are under pressure to leave school
02 March, 2015
In many ways it is the best of times – and yet also the worst of times – for the world's schoolgirls.
In numerous developing countries, more girls are in school and staying longer than ever before, as families and governments grasp the economic and social benefits of girls getting an education.
Afghanistan is one example of a country spurring global gains in girls' education, with the proportion of girls in school rising over the past 15 years from 3 percent to just shy of 40 percent. More developing countries than ever are nearing parity for boys and girls in primary education – although secondary schooling remains a challenge.
Recommended: 5 snapshots of girls' education in the Muslim world
And Pakistan's Malala Yousafzai in December became the youngest recipient ever of the Nobel Peace Prize for her advocacy of girls' right to an education.
But along with the progress in girls' access to education has come a backlash – leaving schoolgirls from Africa to the Middle East and parts of Asia exposed to mounting pressures to forgo the schoolhouse and, as in days gone by, stay home until marriage.
The reaction to growing numbers of girls getting an education comes increasingly but not exclusively from radical Islamists who oppose – increasingly with violence – advances by women.
"The international community has made a priority of getting girls in school and keeping them there longer, and there has been success," says Gaynel Curry, gender adviser to the United Nations Office of the High Commissioner for Human Rights (OHCHR) in New York. "But this issue of rising extremism threatens the gains we've made."
Underscoring this increasingly hostile environment is a report from the UN's human rights agency that finds attacks on schoolgirls "occurring with increased regularity" over the past five years.
"What we found in studying the period from 2009 to 2014 is an increased frequency of attacks by groups whose perception of women's role in society is such that they shouldn't be educated," says Veronica Birga, a human rights officer with OHCHR in Geneva who helped compile the study.
"But just as important, the study found that these attacks are not just on the girls going to school, but are also aimed at society's support for girls in education," she says. "The objective is to reverse a growing acceptance of the value of expanding girls' and women's human rights."
The report was prompted by the kidnapping last April of more than 270 schoolgirls in northern Nigeria by the terrorist group Boko Haram. But what UN human rights officials soon realized is that attacks on girls exercising the supposedly universal right to education are widespread and growing.
"What we realized is that attacks on schoolgirls are more frequent and happening in more societies than what one might have in mind," Ms. Birga says.
According to the report, more than 3,600 attacks on schools, teachers, and students occurred in 2012 alone, and occurred in more than 70 countries over the five years addressed by the study. While no definitive numbers are given, the report concludes that many of the attacks were "specifically directed at girls [and] parents and teachers for gender equality in education."
Many of the attacks came at the hands of Islamist extremists bent on frightening girls and families away from schools.
"It's no surprise that the rise in the kind of violent extremism we're seeing would be accompanied by increasing attacks on schoolgirls," says Ms. Curry. "The first target is often girls because of the view of the role of women."
In addition to the Boko Haram kidnappings (Birga points out at the group's name means "Western education is forbidden") were cases of schoolgirls being poisoned and attacked with acid in Afghanistan, and the 2012 shooting of Malala Yousafzai.
But the report also notes that girls daring to go to school in parts of India brave rising threats of sexual assault, while girls have been subjected to gang violence in Central America. Schoolgirls have been kidnapped by guerrilla armies in Colombia and Central Africa – in some cases to become sex slaves or perform menial tasks such as cooking and cleaning, but in other cases because of skills they learned in school.
One of the most troubling findings of the study is that in many communities where girls have only recently made gains in access to education, that progress can be reversed by violence.
"In many cases when there are these kinds of attacks, the community support can quickly withdraw," says Birga. She points to one example in Pakistan in 2009, when a rash of attacks on schoolgirls and women teachers resulted in more than 120,000 girls and 8,000 teachers dropping out of schools in just one district of the country.
"Obviously this works," Birga says. "It sends a very clear message that schools are not safe, and that girls who continue to go to school face very serious consequences."
Yet despite the evidence that targeted violence can have the desired effect of discouraging families from sending their daughters to school, officials say there are actions that governments and communities can take to blunt and reverse the extremists' success.
At the top of the list is ensuring girls' safety getting to and from school, they say, and making school itself a safe environment (That the kidnapped Nigerian schoolgirls have not been freed nearly a year later does nothing to instill confidence in parents).
Community demonstrations of support also send a strong message, and rallies of girls and families from Pakistan to India and Africa have confronted extremists with a refusal to bow to the fear they've sown.
For some officials, all the focus on girls' education from governments and international agencies will mean little if local communities don't alter their practices and customs to value girls and women.
Robert Piper, the UN's regional humanitarian coordinator for the Sahel region of Africa, says his agency goes to great lengths to provide "emergency education" to the 700,000 school-age children in the refugee camps they oversee. But he says that may mean little in the long run if schoolgirls eventually return to communities where they are undervalued.
"We have become much more aggressive about pressing governments on these longer-term issues like girls' education and women's rights," Mr. Piper says. "But most often we send these girls back to the same homes where they may be discouraged from staying in school, there may not be clean water and sanitation, and where there will be the same pressure to marry at 15."
Human rights adviser Birga says "nothing is more frightening" to opponents of girls getting an education than communities that stand up and support their girls and women.
"Courageous young girls and women are very important," she says, citing the example of Malala. "They are role models who give courage to other girls, and together they can change attitudes," she says. "That's why they are so dangerous."
http://news.yahoo.com/many-girls-africa-middle-east-under-pressure-leave-201406948.html
---------
Being Young and Muslim In Scotland
02 March, 2015
New pictures have emerged of three London teenagers who travelled to Syria to join Islamic State.
The girls were pictured at a bus station in Istanbul on their way to the border.
Here, a lot of discussion has taken place about what motivates them and others to make that journey.
They were following in the footsteps of Aqsa Mahmood, a young woman from Glasgow who went to Syria last year.
But do we understand what it is like to be young and Muslim in Scotland? Preeti Prasad went to find out.
http://www.bbc.com/news/uk-scotland-31683433
---------
URL: https://newageislam.com/islam,-women-and-feminism/new-age-islam-news-bureau/isis-ability-to-recruit-women-baffles-west,-strengthens-cause/d/101783