New Age Islam News Bureau
6 Jan 2015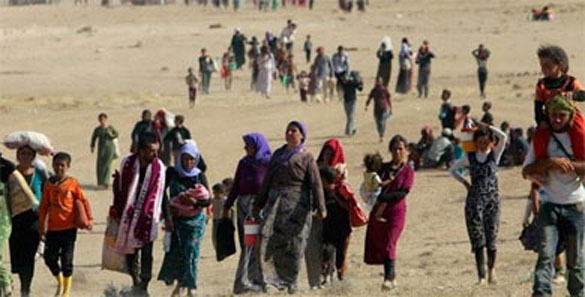 Izadi Women File Photo
------------
• RSS Muslim body ready aid women in community
• A little something about a Muslim woman
• Saudi Arabia's Airline Denies Plans to Separate Men and Women on Flights
• Indian Women's Group Seeks Removal of Anomalies in Muslim Personal Law
Compiled by New Age Islam News Bureau
URL: https://www.newageislam.com/islam,-women-and-feminism/new-age-islam-news-bureau/isil-sells-over-5,000-izadi-women,-girls-as-slaves--iraq-official/d/100882
-------
ISIL Sells Over 5,000 Izadi Women, Girls as Slaves: Iraq Official
Jan 6, 2015
Iraqi Minister of Human Rights Mohammed Mahdi Ameen al-Bayati says the Takfiri ISIL militants have sold more than 5,000 women and girls from Iraq's Izadi Kurdish minority in their slave markets.
He said on Monday that the terrorist group has also displaced thousands of Iraqi families, and forced their children to carry out bombings.
Global rights organizations have also reported about Izadi women and girls being forced into slavery by the ISIL militants, saying each girl is sold for only 200 dollars.
Amnesty International has reported that Iraqi Izadi girls and women who have been sexually enslaved by the Takfiri ISIL group commit suicide or attempt to do so.
"Hundreds of Izadi women and girls have had their lives shattered by the horrors of sexual violence and sexual slavery in ISIL captivity," Donatella Rovera, Amnesty International's senior crisis response advisor, said after interviewing over 40 Izadi girls who had escaped captivity in northern Iraq.
"Many of those held as sexual slaves are children -- girls aged 14, 15, or even younger," Rovera added.
Iraqi Minister Bayati said the ISIL militants are committing atrocities against the Christian minority groups as well.
Bayati added that his country has provided the UN Human Rights Council with evidence about the ISIL terrorist group's crimes and called on the international community and global bodies to declare them as genocide.
ISIL terrorists are currently in control of some areas across Syria and Iraq, where they have been carrying out horrific acts of violence, including public decapitations and crucifixions, against different Iraqi and Syrian communities such as Shias, Sunnis, Kurds, and Christians.
The Iraqi army, backed by Shia fighters and Sunni tribes, has so far managed to make many gains in the fight against the ISIL extremists.
http://www.presstv.in/Detail/2015/01/06/391844/ISIL-sells-Izadi-women-girls-as-slaves
-------------
RSS Muslim body ready aid women in community
Dhaval Kulkarni
6 January 2015
he Muslim Rashtriya Manch (MRM), the Sangh Parivar's front organisation for the community, is planning to reach out to Muslim women by setting up a centre for counselling those at the receiving end of oral talaq and domestic violence. This facility, which will be set up in central Mumbai, will also impart legal aid, pre-marital advice and skill development programmes for Muslim women.
When was MRM formed?
The MRM was established in 2002 at the behest of then Sarsanghachalak KS Sudarshan and the organisation's website claims it was initially called 'Rashtravadi Muslim Andolan-Ek Nayi Raah' and re-christened as the MRM in 2005.
How does MRM work?
The MRM is the only organisation for Muslims in the Sangh Parivar, and has senior RSS functionary Indresh Kumar as its chief margadarshak (guide). In September 2014, the body had held its first programme in Mumbai where Kumar, who was questioned by the CBI in the 2007 Mecca Masjid blasts case at Hyderabad, addressed participants. He made a strong pitch against cow slaughter, the need for men to give talaq (divorce) to the bottle rani (liquor) instead of their wives and on the common ancestry between Hindus and Muslims.
MRM Maharashtra co-convenor Irfan Ali told dna that the centre, which will come up this month in the premises of a dargah in Byculla (East), will handle issues like providing legal aid to women who have been divorced by their husbands and those who have not been formally divorced but separated, and try to arrive at a mediated settlement. Domestic violence, pre-marriage counselling, skill development, medical aid, help in getting employment are among other issues which will be tackled. The MRM is taking help from a womens' organisation which runs a similar facility.
To serve as mediators
"Trivial domestic issues gradually escalate into something worse and may even lead to talaq," said Ali, adding that they would serve as mediators. "When we put our heads together we realised that those women who are divorced and who are separated from their husbands though they are not formally divorced, need a skill development program to help them them make a living," he said, noting that lady advocates who are part of the MRM would provide counselling and aid to such women in distress.
"We will initially run it at a basic level and then expand... to cover micro-issues. Now, these women have no place to speak their minds out, which we are intent on providing," said Ali, a former activist of the RSS student wing Akhil Bharatiya Vidyarthi Parishad (ABVP).
On its RSS connection
When asked about whether the organisations affiliation with the Sangh Parivar would affect its outreach in the Muslims, Ali said they "would not face any resistance as they are not propagating the ideology of the RSS".
http://www.dnaindia.com/mumbai/report-rss-muslim-body-ready-aid-women-in-community-2050033
-------------
A little something about a Muslim woman
5 January, 2015
Hi All!
I know it's been a long time since I last blogged.I have been busy and I have my finals next week. But now to share my thoughts…
There are sooo many misconceptions about Islam and Muslim women that I decided to highlight in the coming few blogs..
As a covered and headscarf wearing Muslim woman myself I find it amazing that Muslim woman dresses generate sooo much controversy. I found why it is so from my non-muslim friend and she said she thinks we are oppressed!! That's not true at all!! She asked me why I wear it? I said for dignity and respect. I could see she was shocked at my answer.Well, she was European. That was when I understood the need for Muslims to open up about their religion and share it ..otherwise people will never understand why we do certain things differently.
So, if you have any questions on Islam and Muslims, you can just comment on this blog and I will be more than happy to respond to you.
Now, to share something I felt personally.
I remember when I was not married and I was reading the Quran I just could not understand why the believing men get beautiful virgins in paradise and the believing women do not get something similar(I mean handsome males) apart from other luxuries that a women gets(being the most beautiful,breathtaking clothes,jewels etc.)
It was only after I got married(August 2014) I really understood the verse and was really in awe of God's divine judgement. God created us and He knows better than anyone what men and women really want. That's when I knew I do not want any other man other than my husband in paradise and as for my husband I always pray for him that he should get the most beautiful virgins.
This world is a test for the hereafter. What a man really wants is a beautiful woman and what a woman really wants is to be the most beautiful,and have flawless skin, hair and beauty, beautiful clothes, shoes, bags, perfume and jewelry(diamonds, gold, precious stones.)
So God promises that to his believing men and women that if they are good and true , they will get all that they desire for in the hereafter.
I also understood that why is God repeatedly promising beautiful women for men in the Quran, it is because the greatest weakness of men is a woman and He promises this to men who do not commit adultery and are good and kind to their wives etc.
That is why we Muslim women pray for our husbands to get these beautiful women because they are sooo good,kind and faithful and the most amazing husbands ever. Alhamdulillah!!(All Praise Be To God)
That's all for this blog!
Good night!
Assalamu Alaikum!(May Peace Be On You)
http://www.muslimanonymous.info/a-little-something-about-a-muslim-woman/
-------------
Saudi Arabia's Airline Denies Plans to Separate Men and Women on Flights
6 January 2015
Saudi Arabia's national airline is denying claims that it is planning to separate male and female passengers on its flights.
Gulf media reported last week that Saudia would introduce gender segregation for passengers unless they are close relatives, but the carrier has issued a statement saying the reports are incorrect.
In the statement, an unnamed official said: 'We would like to emphasise that no Saudia official has made any statement on gender segregation.'
Gulf media claimed Saudia planned to segregate cabins based on gender in response to complaints from male passengers who were upset that other men were seated next to their wives or other female family members.
There were also claims that male passengers had accused a female flight attendant of being too 'flirty'.
In response to the complaints, Abdul Rahman Al-Fahad, Saudia's vice-president of marketing, was quoted by Saudi daily Ajel as saying: 'There are solutions to this problem … we will soon enforce rules that will satisfy all passengers.'
In a series of tweets he said the report was false and a 'fabrication'.
The state-run airline said the quote was from a tweet sent to one of his followers about seating arrangements for families who want to sit together - a source of delays - and was taken out of context.
Ajel reported that Saudia's 'solutions' would be gender segregation for men and women who are not close relatives.
The airline said: 'It is worth mentioning that the airline's website allow families to select nearby seats for their members while booking.
'Some passengers may not get this facility if they did not select seats or made late reservations.'
The carrier's policies are already in tune to the strict Islamic practices of Saudi Arabia: no alcoholic beverages or pork dishes are served on board, a prayer of verse from the Quran is read before take-off, and many international flights have a designated men's prayer area.
In addition, Saudia does not employ Saudi women as cabin crew, opting to recruit women from other countries such as Pakistan, the Philippines, Albania and Bosnia instead.
But moves are being made to employ females on the ground in November. The airline opened its fourth women's section staffed by entirely by females at its office in the Murooj district of the Saudi capital of Riyadh.
The country is known for its gender segregation, with women requiring a male guardian approval to travel or work outside of the home. In public spaces such as restaurants, beaches, amusement parks or banks, women are required to enter and exit through special doors.
Women who are seen socialising with a man who is not a relative can even be charged with committing adultery, fornication or prostitution.
http://www.dailymail.co.uk/travel/travel_news/article-2898536/Saudi-Arabia-s-national-airline-denies-claims-plans-separate-men-women-flights-complaints-male-passengers.html
-------------
Indian Women's Group Seeks Removal of Anomalies in Muslim Personal Law
Shahroz Afridi
January 05, 2015
The Bhartiya Muslim Mahila Andolan (BMMA) has prepared a draft on the Muslim Family Act. The members are now carrying out awareness programmes to support the draft and make it reach the Parliament. The draft codifies the Muslim personal law to remove anomalies in law related to marriage, divorce, maintenance and related issues.
"We have prepared this draft after four-year deliberations with academicians, intellectuals, lawyers in 15 states across the nation," said Safia Akhtar, coordinator of BMMA Bhopal chapter, while talking to HT.
Muslim women suffer owing to occurrences such as oral Talaq (divorce), polygamy and similar such personal law issues, which are dealt within the society in unjust and unfair manner. The Quran gives several rights to women, but owing to the lack of a codified personal law in India, the suffering of Muslim women continues, said Akhtar.
She said that in the absence of a codified law, customary practices which are divergent from the values and principles of the Quran have emerged. New codes have been introduced globally with the hope that they will introduce the rule of law in family matters and end arbitrariness and variances in judicial decisions.
In India, there is a need to have a comprehensive codified family law to ensure justice within the family. Akhtar said that the BMMA would be conducting an awareness campaign to take this draft to the Parliament.
The draft explains terms like arbitrators, marriage, maintenance, etc in the light of holy Quran. The draft maintains that marriage should be solemnised by a registered Qazi that could be 'of either sex'.
It also lays down procedure for solemnisation of Muslim marriage, responsibility of the Qazi (the cleric), Meher, responsibility of witnesses, temporary prohibitions in marriage and above all grounds for divorce.
"It is ironical to see Muslim women suffer, especially in the name of religion. Quran has given enormous rights to women but patriarchal mindset of men is the biggest hurdle in providing rights to women," said women's counsellor Moheb Ahmad.
This draft has explained and rejected the idea of saying talaq thrice by any man to nullify the marriage. Some groups would definitely oppose this draft as it would help Muslim women become more powerful, added Ahmad.
The BMMA was established in 2007 as mass organisation of Muslim women from across the country to become an alternative progressive voice of the community. This organisation had earlier prepared a 'model nikahnaama' also to set standard format across country.
http://www.hindustantimes.com/india-news/bhopal/bhopal-women-s-group-seeks-removal-of-anomalies-in-muslim-personal-law/article1-1303469.aspx
-------------
URL: https://www.newageislam.com/islam,-women-and-feminism/new-age-islam-news-bureau/isil-sells-over-5,000-izadi-women,-girls-as-slaves--iraq-official/d/100882