New Age Islam News Bureau
1 Sept 2014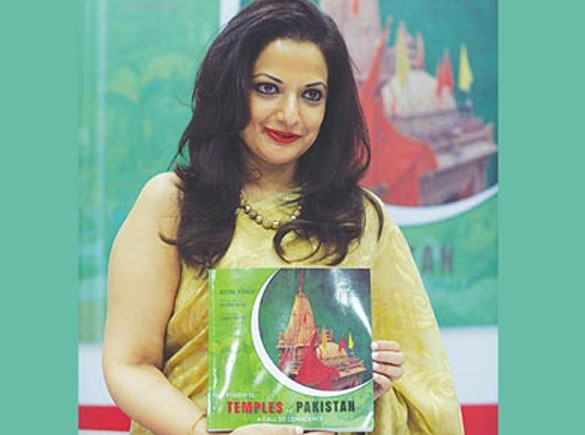 Pakistani Journalist, Reema Abbasi Wins Rajiv Gandhi Award — File photo
-------------
• Girl, 8, Married To 12-Year-Old Boy against $2000 in Balkh, Tajikistan
• Pakistani Journalist, Reema Abbasi Wins Rajiv Gandhi Award
• Islamic State Kidnaps Christian Toddler and Women
• 'Radical Rocker' Brit Woman Hits Headlines
• Nigeria: Pastor Wife Accuses Him of Adultery, Sues for Divorce
• Senior British Muslims Call for Women to Have More Say in Communities
• Forced Marriages and Conversions in Pakistan Need To Be Discouraged
• British Man and Saudi Wife Attacked By Religious Police in Riyadh
Compiled by New Age Islam News Bureau
URL: https://www.newageislam.com/islam,-women-and-feminism/new-age-islam-news-bureau/is-sold-yazidi-women-for-$1,000,-hundreds-given-to-fighters-as-war-trophy/d/98838
--------------
IS Sold Yazidi Women for $1,000, Hundreds Given to Fighters as War Trophy
1 September 2014
ERBIL, Kurdistan Region – Islamic State (IS/ISIS) militants in Iraq have sold or handed out hundreds of Yazidi women captured as war trophy to fighters in Syria, the Syrian Observatory for Human Rights (SOHR) said.
The British-based Observatory said it had documented evidence that 27 of the captured Yazid girls had been "sold and married" to fighters in Aleppo, Raqqa and Al-Hassakah. It said the girls were sold for $1,000 each.
In addition, "in recent weeks, some 300 women and girls of the Yazidi faith who were abducted in Iraq have been distributed as spoils of war to fighters from the Islamic State," SOHR said in a statement.
The Islamic State, which has been fighting in Syria for more than three years, had captured about a third of Iraqi territory since June, declaring a Caliphate in seized lands.
Iraq's non-Muslim minorities, like the Christians and Yazidis, have been especially targeted by the IS armies. Because of their faith, the Yazidis are considered "unbelievers" by the militants, many of them killed and captured, their properties looted and their young women taken as war booty.
Heiner Bielefedt, the UN's special monitor on religious freedoms, warned last month: "We have reports of women being executed and unverified reports that strongly suggest that hundreds of women and children have been kidnapped - many of the teenagers have been sexually assaulted, and women have been assigned or sold to 'IS' fighters."
Early this month, IS militants captured the Yazidi town of Shingal and surrounding regions, capturing hundreds of young women and sending villagers fleeing to an arid mountain where they fought for more than a week for survival.
The suffering of the Yazidis was cited as US President Barack Obama as one of the motives for starting air strikes against the IS.
http://rudaw.net/english/kurdistan/310820142
--------------
Girl, 8, Married To 12-Year-Old Boy against $2000 in Balkh, Tajikistan
The Frontier Post
1 September 2014
At age 8, Mina married to 12 -year-old Sardar in a rural village, making her only one of more than 10 million underage girls who are being forced to wed worldwide.
The secret wedding ceremony of Mina and Sardar took place in Sholgara district of northern Balkh province in the border with Tajikistan.
Child marriages, which are currently, practiced in several third world countries including Afghanistan, the government passed strong resolution to stop this phenomenon.
United Nations designated October 11 as International Day of the Girl Child to forced governments to take strong steps against child marriage.
Last night Afghan media broadcast series of heart-breaking photos depicting girl as young as eight years old being married off to a underage boy.
In the district of Sholgara of Balkh province, a father named Abdul Momin gave away his eight-year-old daughter Mina to wed a 12-year old boy because he could not support having his daughter live with him.
According to reports the groom family paid 2000 USD to bride's father as the girl's price (Mahar).
Afghan experts agree that early marriage prevents the girls from education opportunities and robs them of their childhood because most young wives, burdened by growing responsibilities, do not get a chance to interact with their peers or carry on friendships outside the household.
Mina, the 8-year-old bride from Balkh province who was married off on Friday, was forced to drop out of school, giving up on her dream of becoming a teacher one day.
In several part of Afghanistan fathers often remove their daughter from school even before they are engaged to limit their interactions with boys.
In many cases, the girls are lorded over by their husbands and in-laws, leaving them vulnerable to domestic violence as well as physical, sexual and verbal abuse.
The local Mula Imam (religious leader) who was attended in Nikah ceremony said both families mutually agree and enter into this contract; both bride and groom have the liberty to define various terms and conditions of their liking and make them a part of this contract.
"There is no ban for under age marriage in special conditions in Islam" he said.
The forced marriages of girls to under or middle-aged men are not only common in Afghanistan, but also other countries like India and Ethiopia (South-Asia and sub-Saharan Africa more broadly).
Every year, 10 million girls around the world are forced into marriage before they turn 18.
Girls who marry young – as well as missing out on education – are more likely to suffer poverty, domestic violence, malnutrition, maternal and infant death, obstetric fistula and HIV infection.
Mina was just a little girl. She probably enjoyed playing outside with her siblings. She probably loved her parents – and did not understand why they sold her into marriage. A marriage that turned out to be her death, and at best would have still meant the end of her life as she knew it.
Almost 39,000 girls around the world face the same possible fate as Mina every single day. That's 39,000 tragic weddings that are far from a fairy tale.
Although child marriage is against the law in many countries even in Afghanistan, and international treaties forbid the practice, it is estimates that about 51 million girls below age 18 are currently married, often under the cover of darkness and in secret.
In Afghanistan alone, it is believed that approximately 57 per cent of girls wed before the legal age of 16 according to UN investigations.
http://www.khaama.com/girl-8-married-to-12-year-old-boy-against-2000-in-balkh-8534
--------------
Pakistani Journalist, Reema Abbasi Wins Rajiv Gandhi Award
1 September 2014
NEW DELHI: Pakistani journalist and author of the recently launched book, 'Historic Temples in Pakistan: A Call to Conscience', Reema Abbasi, has been honoured as the best literary personality of the year at the Fifth Rajiv Gandhi Excellence Awards held in New Delhi.
The largely attended event was organised by Pehchaan, an NGO focused on nurturing the girl child that is led by prominent media professionals, activists and policymakers, who recognised the tome as a valuable chronicle of shared history.
http://www.dawn.com/news/1129157/pakistani-journalist-wins-rajiv-gandhi-award
--------------
Islamic State Kidnaps Christian Toddler and Women
1 September 2014
ERBIL, Kurdistan Region — Christians who fled the town of Qaraqosh are reporting that the Islamic State (IS) kidnapped several women and a 3-year-old girl after they forced families from their homes last week.
The IS attack on the Assyrian town and the kidnappings, the first to be reported in a Christian area now under IS control, purged the town of most of its remaining residents. Fearing an IS advance, most had fled Qaraqosh, 30 miles southeast of Mosul, to Erbil in early August but some vulnerable residents were forced to stay behind.
According to refugees, IS militants took the women and toddler when they expelled the remaining residents — among them the elderly, people with disabilities, children and their female caretakers. A few dozen others, including a doctor, were ordered to stay behind.
One resident, Kafah, a woman in her forties who was looking after her elderly parents, told Rudaw that three men forced them out of their home and took them to a local health clinic with around 75 other residents. All of their possessions, including their money, documents and mobile phones, were confiscated.
"Women were told to take off all their gold jewelry, even their earrings," said Kafah, who asked that her last name not be used.
They were then shuttled into a bus, where the disabled were forced to leave their wheelchairs behind.
"While I was helping my mother into the bus, I saw a bearded IS guy carry off a girl, about 3 years old, called Christina," Kafah said. "Her mother started to scream and cry."
Christina's mother later spoke to Ishtar TV in Erbil about her ordeal, recalling how she followed the man who took her child. While the girl was crying, Christina was handed to an older man, whom the mother said was "one of those IS people, who was apparently their leader."
She begged him, "Poor girl, what has she done wrong? For the sake of Allah, for the sake of Muhammad, what do you worship? Give her to me; I'm nursing and she'll die if she's not with me."
The man "drew his machine gun and said, 'Go quickly to the bus. If you come close to this little girl you will be slaughtered. We will slaughter you.'"
Along with the girl about seven or eight young women were also taken, according to Kafah.
One of the hostages managed to phone a family member and reported that they were taken to Mosul, including the toddler.
The kidnappings are the first account of mass abduction of Christian women and girls since IS seized Mosul in June, and follows the kidnappings of hundreds of female Yazidis when IS seized the Yazidi town of Shingal and surrounding areas earlier this month.
Some of the Yazidis girls and women have been able to make contact with their families and the press, reporting they were being held hostage and were sexually abused. They have not been heard from since.
Given that journalists and other investigators cannot travel in Nineveh province, most of which is IS controlled, it is difficult to confirm reports about the fate of the Yazidis and Assyrian hostages.
Most Qaraqosh residents fled the IS advance into the minority-dominated Nineveh Plains in early August, residents said. IS has targeted Yazidis, Christians, Shabbak and other Iraqi religious minorities. Thousands of Christians fled Mosul and surrounding areas after IS ordered Christians to convert to Islam or die.
Passengers on the bus were forced the cross the Zab river on foot, a long and harrowing journey for the refugees with disabilities. Family members and one IS militant carried those who couldn't walk across the river, a journey made more difficult by the summer heat.
The victims said they had no water, food or medicine and the area was deserted because all of the villagers had fled for fear of IS.
One of the refugees hid his phone and alerted family members in Erbil, where most ended up taking refuge after crossing the river and being released by IS. Some survived the ordeal with just blisters and dehydration, though one elderly man was hospitalized in intensive care for three days.
Refugees who found refuge in Erbil's Christian enclave of Ainkawa have called on church authorities there to organize rescue missions for the girls, but have been told that the church is powerless.
Kurdish and US forces, with the support of US air strikes, rescued tens of thousands of Yazidis stranded on Shingal Mountain earlier this month and have been hitting IS strongholds in Nineveh province. The US is supplying Peshmerga with weapons and continuing aerial bombings, but the joint operations have not included additional rescue missions for civilians trapped in IS-controlled towns.
http://rudaw.net/english/middleeast/iraq/300820141
--------------
'Radical Rocker' Brit Woman Hits Headlines
1 September 2014
A middle-aged British woman, previously an aspiring rock musician, is suspected to have joined the Islamic State in Iraq and Syria militant group with her 20-year-old husband, the Daily Mail reported.
Sally Jones is reported have sneaked into Syria following an online romance with Junaid Hussain, a British suspect in the murder of U.S. journalist James Foley.
The Muslim convert, also a mother of two boys left behind in the United Kingdom, now calls herself Sakinah Hussain and dons a Burqa, as seen on a Twitter account attributed to her.
Unemployed and living on state benefits, Jones is infamous amongst her neighbours who have described her as "very scatty."
"...Everything was always a drama. Her language wasn't good, her children were unruly and she was extremely loud. Men came and went but she lived mainly as a single mum with her two boys," one neighbour told the British daily.
"She was a nightmare…Everything about her was extreme. She had problems with debts so one minute she was there, the next she'd scarpered. She started to go through a phase of thinking she was a witch," another neighbour said.
Rock musician turned Radical
In the 1990s, the Daily Mail said, Jones was the lead guitarist in Krunch, an-all girl rock band that played a few shows in the South East of England.
An online video shows the now 52-year-old extremist wearing a short leather skirt and platinum blonde hair.
The Mail also reported that in recent years she adopted a number of online personas and was part of online forums on conspiracy theories, witchcraft and black magic.
Jones has been tweeting abusive and threatening content in addition to photos of her in a Burqa posing with weapons.
My husband is away at training camp at the moment refreshing his 'Kaafir killing skills' ...Don't all cry though he'll be back soon :)
Under the name of Umm Hussain al-Britani, she has sent threatening messages to Jewish users and applauded Osama bin Laden.
"You Christians all need beheading with a nice blunt knife and stuck on the railings at Raqqa... Come here I'll do it for you!" a tweet she posted a few days ago read that the Daily Mail said has been deleted.
http://english.alarabiya.net/en/perspective/features/2014/09/01/Meet-the-woman-rocker-turned-radical.html
--------------
Nigeria: Pastor Wife Accuses Him of Adultery, Sues for Divorce
1 September 2014
The dissolution of the marriage between Christ Embassy Church founder, Pastor Christian Oyakhilome, and his wife, Rev. Anita Odegwa Oyakhilome, has entered the final phase. Pastor Chris and Anita Oyakhilome are undergoing divorce proceedings.
The wife is seeking divorce on the grounds of "unreasonable behaviour" and "adultery". She outlined several allegations against the pastor which TheCable cannot publish for legal reasons. The divorce case, with Suit No FD14D01650, was filed on April 9, 2014 at Divorce Section A, Central Family Court, First Avenue House, High Holborn, London, UK, on Anita's behalf by Attwaters Jameson Hill Solicitors, a full-service law firm with expertise in commercial law and a strong consumer focus in family, wills and estate, personal injury law and medical negligence.
Efforts to reconcile the popular couple, whose church is one of the biggest denominations in Nigeria and has branches all over world, have failed. They have two teenage daughters, Sharon and Charlyn. Oyakhilome is the president of Believers' Love World Inc, the registered name of the Christian ministry, while his wife is the vice-president.
The pastor, according to an elder of the church, has denied allegations of adultery and believes his wife was being influenced by "bad friends" who were intent on destroying their home. While Anita believes she has been relegated in the scheme of things in the church, her husband has reportedly accused her of trying to usurp power and authority above her seniors in the ministry.
Sources told TheCable that the pastor had been making efforts to avoid divorce in the hope that the wife would eventually have a change of mind. However, TheCable can also report that the decree nissi was served on the charismatic pastor in his hotel room during a recent visit to the UK. Decree nissi, in legal terms, is like a yellow card in a football match which is a precursor to a red card ("decree absolute") if no new evidence is provided to stall proceedings.
Church insiders said Oyakhilome had been hoping for rapprochement, but he was left with no option than to receive the papers when the lawyers cornered him at his hotel in London. The decree absolute, which will effectively end the marriage, is expected to be issued soon while terms of the divorce will be worked out by the lawyers on both sides.
TheCable learnt Anita recently wanted to go public with the details of her allegations against the husband but reached an informal agreement to sheathe her sword in the interest of the church.
Oyakhilome is regarded as one of the richest and most influential pastors in Nigeria, and co-authors the fast-selling Christian daily devotional, Rhapsody of Realities, with the wife. However, following the strain in the marriage, the wife had been complaining to friends that her husband had stopped the payment of royalties due her from the devotional literature.
"She complained of being deliberately starved of funds, perhaps to bring her to her knees in the belief that she would eventually return to her matrimonial home and mend things," a church member told TheCable in the UK.
A wealthy Zimbabwean businessman, who is into telecoms, is one of the biggest financiers of the London branch of the church which Anita pastors along with other branches in Europe. When the crisis got to a head, the Zimbabwean stopped funding the church - some said in solidarity with Oyakhilome, his close friend and neighbour in Johannesburg, South Africa.
However, Oyakhilome was said to have been shocked when the wife announced at a fundraiser that she was sowing a "seed" (donation) of $1 million - despite her assumed lack of access to funds.
Matters got to a head on Sunday, July 13, 2014, when some relatives of Anita locked up the London branch of the church to protest against the "humiliation" being meted out to their sister who had not overseen services at the branch since November 2013.
Some church members had sometime in May 10, 2014 launched facebook campaign, asking: "Where is Rev. Anita Oyakhilome?" They said Pastor Chris and Rev. Anita must unite "for the sake of the gospel, the church and their two beautiful daughters". They quoted Malachi 2:16 in the Message Bible: "I hate divorce, says the God of Israel." The facebook page, which has over 3,300 "likes", was opened with a stated mission: "This is a Call to Prayer for all believers who understand God's heart concerning marriage and a Call to Action by Pst. Chris. DoWhatYouPreach".
Officials of the church quickly moved to deny any rift between the pastor couple. One official, Kenneth Achumasara, told the media last June: "I can tell you authoritatively that there is no issue between Pastor Chris and his wife, Anita... If you go to the UK now you will see her along with the kids. She is still with him and there is no issue between them. I have been with him for 22 years and the Pastor Chris I know cannot even utter such words as reported.
He will never address such a gathering. She will soon be in Nigeria for a programme and I will definitely invite you to have access to her."
All efforts to reach the church in Lagos failed last night. Pastor Sylvester Egbodaghe, Editor-In-Chief of the Ministry's newspaper, National Daily, did not answer calls or reply text messages sent to him.
http://allafrica.com/stories/201409010495.html?aa_source=slideout
------------
Senior British Muslims Call for Women to Have More Say in Communities
1 September 2014
More women should be appointed to the highest levels of Britain's Islamic organisations to help prevent repetition of the child sex abuse scandal in Rotherham, according to senior Muslim figures.
Last week a report by Professor Alexis Jay into grooming within the South Yorkshire town pinpointed a "macho culture" in the town as a factor in perpetuating the abuse, which involved 1,400 cases of child sexual exploitation between 1997 and 2013.
Critics say the traditional male-heavy hierarchy of Muslim groups contributed to the community's silence on abuse and the culture of disbelief that meant many victims were not listened to. Jay's report found the abuse continued partly because of "blatant" failures by council and police, among them the habit of talking only to older male Muslim community representatives, which meant the true extent of the problem was obscured.
The hope now among many influential male and female Muslim figures is that the fallout of the Jay report will serve as a wake-up call in confronting the male dominance of many British mosques.
Sara Khan, director of women's human rights group Inspire, which has been working closely with Muslim organisations and groups such as the Everyday Sexism Project, criticised the traditional hierarchies that still govern many Muslim organisations.
"In terms of dealing with issues around grooming, around violence," she said, "you fundamentally need far more women representation. The fact that these girls weren't believed demonstrates a culture of disbelief that I think comes from a male perspective.
"The men did not want to believe or chose not to believe the victims, whether the victims were Asian or whether they were white."
Ibrahim Mogra, assistant secretary general of the Muslim Council of Britain, the country's largest Muslim organisation and umbrella body for 500 mosques, schools and associations, conceded that allowing more women to occupy senior positions would offer a more "compassionate" response to similar allegations in the future.
He said: "Having a better representation of genders would be something that I believe would help. It is absolutely crucial for us to tap into that huge resource and untapped asset that we have within our communities to improve them.
"There are certain situations and scenarios where one [gender] can be more effective than the other. Some situations may require more compassion and empathy – perhaps one gender might not be able to fully display those characteristics; therefore a partnership is the most effective formula."
Khan added it was critical to confront what she described as "self-appointed, often undemocratically appointed community leaders" in the wake of the Rotherham report.
"It's about control, power, authority and they will do all they can to maintain that. Whenever a woman has tried to break out of that structure, often those community leaders will do much to silence them. It's incredibly important to get the women's voices in there, to address that patriarchy."
The Rotherham report also quotes a home affairs select committee finding that cases of Asian men grooming Asian girls did not surface because victims faced being ostracised "by the whole community" if they went public with their allegations.
Other high-profile Muslim women backing calls for change are understood to include Lady Warsi, the former Conservative party co-chairman, who recently quit the government over its Gaza policy, although she is keen to ensure that such steps go beyond mere "window dressing".
Julie Siddiqi, of the Islamic Society of Britain, described the existence of Muslim community meetings that continue to be exclusively male as "unacceptable" and, in some cases, an obstruction to justice. Siddiqi said these traditional community groups had such a restricted reach that they were of limited help to police investigating allegations involving the local Muslim community.
"If all these mosques are committees of men it's obviously not diverse," she said. "We need younger [people], more women, and different backgrounds. In some areas I think it will have definitely played a role [in perpetuating the abuse] because the local authority and police don't have links with the right kind of people and they just talk – or in some cases they haven't even been speaking – to the same old people, and that causes a problem.
"Men and women just have to work together. The culture in some of these organisations is prejudiced against women, there's no doubt about that."
http://www.theguardian.com/uk-news/2014/aug/30/rotherham-end-macho-culture-of-mosque-say-muslim-women
http://newdaystarts1.wordpress.com/2014/08/31/senior-muslims-call-for-women-to-have-more-say-in-communities/
--------------
Forced Marriages and Conversions in Pakistan Need To Be Discouraged
1 September 2014
KARACHI: Senior representatives of civil society, political representatives and analysts, human rights activists, religious scholars have stressed upon the prevention to curb forced marriages and conversion issues in Sindh.
They expressed their views in a consultation meeting conducted by South Asia Partnership Pakistan (SAP-PK) focusing on forced marriages and conversion consequences and issues at a provincial level. The main objective of the meeting was to discuss forced marriages and conversion of religious minorities and its root causes in Sindh, to get opinions from policy makers and parliamentarians in this regard.
Speaking at the occasion, renowned Political Analyst Zulfiqar Halepoto said that CSOs, lawyers and parliamentarians should establish a pressure group for demanding the approval draft form provincial assemblies regarding forced marriages and conversion. Civil Society Activist Halepoto said, "In the Rinkle Kumari case, till today, no details of the committee formed are available from the head of then federal minister Maula Bakhsh Chandio. I was part of that committee and we worked hard for a month but ironically we do not know about the details."
All Hindu Panchayat of Pakistan senior Member and advocate Kalpina Devi said, "Laws exist in Pakistan but unfortunately not implemented in sprit." She said, "Forced conversions are being mostly held in poor localities like Tharparkar."
Kalpina said, "Sindh Assembly passed the Sindh Child Marriage Restraint Bill 2013 but was not implemented. If you cannot implement the law then why have you occupied the seats?" Kalpina said that there was also a dire need of change in syllabus.
She said that because of this discrimination, there is a migration of minorities going on. "Yesterday my brother along with his family moved from here. From Sukkur and Thul, twenty six families have migrated respectively in recent days," she said.
PML-F MPA Nanad Kumar said, "We have to take collective efforts for promotion of the pro-minorities ethic dialogues and manage the conflicts at a national level," he said.
Pakistan People's Party MPA Dr Lal Chand said, "No voice is raised against those who are involved in forced marriages and conversions."
Jamaat-e-Islami leader Muhammad Hussain Mahnati said, "Society's pattern has changed and people of all religions are facing myriad issues in Pakistan. Radio, TV and Drama have promoted vulgarity." He said, "We condemn the migration of Hindu communities."
All Pakistan Hindu Panchayat Secretary General Ravi Dawani said, "Young girls are mostly targets of forced conversions and of forced marriages. Why are not the cases of forced conversions of boys or elder women coming out? Even young girls of minorities are kept in the eyes long before conversion." He said that there were some organisations and individuals who are targeting minorities for forced conversions. Ravi said, "Forced conversion cases were highlighted during General Zia's tenure and it rose to peek in the year 2000 or so."
On this occasion, South Asia Partnership Pakistan Provincial Coordinator Shahnaz Sheedi shared that the SAP-PK is going to draft the bill to curb forced marriages and conversions for protection of religious minorities and providing them equal opportunities and legislation at provincial levels in Pakistan. She said that this consultation would provide guidelines to curb forced marriages and conversions at the provincial level. Advocate Rochi Ram, Zulifqar Ali Shah, Amaranth, Virjee Kolhi also spoke on the occasion.
http://www.dailytimes.com.pk/national/31-Aug-2014/forced-marriages-and-conversions-need-to-be-discouraged-speakers
--------------
British man and Saudi wife attacked by religious police in Riyadh
1 September 2014
A British man and his Saudi wife were attacked by members of the religious police, officially known as the Commission for the Promotion of Virtue and Prevention of Vice, outside one of the premier malls in Riyadh on Saturday, Al-Hayat daily said.
The members pounced on the car, in which the Briton and his wife had gotten into for protection, rapped on the window glass and asked him to step out of the car.
This was after an argument and fisticuff, which the Briton and his wife tried to escape by locking themselves up in the car.
A short video, not exceeding 10 seconds, went viral Sunday morning in the social networking websites. It showed a religious police member jumping from the top of a vehicle on the Briton, who was with his wife.
The woman defended her husband by fighting back with the religious police member. The clip shows, the Briton shouting: "This is my wife."
Eyewitnesses told Al-Hayat that the victim named Peter Haworth was in one of the malls with his wife when several members of the religious police started pursuing him till the cashier's counter, which was manned by a Saudi woman.
They asked him why he chose that specific counter. He replied: "My wife is with me."
He paid for his purchase and was walking out of the mall when an altercation between him and religious police members took place.
The religious police members then took pictures of the Briton and his car. He did the same and took their pictures and that of their vehicle.
They then demanded that he hand over his camera, but he refused. He was then attacked and he fell to the ground.
He got up but was surprised by another religious police member jumping on him. His wife entered the fray and tried to protect him.
The eyewitnesses said that he and his wife ran into their car and locked all the doors. But the commission members surrounded him and started hitting the car's glass asking him to get out of the car.
He called the police and in few minutes some officers arrived at the scene but left after they saw the religious police members without asking him what was going on.
A source told Al-Hayat that the British Embassy sent him a mission vehicle, which took him home and stood guard near his house and left later at night. Then the police called him and asked him what happened.
They also questioned eyewitnesses and obtained the photos captured by the surveillance cameras on the street.
An anonymous source told Al-Hayat said Haworth will meet Riyadh Emir Prince Turki Bin Abdullah and religious police Chief Dr. Abdullatif Al-Asheikh.
Religious police spokesman Turki Al-Shelayel ordered a committee be formed to investigate the members involved to get to the bottom of the incident. Al-Shelayel said proper procedures will be taken to grant the rights of all parties involved.
Many Saudis condemned this attack on Twitter.
Haworth is a Muslim married to a Saudi woman and both have been living in Riyadh for few years. He has an established business "Smile Productions" in Riyadh.
http://english.alarabiya.net/en/News/middle-east/2014/09/01/British-man-and-his-Saudi-wife-attacked-by-religious-police-outside-Riyadh-mall.html
--------------
URL: https://www.newageislam.com/islam,-women-and-feminism/new-age-islam-news-bureau/is-sold-yazidi-women-for-$1,000,-hundreds-given-to-fighters-as-war-trophy/d/98838