New Age Islam News Bureau
25 Sept 2014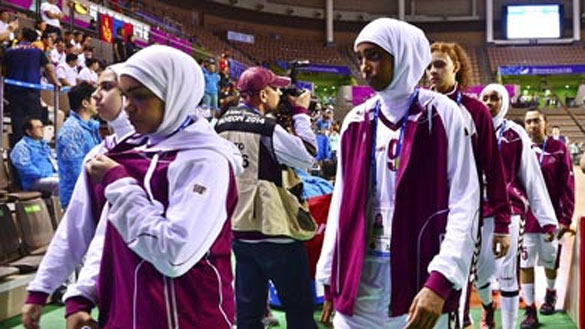 Qatar's women's basketball team forfeit their game against Mongolia in Incheon Sept. 24, 2014. (Reuters)
----------
• London School Bans Muslim Student from Taking A-Levels Until She Removes Niqab
• UAE's First Three Women Female Pilot Leads the Bombing against ISIS
• IS Using Yezidi Girls as Shields during Attacks
• British Muslim Women Launch Anti-ISIS Culture Drive
• Qatar's Women Basketball Team Forfeits Match after Ban to Wear Hijab
• The First FGM Clinic for Girls Opens in UK
• French women living under IS control in Syria's Raqqa
• Can Muslim Women Wear A Headscarf At Work In Germany?
• Muslim Women, Christians to Meet at Mosque to Cease Religion Based Attacks
• Iran Photographer Newsha Tavakolian Faces Censorship
• U.S. Consulate in Jeddah Conducts Workshop On Women In Media
• Pakistan: Rapist Sentenced To Be 'Hanged Till Death' Thrice
• Missed Call to Women Will Lead to Jail in Bihar, India
Compiled by New Age Islam News Bureau
URL: https://newageislam.com/islam-women-feminism/is-call-jihadi-brides-see/d/99256
---------
IS Call For Jihadi Brides Could See Australian Girls Forced Into Terror Marriages
25 Sep, 2014
FEARS are mounting that Australian girls could be sent overseas by radicalised family members and forced to marry extremists linked to the death cult ISIS.
As the Islamic State launches a massive recruitment drive, using social media to lure young jihadi brides to wed violent terrorists, the Federal Government confirmed it is alert to an increased threat of Australian girls being forced into marriages.
Assistant Minister for Women Michaelia Cash told News Corp the government takes, "a zero tolerance approach to forced marriage" and recognises the "increased threat posed by the ruthless Islamic State".
Her comments came as one of the country's leading activists against forced marriage and human trafficking, Dr Eman Sharobeem, warned the Islamic State's public appeal for wives could leave Australian girls vulnerable to being dispatched overseas against their wishes.
"It can happen, and it might be happening now," Dr Sharobeem said.
Dr Sharobeem said in the last fortnight alone, three teenagers from Iraqi and Syrian backgrounds were referred to her clinic, the Immigrant Women's Health Service, from local Australian schools concerned the girls were being groomed to be child brides.
She said the three girls were all 15, two came from Muslim families, and one from a Christian background.
One of the Australian schoolgirls was told by her parents that she would be sent to Iraq to meet her intended husband.
Dr Sharobeem said none of these three cases appeared at this stage to have links to the Islamic State.
But the activist, whose western Sydney office is located near a target of last week's terror raids, said she is aware of Muslim girls being told by their parents that, "if they are not obedient they will be sent off to Syria".
"There is a fear of an increase (in forced marriages) because of what is happening," she said.
She said schools had now become "the main and only frontline" to intervene to stop unlawful child marriages.
Earlier this week ISIS-linked Abu Bakr Al-Janabi, a prolific user of social media, put a call out on Twitter for women to join the front: "Sisters, find your future husband now, because in the near future the majority will be slaves".
Senator Cash said the Federal Government remained, "gravely concerned about the devastating impact the Islamic State is having on the people of Iraq and Syria, particularly in terms of humanitarian outcomes".
"The Australian Government has a zero tolerance approach to forced marriage and human trafficking — we demonstrate our recognition of the increased threat posed by the ruthless Islamic State by delivering vital, targeted humanitarian aid to assist the most vulnerable," she said.
A number of Western women, including murdered Australian Amira Karroum and Austrian teenagers Sabina Selimovic and Samra Kesinovic, have already gained notoriety for fleeing to the Islamic State to marry jihadists.
http://www.news.com.au/national/islamic-state-call-for-jihadi-brides-could-see-australian-girls-forced-into-terror-marriages/story-fncynjr2-1227068364334
---------
London School Bans Muslim Student from Taking A-Levels Until She Removes Niqab
25 Sep, 2014
One of the country's top state schools is at the centre of controversy after banning a sixth form student because she wears an Islamic Niqab to cover her hair and face.
Camden School for Girls, in London, which describes itself as one of the top 100 schools in the country is refusing to allow the Muslim teenager to start her A-levels unless she stops wearing the veil.
The 16-year-old, who has attended the school for the past five years, was supposed to start her sixth form studies this month. Her 18-year-old sister described the school's decision as "very upsetting" for the family and said: "My sister just wants to wear the Niqab for her own reasons and attend a school. I don't feel like her education should be compromised or the way she dresses should affect the way anyone looks at her."
More than 700 people have signed a "Stop the Islamophobia" petition in protest at the school's stance. The petition at change.org, started by an anonymous protester, claims the 16-year-old was allowed to sit exams this summer wearing the veil, and that former pupils have been allowed to wear the Niqab. It states: "This school is renowned for its 'individuality' and 'strong feminist views'. However, this poorly thought out decision made by the school contradicts this. What happened to 'freedom of expression'?"
One of those to have signed the petition, Farhana Khanom, commented on the website: "I went to Camden school for girls and many girls wore veils and were allowed to do so. This school had a reputation. And now discriminating [against] people that made their own choice to wear what they feel is utterly disgusting."
Another signatory, Cabrini Cotter-Boston, posted online: "This decision has set them back decades. It's disgusting that Camden teaches us as young women to empower ourselves, and to push the boundaries set by society, yet they themselves are taking away a young girl's education because of her choice in clothing."
The school was named as one of the top 100 best performing schools in the country by schools minister David Laws last year, and has been rated as "outstanding" in every Ofsted inspection it has had. Previous pupils include campaigner Sarah Brown, the wife of former Prime Minister Gordon Brown, actresses Emma Thompson and Tamsin Greig, and singer Geri Halliwell.
In a statement, the school's governing body refused to "discuss individual pupils" but cited "an appearance policy" which states: "Inappropriate dress which offends public decency or which does not allow teacher student interactions will be challenged." The statement added that the policy was adopted "several years ago" and "written at a time when a girl wished to wear a Niqab, and teachers found that this made teaching difficult."
The school defended its decision as "very much an educational one" and said: "teachers need to see a student's whole face in order to read the visual cues it provides. In addition, it is important for the safety and security of the school community to know who is on site, and to be able to see and identify individuals."
Guidelines from the Department for Education allow schools to set their own uniform policy and enforce bans on certain clothing on the grounds of learning, security or safety.
And last year London Mayor Boris Johnson claimed full face veils in school were "completely wrong" after it emerged that some schools had forced children as young as 11 to wear the Niqab.
http://www.independent.co.uk/news/education/education-news/camden-school-for-girls-in-discrimination-storm-after-demanding-16yearold-removes-Niqab-9751735.html
---------
UAE's first three women Female Pilot Leads The Bombing Against ISIS
25 Sep, 2014
One of UAE's first three women pilot is dropping bombs against the ISIS. Major Mariam Al Mansouri is serving as team leader in the airstrikes led by the United States coalition against ISIS in Syria, Bret Baier of Fox News confirms in his Twitter post on Sept 24.
It seemed like a long way to go before Al Mansouri can drive a fighter jet in 2008 when she had just been allowed to fly solo at the Khalifa Aviation College. She was then only allowed to practice on the Hawk 128, a jet trainer from Britain's Royal Air Force."It's an unbelievable feeling, like a dream. You don't believe it's happening. It's great to know that your country has that confidence in you," she said back then.
Asked about her motivation in taking the road mostly traveled by men, she said that it was flying that she is mostly passionate about. She graduated with a Bachelor's Degree in English Literature but flying was on the top of her list. "A woman's passion about something will lead her to achieving what she aspires and that's why she should pursue her interests," Al Mansouri marveled.
Meanwhile, on the ground is another woman - Vian Dakheel, Iraq's only Yazidi parliamentarian - who believes that U.S. military intervention will significantly help to bring captive Yazidi women into freedom. There are more than 1,000 women and children who were kidnapped by the militants. Those women who surrender their religious belief and embrace Islam were taken as wives while those who are adamant were trafficked to serve as sex slaves."Publicity would also help just like when Mrs Obama got involved in trying to rescue the schoolgirls captured by Boko Haram in Nigeria," she told BBC.
Another woman, Adla, shared her horrific experience being kidnapped by the ISIS for 38 days. She said that she was first held in captivity inside a big house full of other women captives. All windows and doors were locked. Each day, men would force them to have their headscarves removed "so they could choose which of us they wanted." Once the men had gotten their pick, women "were dragged out of the house by their hair." She was able to escape one night and took refuge at a school where she met a young girl who had experienced torture in the hands of the ISIS.
"They beat us with cables, starved us and made us wash our faces with petrol," she recalled. One of her friends had taken ended their lives by slitting their wrists, while two other girls "hanged themselves from the ceiling fans." The young girl was able to escape too, however, she feared for those she have left behind. "They will sell girls to whoever wants to buy them - girls aged nine and over. Some men bought two or three, even four or five at once."
http://au.ibtimes.com/articles/567578/20140925/u-s-airstrike-against-isis-airstrikes-iraq.htm#.VCSD_pRdU4U
---------
IS Using Yezidi Girls as Shields during Attacks
25 Sep, 2014
Islamic State (IS) militants are using Kurdish Yazidi girls as shields during their fighting against Peshmerga forces.
As a result of counter attacks on Islamic State strongholds, the "IS is using imprisoned Yezidi girls in Mosul as their protection," said the Kurdistan Democratic Party (KDP)'s spokesperson in Mosul branch, Saied Mamuzini in a press conference on Tuesday.
Mamuzini pointed out that IS militants have set those girls in the front of their checkpoints and military posts to act as a human barrier against further attacks.
Mamuzini told BasNews that the number of those Yezidi girls who are being used as shields by IS militants remain unknown.
After capturing Sinjar, IS militants abducted hundreds of Yezidi girls and are dealing with them far from any humanitarian values, according to media reports.
http://basnews.com/en/News/Details/IS-Using-Yezidi-Girls-as-Shields-During-Attacks-/35245
---------
British Muslim women launch anti-ISIS culture drive
25 Sep, 2014
In the latest fight against ISIS, a British Muslim women's group is on Wednesday launching a new nationwide campaign called "#MakingAstand." It is a community and social media based campaign that is asking women to make a stand alongside Muslim women from across the UK to reject the culture that ISIS is propagating and declare an abhorrence to extremism and terrorism.
Troubled by the recent reports of rising figures of British Muslims leaving the UK to join ISIS, in particular the increasing number of young British Muslim women, the campaign has been described by Sara Khan, co-Director of Inspire and responsible for the launch, as a "call to action and a statement for Muslim women in rejecting the barbarity of [ISIS]."
Whilst it's still unclear how many British Muslim women, amongst the estimated 500 Britons fighting in Syria and Iraq, are involved with ISIS, it is believed, that this total has risen with the increase in land and territory gains made by ISIS, the Guardian reported.
The fresh campaign represents a rejection of ISIS by British Muslims who are travelling from across the country to take part in the launch. Speaking to Al Arabiya News, Sara explains that ISIS present "a deliberate and distorted reading of Islam's scriptures." Instead, Inspire aims to make a stand to promote narratives that challenge hatred and extremism espoused by ISIS by creating local networks of support that also partner with statutory agencies that help to exert influence in mosques and communities and help families identify the signs of radicalization.
Inspire is a counter-extremism and human rights organization which seeks to address inequalities facing British Muslim women. Their focus on women remains key to their work in preventing radicalization amongst the British Muslim community. According to Kalsoom Bashir, who is project director at Inspire, women "are in a unique position to identify early factors that leads to radicalization."
This is not the first time that Muslim women have been viewed as an important first line of defense against radicalization within the Muslim community. In June this year, the British government introduced a strategy urging mothers and wives to report their loved ones, following the uncovering of Britons participating in Jihadist style fighting in Syria earlier this year. One critic of this policy explained in Huffington Post it was problematic because "relying on Muslim women to undertake the work of the security services is not only likely to be ineffective, it also risks further undermining women in highly patriarchal settings as possible 'agents', not to be trusted."
The launch of #MakingAStand is the latest in a long string of statements and initiatives by British Muslims, speaking out against extremism both at home and abroad, especially In response to ISIS's kidnapping of Alan Henning, a British aid worker who was based in Syria. Over 100 British Muslim leaders made a joint appeal, urging ISIS to show mercy in sparing his life. Signed by dozens of imams, community leaders and other prominent Muslims, the letter expresses their "revulsion" at the execution of the previous three hostages.
Denunciations of ISIS by British Muslims have taken a number of forms. A recent hashtag campaign - #NotInMyName – has been trending on Twitter, and aims to counter the influence of groups such as ISIS online by condemning such violence.
Women looking to take part in #MakingAStand are being encouraged to do so by tweeting a picture of themselves to #MakingAStand. They can also register their interest at www.wewillinspire.com.
http://english.alarabiya.net/en/life-style/art-and-culture/2014/09/24/-MakingAStand-British-Muslim-women-launch-anti-ISIS-culture-drive.html
---------
Qatar's women basketball team forfeits match after ban to wear hijab
25 Sep, 2014
The Qatar women's basketball team forfeited its Asian Games match against Mongolia after players were refused permission to wear a hijab.
Incheon Asian Games Organizing Committee spokeswoman Anna Jihyun You told The Associated Press on Wednesday that the players "had refused to take off the hijab" and the match was awarded to the opposition.
You said the sport's world governing body, FIBA, "did not provide any instructions" on any moves to relax regulations to the match officials, who quoted regulations that prohibit the use of headgear, hair accessories and jewelry in international competition.
FIBA earlier this month announced it was launching a two-year trial phase allowing players to wear head coverings, after seeking permission, and in domestic competitions.
http://english.alarabiya.net/en/sports/2014/09/24/Qatar-s-women-basketball-team-forfeits-match-after-ban-to-wear-hijab.html
---------
The First FGM Clinic for Girls Opens in UK
25 Sep, 2014
In the UK alone, more than 60,000 girls are at risk or suffering from Female Genital Mutilation (FGM), according to a new report. The study, done by Equality Now and City University London, prompted the University College Hospital Clinic to open a monthly service dedicated to helping girls who are dealing with the ramifications of this practice.
It aims to both educate and council, with a focus on girls under the age of 18. Statistics have shown that if families are educated about the practice, it could save younger siblings from FGM. Although FGM clinics do exist in the UK, this will be the first one primarily devoted to minors.
It will work closely with families, social services and law enforcement. Referrals as well as surgery, when necessary, will be offered.
FGM is most popular in North African and East African countries. Although often attributed to Islam, in fact the religion makes no mention of FGM in either the Qur'an or the Hadiths (sayings of the Prophet). In fact, many Islamic leaders have spoken out against the practice. Rather, this tradition has been going on for far longer, as a cultural institution, in countries like Eritrea, Somalia, Kenya, Sudan and Egypt.
The procedure can range from minimal (nicking the clitoris) to incredibly invasive. The more severe cases see women's vaginal openings sewn up with significant scarring around the clitoris. It is intended to keep women chaste, but what it does, far more often, is cause massive infections and decreased sexual stimulation throughout their lives. Infections that are not treated can lead to a host of health problems, including sterilization, scar tissue which can impede a healthy birth and even death.
In many countries, including the UK, the practice of FGM in any form is illegal. For women who undergo FGM and grow up in the west, being 'branded' can cause a number of psychological issues. It is usually the mother who arranges it, and women who carry out the procedure. In campaigns to halt the practice, some advocates actually found targeting the fathers, who know very little about the intricacies of the procedure, was sometimes more effective.
One woman, who agreed to speak about her experience with FGM, is a successful, modern 27-year-old living in the UK. A daughter of Eritrean immigrants, she was 'nicked' when she was a child. "You know the worst thing," she says, "Is people assuming I'm somehow broken because of this. There is a stigma surrounding it and I rarely bring it up with boyfriends because of that. They all assume I'm defiled and ruined…I don't need pity though." She related that she still enjoys sexual activity and can achieve orgasm. "I am still a whole person; not defined by this."
She said she would never perform the same ritual on her daughter, but holds no ill will towards her parents for what they did. "It was cultural, and they didn't know any better. If there had been someone to explain to them why it was wrong, or even unnecessary, they probably wouldn't have done it. It's a matter of educating people."
This is exactly what the FGM clinic for girls is hoping to achieve. While many within the west see FGM as unimaginable, the point of the clinic is not to shame or castigate, but simply to help parents and children who are grappling with this issue. It hopes that by treating the youngest subjected to FGM, and opening a dialogue, they can stem the tide of this practice for future generations.
http://www.care2.com/causes/the-first-female-genital-mutilation-clinic-for-girls-opens-in-uk.html#ixzz3EMd3qofL
---------
French women living under IS control in Syria's Raqqa
25 Sep, 2014
FRANCE 24 has obtained rare footage shot by a female student of everyday life for women – including French women – living under the rule of the Islamic State group in the Syrian city of Raqqa.
Unaware that they are being filmed by a hidden camera, the fully covered women in the cyber café chat to their loved ones in France via Skype.
"I'm not planning to come back mama," says a woman, dressed in an all encompassing Niqab, in perfect French. "You have to get it into your head that I am never coming back."
This is the central Syrian city of Raqqa, the heartland of the Islamic State (IS) group. Since the IS group seized control of Raqqa last year from Jabhat al-Nusra, al Qaeda's official branch, women have been forced to wear the particularly restrictive, Saudi-style Niqab.
With a camera hidden under her Niqab, a female student, who declined to be identified due to security concerns, shot footage of how women go about their daily lives in one of the most prohibitive, dangerous cities in the world.
Guns and women – in a children's playground
Guns can be seen everywhere on the streets of Raqqa, brandished not only by IS militants, but also by women – including mothers taking their children to a playground.
In this city, music as well as most other forms of entertainment is banned and the strict codes of conduct are constantly monitored by IS militants.
For thousands of Syrian women living in Raqqa, this is the new reality, they have no choice.
But there are others who have chosen this way of life, and have come from France of their own free will.
Inside the women's section of a Raqqa cyber café, women dressed in all-black Niqabs take the opportunity to Skype with their families back home in France.
The conversation between an unidentified French woman and her mother continues along the same theme. "I didn't take the risk of coming here just so I could come back to France," the woman tells her obviously distraught mother. "I don't want to come back mama, because I'm happy here…Everything you see on TV is fake, I swear to you, it's not true. Do you understand? They exaggerate everything on TV."
French authorities believe that an estimated 150 French women have traveled to Syria to either join their militant husbands, serve as mother figures to orphans or merely support the cause.
In an exclusive FRANCE 24 story on a French jihadist in Syria last year, a 27-year-old Frenchman said he had taken his wife and her two young children from an earlier marriage to Syria.
The women and children of jihadists support each other while their menfolk are on the battlefield, he said.
http://www.france24.com/en/20140924-video-syria-french-women-raqqa-islamic-state/
---------
Can Muslim women wear a headscarf at work in Germany?
25 Sep, 2014
Germany's constitution guarantees the free exercise of religion. But Muslim women often have to defend themselves in court when they want to wear a headscarf at work.
A German labor court ruled Wednesday that church institutions are permitted to ban the wearing of the Muslim hijab headscarf at work if they see it necessary. The ruling was not the first time the issue of headscarves at work was addressed by German courts.
Legal disputes in German courts surrounding the wearing of headscarves first started 15 years ago, when a Muslim woman filed a lawsuit in 1998. She wanted to keep wearing an Islamic headscarf while at work as a teacher in the German state of Baden-Württemberg. Originally from Afghanistan, Fereshta Ludin became a German citizen in 1995 and intended to pursue a civil service career. But Baden-Württemberg's minister of culture refused her admission into school teaching, arguing that teachers in Germany had to remain neutral towards pupils in matters of religion and faith. In a secular state like Germany, this was one of the most crucial priorities in civil service, the minister stressed.
In the course of the legal dispute that ensued, and with the intention of passing fair judgment, judges searched for a legal basis on all levels. They explored the question whether the Koran stipulates the obligatory wearing of headscarves for Muslim women. Supporters of that thesis see surah 24 as proof. But followers of different legal doctrines interpret the surah differently.
Next, the judges assessed the question whether German law bans the religiously motivated wearing of headscarves. But no such document was found. The result was that Germany's Constitutional Court in 2003 lifted the ban on admission to school teaching. The state of Baden-Württemberg reacted by passing a new school law, banning Muslim teachers from wearing the headscarf while teaching at public schools. The problem then and now was that not all German states followed suit. In eastern Germany, ministries have refrained from taking sides, while North Rhine-Westphalia, Germany's most populous state, did adopt a similar headscarf ban.
Then the legal U-turn: an administrative court in Stuttgart in 2006 lifted the headscarf ban in Baden-Württemberg again, arguing that religious equality had to be maintained and that if Christian nuns were allowed to wear their religious attire then the Islamic headscarf had to be accepted, too. That triggered a situation of confusing legal chaos, requiring assessment on a case-by-case basis.
Why the controversy continues
Thomas Brinkmann, a lawyer specializing in labor and social law with Wuppertal-based law firm Hopfgarten, said he and his colleagues have closely followed cases and rulings regarding the wearing of headscarves for years. Brinkmann stressed that German courts do not pass rules willy-nilly, and added that he has not observed neither an Islamophobic tendency by German courts, nor inappropriate concessions to Muslims for fear of being accused of anti-Muslim tendencies. "I haven't seen that," said Brinkmann, adding that no single general law could suddenly end all legal disputes as freedom of religion is a guaranteed right in Germany.
"You have to take into account both sides' interests - employees' as well as employers'," the lawyer said. A Muslim judge in Berlin, for example, was not allowed to wear her headscarf at work, because the state of Berlin has banned all civil servants from wearing any type of religious symbol. Those symbols include Christian crosses as well as the Jewish kippah. The state of Berlin wants to stress the fact that there's equal treatment of all religions in the public sphere, said the lawyer.
The situation is more difficult in the private sector, according to Brinkmann. "The courts tend to look at just how religious the person really is, how long they have been wearing the headscarf for and how often they wear it in their spare time," he said. At the same time, employers generally find it difficult to ban the wearing of headscarves when employees work in positions that don't require them to be in touch with clients who might take offense at the attire. Employers can only push for a headscarf ban when there's a basis for it in the work contract. But employers with a religious orientation, such as the church institutions covered in Wednesday's ruline, for example, of course don't have to accept it if one of their employees expresses their confession of a different faith.
In short, German courts do not pass arbitrary judgment, which is why the Central Council of Muslims in Germany had not criticized any court rulings, according to Brinkmann.
"I have understood every ruling so far," he said.
Brinkmann added that the courts tend to now put a stronger focus on the right to free exercise of religion. "That happens more often than in the past," the lawyer said. And this feeling is shared by many other judicial officers.
According to figures published in 2009 by the Federal Office for Migration and Refugees, 25 percent of Muslim women in Germany aged 16 and older wear a headscarf. Some 70 percent never wear one.
http://www.dw.de/can-muslim-women-wear-a-headscarf-at-work-in-germany/a-17953746
---------
Muslim Women, Christians to Meet at Mosque to Cease Religion Based Attacks
25 Sep, 2014
Attacks on Muslim women across Logan and Brisbane have prompted Muslims and Christians to join at the Kuraby Mosque on Friday to call for others from the two faiths to stand together in solidarity.
In a press release issued this afternoon, Christian leaders said they were concerned about recent attacks on women from the Muslim community and that the release of an affirmation was the first step in strengthening ties between the faiths.
Muslim representative Dr Nora Amath said a number of Muslim women had been subjected to verbal abuse over the last couple of weeks.
She said one woman was physically attacked at Sunnybank Hills.
"Unfortunately the headscarf is very visible and it conjures up feelings of fear and hostility."
Dr Amath said police liaison officers had met with female students from the Islamic School to discuss personal safety.
"We can't control people's reactions," she said.
"Many attacks aren't reported and many feel like it's part and parcel of being Muslim at the moment which is quite sad.
"This is a positive and proactive way to make a statement that any attack on any person of any faith won't be tolerated.
"With all the hysteria, we need to take care of each other and find common good."
Dr Amath said the a copy of `Call for Christians and Muslims to Stand Together' was an affirmation and that a multi faith Memorandum of Understanding would be released later in the year.
The reading of 'Call For Christians And Muslims To Stand
Together' will occur at 11am on Friday at the Kuraby Mosque, 1408 Beenleigh Rd, Kuraby.
http://www.couriermail.com.au/questnews/logan/abuse-of-muslim-women-prompts-christians-to-meet-at-mosque-in-a-call-to-cease-religious-based-attacks/story-fni9r0nh-1227069324998
---------
Iran photographer Newsha Tavakolian faces censorship
25 Sep, 2014
TEHRAN — Iranian photographer Newsha Tavakolian was over the moon when she won a 50,000-euro prize from a French foundation. She never imagined she would lose it to "censorship" by her own benefactors.
"I am very sad, disappointed. I was so happy that with this prize I finally get a reward for working in difficult conditions," the 33-year-old photographer who won the Carmignac Gestion photojournalism award in October 2013 told AFP.
The brief of her project was to investigate "the burnt generation... whose parents made a (1979) revolution which shocked the world, and now have to cope with its consequences."
In her proposal, Tavakolian said "together this group of 25-35-year-olds forms a silent majority in Iran, rarely seen or heard of outside of the country. Not extremist Islamic or fashionably 'underground', they are often overlooked."
But earlier this month, she announced on her Facebook page that she was bowing out due to "irreconcilable differences over the presentation of my work" and was returning the award from the foundation, whose patron is French investment banker Edouard Carmignac.
The foundation denies trying to censor her work and said the award was suspended because the Iranian government was exerting "heavy pressure" on the artist and her family.
Tavakolian traces the dispute back to a conversation about "artistic freedom... when Mr Carmignac wanted to change the name of the project to 'Lost Generation', from her title: 'Blank pages of an Iranian photo album'."
"He wanted to change the whole nature of the project, with other pictures, with another title," she said.
"I said from the beginning that the new title would get me into trouble (with the Iranian authorities), but the most important was my artistic freedom," said the photographer.
"I said: 'You are trying to censor my work'.'"
Tavakolian said the foundation withdrew its offer to exhibit her work and publish it in book form on "security" grounds, but that in reality there had been a disagreement over artistic freedom.
Iran's moderate President Hassan Ruhani advocates greater cultural and social freedom within the bounds of Islamic values, but he often comes in for criticism from the country's strong conservative wing which fiercely opposes Western cultural encroachment.
In a sign of the red lines in Iran, seven young Iranians featured dancing to Pharrell Williams' hit "Happy" in a video which went viral on the Internet were earlier this month given suspended jail and lashing sentences, their lawyer said.
The foundation's Ivan Moneme said the photographer changed course between the time of her presentation to when she delivered the project, which had become "more aesthetic rather than a photo reportage."
He denied the charge of censorship and said it was more a case of a heated meeting between "a patron who intervenes a little too much and a laureate who is a little too young."
The artist had herself agreed to the new title before changing her mind, he said.
As for Tavakolian, she has returned the 25,000 euro ($32,000) advance for the award.
"No matter what, I will publish my work the way I want and with the title I want. I want to be proud of my first book," she said.
http://www.saudigazette.com.sa/index.cfm?method=home.regcon&contentid=20140925219325
---------
U.S. Consulate in Jeddah conducts workshop on women in media
25 Sep, 2014
The Public Affair Section of the U.S. Consulate here arranged a workshop Thursday, which was attended by current and aspiring journalists and media persons.
The event started with the introduction of a newly appointed Information Officer John Elliott followed by the introduction of a Columbia Journalism School professor Betsy West.
West presented her innovative, multi-platform project "Makers: Women Who Make America," a series of dynamic stories about the struggles of women in American media.
The event screened five excerpts from hundreds of interviews conducted with women of achievement in the media, such as Oprah Winfrey, Christiane Amanpour and Barbara Walters.
The documentaries showed the effort of women in the 60s and 70s as they surmounted obstacles and hardships in media and other fields.
The stories mentioned their challenges in the face of inequalities, harassment, low payment, injustice and lack of opportunities.
Women endeavored to fight for their rights and achieved what they wanted, as they proved they deserved it.
Toward the end of the evening, West took questions from the attendees, many of whom represented different fields of media.
The questions raised were about the differences in Saudi and American society, and the ways in which Saudi women struggle.
For a woman, her greatest challenge is to balance her family life and career.
"I am impressed on hearing the news that Somayya Jabarti is now the first woman editor-in chief of a newspaper in the Kingdom. I hope one day I'll be documenting the story of Saudi women in media for 'Makers,'" said West, who is the executive producer of "Makers."
West and her team at Storyville Films oversaw and conducted most of the interviews. She is currently working as an executive producer of another documentary, with senior producer Barak Goodman.
http://english.alarabiya.net/en/media/2014/09/24/U-S-Consulate-in-Jeddah-conducts-workshop-on-women-in-media.html
---------
Pakistan: Rapist Sentenced To Be 'Hanged Till Death' Thrice
25 Sep, 2014
QUETTA: The session's judge, Sibi, on Wednesday sentenced a rapist to be hanged thrice for assaulting a five-year-old girl who later died because of injuries.
The verdict carries a Rs600, 000 fine to be paid by the convict.
Judge Rashid Mahmood announced the verdict after prosecution proved charges against Sani Messiah.
The toddler, subjected to assault on Jan 22, died during treatment at a Quetta hospital.
http://www.dawn.com/news/1134214/rapist-sentenced-to-be-hanged-till-death-thrice
---------
Missed Call to Women Will Lead to Jail in Bihar, India
PTI | Sep 24, 2014
PATNA: Give missed calls to women and cool your heels in jail!
CID inspector general (IG) (weaker section) Arvind Pandey on Tuesday issued a circular to all district superintendents of police (SPs) and government rail police (GRP) SPs asking them to ensure that police investigates and takes action in such cases with utmost seriousness.
"Giving repeated missed calls to women is a serious issue. It makes them feel insecure and robs them of peace of mind. We have decided to count it as a crime of stalking under Section 354D (i) and (ii) of the IPC," Pandey said.
Pandey, however, said that police officials have been told to ignore the matter if missed calls are given once or twice, but crack the whip if they are repeated and with an intention to harass women.
The idea of taking action against 'missed call menace' emerged during a two-day training programme for Station House Officers of women police stations in the state as well awareness camps on crime against women that were conducted by CID at girls schools and colleges.
http://timesofindia.indiatimes.com/india/Missed-call-to-women-will-lead-to-jail-in-Bihar/articleshow/43342570.cms
------------
URL: https://newageislam.com/islam-women-feminism/is-call-jihadi-brides-see/d/99256