New Age Islam News Bureau
3 Jul 2012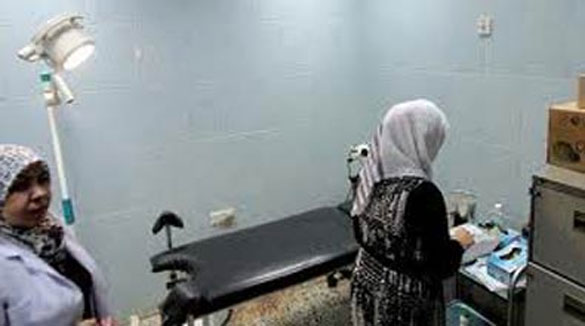 • Veiling Young Girls Is Child Abuse: A Moroccan Rights Organization
• Jihad Is an Obligation We Must Accept: A Female Muhajid
• Saudi Female Athletes Fear Crackdown
• US Navy Decision to Remove Target of Muslim Woman, Quran from Shooting Ranges
• Saudi women's participation in Olympics against cultural norms
• FIFA Medical Chief Withdraws Opposition to Headscarves
• Pakistan: Still One of The Worst Places In The World To Be A Woman
• Russians and Syrians, Allied by History and Related by Marriage
Complied by New Age Islam News Bureau
Photo: Iraqi Women Face Court-Ordered Virginity Tests
URL: https://www.newageislam.com/islam,-women-and-feminism/new-age-islam-news-bureau/iraqi-women-face-court-ordered-virginity-tests/d/7813
---------
Iraqi Women Face Court-Ordered Virginity Tests
July 2, 2012
BAGHDAD: Iraqi women face court-ordered virginity tests that often show they were virgins until marriage but shame them nonetheless, doctors at an institute that carries out the tests and a lawyer told AFP.
Remaining a virgin until marriage can be an issue of life or death for women in the Middle East, where those who are seen as having dishonoured the family by having premarital sex are sometimes killed by male relatives.
An average of several virginity tests are performed per day at the Medical Legal Institute (MLI) in Baghdad, in a small windowless room with blue-tiled walls and a black table with leg stirrups at one end.
Other equipment includes a white scope on a wheeled stand and a bright white light, also on wheels, near the end of the table.
"Most of the cases we received after the first day of marriage," said Dr Munjid al-Rezali, the director of the MLI.
"The husband claim that she is not a virgin, and then the family bring her here, through the courts, this all come through the courts, and we examine her," Rezali said, speaking in English.
"It's not uncommon, we are seeing a lot," he added.
The tests include examination of the woman's hymen, but the man involved may also come under scrutiny.
The man may be tested for impotency, Rezali said, noting that in some cases, a man with erectile dysfunction may pretend the woman was not a virgin to hide his shame.
The results of the tests go directly to the courts, and are not given by the MLI to the parties involved, Rezali said.
"They think that during the marriage, (the) first day of marriage, there should be blood… they think if there is no blood, there is no virginity," said Dr Sami Dawood, a forensic doctor at the MLI who has been involved in the tests.
This belief, he said, indicates that sex education and knowledge is "very poor."
If a man thinks his new wife is not a virgin, he may take the issue to court, leading to the MLI performing a virginity test, said Dawood.
Asked about the results of the tests, Dawood said that "most of them (are) with the woman, not against the woman, but it is by itself… shaming."
However, he said that while women were killed in the past if blood was not found on the sheets after their wedding night, people now seek recourse through the courts and the virginity tests procedure.
The test, which takes between 15 and 30 minutes, is carried out by three doctors, at least one of them a woman, and the results are certified by two others, said Dawood, adding that the tests are done only when ordered by a court.
"The judge is required to send the woman for the medical test when she is accused by her husband of not being a virgin, and that is only done in this case," lawyer Ali Awad Kurdi said.
"If it is proved that the woman was not virgin and sought to get married without telling the man, there is no law that protects her," Kurdi said.
The woman's family is then required to recompense the man for gifts, money and other expenditures related to the relationship.
Various Iraqi judicial officials either declined to speak about the issue, or could not be reached by AFP.
"Non-governmental organisations do not have any means of protecting women from this accusation of this crime, because it is a very sensitive matter," said Intisar al-Mayali, an activist from the Iraqi Women's Association, a local rights group.
Marianne Mollmann, senior policy adviser for rights group Amnesty International, called virginity tests both wrong and ineffective.
"The issue of virginity testing, and forced virginity testing and sort of legal virginity tests in court proceedings or in other ways, violate a whole host of human rights and are just not justifiable," she said.
"Even if it were legitimate to look at whether women were virgins for whatever reason, which it's not, you can't use a virginity test for that, because the hymen might break for any reason," Mollmann said.
The test "doesn't do what it's set out to do."
Liesl Gerntholtz, the director of the Women's Rights Division at Human Rights Watch, said: "The Iraqi government should urgently put measures in place to ensure that women and girls are not forced to undergo physical examinations that are degrading, painful and frightening."
"The use of these tests in court should be banned."
http://tribune.com.pk/story/402404/iraqi-women-face-court-ordered-virginity-tests/
---------
Veiling Young Girls Is Child Abuse: A Moroccan Rights Organization
Published July 2nd, 2012
A Moroccan rights organization launched an awareness campaign against the veiling of young girls, describing it as a major form of child abuse.
Under the slogan "So that girls won't live in eternal darkness," the Center for Woman's Equality launched a campaign that aims to counter the phenomenon of forcing girls between the ages of three and 10 to wear the headscarf.
In its statement obtained by Al Arabiya, the center called upon all human rights organizations as well as legislative bodies to join this campaign against what they termed "a flagrant violation of innocence and childhood." "Girls at this age know nothing about religion and what is prohibited and what is not," said the statement.
The statement added that making girls wear the veil at a very young age threatens their psychological stability and therefore ruins the coming generations and an entire society.
In addition to the role that needs to be played by the government and rights organizations, the statement stressed the important of religious bodies.
"Islamic bodies need to interfere to make things clear and tell people that forcing young girls to wear the veil is not part of Islam."
Mariam, a 10-year-old girl, said her father, an imam at a mosque forced her to wear the headscarf.
"He said that it will protect me from harassment," she told Al Arabiya.
Asmaa, also 10, said her mother, a teacher at an Islamic school, forced her to wear the veil because it is a religious obligation.
"She said I have to get used to it while I am still young, otherwise I would go to hell," she told Al Arabiya.
For sociologist Karima Wadghiri, forcing girls to wear the veil does not only violate children's rights and kill their innocence, but also nourishes in them a wrong perception of their bodies.
"They will start associating their bodies to shame which has to be hidden and this view contradicts the true essence of Islam," she said.
Wadghiri added that when they grow up these girls will confuse conservatism with fanaticism and liberalism with immorality.
"Their inability to distinguish between those concepts will put them in a constant state of confusion and eventually drive them to isolate themselves from the outside world."
The girls' conflict will be taken from the personal to the public level and will have a negative effect on the entire society, she said.
"Society will later be divided not on class or financial status as is usually the case, but on religious and ideological basis."
The Center for Woman's Equality is known for its initiatives aimed at empowering women and achieving gender equality as well as countering all forms of discrimination and violence against women.
http://www.albawaba.com/editorchoice/veil-morocco-children-432127
---------
Jihad Is an Obligation We Must Accept: A Female Muhajid
By Nick Owens
1 Jul 2012
Brit is suspected of involvement in a deadly grenade attack in Kenya last week that killed three
The widow of one of the 7/7 bombers is writing a chilling web diary while on the run from police after being named as the prime suspect for a deadly terror attack in Kenya.
In the haunting blog, Samantha Lewthaite, whose husband Jermaine Lindsay blew up a Piccadilly Line train during the London attacks in 2005, says "fear can make you do many things" and warns she faces "many more challenges" in the months ahead?
Her blog Fears and Tears: the Confessions of a Female Muhajid is the first time Lewthaite, 28, has made any attempt to communicate with the outside world since she fled to Africa.
Its emergence comes amid a worldwide search for Lewthwaite – dubbed the "White Widow" – as she is hunted over claims she took part in a grenade attack in Kenya which killed three football fans watching the Italy versus England Euro 2012 game in a bar last Sunday.
Just three days before the blast she posted a lengthy message on her blog admitting she had "no regrets" about converting to Islam and waging Jihad.
She wrote: "My decision to revert to Islam is the most precious gift that my maker has bestowed upon me.
"From a previous life of sin and worshiping of worldly things I have lived for many years now as Muslim content with serving Allah with the knowledge that I have a place in Jannah [Paradise]."
Her rambling message goes on: "Like many revertees I have been tested and challenged but each time Allah has guided me towards the right path and ensured my faith in my religion remains constant.
"During the month of April and May I faced great challenges (sic). Some friends have told me I have over-reacted because I'm a woman and weak.
"Yes, I am woman but I am woman who believes in Jihad and supremacy of Islam.
"With all this pressure I broke down in tears... Jihad is an obligation that we must accept – so today I'm over my fear and my tears are dry."
The extraordinary diary has appeared on the website of the Muslim Youth Center – the Kenyan arm of Islamic militant group Al-Shabaab. On the morning of the attack in Kenya a message was posted on the site saying: "BOOM!!! Mujahideen making music."
Hints about an attack were also posted on the MYC's Twitter account, saying: "Tick tock there goes the count-down for the kuffar..."
It appeared alongside an image of a woman Hamas fighter brandishing an assault rifle.
Lewthwaite, originally from Aylesbury, Bucks, has been on the run since last year when police foiled a plot to blow up Western hotels in Mombasa.
She was charged in December with plotting to kill hundreds of British tourists after police found weapons and a bomb-making factory in her safe house, which also acted as a makeshift bank for the group.
Lewthwaite was released and is thought to have taken refuge in Somalia before her return to Kenya. In March the MYC announced that they were helping to shield her. Then, last week, officials in Africa said the mother of three was spotted near the nightclub targeted in the bomb attack.
A grenade was thrown into the Jericho Beer Garden, which was packed with tourists watching England play Italy. A young boy was among the three dead.
University dropout Lewthwaite is being hunted by the CIA, Kenyan police and Scotland Yard, which has a team in Nairobi to assist with the search.
Before her arrest in December, she had been travelling in Kenya on a false passport.
Lewthwaite was born in Northern Ireland, where her solider father Andrew met her mother Christine. She is the youngest of three children.
Her parents separated when she was 11 years old – the trigger for her seeking solace in Islam, and converting to the faith at the age of 15, say pals.
She met King's Cross bomber Lindsay in an Islamic internet chatroom when she was studying religion and politics at the School Of Oriental And African Studies in Central London.
She married the Jamaican-born carpet fitter in an Islamic ceremony in 2004.
When her 19-year-old husband blew himself up in 2005, claiming 26 lives, she was eight months pregnant with their second child, a daughter. She had a second son by an unknown father in 2009. Her family in Aylesbury have not had any contact with her for years.
http://www.mirror.co.uk/news/uk-news/fugitive-samantha-lewthwaite---the-white-946967
---------
Saudi Female Athletes Fear Crackdown
Jul 2, 2012
RIYADH: While Olympic leaders and human rights advocates are encouraged by signs that Saudi Arabia may bow to pressure and send female athletes to the Summer Games, women athletes in the ultraconservative kingdom are worried about a backlash at home.
Under pressure from the International Olympic Committee to end the tradition of sending men-only teams to the Olympics, Saudi Arabia said on Monday it will allow women who qualify to compete at the London Games.
The announcement came as the leadership's favoured candidate, equestrian Dalma Rushdi Malhas, was ruled out of the Olympics - sending officials on a hunt for other female athletes they could include on the Saudi team and avoid IOC sanctions a month before the start of the games.
Women who play soccer and basketball in underground leagues around Saudi Arabia support those efforts, yet they also fear the hardline Muslim leaders will punish them for being pressured by the West and will crack down on women's clandestine activities after the Olympic flame goes out in London.
"We have to wait. I am afraid of their reaction, if we push too hard," said Rawh Abdullah, a captain of a female soccer team in the Saudi capital, Riyadh. "We risk being shut down completely, and I do not want to reach a dead end because of impatience."
Also, she added, she and her teammates simply "are not ready to compete on such level" because they cannot train properly.
Full report at:
http://timesofindia.indiatimes.com/world/middle-east/Saudi-female-athletes-fear-crackdown/articleshow/14613065.cms
------------
US Navy Decision to Remove Target of Muslim Woman, Quran from Shooting Ranges
Jul 2, 2012
(Ahlul Bayt News Agency) - The US military has agreed to remove targets depicting a Muslim woman and verses from the Qur'an from shooting ranges, it was announced at the weekend, where they were being used for target practice.
"We have removed this particular target and Arabic writing in question from the range in the near term, and will explore other options for future training," Lt David Lloyd, a Navy spokesperson, said in a statement.
The move comes after the Council on American-Islamic Relations (CAIR), a Washington-based Muslim advocacy group, sent a letter to US Secretary of Defence Leon Panetta on Friday asking for the targets and religious text to be removed from a military facility based at Joint Base Fort Story on the east coast of the US.
"We welcome the Navy's prompt action to address community concerns and hope this incident serves as a reminder that credible scholars and experts need to be consulted when designing training materials relating to Islam and Muslims for our nation's military personnel," CAIR National Executive Director Nihad Awad said in a statement.
"This is a welcome first step, but a serious and comprehensive review is needed to deal with the issue of Islamophobia in military training," he added.
Last year, the White House-ordered a comprehensive review of US government counter-terrorism training materials to eliminate any potentially Islamophobic content.
http://abna.ir/data.asp?lang=3&Id=326452
---------
Saudi women's participation in Olympics against cultural norms
02/07/2012
Arab News) Competition in sports usually applies a range of principles of most sciences, including biology, chemistry, physics, medicine, physiology, psychology, nutrition, biomechanics, biomedical engineering, coaching and other pertinent sciences.
As a result, most nations use the Olympics as an available venue to show the entire world populations via various media outlets their excellence in part or all areas of these human scientific endeavours.
In a month, the world will turn its attention to London Olympics to watch the most spectacular human sports performance, which exemplifies the best utilization of those scientific principles. For this reason, in addition to other political reasons, developed nations and non-developed nations alike prepare their athletes ahead of time to take part in this global event. However, conventionally, the Olympic is an exclusive league for developed nations, while the rest of nations strenuously working to be recognized as members of this league.
The aim of that preparation process of the athletes is to set new records, which can be achieved by developed nations, as they have the scientific expertise; the advanced research institutions and advanced training facilities. Thus, those nations can easily summon the minds of their scientists to develop new ways to improve the training and performance of their athletes. Those new ways involve everything related to an athlete to compete effectively in the Olympic.
Full report at:
http://www.menafn.com/menafn/1093528887/Saudi-womens-participation-Olympics-against-cultural-norms
---------
FIFA Medical Chief Withdraws Opposition to Headscarves
Graham Dunbar
Jun 29, 2012 1
KIEV, Ukraine - A campaign to allow Muslim women football players to wear headscarves was boosted on Friday when the chairman of FIFA's medical committee said he has withdrawn his opposition.
The change of medical opinion from Michel D'Hooghe was a key step before FIFA's law-making body could approve two scarf designs when it meets in Zurich next week.
"The problems I had (with scarves) were medical, and I don't have those problems anymore," D'Hooghe told The Associated Press.
The panel, known as IFAB, asked in March for further medical advice on whether new designs were safe for women players to wear. Headscarves were banned from FIFA competitions for safety reasons in 2007.
Last month, D'Hooghe said his committee's tests suggested scarves "represented a danger" to players who could sustain head and neck injuries, or overheat.
That drew an angry response from his FIFA executive committee colleague, Prince Ali of Jordan, who has led a year-long campaign seeking respect for Islamic cultural tradition, and creating more opportunities for women to play, by overturning the ban.
Prince Ali said he was "quite shocked," and produced medical research which challenged FIFA's position.
Full report at:
http://www.570news.com/sports/article/378286--fifa-medical-chief-d-hooghe-withdraws-
---------
Pakistan: Still one of the worst places in the world to be a woman
By Khurram Baig
July 2, 2012
KARACHI: Gender equalities remain pronounced in Pakistan; in a region that has among the poorest gender equality records in the world. There has been recent progress in increasing the rates of women's political representation – thanks to reservation of seats for women in Parliament and local bodies – and in the raising the average age of girls at marriage and first birth, both of which are now above the regional average (UNICEF 2011).
Yet, stark gender gaps persist in education, health and across economic sectors. According to the World Bank, women's literacy remains low at 42%. The ratio of young literate females to males (age 15-24) is 74.85%. Only Afghanistan has a lower ratio. In 2008, Pakistan's infant mortality rate and percentage of births attended by skilled health staff was worse than the South Asian average (73 vs 59 per 1,000 live births; and 39 vs 42 percent, respectively) ; while its total fertility rate was higher than the regional average (3.9 vs 2.9 births per woman). Thankfully this has fallen since then and now Pakistan has a fertility rate that is lower than most of its neighbours.
Full report at:
http://tribune.com.pk/story/402041/still-one-of-the-worst-places-in-the-world-to-be-a-woman/
---------
Russians and Syrians, Allied by History and Related by Marriage
By ELLEN BARRY
MOSCOW — On one jasmine-shaded block in the Syrian port city of Latakia, Natalya lives three doors away from Nina, two from Olga, across a narrow alley from Tatyana, and a short walk from Yelena, Faina and Nadezhda. They are all women from the former Soviet Union who married Syrian men. Pan out to the greater expanse of Syria and the number of Russian wives grows to 20,000, the human legacy of a cold war alliance that, starting in the 1960s, mingled its young elites in Soviet dormitories and classrooms.
This unusual Diaspora offers some insight into the many-stranded relationship between the two countries, one that makes the Kremlin reluctant to cast off Syria's president, Bashar al-Assad. Russia has strategic interests in Syria, including arms contracts that amount to $700 million a year, and a tiny port on the Mediterranean Sea that is its last military base outside the former Soviet Union.
Full report at:
http://www.nytimes.com/2012/07/02/world/middleeast/for-russia-syrian-ties-complicated-by-marriage.html?ref=world
---------
URL: https://www.newageislam.com/islam,-women-and-feminism/new-age-islam-news-bureau/iraqi-women-face-court-ordered-virginity-tests/d/7813