New Age Islam News Bureau
26 March 2018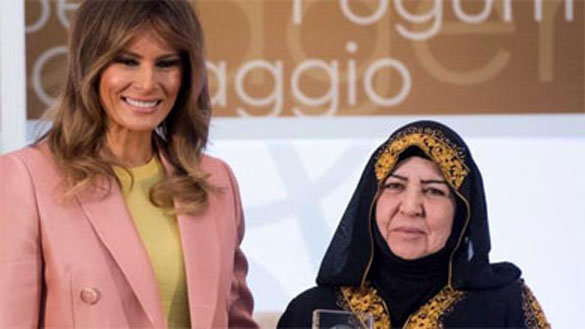 Aliyah Khalaf Saleh a.k.a. Umm Qusay, widowed and losing a son to the militancy, saved a group of army recruits from slaughter. (AFP)
----
• 11 Saudi Women Trained As Border Guard Inspectors
• Muslim Girl Attacked For Riding with Hindu Friends
• Odisha: Dalit Woman Who Converted to Islam Denied Property by Dead Husband's Family
• Nigerian Girls Reunited With Families after Boko Haram Kidnapping
• 289 Caught Taking Pictures of Women on Dubai Beaches
• Iranian Female Sports Shooter Claims Gold in 2018 World Shooting Para Sport World Cup
Compiled by New Age Islam News Bureau
URL: https://www.newageislam.com/islam-women-feminism/iraqi-woman-saved-58-young/d/114720
--------
Iraqi Woman Who Saved 58 Young Men from ISIS Honoured By Melania Trump
25 March 2018
Aliyah Khalaf Saleh had already lost her husband, a son and a nephew to the terror that engulfed northern Iraq in 2014.
But when a group of military cadets fled to her community near Tikrit to escape killers from ISIS, she risked all to save them.
In June 2014, the militants slaughtered hundreds of mainly Shiite Muslim recruits from the nearby Speicher military base.
A smaller group of young men tried to escape by crossing a river but Aliyah (now she is 62) and known at home as Umm Qusay, stepped in.
"They were moving from Camp Speicher to Baghdad" when they came upon ISIS killing their comrades, she told AFP.
The young men retreated 20 kilometres to an area where Ms. Aliyah's neighbors were clashing with the militants, and she took them in.
"There were Kurds and Iraqis, Muslims, Yezidis and Christians," she recalled. "I got them to my home."
She gave women's clothes to some of the young men and hid them in the women's quarters on her farm. Others dug holes in a forest.
ISIS fighters were hunting for the recruits, so Ms. Alyah obtained university identity cards for some of them, giving them local names.
And, over five months, she smuggled them to safety in Kurdish-held Kirkuk, hiding them in trucks surrounded by female relatives.
"At first, the terrorists did not bother women," she said.
In all she got 58 young men to safety before the ISIS group's spies got wind of what she had done and she had to flee.
Ms. Aliyah's family — her surviving sons plus their wives and children, 25 people in all — fled on foot through the night, she said.
Beacon of hope
All of them remained displaced, living in a single room, for a year before Iraqi government forces recaptured their home and they could return.
Now, the government is triumphant, the ISIS is on the run and Ms. Aliyah's bravery and love has made her a beacon of hope.
A Sunni, she has received a high Shiite religious honour and a national medal, but that is not her greatest satisfaction.
"God took my husband, my son, and my nephew but he has given me in return these young men to console me," she said of the recruits.
After the fighting, many of the young men returned to thank their saviour, and to tell her story to a nation in need of hope.
"They come to visit me, I come to visit them. Whenever there's a conference in Baghdad, they come with me," she said.
"Two of them got married, I attended their weddings. I was the happiest person there," she said, blinking back tears.
Aliyah was honoured again on Friday at the US State Department in Washington, where she was named an International Woman of Courage.
Alongside nine other brave women, each with a story of their own, she received her award from First Lady Melania Trump.
"In recognizing the International Women of Courage, we stand for what is right," Trump told the guests.
"In telling their stories, we can teach young women and girls all over the world what it means to have courage and to be a hero."
It was a long way from the life of an Iraqi woman who married at 13 and lived through dictatorship, occupation and terror.
But, as the women gathered for their group photo, Aliyah led them all in laughter, gesticulating to bridge the language divide.
"I was reluctant to come at the beginning. I was also so tired, but I feel much better now," she said before the ceremony.
"People smile at me in the street. It's like the smile regenerates you and makes you feel safe and secure," she explained.
"People in Iraq have not been able to smile for many years now. All we do is cry and feel sad."
https://english.alarabiya.net/en/features/2018/03/25/Iraqi-woman-who-saved-58-young-men-from-ISIS-honored-by-Melania-Trump.html
--------
11 Saudi Women Trained As Border Guard Inspectors
26 March 2018
JEDDAH — The Ministry of Interior trained 11 women to be inspectors under the Border Guards.
Border Guards spokesman Col. Saher Al-Harbi said a workshop in cooperation with the German Federal Police was held for women to train them on personal protection, self-defense, inspection, profiling, documentation check, first aid and familiarizing them with smuggling, forgery and fraud tactics used by criminals.
"Smugglers and criminals often use women accomplices. For that reason, we need women officers and inspectors to help fight crime," said Al-Harbi.
The training programs are supported by Minister of Interior Prince Abdulaziz Bin Saud Bin Naif and Director General of the Border Guards Awad Al-Blewi, he said.
http://saudigazette.com.sa/article/531147/SAUDI-ARABIA/11-women-trained-as-Border-Guard-inspectors
--------
Muslim Girl Attacked For Riding with Hindu Friends
Mar 25 2018
A group of youth abused and attacked a Muslim girl for riding a bike along with a Hindu boy and a Hindu girl at Sawaipalya Cross in the city recently.
The girl was on her way to a friend's house at Kurubarapalya to collect notes. They asked whether she, being a Muslim, was not ashamed to be travelling with a Hindu boy.
The attackers took away Rs 2,500 in the girl's possession. They transferred the pictures in the girl's mobile phones to their phones and loaded them on to social networking sites. They visited the girl's house in the night and threatened her. The Doddapete police have registered a case and are investigating.
http://www.deccanherald.com/content/666496/muslim-girl-attacked-riding-hindu.html
--------
Odisha: Dalit woman who converted to Islam denied property by dead husband's family
By Sampad Patnaik
March 26, 2018
It has been 41 days since Saida Begum (50) began her vigil in front of Kalahandi collector's office, seeking help to get a share of her dead husband's property that has been denied by her in-laws for years. On Saturday, her case was taken up for hearing at Odisha State Legal Services Authority (OSLSA) — constituted by the state government in 1996 to provide free legal aid to the weaker sections of the society.
Born Kumudini Nayak to a Dalit family, the woman says her in-laws never accepted her as she had converted to Islam at the time of marriage with Abdul Habib. Saida's parents too had disowned her as she had eloped with a Muslim man against their wishes. But this was just the beginning of her troubles. After Habib died of some illness in 1999, Saida was allegedly beaten and thrown out of her his house by her in-laws. All these years, Saida made a living selling golgappas and firewood, but five years ago when she approached her in-laws seeking a share in her husband's ancestral property, she was allegedly abused and threatened.
"I approached them (brothers of her husband) hoping that I could use the money for my two daughters' marriage and for opening a shop for my son. But my brothers-in-law were enraged and my nephews threatened me," she says.
According to Ruksana, Saida's daughter, many in the local community still saw her family as an outsider. "…More so because my cousins are powerful in Bhawanipatna Masjid Committee.
The 21-year-old, who is in the final year of a bachelors course in home science, adds: "I have to stay beside Maa because our cousins have said they will slit her throat." Saida's eldest daughter Ruby is 23, while her son Salman is 19.
The masjid committee, however, refused to take sides in the family feud. "What are we to do in this matter?", says Muna Khan, president of the committee, adding that he is not aware of any threats to Saida and her children.
Recently, a local BJP leader Pradip Nayak also visited the family. Nayak, however, did not respond to interview requests.
A local member of National Alliance of Women's Organisations Sujata told The Indian Express that it took them considerable time to convince the family to approach OSLSA's district branch. The first hearing in the matter was held Saturday, but Saida's in-laws did not turn up citing health problems.
"They have approached us…As per our rules, proceedings cannot be disclosed," said Indira Priyadarshini, secretary of Kalahandi District Legal Service Authority, under OSLSA. Saida's in-laws were not available for comment.
http://indianexpress.com/article/india/odisha-dalit-woman-who-converted-to-islam-denied-property-by-dead-husbands-family-5111352/
--------
Nigerian girls reunited with families after Boko Haram kidnapping
March 26, 2018
Dapchi (Nigeria), Mar 25 (AFP) The schoolgirls kidnapped by the Boko Haram jihadist group in Dapchi, northeastern Nigeria, were reunited with their families today after spending nearly five weeks in captivity.
The 105 girls, covered head to toe in burkas, arrived aboard five buses in the town of Dapchi, in Yobe state, where they were greeted by their parents at the boarding school where they were snatched on February 19.
After their release on Wednesday they had spent three days in the national capital Abuja where they were greeted by President Muhammadu Buhari.
Kachalla Bukar, the father of one of the girls who is spokesman for the parents, said they were flown to the major northern city of Maiduguri from Abuja, then transferred under military escort to Dapchi.
Top officials were on hand for a solemn ceremony in which the parents regained custody of their children.
The girls were among 111 who were seized, of whom five died apparently during the violent hostage-taking or in the trucks that took them away.
Their release leaves one schoolgirl, Leah Sharibu, still in the hands of the kidnappers, reportedly because she is a Christian who refused to convert to Islam.
Buhari on Friday pledged to do "everything in our power" to obtain Leah's freedom.
Authorities earlier expressed optimism that Leah would be released at the weekend.
But today, a spokesman for the national police said that comments by national police chief Ibrahim Idris had been "misunderstood and misquoted".
The police "reiterates that it has no information yet on the release of the last Dapchi schoolgirl," he said.
According to witnesses contacted by AFP, the girls were held on an island on Lake Chad, which is a known stronghold for fighters loyal to Boko Haram factional leader Abu Mus'ab al-Barnawi.
The Dapchi kidnapping revived painful memories in Nigeria of the April 2014 abduction of over 200 schoolgirls from Chibok, a town also in the northeast, which caused global outrage.
While some of the Chibok girls have been freed in exchange for ransom and the release of top Boko Haram commanders, a total of 112 remain in captivity.
Boko Haram — which means "Western education is forbidden" in Islam — has repeatedly targeted schools providing Western education in the mainly Muslim region as part of an insurgency that has killed at least 20,000 people and displaced more than 2.6 million since 2009.
While a 2015 offensive launched by Buhari successfully reclaimed swathes of territory back from the jihadists in Nigeria, the group still stages deadly attacks on both military targets and civilians. AFP KIS KIS
http://www.india.com/news/agencies/nigerian-girls-reunited-with-families-after-boko-haram-kidnapping-2963160/
--------
289 Caught Taking Pictures of Women on Dubai Beaches
March 25, 2018
Dubai: Police caught a total of 1,725 people for committing various offences on beaches last year, with infractions ranging from taking pictures of women, disturbing beach users to swimming in an underwear.
Dubai Police records show that 289 offences involved people caught taking pictures of women on the beach without their knowledge, while 743 cases involved people caught disturbing other beachgoers.
Brigadier Abdul Qader Al Bannai, director of ports police station, said they caught 256 people swimming in their underwear last year.
"It is illegal to take pictures of women on the beaches without their knowledge. Our aim is to make beachgoers feel comfortable and protected from offenders as tourists visiting Dubai's beaches grow," Brigadier Al Bannai told Gulf News.
The ports police station patrol marine transportation and public beaches — Jumeirah Open Beach, Umm Suqeim Beach, JBR and Al Mamzar Beach Park.
Meanwhile, Brigadier Al Bannai, said there were 14 deaths and four injuries on Dubai beaches last year, down from 29 deaths and six injuries in 2016.
"It is 50 per cent decline in drowning incidents and number of death on the beaches. The security programmes we adopted last year and awareness campaigns helped reduce the number of drowning incidents on Dubai's beaches," Brigadier Al Bannai added.
He said that increase in lifeguards' towers also helped reduce drowning incidents.
"We have 15 lifeguards towers which responded quickly to drowning incidents," Brigadier Al Bannai added.
Dubai Police urged the beachgoers to be careful especially after sunset as Dubai Municipality's lifeguards only operate from sunrise to sunset.
"Part of the problem is that many beachgoers are not aware of safety measures while swimming on beaches. Our police patrols are always on the beach for an emergency but we need people's cooperation to tackle the problem," Brig Al Bannai said.
Despite a 50 per cent decline in cases of theft, Dubai Police urged beachgoers not to leave their valuables or cash on the beaches and go swimming.
"We recorded 30 cases of theft last year compared to 60 in 2016. Beachgoers shouldn't leave their cash or valuables on the beach and go swimming. It is negligence."
Police stats show that 246 people left their belongings without monitoring on the beaches last year.
Jet ski offences
Port police station recorded 303 offences for jet ski last year compared to 210 in 2016. The offences included entering prohibited areas, disturbing beachgoers, not wearing life jackets, not renewing the licence and speeding.
http://gulfnews.com/news/uae/emergencies/289-caught-taking-pictures-of-women-on-dubai-beaches-1.2194168
--------
Iranian Female Sports Shooter Claims Gold in 2018 World Shooting Para Sport World Cup
March 25th, 2018
Iranian female sports shooter Sareh Javanmardi has claimed the top podium place in the P2 women's 10m air pistol SH1 shooting competitions at the 2018 World Shooting Para Sport World Cup in the United Arab Emirates.
On Saturday, the London 2012 Paralympic Games bronze medalist scored 232.8 points to finish in the first place and win the gold medal at Al Ain Equestrian, Shooting & Golf Club.
The 2018 World Shooting Para Sport World Cup opened on March 19, and will wrap up on March 28.
The Islamic Republic of Iran Federation of the Disabled has dispatched an eight-strong delegation to take part in the ten-day-long sporting event.
Javanmardi and Samira Eram are vying for the top honors in the women's P2 10m air pistol SH1 and P4 mixed 50m pistol SH1 contests.
Khadijeh Rostami is in action in the women's P2 10m air pistol SH1 division.
Masoumeh Khodabakhshi and Zahra Gholamzadeh are competing against opponents in women's R4 mixed 10m air rifle standing SH2, R5 mixed 10m air rifle prone SH2 and R9 mixed 50m rifle prone SH2 categories.
Roqayyeh Shojaei is representing the Islamic Republic of Iran in the women's R2 10m air rifle standing SH1 and R3 mixed 10m air rifle prone SH1 sections.
Additionally, Majid Fallah Ardeshir and Mehdi Zamani will assess their chances in the men's P1 10m air pistol SH1 and P4 mixed 50m pistol SH1 contests.
Hossein Amiri is leading Iranian Paralympic sports shooters during the 2018 World Shooting Para Sport World Cup.
https://www.albawaba.com/sport/iranian-female-sports-shooter-claims-gold-2018-world-shooting-para-sport-world-cup-1107612
--------
URL: https://www.newageislam.com/islam-women-feminism/iraqi-woman-saved-58-young/d/114720
New Age Islam, Islam Online, Islamic Website, African Muslim News, Arab World News, South Asia News, Indian Muslim News, World Muslim News, Women in Islam, Islamic Feminism, Arab Women, Women In Arab, Islamophobia in America, Muslim Women in West, Islam Women and Feminism