New Age Islam News Bureau
31 Dec 2015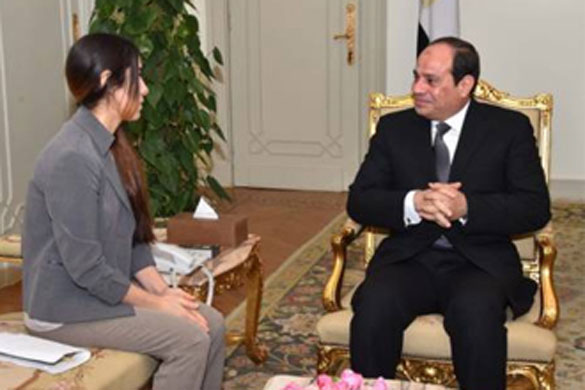 Photo: President Abdul Fatah Al Sisi meets Iraqi woman Nadia Murad in Cairo.
Image Credit: Courtesy: Egyptian presidency
---------
• Accosted for Her Hijab, Rana Abdelhamid Teaches Muslim Empowerment
• 'I Have No Connection with the 3 Arrested Hyderabad Youth': Asiya Andrabi
• Nigeria Ready to Talk to Boko Haram about Missing Girls
• Nigeria: President Buhari - Hijab May Be Banned
• Rwanda: Kazimbaya on the Joy of Empowering Fellow Women
• Nigeria: Aremu Calls for More Inclusive Gender Sensitivity in Governance
• Deficiency of Vitamin D, Calcium Prevalent Among Women
Compiled by New Age Islam News Bureau
URL: https://newageislam.com/islam-women-feminism/iraqi-woman,-nadia-murad,-recounts/d/105813
----------
Iraqi Woman, Nadia Murad, Recounts Sex Slave Ordeal
December 30, 2015
Cairo: Silence reigned at a Cairo University hall this week when Nadia Murad, an Iraqi woman from the minority Yazidi community, told of her ordeal as a sex slave for three months under the terrorist Daesh for three months.
"When Daesh entered my village, they killed children, the old and young men," said Murad, a native of the town of Sinjar in northern Iraq, which was overrun by the terrorist militia last year.
"The next day, they killed the old women and led the young girls, including me, to Mosul," the 21-year-old woman added. Mosul, Iraq's second city is the Daesh stronghold in the country.
"In Mosul, I saw thousands of Yazidi women where they were distributed to their slave masters. There I saw a huge Daeshi, who wanted to take me. I implored to another man to take me instead when I saw his size was smaller. But he turned out later to be one of the worst people I've ever seen."
Murad recounted to the audience, who included the Egyptian higher education minister and president of the state-run university, further Daesh atrocities.
"The Daesh used to force me and other captives to pray and then rape us. We were not worth the value of animals. They raped girls in groups. They did what a mind could not imagine. In their so-called Sharia [Islamic law] courts, they had our names and phone numbers of our slave masters. They would call us whenever they wanted to spend time with us and sell us."
Murad said she eventually escaped from her captor. "I am the victim of terrorism disguised under the cloak of Islam," she said. "All these crimes are committed in the name of Islam."
Yazidis are followers of an ancient faith regarded by Daesh as infidels deserving death.
"I've come to the Muslim world to complain and demand an Arab and Islamic stance against Daesh. No religion accepts enslaving women and raping children. We have the right to demand a united global stance because we share others values of humanity."
Obviously touched by Murad's tale, President of Cairo University, Jaber Nassar, pledged that his institution will endeavour to bring her "scream" to the world's attention.
"We feel ashamed because we have lived until this moment when humans are brutally ravaged," Nassar, a law professor, said as he fought back his tears. "Your words should trigger an echo around the world. Your tragedy cannot be healed by words, but deeds." During her visit to Cairo, Murad met with President Abdul Fattah Al Sissi whose army is engaged in a fierce campaign against Daesh affiliates in Sinai.
"During the meeting, Murad talked to President Al Sissi about the brutal attacks carried out by Daesh against the Yazidis in Iraq, "the Egyptian presidency said in a statement.
"For his part, President Al Sissi condemned these attacks, saying none of them is related to Islam and vowing to support the people of Iraq."
Murad had also a separate meeting with Ahmad Al Tayab, the Grand Shaikh of Al Azhar, which is Egypt's top Sunni Islamic institution.
Earlier this month, Murad addressed the UN Security Council, pushing for a tougher world alliance against Daesh militants, who are active in Syria, Iraq and Libya.
http://gulfnews.com/news/mena/egypt/iraqi-woman-recounts-sex-slave-ordeal-1.1645908
----------
Accosted for Her Hijab, Rana Abdelhamid Teaches Muslim Empowerment
31st December 2015
When she was 16, Rana Abdelhamid was accosted on the streets of New York by a man who tried to pull off the head scarf she wears as a symbol of her commitment to her Muslim faith.
Rather than withdraw, as she'd seen other Muslim women do, she turned her anger into a program that is now working with young Muslim women to teach them self-defense while encouraging them to become leaders and role models for others in their communities. Abdelhamid, a graduate of Vermont's Middlebury College who is now a student at the Harvard Kennedy School of Government, says the challenge facing Muslims in general and Muslim women in particular has been getting worse, especially since the terrorist attacks in Paris and San Bernardino, California.
"It's unfortunate that it's becoming more needed and we're getting so many calls," said Abdelhamid, 22, who grew up in the Queens borough of New York.
Robina Niaz, the executive director of the group Turning Point for Women and Families, an organization that works to end domestic violence in New York's Muslim community, said she first met Abdelhamid when she was in high school and participating in programs at the center.
"Rana is a living example of what one can accomplish when we invest in these young girls," Niaz said. "If we believe in them, if we support them, watch their back — they need just a little bit of nudging and mentoring and they are ready."
Muslim women in several cities across the country are organizing or taking self-defence classes, but Abdelhamid's organization, the Women's Initiative for Self-Empowerment, or WISE, goes beyond the physical self-defence skills to encourage the young women to become leaders and social entrepreneurs. The empowerment lessons can be as simple as showing the young women how to rent or reserve a room in a community centre to tips on becoming a confident public speaker.
Abdelhamid said her efforts have not been universally well received by the Muslim community.
"We have had some challenges and pushback from more traditionalist members of our community who don't necessarily see space for women in leadership, unfortunately," she said. "It's really, really disheartening because you want your allies to be within the community."
The program has grown since the first class was offered to about a dozen girls in the basement of a community centre in Brooklyn. The basic program, called Mentee Muslimah (Muslimah is the Arabic word for Muslim women), is a 13-session summer camp attended in New York by about 50 young women of high-school age that follows a 100-page course outline Abdelhamid developed during an independent study course at Middlebury.
The organization relies heavily on donated space and volunteers, but it's also received donations and in some cases fees are charged to people taking the program to help defray expenses. She's in the process of setting up a formal non-profit group so WISE can have a permanent home and a budget. While an undergraduate at Vermont's Middlebury College, Abdelhamid used a grant from the school's Center for Social Entrepreneurship to expand her organization.
"What makes Rana really unique that we saw in her is that this is an issue that is connected to her identity and it drives her all the time," said Heather Neuwirth, the associate director of Middlebury's Entrepreneurship Centre. "She took what could have been an experience that could have shut her down, she really realized the power in that and I think the way that she connects to others is deeply caring."
Abdelhamid sometimes travels to lead programs outside New York, but most are led by people who have taken the program and then been trained to teach it. The summer programs outside New York are held in Union City, New Jersey, Washington, Dallas, Madrid, and Edinburg, Scotland. She's working on setting up programs in Chicago, Dublin and Istanbul. Next month WISE also is planning a three-day program in Boston for Jewish women.
Nitasha Siddique, a 19-year-old student at Princeton, said she got involved with WISE after her junior year in high school when she was accepted into the New York summer programs.
"There were a lot of really important conversations I'd never had before, but had the opportunity to have these conversations and have them with a group of girls who were close to me in age," she said.
http://www.newindianexpress.com/world/Accosted-for-her-Hijab-Woman-Now-Teaches-Muslim-Empowerment/2015/12/31/article3204858.ece
----------
'I have no connection with the 3 arrested Hyderabad youth': Asiya Andrabi
December 31, 2015
New Delhi: Kashmir separatist leader Asiya Andrabi dismissed the allegations that the three Hyderabad youth who allegedly wanted to join ISIS were planning to meet her.
According to an exclusive interview to India Today, Chief of Dukhtaran-e- Millat, Andrabi said she had visited Hyderabad when former SIMI Chief Syed Salahuddin died last year.
"Mohd Abdulla Basith, Maaz Hasan Farooq and Syed Omer Farooq Hussaini had no direct connection with Andrabi, nor did she know them. After reaching Srinagar they wanted to meet her using their uncle's name and seek her help to cross the border and reach Jalalabad in Afghanistan," a senior officer of the special investigation team of city police said.
The three cousins were arrested on Saturday for allegedly planning to join jihadi terror groups, months after they were put under watch for being influenced by online ISIS propaganda.
http://www.siasat.com/news/no-connection-3-arrested-hyderabad-youth-asiya-andrabi-894564/
----------
Nigeria ready to talk to Boko Haram about missing girls
31 December 2015
Nigerian President Muhammadu Buhari on Wednesday said he had no new intelligence on some 200 schoolgirls kidnapped almost two years ago, and that his government would negotiate with any "credible" Boko Haram leadership for their release.
A total of 276 girls were taken from their school in the northeastern town of Chibok in April 2014 by Boko Haram fighters, in a case that made global headlines.
Several dozen girls managed to escape soon afterwards, but nothing has been seen or heard from around 200 of them since a video released in May 2014.
"We are prepared to negotiate with them (Boko Haram's leadership) without precondition," Buhari said in his inaugural media chat broadcast on radio and television.
"We wanted to make contact but we insist on identifying the bonafide so-called Boko Haram leadership," he said.
The president said he had no firm intelligence on where the girls were or the state of their health, adding: "That is the honest truth."
Before any negotiations can begin "we are looking for a credible Boko Haram leadership that will confirm that the girls are alive," Buhari added.
"We want to be sure that they (the girls) are complete, safe" before holding any talks, he added.
Over 17,000 people have been killed in Boko Haram's six-year quest to create an independent Islamic state in Nigeria.
Last week Buhari said the militant group had been "technically" defeated, but a 48-wave of Boko Haram attacks in northeastern Nigeria that killed more than 50 people since then has undermined his claim.
During two-hour chat with journalists on Wednesday, he hinted that he could ban the wearing of hijabs or other headwear by Muslim women if insurgents continue to use veiled women to carry out suicide attacks.
"Hijab will have to be banned if this continues," said Buhari, himself a Muslim.
Buhari also said that his government was doing "quite well" in its fight against corruption, one of the cornerstones of his administration.
The 73-year-old former dictator, who took office in May, said his government has found documents "showing where public funds were diverted into personal pockets" and other forms of corruption.
He vowed that nobody, including his cabinet ministers, would be spared in his anti-corruption crusade.
Buhari also sought to justify his detention former national security adviser, Sambo Dasuki, and the founder of outlawed pirate 'Radio Biafra', Nnamdi Kanu, despite recent court orders granting them bail.
He argued that the charges against both men were too weighty to allow them to enjoy bail or travel out of the country.
https://english.alarabiya.net/en/News/africa/2015/12/31/Nigeria-president-says-ready-to-negotiate-for-release-of-Chibok-girls-.html
----------
Nigeria: President Buhari - Hijab May Be Banned
31 DECEMBER 2015
President Muhammadu Buhari has said that his government may ban the use of hijabs by Muslim women if the suicide bombings continue without end, adding that it has no cogent intelligence on the fate of the over 200 Chibok schoolgirls who were kidnapped by Boko Haram almost two years. Buhari admitted as much yesterday during his maiden presidential media chat broadcast live from the State House in Abuja. Despite the absence of intelligence, he said government was still making efforts to rescue the Chibok girls and would be willing to negotiate their release, but would want to make sure they are negotiating with credible leaders of the Boko Haram terror group. According to him, "We are keeping our options open with Boko Haram on the Chibok girls on the condition that they can guarantee that the girls are safe and alive."
The president said the military had combed the Sambisa Forest without any hint about the girls, whom he said might have been dispersed by the terror group. He said: "I think this is about the third time I am going to talk about the Chibok girls. There was a time the leadership of Boko Haram made contact with us but we insisted that we want to ensure we are speaking with credible leaders of the group. "Number two is that we want to make sure that the Chibok girls, I think about 219 of them are safe, secure and alive.
"We are still keeping our options open with Boko Haram on the condition that they have credible leaders who can tell that they have the Chibok girls. We have combed the Sambisa Forest but there was no Chibok girl there. "For now, there is no current information and I am working with Niger, Chad and Cameroun, especially on a humanitarian basis. To be honest with you, there is no credible intelligence that the Chibok girls are alive and in one place." The president also spoke on the efforts of the government to resettle the internally displaced persons (IDPs) in parts of the North-east. He said the government was currently helping some of the IDPs, of which 65 per cent of them are orphaned children in order to identify their relatives and as well as relocate them to their states of origin.
"There are about two million IDPs mostly in Borno State and over 65 per cent of the children are orphaned. The orphaned children, we are trying to find out where they come from, establish and put them in schools. "We have got the money from the TY Danjuma-led committee, which has raised N25 billion and with the assistance of the G-7 countries, progress is being made," he said. The president also explained why he claimed that Boko Haram had been "technically defeated", saying that they now lack the capacity to attack state institutions in the magnitude carried out against police formations and barracks. He however admitted that the increasing use of improvised explosive devices (IEDs), especially by hijab-clad young girls strapped with the bombs, had overwhelmed the government.
To this end, he warned that the federal government may have no option than to ban the use of the hijab if the bombings continue. "When I said that the war has been technically won, I mentioned reasons why because I said this and that is their capacity to attack state institutions has been stopped. But there is now increasing use of IEDs by young girls wearing hijabs," he said. When reminded that neighbouring countries such as Chad and Niger with more than 95 per cent Muslim populations had banned the hijab due to similar security concerns, Buhari initially parried the question by saying that several public places in the north have hand scanners to scan people for IEDs. But when pressed, he said: "The hijab would have to be banned if these bombings continue." Also speaking on the recent clash between the military and the Shiite Muslim sect, which led to the deaths of so many people in Zaria, Kaduna State, Buhari said the federal government was waiting for the outcome of the various investigative panels and judicial inquiries before making any pronouncement and decision on the clash. He confirmed that he was called by the President of Iran (Hassan Rouhani) concerning the situation but assured him that there were laid down procedures to handle the situation. According to Buhari, the Shiite sect in Nigeria had confronted constituted authority for over 20 years, adding: "There cannot be a state within a state."
He insisted that the federal government would have to wait for the investigative panels set up by the Kaduna State, the military and other related agencies before speaking further on the issue. "I was in touch with the governor of Kaduna State. Interestingly, the President of Iran called me about it and I told him we have a system of investigation. I am allowing the army and Kaduna State Government to submit their reports before I can make my own conclusion. "How can any group create a state within a state? I don't want to speak about it in detail until they submit their reports - I expect the judicial commission of enquiry from the Kaduna State Government to send its report. "I heard that this has been going on for about 10 to 20 years now. There are many allegations but I have to wait for the report," he said.
Buhari also spoke on the anti-corruption war being prosecuted by his administration, stating that he would sack any member of his cabinet found to have been indicted for corruption. On the notion that his war against corruption appeared lopsided and targeted at officials of the past administration, while leaving out those in his government who are alleged to be corrupt, the president said that he did not appoint anyone that would bring "embarrassment to my government". He said: "I cannot make the mistake of appointing anyone with corruption allegations and who will bring embarrassment to my government. Whoever is found to be corrupt would not only be sacked but will be prosecuted." He said the fight against corruption was being bogged down by the need to do thorough investigations and get the necessary documents that would prove the guilt of the suspects. He assured Nigerians that by the end of the first quarter of 2016, Nigerians would begin to see the progress that his government has made in the fight against corruption.
"We have to be very sure of the document and we have to crosscheck records sometimes across countries. Those who were engaged in the theft of oil were people of substance and have the wealth to hire the best of lawyers to defend them. "We need to submit foolproof documents to succeed in (their) prosecution. How many people have the ICPC (Independent Corrupt Practices and Other Related Offences Commission) prosecuted in the past? That is why we are being thorough now," he said. Nevertheless, Buhari said the government was doing well in the fight against corruption under the circumstances. But he refused to disclose the names of those he claimed had returned stolen monies, saying that they would have their day in court and that since he could not prejudge what the courts would do, he could not disclose their names.
"By the end of the first quarter of next year, we will tell Nigerians how far we have gone in the fight against corruption. I swore by the Holy Koran to defend the country's constitution and the law. So we will not put anybody above the law," he added. He asked Nigerians to be patient and await the outcome of the courts decisions, adding that prosecuting agencies had documents showing where monies had been lodged.
"Our constraint is that the accused persons have to defend themselves in court. So we cannot release their names to the public until the issues are completed in court. Whatever we recover will be presented in court. "The documentation in court includes bank statements and documents from the Customs Service that are to be presented in court. Until then, we ask Nigerians to have patience," he said. Asked why the government was not respecting court orders including the orders of the courts admitting some of the suspects being prosecuted for corruption to bail, the president responded: "If you see the level of atrocities committed by those people against the public, if they jump bail (what should we do)? "For instance, the former president just wrote to the central bank governor asking him to release N40 billion to so and so, I'm sorry to say this in public, but when there are many people who are internally displaced, many of them don't even know their fathers, what kind of country do you want to run?"
Buhari also accused the founder of Radio Biafra and leader of the Indigenous People of Biafra (IPOB) of treason. He said Nnamdi Kanu, who possesses British and Nigerian passports, entered the country without any of them, in addition to importing sophisticated weapons. He denied claims that his government has marginalised the Igbo people, listing about four Igbo speaking members of his government. A visibly irate president called on the judiciary to do the necessary concerning the treason allegations against the embattled Biafran activist.
"The one you are calling Kanu, do you know he has two passports? One Nigerian and British but he entered the country without any passport. Do you know he imported sophisticated weapons into the country? "These are treasonable felonies against him and I expect the judges to do the necessary. When they say they are marginalised, who is marginalising them? "Where is the Minister of State for Petroleum from, where is the CBN governor from, where is the Minister of Labour from, where is the Minister of State for Education from?" he demanded to know.
http://allafrica.com/stories/201512310544.html
----------
Rwanda: Kazimbaya On the Joy of Empowering Fellow Women
31 DECEMBER 2015
INTERVIEW
By Sharon Kantengwa
Shamsi Kazimbaya has been a gender activist almost all her professional life. Her passion for gender activism has seen her work with different gender organisations. The 40-year-old talked to Women Today's Sharon Kantengwa about her work experience and her achievements.
Tell us about yourself
I was born in the Democratic Republic of Congo (DRC) and I am married with two children. I am 40 years old, and a Muslim, a human rights and gender activist. I have been dealing with gender related issues for the last ten years in different positions but right now, I work with JHPIEGO; an international non-profit health organization affiliated to Johns Hopkins University. I am the gender advisor for one of their programmes called Maternal and Child Survival Programme (MCSP).
Share with us your work experience
When I finished my Bachelors degree in Public Administration, my very first job was being the executive secretary of Nyamyumba District in Western province. I held this position for 3 years. I was then promoted to the position of Coordinator of National Unity and Reconciliation Commission (NURC) at the province level of Butare before I was promoted to the national level as director of programmes. I later joined Society for Women and Aids in Africa (SWAA) as the executive secretary for about seven years because I wanted to be fully engaged with women.
During that time, I pursued my Masters degree in gender and development after realizing that there was a gap because people were confusing gender as a women issue and we were actually not engaging many men. I felt that though I was doing well in the programmes and projects, they weren't sustainable yet. I realised that while we are trying to empower women, given the traditional norms, and gender barriers, we were exposing the same women and girls to another kind of violence because men and boys were not involved. After seven years, I decided to join another organization called RWAMREC (Rwanda Men's Resource Centre) which is known for working with men and boys to address gender inequality. With RWAMREC, I was coordinating a project called men care+ at the national level to basically involve men as positive partners in gender and issues of maternal child health and sexual reproductive health. After 3 years of successfully coordinating men care+, I decided to go one step further and join JHPIEGO an international NGO.
What is the inspiration behind the gender activism?
I was interested in this field before I pursued a master's degree in gender and development, and this I attribute to my own personal background. I come from a big family of seven girls and one boy. Being born and raised in DRC where there were gender inequalities, we were fortunate to have very gender sensitive parents. We have never felt discriminated, have been given the same opportunities as our brother and have also been empowered like any other child regardless of sex. Our first empowerment was education which inspired me to see things differently, and I feel that I should give back. I had this in mind since I was a very young girl, and the passion drove me to participate in gender activities in high school and university until I felt like I should really be involved on a daily basis.
What have been your achievements?
Being given many opportunities as a Rwandan woman but also from my parents who were gender sensitive, education was our first empowerment. I have been able to mentor and inspire my younger sisters and other women, travel around the world and I have been able to speak confidently in big forums that I am part of.
What have been your challenges?
The biggest challenge is the perceptions and attitudes of people in our communities. Having been in a top position professionally when I was still young, I received many criticisms because many thought those positions belong to men. Islam as a religion is gender sensitive but we are having problems with biased traditional men who misinterpret the Quran. To them speaking publically is behaving like a man which is a big challenge to us the women. My strength is in challenging them.
What has been you philosophy about life?
A woman is a special creation, and is able to do anything very well. When I say a woman is really powerful, I mean it because I have seen it through my experience, and I always look forward to do more.
What are your future plans?
I am a politician and have political ambitions as I am on the leadership committee of PDI (Ideal Democratic Party). Although I am balancing between my political ambitions and professional career, my focus now is mostly on research, writing and publishing books and articles about gender and women empowerment.
What advice do you have for the women?
The biggest barrier I have seen in women is not having self esteem. They should believe in themselves and not give up because what men can do, women can do it. Parents too need to empower girls because early marriages cause a negative impact on them. As women and girls, we have a lot to do and becoming a young mother can sometimes hinder your goals.
http://allafrica.com/stories/201512310503.html
----------
Nigeria: Aremu Calls for More Inclusive Gender Sensitivity in Governance
31 DECEMBER 2015
By Saxone Akhaine
Labour leader, Issa Aremu who recently lost his wife, Hajiya Hamudat Abiodun Abiye Aremu has advocated for gender equality in the country, saying that the inclusion of more women in the process of governance will promote the nation's growth and development.
Aremu's wife, Hamudat died recently following a brief illness and was buried according to Islamic rites at her family hometown in Ilorin.
Speaking at the posthumous 51st birthday of the deceased, Aremu who is the Deputy President of the Nigeria Labour Congress (NLC) and Secretary General of the National Union of Textiles, Garment and Tailoring Workers of Nigeria (NUTGTWN) said, "today, I use this occasion to call on all, including government and corporate organizations to mainstream women in the families, at workplaces, governments and society at large", saying that "the two women in my life, namely my late mother and wife have shown that what many good things many men cannot do, women can even do better".
He said: "my wife has shown that life is not how long but how well. I am happy that many women are holding the positions of authorities at all levels. But am unhappy that only few women just like the men are adding the necessary values to family, corporate and national developments".
"It is a sad commentary that some women are as bad as even not worse than some men. I am proud to be associated with women of virtues.
Adams Oshimhole sums it up when he rightly observed that my wife had the heart of Gold. But what he did not say is that his late wife Clara Oshiomhole mentored my wife in selflessness, sacrifice and perseverance and the virtue of the fact that only death can do us apart".
Aremu who was irked by the poor performances of some men in governance stated: "I demand that women in political process should make a difference. They should promote issues in politics as distinct from personalities and candidates. Issues begging for attention of our numerous candidates include wealth-generation, re-industrialization, poverty eradication, health, collapse of education, housing crisis, lawlessness and disorderliness, violence-free elections, anti-corruption, peace and fair and just world". The labour chief argued: "in place of candidates (in which many are now for a kobo), women should promote candid programmes. Instead of juicy positions and cars-collection, buying (as if holding offices is about self-help), our sisters in the senate should promote selflessness and show that governance is about security and welfare of the citizens not elected officials".
"Instead of fire for fire in politics, women should promote ideas for ideas, issues for issues. Instead of politics as war, (in which women are being turned into instant widows), women should change the macho-image of politics to that of enterprise for development and welfare. It should be welfare and not warfare".
According to him, "Nigeria is totally imperiled if either by omission or commission, women join in the present obscenely advertised madness of the ruling male elite, the manifestations of which include political blood-letting, whole sale corruption, fuel scarcity, water shortage, energy failure, robbery, repeated universities' closures ad-infinitum".
"In place of pessimism and despair, women must raise the banner of optimism and hope. We don't need iron ladies who will out-do men in their already discredited rough-shoulder macho-politics of greed, grab-grab and hack-down-the opponents. On the contrary, we need women that are knowledge-driven, sober and humble enough to forge consensus in the areas of development and poverty eradication. These are the values of women I have been privileged to be associated with; they are my mother and wife who sadly are no more in bodies but are here fully in good spirit".
The NLC chieftain who described the death of his wife as a painful vacuum in his life said: "Today is also the 7/8th day Fidahu for her.
By this time last week, my wife was alive. I was away in Geneva representing the NLC at the Workers' symposium on decent work global supply chains: Geneva, 15-17 December, 2015. The first day of the symposium on that day, Tuesday we woke each other up for the subhi prayer. Nigeria and Europe are currently on same time zone. But by Ashir, 4pm I received the sad news of her emergency state and death almost simultaneously".
"It is an open knowledge that almost exactly three months ago, (precisely on Sallah day, 24th September) together with my wife, relations, comrades and friends nation-wide we did the Janazzat of my late dear mother Hadjia Afusatu Amoke. My wife's death in relative quick succession is additional loss too heavy and quick to bear. We take eternal solace in the Quranic injunction; Innaa lillahi wa 'inna 'ilayhi raaji'oon."
http://allafrica.com/stories/201512310453.html
----------
Deficiency of vitamin D, calcium prevalent among women
December 31, 2015
Islamabad - Most of the women who went through a basic health check during an activity were found having deficiency of vitamin D and calcium, which may enhance fracture risks.
A large number of women were found having Osteopenia - lower bone density than normal – because of deficiency of vitamin D and calcium.
Nestlé Pakistan organised a three-day mall activity named "Choose Wellness Choose Nestlé" at Centaurus Mall, Islamabad wherein visitors went through a basic health check which included an assessment of body mass index (BMI), blood pressure and bone density.
The people of all ages went through the test but women and girls were found having severe deficiencies of calcium and vitamin D that lead to Osteopenia, said Ambreen Humayun, Nutritionist.
Osteopenia is less severe than osteoporosis but women with osteopenia may have the same risk for a broken bone as women with osteopenia depending on poor health.
Ms Humayun said that the state of health, especially women health is poor.
"Over 75 percent people suffer for being underweight, overweight or obese.
And, very few are physically fit and healthy," she said.
Getting enough calcium and vitamin D is essential to building strong, dense bones, she added.
Once visitors went through the assessments, nutritionists advised them on healthy eating habits, discussed a diet plan and recommended what changes they needed to make to their lifestyles.
http://nation.com.pk/islamabad/31-Dec-2015/deficiency-of-vitamin-d-calcium-prevalent-among-women
URL:
https://newageislam.com/islam-women-feminism/iraqi-woman,-nadia-murad,-recounts/d/105813
New Age Islam, Islam Online, Islamic Website, African Muslim News, Arab World News, South Asia News, Indian Muslim News, World Muslim News, Womens in Islam, Islamic Feminism, Arab Women, Womens In Arab, Islamphobia in America, Muslim Women in West, Islam Women and Feminism