New Age Islam News Bureau
14 Oct 2018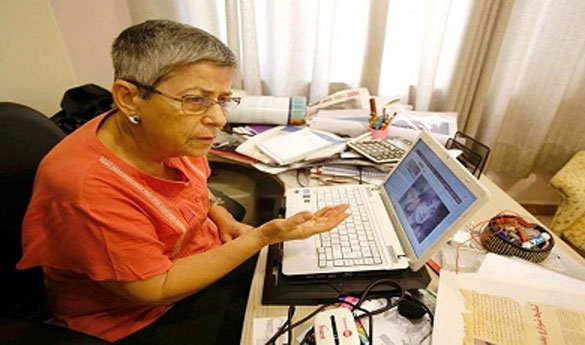 Photo: Serious concerns. Iraqi activist Hana Adwar follows online news about the assassination of former beauty queen Tara Fares in Baghdad. (AP)
--------
• SC Orders Safety of Muslim Woman Being Forced to Marry Maternal Uncle in J&K
• Petition filed in Pakistan court seeking death for killer of minor girl
• Women compete for the top spot in bowling in Alkhobar
• Israeli police investigating Palestinian woman's death in car
• The niqab debate is really about gender equality, and allowing women to make their own choices
• Women's empowerment in the Saudi workplace
• 10 Saudi women hold internationally recognized diving licenses
• On World Day Against Death Penalty Iranian Activists call for stop of death sentence
• Protest gatherings in Tehran, Rasht, Takestan with women participating
Compiled by New Age Islam News Bureau
URL: https://www.newageislam.com/islam-women-feminism/iraq-protect-its-women-fear/d/116625
--------
Iraq should protect its women from fear of violence
14/10/2018
Last month in Iraq was appalling for human rights in general and women's rights in particular because a top female activist involved in the Basra protests in the Shia-dominated south was assassinated.
An Iraqi beauty queen and social media influencer who has been outspoken on women's rights and other social issues related to her experiences of abuse and domestic violence was gunned down in Baghdad not long after.
These women were targeted, alongside others, by ultra-conservative militants who hold sway in Baghdad and Basra and who have a vested interest in cowing women to keep them out of public life.
Masked gunmen killed Soad al-Ali, a well-known human rights activist, outside a Basra supermarket in September in a brazen assassination that could inflame already fraught tensions in the restive southern city. A police official said Ali, 46, died instantly when she was shot by assailants who fled after shooting at her and her husband, who was wounded, as they were getting in their car.
Ali was heavily involved in organising anti-government protests in Basra and called for a restoration of basic services, including water and electricity, and for corrupt officials to be put on trial.
The assassination, on a street in the Abbasiya district in the centre of Basra, was the first such overt incident since protests erupted in the summer, though activists have described a campaign of intimidation and arbitrary detentions by powerful pro-Iran Shia jihadist militias and political groups that control Basra, a city of more than 2 million people.
Militia leaders in Basra accused protesters of colluding with the United States, a favoured excuse used when targeting perceived anti-Iran sentiments with deadly force. Ali was photographed during a meeting she had with US Consul General Timmy Davis in Basra more than a month ago.
In August, Rafif al-Yasiri and Rasha al-Hassan, who owned popular beauty salons, were killed. Again, the prime suspects were radical Shia militants who wanted to impose their version of societal purity on everyone by strength of arms and brutality.
Again, investigations led nowhere and, again, this was because Shia jihadists linked to Iran can get away with anything, particularly as many of them work in the police and military.
The highest profile victim of violence against women is perhaps Tara Fares, a former Iraqi beauty queen and social media sensation who had millions of Instagram followers. Although she spent most of her time abroad or in the Kurdistan regional capital of Erbil, she was reported to have been making more regular visits to Baghdad. There she met her end at the hands of masked gunmen who gunned her down as she sat in her car days after Ali was killed.
While these killings have brought women's rights in Iraq to the fore once more, it is important to note that violence against women is nothing new and women's rights have fallen precipitously since the US-led invasion in 2003.
Late last year, Shia Islamists linked to Iran almost pushed through legislation that would have effectively legalised paedophilia, allowing men to marry girls under the age of 9. These extreme conservative factions have repeatedly attempted to push this law through, which sets a frightening scene for the state of children's and women's rights in Iraq.
If Iraq is to be taken seriously as a modern democracy, it needs to make sure women are protected and allowed to express opinions freely without fear of violence.
https://thearabweekly.com/iraq-should-protect-its-women-fear-violence
--------
SC Orders Safety of Muslim Woman Being Forced to Marry Maternal Uncle in J&K
October 14, 2018
New Delhi: The Supreme Court has directed the chief of the Jammu and Kashmir police to ensure the safety of a young woman, who is allegedly being forced to marry her 40-year-old maternal uncle.
The Muslim woman is 26 years old and has alleged that her maternal uncles have been molesting her for a long time. She has further said that the family is now forcing her to marry one of them, who is already married and has children.
A bench headed by Chief Justice of India Ranjan Gogoi issued notices to the Jammu and Kashmir police and her family members, seeking their replies in two weeks.
"The Director General of Police, Jammu & Kashmir, is directed to ensure the safety of the woman, on whose behalf the present petition has been filed," ordered the court.
The woman, who has completed her Master's degree in Biotechnology, approached the Supreme Court through a friend, Seema Bhoria. Bhoria, in her petition filed through advocate Satya Mitra, has asked for the woman's release from a shelter home in Srinagar where she was lodged after she complained to the police.
According to the petition, her family and maternal uncles have "close contacts" in the police and local administration, and thus, she feared for her life.
The habeas corpus petition sought a direction to the DGP to meet the woman and ensure she, being a major, can leave the state safely as per her wishes.
The Supreme Court was initially of the opinion that Bhoria should approach the J&K High Court. However, looking at the peculiar facts of the case, the bench agreed to order for her safety and agreed to examine her plea.
It asked the J&K police and others to file their response, following which the future course of action will be determined.
https://www.news18.com/news/india/sc-orders-safety-of-muslim-woman-being-forced-to-marry-maternal-uncle-in-jk-1908441.html
--------
Petition filed in Pakistan court seeking death for killer of minor girl
Oct 13, 2018
LAHORE: A petition was filed in the Lahore High Court on Saturday seeking the death penalty for a killer of a minor girl in Punjab province of Pakistan.
The anti-terrorism court here on Friday issued death warrants for Imran Ali, 23, to be hanged on October 17 in central jail in Lahore.
In January, police arrested Ali two weeks after he allegedly raped and killed a seven-year-old girl and threw her body into a garbage dump in the city of Kasur, some 50 kms from Lahore. The murder drew nationwide outrage and condemnation, and triggered violent protests that claimed two lives.
On Saturday, Amin Ansari, the father of the girl, filed another petition in the high court seeking "public hanging" of Ali.
The petitioner said, "The murderer of my daughter should be given exemplary punishment so as to avoid any such tragedy in future".
In his previous petition, Ansari had demanded that the murderer of his daughter should be hanged on the spot where he had killed her. The girl's mother had said that the suspect should be stoned to death.
A two-member LHC bench comprising Justice Sardar Shamim Ahmed and Justice Shahbaz Rizvi will hear the appeal on October 15. The Lahore High Court, the Supreme Court and the president had rejected Ali's mercy plea.
Ali reportedly confessed to his crime, saying he became a "pervert" due to an addiction of watching child pornography on the Internet, a law officer informed.
https://timesofindia.indiatimes.com/world/pakistan/petition-filed-in-pakistan-court-seeking-death-for-killer-of-minor-girl/articleshow/66194954.cms
--------
Women compete for the top spot in bowling in Alkhobar
October 14, 2018
ALKHOBAR: After the success of the first round of the Women's Bowling Championship in Riyadh, the second round came to Alkhobar on Oct. 13. Around 40 female competitors took part in the Al-Gosaibi Bowling Center. Participants ranging in age from 13 to 50 years old and from different backgrounds were there to express their love for bowling.
The game consisted of four rounds. In the first round all 40 competitors took part. Of these, 24 competitors made it into the second round and half their number qualified for the third. The last round had three competitors competing for first place: Ghada Nemer, Heidee Asiman and Meshael Abduljwad.
Ghada Nemer, the winner in the Women's Bowling Championship, shares her love for bowling with her two sons, who have joined their mother bowl ever since they were children and made it onto the national bowling team. "I used to take my two sons to watch me bowl when they were young children to encourage them." Ghada continued: "I almost couldn't believe the first time I found out about the Bowling Championship and that women can finally participate in such tournaments! I registered immediately, my love for bowling is indescribable."
Dr. Razan Baker, a member of board of directors at the Saudi Bowling Federation, said: "We never knew how much people loved bowling until we started the first championship in Riyadh last week. We had 200 applications in Riyadh and around 100 in Alkhobar. "We have females coming from different fields, some of whom play football, some fence and some are just into sports and want to try it; we had people join to enjoy the sport and others who plan to be professionals."
About the federation's future plans Dr. Razan stated: "We get a lot of requests from different teams who started asking to be sponsored by the federation. We are willing help establish the teams that show us better scores and better determination, and put them in for more competitions around the Kingdom in the coming year."
Shmool Alharbi, a member of the Saudi women's bowling team that was created in March and is now being sponsored by the federation, hoped that women will get more involved in sports.
"I am happy to be part of this event to let other females here in Alkhobar, and in the Kingdom in general, know about this sport. I hope that the awareness of sports can be spread among all women through such events," she said.
Dr. Sahar Algosaibi, the head of the property department in Algosaibi, shared her story of collaboration with the Saudi Bowling Federation to empower women in sports as part of corporate social responsibility: "We work and aim to spread the word about sports between women, provide logistic support through well-prepared facilities and expand the field of sports for women in different sports, not only bowling."
http://www.arabnews.com/node/1387336/saudi-arabia
--------
Israeli police investigating Palestinian woman's death in car
October 13, 2018
NABLUS: Israeli police said on Saturday they were investigating the death of a Palestinian woman in the occupied West Bank, after her husband said he suspected Israeli settlers had pelted their car with rocks.
Reuters was unable to independently verify the circumstances of the incident but footage of the car, which a Reuters cameraman said bore Palestinian license plates, showed what appeared to be a blood-stained broken brick at the foot of the passenger seat, which was covered in shattered glass and blood stains.
A source at the Nablus hospital where Aisha Al-Rawbi was brought said the 47-year-old was dead on arrival and that she had suffered a head injury. Her relatives said an autopsy was to be carried out at another hospital.
The woman's husband, Aykube Al-Rawbi, 52, said he was driving by a settlement late on Friday after dark along a main road near the Palestinian city of Nablus and that he could not clearly see who pelted the car.
"The stones came from the side where the settlement is. I could hear the people speak Hebrew, but I didn't see them," said Al-Rawbi.
Israeli Police Spokesman Micky Rosenfeld said: "Police arrived in the area and have opened an investigation into the circumstances behind the incident reported."
There was no immediate comment from Palestinian officials.
On Friday, Gaza health officials said Israeli forces killed seven Palestinians in protests along Gaza's border. Israel said its troops had shot a group who broke through the fence with a bomb and attacked an army post.
On Sunday, a Palestinian gunman shot dead two Israelis and wounded a third in an industrial park next to an Israeli settlement in the West Bank, and on Thursday the Israeli military said a Palestinian had stabbed an Israeli soldier in the area.
Peace talks between Israel and the Palestinians broke down in 2014 and a bid by US President Donald Trump to restart them has shown little progress so far.
The Palestinians want to establish an independent state in the West Bank, Gaza and East Jerusalem — territories that Israel captured in the 1967 Middle East war.
Settlements Israel has built in the West Bank, where Palestinians have limited self-rule, are deemed illegal by most countries. Israel disputes this.
http://www.arabnews.com/node/1387156/middle-east
--------
The niqab debate is really about gender equality, and allowing women to make their own choices
October 14, 2018
The disconnect between understanding faith and understanding culture is bizarre in this country. Many seem to be under the impression that this is still a "Christian country" despite less than one million of our 65 million-strong population attending church services as of January 2016. There are dozens of different faiths in Britain and a hundred different ways to live by each of those faiths. As such, not all Jewish women cut off their hair, not all Christian women wear "modest attire", and not all Muslim women wear coverings.
It's true that there are some countries in which women are shamed for not being covered, but this is not one of them. The shame comes from those countries' culture, not religion, and shouldn't be attributed to Islam. If two Christians approached you and one was disgusted by your immodest clothes and another complimented your style, would you attribute either of those comments to their religion, their culture or their upbringing?
What non-Muslim people think about hijabs, burqas and niqabs should hold absolutely no weight in deciding if they are sold in stores or not. It is up to the Muslim population – whether covered or not – to decide what is appropriate for themselves and their familes. I for one live in a city with a large Muslim population and see many women with head and face coverings out and about each day, usually dropping off or picking up their children from school. If a mother wishes that her daughter cover her hair to feel closer to God, the absence of an M&S brand hijab isn't going to stop them, as hijabs can be easily and fashionably made or purchased in local stores.
This is just another element of a country that allows women the freedom to choose.
Name and address supplied
Wrongs can be made right in the next Budget
I've read many times that the true test of the wellbeing of a nation's citizens is how that nation treats its most disadvantaged members. On this test, we are clearly failing miserably.
I understand the need for us to have sustainable levels of debt, but when that is so obviously prioritised over the welfare of the citizenry, I think we lose the claim to us being a fair and just society. The chancellor needs to begin to address this imbalance in his next Budget.
Steve Mumby
Bournemouth
A second referendum is the only option
We surely now accept that however people voted in the referendum, it was in ignorance on all sides as to the potential consequences of the vote. Even reasonably sophisticated political commentators offered a wide variety of predictions as to what the outcome might be, whatever the result. We now have a much clearer view of the complexities facing negotiators and of possible outcomes and the risks for this country if mistakes are made. We can lose the U from UK and the B from GB. We must be given a chance to vote again.
B Perrett?
Address supplied
More of us need to stand up and speak out
If you were going to replace the known with an alternative, you'd expect those advocating that alternative to have a very clear and detailed idea of what it was and how it worked. Johnson and the rest were winging it. And their alternative turns out to be to leave the country very much worse off than it is now so that vulture capitalists can pick it clean. A small cadre of extremist Tory MPs has been allowed to drive the country to the brink of catastrophe, because no leader was prepared to face it down.
Now May, in thrall to the European Research Group and the DUP, risks the future of the young because she puts party and political issues before national interest. Is it only odd members of the public who are incensed by this? Do any politicians care enough to take decisive action? It can't all be left to Kenneth Clarke and Anna Soubry.
Michael Rosenthal
Banbury
More funding for rural schools, please
I write in full support of the headteacher at Holme on Spalding Moor Primary School.
I have been a governor of rural primary schools for several years and now govern at a rural secondary which serves many of those primaries.
Mr Woodhouse is entirely correct to state that funding has fallen in real terms for several years. Report after report confirms this, the most recent of which is on 16-19 education where funding is reported as falling by 22 per cent in the last few years.
This is simply unsustainable.
The Department for Education is likely to respond one more time with the banal and totally pointless comment that they "are spending more on education than ever before". If it isn't enough to educate our children properly then I simply don't bloody care how much they are spending – IT'S NOT ENOUGH!
John Sinclair
Pocklington
Don't demonise the Ashers bakery supporters
Homosexuality is accepted in society now because of enlightened laws and rights which allow freedom of expression – long may it remain so – but please don't portray those who voice criticism as misguided or evil people.
The hard-fought LGBT+ rights have taken too long to be enshrined in British law; however, being lawful doesn't necessarily make it any more acceptable to people whose religion or community feel it is not normal. My advice is stop trying to change their views by force or intimidation: instead continue to make homosexuality work in the community. Many organisations, including the church, are working towards the acceptance of homosexuality, which is only right and proper, but it takes time.
One of the greatest reforms in my lifetime is the right of women to be considered equal to men in the workplace, in relationship to property, voting, inheritance, armed forces, finance, etc. There is still a long way to go before it could be said that women are treated equal to men – but quietly it is happening. It has taken several generations to achieve the gains women have today.
The acceptance of gay people is borne out, in part, by the fact that my children and their friends absolutely don't consider homosexuality as a hindrance or a barrier to jobs, social events, friendships, etc. It has vastly improved over the last two generations, and with care and constructive discussion the rate of change will accelerate for the better – I feel sure.
Keith Poole
Basingstoke
https://www.independent.co.uk/voices/letters/niqab-marks-and-spencers-gender-equality-womens-rights-children-islam-a8582566.html
--------
Women's empowerment in the Saudi workplace
BASIL M.K. AL-GHALAYINI
October 14, 2018
This week, I will concentrate on women's empowerment and how the role and capacity of women could shape the Kingdom's future.
Saudi women are an important part of the sustainable development of the Kingdom's human capital, and their empowerment is vital in Saudi Arabia's National Transformation Program (NTP) 2020. Saudi women have recently been appointed to leadership positions, especially in the financial sector. These include Lubna Al-Olayan, chairwoman of the merged Saudi British Bank with Alawwal Bank; Sarah Al-Suhaimi, chairwoman of Tadawul; and Rania Nashar, CEO of Samba Financial Group.
The number of women in the workplace has increased substantially in our country over the past four years. According to a report released by the Ministry of Labor and Social Development in 2017, the country's private sector recorded a 130 percent increase in the number of Saudi women in the workplace. It was confirmed that 30 percent of the total Saudi workforce in the private sector is now female.
Increasing participation of Saudi women in the labor market will help in achieving one of the most important goals of the Kingdom's Vision 2030, which is to increase Saudi women's participation in the market to 30 percent, up from 22 percent in 2016. It will also help to reduce the unemployment rate among Saudi women, which has reached a record high of 33 percent. According to the government, this would contribute to an increase of 3 percent in the gross domestic product (GDP) from non-oil sectors
Despite these numbers, over half (52 percent) of Saudi women believe that the biggest myth hindering their career is that they don't have the right skills for the job opportunities available. Saudi women are clearly highly educated and qualified to join the workplace. For those women who did not have the chance to continue their educations, there are initiatives allowing them to start a career using their skills.
We at BMG are involved in discussions with a client who wants to set up a beauty academy giving young Saudi females the chance to become skilled beauticians. I believe these specialized training initiatives give the opportunity to thousands of young Saudi women who want to pursue a career in a skilled service and earn good income without necessarily having academic qualifications.
On a related topic, we should not ignore the positive impact of Saudi businesswomen in the Saudi economy. Recent statistics reveal that Saudi women own more than SR45 billion ($12 billion) in Saudi banks and SR130 billion in real estate investments. Furthermore, Saudi women are owners of around 25,000 small- and medium-scale establishments and companies.
As the country moves toward achieving Vision 2030, women should continue to seek higher education and learn new skills to keep up with business and industry. Women should be preparing themselves for top-level positions or starting their own businesses in the private sector as these opportunities become more readily available and have government endorsement.
• Basil M.K. Al-Ghalayini is the Chairman and CEO of BMG Financial Group.
http://www.arabnews.com/node/1387356
--------
10 Saudi women hold internationally recognized diving licenses
By Muhammad Al-Abdullah
DAMMAM — There are now 10 Saudi women divers who hold internationally recognized diving licenses.
Female Saudi diving guide and first aid trainer Maryam Al-Muallim told Okaz/Saudi Gazette Saturday that women can practice diving like any other sport.
Al-Muallim, who faced many obstacles due to society's reservations about women practicing such a sport, said Saudi women are receiving support and encouragement now with the change in perception.
As to how the female members of the diving team can get training, she said they can join specialist training courses provided by trainers licensed by internationally recognized organizations.
Speaking about the areas they prefer for diving, Al-Muallim said a diver is always attracted by beautiful marine topography, fish and other marine life.
She said the Red Sea has a great diversity of beautiful marine life. As to the most important requirements for diving in the Kingdom, she said: "At present, there are no complications. Women divers can obtain their licenses after completing the required training and then practice the sport."
Al-Muallim said diving gives peace of mind and tranquility.
She said Saudi women are capable of joining any field of life. With determination and hard work, they can achieve great success.
She stressed that women must abide by customs and traditions and comply with safety rules.
http://saudigazette.com.sa/article/545525/SAUDI-ARABIA/10-Saudi-women-hold-internationallyrecognized-diving-licenses
--------
On World Day Against Death Penalty Iranian Activists call for stop of death sentence
13 October 2018
On the occasion of the World Day Against the Death Penalty, a number of families of political prisoners and execution victims issued messages and statements calling for abolition of the death penalty in Iran.
Ms. Farangis Mazloumi, mother of political prisoner Soheil Arabi, called for the abolishment of the death penalty in a video message. Ms. Mazloumi, expressed her hope that one day cranes would serve for construction of a free Iran, and the word "execution" would no longer be heard in Iran.
Raheleh Rahemipour, whose brother, Hossein Rahemipour was executed in 1984, wrote in a brief note, "It has been about forty years that every night and every day we are hearing the news of executions and imprisonment of our loved ones. When will this death machine stops? As a sister who has lost her most loved one on the gallows, I call for the abolishment of the death penalty."
The family of political prisoners in Iranshahr issued statements and declarations calling for end to executions in Iran.
A group of political and civil rights activists in Tehran wrote in a statement, "We, the political and civil rights activists of Iran, call for the immediate abolition of the death penalty. This may be the voice of part of the Iranian society but it undoubtedly reflects the desires of the majority of the suffering and oppressed people of Iran. We believe that execution under any pretext is a blatant and deliberate state murder which has been conducted by this government for nearly forty years."
A group of Baluch tribes also signed a joint statement calling for an end to and abolition of the death sentence in Iran.
The Gonabadi dervishes, who were brutally repressed in their 2017 protests, wrote in a statement, "We, the peace-loving Gonabadi Dervishes community, deeply condemn the death penalty and demand its abolition."
A number of human rights activists in the province of Khuzestan wrote, "In our country, the number of executions are alarming and countless people have executed in the past 39 years."
https://women.ncr-iran.org/iran-women-news/5520-on-world-day-against-death-penalty-iranian-activists-call-for-stop-of-death-sentence
--------
Protest gatherings in Tehran, Rasht, Takestan with women participating
13 October 2018
Women participated actively in protest gatherings held over the past week in Tehran, Rasht and Takestan.
On Wednesday, October 10, 2018, the families of students at the Sama Girls' School in Takestan held a sit-in protest against illegal and substandard blood taken by a couple of syringes from 40 children by an unidentified person posing as a Red Crescent (Hilal Ahmar) employee.
The sit-in protest was held in the prayer hall and a number of the families also gathered in front of the Health and Medical Care Network in Takestan.
Despite several hours of protest by the families, no government official from the Department of Education, the Governorate, or the parliament came to hear the families. The protesting families demanded a response for the illegal act of taking blood from 40 girl students by a few used syringes ostensibly by a Red Crescent personnel.
On Tuesday and Wednesday, October 9 and 10, 2018, employees of the Edalat Stocks Cooperative continued their protest gathering since Saturday, October 6, against the cooperative's failure to pay 43 months of their salaries.
The protesters held up a symbolic coffin above their heads to show their protest. On Tuesday, they gathered in front of the Ministry of Economy and Finance in Tehran. Women played an active role in the five-day protest of the employees of the Edalat Stocks Cooperative.
On Tuesday, October 9, 2018, a group of defrauded investors of the Caspian Credit Institute in Tehran held a protest gathering in front of the Public Prosecutor's Office. Women stood alongside men in this protest, demanding reimbursement of their plundered deposits.
On Monday, October 8, 2018, a group of plundered clients of the Caspian Credit Institute in Rasht, mainly women, staged a protest gathering.
Also on Monday, October 8, a group of students from Tehran's Khajeh Nassir Toosi University of Technology staged a protest against the new policy of obtaining fees from students for dormitory services.
From March to September 2018, Iranian women have actively taken part in over 430 protest gatherings in cities across Iran.
https://women.ncr-iran.org/iran-women-news/5521-protest-gatherings-in-tehran-rasht-takestan-with-women-participating
--------
URL: https://www.newageislam.com/islam-women-feminism/iraq-protect-its-women-fear/d/116625
New Age Islam, Islam Online, Islamic Website, African Muslim News, Arab World News, South Asia News, Indian Muslim News, World Muslim News, Women in Islam, Islamic Feminism, Arab Women, Women In Arab, Islamophobia in America, Muslim Women in West, Islam Women and Feminism