New Age Islam News Bureau
11 Feb 2017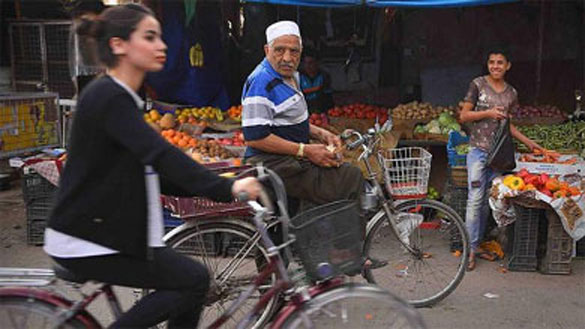 "My mother and my grandmother used to ride bicycles. It used to be normal": Marina Jaber. Pic: TARKIB/Marina Jaber
------
• First Woman to Head Police Rescue Department in Oman
• Meet The Muslim Woman Who's Become the Face of Anti-Trump Resistance
• UAE Market for Artificial Fertilisation for Women to Reach $27 Billion
• Muslim Woman Denied Teaching Job for Wearing Hijab Wins Discrimination Case in Germany
• Syrian Arab Women Battle IS, Social Stigma
• 54 Syrian Women, Freed From Militants Return Home in Latakia
Compiled by New Age Islam News Bureau
URL: https://www.newageislam.com/islam,-women-and-feminism/new-age-islam-news-bureau/iraq-s--cycling-girls--ride-for-freedom/d/110047
--------
Iraq's 'cycling girls' ride for freedom
February 11, 2017
Jean Marc Mojon - Her name is Marina Jaber but to many she is "the girl on the bike", a young Baghdad artist inspiring Iraqi women to exercise their rights one pedal at a time.
In Iraq's conservative society, the young woman cuts an unusual figure when she rides her red bicycle in the streets of the capital, her long black hair swaying in the wind.
What started off as an art project became a social media meme and then a civil society movement. A group of women now gathers regularly to cycle in Baghdad and break new ground.
Or is it old ground?
"My mother and my grandmother used to ride bicycles. It used to be normal," Jaber told AFP. She said she questioned why she had felt so proud when she rode a bike during a visit to London last year. "It's only a bike. It's a simple thing. It should be normal," the 25-year-old said. "Does society just not allow us to do certain things or does it start not accepting those certain things because we stopped doing them? That was an important question that had been on my mind for a long time."
To find the answer, Jaber started cycling in her neighbourhood and made that a project for a contemporary arts institute called Tarkib - an Arabic word which can mean installation and assemblage. A picture Jaber posted of herself cycling alongside an old man riding his own bicycle and staring at her in reproving disbelief made the rounds on Iraqi social media last year. "With that old man, I found my answer. For more than five minutes, I was riding next to him and he kept looking at me. He didn't seem to like it," Jaber said.
'I am society'
"Then he stopped looking and went about his business. All the people in the area got used to it, they stopped looking at me... I understood then that I am society. If I want something, I should start doing it." Jaber instantly became an inspiration for many girls and women across the country yearning to lead their lives the way they choose and not bow to more or less recent social, tribal or religious restrictions.
Hashtags started spreading on the internet and Jaber was overwhelmed by the response she got. "I received a lot of messages... mostly from young girls. Maybe they needed somebody to stand up for their rights," she said.
Her red bicycle became the centrepiece of her installation at an exhibit in Baghdad last year and Jaber's action joined a long global history of cycling as a symbol of women's emancipation.
In England, suffragette Alice Hawkins once famously rode down the streets of Leicester to promote women's rights - scandalously wearing pantaloons. More than a century later, the symbol is still potent in the Middle East, as exemplified in the 2012 Saudi film "Wadjda" about an 11-year-old girl from Riyadh who defies society and her mother's disallowance by buying the green bike of her dreams with the prize money from winning a Quranic recitation contest.
Jaber's story also echoes that of Bushra al-Fusail, a photographer from Yemen who started her country's first female cycling group in 2015 to affirm women's rights and protest against the war. In Iraq, women from across the country started posting pictures of themselves on bicycles and dozens have joined group bike rides in the streets of Baghdad, which are closed off to traffic by police who escort the cyclists.
Mosul picture
"It's not illegal for a woman to cycle in Iraq but because of the war we Iraqis stopped doing a lot of things we used to do... we are too busy with death," Jaber said.
Jumana Mumtaz, a broadcast journalist from the northern Iraqi city of Mosul, posted a picture of herself on a bicycle from the edge of the battlefield in December to support Jaber's initiative.
"It was a way of challenging ISIS and extremist thought," she said, referring to the Islamic State militant group which still controls half of her city despite a three-month-old government offensive.
"Also, a lot of people in Iraq, not just ISIS, think women shouldn't be able to do what they want and think our behaviour is shameful... Marina got many very aggressive comments and so did I," Mumtaz said. Most of those comments came from men but they are also welcome when Jaber's group organises a ride. "It's liberating for a man too. Everyone looks so happy, the city even looks more beautiful like this. It feels like the normal life we want," said Mustafa Ahmed, a young army officer, at a recent rally. "There were some negative reactions at first but the comment I hear the most now is 'Aah, this is the Baghdad we know'," said Jaber, who has received several offers to help distribute free bikes to Iraqi women. "Now I want to support girls to stop being scared. We can change reality." –AFP
http://nation.com.pk/international/11-Feb-2017/iraq-s-cycling-girls-ride-for-freedom
--------
First woman to head police rescue department in Oman
February 10, 2017
Muscat: The Royal Oman Police (ROP) recently appointed an Omani female officer as the Director of the Police Rescue Department for the first time.
Lieutenant Colonel Hanan Al Salimi said that she felt proud to assume her new position. "I feel happy and proud to hold this position, which shows the trust of the police command in Omani policewomen," she said.
Al Salimi added that Omani policewomen can work side by side with their male counterparts to provide the best for the nation. "Omani women are hardworking and ambitious. They occupy the top positions in the country, thanks to the support of Omani officials."
Al Salimi said she always had the interest in the Police Rescue Department since it was set up under the Special Task Department. She underwent a specialised training programme for the job.
"After the success of the Police Rescue department in Muscat governorate, it was expanded to all other governorates," Al Salimi said.
Al Salimi said Police Rescue department has contributed in providing security in the country, thanks to a well-trained Omani cadre.
The Police Rescue Department also regulates traffic nationwide and patrols sites of events and festivals during national celebrations.
In January, the Royal Oman Police appointed an Omani female officer as the head of a police station for the first time.
Lieutenant Colonel Shaikha Bint Ashour Al Hambasiyah, the new head of Watayah police station in Muscat, said that she was happy and proud to be the first Omani woman to head a police station.
http://gulfnews.com/news/gulf/oman/first-woman-to-head-police-rescue-department-in-oman-1.1976201
--------
Meet the Muslim woman who's become the face of anti-Trump resistance
Feb 10, 2017
It began as an unpaid modeling gig.
A decade ago, Munira Ahmed met with photographer Ridwan Adhami to shoot photos for the now-out-of-print Illume magazine, a publication focused on the lives of Muslims in America. Now a likeness of her face has become one of the most popular protest images following President Donald Trump's election.
"The concept was to have me standing in front of where the New York Stock Exchange Building is, and the image was supposed to be more of that, really. There was an American flag that used to hang over it. I was like, 'All right, sounds like a cool thing,'" Ahmed tells me over lunch, blocks from the photo's location. "I love Ridwan's work; he's a Queens dude, talented visionary."
Out of all the images, one leaped out at them. It was a close shot on Ahmed, adorned in an American flag hijab, the camera tight on her face and her eyes daring you to question her Americanness or her Muslimness. When I saw that photo of her, we had already been friends for years — since fifth grade, in fact. But there was simply something about it that was striking and clearly special. In the years since, it's become a symbol for Ahmed, herself; a stand-in as her own answer to the endless questioning of whether Muslim identity conflicts with American patriotism.
In the past decade, that photo has been used all over: in Illume magazine, of course, but also on Muslim blogs, right-wing conspiracy sites, Pinterest boards, and Tumblr accounts. But the photo took on a new life after the election of Donald Trump. Shortly after Election Day, protests were planned — most prominent among them the Women's March, scheduled for the day after Trump's inauguration. For it, the Amplifier Foundation, a social justice art organization, commissioned a series of posters by Shepard Fairey, including an adaptation of Ahmed's image.
The image is a signal of the diversity of American women, but it's also a response to Trump's campaign promises to bar Muslim people from entering the country — which turned into the promise to "highly vet" them. The promise has since turned into a ban on people traveling from seven Muslim-majority countries that is being contested in federal courts.
You could say Ahmed, now a freelance travel and food photographer, just happened to model for a photo that just happened to become popular. But if you know her, it almost seems like it was meant to be.
"I've always felt that need to speak out because I'm a human being," she said.
After I made the transition from Catholic school to public school, Ahmed was among my first Muslim friends. When I met her, I met a confident 10-year-old girl. She didn't wear a hijab then, nor does she now, but she taught me a lot about her faith, and today she continues to be unwaveringly proud in her Muslim identity.
Both Ahmed and I were born and raised in the same neighborhood in Queens, New York, that Donald Trump grew up in. She's a woman of color — and is just as Queens, just as New York, and just as American as Donald Trump. Ironically, in some versions of Adhami's original photo, you can see the golden signage of 40 Wall Street peeking over Ahmed's shoulder, announcing to the world that it's the Trump Building.
Yes, sometimes Ahmed's selfies get more attention on Facebook than her pro-Bernie Sanders diatribes or the latest articles on atrocities happening around the world. But she says she's finally noticing that people around her are becoming more politically engaged. People she's known without any political inclination in the past are now protesting at airports and speaking out against Islamophobia. Of course, that has a lot to do with Trump's controversial executive order on immigration.
"I'm disappointed," she said. "But as much as you want to point your finger at this dude, people still supported this. People elected this person into this position. You can't just continuously keep saying, 'How could he do this?' It's really, 'How could we do this? How could y'all?' He had an entire platform that ran on just exactly this — about seeing through to this sort of thing. I know there were a ton of people out there who were like, 'Well, I did vote for Trump, but I was voting because I think he's better for the economy, I think he's better than Hillary, I didn't want Hillary to win.' But then why wasn't racism a deal breaker for you? Why wasn't the sexism a deal breaker? Why wasn't the fact that he's got [sexual assault allegations] against him a deal breaker? Where's the morality in that?"
She continued, "There was a quote from Desmond Tutu: If you're neutral in situations of injustice, you've chosen the side of the oppressor. So I'm glad that people seem to be having a change of heart, because you can then work to overturn stuff. But how did we get here?"
Still, the image of Ahmed embodies something that Trump's rhetoric nearly deems impossible. Meanwhile, a friend once described her as being as American as hip-hop.
"What is cool is that I get to be a voice now for a community I think is missing, their voice is missing. Someone who truly is Muslim, and very much American. Both of those things are very much ingrained in me," Ahmed says.
As we wrapped up our lunch, Ahmed told me about meeting a woman in Morocco while traveling recently. She was a young bride who worried about her future and her life with a husband she was unhappy with. They spoke with each other for hours through Google Translate, and she told Ahmed she felt emboldened just by meeting another Muslim woman confidently traveling alone.
That's the weight of that image. That image of her doesn't just show the confidence that Muslim women like Ahmed certainly have. It also conveys the confidence some Muslim women want and need to see.
http://www.vox.com/identities/2017/2/10/14508820/muslim-poster-protest-munira-ahmed-ridwan-adhami-shepard-fairey
--------
UAE market for artificial fertilisation for women to reach $27 billion
February 11, 2017
It has been estimated that infertility affects 15 per cent of the global population of reproductive age.
A new study carried by IVI Middle East about the In-Vitro Fertilization (IVF) market estimated that the IVF global market will cross $27 billion by 2020. The same research anticipated that the UAE would command $1.50 billion by the same period, a 5.5 per cent of the global figure.
The overall IVF market in the UAE will control $1.01 billion in 2017 registering a growth of 11.8 per cent compared with last year, said the international medical centre that has main regional headquarter in Abu Dhabi along with branches in Dubai and Muscat.
"Changing lifestyle conditions; reduced ovarian reserve in women, delayed pregnancy, gynecological conditions and fertility disorders are some of the major factors that drive the market growth," said Dr Human Fatemi, Medical Director at IVI Middle East.
Commenting on the evolving market, he added: "Infertility is one of commonly encountered medical conditions in the Middle East. According to various reports, it has been estimated that infertility affects 15 per cent of the global population of reproductive age, but this percentage is even higher in the Middle East. This has paved way for the industry to experience growth in the region."
IVI Middle East Fertility Clinic is a part of Equipo IVI, headquartered in Spain, the world leader in the field of infertility treatments. It commenced its operations with its first fertility clinic in Abu Dhabi, UAE. Within a short span, the centre has witnessed a success rate of over 70 per cent - the highest in the region.
98% successful pregnancies
Statistics revealed by IVI Middle East Fertility Clinic suggest that Intra-cytoplasmic Sperm Injection (ICSI) has contributed to over 98 per cent of successful pregnancies for the clinic in the last one year. The innovative and customised treatment approach at IVI clinics backed by strong research on infertility causing factors in the region has delivered over 70 per cent success rate in the Middle East, much higher than the clinic's success rates in other parts of the world.
"With 900+ couples been treated at IVI Middle East Fertility Clinic, it is noted that majority of couples lie in the age group of 31-40 years. Of these, 49.7 per cent account for women while 53.8 per cent are men. The percentage of women suffering from infertility conditions is high. Women in the Middle East, in particular, suffer from Vitamin D deficiency, obesity, face the impact of parental consanguinity, delayed pregnancies - all leading to the rise in infertility. However, infertility is as much a man's problem as it is for a woman. We have witnessed and treated over 40 per cent of male infertility cases. Infertility among the Middle Eastern men is also an outcome of their sedentary lifestyles leading to obesity, smoking and Vitamin D deficiency," added Dr. Human Fatemi.
IVI Middle East Fertility Clinic revealed that of the couples opting for fertility treatments, local couples accounted a higher percentage - around 77 per cent as against the expats, who accounted for only 23 per cent.
"At IVI Middle East Fertility Clinic, each patient is treated with utmost care based on their condition. Our in-depth understanding of the latest scientific methods combined with our local experience has led us to success," concluded Dr Human Fatemi.
IVI Middle East Fertility Clinic also offers a highly advanced genetic test called the Carrier Genetic Test (CGT) that helps prevent the risk of having a baby with genetic disorders. This test is exclusively available at IVI and is highly recommended to all couples trying for conception naturally or through IVF to avoid the possibility of genetic diseases being transferred to their children.
- reporters@khaleejtimes.com
http://www.khaleejtimes.com/news/uae-health/uae-market-for-artificial-fertilisation-for-women-to-reach-27-billion
--------
Muslim woman denied teaching job for wearing Hijab wins discrimination case in Germany
Feb 10, 2017
A Muslim woman in Germany has been awarded nearly 9,000 euros in compensation after a court ruled that Berlin city discriminated against her by denying her a teaching job due to the headscarf she wears.
The Muslim woman won an appeal before a Berlin-Brandenburg court yesterday in a case over her rejection for a teaching job at a Berlin elementary school.
Head judge Renate Schaude was quoted by The Local as saying that the woman had been discriminated against and because her wearing a headscarf posed no danger to school peace, the discrimination against her was illegal.
She was therefore awarded 8,680 euros in compensation.
She had lost her initial case last year as the Berlin school argued neutrality rules meant no one could wear religious symbols in schools.
But in 2015, Germany's Constitutional Court ruled that general bans on state school teachers wearing headscarves were unconstitutional -- unless headscarves were found to "constitute a sufficiently specific danger of impairing the peace at school or the state's duty of neutrality".
After this major ruling, some states had to revise their regulations -- also because they gave preferential treatment to Christian symbols.
But the Berlin-Brandenburg court ruled that Berlin's neutrality rules were still constitutional. This law states that police, teachers, and justice workers may not wear any religious apparel.
A court in Osnabrück last month ruled very differently than the Berlin-Brandenburg court.
In that case, a Muslim woman in Lower Saxony was also not allowed to teach due to her headscarf in 2013. But despite the 2015 Constitutional Court ruling, the lower Osnabrück court said that the school had made a valid decision based on the legal basis at the time.
http://www.hindustantimes.com/world-news/muslim-woman-denied-teaching-job-for-wearing-hijab-wins-discrimination-case-in-germany/story-YB8xiALlQ9lwcel81QflmO.html
--------
Syrian Arab women battle IS, social stigma
February 11, 2017
Delil Souleiman - They are fighting the world's most feared militants, but hundreds of Arab female fighters battling the Islamic State group in Syria are also confronting the disapproval of their relatives and society.
"I braved my tribal clan, my father, my mother. Now I'm braving the enemy," says 21-year-old Batul, who is part of an Arab-Kurdish alliance battling to capture IS's Syrian stronghold of Raqa.
She is one of more than 1,000 Arab women who have joined Kurdish male and female fighters in the Syrian Democratic Forces (SDF) alliance, according to a spokeswoman.
Standing in the desert some 20 kilometres (12 miles) from Raqa, Batul speaks passionately about her decision to fight IS, which holds the nearby village of Al-Torshan. "My parents told me: 'either you put down your weapons or we disown you'," she says, wearing an ammunition vest and a floral scarf around her shoulders.
Her parents have not spoken to her since. Batul comes from the Al-Sharabiyeh tribe, one of the best-known of the conservative Sunni Arab tribes of northeast Syria. Her family views her as a rebel, who removed the headscarf worn by many Muslim women and refused her father's orders to pray in front of him.
But she is proud of the decision she took two years ago to join the YPJ, the female counterpart to the Kurdish People's Protection Units, which is a key component of the SDF alliance.
"I joined the YPJ to liberate my homeland, but also to free women from slavery," she says. "We must no longer remain cloistered behind four walls."
'My weapon is part of me'
Syrian Kurds and Arabs has been fighting IS since late 2015, with air support and other backing from the US-led coalition against the militant group. But the current battle for Raqa is the first time Batul has been on the front line, where warplanes roar overhead carrying out strikes, and mortars boom in the distance.
"The first time I held a weapon, I was very afraid," she admits. "But now, my weapon has become part of me. It frees me and protects me."
She speaks in Arabic, but her sentences are peppered with Kurdish words picked up from her fellow fighters. "The relations between us and the Kurdish women are good. We don't speak the same language, but we're all here to free the country and women."
Jihan Sheikh Ahmad, spokeswoman for the campaign on Raqa, said the SDF now counts more than 1,000 Arab women in its ranks.
"The YPJ's experience has had a positive impact on society," she told AFP. "The more territory we liberate, the more Arab female fighters have joined us." In a tent near the front line, six young Arab female fighters joke and share secrets as they sip tea.
'Same rights as men'
"My goal is to liberate women from the oppression of Daesh (IS), but also societal oppression," says Hevi Dilirin, an Arab woman who adopted a Kurdish nom de guerre when she joined the YPJ. "In our society, women have no say. But they should have the same rights as men," she says, dressed in a camouflage jacket and white-and-grey sneakers.
Syria's Kurds have emphasised gender equality in both their militias and nascent autonomous institutions.
Since the outbreak of the conflict in March 2011, they have sided with neither rebels nor government forces, concentrating instead on developing a semi-autonomous region in north and northeastern Syria, as well as fighting IS.
But the Arab tribes there are among the more conservative segments of the population, and 21-year-old Doza Jiyan says most Arab families find the concept of female fighters "hard to accept."
"In our Syrian society, we find it bizarre for a woman to take up arms," adds Jiyan, from the town of Ras al-Ain in Hasakeh province.
But she speaks confidently as she discusses the military situation with male colleagues. "IS is no longer invincible, they're only fighting on motorbikes and mining the villages," she says.
IS's extensive use of IEDs and mines has slowed the SDF's progress towards Raqa, the militant's group most important remaining bastion in Syria. The SDF announced a new phase in their bid to capture Raqa on February 4, pressing towards the city gradually from the north and northeast. Jiyan is convinced that the SDF's military successes will eventually sway the opinion of her relatives and society, and she has no plans to leave. "I'm very happy here," she says. –AFP
http://nation.com.pk/international/11-Feb-2017/syrian-arab-women-battle-is-social-stigma
--------
54 Syrian women, freed from militants return home in Latakia
Feb 10, 2017
More than 50 Syrian women and children have returned home in Latakia Province after the Syrian government secured their release from militant captivity in a prisoner swap deal.
The relatives of the 54 freed hostages welcomed them upon their arrival home on Thursday.
Syrian President Bashar al-Assad and his wife also received the women and children, who were freed earlier this week under a prisoner swap deal between the Syrian government and militant groups.
The so-called Syrian Observatory for Human Rights said Damascus and militants exchanged 112 people under the deal.
The so-called Free Syrian Army (FSA) forces had kidnapped the civilians in 2013 while attempting to seize several villages in the northern part of Latakia Province.
Reports said the Independent Organization of Detainee Affairs organized the prisoner swap, while the Red Crescent was present to facilitate and mediate.
The news comes as Damascus continues its advances against militants and terrorist groups across the country. Syrian army forces managed to establish control over several villages in the strategic northern province of Aleppo following intense clashes with Takfiri Daesh militants.
The news comes as Damascus continues its advances against militants and terrorist groups across the country.
Over the past almost six years, Syria has been fighting foreign-sponsored militancy. UN Special Envoy for Syria Staffan de Mistura estimated in August last year that more than 400,000 people had been killed in the Syrian crisis until then.
The UN has stopped its official casualty count in the war-torn country, citing its inability to verify the figures it receives from various sources.
http://www.presstv.ir/Detail/2017/02/10/509931/Syria-women-children-FSA-free-Assad
--------
URL: https://www.newageislam.com/islam,-women-and-feminism/new-age-islam-news-bureau/iraq-s--cycling-girls--ride-for-freedom/d/110047
New Age Islam, Islam Online, Islamic Website, African Muslim News, Arab World News, South Asia News, Indian Muslim News, World Muslim News, Womens in Islam, Islamic Feminism, Arab Women, Womens In Arab, Islamphobia in America, Muslim Women in West, Islam Women and Feminism, Moderate Islam, Moderate Muslims, Progressive Islam, Progressive Muslims, Liberal Islam