New Age Islam News Bureau
22 February 2021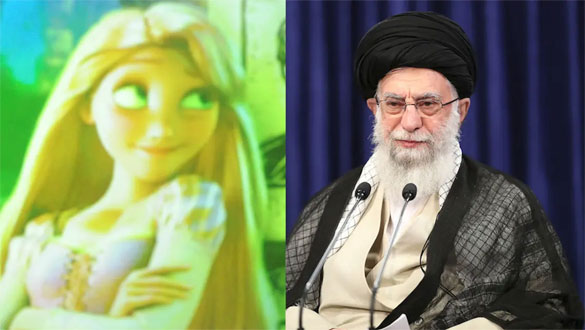 Combination photo shows the character Rapunzel from the Disney animated film Tangled on the left, Iran's Supreme Leader Ali Khamenei on the right. (AFP)
------------
• The case of Amroha'sShabnam, the first woman likely to be hanged since 1947; legal remedies before her
• Marib police thwart Houthi attempt to recruit women and children for Yemen attacks
• Saudi Arabia opens military recruitment to women in latest move for inclusivity
• Why we did it: the Kenyan women and girls who joined Al-Shabaab
• Number of Saudi women in civil service jumps 25 times in 10 years
• COVID-19: Sharjah Economic Department closes a women's salon and hypermarket
• Gunmen kill four female aid workers in northwest Pakistan
• UAE: Emirati woman firefighter sets the bar high for her peers
• Iran's female alpine ski team is coachless in Italy
• Led by Turkish mother, 5 women bring smiles to children
Compiled by New Age Islam News Bureau
URL: https://www.newageislam.com/islam-women-feminism/even-cartoons-women-wear-hijab/d/124368
--------
Iran's Khamenei issues fatwa saying women in cartoons must wear hijab
IsmaeelNaar
22 February ,2021
Iran's Supreme Leader Ali Khamenei recently issued a new fatwa declaring that women in cartoons and animated films must wear the hijab, according to a recent report by the semi-official Tasnim news agency.
"Is observing hijab necessary for characters in animated films (three-dimensional paintings that come from the artist's mind)?" Khamenei was asked by an enquirer on a Telegram channel, according to a translation of the question by the IranWire news website.
"Although wearing hijab in such a hypothetical situation is not required per se, observing hijab in animation is required due to the consequences of not wearing hijab," IranWire quoted Khamenei as saying in his reply.
Wearing a headscarf and covering all parts of the body was made mandatory for women in Iran soon after the establishment of the Islamic Republic in 1979.
Women who leave part of their hair uncovered in public are regularly targeted by Iran's morality police, known as Gasht-e Ershad.
In recent years, women in Iran have been harassed both by the police and men on the street for "improperly" wearing the hijab. Last October, a young woman was arrested in central Iran for "insulting the Islamic hijab" after a video appeared to show her cycling without a veil, according to the official IRNA news agency.
In March of last year, a video showing a man attacking a woman in Iran went viral and sparked outrage on social media. The woman was attacked for being a "bad hijab," according to some social media users.
https://english.alarabiya.net/News/middle-east/2021/02/22/Iran-supreme-leader-Iran-s-Khamenei-issues-fatwa-saying-women-in-cartoons-must-wear-hijab
--------
The case of Amroha'sShabnam, the first woman likely to be hanged since 1947; legal remedies before her
February 22, 2021
On February 18, the 12-year-old son of Shabnam, a death row convict from Uttar Pradesh's Amroha, appealed to President Ram NathKovind to "forgive" his mother. The same day, Shabman filed a second mercy petition with the Governor of Uttar Pradesh and the President of India, both of whom have earlier rejected her plea.
If executed, Shabnam will be the first woman in independent India to be hanged for a crime.
Only one jail in India –– the one in Mathura –– has the provisions for hanging a woman convict. Pawan Kumar, the hangman in the December 2012 New Delhi gangrape case, has recently been quoted as saying by media outlets that he had been to the Mathura jail to see if the execution room was in working order.
What Shabnam was convicted of
Shabnam along with her lover Saleem was convicted of killing seven members of her family in 2008 –– father Shaukat Ali (55), mother Hashmi (50), elder brother Anees (35), Anees's wife Anjum (25), younger brother Rashid (22), cousin Rabia (14), and Arsh, Anees's 10-month-old son.
Shabnam, belonging to the Saifi Muslim community, lived in Bawankhedi, a village in Hasanpur tehsil of Amroha in western Uttar Pradesh. A post-graduate in two subjects, English and Geography, she worked as a shikshamitra (government school teacher). Her family was opposed to her relationship with Saleem, a Class VI dropout, who worked at a wood sawing unit outside their home and belonged to the Pathan community.
According to the prosecution case, on the intervening night of April14-15, Shabnam sedated six of her family members –– everyone except the baby Arsh. Saleem then chopped their heads off with an axe, while Shabnam held them by their hair. She throttled her 10-month-old nephew. With the rest of her family dead, Shabnam would have been the sole heir to their house and other property.
When Shabnam and Saleem were arrested five days after the crime, they were both in their 20s, and Shabnam was seven weeks pregnant. In December of that year, she gave birth to her son.
In 2010, an Amroha sessions court sentenced them to death, which was upheld by the Allahabad High Court in 2013 and the Supreme Court in May 2015. Within 10 days, however, the Apex Court stayed the death warrants.
In September 2015, then-Uttar Pradesh Governor Ram Naik rejected Shabnam's plea for mercy, which she had sought on the ground of her responsibilities towards her son, Mohammad Taj. In August 2016, then President Pranab Mukherjee rejected her mercy petition.
In January 2020, a Supreme Court bench headed by CJI SA Bobde upheld the death sentence.
What Shabnam claimed
Shabnam was the one who had raised the alarm about her family's murder. She had initially claimed that unknown assailants had entered her home and killed everyone.
However, during the course of their trial, the couple turned against each other. The 2015 Supreme Court judgment says that in her Section 313 statement, Shabnam said Saleem had entered the house with a knife through the roof and killed all her family members while she was asleep. Saleem, on the other hand, said he reached the house "only on the request of Shabnam" and that when he reached there, she confessed to having killed the others.
Seven years after the crime, when her son was being sent to foster care, Shabnam had claimed she feared for his life, as the "people who had killed her family over a property dispute could harm him too".
Legal options still available with Shabnam
Before she is hanged, Shabnam still has some legal remedies left with her. On February 19, the day after she filed fresh mercy petitions with the Governor and the President, Shabnam's lawyer, Advocate Shreya Rastogi, said in a statement, "Shabnam has very important constitutional remedies that remain to be exercised. These include the right to challenge the rejection of her mercy petition before the Allahabad High Court and the Supreme Court on various grounds and also the right to file a curative petition in the Supreme Court against the decision on the review petition."
The curative petition can challenge the Supreme Court decision of January 2020, which upheld her death sentence.
Also, under the law, if multiple people have been sentenced to death in the same case, they have to be executed together. So, Shabnam and Saleem can be hanged only after both of them exhaust all their legal recourses.
Shabnam's son
Shabnam's son stayed with her in jail for the first few years of his life. In 2015, he had to be sent to foster care as according to the jail manual, women inmates can't keep children above six years of age with them.
Taj now lives with journalist Usman Saifi, who was Shabnam's college junior, and his wife Suhina.
Saifi had told The Indian Express in 2015: "The Shabnam you hear of, the woman on death row, is not the Shabnam I know. We went to the same college… She once paid my college fee when I couldn't, she would help me with my notes and stand up for me in college. All this, just like an elder sister would. So when this happened, I was shocked. I told my wife that I owe a lot to Shabnam and must do this for her."
Other women on death row in India
According to a 2016 report on the death penalty in India by National Law University, New Delhi, 12 women are on death row in the country, and all belong to "backward classes and religious minorities".
Another case where the convicts' mercy petitions has been rejected by the President is that of RenukaShinde and Seema Mohan Gavit, sisters convicted of kidnapping and killing several children in Maharashtra towns between 1990 and 1996.
Charged along with their mother Anjana with the kidnapping of 13 children and the murder of 10 of them, they were convicted by the Supreme Court in 2006 of five of those murders, besides the kidnappings. According to the sisters' defence counsel, the murders were committed by their mother –– who died two years after their arrest in 1996 –– and the sisters were framed by KiranShinde, Renuka's husband, who turned approver.
The women would kidnap children to use them either as props or distractions during pickpocketing and petty thefts. Later, they would kill them.
The sisters were convicted by a Kolhapur sessions court in June 2001. The Bombay High Court upheld the death penalty given to them in 2004, and the Supreme Court in 2006. In 2014, then-President Pranab Mukherjee rejected their mercy petition.
https://indianexpress.com/article/explained/explained-the-case-of-amrohas-shabnam-the-first-woman-likely-to-hanged-after-independence-7195194/
--------
Marib police thwart Houthi attempt to recruit women and children for Yemen attacks
February 22, 2021
DUBAI: Marib police authorities have uncovered evidence that the Houthi militia are attempting to recruit women and children for bomb attacks and assassinations in the government-controlled northern Yemeni city.
Videos of women confessing to have been recruited by the Houthis, trained on improvised explosive devices, and sent to Marib to plant such bombs were shown by Brig. YahyaHomeid, the Director General of Marib Police, a report from Saba News Agency added.
The targets include a Sports Hall in Marib, which accommodates hundreds of wounded army personnel, ambulances, and civilians and members of the military traveling in vehicles.
Homeid said the women, who come from poor families, were recruited through blackmail, with the Houthis implicating them in honor-damaging acts to get them to do what the militia wants.
Yemeni authorities previously foiled a similar Houthi attempt to deploy female assassins after it uncovered a cell of eight women plotting to military and security officers.
https://www.arabnews.com/node/1813501/middle-east
--------
Saudi Arabia opens military recruitment to women in latest move for inclusivity
21 February ,2021
Saudi Arabia's Ministry of Defense announced that men and women in the Kingdom can now apply for positions in the military through their unified admission portal.
Women will be able to sign up to join the Saudi Arabian Army, Royal Saudi Air Defense, Royal Saudi Navy, Royal Saudi Strategic Missile Force, and Armed Forces Medical Services.
Saudi Arabian woman can be recruited as soldiers, lance corporals, corporals, sergeants, and staff sergeants, according to the ministry.
The move comes under Crown Prince Mohammed bin Salman's Vision 2030 initiative, introducing reforms that advance Saudi Arabian women in various fields.
To join the armed forces, a woman must be between the age of 21 and 40 years old, be 155 centimeters tall or above, and cannot be a government employee.
She must also pass admission procedures, have a clean criminal record, and be medically fit for service.
A Saudi Arabian woman must also hold an independent national identity card, have at least a high school education, and cannot be married to a non-Saudi Arabian citizen.
For male citizens wanting to join the armed forces, they must be between the ages of 17 and 40 and be a minimum of 160 centimeters tall.
They must also pass admission procedures, have a clean criminal record, and prove that they are medically fit for service.
https://english.alarabiya.net/News/gulf/2021/02/21/Saudi-Vision-2030-Saudi-Arabia-opens-military-recruitment-to-women-in-latest-move-for-inclusivity-
--------
Why we did it: the Kenyan women and girls who joined Al-Shabaab
FathimaAzmiyaBadurdeen
February 21, 2021
The direct involvement of women and girls in terrorism has attracted increased interest as the nature of recruitment tactics has evolved. In Kenya, their involvement in terrorist networks, such as the Al-Shabaab, is an emerging trend. The recruitment of female members is most evident in Kenya's coastal and North Eastern counties but has also been reported in many other counties.
Women and girls have been identified as recruiters for the terrorist group, logistics planners, financial conduits, spies for terrorist activities and in some cases, masterminds behind terrorist attacks or conveners of terror cells.
The Al-Shabaab, or "the youth", emerged in the mid-2000s as an offshoot of a Jihadist movement that peaked during Somalia's civil war in the 1990s. Driven out of Mogadishu in 2006, it continues to pursue its main aim of establishing an Islamic state in Somalia through violent means. It has carried out repeated deadly attacks in Somalia but also in Kenya and Uganda. Both contribute troops to the African Union force in Somalia.
In one of my previous studies, I found that women may participate willingly because the extremist ideology resonates with their religiously inclined cultural values. They may also join due to the financial benefits that come with belonging to or associating with the group. Also, women may be forced or coerced to join through deception or intimidation.
In my most recent study I looked at different ways in which recruitment occurs to analyse the diverse motivations of women and girls to join Al-Shabaab in the coastal region of Kenya. In particular, I sought to establish the "voluntariness" of their decisions – in other words, did they sign up on their own volition?
I interviewed 36 women or girls who had returned home from terrorist camps or defected from the network. I generated 16 case accounts of women and girls who explained 'voluntariness' in Al-Shabaab recruitment.
The study revealed that the gender-dynamics of submission and subordination within families and the community contributes to Al-Shabaab recruitment. However, there were political and ideological motivations too.
Volunteering to the Al-Shabaab
But what do we mean by voluntary?
Recruitment was deemed to be voluntary if a woman or girl – without duress – elected to join the Al-Shabaab network. Recruitment was viewed as involuntary if it occurred through deceptive or coercive means.
However, I must caution that voluntary and involuntary are not always mutually exclusive. I found that depending on allegiances, social interactions, ideological resonance, and changing circumstances within and beyond the Al-Shabaab network, recruits may reverse their original views.
Furthermore, there is need to examine different aspects of autonomous decision-making. Some women who join terrorist networks do so to assert themselves within systems of oppression and patriarchy, and to embrace the lure of emancipation within the utopian caliphate.
In my study four main circumstances emerged as the reasons behind decisions to join Al-Shabaab.
Defending the faith
Al-Shabaab thrives on the narrative of Kenya as a Christian state oppressing Muslims in Somalia and Kenya. This resonates with the global marginalisation of Muslims. Political and religious motivations came up during our interviews, as well as the expressed desire to support or defend fellow Muslims.
Two women explained their motivations to be wives of martyrs and to play their role to support the Muslim Ummah, or community. Nine interviewees explained how ideology influenced their decisions to support the Al-Shabaab cause. These decisions belie Kenyan media accounts of naive girls manipulated through romantic notions of Jihadi brides or wives.
Aisha, 25 at the time, an Al-Shabaab returnee who defected after two years said:
I read a lot of materials. I was sad at how Muslims were treated as a second class group. I didn't want my people to suffer, I needed to do something. I wanted to assist them in Somalia.
Reacting to a personal crisis
Al-Shabaab recruitment thrives on revenge among individuals who see the state as the perpetrator of the injustices suffered in their lives. A crisis event in the life of women and girls – such as the police killing a loved one – was found to be an important tipping point. Some women join extremist networks to avenge the death of a husband, fiancé, or son at the hands of government security actors.
There's also evidence of recruiters penetrating existing networks of aggrieved women, including relatives of fallen Al-Shabaab members. Peer influence is used to influence or coerce women to follow the relative's cause.
Close interpersonal relations
Daily interactions with family, friends and peers also shaped the decision to join the network in 9 out of the 16 case studies. A woman's autonomy in marital relationships may be constrained in ways that push her to follow her husband or other influential male relatives' lead.
The decision to join is autonomous if it is her choice. Nevertheless, her choice may be coerced within marital and family relationships. This occurs when a woman exhibits excessive deference to the wishes of her family members.
Ideology rubbing off in camps
Some women may have been recruited involuntarily. However, after a prolonged period of time in the terrorist camp or association with terrorist fighters, three of the 16 identified for this study accepted the ideology and subsequently volunteered to join Al-Shabaab.
Mary, a Muslim convert, was recruited by a friend in the guise of a job in Somalia. She was 18 years old when she was recruited in 2015. In camp she was subjected to work and religious indoctrination.
After a few days, I was worn out. I was also learning the religion…I kind of started to accept it. I felt it was right to fight for our [Muslim] freedom. It was like a moral obligation. I wanted to be a part of the Al-Shabaab network.
Conclusion
An examination of the political and ideological motivations behind women joining the Al-Shabaab shows that in some cases, they do make autonomous decisions based on their response to the grievances of the Muslim community.
But other structural and cultural factors were at play such as the patriarchal set-up in families and their communities. Some women's decision making conformed to subservient attitudes and roles. These women, mainly from the coastal Muslim communities, revealed that they were subject to traditional gender roles, suggesting deference to social norms.
But not all women joining the Al-Shabaab lived lives of subjugation prior joining. Some returnees had good family lives or were happily settled.
https://theconversation.com/why-we-did-it-the-kenyan-women-and-girls-who-joined-al-shabaab-151592
--------
Number of Saudi women in civil service jumps 25 times in 10 years
February 22, 2021
RIYADH — Saudi Arabia is witnessing a giant leap in women empowerment, with women joining in almost all sectors of civil service and some sectors of the military service.
In the civil service, the number of working women jumped 25 times within the last 10 years, according to a report of the Family Affairs Council.
The report titled "The role of Saudi women in society and in various business and government sectors," showed that the number of women workers in the security and military sectors reached 9,408 at the end of 2019 while 500 military jobs for women are under process at the Public Security.
The number of female employees in the civil service shot up from 21,000 in 2010 to more than 484,000 in 2019, which is approximately 25 times over the last 10 years.
The women employees in military and security sectors constitute two percent of the total female employees of the government sector. These sectors include Ministry of Interior, Ministry of Defense, Ministry of the National Guard, Presidency of General Intelligence, Presidency of State Security, Control and Investigation Authority, General Directorate of Investigation and the Public Prosecution.
Although the presence of women in the military and security sectors has been restricted mainly to jobs in administrative or technical support sections, the State has realized the importance of women's contribution in this aspect, which opened the door to accepting women for jobs in military and security forces.
This is in line with the preparation for creating the appropriate environment to achieve the initiatives and programs of Vision 2030.
The Public Security Directorate announced in early 2018 the opening of admission and registration to fill a number of military and security jobs for women.
Procedures are also in place at the Public Security to hire 500 women for military jobs while the Ministry of Interior is expanding the scope for hiring more women in a number of sectors, including the General Directorate of Passports where the number of women staff reached more than 1500, as well as in a number of other sectors.
The number of female employees in the Ministry of Interior and its various sectors reached 6,250. There were several women officials of the Ministry of Defense who have won medals for their outstanding contributions mainly as doctors serving the armed forces during the operations of the Decisive Storm and Restoration of Hope.
151 women diplomats
The number of Saudi women working in the diplomatic sector reached 151, and there was an increase in the percentage of women joining the diplomatic jobs under the Ministry of Foreign Affairs, reaching 25.8 percent in 2019 from 20 percent in 2017.
The percentage of women in public jobs covered by the civil service reached more than 40 percent of the total employees of both sexes in 2019. Saudi women have also reached important decision-making positions in government institutions and universities and they occupy leadership and supervisory positions in a number of ministries and government institutions.
83% of women staff in education sector
The education sector accounts for 83 percent of all women working in the government sector, and the high percentage indicates the state's keenness to include women in the education sector as one of the most essential sectors for social development.
The number of women working in the public education sector, covering all phases of schools, is equal to that of men in the same sector, and the percentage of female faculty members in universities is three percent.
Women are holding key positions in this sector, such as deputy minister, university president and various administrative, academic and technical positions.
13% of working women in health sector
The health sector comes next to the education sector, as 13 percent of the total number of female government workers worked in the health sector in 2018.
It is evident from the statistics that the percentage of female doctors working in the health sector increased from seven percent in 2014 to 36.3 percent in 2018, while the percentage of females in the total nursing profession reached 61.8 percent in 2018.
The percentage of female workers in allied medical groups reached 24.4 percent in 2018, while the percentage of female dentists out of the total employees was 36.4 percent in 2018, and the percentage of females out of the total number of workers in the pharmacy profession was 37 percent.
The Public Prosecution Office is currently working to recruit qualified women to serve as its members. In January 2018, it announced vacancies for women to work as members on an equal basis with men.
The report also showed that unemployment rate among women dropped to 28 percent in 2020 from 35 percent in 2012. The number of commercial registrations issued to women increased by 65 percent in 2019.
Women represent 50 percent of the Women's Council of the Human Rights Commission while women make up 20 percent of the Shoura Council, with 30 members out of the total 150 members are women.
https://www.saudigazette.com.sa/article/603733/SAUDI-ARABIA/Number-of-Saudi-women-in-civil-service-jumps-25-times-in-10-years
--------
COVID-19: Sharjah Economic Department closes a women's salon and hypermarket
February 21, 2021
Aghaddir Ali
Sharjah: The Department of Economic Development in Sharjah on Sunday closed a women's salon and one of the hypermarkets in the emirate due to their lack of implementing the decisions related to preventive and precautionary measures and controls to avoid the spread of COVID-19.
The measures were taken during the inspection tours and campaigns carried out by the control teams of the Department of Supervision and Commercial Protection, in cooperation with the various competent authorities in the emirate.
'Lack of commitment'
The Sharjah Economic Department stated that a number of violations were observed at the facilities that were closed, which showed their lack of commitment to implementing the decisions related to preventive measures and precautionary controls, such as exceeding the capacity specified for the facility, and not adhering to social distancing protocols.
The department has also intensified its role during the current period with the aim of ensuring that all establishments adhere to the instructions and circulars issued recently by the department and the policies regulating the business practice and commitment of all economic establishments and their visitors to precautionary and preventive measures.
https://gulfnews.com/uae/covid-19-sharjah-economic-department-closes-a-womens-salon-and-hypermarket-1.77353749
--------
Gunmen kill four female aid workers in northwest Pakistan
February 22, 2021
Peshawar: Four women aid workers were gunned down Monday in a restive part of northwestern Pakistan, police said, as a fresh wave of extremist violence rattles the Afghan borderlands.
The aid workers were ambushed by two gunmen as they were driving through a village in North Waziristan district, according to local police chief ShafiullahGandapur, who said just one passenger survived the assault.
"No one has claimed responsibility for the attack so far but it was surely an act of terrorism," he told AFP.
Gandapur said the aid workers were affiliated with a programme run by a local institute to develop household skills for women.
The incident and death toll was confirmed by Rasul Khan, another local police official.
The so-called tribal areas along the Afghan border remain notorious for the availability of cheap guns, drugs and smuggled goods.
The region was once home to a wide array of jihadist groups and was a focal point in the global war on terror.
Massive operation
Attacks have decreased in recent years following a series of military offensives against homegrown and foreign militants.
In 2014, the army launched a massive operation to wipe out militant bases in North Waziristan aimed at ending a near decade-long insurgency that cost thousands of lives.
But militant groups are still able to carry out sporadic, isolated assaults.
A recent surge in attacks targeting security forces along the Afghan border has sparked fears that jihadist groups may be regrouping.
https://gulfnews.com/world/asia/pakistan/gunmen-kill-four-female-aid-workers-in-northwest-pakistan-1.77371217
--------
UAE: Emirati woman firefighter sets the bar high for her peers
Afkar Abdullah
February 22, 2021
Nouf Mohammad Al Ali has made sacrifice as the mission statement of her life
An Emirati woman firefighter, who works for Ajman Police's Civil Defence department, is breaking the glass ceiling with aplomb.
Nouf Mohammad Al Ali, who joined the force three years ago as part of the first 15 women firefighters in the UAE, has made a mark with her slogan: "protection, rescue, sacrifice".
She has made sacrifice as her life's mission statement, as she seeks to protect human lives and properties with hard work and dedication.
Nouf told Khaleej Times that it took her tremendous courage and self-belief to overcome stereotypical notions about a woman's role in a society. She embodies women's empowerment, which has been the mantra of the UAE's wise and visionary leadership.
Emirati women have proven their worth in all walks of life and have stood by their male counterparts through thick and thin in nation-building.
However, firefighting is a walk of life that was hitherto barred for women and the restrictions were lifted three years ago. Nouf was happy to plunge into the challenge, as she and her colleagues are on standby 24x7 if a fire breaks out in Ajman. She knows that time is of essence when a fire breaks out. Human lives and properties can be saved if firefighters rise to the challenge immediately to douse a raging blaze.
She profusely thanked her male colleagues for helping her learn the tricks of the trade such as safety mechanisms in the initial phase of her nascent career.
She attributed her unbridled passion for the job that helped overcome massive challenges.
She recalled the initial days of joining the profession and how it was her dedication to serve the nation that made a difference to quickly get on with her job.
In retrospect, her three-year stint has been a satisfying experience, as she has managed to save several lives, including women and senior citizens, and properties.
She imbibed team spirit in the course of her challenging job, as the self-less nature of the task has been her biggest incentive to keep going day in and day out.
She has emerged as a professional par excellence. Her skills have honed and gotten better through the years because of her intensive military training along with fire-fighting abilities.
Emirati women like Nouf are an asset for a young nation such as the UAE, and others should emulate her feat.
https://www.khaleejtimes.com/news/uae-emirati-woman-firefighter-sets-the-bar-high-for-her-peers
--------
Iran's female alpine ski team is coachless in Italy
20.02.2021
Shabnam von Hein
The coach of Iran's national women's alpine ski team was supposed to fly to Italy with her team on Wednesday morning to compete in the FIS Alpine World Alpine Ski Championships in Cortina d'Ampezzo. But it wasn't until she got to the airport that Samira Zargari realized that she couldn't to leave Iran. The team had to fly without Zargari because her husband had forbidden her from leaving the country — which he is entitled to do under Iranian law.
"It's not the first time," the Iranian skier ForoughAbbasi told the press after her first giant slalom run on Thursday. "All the women in Iran, all of us together, I wish we could change it," Abbasi said. "We are trying," She added: "I'm sure strong women can change these rules."
Iran's laws are based on Shariah, some interpretations of which permit men act as women's guardians. Under this system, important decisions in a woman's life are made by men: first by her father or another male relative, then, after she is married, by her husband. It's her husband, for example, who decides whether she can apply for a passport. And she is also only allowed to use the passport to leave the country with her husband's permission. He doesn't have to justify his decision, nor does his wife even have to be informed.
It remains unreported why the 37-year-old Zargari's husband has stopped her from traveling. So far, neither she nor Iran's ski federation has issued a statement. Media report that, the federation tried "until the very last minute" to make it possible for Zargari to travel abroad. The announcement sparked a furore on social media. "The man doesn't even have a name," one comment read. "We only know him as Samira Zargari's husband. Now he's seeing to it that her dream is shattered."
'Any of us'
Zargari is not the first Iranian sportswoman whose husband has kept her from traveling abroad just before an important event. The most high-profile case to date came in 2015 and involved NiloufarArdalan, the captain of the women's national soccer team. She was about to fly to the Asian championships in Malaysia when she was informed, at Tehran Airport, that her husband, a sports editor at Iranian state television, had refused permission for her to travel. She later said in an interview that her husband had been trying to blackmail her: He wanted her to waive her right to alimony payments if they were to divorce — otherwise he would ban her from traveling abroad. She refused.
Women's rights activists on social media warn that "this can happen to any of us." For years, they have tried to educate women about their rights under existing law. One option, they say, is to make special prenuptial arrangements, Shiva NazarAhari, a member of Iran's Committee of Human Rights Reporters, told DW. "This is referred to as 'conditions of the marriage,'" she said. "It allows women to make their own decisions in life after the marriage ceremony."
NazarAhari has been arrested repeatedly over the past 17 years and has spent several years in jail. She has lived in Slovenia since October 2018, after being allowed to leave Iran because her husband had signed the prenuptial agreement. "The woman is allowed to demand certain rights of the man as a condition for marriage: for example, the right to divorce, or the right to travel freely," she said. "Unfortunately, though, many women in Iran know nothing about this, even academics or successful sportswomen."
Anyone who campaigns for women to be informed about their rights in Iran risks losing their own freedom — as in the case of the sociologist NajmeVahedi and the lawyer Hoda Amid, who had organized workshops in which they informed women of their legal rights and options. In October 2019, they were arrested and held for over two months in Tehran's infamous Evin jail before being released on bail.
Then, in December 2020, they were found guilty of "collaborating with the hostile American government against the Islamic Republic of Iran on women and family issues." Amid and Vahedi were sentenced to eight and seven years in prison, respectively. Amid was banned from practicing law for two years, and both were told that "certain societal rights" would be revoked for two years. That means that neither can work in the civil service, take jobs in the media, join a trade union or political party, travel abroad, or be given custody of a child even after they are released from jail. This verdict was confirmed by the appeals court on Wednesday, just as the furore on social media erupted over ski coach Zargari's being banned from traveling.
https://www.dw.com/en/irans-female-alpine-ski-team-is-coachless-in-italy/a-56632448
--------
Led by Turkish mother, 5 women bring smiles to children
FEB 21, 2021
With the slogan "happy children, happy world," five mothers hailing from Turkey, Switzerland, Albania and Bosnia and Herzegovina are reaching out to children in distress across the world.
Upset about the conditions some children around the world are currently living in, particularly in refugee camps, the mothers joined forces in Switzerland in January 2020 to set up the international association For Children Smile to help children living in different regions of the world, particularly in refugee camps.
Speaking to Anadolu Agency (AA), EmineTaş, president of the organization, said their focus is to reach out to children in need of humanitarian aid, especially those living in war and conflict zones, occupied areas and disaster-hit regions.
"After witnessing so many times the pain of thousands of children in countries that have been affected by war and poverty, I decided to do something for them. Mothers like me from different cultures came together, and we established the association," she said.
The organization aims to ensure that all the rights in the United Nations Convention on the Rights of the Child are applied without exception for all children, Taş said.
According to the organization, it has so far identified 100,000 children in Syria, 13,000 in Yemen, 5,000 in Palestine and 1,500 across Asia and Europe who need humanitarian aid, educational assistance, housing and access to various facilities.
TülayGökçimen, a volunteer at the association, said the association aims to reach out to children living in different regions of the world, particularly those in refugee camps.
"Out of 79.5 million, an estimated 30 million-34 million children under the age of 18 are among forcibly displaced persons worldwide," according to the U.N. High Commissioner for Refugees (UNHCR).
Gökçimen said they distributed winter aid, including clothing, toys, blankets, hygiene products and food packages, in cooperation with Rahma Austria, an aid agency, in Lebanon last week.
"After learning about the situation of Palestinian and Syrian refugees in Lebanese camps, we wanted to organize humanitarian aid in the camps," she added.
During the COVID-19 crisis, the organization distributed tablets to disadvantaged children in Turkey who were facing the challenge of falling behind due to a lack of access to gadgets to pursue online education.
"For at least 463 million children whose schools were closed due to COVID-19, there was no such thing as remote learning," said Henrietta Fore, UNICEF's executive director, last year.
"After UNICEF warned that millions of Yemeni children are facing the threat of starvation due to the COVID-19 crisis, we have decided to increase our activities in Yemen," Taş said.
"This year, besides our ongoing activities, we are planning to do many humanitarian aid projects in Yemen. These projects are generally planned as the supply of food, education and hygienic products," she said.
According to research jointly carried out by Save the Children and UNICEF, nearly 150 million children are living in multidimensional poverty without access to education, health care, housing, nutrition, sanitation or water because of the coronavirus crisis.
https://www.dailysabah.com/turkey/led-by-turkish-mother-5-women-bring-smiles-to-children/news
--------
URL: https://www.newageislam.com/islam-women-feminism/even-cartoons-women-wear-hijab/d/124368
New Age Islam, Islam Online, Islamic Website, African Muslim News, Arab World News, South Asia News, Indian Muslim News, World Muslim News, Women in Islam, Islamic Feminism, Arab Women, Women In Arab, Islamophobia in America, Muslim Women in West, Islam Women and Feminism