New Age Islam News Bureau
28 July 2022
• Sara Sabry: Egyptian Aims to Inspire Her Nation on Blue Origin Space Flight
• Rights Given To Women by Islam Can't Even Be Imagined In the West: Balochistan Awami Party Senator Samina Zehri
• Pakistan International Film Festival organises Special Effects Makeup Workshop for Film
• Afghan Women Report Beatings, Abuse under Taliban
• Iran's Khamenei Says Western Enemies Stoking Anti-Hijab Protests
Compiled by New Age Islam News Bureau
URL: https://newageislam.com/islam-women-feminism/iran-decree-hijab-tehran-cemeteries-/d/127590
--------
Iran's Decree on Head Scarves: Tehran Cemeteries Cover Graves That Have Pictures of Women without Hijabs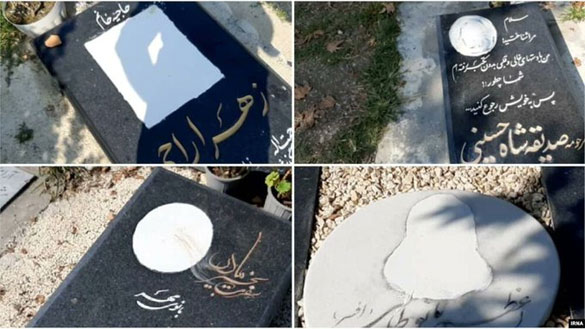 Photo courtesy Twitter/ @Mahy90900240
----
July 26, 2022
The organization of cemeteries for Tehran Province says it has covered graves that feature images of the deceased not wearing the hijab, as authorities continue to widen their crackdown on a government decree on head scarves.
Saeed Ghazanfari, the head of Behesht-e Zahra, the largest cemetery in Iran, said that 98 tombstones that had images of women without a proper hijab had been "corrected."
A July 5 order by President Ebrahim Raisi to enforce the hijab law has resulted in a new list of restrictions on how women can dress. The country's notorious Guidance Patrols, or morality police, have become increasingly active and violent in enforcing the law, with videos emerging on social media showing officers detaining women, forcing them into vans, and whisking them away.
Since Raisi's order, women judged not to be in compliance have been told they will be barred from government offices, banks, and public transportation.
Gholamreza Karim Aghaei, the director-general of Fars Province Airports in southern Iran, said on July 26 that women wearing a hijab "improperly" would now be prevented from entering the Shiraz Airport, the country's third-largest, and its flight terminals.
In response to the crackdown, activists have launched a social media campaign under the hashtag #no2hijab to urge people to boycott companies enforcing the tougher restrictions.
On July 12, women's rights activists posted videos of themselves publicly removing their veils to coincide with the government's National Day of Hijab and Chastity.
The hijab first became compulsory in public for Iranian women and girls over the age of 9 after the 1979 Islamic Revolution.
Many Iranian women have flouted the rule over the years in protest and pushed the boundaries of what officials say is acceptable clothing.
Source: Rferl
https://www.rferl.org/a/iran-graves-covered-women-hijab-decree-crackdown/31960716.html
--------
Sara Sabry: Egyptian Aims to Inspire Her Nation on Blue Origin Space Flight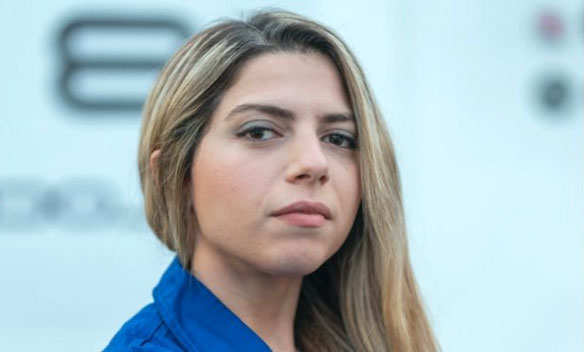 Sara Sabry
----
Sarwat Nasir
Jul 27, 2022
An enterprising Egyptian is aiming to bring hope to her country as she prepares to journey to the edge of space.
Sara Sabry will be one of six passengers on board the latest Blue Origin space tourism flight.
The New Shepard suborbital flight will take the group to an altitude of 106 kilometres after launching from a spaceport in West Texas. A launch date is yet to be announced.
Ms Sabry is more than ready for the remarkable experience ahead of her.
She is a mechanical and biomedical engineer, and the founder of Deep Space Initiative, a non-profit that works to increase accessibility to space research.
She is also Egypt's first female analogue astronaut, having completed a two-week simulation of a Moon mission that recreated the extreme conditions astronauts experience in space.
Now, her lifelong dream of seeing Earth from above will be realised.
"Many Egyptians have lost hope in our future and my hope is that by going to space, I can contribute to changing that; to bring hope to people, and to make them proud of where they come from," she said.
"I believe that sharing my experience with the world will motivate the younger generation of Egyptians to pursue education and help change the perception of women in the Arab world, showing the world what we are truly capable of."
Latest step in region's growing space plans
In 2020, Egypt announced a 10-year national space programme that involves sending the first Egyptian into space by 2026.
It was reported that the astronaut programme is open to men and women, although no update on the search has been given since.
In recent years, many Arab countries have launched space programmes to diversify their national economy and create talent in the science, technology and engineering fields.
This includes Saudi Arabia, which also has a 10-year plan that involves reaching the Moon and Mars.
Bahrain has set up the National Space Science Agency to develop space technology.
The UAE, however, is leading the way in the Middle East and North Africa region through its space programme, having reached Mars with its Hope probe in 2021, launching the first Arab astronaut to the International Space Station in 2019 and building domestic satellites.
The country will soon send Emirati astronaut Sultan Al Neyadi on the Arab world's first long-duration space mission on the International Space Station, where he will spend six months carrying out science experiments.
Ms Sabry's seat on the NS-22 mission is being sponsored by Space for Humanity, a non-profit that is trying to expand access to space.
Relishing opportunity
She is currently pursuing a PhD in aerospace sciences with a focus on space suit design.
"I am incredibly excited that Space for Humanity has offered me this opportunity and I am honoured to be representing Egypt in space for the first time," she said.
"My ancestors have always dreamt big and achieved the impossible, and I hope to bring that back. This is just the beginning."
The entire experience on a Blue Origin flight lasts 10 minutes.
After reaching apogee, the flight brings passengers a few minutes of weightlessness as well as stunning views of Earth and the darkness of space.
The capsule then descends to the Texas desert under three parachutes and retro engines, bringing the passengers safely back to Earth.
Other passengers on the flight are Dude Perfect co-founder Coby Cotton, Portuguese entrepreneur Mario Ferreira, British-American mountaineer Vanessa O'Brien, technology leader Clint Kelly III and telecommunications executive Steve Young.
Blue Origin, a space tourism company founded by Amazon chief Jeff Bezos, has sent 26 people to the edge of space so far.
Mr Bezos went on a joyride himself on the first passenger flight last year. Other notable customers were Star Trek actor William Shatner and TV personality Michael Strahan.
The company has not revealed how much a passenger ticket costs, but its competitor, Virgin Galactic, charges $450,000 per seat, although flights are not yet operational.
Source: The National News
https://www.thenationalnews.com/uae/science/2022/07/27/sara-sabry-egyptian-aims-to-inspire-her-nation-on-blue-origin-space-flight/
--------
Rights Given To Women By Islam Can't Even Be Imagined In The West: Balochistan Awami Party Senator Samina Zehri
Mohammad Ali
July 27, 2022
QUETTA, (UrduPoint / Pakistan Point News - 27th Jul, 2022): Central vice president of Balochistan Awami Party (BAP) Senator Samina Mumtaz Zehri on Wednesday said that the rights given to women by islam cannot be imagined in the West.
She thanked the party's central president and Chief Minister Balochistan Mir Abdul Quddus Bizenjo and the party leaders for electing her as the vice president of BAP, said a statement issued here.
"I thank all the party leaders and workers who elected me for this important position and entrusted me with this important responsibility. I will try to fulfill the expectations of the party and the people of Balochistan by trying to do my best for the interests of the people", she said.
She said that BAP believed in democratic values and the focus of our politics is the welfare of the people and rapid development of the country, especially Balochistan and a strong and stable political and economic system is needed at this time.
Interests of Pakistan should come first and our party is ready to play an effective role through understanding to moderate the political temperature, she added.
Samina Zehri maintained that Pakistani women, especially the women of Balochistan, are knowledgeable, courageous and educated and are playing their role in every section of society including politics.
Women are an important part of the society and a lot of work is being done for their rights she said adding that a society can never progress without the active participation of women.
It is indispensable to provide opportunities for the welfare and development of half of the population of Pakistan and steps have to be taken to implement them.
Protection of women's rights has been guaranteed in the Constitution of Pakistan, she noted.
Senator Samina Zehri said that no steps were being taken to empower and protect women. She added that Pakistan, being an Islamic country gives respect to women as part of our social and religious values and women are allowed to raise their voice for their legitimate rights while living in Islamic values.
Source: Urdu Point
https://www.urdupoint.com/en/pakistan/rights-given-to-women-by-islam-cant-even-be-1541156.html
--------
Pakistan International Film Festival organises Special Effects Makeup Workshop for Film
JULY 28, 2022
Special effects makeup is an integral part of modern cinema. It is not just used to create aliens and monsters but to build a realistic character that the audience can connect to and believe. Keeping in the mind the importance of SFX makeup in film and television and limited options available locally, The Karachi Film Society organised a two-day film and television SFX makeup workshop with Turkish experts Murat Polat and Sezen Can who flew from Türkiye. The workshop was part of the 3rd Pakistan International Film Festival Women's Edition 2021, which was postponed due to the Covid19 lockdown internationally. PiFF Women's Edition hosted a series of insightful, engaging, interactive and educational panel discussions and seminars/webinars on various topics, celebrating the tremendous achievements of women in Pakistan's entertainment industry.
Held at Arts Council, Karachi, day one of the workshop by Sezen Can, a specialist in beauty on screen and in the fashion industry with experience of working in popular movies such as The Big Flight, Never Leave Me and Aile Arasinda gave exclusive tips and live demonstrations on how to apply trauma makeup, the different stages and aging techniques of SFX makeup. Day two of the workshop featured Murat Polat, a specialist in SFX makeup with experience of working in over 500 projects including popular Netflix series The Protector and Turkish original Alev Alev. He introduced the attendees to the different types of trauma makeup kits, sculpting techniques, different lighting setups, wound applications, transfer techniques and how to add depth to various applications with makeup via live demonstrations and exclusive tips.
The workshop was supported and attended by makeup experts Kamal Uddin Ahmed, Masarrat Misbah, Angie Marshall and aspiring makeup artists who appreciated the efforts of KFS for organising such an educational workshop. The workshops were broadcast live on PiFF's official social media pages for those who couldn't join due to the current monsoon spell in Karachi.
President KFS Sultana Siddiqui in her concluding speech thanked the Turkish guests, President Arts Council Mohammad Ahmed Shah, Provincial Minister of Sindh for Culture, Tourism and Antiquities Syed Sardar Ali Shah and the attendees for their support in making the two-day workshop a huge success. She also highlighted the importance of organizing such educational workshops to train the talent of Pakistan. Provincial Minister Syed Sardar Ali Shah in his speech appreciated the efforts of KFS and extended the provincial government's support to KFS's vision of improving technical skills of aspiring young talent in different categories of cinema and films.
Source: Daily Times Pakistan
https://dailytimes.com.pk/973315/pakistan-international-film-festival-organises-special-effects-makeup-workshop-for-film/
--------
Afghan women report beatings, abuse under Taliban
27.07.22
The Taliban have "decimated" the rights of Afghan women and girls since they returned to power in Afghanistan almost a year ago, an Amnesty International report said on Wednesday.
This includes rights to education, work and free movement which have been severely curtailed under the draconian rules of the regime.
"Every daily detail — whether they go to school, if and how they work, if and how they leave the house — is controlled and heavily restricted. This suffocating crackdown against Afghanistan's female population is increasing day-by-day," said Agnès Callamard, Amnesty International's Secretary General.
The report titled "Death in Slow Motion: Women and Girls Under Taliban Rule" interviewed more than a hundred Afghan women and girls and revealed that those who protested against the restrictions were "threatened, arrested, detained, tortured, and forcibly disappeared. "
Taliban threaten to kill family members
When the Taliban first came to power in 2021, they promised to uphold women's rights. These promises were soon proven hollow as policies of systemic oppression of women were introduced, activists say.
Those who protested these discrimination were targeted by the Taliban with harassment, arbitrary detention, and physical and psychological torture, said the report.
"The Taliban guards kept coming to my room and showing me pictures of my family. They kept repeating ... 'We can kill them, all of them, and you won't be able to do anything,'" said one woman who was sent to a Taliban prison.
"We were beaten on our breasts and between the legs. They did this to us so that we couldn't show the world," said another woman.
Women are also being arbitrarily detained and tortured for crimes such as appearing in public with a man who does not qualify as "mahram" - a male chaperone.
Survivors of domestic and gender-based violence have said that they are being sent to prisons, instead of shelters, which do not exist. Here, the women are "subjected to solitary confinement, beatings and other forms of torture, and forced to endure inhumane conditions."
War, poverty, drought drive up child marriage
Under the Taliban regime, the number of child marriages have surged.
"In Afghanistan… You have a patriarchal government, war, poverty, drought, girls out of school — with all of these factors combined… we knew child marriage was going to go through the roof," said Stephanie Sinclair, director of Too Young to Wed, an organization working on early marriages.
Meanwhile, Afghan girls continue to be denied the right to education. The Taliban's schedule to reopen school for girls in March 2022 was scrapped as girls were sent home citing a "technical issue" related to their uniforms.
Amnesty International called upon the international community to respond to these violations of human rights by the Taliban regime by imposing targeted sanctions on Taliban leaders.
"The relentless oppression of women in Afghanistan is intensifying day by day. If the international community does nothing, millions of women and girls in Afghanistan will be left to their own devices," said Julia Duchrow, Deputy Secretary General of Amnesty International in Germany.
Source: Telegraph India
https://www.telegraphindia.com/world/afghan-women-report-beatings-abuse-under-taliban/cid/1876773
--------
Iran's Khamenei says Western enemies stoking anti-hijab protests
27 July ,2022
Iran's Supreme Leader Ayatollah Ali Khamenei accused Western adversaries on Wednesday of being behind a movement among Iranian women activists to challenge the government's obligatory Islamic dress code.
On July 12, Iranian rights activists urged women to publicly remove their veils on the government's "National Day of Hijab and Chastity", risking arrest for defying the Islamic dress code as the country's hardline rulers crack down harder on "immoral behavior".
"Recently, on the pretext of hijab, they have raised the case of women again...Suddenly, the propaganda machine and the...media of the US and Britain and some other places, and their mercenaries and followers, go on the attack," Khamenei said in remarks carried by state media.
"The enemies' goal is to spread doubt among the people... and shake their faith, which is the main factor in maintaining the country and the Islamic system," Khamenei said in a speech to Friday prayers imams.
Following the calls for anti-hijab protests, videos posted on social media showed cases of what appeared to be heavy-handed action by "morality police" units against women who had removed their hijab.
A video that went viral showed a mother begging morality police to release her daughter due to her illness and trying to stop a police van by standing in front of it. The footage prompted Iranian authorities to announce that the police squad in question would be disciplined.
Under Iran's sharia (Islamic) law, imposed after the 1979 revolution, women are obliged to cover their hair and wear long, loose-fitting clothes to disguise their figures. Violators face public rebuke, fines or arrest. But decades after the revolution, clerical rulers still struggle to enforce the law, with many women of all ages and backgrounds wearing tight-fitting, thigh-length coats and brightly colored scarves pushed back to expose plenty of hair.
Source: Al Arabiya
https://english.alarabiya.net/News/middle-east/2022/07/27/Iran-s-Khamenei-says-Western-enemies-stoking-anti-hijab-protests
--------
URL: https://newageislam.com/islam-women-feminism/iran-decree-hijab-tehran-cemeteries-/d/127590
New Age Islam Islam Online, Islamic Website, African Muslim News, Arab World News, South Asia News, Indian Muslim News, World Muslim News, Women in Islam, Islamic Feminism, Arab Women, Women In Arab, Islamophobia in America, Muslim Women in West, Islam Women and Feminism