New Age Islam News Bureau
16 Jun 2019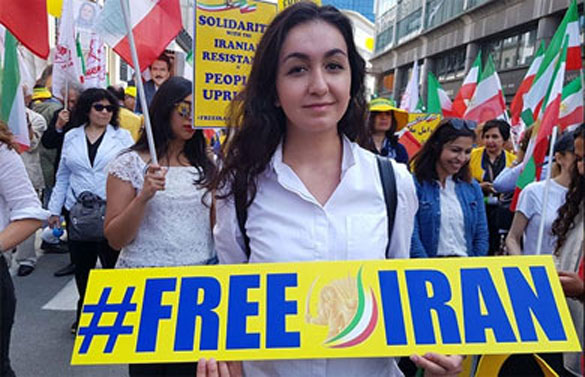 Hundreds of Iranian women participated in the rally in Brussels to voice the outcry of their sisters in Iran suffering under the mullahs' misogynist regime and calling for freedom and democracy
-----
• Iranian Female Swimmer Elham Asghari Sets Record with No Government Support
• Womankind's Giant Leap: Who Will Be The First Female Moonwalker?
• Organization of Islamic Cooperation to Hold Meeting on Women's Empowerment
• Glasgow Muslim Women's Project Tackles Belief in Black Magic in BAME Communities
• Ford Saudi Women Driver Survey Shows Love of SUVs, Trucks
• Egypt Calls On OIC to Hold Round-Table on Empowering Women
Compiled by New Age Islam News Bureau
URL: https://www.newageislam.com/islam-women-feminism/iranian-women-voice-their-support/d/118897
--------
Iranian Women Voice Their Support in Brussels Rally for a Free Iran
Jun 15, 2019
Thousands of Iranians, including hundreds of Iranian women, gathered for a large protest demonstration in Brussels on Saturday, June 15, 2019. The protesters condemned the brutal violation of human rights by the ruling regime and its instigation of terrorism and warmongering in the region. They expressed support for the Iranian Resistance movement led by Mrs. Maryam Rajavi, the President-elect of the Resistance.
In her video message to the rally, the NCRI President-elect called on the European Union to place comprehensive sanctions on the religious dictatorship ruling Iran, and to proscribe the IRGC and the MOIS as terrorist entities. She also called for the prosecution of the Iranian regime leaders to account for their crimes against the Iranian people, especially the massacre of political prisoners, in an international court of law.
The great rally in Brussels featured prominent speakers including Françoise Schepmans, a Member of Parliament from Belgium; Ingrid Betancourt, former Colombian Senator and Presidential candidate; Sarvnaz Chitsaz, the NCRI Women's Committee Chair, and Zinat Mirhashemi, member of the NCRI from the Fedayeen Organization.
The Iranian singer Ms. Gisoo Shakeri also performed at the MEK's Free Iran rally in Brussels.
Ms. Françoise Schepmans, highlighted women's rights violations in Iran and how the mullahs' regime is utterly terrified of the role women play in Iran's struggle for freedom: "Today is a significant moment in order to support your movement and brave leader Maryam Rajavi. I'm waiting for the day when we could see a free Iran."
Ingrid Betancourt in Brussels rallyMs. Ingrid Betancourt, who was held hostage for more than 6 years, told the Free Iran rally: "It is a great day of celebration because we are able to express ourselves freely and support the Iranian Resistance without being executed. What is dangerous is not confronting the regime. It is dangerous for the EU to continue to be on its knees in front of the Iranian regime. What is dangerous is that the EU is terrified to bring to justice and condemn the Iranian regime's diplomat-terrorist who was trying to kill thousands of people at the MEK's Free Iran rally in Paris last June.
"It is dangerous that EU leaders have forgotten who they are, the supposed defenders of human rights. For a long time, the West thought they should be cautious to find moderates within the Iranian regime, but what we have seen is more missile production, warmongering and interference in Syria and Yemen.
"We want to tell the EU institutions and our leaders that we don't want the Iranian nuclear deal with the regime, we need to support the Iranian people and Resistance as they put an end to the regime of Iran."
Ms. Sarvnaz Chitsaz reiterated the need for the international community to address gross violations of human rights in Iran including the rights of women, and urged the European Union to form an independent delegation to visit Iranian political prisoners and prisoners of conscience who include many women, and inspect Iranian prisons. She further emphasized on the demands of the participants in the rally from the EU to shut down the Iranian regime's embassies as centers of espionage against Iranian refugees, and to proscribe the Ministry of Intelligence and Security (MOIS) and Revolutionary Guards (IRGC) as terrorist entities."
Ms. Zinat Mirhashemi emphasized that the fate of the entire region relies on the overthrow of the mullahs' regime in Iran: "The regime is using different excuses to arrest anyone that is pursuing activities against it. The regime is plundering the people's wealth to spread chaos and war in the region. The majority of the Iranian people want regime change and they know that there's no hope for change in their living conditions while the regime still stands.
"The Iranian dictatorship neither wants, nor can, respond to the needs of the people, which is why there are an increasing number of protests across the country. Only the people of Iran and their organized resistance can bring democratic change to Iran. This is totally different from war and appeasement.
"Without the overthrow of the Iranian regime, none of its internal factions can fulfill the needs and demands of the people. We call on the solidarity front against the regime and support the establishment of a secular and democratic state."
Hundreds of Iranian women participated in the rally in Brussels to voice the outcry of their sisters in Iran suffering under the mullahs' misogynist regime and calling for freedom and democracy which can be only realized by regime change at the hands of the Iranian people's organized Resistance and the alternative they present, the National Council of Resistance of Iran. They declared support for the ten-point plan of Mrs. Maryam Rajavi for a free Iran and for women's equal status.
https://women.ncr-iran.org/2019/06/15/iranian-women-voice-their-support-in-brussels-rally-for-a-free-iran/
--------
Iranian Female Swimmer Elham Asghari Sets Record with No Government Support
Jun 15, 2019
World record holder female swimmer, Elham Sadat Asghari, does not receive any form of government support in Iran.
According to this Iranian female swimmer whose world records have been registered by Guinness World Records, she does not enjoy any form of support from the government. In an interview with the official news agency, IRNA, she said, "People like me who set world records do so without having a coach or receiving any support from the Federation. We even have to pay the expenses of going to training camps from our own pockets."
The father of this female swimmer also said, "I have always tried hard for my daughter to be successful. I have never wasted a moment. I even sold three cars to provide for her. Although my daughter has set new world records and made Iran proud, there has been no support or encouragement for her." (The official IRNA news agency – June 12, 2019)
Elham Sadat Asghari, 35, set world record for the first time in 2017 swimming 4200 meters with handcuffs. Then she set another record in Italy swimming 3500 meters with handcuffs.
The second time, she set a higher record for 5300 meters swimming with handcuffs in 2019 and her name was registered by Guinness for a second time.
Previously, the NCRI Women's Committee had reported on the deplorable conditions of the Iranian women's rowing team in Bandar Abbas. These female athletes have to step in mud mixed with black water in order to step into their boat. All around their exercize area is covered with sharp shells which injure their feet. There is not even a trash can nor any water taps so that they can wash their hands and feet after their exercize. They have to buy their own ores. The boat given to the Iranian women's rowing team is one that was being used ten years ago in Tehran and has been repeatedly repaired. The boat weighs around 200 kilograms and has no wheels, so members of the Iranian women's rowing team have to carry it to the exercize area on their own.
https://women.ncr-iran.org/2019/06/15/female-swimmer-elham-asghari-sets-record-with-no-government-support/
--------
Womankind's Giant Leap: Who Will Be The First Female Moonwalker?
June 15, 2019
More than fifty years after the end of the Apollo program, NASA plans to return to the Moon by 2024 as a "proving ground" to test the next generation of spacecraft ahead of an eventual crewed mission to Mars.
The new program has been named Artemis after Apollo's twin-sister in Greek mythology, and the space agency has said that the mission will see the first woman to stride the lunar surface.
So, who will she be? No one knows for sure, but it's a likely bet the candidate will be selected from among NASA's current roster of 12 female astronauts.
They're aged between 40 and 53, and are former military pilots, medical doctors and scientists who were picked from among thousands of applicants since the late 1990s.
Predicting who will join Neil Armstrong in the annals of history isn't an exact science, but several former astronauts and experts interviewed by AFP say the proximity of the deadline mean it probably won't be a new recruit.
"Now personally, I'd be okay with flying a rookie astronaut to the Moon," former astronaut Eileen Collins, who flew and commanded Space Shuttles in the 1990s and 2000s, told AFP.
"But if you have enough astronauts who have already flown, they know how they're going to react in space.
"Some go up there and they have symptoms that might interfere with their ability to do the work. But you don't know who that is."
Ken Bowersox, a senior official at NASA, agreed. "I think it will be better to send people who have had at least one flight," he told AFP.
That objective will be easier than ever before because there have never been so many women astronauts.
When NASA was first established in 1958 it only recruited from the military, which was at the time exclusively male.
All 12 moonwalkers between 1969 and 1972 were men, and it wasn't until 1983 that Sally Ride became the first American woman sent to space.
Scientists and soldiers
The four women of the 21st class of astronauts, recruited in 2013, represent a good mix of youth and experience. Currently between the ages of 40 and 41, they will all have made their first space forays between now and 2020.
Anne McClain, an ex-army helicopter pilot, will be in the International Space Station (ISS) until the end of June.
Well spoken, with a self-assured gaze and a light smile, she embodies the ineffable "right stuff" of NASA's early recruits.
Also currently in the ISS is Christina Koch, an engineer and passionate mountain climber. She will soon beat the record for the longest time a woman has been in space, at 11 months.
Back in March, the pair almost conducted the first all-female space walk, but a lack of a proper fitting spacesuit meant McClain had to give her place up for her male colleague Nick Hague.
"I think Christina Koch or Anne McClain would be my two top picks," said Janet Ivey, the presenter of a children's show on space and a governor of the National Space Society.
But their two female colleagues from the same class, Jessica Meir, a marine biologist who specializes in penguins and geese, and former F/A 18 fighter pilot Nicole Mann, who flew in Iraq and Afghanistan, are also highly qualified.
They are both in the middle of their training to go to the ISS.
In a 2016 interview, all four declared themselves ready to go to Mars if the opportunity presented itself. It's hard to imagine them turning down a trip to the Moon.
Opaque process
There's no upper age limit for space. The iconic John Glenn made his last flight at the age of 77 as a US senator.
There's nothing therefore excluding the highly experienced Sunita Williams, who is preparing for her third space mission and will be 58 in 2024.
Especially since NASA has long "appreciated the leadership skills that came along with test pilots," according to Kent Romninger, the former chief of the astronaut office from 2002 to 2006.
"Suni," as she's known, has piloted about thirty different aircraft in her military career.
Two other women, Serena Aunon-Chancellor and Kate Rubins, have also flown to space recently.
The other five haven't flown since 2010 but remain on active duty.
There are five women in the 2017 batch but they have yet to complete their initial training.
They're not ruled out yet, but the calendar isn't on their side — especially since NASA tends to stick to a cycle of astronauts once their order is set, says Michael Lopez-Alegria, a former astronaut who spent 20 years with the agency.
When it comes down to the final call, though, the process "is fairly opaque," he conceded.
In Houston, the chief astronaut will be keen to build a team whose profiles will be complementary, a mix of ex-military and scientific backgrounds, and of different personalities.
The mission forsees a four-member crew, two of whom will walk the Moon. Why not have two women?
https://egyptindependent.com/womankinds-giant-leap-who-will-be-the-first-female-moonwalker/
--------
Organization of Islamic Cooperation to Hold Meeting on Women's Empowerment
June 16, 2019
RIYADH: The general secretariat of the Organization of Islamic Cooperation (OIC) on Sunday will hold a meeting in Cairo to draft the internal regulations of its Women's Development Organization.
The meeting will be attended by experts from member states and relevant international and regional institutions, the Saudi Press Agency reported on Saturday.
Meanwhile, Egypt has called for a ministerial-level roundtable on "empowering women in (OIC) members states" on Monday, with the participation of ministers of women's affairs.
They will discuss issues such as the role of women in combating extremism, women in decision-making positions, protection of women against all forms of violence, and women's economic empowerment, according to a statement by the OIC.
It is worth noting that the Women's Development Organization, based in Egypt, was established by virtue of a resolution of the 37th Session of the Council of Ministers of Foreign Affairs in 2010 as a specialized organization for the development and advancement of women and for building their capacities and skills in the member states. Until now, 12 states have ratified the statutes whose entry into force requires ratification by 15 states.
http://www.arabnews.com/node/1511296/saudi-arabia
--------
Glasgow Muslim Women's Project Tackles Belief in Black Magic in BAME Communities
By Karin Goodwin
June 16, 2019
THE mysterious forces of Jinn and black magic, which some cultures and faiths believe can possess people and cause mental illness, are to be highlighted by a unique soundscape created by a group of Glasgow Muslim women.
Jinn, Black Magic and Mental Health, an exhibition created by AMINA Muslim Women's Resource Centre in partnership with Awards For All – and due to be launched this Friday at the Tramway – tells the stories behind the often hidden belief in spirit possession.
They include Jinn, spirits that many Islamic cultures believe can inhabit the human form and possess people. According to researchers the belief can influence how people understand mental health symptoms, and the ways in which they seek help.
In order to highlight the issue, the group of women from African countries including Yemen, Senegal, Kenya, Nigeria, Sudan and South Asian countries such as Pakistan and various Arab States, worked with AMINA and playwright Mariem Omari for six months to create a unique soundscape, featuring stories which were often from their countries of origin.
One woman from Pakistan, who had Polycystic Ovary Syndrome recalled the stress caused by her mother-in-law's insistence that her inability to fall pregnant have been caused by black magic rather than a medical condition.
Another woman told the story of a relative living in her native Senegal, who was taken to a faith healer by her mother despite a medical diagnosis of schizophrenia, tied up and "taken to people who would hit her" in order to frighten away the Jinn spirits.
Other woman had experience of seeing conditions such as post-natal depression, and even hormonal imbalances during the menopause, blamed on Jinn possession.
Ghizala Avan, programmes manager at AMINA, said the idea for the exhibition came from a study done by the University of West of Scotland in 2018 found that beliefs in Jinn and black magic are held by some Muslim women in the city.
The report highlighted the need for more open discussions about mental health issues to raise awareness and end stigma in the BME community. It also found that there is a lack of awareness and education amongst mental health professionals around Islamic faith and beliefs that may be impacting the individual's health and wellbeing. Previous research supports similar findings. A 2011 study on the beliefs about Jinn, black magic and evil eye amongst Muslims in the UK found that 80% of participants believed in Jinn and about half believed that the Jinn could be a factor in causing mental and physical health problems.
Avan added: "As an organisation working with Muslim, black and minority ethnic women, we have come across many women who believe that they or members of their family have been afflicted by black magic or possessed by Jinn. When communities are seeking support from faith 'healers', and not accessing health care professionals it is particularly concerning.
"The other side is the mental health professionals need to be aware of these issues. If that awareness is there then they will be better able to help people coming to them with these beliefs, not simply dismiss them as ridiculous. It's important to understand the context and not apply a westernised Eurocentric model of understanding."
Pooja Marwaha, who co-ordinated the exhibition on behalf of AMINA agreed more understanding was needed. She said the workshops held to create the soundscape allowed women a unique opportunity to be open about their experiences.
"Women taking part in these workshops were able to talk about the issues that they have and the hardships they have had to go through in a safe and judgement free environment," she added.
"One participant said that this was the first time she talked about Jinn and black magic and how they have impacted her and she felt a life-long load lift of her shoulders.
"Another woman said that before she would not talk about black magic as she would be ridiculed by anyone she spoke to about believing in such things.
"We were able to empower and encourage the women to try and tackle the misconceptions around mental health issues in the Muslim and BME communities."
https://www.thenational.scot/news/17709019.womens-project-tackles-belief-in-black-magic-in-bame-communities/
--------
Ford Saudi Women Driver Survey Shows Love of SUVs, Trucks
June 15, 2019
In June 2018, women in Saudi Arabia were given a measure of freedom at last by earning the right to drive. One year later, Ford Middle East conducted a Twitter poll of women drivers and found that SUVs and trucks are the preferred modes of transportation. The Ford Saudi women driver survey was conducted over the course of six days and resulted in over 107,000 responses from women aged 20-45 who live in Jeddah, Riyadh, and Dammam.
Thirty-three percent of the women who took the survey said that they drive SUVs, another 29 percent drive trucks, 24 percent drive sedans, and 14 percent drive hatchbacks. Of the factors that influenced their choice, 38 percent said that driver-assist technology was the most important, 31 percent said they were won over by design, and 15 percent said that interior spaciousness was their chief concern.
The survey also revealed that 13 percent of respondents are licensed, with 5 percent driving daily and 8 percent driving less frequently. Another 15 percent of women are still in the process of applying for a driver's license. Of those who are driving currently, 52 percent list aggressive driving as their top concern, followed by breakdowns (17 percent), parking (15 percent), and getting lost (16 percent).
Ford has made strides to help the new drivers learn the ropes with the Driving Skills for Life for Her program. In addition, Ford offered to pay licensing fees for new drivers to encourage them to take advantage of their newly won rights.
"As the needs of newly-licensed drivers have evolved, so too has DSFL; from theory, to hands-on experience — and that's why we were so keen to reach out to as many women drivers in Saudi to understand their concerns with this survey," said Simonetta Verdi, Director of Government and Community Relations, Ford Middle East and Africa. "It's clear that personal safety on the roads remains a key concern — much more so than the thought of a mechanical breakdown or even getting lost."
Ford this weekend will debut a virtual reality component of Ford Driving Skills for Life for Her at the Lady Cars Accessories Show in Dammam.
https://thenewswheel.com/ford-saudi-women-driver-survey/
--------
Egypt Calls On OIC to Hold Round-Table on Empowering Women
Jun. 15, 2019
RIYADH, June 15 (MENA) - Egypt called on the Organization of Islamic Cooperation (OIC) for a ministerial-level round table on "Empowering Women in Member States" to be held on Monday with the participation of ministers in charge of women in the member states.
The meeting will discuss several issues related to women empowerment, atop of which are the role of women in combating extremism, women in decision-making positions, protection of women from all forms of violence, economic empowerment of women and their involvement in the financial and other fields, according to a statement by the OIC.
Also, the OIC General Secretariat will hold a meeting of the temporary Open-ended Working Group to prepare the draft internal regulations of the organization for the development of women in the OIC member states on Sunday in Cairo.
The meeting will be attended by experts from member states and relevant international and regional institutions. Participants will discuss the preliminary draft of the internal organizational structure of the organization for the development of women in the OIC member states for presentation to the organs of the Women Development Organization at the start of their work.
http://www.egypttoday.com/Article/1/71623/Egypt-calls-on-OIC-to-hold-round-table-on-empowering
--------
URL: https://www.newageislam.com/islam-women-feminism/iranian-women-voice-their-support/d/118897
New Age Islam, Islam Online, Islamic Website, African Muslim News, Arab World News, South Asia News, Indian Muslim News, World Muslim News, Women in Islam, Islamic Feminism, Arab Women, Women In Arab, Islamophobia in America, Muslim Women in West, Islam Women and Feminism