New Age Islam News Bureau
11 Dec 2016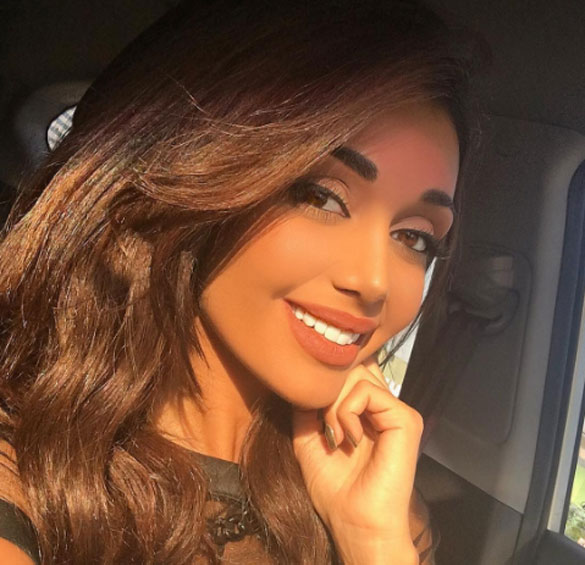 Photo: Iranian Women Sent To Prison For Not Wearing Headscarves On Instagram
--------
• Iranian Women Sent To Prison for Not Wearing Headscarves on Instagram
• Text Messages to Local Cops: How These Indian Muslim Women Were Divorced
• 29-Year-Old Becomes First Pak Woman to Join Bomb Disposal Unit
• To Defeat Boko Haram, Nigeria Must Get Women on Board
• Aisha Buhari Tasks Nigerians on IDPs, Breast Cancer
• Shaikha Lubna, Dr Raja Easa amongst World's Most Powerful Women
• 50 Women Parliament Speakers To Attend Abu Dhabi Summit
Compiled by New Age Islam News Bureau
URL: https://newageislam.com/islam-women-feminism/iranian-women-sent-prison-wearing/d/109347
--------
Centrelink 'Legalises' Multiple Muslim Wives
December 10, 2016
CENTRELINK is ignoring Islamic polygamy, paying spousal benefits to Muslim families with multiple wives in an effort to save taxpayers' money.
The welfare agency has revealed it refuses to collect data on polygamous marriages under Islamic law, despite the fact some families are claiming to be living in a domestic relationship with more than one woman when claiming welfare.
Describing the decision as "political correctness" gone mad, MPs last night called for a full investigation and demanded the welfare agency start collecting the data.
Peta Credlin said that the women might otherwise be able to claim the sole parent pension
One reason offered by officials, confirmed by Tony Abbott's former chief of staff Peta Credlin, is that the women might otherwise be able to claim the sole parent pension, which would cost taxpayers more than the benefits available to individuals in a marriage or de facto relationship.
She confirmed the former prime minister had demanded action in the last days of his leadership after Centrelink officials confirmed the practice was the talk of Centrelink offices in western Sydney.
"The answer I got back was to fix it could cost more. To be honest there was frustration about how difficult overall rorting in this area was to remedy," she said.
"It's not the role of government to police people's bedrooms unless they are breaking the law but nor can it, through policy or indifference, sanction polygamous marriages."
"By making welfare payments to multiple wives, we were accepting as a principle in welfare policy something that is fundamentally wrong — both at law and in our culture. Government should not be turning a blind eye," Ms Credlin said.
However, the current rules do allow for second wives to claim multiple family tax benefit payments for children living under the same roof, a Centrelink spokeswoman said.
"Customers with multiple partners are assessed exactly the same as any other person, under Australian law," a spokeswoman said.
"The department does not hold data based on polygamous relationships or religion."
The Islamic marriages do not break the Marriage Act because they are religious unions that are not registered.
------------
Iranian Women Sent To Prison For Not Wearing Headscarves On Instagram
The search for incriminating photos on social media continues in Iran. As of last March, authorities launched an operation called "Spider II" with the goal of monitoring images published online.
While Facebook and Twitter are banned in Iran, Instagram is still accessible. Use of the app seems to be tolerated, but the content people are allowed to post is highly controlled. Last May, eight people were arrested and charged by an Iranian tribunal for the cyber crime of publishing "immoral content and promoting anti-Islamic culture."
"Organized Crime"
What exactly was the immoral content? Selfies, and photos of women without headscarves. According to Javad Babaie, one of the judges in charge of cyber crimes, it was their duty to "act against those who commit such crimes in an organized manner."
On Monday, December 5, authorities took further action, arresting twelve people whose names have not been released, and sending them to prison.
Eight women and four men received sentences ranging from five months to six years in prison for "Propagation of prostitution and corruption." In Iran, wearing the hijab is still obligatory in public spaces, and publishing photos of women without headscarves constitutes a crime.
Model Elham Arab paid the price for this last May. After being arrested, the young woman had to explain herself in front of a judge in Tehran on live television. She explained that she was sorry for publishing photos on social media without a headscarf and asked other young Iranian women to not "make the same mistake."
Spreading Western morals
Given their conservative values, Iran considers Instagram to be a real danger. The government sees the American app as a means of spreading Western morals and values in their country.
Iranian authorities are keeping a close eye on Kim Kardashian, for example. Mostafa Alizadeh, one of the spokesmen in the fight against cyber crimes, even expressed concern that: "The CEO of Instagram, Kevin Systrom, wants to bring modeling to Iran and Kim Kardashian is in charge of the project."
Is it possible that Kim is a secret agent trying to corrupt young Iranians? We're not so sure. One thing is certain, though: there's still a long way to go before Iranians will be enjoying fundamental rights.
konbini.com/us/inspiration/iranian-women-prison-no-headscarves-instagram/
--------
Text Messages to Local Cops: How These Indian Muslim Women Were Divorced
December 11, 2016
New Delhi: The recent observation by the Allahabad High Court which termed triple Talaq as "unconstitutional" and against the fundamental rights of Muslim women has reignited the debate around the controversial practice.
The government and women rights activists want the practice to go, but the All-India Muslim Personal Law Board says it is a religious issue which the executive should not interfere with.
Speaking to News18, two women from different walks of life shared their encounter with triple talaq.
Shahnaz Hasan*, Human Rights Activist
Recently, I was divorced by my husband through the unilateral, oral, instant and completely un-Islamic triple talaq as practised in India.
My husband was not in the same country as I was, we were living apart. One fine day, he decided to call off our marriage over the phone. It hit me like a bolt from the blue — and all my attempts at reconciliation were of no use. I wasn't even given a chance to meet him once before this decision was taken. I was told by some that since he has already decided to end our marriage and that we are no longer husband and wife, it would be un-Islamic for me to stay with him.
I wanted to take some time to think this through as I did not want to go ahead with the divorce. But I was told that it doesn't matter whether I sign the talaqnama or not; my husband could just say the word thrice and the divorce would be considered valid. I told my cousin that I am not going to give the divorce as per his convenience, let him do whatever he wants but I will not agree to it. To this, she replied that it didn't matter what I thought because once he utters the word three times, the divorce will be valid. It was at that moment it struck me that as a Muslim woman in India, I had no real rights and no control over my marriage. I was very much in disbelief and asked my cousin to verify. I was sure it couldn't be so easy to break the sanctity of marriage in a split second.
What about my rights as an equal partner in marriage? To me, triple talaq happened only in movies and there was no place for such a regressive practice in a secular country like India. I later found out to my shock that my cousin was right. Even though triple talaq is banned in majority of Muslim countries, it is still valid and practised in India.
In my case, there was no three-month waiting period observed, as sanctioned by our religion; there were no real attempts at reconciliation made by his family. The Quran says that a husband can say talaq once every month for the mandatory three-month period called iddah.
That left me with no option but to sign the papers. I am telling my story because I still consider myself fortunate enough to have a good job and the support of my family through this ordeal but not all women are so fortunate. My own experience made me think that if despite being so educated and independent, I could feel so helpless and lost, what happens to a woman who is not as educated and economically sound and falls victim to this medieval practice? Even though I work in an international organisation whose mandate is to safeguard human rights and gender equality, I realised that I have no real rights in my own country. I have to live with the fact for the rest of my life that my marriage ended over a text message. Triple talaq is not an issue only in the backward, uneducated part of the Muslim society, it is a problem seeped in every strata.
Najma Bano*, Jaipur shows artisan
I belong to a very poor family. My mother worked at homes washing utensils and clothes. I was married to Abdul, who worked in a stones shop as a karigar (artisan). On certain days, when my mother would be unwell, I would accompany her. At that time, she was working in a new place where some boys had come to stay in Jaipur from Makrana. They belonged to a rich family involved in marble business. One of the boys raped me, shot my pictures and showed them to my husband.
After that, in a fit of anger, my husband divorced me. I pleaded my case but in one go, I was divorced. My ordeal didn't end there. I was married to the man who raped me. He stayed with me for 20 days, living off the money given by my family. One fine day, he left to buy cigarettes but never returned.
After that my family went to the police station to file a complaint of rape against him but we were shown the talaqnama. The local police officer told me that I was divorced again and there is no rape in marriage. This time I wasn't even told that I was divorced, I got to know this from the cops. I was now divorced for the second time. Muslim women organisations are fighting my case, we will get justice. I am now working as a karigar for a Jaipur shoes manufacturer. Things are very tough as because of my case my sisters are not getting married."
news18.com/news/india/from-text-messages-to-local-cops-how-these-muslim-women-were-divorced-1321705.html
--------
29-year-old becomes first Pak woman to join Bomb Disposal Unit
PTI | Dec 11, 2016
PESHAWAR: A 29-year-old woman from Khyber Pakhtunkhwa has become the first Pakistani female to join the Bomb Disposal Unit (BDU) in the restive province that frequently witnesses terror attacks.
Rafia Qaseem Baig, who joined police force as a constable seven years ago, will work in BDU after completing her 15-day training along with 31 other male members at Nowshera's School of Explosive Handling, media reports said.
During her training, she will learn about the types of bombs, their identification and ways to defuse them.
Rafia, who belongs to a highly educated family, said a blast near a sessions court seven years ago motivated her to join the force.
She completed her master's degree in International Relations. She then pursued another master's degree in Economics and worked at International Rescue Committee where she developed a passion for law and enrolled in an LLB programme that is currently under way.
Given her academic qualifications, she was offered jobs in many companies and non-government organisations. However, she chose to join police force in Khyber Pakhtunkhwa province when extremists were overtly targeting security forces.
After her appointment, she was asked to undergo training sessions in areas including Adezai, Michni and Salman Khel in Peshawar, the capital of Khyber Pakhtunkhwa province. These were the declared red zones at that time.
She spent 10 days patrolling these localities with a large number of male police personnel.
Rafia was also the only female member of an investigation team that rescued Lady Reading Hospital physician, Dr Intikhab Alam, 48 hours after his abduction in 2010.
She says the police force is not just a profession. It's a passion and inspiration for those who have a spirit of devotion for the country.
More than 600 women are serving in the Khyber-Pakhtunkhwa police department in different capacities from junior clerk to deputy superintendent.
timesofindia.indiatimes.com/world/pakistan/29-year-old-becomes-first-Pak-woman-to-join-Bomb-Disposal-Unit/articleshow/55921635.cms
--------
To defeat Boko Haram, Nigeria must get women on board
11 DEC 2016
The midnight kidnapping of 250 schoolgirls by the Islamist group Boko Haram from their dormitory at the Government Girls Secondary School in Chibok on April 14 2014 sparked headlines worldwide. Nearly two years on, 196 are still being held captive.
There was nothing isolated about the incident, which embodies the horror of the insurgency plaguing Nigeria and its neighbours. Scores of women and girls, initially Christians but later on Muslims, have been abducted as part of the sect's strategy to extend its grip over the country's northeast state. By awarding "wives", willing or forced, to fighters, its leaders seek to attract male recruits and encourage combatants.
But, according to a new International Crisis Group report, from early on some women also saw the attractions – the group's religious discourse; potentially greater freedom and protection; socioeconomic opportunities; and a refuge from endemic corruption, entrenched discrimination, widespread poverty and social anomie.
Because they were not considered a threat at first, women and girls could circulate in government-controlled areas more easily as spies, messengers, recruiters and smugglers. For the same reason, from mid-2014, Boko Haram turned to female suicide bombers. Increasingly pressed for manpower, the sect began training women to fight.
As the counterinsurgency grew, some women responded by helping to guard checkpoints or taking up arms in local vigilante units.
Although disrupting established patterns has given some women better prospects, seven years of war has mostly caused suffering. It has also further entrenched discriminatory practices and gender stereotypes in a deeply divided, traumatised society.
Women were often the only survivors after Boko Haram had either forcibly recruited or killed their men and older boys – or the military had arrested them. As the war spread, the insurgency and counterinsurgency forced nearly two million people, the overwhelming majority of whom were women, to leave their homes.
But the means women have resorted to to survive and the blurred line between victims and perpetrators have led to a climate of suspicion surrounding those displaced, not only by Boko Haram's other victims but also by government agencies.
Separated from their husbands and sons, hundreds of thousands of women live with their children in government camps where food is scarce and healthcare dismal. In these camps, mostly staffed by male guards, some have suffered sexual violence or have resorted to "survival sex" in exchange for food, money or permission to leave the camp. As they struggle to feed their loved ones, some have denounced corruption and the diversion of food aid, relief funds and services by officials.
The situation of widows is particularly problematic. Although they can inherit a husband's assets if they have supporting witnesses or records from village or district heads, there is little to claim in places ravaged by war.
Gender-based violence, poor treatment of those displaced, distrust of women either known or suspected to have associated with Boko Haram, and abuses by the Nigerian military have added serious long-term risks to the humanitarian crisis. They are undermining military gains and fuelling grievances against the state of the kind that gave rise to Boko Haram in the first place.
Immediate measures should be taken by the federal and northern state governments to combat the stigmatisation and marginalisation of former Boko Haram wives and slaves, as well as children fathered by Boko Haram members.
Bearing in mind that the group remains capable of launching attacks, Nigeria should support isolated women, especially widows, given that they are more susceptible to manipulation by jihadists.
The army should not systematically detain all women found in newly recovered areas. The tactics some have had to adopt to survive should not be held against them indiscriminately. The reunification of families – the only safety net for many – should be a priority. A federal database should be set up to facilitate the search for missing persons and more resources made available to reunite families.
Attention should be paid to gender-sensitive programmes, including those designed to strengthen women's participation in politics and local governance, and to increase girls' access to education, in both state schools and upgraded Quranic schools.
Mainstream Islamic groups can play a significant role in empowering women to do their part to alleviate the humanitarian crisis and build support for women's education and civic participation.
Countering the sect and rebuilding society in the northeast requires the government and its international partners to tackle entrenched gender discrimination, and to enhance the role of women in building sustainable peace.
Ayo Obe is the vice-chairperson of the International Crisis Group board of trustees, an independent conflict
mgafrica.com/article/2016-12-11-00-to-defeat-boko-haram-nigeria-must-get-women-on-board
--------
Aisha Buhari tasks Nigerians on IDPs, breast cancer
By Abbas Jimoh
Dec 10 2016
The wife of the President, Hajiya Aisha Muhammadu Buhari has urged Nigerians not to relent in their support for the Internally Displaced Persons (IDPs) as government cannot cater for them without Nigerian inputs.
Hajiya Aisha who made the plea on Saturday in Abuja at the 8th Annual Women's' Forum of the Al-Habibiyyah Islamic Society of Nigeria (AISN) also call for intensive awareness campaign of breast cancer.
The forum had two themes: "Removing the Vulnerable Ones from the Streets, Especially the Internally Displaced Persons (IDPs)" and "Cancer: A Raging Pandemic".
"The government alone cannot cater for the IDPs. All Nigerians must be involved and it goes beyond occasional donation of money and gift items, we should include them in our prayers and see that their plights are alleviated completely. Caring for the orphans and the venerable are religious duties," said Aisha Buhari who was represented by a former President of the Nigerian Army Officers' Wives Association (NAOWA) Hajiya Maryam Salihu Ibrahim.
On the raging breast cancer among Nigerian women, the wife of the President urged women to mind what they eat, do regular exercises and medical check-ups to stay healthy.
The Director of the Al-Habibiyyah Islamic Society of Nigeria Ustaz Fuad Adeyemi urged Nigerians to be patience with the present administration and to also contribute to tackling the societal challenges rather than leaving the efforts solely for the government.
While saying that many Muslims erroneously thought that women don't pay zakat (Islam third Pillar), Adeyemi said that that women whose wealth reached the zakat ratio must pay including from gold and other designated jewelries that they used.
Dr. Hadiza Usman of the Medicaid Cancer Foundation Abuja said that early detection of breast cancer generally improves the success rates of treatment and the outcome of survival.
She said: "There is a limit to which one can prevent diseases like breast cancer, because some risk factors are not modifiable like increasing age. However paying attention to others like healthy diet and making few lifestyle changes may reduce one's overall chances of getting cancer."
dailytrust.com.ng/news/general/aisha-buhari-tasks-nigerians-on-idps-breast-cancer/175405.html#4owE5sPjH16eMk8p.99
--------
Shaikha Lubna, Dr Raja Easa amongst World's Most Powerful Women
Web Report/Dubai
Filed on December 11, 2016
Bringing pride to the UAE, two women for the country have fingered in the Forbes 100 Most Powerful Women of 2016.
Shaikha Lubna bint Khalid Al Qasimi, and Dr Raja Easa Saleh Al Gurg, have maintained their positions in the list of the most powerful women this year as well. While Shaikha Lubna is ranked at number 43, Dr Raja Easa stands at number 91.
Minister of Tolerance of the United ArabEmirates,Shaikha Lubna was formerly the Minister of International Cooperation and Development and helped to lead the United Arab Emirates into a period of unprecedented philanthropy. In 2004, she became the first woman in the country's history to assume a cabinet position.
Dr Raja Easa was ranked at number two in the Most Powerful Arab Woman by Forbes Middle East in 2015. As Dubai-based business leader, she has been an instrumental figure in the support and encouragement of Arab women entrepreneurs. She is the first Emirati woman on the board of HSBC Bank Middle East Limited. Additionally she is also on the advisory board of Coutts Bank.
According to the Forbes, five Most Powerful Women of 2016 include:
1: Angela Merkel
2: Hillary Clinton
3: Janet Yellen
4: Melinda Gates
5: Mary Barra
khaleejtimes.com/nation/dubai/shaikha-lubna-dr-raja-easa-amongst-most-powerful-women--of-2016
--------
50 women parliament speakers to attend Abu Dhabi summit
December 11, 2016 s
Abu-Dhabi: A two-day summit of women speakers of Parliament will be held in Abu Dhabi on Monday and Tuesday, it was announced on Sunday.
The Global Summit of Women Speakers of Parliament, under the theme "United for Shaping the Future" is being held under the patronage of Her Highness Shaikha Fatima Bint Mubarak, President of the General Women's Union (GWU), Supreme President of the Family Development Foundation (PDF), and the Supreme President of Council for Motherhood and Childhood. The summit is set to take place at the Emirates Palace.
It will be attended by over 1,000 participants from all parts of the world, including 50 women speakers of Parliament. Other participants include influential global leaders across government, business, industry, and society, a truly distinguished event on the global stage.
Of the 1,000 participants, there will be 400 members of parliament representing 50 countries, 100 of which are from the Arab region. Moreover, the summit will include over 100 prominent influencers and thought-leaders who will contribute immensely to the discussion by providing well-evaluated perspectives.
Hundred youth delegates will also participate in a panel dedicated to the youth, which will allow young minds to generate discussions with prominent parliamentary members from different parts of the world.
Plenary session
The plenary will address the theme of uniting members of parliament to shape the future. It will encompass a variety of topics under this theme, including geopolitical, socioeconomic, educational, environmental and technological megatrends that are influencing our future and the way the world is governed.
The discussion will be facilitated and led by John Defterios, CNNMoney Emerging Markets Editor, from the US.
The speakers include Valentina Matvienko, chairperson of the Council of the Federation (Russian Federation), Dr. Amal Al Qubaisi, President of the Federal National Council (UAE), Dr. Sultan Al Jaber, Minister of State and CEO of ADNOC Group (UAE), Dr Michio Kaku, theoretical physicist and best-selling author (UAE), Ray Hammoud, author and futurist (United Kingdom), and Jeff Martin, founder and CEO of Tribal Planet (USA).
To address the unprecedented rise in terrorism, a session on peace and security will provide a platform for influencers from a variety of governmental and non-governmental sectors to address the issue of security and to devise concurrent plans to advance peace and stability.
The session will address the key question: "How will parliaments unite to fight terror and help end the root causes?" Panellists will share insights on identifying the key threats to security and put forward a variety of solutions to combat the rise of intolerance and extremism. A vibrant discussion will be facilitated by discussion leader Frank Sesno, director, George Washington University School of Media and Public Affairs, USA.
Prominent speakers in this session include Olga Zrihen, Vice President of the Senate in Belgium; Inara Murniece, Speaker of the Saeima in Latvia; Margaret Mensah-Williams, Chairperson of the National Council in Namibia; Luz Filomena Salgado Rubianes, President of the Congress of the Republic in Peru; Maja Gojkovi, Speaker of the National Assembly in Serbia; and Christine Muttonen, President of the Parliamentary Assembly of the Organisation for Security and Cooperation in Europe (OSCE).
As youth take the foreground as agents of change, they are facing major challenges that affect economic prosperity, including scarcity of resources, changing demographics and hyper-urbanisation in many regions of the world. This session aims to address the key question: "How can parliaments work together to develop innovative policies to tackle shared socioeconomic challenges, including achieving equitable development?"
John Defterios will lead and facilitate the discussion of the session. The speakers include, Her Excellency Gabriela Michetti, President of the Senate and Vice-President of Argentina; Her Excellency Verónica Nataniel Macamo Dlhovo, Speaker of the Parliament (Mozambique); Her Excellency Rebecca Alitwala Kadaga, Speaker of the National Parliament (Uganda); Her Excellency Blanca Ruiz Alcalá, President of the Latin American and Caribbean Parliament; and Dambisa Moyo, global economist and author from United Kingdom.
The summit will culminate in actionable recommendations with appropriate follow-up plans for implementation.
Sessions throughout the two-day event to explore a multitude of topics in an overview of megatrends ranging from political and socioeconomic, environment and demographic, scientific and technological fields.
Dr. Amal Al Qubaisi, President of the Federal National Council, UAE, to give welcome address at opening ceremony.
Saber Chowdhury, President of the Inter-Parliamentary Union, to give welcome address at opening ceremony.
Grand Imam Dr. Ahmed Al Tayeb Shaikh of Al Azhar set to give keynote address at opening ceremony
Ban-Ki-moon, Secretary-General, United Nations, to give video keynote address during opening ceremony.
Shaikh Saif Bin Zayed Al Nayan, Deputy Prime Minister and Minister of Interior, UAE, to give keynote address during opening ceremony.
gulfnews.com/news/uae/government/50-women-parliament-speakers-to-attend-abu-dhabi-summit-1.1943347
URL: https://newageislam.com/islam-women-feminism/iranian-women-sent-prison-wearing/d/109347