New Age Islam News Bureau
17 Jul 2019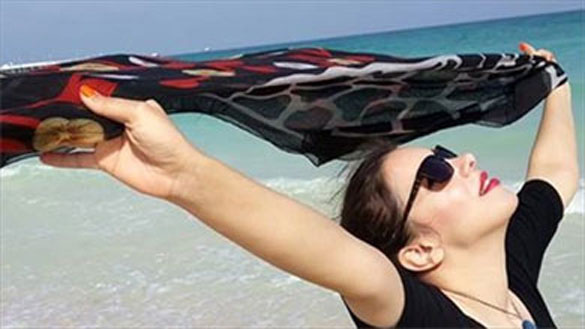 They are sending their pictures to a Facebook page called Stealthy Freedoms of Iranian Women. The page was created by London-based Iranian journalist Masih Alinejad on May 3, and had notched up over 170,000 Likes by May 14., 2014
------
• Sindh Assembly Raises Alarm over Kidnapping, Forced Conversion of Hindu Girls In Sindh
• Malaysia's 'Phoenix': Hijab-wearing Wrestler Nor Diana Breaking Barriers
• Muslim Women Celebrate Guru Purnima In Varanasi
• Has the Taliban Actually Become More Progressive on Women's Rights?
• In The New Afghanistan, the Future of Women Must Be Protected
• 66 Russian ISIS women jailed in Iraq: Lavrov
Compiled by New Age Islam News Bureau
URL: https://www.newageislam.com/islam-women-feminism/iranian-women-seek-greater-freedom/d/119216
--------
Iranian Women Seek Greater Freedom over Head Coverings
July 16, 2019
Walking in public has become a protest for a young Iranian woman who moves through Tehran's streets without her head covering, or hijab.
She is risking arrest. Iran's morality police are looking for women like her: women who refuse to follow the rules for women's appearance. Those rules were put in place after the 1979 Islamic Revolution.
"I have to confess it is really, really scary," the 30-year-old fire safety expert said in a WhatsApp audio message. She would not permit her name to be used because she is afraid of repercussions.
But she also is hopeful. She says she believes the police and other officials find it difficult to stop the protests as more women join.
"They are running after us, but cannot catch us," she said. "This is why we believe change is going to be made."
The hijab debate has angered some Iranians. It comes at a time when the country is suffering under strong sanctions placed on the country by the United States. President Donald Trump restarted the sanctions after the U.S. withdrew from the 2015 nuclear deal between Iran and world powers last year.
Now, the exchange value of Iranian money is collapsing, house prices are rising and unemployment is high. So how much can the government really do about the protesting women? And how far will the women go?
There is some evidence that more women are pushing back against the rules. They are trying to test the ruling Shiite Muslim government and their security agencies.
An Associated Press reporter saw about 24 women in the streets without a hijab over nine days. It was mainly in the richer parts of Tehran.
Many other women have decided to test the rules in a different way. They cover a bit of their hair with loose, colorful scarves.
Tehran's Grand Bazaar attracts traditional women, but even there many women wore a loose hijab. Still, a large number were covered completely in black and wore tight hijabs.
The struggle against wearing the hijab began in December 2017. That was when a woman climbed onto a box in Tehran's Revolution Street and waved her hijab on a stick. Since then more than 36 protestors like her have been detained. Nine are still in detention, said Masih Alinejad. She is an Iranian activist who now lives in New York.
While police try to silence protesters, public debate has only grown. It has been helped by social media.
Last month, a widely watched online video showed a security agent grab a young girl who was not wearing a hijab and violently push her into a police car. The incident was strongly criticized.
Others have called for punishments, even lashes. They argue that permitting women to show their hair leads to social problems and the collapse of families.
The judiciary recently asked Iranians to inform on women without hijabs. It asked them to send photos or video to government social media accounts.
"The more women dress in an openly sexual way, the less we'll have social peace," said Minoo Aslani last week. She is the leader of the women's part of the paramilitary Basij group.
Reformist lawmaker Parvaneh Salahshouri said that forcing people to obey does not work.
"What we see is that the morality police have been a failure," said Salahshouri. She wears the hijab because of her religious beliefs.
The laws are unlikely to be changed, she said, urging women to use non-violent civil disobedience.
It will be hard, she said, adding "Iranian women will not give up their efforts."
The hijab issue goes back to the mid-1930s when police forced women to take off their hijabs. This was part of a Westernization policy of Shah Reza Pahlavi who ruled at the time. Under his son and successor, women could choose. The wealthy dressed like Westerners.
Attitudes have changed. In 1980, about 66 percent believed women should wear hijabs. Today, fewer than 45 percent think the laws should be enforced, an Iranian research group said.
The activists in Iran take risks.
In March, human rights lawyer Nasrin Sotoudeh was sentenced to more than 38 years in prison. She has represented women protestors. Her husband said she will serve about 12 years.
In April, activists Yasaman Aryani, her mother Monireh Arabshahi and Mojgan Keshavarz were arrested after posting a video showing themselves without headscarves in the Tehran metro.
Amnesty International said Monday that Iranian officials have used detentions, and threats against families to try to force activists to change their ideas. The "confessions" are videotaped. The group said it had seen six "confessions" since April.
https://learningenglish.voanews.com/a/iranian-women-seek-greater-freedom-over-head-coverings/5002476.html
--------
Sindh Assembly Raises Alarm over Kidnapping, Forced Conversion of Hindu Girls In Sindh
Hasan Mansoor
July 17, 2019
KARACHI: The issue of kidnapping and forced conversion of Hindu girls in various districts of the province was raised in the Sindh Assembly on Tuesday when opposition Grand Democratic Alliance's Nand Kumar filed a private resolution seeking protection of the girls of the minority community.
Mr Kumar's resolution reads: "This house resolves that [the] provincial government takes notice of recent surge of kidnapping of Hindu girls from various districts of Sindh and take steps to arrest the culprits [involved] and give them exemplary punishment and stop forced conversion."
However, lawmakers belonging to other parties in the house felt that the resolution should not be restricted to Hindu girls, as girls irrespective of their faiths should be protected from being kidnapped and forcibly converted in Sindh.
Mr Kumar later moved an amended resolution in the house in which he omitted the word 'Hindu' from the original resolution.
Deputy Speaker Rehana Leghari put the amended resolution before the house, which was passed unanimously.
Draft law to protect Hindu community
In his speech, Mr Kumar said "hundreds" of Hindu girls had been kidnapped in recent years and they had been subjected to enforced conversion.
"In a few months this year," said the GDA lawmaker holding printed photos of some of the victims, "41 girls belonging to Hindu faith have been kidnapped and converted."
He said girls from his community had been kidnapped from various districts despite the fact that "we are the most ancient community living here for millennia and should be given due security".
He said an amended law to protect the Hindu community drafted and tweaked by him had been lying with the minority affairs department since April with no interest visible on part of the government to present it in the house.
He made it clear that it was not just a matter of scoring points, but, "genuinely we want to live under certain laws that you are not giving to us".
He referred to a recent statement of Pakistan Peoples Party chairman Bilawal Bhutto-Zardari during his visit to Ghotki in which he had assured the Hindu community of his full protection. "I don't think that the [PPP] chairman does not want to get that bill passed. His statement clearly indicates that he genuinely wants to protect us. I am sure that we would have not been in such a pathetic state if Mohtarma [ex-premier Benazir Bhutto] was alive today."
He said the Hindu community should not be pushed to the wall to the extent that they found no way but to migrate from Sindh. "Migration of our people is continuing. We are protesting for protection, but no one is there to ensure us protection."
Muttahida Qaumi Movement-Pakistan's Mangla Sharma said communities practicing minority faiths felt a grave sense of anxiety and insecurity.
She said it was the first time in the past 70 years that Hindu community was protesting in almost every town and city of Sindh. "This is for the first time that Hindu women have taken to streets and everyone knows the reason."
She said the community had high hopes from the PPP chairman to get the required protection.
Ms Sharma said official figures showed that the ratio of minority communities was on a decline because of lack of protection they were being offered. "Our ratio was 3.72 per cent of the total population in 1998 census, which is now 3.57pc. [Has] anyone ever [thought] why the ratio of minorities has reduced by 0.15pc in the past 20 years?"
She, however, said minority girls were being deceived instead of being forcibly converted. She lamented that politicians from all but the ruling PPP had supported the minorities' protests.
The Pakistan Tehreek-i-Insaf objected to the word 'Hindu' in the resolution, saying such issue was mainly regarded as a social evil instead of saying a particular community was being targeted.
MQM-P's Jawed Hanif said it was a fact that Hindu girls were being kidnapped and forcibly converted. He said religion disliked forced measures and the country's Constitution protected all communities.
He said all Pakistanis should be protected in such times when similar issues were haunting Muslims and other minorities in India. "We, at least, should keep [our] house in order."
PTI's Dewan Sachal said basically it was a law and order issue as Muslim girls were facing similar problems.
Minorities Affairs Minister Hari Ram Kishorilal seconded PTI lawmakers when he said it was an issue that equally affected the girls belonging to Hindu, Muslim and other communities.
'No migration of Hindus from Sindh'
He said a draft bill by GDA's Nand Kumar would be finalised unanimously by all parties in the house.
He claimed that there was no migration of the people belonging to Hindu community from Sindh.
He added that the PPP and the Sindh government were taking all required steps to maintain religious harmony in the province.
PTI's parliamentary party leader Haleem Adil Shaikh supported the resolution, but reiterated the party's stance that the matter should not just be considered a Hindu-specific one. "This is a social issue and not a religious one."
GDA's Nusrat Sehar Abbasi said on the advice of lawmakers from other parties, Mr Kumar would amend his resolution. "We should not send a wrong message internationally by adopting such a resolution in its original form," she said.
Education Minister Sardar Shah said interfaith harmony in Sindh was exemplary, which was evident from the fact that in his home district Umerkot, 52pc of its population was Hindu and to maintain the harmony "we do not eat beef".
He said kidnapping of girls had not just affected the Hindu community, but it was a social evil and should be dealt as such.
Muttahida Majlis-i-Amal's Abdul Rasheed said that Pakistan's Constitution gave greater rights to its minorities.
Parliamentary Affairs Minister Mukesh Kumar Chawla said the provincial government was serious in its responsibility to protect all and would continue to serve the whole of Sindh.
https://www.dawn.com/news/1494475/sindh-assembly-raises-alarm-over-kidnapping-forced-conversion-of-hindu-girls-in-sindh
--------
Malaysia's 'Phoenix': Hijab-wearing Wrestler Nor Diana Breaking Barriers
July 17, 2019
Kuala Lumpur: A hijab-wearing, diminutive Malaysian wrestler known as "Phoenix" cuts an unusual figure in the ring, a female Muslim fighter taking on hulking opponents in a male-dominated world.
Dressed in flame-patterned trousers, a black and orange hijab and top, Nor Diana uses sophisticated moves to throw and pin down her larger rivals in front of hundreds of cheering spectators.
Standing just 155 centimetres (five foot, one inch) tall and weighing 43 kilograms (six stone, 10 pounds), her speed and agility make her a match for almost any opponent.
And far from being criticised by conservatives for throwing herself into wrestling, the 19-year-old has become a hit on social media and spurred the interest of other headscarf-wearing women.
"Even though I am Muslim, and I wear the hijab, nothing can stop me from doing what I love," she said in the ring after winning a recent fight.
She takes part in local outfit Malaysia Pro Wrestling (MyPW), which has similarities with hugely popular World Wrestling Entertainment from the United States.
Like WWE, the Malaysian version is as much theatre as sport, as participants compete against one another with matches ending in a pre-determined outcome.
Nor Diana, a pseudonym as she prefers not to reveal her true identity, seems an unlikely wrestler -- outside the ring, she is shy and soft-spoken, and her day job is working in a hospital.
But when she puts on her wrestling gear, she transforms into the fearsome Phoenix.
"As Phoenix, I'm a totally different person. She may be small, but she can do things that people can't imagine," Nor Diana told AFP at a wrestling gym in Puchong, outside Kuala Lumpur.
"When she's in the ring, she's fast and always wants to win," she explained.
GROWING POPULARITY
Nor Diana first started training as a wrestler in late 2015, following her teenage dream of becoming a fighter, and made her debut a few months later.
More than 60 percent of Malaysia's 32 million people are ethnic Malay Muslims and, while the form of Islam followed is generally moderate and tolerant, society can still be conservative.
Many Muslim women in the country wear the traditional headscarf and loose-fitting clothing in line with Islamic requirements for females to dress modestly.
"In the beginning it was always hard for me, because a lot of people said I can't wrestle because I'm a Muslim and I wear the hijab," she said.
But she has soldiered on, with her family's full support, and enjoyed her greatest success so far in early July, defeating four men to be crowned Malaysian wrestling champion.
Initially she competed wearing a mask, to reduce the chances people would recognise her. But after losing a match last year she removed it and has been competing without one ever since.
She remembered being fearful about the reaction -- but her popularity has only increased since, with thousands now following her on social media, helping to boost wrestling's profile in Malaysia.
While it is growing in popularity, wrestling remains relatively small in the Southeast Asian country. There are about 30 fighters and matches take place every two to three months in front of a few hundred supporters.
Nor Diana is one of just two women wrestlers.
"As soon as she became popular, we received a lot of messages from fellow hijabis who inquired about joining wrestling as well," Ayez Shaukat Fonseka, her coach and fellow fighter, told AFP.
"She kind of broke the barrier and just proved to them that if she can do it, they can do it too."
https://www.news18.com/news/sports/malaysias-phoenix-hijab-wearing-wrestler-nor-diana-breaking-barriers-2234509.html
--------
Muslim Women Celebrate Guru Purnima In Varanasi
Jul 17, 2019
Varanasi: The Guru Purnima celebrations at Patalpuri math were special this year giving a strong message as burqa clad Muslim women joined Hindu disciples in performing religious rituals here on the auspicious day on Tuesday.
A large number of Muslim women took part in the festival at the math. While some of them washed feet of their guru Mahant Balak Das, others paid respect to their guru with 'salaam' during the event organised by the Vishal Bharat Sansthan (VBS). The disciples garlanded the mahant before applying tilak on his forehead, presented him 'Ramnaami shawl' and sought his blessings.
Around 500 years old, the math is said to be founded by Mahant Ramanad and is very closely associated with saint Kabir.
"For us, guru is above all as he makes us understand the life and guides us even in the worst of the situations", said national president of the Muslim mahila foundation of the body, Naznin Ansari. Such events are a befitting reply to people who try to divide the society on the basis of religion, said Ansari who has done her MA in conflict management from Banaras Hindu University (BHU). She has earlier translated Hanuman Chalisa and aarti of lord Ram in Urdu.
Speaking on the occasion, Mahant Balak Das said, "This is the place of god and has no place for nay kind of discrimination. Efforts of these devotees would send a larger message to the society".
President of VBS, Rajiv Srivastava said, "As the disciple regard their guru irrespective of their caste, religion or gotra (sect), the guru too never discriminates disciples. For a guru whosoever imbibes his teaching is his follower". "Respecting our guru is the most important as he is the one who guide us," says Nazma Praveen.
https://timesofindia.indiatimes.com/city/varanasi/muslim-women-celebrate-guru-purnima-in-city/articleshow/70250562.cms
--------
Has the Taliban Actually Become More Progressive on Women's Rights?
by Imogen Francis
July 16, 2019
The Taliban, a movement and organization known for their oppression of women and minorities, came to the negotiating table with the United States and Afghan representatives last week, along with 10 women from differing backgrounds, raising the question of whether or not they have transitioned into a new era of relative progressiveness.
The historic intra-Afghan peace talks took place in Doha and could potentially lead to the end of an 18-year war that has ravaged the region. Asila Wardack, the director-general of the United Nations Department of the Afghan Ministry of Foreign Affairs, was present at the latest conference between the groups in Doha and revealed that the Taliban who were present at the talks have vastly changed in the last few decades.
She went on to say that the Taliban who attended the talks are not the rough fighters many think of, rather they resembled politicians you would see in a more traditional government. Wardack recounted how at one point a Taliban representative even joked that the group of Afghani women representatives were "dangerous women" and asked them not to give the Taliban a hard time.
"My findings – maybe I'm wrong – but their attitude has totally changed towards women, towards government employees," she said.
She also described how the atmosphere at the most recent talks was different to earlier talks in Moscow, where only one woman was present. Among the group of 10 women in attendance in Doha, there were four Tajiks, three Hazaras, one Pashtun and one Uzbek. Wardack said the women were treated respectfully by all parties involved.
This is a shift from the Taliban who ruled Afghanistan from 1996 until 2001, when the U.S. invaded and ousted them from power. During this time the group drafted a constitution which declared that the country be governed by Sharia law and that the Hanafi school of Sunni Islam was the official religion, with little mention of minorities such as the shi'i sect. The constitution dictated that "women's education, within the limits of Islamic Shariah, will be arranged through a special law," yet in practice schooling for girls was extremely rare.
The polished Taliban attending the talks last week have shifted their position from their original constitution to appear as a nationalist movement fighting for Afghanistan's sovereignty, rather than a group who are only capable of punishment, said Robert Crews, a professor at Stanford University.
"Since the U.S.-led intervention destroyed the Taliban government and dispersed its leaders, the Taliban have proved quite adaptive in numerous ways. They skillfully launched a formidable and flexible counterinsurgency movement," he said to The Globe Post. "At the same time, they worked to recalibrate their image to appear more as a nationalist movement devoted to defending the national sovereignty and independence of Afghanistan."
However, there is a disconnect between what Taliban leaders are saying and those on the ground who are still carrying out terror attacks across the country and not discriminating when it comes to their victims. Earlier this month the group carried out a series of attacks in Kabul which killed around 40 people, including children. And on Saturday they killed another six people, including four police officers and two civilians, at a hotel in northwestern Afghanistan.
Following the seventh round of intra-Afghan peace talks, the Taliban and Afghan representatives released an eight-point plan to achieve lasting peace. The sixth point in the plan states "assuring women's rights in political, social, economic, educational, cultural affairs as per within the Islamic framework of Islamic values." Although this may sound like they are taking women's rights into account during the peace talks, the vague language and exclusion of a definition of "Islamic framework" leaves many Afghan women worried about their rights if the peace declaration is put in place, said Wania Yad, an Afghan fulbright scholar at New York University, at the event at Georgetown University.
In recent years Afghan women have made considerable progress towards equality. In 2001, less than 900,000 children were in school with almost none of them female. Today, nine million children are enrolled in school, with 3.5 million of them being girls. Additionally, 100,000 women are currently studying at private and public universities in the country, according to Alice Wells, the acting assistant secretary of state for Central and South Asian Affairs.
Although the Taliban seemingly has loosened the reins on girls attending school, Crews said in reality their attitude towards female education isn't so straightforward.
"They have acknowledged a limited right to education for girls, but, in practice, their approach to girl's schooling has been mixed. The latest wording of an agreement signed at the Qatar talks is quite limited and vague, suggesting that the Taliban are not willing to concede very much on women's rights," he said.
Wardack also questioned the Taliban's commitment to women's rights despite their friendly meeting in Qatar. She said that she is unable to definitively say that the Taliban's behavior has changed because on the first day of the intra-Afghan conference in Doha, there was an attack that wounded 100 school children in eastern Afghanistan. This contradicted their claims that they wanted to "minimize their civilian casualties to zero," and their new stance of endorsing education and human rights.
Crews believes the attacks are an attempt by the Taliban to maximize their bargaining potential. However, he sees this backfiring as talks progress because civilians will lose trust in the groups participating in the talks.
The claims that the Taliban have started to accept modern interpretations of human rights can also be accredited to the group adapting their language, rather than their actions, said Crews.
"Taliban leaders also learned from the technocratic language of the various NGOs [non-governmental organizations] and international organizations that promised reconstruction of an Afghan government that would provide Afghan citizens with security and services," he said.
As peace talks continue, Yad said it is imperative that the Taliban back up their claims of support for human rights by guaranteeing they will not be infringed upon if a peace treaty is signed.
"We are pleased with the sound of peace, we are happy that the bloodshed will stop eventually," she said. "But we are not going to compromise our freedom and our liberties that we have achieved so far."
https://theglobepost.com/2019/07/16/afghanistan-taliban-women-rights/
--------
In The New Afghanistan, the Future of Women Must Be Protected
July 16, 2019
In 2012, a novel titled The Taliban Cricket Club, by the writer Timeri N Murari, was published worldwide. Set in Kabul, its main protagonist was Rukhsana, a young journalist who chafed at the restrictions placed by the Taliban regime on Afghan women. Fired from her job at the fictional Kabul Daily, Rukhsana uses a pseudonym to file news stories for an Indian newspaper on life under Taliban rule.
Eventually, she employs her unique skillset – knowledge of cricket – to outwit the Taliban's attempt at complete control. Rukhsana coaches her brother and male cousins in order for them to win a government-organised cricket tournament. In this way, she is able to secretly challenge the Taliban's stark injunction as described in the book: "Women must be seen only in the home and in the grave". She makes her mark as an educated Afghan woman and "a good off-spinner".
The Taliban Cricket Club is not a great literary work, but it does accomplish something few other books on Afghan women had managed until then. It makes the dreadful reality of Taliban rule easier to imagine and comprehend. Humans, as the philosopher Yuval Noah Harari says, "think in stories".
Events in recent days suggest that Rukhsana's resistance to the severe constraints imposed by the Taliban are becoming relevant once again. The US is talking to the Taliban about withdrawing troops. Intra-Afghan talks have been held in Doha, jointly organised by Qatar and Germany. Recently, the Taliban delegation indicated a new willingness to acknowledge women's rights. The Taliban representatives were in the same room as Afghan women who weren't related to them. They talked to the women and ate with them.
All of this has fed a new hopeful sense of coming change in Afghanistan. A new narrative is said to be taking shape, with the conflict-scarred country moving forward towards a brighter future, which is to be based on an intra-Afghan consensus. The US administration, which is understood to want a deal with the Taliban by September, has already been talking up the real and symbolic importance of what is under way.
Zalmay Khalilzad, US President Donald Trump's special envoy for Afghanistan reconciliation, has denied the US wants to cut and run, abruptly ending the 18-year war it has prosecuted there. Instead, he insists, "We would like to leave a very positive legacy here". And Alice Wells, acting US assistant secretary of state for South and Central Asia, has warned that Afghanistan's future relationship with the US will "depend heavily" on preserving the gains made by women. "No current or future Afghan government should count on international donor support if that government restricts, represses or relegates Afghan women to second-class status," she said.
This is tough talk but the Americans may withdraw anyway, pronouncing themselves satisfied that Afghanistan is at peace. That may mean an unenforceable agreement with the Taliban both with respect to power sharing and gender rights.
Many difficulties lie ahead.
First, there are the discrepancies in various translations of the declaration agreed in Doha. The Pashtu version, the only one likely to be read by the majority of the Taliban's supporters, reportedly had no mention of protecting women's rights. Was this mendacity or merely a mistake? Is the Taliban pretending it will safeguard women's rights while reassuring its core constituency there will be no compromise on ideological positions with respect to gender?
Second, consider the Associated Press report on an exchange from the Doha conference. It might have been either playful or ominous, depending on who you ask. The news agency quoted Asila Wardack, a female member of the Afghan peace council. She said two of the Taliban approached her and other female conference participants. The Taliban said they had heard a group of "dangerous women" were going to be at the meeting. One of the men added: "Please don't give us a hard time."
What could that possibly mean? Was it a jocular way for the Taliban to acknowledge women had a right to be angry? Is the Taliban now willing to accept their five years in power, from 1996, were horrific for women, who were barred from schools, colleges, offices and from any public presence except as veiled figures? Or did those two Taliban men speak in that way to Ms Wardak and other women because they honestly believe the female sex comprises harridans and termagants?
Finally, consider the "roadmap to peace" agreed between the Taliban and Afghan government representatives in Doha. The Taliban insisted the government representatives attend in a personal capacity, which means the roadmap doesn't really have any official sanction. And the promised protections for women's rights are to be within the vague and unspecified parameters of an "Islamic framework". The Taliban could quite easily define the "framework" in terms of their past misogyny. There are bound to be theological differences about Islam's view of women's rights. The Taliban do not have political positions so much as religious ones. Political positions allow for compromise; moral ones do not.
https://www.thenational.ae/opinion/comment/in-the-new-afghanistan-the-future-of-women-must-be-protected-1.886941
--------
66 Russian ISIS women jailed in Iraq: Lavrov
Jul 17, 2019
ERBIL (Kurdistan 24) – There are 66 Russian women in Iraqi jails for various violations of the country's laws and Moscow is closely following their cases, Russian Foreign Minister Sergei Lavrov told a local newspaper.
"So far, we managed to return 90 children to their homeland. According to our information, about 30 of them still remain in Iraq and we expect to take them home in the coming months," Lavrov said in an interview with Russian Argumenty i Fakty Daily newspaper, quoted by Russian News Agency (TASS).
"Regretfully, the cases of their mothers are more difficult to handle. All of them were convicted for violating Iraqi laws: trespassing the border, illegally staying in the country, participating in terrorist activities. The 66 Russian citizens are imprisoned. The Russian embassy in Baghdad follows the situation and renders them necessary assistance."
Moscow started to repatriate its underage citizens from Iraq in autumn 2017, when local authorities informed the country of the capture of Russian women and their children during operations against the Islamic State in Mosul.
Russia established an inter-agency commission that year to deal with children sent home from combat zones.
In Dec. 2018 and Feb. 2019, Russia brought back 57 children from Iraq. Last week alone, Moscow repatriated 33 Russian children in Iraq from the capital of Baghdad.
Recently, Russian Presidential Commissioner for Children's Rights, Anna Kuznetsova, told local media that all Russian children imprisoned in Iraq for terrorist activities would be returned to Russia by August.
She mentioned that most of the children are four years old or younger, born outside of the territory of Russia.
https://www.kurdistan24.net/en/news/399e4209-3dbd-4ceb-bdd8-45b4813b3da8
--------
URL: https://www.newageislam.com/islam-women-feminism/iranian-women-seek-greater-freedom/d/119216
New Age Islam, Islam Online, Islamic Website, African Muslim News, Arab World News, South Asia News, Indian Muslim News, World Muslim News, Women in Islam, Islamic Feminism, Arab Women, Women In Arab, Islamophobia in America, Muslim Women in West, Islam Women and Feminism