New Age Islam News Bureau
1 Apr 2017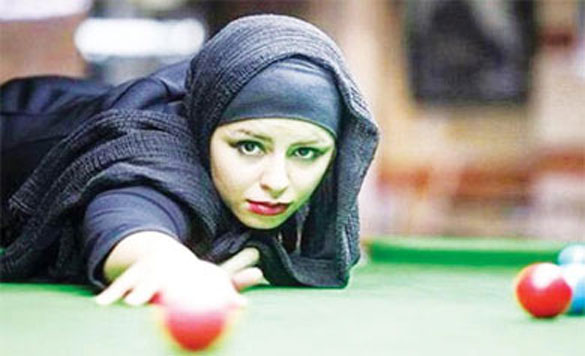 Akram Mohammadi (Courtesy Photo)
--------
• Afghan Women Swimmers Defy Threats for Dream
• Pregnant Hijabi Raps to Celebrate Muslim Women
• US-Pakistan Women's Council Mobilises Female Talent
• Boko Haram Kidnap 22 Girls, Women in Northeast Nigeria
• Disturbing Video Shows Saudi Man Herding Young Muslim Students with Stick
• Gujarat Assembly Resolution Condemns Triple Talaq
Compiled by New Age Islam News Bureau
URL: https://www.newageislam.com/islam-women-feminism/iranian-women-players-snookered-un/d/110616
--------
Iranian Women Players Snookered For 'Un-Islamic' Acts
April 01, 2017
TEHRAN - Iran has banned some of its women players from billiard sports competitions for a year for violating the Islamic codes of conduct at a tournament in China, sporting authorities announced.
The Disciplinary Committee of Bowling, Billiard and Boxing Federation did not reveal the nature of the alleged offences, saying it would name the transgressors later.
"Women sent to China Open (billiard) competitions will be banned from all domestic and foreign competitions for one year for violating the Islamic code," it said late Thursday, according to the ISNA and Tasnim news agencies.
The category of billiard sports includes billiards, pool and snooker.
Since the 1979 revolution, Iran has required women to wear the Islamic headscarf in public. The Islamic code also forbids women touching, dancing or singing with men outside their families.
Women are only allowed to show their face, hands and feet in public and are supposed to wear only modest colours.
Over the years, however, women have pushed back the boundaries of the law, with many wearing loose, brightly coloured headscarves far back on their heads.
T-shirts and jeans are banned for women attending billiard sport competitions, according to the website of the Iranian federation, which could not immediately be reached for comment.
Most pool-billiard clubs in Iran are male only but some offer women-only hours.
Top Iranian female players now regularly compete in national and international games.
In October, Akram Mohammadi became the first Iranian woman ever to win a medal in a major billiard competition, taking bronze at the Asian championships in the United Arab Emirates.
She told the state-run Iran Online website after her victory that the World Pool-Billiard Association had not tried to restrict the wearing of headscarves at international competitions, unlike some other sports.
The reported ban comes less than two months after the Iranian chess federation announced possible disciplinary action against an Iranian brother and sister for violating Islamic and political rules.
Dorsa Derakhshani, who holds the title of International Master, has been living in Spain for more than two years, and playing without the hijab headscarf in chess games. She could face a ban from the federation, fines, prison or lashes if she returns to Iran.
Her teenage brother Borna was threatened with disciplinary action for competing against an opponent from Iran's arch-foe Israel, which is forbidden by Tehran.
http://nation.com.pk/national/01-Apr-2017/iranian-women-players-snookered-for-un-islamic-acts
--------
Afghan Women Swimmers Defy Threats for Dream
March 31, 2017
By Anne Chaon
THERE are just 30 pools in Afghanistan, only one that welcomes girls — and it is facing militant threats for doing so. Nevertheless a handful are diving in, pioneers racing to achieve Olympic glory in Tokyo.
The story of the 25-year-old coach and head of the newly created Women's Swimming Committee, Elena Saboori, epitomizes the struggle to swim in a conservative, landlocked, conflict-plagued country that largely opposes women taking part in sports.
A woman friend first took her swimming, but after that she taught herself by downloading instruction videos from the internet and practicing in the pool in Kabul.
"At first I was really afraid of drowning, but that's when I thought I'd become a coach, because girls do not know how to swim here," says Saboori, an economics student.
Drowning may not be the biggest risk: at the time of her interview with AFP, Saboori had been advised to stay away from the pool after violent threats were made against it for allowing her team to train there.
"We have several types of threats, but I feel that it [the security situation] is a bit better and I am not as afraid as before," she tells AFP. "But I know that I have broken a taboo. I took a big risk by launching this team."
The risks include a burgeoning Taliban insurgency that has affected much of the country. Since 2016, no region has been spared Taliban attacks, while the east and northeast are increasingly coming under fire from the Daesh group (so-called IS).
But Afghanistan's patriarchal, ultra-conservative society, where many still believe women should be veiled and confined to the home, adds another layer of risk. Saboori and members of her team cannot swim with their backs, arms or thighs exposed.
The team is in touch with a Brazilian company to design appropriate swimwear. Until then, they wear tights and black, lycra, long-sleeved tops under one-piece swimsuits, with a swimming cap covering their hair.
"The main obstacle for our swimmers is safety, of course," says the young president of the Afghan Federation of Swimming, Sayed Ihsan Taheri.
He lauds Saboori's courage, appointing her as head of the women's committee in February with a clear ambition: "We aim to be at the 2020 Olympic Games in Tokyo, with a team of at least two men and one woman."
That woman would be Afghanistan's first ever female Olympic swimmer.
Before then, Taheri hopes to get his young swimmers to the Central Asian Championships in Turkmenistan at the end of April.
"With some support, we could certainly qualify for the title of regional champions," he believes.
But the challenges of poor infrastructure and a violent patriarchal culture have been compounded by the Afghan government's lack of support for the women's team.
"All Muslim countries except Afghanistan have a women's team, even the strictest," says Taheri. "They have training sites for girls, but here there is some misunderstanding about women's sport, that it is banned by Islam."
The government has even blocked the allocation of 500 Afghanis (less than $8) paid monthly to members of national sports teams.
Nevertheless, Taheri's federation is trying to revamp at least four ruined public swimming pools in Kabul, including one built in the 1970s by the Soviets on a hill overlooking the capital.
It was in service for less than four years, he thinks, before it fell into ruin. He wants to transform it into a great swimming center.
While awaiting the help of the Afghan authorities, he has launched a fundraiser via the Dreamfuel website, which specializes in financing high-level athletes.
"We have raised $900 so far. It's an honor to help these incredible athletes and to support this historic change," the website's founder Emily White tells AFP.
But it would take at least $3,000, mainly to pay for coaching costs, to launch the Afghan women's swimming team.
Saboori is not ready to give up. At least a dozen other women have come forward in hopes of joining her, she says. "They contact me and of course I accept: I cannot let them down." — AFP
http://saudigazette.com.sa/world/asia/afghan-women-swimmers-defy-threats-dream/
--------
Pregnant Hijabi Raps to Celebrate Muslim Women
31 March 2017
A pregnant hijabi's rap video on celebrating Muslim women who wear the headscarf has had support online, though some conservatives are against it.
Hijab and rap - do they mix? One woman certainly thinks so.
Syrian-American Muslim poet and activist Mona Haydar, 28, put out her first rap song, Hijabi, on Muslim Women's Day earlier this week.
And the unique music video has received a warm response, with people using the hashtag #hijabiXmona to show their support.
However, some claimed it contravened Islamic values.
The video, which was shot in one day, features an eight-months pregnant Mona, rapping about wrapping her hijab, and a diverse group of veiled women dancing and singing along.
She told the BBC: "I'm only interested in growing a more kind and loving world and that is my goal and intention with any and all the work I do."
Repeating questions hijabis often face, the lyrics go: "What that hair look like? Bet that hair look nice. Don't that make you sweat? Don't that feel too tight?"
She continues: "So even if you hate, I still wrap my hijab, wrap my hijab, wrap my hijab...Keep swaggin my hijabis, Swag-swaggin my hijabis."
Responding to the video, one woman said it made her feel "gracious, empowered, and loved". Others added that the video was "dope" and "slay".
But some held a different view, labelling the video as, "extremely disturbing and wrong on every level... hijab is not only a piece of cloth on our head but every action we undertake should embody hijab and piety."
Another added that while the video was "empowering and catchy... hijab is all about modesty and humbleness in attitude, and this video represents the complete opposite".
Commenting on some people's shock that she was pregnant in the video, Mona told the BBC: "Why is it so shocking for a pregnant woman to continue living her own life while growing new life inside her? As a woman who believes that all bodies are good and beautiful, it brings me joy to dismantle the societal structures which try to dictate to women what our bodies should look like. "
Mona, who hails from Michigan and now lives in New York, is no stranger to the media spotlight.
She and her husband Sebastian Robins, who converted to Islam, previously headed a 'Talk to a Muslim' initiative in Cambridge, Massachusetts to fight Islamophobia, and handed out free doughnuts and coffee.
Several people online said Mona's latest song reminded them of Deen Squad, a duo of Muslim rappers singing popular songs with an Islamic twist, (Deen is Arabic for religion).
The group's latest hit, Cover Girl (Rockin' That Hijab), featured 52 hijabi icons from around the world.
Other Muslim female artists also don't see a headscarf as restricting them from making music.
Malaysian singer-songwriter Shila Amzah became popular after appearing on a Chinese singing show and her YouTube videos have had hundreds of thousands of views.
And Yuna, the first Malaysian singer-songwriter to win over the American market, made the US billboard charts and even duetted with American singer-songwriter Usher.
"By the time I got into music, I was already wearing the scarf all the time, and it's really personal to me and my Muslim beliefs, so I decided to keep it and find a way to work around it. I don't see it as a restriction or limitation - I can still be me and get into music and be an entertainer," said Yuna.
Yuna told the BBC: "A lot of people probably don't agree with me doing music but why should I change? I've been doing this my whole life.
"The way I practice my religion is mine, it's not someone else's."
http://www.bbc.com/news/blogs-trending-39453357
--------
US-Pakistan Women's Council Mobilises Female Talent
April 01, 2017
Islamabad - US Ambassador to Pakistan David Hale Friday said that the US-Pakistan Women's Council was a model of assistance that mobilised female talent.
The US envoy met with over 60 Pakistani women entrepreneurs, corporate executives, and capacity-building organisations at the US embassy for a Supply Chain Diversity Expo hosted by the US Pakistan Women's Council and Women's Entrepreneurial Center of Resources, Education, Access, and Training for Economic Empowerment Pakistan known as WECREATE.
Ambassador Hale congratulated the entrepreneurs on starting businesses and urged them to continue to inspire others with their creativity and determination.
He also recognised WECREATE/Pakistan and USPWC Corporate Member Companies, including Proctor and Gamble, The Resource Group, Engro, PepsiCo, General Electric, Citibank and The Coca-Cola Company for providing women-owned businesses the opportunity to market their products and services to industry leaders.
Ambassador Hale said the US-Pakistan Women's Council builds international economic ties, and promotes economic growth and social stability, "all of which benefit both Pakistan and America."
Procter & Gamble and PepsiCo briefed the entrepreneurs on their procurement processes and offered to help interested female suppliers connect with relevant procurement teams in their companies.
During this session, Procter & Gamble's Communication Manager, Claudia Manuel, said: "When Pakistani women succeed, we all win."
USPWC intends to facilitate continuing connections through its networking platform and working with TRG to host a second supply chain diversity event in Karachi later this year.
Women entrepreneurs attending the event had received training at WECREATE/Pakistan, and the Lahore University of Management Sciences through the US Embassy-supported Pakistan Women Entrepreneur Program managed in partnership with American University.
Participants from the World Bank's WomenX entrepreneurship training programme, conducted with the advisory firm Enclude at the Government College University, also took part in the event.
The Expo is the second in a series of events planned under the USPWC supply chain diversity initiative, which aims to help women-owned businesses access sustainable markets by linking them with corporate procurement representatives. The first of these events occurred in April 2016 at Packages Limited in Lahore.
http://nation.com.pk/islamabad/01-Apr-2017/us-pakistan-women-s-council-mobilises-female-talent
--------
Boko Haram Kidnap 22 Girls, Women In Northeast Nigeria
01 April 2017
Boko Haram have abducted 22 girls and women in two separate raids in northeast Nigeria, residents and vigilantes told AFP Friday.
In the first attack on Thursday, the rebels raided the village of Pulka near border with Cameroon where they kidnapped 18 girls.
"Boko Haram fighters from Mamman Nur camp arrived in pickup vans around 6:00 am and seized 14 young girls aged 17 and below while residents fled into the bush," a Pulka community leader told AFP by phone.
"They picked four other girls who were fleeing the raid they came across in the bush outside the village," said the community leader who asked not to be named for fear of reprisals.
According to the official, the attackers were loyal to the faction headed by Abu Musab Al-Barnawi, the son of Boko Haram founder Mohammed Yusuf.
Barnawi was appointed last year by the ISIL group to replace leader Abubakar Shekau, who had pledged allegiance to the group in 2015.
Another resident confirmed the raid and said the girls were likely to end up as brides for the fighters.
"They didn't harm anyone during the raid and they made no attempt to shoot people running away from the village," said the resident.
In the second incident outside the village of Dumba, close to Lake Chad, the militants killed a herdsman who had tried to escape after refusing to pay protection money, said Adamu Ahmed, a member of an anti-Boko Haram militia.
"When the Boko Haram gunmen came for the money they realised he had left with everything and they decided to go after him on their motorcycles," Ahmed said.
"They caught up with him near Dumba where they slaughtered him and shot dead 50 of his cattle.
"They took four women from the man's family and the rest of the herd," he said.
The promotion of Barnawi had revealed divisions in the group, as Shekau had been criticised for mass killings and suicide attacks against civilians.
Barnawi and his right-hand man Mamman Nur, who is seen as the real leader, had promised residents in areas under their control would not be harmed as long as they did not cooperate with Nigerian troops fighting Boko Haram.
They have also killed several civilians they accused of cooperating with the military.
http://www.worldbulletin.net/africa/187203/boko-haram-kidnap-22-girls-women-in-northeast-nigeria
--------
Disturbing Video Shows Saudi Man Herding Young Muslim Students with Stick
March 31, 2017
A CONFRONTING video has emerged from the Middle East that appears to show a man herding young Muslim women with a stick.
The video, taken in Saudi Arabia, shows a man with a large, wooden stick repeatedly banging the hand rail as he apparently orders some veiled women to return indoors.
At the end of the clip, he appears to strike one woman on the head with the stick.
A Saudi feminist who posted the video on Twitter said it showed a high school guard fulfilling his duties "to make sure women are caged until their guardians or drivers come".
"When I was a rebellious teenager, I use to take off my veil when I reached my car. This usually p*ssed off the guard and he used to report me," she wrote over Twitter.
"Every girl in high school and college has a man outside 'protecting' them. Preventing them from leaving with unrelated men."
The feminist, who goes by the name of Moudhi, described herself as a Saudi feminist who specialised in exposing misogynists.
http://www.ntnews.com.au/news/world/disturbing-video-shows-saudi-man-herding-young-muslim-students-with-stick/news-story/4b864fe8c2952d614c87a05dcc99c5a7
--------
Gujarat Assembly Resolution Condemns Triple Talaq
Apr 1, 2017
Gandhinagar: Gujarat, considered to be the political laboratory of the BJP, passed a resolution in the assembly on Friday condemning triple talaq and demanding reforms to protect Muslim women against that practice. BJP MLA Jagrupsinh Rajput presented the resolution, seeking reforms in Muslim personal law and action to ensure the welfare of Muslim women.
The resolution was supported by the minister of state for home Pradipsinh Jadeja and other ministers and the resolution was passed by the assembly with majority votes in the absence of Congress MLAs who had been suspended earlier.
"After studying the triple talaq tradition, it has been found that it was started by the Omiyad dynasty around the 2nd century," Jadeja said. "However, today, while there are greater rights for Muslim women, it's necessary to raise a voice against the tradition of triple Talaq. There is an urgent need for reforms in Muslim personal law and public opinion must be built for it. So, the house supports the resolution.''
Jadeja said that even after the Supreme Court had delivered a verdict in the Shah Bano case to protect the rights of Muslim women, the Congress had amended the law for vote-bank politics. "But now the time has come to raise the voice to protect Muslim women and to bring them on a par with women of all communities," he said. "The Constitution also provides equal rights to all citizens. So, Muslim women cannot be deprived of their rights."
http://timesofindia.indiatimes.com/city/ahmedabad/assembly-resolution-condemns-triple-talaq/articleshow/57950430.cms
--------
URL: https://www.newageislam.com/islam-women-feminism/iranian-women-players-snookered-un/d/110616
New Age Islam, Islam Online, Islamic Website, African Muslim News, Arab World News, South Asia News, Indian Muslim News, World Muslim News, Women in Islam, Islamic Feminism, Arab Women, Women In Arab, Islamophobia in America, Muslim Women in West, Islam Women and Feminism