New Age Islam News Bureau
08 December 2022
• Badri Hosseini Khamenei, Sister Of Iran's Supreme Leader Khamenei, Says Iran 'Not Listening To Voice Of People'
• 9 Arab Women On BBC's 100 Most Influential Women List Of 2022
• Leading Coaches Hold Tennis Try-Outs For Saudi Women
• Newborn Girl's Snatching In Karachi Turns Into Real-Life Soap Opera
• In Shariah-Ruled Saudi Arabia Saudi Women Play Music Along With Men
Compiled by New Age Islam News Bureau
URL: https://newageislam.com/islam-women-feminism/iranian-women-time-heroes/d/128592
--------
Iranian Women Named Time 'Heroes Of The Year'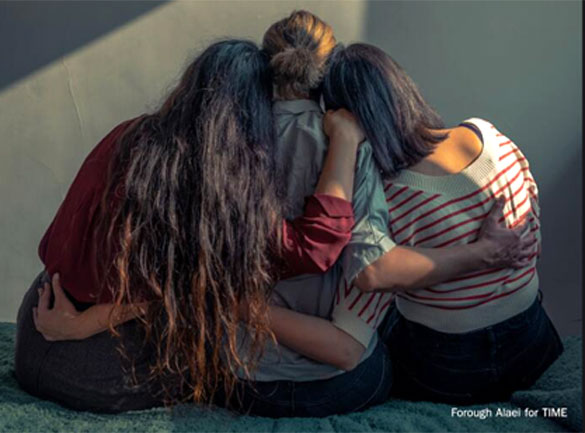 Khaleej Times/ Photo: Twitter
-----
8 Dec 2022
Time magazine has named Iranian women 'Heroes of the Year' for 2022.
Iran was rocked by protests, mostly by women, against the country's morality police and laws that are oppressive to women. The final straw for many of the protestors was the death of Mahasa Amini.
Amini, 22, was arrested at a metro station for violating the country's strict dress code. She was taken by morality police, and died in custody.
Her death sparked a wave of protests among Iranians, both in the country and outside it. Their fight for freedom has been supported by people all over the world.
Last year, the 'Heroes of the Year' title went to vaccine scientists, who found effective formulas that worked against the Covid-19 virus in record time.
Source: Khaleej Times
https://www.khaleejtimes.com/world/iranian-women-named-time-heroes-of-the-year
--------
Badri Hosseini Khamenei, Sister Of Iran's Supreme Leader Khamenei, Says Iran 'Not Listening To Voice Of People'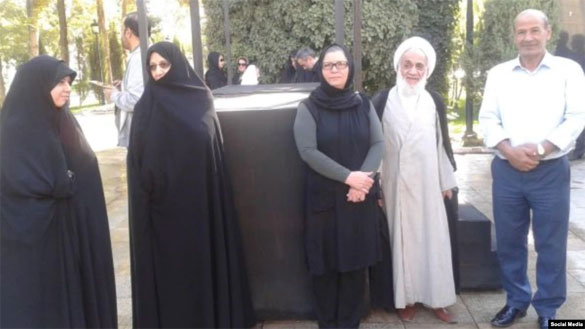 Badri Hosseini Khamenei (second from left)
-----
07 December 2022
A sister of Iran's Supreme Leader Ali Khamenei has declared her opposition to her brother's regime and called on military forces to join protesters "before it is too late," according to a letter shared by her son on Wednesday.
"I think it is appropriate now to declare that I oppose my brother's actions and I express my sympathy with all mothers mourning the crimes of the Islamic Republic regime," Badri Hosseini Khamenei, who lives in Iran, said in a letter shared on Twitter by her France-based son Mahmoud Moradkhani.
She called on the Islamic Revolutionary Guard Corps (IRGC) to "lay down their weapons."
"Ali Khamenei's Revolutionary Guards and mercenaries should lay down their weapons as soon as possible and join the people before it is too late," the letter, dated "December 2022," read.
"As my human duty, many times I brought the voice of the people to the ears of my brother Ali Khamenei decades ago. However, after I saw that he did not listen and continued the way of [ex-Supreme Leader Ruhollah] Khomeini in suppressing and killing innocent people, I cut off my relationship with him," she said.
Protests have swept across Iran since September 16 when 22-year-old Iranian Kurdish woman Mahsa Amini died three days after collapsing in police custody.
Demonstrators have been calling for the downfall of the regime in the protests which have become one of the boldest challenges to the Islamic Republic since its establishment in 1979.
"The people of Iran deserve freedom and prosperity, and their uprising is legitimate and necessary to achieve their rights. I hope to see the victory of the people and the overthrow of this tyranny ruling Iran soon," the letter said.
"I believe that the regime of the Islamic Republic of Khomeini and Ali Khamenei has brought nothing but suffering and oppression to Iran and Iranians," it added.
Last month, authorities arrested Badri Khamenei's daughter, Farideh Moradkhani, after she declared her support for the protests and called on the international community to cut ties with the Islamic Republic.
Moradkhani has been critical of the regime in the past and was arrested on two other separate occasions – earlier this year and in 2018.
"Like all Iranian mourning mothers, I am also sad to be away from my daughter," Badri Khamenei said in the letter.
"When they arrest my daughter with violence, it is clear that they apply thousands of times more violence to other oppressed boys and girls who are subjected to inhumane cruelty."
Iranian security forces have killed hundreds and detained thousands in the protests, according to rights groups.
Source: Al Arabiya
https://english.alarabiya.net/News/middle-east/2022/12/07/Sister-of-Iran-s-supreme-leader-denounces-him-calls-on-military-to-support-protests
--------
9 Arab women on BBC's 100 most influential women list of 2022
Sakina Fatima
7th December 2022
Nine women from the Arab countries, have joined global music phenomenon, Billie Eilish and actress Priyanka Chopra Jonas on the BBC's 100 most influential women of 2022 from around the world.
BBC's 100 women celebrates the achievement of women internationally, from grassroots volunteers to global leaders.
Here are the nine Arab women
Lina Abu Akleh from Palestine
Lina Abu Akleh is a Palestinian human rights defender and the niece of Palestinian-American journalist Shireen Abu Akleh, who was killed on May 11, while covering a raid by Israeli forces in the occupied West Bank.
Lina is fighting for justice and accountability for her aunt's murder. She holds a BA in Political and Media Studies and a MA in International Studies and Human Rights.
Lina Abu Akleh took to Twitter and wrote, "I'm honored to be named one of @BBC100women list of 2022. Being recognized for my efforts to seek justice and accountability for my dear aunt, Palestinian American journalist #ShireenAbuAkleh, is a testament that my voice is being heard."
Gehad Hamdy from Egypt
Dentist Gehad Hamdy is also the founder and director of Speak Up, an Egyptian feminist initiative that uses its social media platform to highlight perpetrators of gender-based violence and sexual harassment.
Hamdy's organization encourages women to speak out about abuse, while also providing legal and emotional support and pressuring authorities to act.
Ons Jabeur from Tunisia
Tunisian tennis star, Ons Jabeur, became the first Arab woman to reach the semi-finals of Wimbledon 2022, one of the four major tennis tournaments in the world.
She was also the first Arab woman to win one of 1,000 titles in Madrid in May.
Reema Al Juffali from Saudi Arabia
Saudi Arabia's first female race car motorist, Reema Juffali, made her motoring debut just months after the world's only decades-old ban on female motorists ended, in June 2018.
She celebrated the moment with her participation as a "VIP" guest driver, in the Jaguar I-PACE eTROPHY, an all-electric race in Diriyah, close to the capital Riyadh in 2019.
Juffali, who hails from the western city of Jeddah and was educated in the United States became the first Saudi woman to race on home soil.
She passed her driving test after she moved to the United States to study, and is now one of the only handful of Saudi women to have obtained a "racing license" in her home country, a mandatory requirement to race professionally.
Nigar Marf from Iraq
Nigar Marf, works as a head nurse in the main burns unit in the Kurdistan region of Iraq, and her work includes treating women who set themselves on fire due to suffering and persecution.
During her long career working in hospitals spanning nearly 25 years, Negar Marf has also worked in pediatric burn departments and in intensive care.
Esraa Warda from Algeria
Esraa Warda, grew up among the Algerian community in the United States, and today she is a fighter in the field of culture and artistic heritage, and she has transferred traditional Algerian dance from home to classrooms in the United States.
Esraa calls for the preservation of women's dance traditions in North Africa, with a special focus on rai dancing, a folk art form historically associated with social protests.
Roza Salih from Iraq
In May 2022, Roza Salih becomes the first refugee to be elected to Glasgow City Council.
Roza Salih was a young girl when she along with her family arrived in Scotland, after they had been forced to flee the Kurdistan region of Iraq. Now, she is the Member of Parliament for the Scottish National Party for the Greater Pollock ward.
Salih has been campaigning for refugee rights since she was a teenager, and she and her friends got together at school to protest the arrest of one of her friends.
Roza Salih took to Twitter and wrote, "Such an honour to have been noticed as one of BBC 100 inspiring and influential women from around the world for 2022. https://t.co/ZCbERgSLG4… @BBC100women #Scotland #Kurdistan #RefugeesWelcome #GlasgowGirls."
Maeen Al-Obaidi from Yemen
Lawyer Maeen Al-Obaidi volunteered in the Yemeni Women's Union, through which she advocated for imprisoned women and battered women. She was also the first woman to reach the Bar Council as supervisor of the Human Rights and Freedoms Committee.
Dima Amin Aktaa from Syria
In 2012, Dima Amin Aktaa was 18 years old when an explosion rocked her family's house in the town of Salqin in Idlib countryside. The moment a shell landed on the house, it took Dima minutes to realize that she had lost her left leg.
Dima did not give up, and after moving to Britain and having a prosthetic leg installed, she returned to her favorite sport and practiced as a fundraiser for refugees, especially children whose organs had been amputated because of the war.
Now, ten years later, Dima is focusing on training in preparation for the 2024 Paralympic Games.
Dima Amin Aktaa took to Instagram and wrote, "So grateful. I have been selected for the second time, to be among the 100 inspirational women around the world. Feeling inspired & empowered by all the incredible women I met at the #bbc100women event last evening. There's nothing like celebrating the power and impact of brilliant and brave women."
Source: Siasat Daily
https://www.siasat.com/9-arab-women-on-bbcs-100-most-influential-women-list-of-2022-2474483/
--------
Leading coaches hold tennis try-outs for Saudi women
December 07, 2022
Female students from Princess Nourah Bint Abdulrahman University (PNU) Riyadh participated in tennis coaching sessions with leading international coaches and former players as part of the Diriyah Tennis Cup program.
The students were coached by Judy Murray, mother of leading players Jamie and Andy Murray, former World Number 1 Mats Wilander from Sweden and Austrian Barbara Schett-Eagle.
Some of the women students held a racquet in their hands for the first time and were introduced to the sport by the tennis legends.
"At the sessions we had a real mix of complete beginners who want to learn the game, some people who have been playing for years and wish to improve and also teachers and coaches," said Judy Murray.
"I have worked in tennis for over 30 years and the last twelve years I have really focused on encouraging women and girls. Not just to play tennis but to get involved in delivering tennis. We don't have enough female coaches in tennis worldwide, so actually to be able to come here against the backdrop of the Diriyah Tennis Cup, which is a mens' event, and have a whole womens' program going on in the community around it, is very, very important."
"As a — hopefully — role model and female coach I like to go out and share all the content I have created over many years. I am so passionate about getting more women and girls involved, so this is a lovely opportunity for me to come to Riyadh to do that."
Former leading player Mats Wilander said: "People are very much into sport here. To play tennis with the female students was wonderful. Judy Murray has a wonderful program. It's important, to bring tennis to the women of Saudi Arabia, women in general and people in general. Everybody should have a chance to experience and try out the sport."
Former Austrian player Barbara Schett-Eagle added: "I had an unbelievable day playing tennis with the female students, some playing for the first time. I love tennis. It's my love and my passion. At the end, they were all able to hit a tennis ball. Some never held a racket before. It was great, there were lots of smiles."
The President of the Saudi Tennis Federation Arij Almutabagani said that she sees a bright future for tennis in the kingdom.
"There is a strong possibility of finding some young talent. We are really starting at the grassroots, at the beginning, but we have to start somewhere. I think Judy Murray is a great inspiration and I think this program with her is a good start and I hope we can work with her in the future," said Almutabagani.
Source: Arab News
https://www.arabnews.com/node/2212406/sport
--------
Newborn Girl's Snatching In Karachi Turns Into Real-Life Soap Opera
Imtiaz Ali
December 8, 2022
KARACHI: In a dramatic turn of events, police on Wednesday recovered the infant girl, who was allegedly kidnapped by motorcyclists when her mother was taking her to hospital in a cloth bag in Baldia Town, saying that the whole incident was a story fabricated by the woman to hide a child adoption scheme devised by the same woman, who was actually the foster mother of the baby girl.
Anni Shahid on Tuesday claimed that motorcyclists had 'snatched' a bag containing her 11-day-old 'daughter' Sidra.
Keamari SSP (investigation) Shamyl Riaz Malik told Dawn that the Madina Colony police had registered a case (FIR 488/22) under Section 363 (punishment for kidnapping) of the Pakistan Penal Code on the complaint of Ms Anni and started an investigation.
During the investigation, the child was recovered and dramatic facts regarding the incident were discovered.
Foster mother concocted story after biological mother took away her child, say police
The complainant, Anni, was actually the first wife of Shahid Soomro, who lived with his second wife somewhere else. Mr Soomro had not met his wife Anni for the past several months. Anni told her husband that she gave birth to a baby girl, which was untrue, the police officer said.
In order to prove her claim, Ms Anni convinced a woman, Ambreen, who was her tenant and recently gave birth to a baby girl, to allow her to adopt her newborn child.
The two women reached an agreement on the child adoption, but a few days later Ambreen, who was the biological mother of the child, changed her mind, and took away her infant from Ms Anni saying she would raise her daughter.
Ms Anni then lied to her husband, whom she had told that she had given birth to a child and fabricated a child kidnap story, the SSP added.
She lodged a false FIR to cover up the adoption incident, opined the SSP Investigation.
SSP Malik said that both the women had admitted this in their statements to the police.
The Madina Colony station investigation officer (SIO) has been directed to produce the 'real mother' of the child before court and get recorded her statement under Section 164 of the criminal procedure code, said the Keamari police's investigation head.
Source: Dawn
https://www.dawn.com/news/1725165/newborn-girls-snatching-in-karachi-turns-into-real-life-soap-opera
--------
In Shariah-Ruled Saudi Arabia Saudi Women Play Music Along With Men
06-12-2022
In its race to catch up with the modern world, Shariah-ruled Saudi Arabia is restoring normal freedoms to its citizens and allowing art and culture to become commonplace while toning down its strict gender segregation policies.
Recently the world saw filmmakers and actors from all over the world converge in Riyadh for the Red Sea International Film festival; earlier Saudis grooving to the music and dance shows of Bollywood actors like Salman Khan.
What is more interesting is the image of a gender-inclusive Musical troupe that performed "Saudi Music Masterpieces" at the Hall du Chatelet in Paris last month. Under the auspices of The Music Authority of Saudi Arabia, the Saudi National Band included both men and women singers.
According to Arab News, The National Music Ensemble was established as one of the main initiatives to achieve the Kingdom's cultural strategy in promoting cultural awareness, in line with the Kingdom's Vision 2030.
"The initiative of the National Music Ensemble aims to form a professional national band with high skills, to represent the Kingdom in musical forums locally and globally," news reports said quoting officials.However, there is much more happening in what was once a closed Islamic country.
The Music Authority of Saudi Arabia has launched a global music competition on TikTok application entitled "The Voice of Saudi Arabia", to enable and discover local musical talents.
The Competition is open to talents from all over the world, including the Saudi Arabians.
According to Saudi news sites, so far, the Competition has received a public interaction of about 2.8 million interactions between likes, views, and comments, in addition to the participation of about 20,000 talents.
The Authority has announced 10 grand prizes to the winners who get the most votes.
Yoga Guru Padamshri Nouf Marwaii recently announced the winner of the first-ever Yogaasna competition on Twitter:
Samaher Almalki, winner of the gold medal🥇in the Yogasana Championship that was held on Saturday 3rd of Dec in University of Business & Technology in Saudi Arabia, Jeddah 🇸🇦 pic.twitter.com/CSd585Jnrw
— Nouf Almarwaai (@NoufMarwaai) December 5, 2022
According to the Arab News this was the first Yogasana Championship in Saudi Arabia and the Arab World. The competition was held at Jeddah in the University of Business & Technology on Saturday.
This trend is also catching up in other cities and towns across the Kingdom.
According to Saudi Moments website, "A Saudi young man, who never let the realities of the world restrain his creativity, the artist who was encouraged and endorsed by the Saudi Ministry of Culture. He started as an unknown artist named Kla5 since street graffiti used to be frowned upon in Saudi Arabia, yet today he is Saudi Arabia's own Banksy. Old buildings and abandoned places were the perfect canvas for the colors of his passion.
"He later unveiled his identity as Ali al-Nafaei and was interviewed in several Newspapers Arab News and Independent Arabia. The drawing gift has grown with him as he grew from a very young age. He admits that his field of study has nothing to do with his art, it is not what he learns but how he expresses himself, and his talents. You can reflect on the gallery of some of the most famous murals of Kla5 at Diriyah abandoned warehouses."
Source: Awaz The Voice
https://www.awazthevoice.in/world-news/when-saudi-women-play-music-along-with-men-17951.html
--------
URL: https://newageislam.com/islam-women-feminism/iranian-women-time-heroes/d/128592
New Age Islam, Islam Online, Islamic Website, African Muslim News, Arab World News, South Asia News, Indian Muslim News, World Muslim News, Women in Islam, Islamic Feminism, Arab Women, Women In Arab, Islamophobia in America, Muslim Women in West, Islam Women and Feminism