New Age Islam News Bureau
09 December 2022
• Justice Ayesha Malik, The First Woman Judge Of The SC Of Pakistan, Ranked Among World's 100 Inspiring Women
• Turkish Surgeon, DilekGürsoy, On BBC's List Of 100 Most Influential Women
• Middle Eastern Women Are Embracing Fashion As A Way Of Self-Expression
• Bosnian Woman, MsJasnaFajkovic, Seeks KP Ombudsperson's Help To Claim Dower (HaqMehr)
• A Women-Led Movement in Indonesia Says Interpreting Islam Isn't Just for Men
• Arab Mothers Often Unable To Enroll Children In Preschool - Study
Compiled by New Age Islam News Bureau
URL: https://newageislam.com/islam-women-feminism/iranian-women-regime-protests-genitalia/d/128598
--------
Iranian Women In Anti-Regime Protests Being Targeted In Breasts And Genitalia, Say Medics
December 09, 2022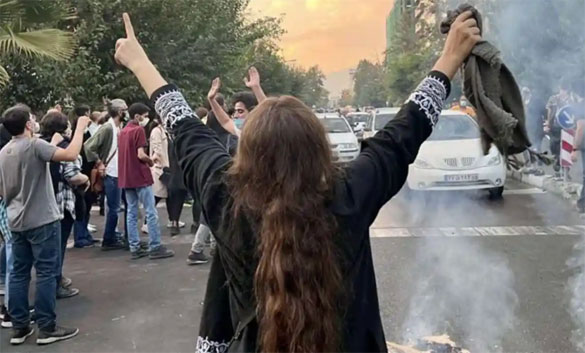 A protest in Tehran days after the death of Mahsa Amini. One medic said he treated a woman 'deliberately' shot in the genitals and thighs. (Shutterstock)
-----------
LONDON: Women are being targeted at anti-regime protests by Iranian security forces focusing their shotgun fire at faces, breasts and genitals, according to interviews with medics across the country.
Doctors and nurses, working in secret to avoid arrest and potential punishment, said they have noted the practice after noticing women arriving for treatment with different wounds.
The medics said men more commonly had shotgun wounds to their legs, buttocks and backs, while shots to the eyes of women, men and Children were also common.
The Guardian reportedly spoke to 10 medical professionals, who warned that the severity of the injuries could leave hundreds of young Iranians with permanent damage.
"I treated a woman in her early 20s, who was shot in her genitals by two pellets. Ten other pellets were lodged in her inner thigh," one doctor told the newspaper.
"These 10 pellets were easily removed, but those two were a challenge because they were wedged in between her urethra and vaginal opening."
Photographs seen by The Guardian showed bullet wounds all over bodies from so-called birdshot pellets, with X-rays showing evidence of tiny shot-balls in flesh.
Another doctor from Karaj, a city near Tehran, said medics believed security forces were shooting at the genitals of women because they have "an inferiority complex and they want to get rid of their sexual complexes by hurting these young people."
Protests have been raging across Iran demanding the overthrow of the clerical rulers of the country following the death in morality police custody of MahsaAmini.
The Iranian woman was arrested for not properly covering her hair, and the doctor who treated her wounds told The Guardian they found the experience of treating Amini "harrowing," adding: "She could have been my own daughter."
Meanwhile, the first death penalty on a demonstrator involved in the recent protests was carried out on Thursday by the Tehran regime.
Source: Arab News
https://www.arabnews.com/node/2213286/middle-east
--------
Justice Ayesha Malik, The First Woman Judge Of The SC Of Pakistan, Ranked Among World's 100 Inspiring Women
December 7, 2022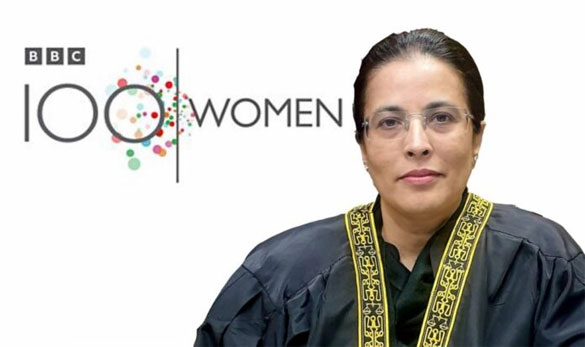 Supreme Court of Pakistan's first female judge Justice Ayesha A. Malik. — BBC
-----------
ISLAMABAD: Justice Ayesha Malik, the first woman judge of the Supreme Court of Pakistan, has been named in the BBC's list of 100 inspiring and influential women from around the world for 2022.
In January last, Justice Ayesha Malik took her oath and formally became the country s first woman judge to make it to the top court. The list includes women from various parts of the world, who have played a key role in politics, education, activism, advocacy, health, science, sports and culture. From Pakistan, Justice Malik is the only woman who has been named in the 10th edition of the BBC's 100 Women.
"Appointed this year as the first female judge of the Supreme Court of Pakistan, Justice Ayesha A. Malik has authored judgments protecting the rights of women," the BBC wrote in her brief introduction. "This includes her landmark judgment which banned the so-called two-finger test of rape victims. These 'virginity tests' used to be performed during the examinations of sexual assault cases until they were outlawed in 2021."
Alongside her role in the Supreme Court, Ms Malik also conducts training for judges around the world and has inaugurated conferences for women judges in Pakistan, encouraging the debate on the gender perspective in the justice system and other issues.
"Women must build a new narrative — one that includes their perspective, shares their experience, and includes their stories," Justice Malik is quoted as having said.
The other women named in the list include global music sensation Billie Eilish, Ukraine's First Lady Olena Zelenska, actors Priyanka Chopra Jonas and Selma Blair, the 'tsarina of Russian pop' AllaPugacheva, Iranian climber Elnaz Rekabi, record-breaking triple jump athlete Yulimar Rojas and Ghanaian author Nana DarkoaSekyiamah.
Source: Pakistan Today
https://www.pakistantoday.com.pk/2022/12/07/justice-ayesha-malik-ranked-among-worlds-100-inspiring-women/
--------
Turkish Surgeon, DilekGürsoy, On BBC's List Of 100 Most Influential Women
December 09 2022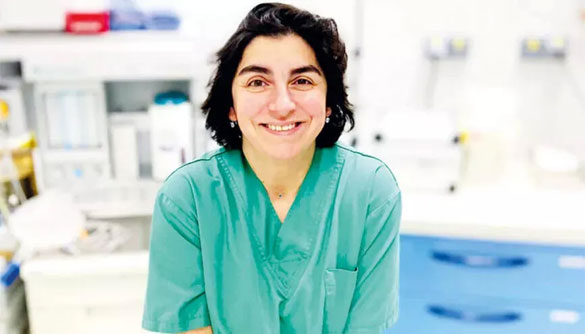 DilekGürsoy, the first female cardiac surgeon in Europe to have implanted a total artificial heart (TAH), has been included on the BBC's list of 100 most inspiring and influential women in the world in 2022.
Many women from several fields from politics to science were included on the list, which has been published for the 10th time this year, while the Turkish-origin surgeon was also among the inspiring women on the list.
"I have been carrying out studies on the total artificial heart since 2010. I grew up working in this field, and it has been almost 12 years," Gürsoy stated.
"I do not like the news of 'the first female surgeon who performed a total artificial heart transplant in Europe,' but during an operation, other surgeons told me, 'A woman carried out this kind of surgery in the U.S., but you are the only one in Europe'," Gürsoy explained.
Emphasizing the importance of experience, Gürsoy stated that though this news comes to the forefront, this job has a demanding preparation process.
"I have a lot of experience in artificial heart research in both humans and animals. The key to success in medicine is experience. I have always been interested in studies that many people do not want to conduct. We can call it luck," she noted.
"I am not an ambitious person. If you work hard, you will eventually succeed. This is the only way which will bring me success," Gürsoy added.
Stating that women do not need to act masculine in order to stand strong while trying to gain a place in the business world, Gürsoy said, "We should be able to continue to be women who manage to remain humble and sympathetic in the workplace."
The successful surgeon also stated that it is essential to leave the comfort zone for progress.
"I got out of my comfort zone four or five years ago and thoroughly focused on my studies. Though I faced difficulties, I never stopped believing in myself. I know the steps I take will go forward as long as I keep working," she explained.
Gürosy was also on the cover of the worldwide known Forbes magazine, which was published on Nov. 3 in Germany.
In 2019, Gürsoy won the Victress Award and the German Medical Award, one of the most prestigious awards in Germany, and was also named the "doctor of the year."
Source:HurriyetDailyNews
https://www.hurriyetdailynews.com/turkish-surgeon-on-bbcs-list-of-100-most-influential-women-179174
--------
Middle Eastern women are embracing fashion as a way of self-expression
December 09, 2022
A life lesson that Michel Fahmy learnt early in his career is one that resonates with him even today.
Early in his career while working for Procter and Gamble selling health and beauty products, he was keen to perform at his best and make a mark for himself. 'I would always tell my boss to give me more, more, more,' he says.
The boss did and Michel found himself working until 11pm for weeks on end. '[This went on] until I burnt out and told him I could not handle any more. That's when he told me: life is not a race, it's a marathon. Learn to pace your energy, prioritize what's important and focus, instead of trying to do it all.'
It is a lesson he still remembers. 'I learnt that I had to talk with my actions more than just my words. I refused to simply coast through the system, and I learned as much as I could every day. A lot of great experiences followed.'
Today, with over two decades of experience in various fields including sales, marketing and management, Michel Fahmy is President of ALDO Group International overseeing development of franchises stores in more than a hundred countries stretching from Middle East and Africa, covering Europe, Asia Pacific and Latin America. Michel's responsibilities include managing teams that support ALDO's international businesses, developing markets, merchandising and training at franchise stores, along with omnichannel transformaiton, while ensuring alignment with the company's business model.
Excerpts from an interview:
What is your definition of success?
For me, success is reaching your full potential in all aspects of life and not only in your job, finding joy and contentment along the way. More than just about your own success, it's being a force for good, inspiring and uplifting others who find success in turn.
Who have been your mentors in business? What are the 5 lessons you have learnt from them?
I have never had just one mentor who guided me. I believe each person can inspire and teach you a super power, so in that sense, many people have mentored me and inspired me.
For example, my father, who had a consulting company, taught me the principles of integrity and hard work. What defines a man is not what he accomplishes but what he stands for.
I love reading and have learnt a lot that way. Stephen Covey's The 7 Habits of Highly Effective people or Good to Great by Jim Collins are examples of books that have helped me a great deal in my professional life.
Lately, Aldo Bensadoun, founder of the ALDO Group, has shown me that passion for what you do is ageless! His relentless pursuit of excellence and how he works with love and respect for others is truly inspirational.
What got you interested in a career in business?
I originally thought I was going to be an engineer, but when I took my first business class, I discovered a world that combined both creativity and problem-solving techniques and called on both left and right brain functions. I remember the project was we had to create a business case. I launched a small catering company as cooking was my passion, and it went well and led me to greater jobs. When I started studying marketing, it ignited a passion in me. Discovering who the consumer is, what they desire and how to speak to them – it's exciting.
Who are your pillars of strength?
My foundation is my faith, my friends my family. I have two wonderful daughters, aged 15 and 14. It's what keeps me calm in the face of any storm.
What do you look for when recruiting staff- attitude or aptitude?
They go hand-in-hand, but we always need attitude. Aptitude without the right attitude means no learning spirit and ability to lead others. They will actually start to discourage others. Competence and the right attitude mean you can learn anything.
Sustainability is fast becoming a key factor in defining a fashion corporate's business model. How is ALDO incorporating it?
ALDO values are to be a force for good. It's about the social compliance of factories, how we treat our teams, partners and our consumers with love respect and integrity, and our sense of responsibility towards social and environmental concerns that relate to our planet.
We are focused on reducing our carbon emissions, a key aspect to our climate strategy. Our ambition is to achieve net-zero emissions (Net 0) by 2050. On top of that, since 2020, all our Call It Spring products are PETA-approved Vegan, a seal of trust which we're immensely proud of.
Post Covid, comfort has gained prominence over fashion. What is ALDO doing to ensure its shoes are comfortable as well as stylish?
Earlier this fall, we launched our newest footwear innovation: Pillow Walk technology. With Pillow Walk, we wanted to address a few things: first we know there's a pent-up demand for dress, but customers still desire comfort.
Second, ALDO's always been known as a top destination for dress, but with Pillow Walk we're re-introducing ourselves as a company that can do both, producing beautiful footwear that you also don't want to take off. The technology we've developed is a moulded sock foam that provides extra padding at the heel and ball of the foot that helps provide comfort. Imagine looking great and feeling great day to night.
How do you define the fashion sensibilities of the Middle East woman? And how is ALDO catering to their unique discerning taste?
I believe the Middle Eastern woman 
is changing and embracing fashion as a 
way of self-expression of who she is. 
She is discerning, looking for brands that deliver on both style, quality, and price. 
We believe ALDO is the brand that can meet all their needs. From her nights out, prom, her wedding, to her first job, to life's special moments, whenever they fall throughout the week and at whatever time of the year. ALDO has you covered. We can adapt our products to the needs of the moment. During the pandemic, we sold more casual shoes as people were stuck at home and now we are back to predominantly dress as the consumers have started going out again.
ALDO is known for its association with influencers. What are your insights from these campaigns?
We love that we are partnering 
with multiple influencers at a time. We 
are a brand in over 110 countries and our diversity is what makes us stand apart from other brands. We want to not only have diverse nationalities, but diverse personalities. We recently partnered with Marwa Al Hashimi who is a horseback rider, but also a model, actor, and a 
former pageant contestant and finalist 
for Miss Universe UAE. She is an empowering role model for young 
women with her thriving success in a competitive sport that is dominantly male, where she was doubted and told that she could not succeed. It's an honour to partner with woman and men who embody what it means to be truly empowered in all aspects of life and 
for ALDO to be with them every step of the way.
Do you believe it is possible to have a work-life balance?
Yes, but it will never be perfect and it's something you will always have to strive 
for and work on, because if you stop making a conscious effort, you will lose that balance quickly. Now, we all have a different definition of what work-life balance means. I believe it's more about seasons of life and moments in the year, as there is no typical week. You need to see it as a whole.
It definitely means working hard 
and being ultra-efficient. I am obsessed with my calendar and not letting anyone take it hostage. I make sure to have 
short meetings with action plans and 
next steps. I put my personal responsibilities, family time, friends, hobbies – everything that is important – in my calendar.
One moment where I learned this 
the hard way was when I lived in New York. I was working long hours and 
got out of shape. I had a hard time mustering the energy to do anything 
but work and sleep. So I got a trainer, 
got back in shape and it gave me the energy to perform better in my job. 
I ask myself daily what is important and what counts. I believe it makes you better in the long run if you take care of your health balance work with life outside of it.
Every month, I review where I am with my goals in the different aspects of my life. I've learnt over time to accept that it will never be perfect – and that's ok! As long as I try some adjustments the following month! It's a journey.
How do you relax?
I love working out one hour every day. Bike, hike, walk dog, kayak, run, spend time with my kids – I need to be active.
I wanted to be a chef growing up, so I do a lot of the cooking on the weekend. Cooking for family and friends and spending time is a great way to relax and I love the quality time of gathering for a meal.
Source:GulfNews
https://gulfnews.com/friday/art-people/middle-eastern-women--are-embracing-fashion-as-a-way-of-self-expression-1.92089867
--------
Bosnian Woman, MsJasnaFajkovic, Seeks KP Ombudsperson's Help To Claim Dower (HaqMehr)
December 9, 2022
PESHAWAR: A Bosnian woman has moved the provincial anti-harassment ombudsperson against her stepson and brothers-in-law alleging they're trying to deprive her of property given to her by her late Pakistani husband as dower (HaqMehr).
MsJasnaFajkovic filed the complaint under Section 4 of the Khyber Pakhtunkhwa Enforcement of Women Property Rights Act, 2019, seeking directives of ombudsperson Rukhshanda Naz for the revenue authorities to transfer that property, including a house and a two kanals plot, in her name.
She requested the ombudsperson to stop the three respondents from "interfering" in that property.
The complainant sought orders for the police and administration in Swat district to provide her with property security.
Alleges her late husband's son, brothers trying to grab property
The respondents included the complainant's stepson, Sikandar Bakht, brothers of her late husband, including Kabir Khan and Saadullah Khan, the revenue officer of Khwazakhela, Swat, and Swat's deputy commissioner.
The complaint was filed through advocate Tariq Afghan.
Under Section 4 of the said Act, any woman deprived of ownership or possession of her property by any means may file a complaint to the ombudsperson appointed under the Protection of Harassment of Women at Workplace Act, who can then initiate action on the complaint.
The complainant said she was a Bosnian resident by origin and had married Bakht Karam Khan (late) when both worked in Bosnia.
She said she and her husband shifted to Swat a few years ago as he served in a government project under the auspices of the Swiss Development Cooperation.
The complainant said her husband suffered from cancer, so she tried her level best for his recovery by arranging treatment in the leading hospitals.
She added that she had spent all her money and gold ornaments on the treatment and even sold out her property in Bosnia, but her husband didn't survive.
The complainant claimed that her late husband had given her a house and a plot measuring two kanals as haq mahr (dower).
She alleged that the three respondents had now been exerting pressure on her and had even threatened to kill her if she did not leave the said property as well as the country.
The woman claimed that she was subjected to severe mental torture and feared for her life. She also said she had health issues and had no relatives or resources to claim her right.
Source: Dawn
https://www.dawn.com/news/1725337/bosnian-woman-seeks-kp-ombudspersons-help-to-claim-dower
--------
A Women-Led Movement in Indonesia Says Interpreting Islam Isn't Just for Men
BY AMY GUNIA
DECEMBER 9, 2022
Muslim women around the world have increasingly taken to the streets to demand greater rights and freedoms. The women of Iran are TIME's 2022 Heroes of the Year for their ongoing protests, which started out as an outcry against enforced dress codes and has grown into the largest, most sustained uprising the Islamic Republic has faced.
In Indonesia, the largest Muslim-majority country in the world, Muslim women are pushing to assert their voice in a different manner: instead of mass demonstrations, they're pushing for greater recognition that women, too, can be knowledgable authorities on Islamic values. And they're making headway, even as the country seems to move in a more conservative direction.
Five years ago, a group in Indonesia did something unique: they convened the world's first congress of women "ulama," the Kongres Ulama Perempuan Indonesia or KUPI. Last month, they convened again, bringing together more women ulama, academics, and activists from across the country and around the world to share their experiences and views.
Ulama are Islamic scholars whose advanced understanding enables them to be spiritual and community leaders. Many work in roles such as running Islamic boarding schools or as preachers. Importantly, ulama can issue fatwas, clarifications or interpretations of the religion. In Indonesia, the top council of ulama holds growing influence over the government; its former chairman is the country's current vice president. However, traditionally, those recognized as ulama have primarily tended to be men.
KUPI "shows that women have a role to play as interpreters of the religion, as people who can put fatwas out," says Rachel Rinaldo, an associate professor at the University of Colorado Boulder who specializes in gender and religion. She adds that, over time, the KUPI movement will "help to disseminate more progressive interpretations and to perhaps bring more women into Islamic leadership."
Earlier this year, Indonesia's Nahdlatul Ulama, the world's largest Islamic organization, appointed two women to top leadership positions for the first time in the organization's 100-year history. At this year's KUPI conference, a national minister promised to support a push for greater women representation in local government across Indonesia, saying that women ulama can play a major role in leading villages and empowering women in areas beyond religion, like education.
KUPI organizers say that the movement has put Indonesia at the forefront of the efforts to produce women-friendly interpretations of Islam and popularize gender-equitable religious views. Ruby Kholifah, a Jakarta-based human rights activist and the Indonesia director of the Asian Muslim Action Network, one of five organizations behind this year's conference, says that although there has been work on gender and Islam ongoing for several decades, before KUPI, those working on the issues didn't have a network and did so mostly individually.
"We thought why not come together so we can give more voices to the women ulama that have been working on women's rights issues so that we can be heard in the public and shift the public in a more moderate direction on religion," says Kholifah. "I think our voices are louder than when we work separately."
This year, female clerics and participants from around 30 countries—including Malaysia, Nigeria, Turkey, India, South Africa, Canada, Finland, Iraq, Burundi, and Kenya—also attended. Eva Nisa, a senior lecturer in anthropology and an expert in Islamic studies at the Australian National University, says that, through KUPI, Indonesia's women ulama can act as "role models for other gender-just activism in other Muslim-majority countries and beyond."
Although Indonesia has had a reputation for being moderate, religious conservatism has gained traction in recent years. On Tuesday, for example, the country revised its criminal code to make sex outside of marriage illegal and to expand its blasphemy law. The women behind KUPI hope that the fatwas they help issue will help shape what life is like for women in Indonesia.
Kholifah says that the topics discussed for issuing fatwas on were decided about a year in advance of the conference by seeking opinions in focus groups. Although there has been widespread attention on the hijab elsewhere—like in Iran where women have protested against morality police enforcement of dress codes or in Europe where Muslim women have demonstrated for their right to wear religious headscarves—KUPI's planning process kept the contentious topic from being added in at the last minute. Instead, this year's meeting ended with the issuance of five fatwas on the topics of of religious-based violence, waste management and environmental sustainability, forced marriage, abortion in the case of rape, and female genital mutilation.
Kholifah believes these fatwas "will reshape the way government is dealing with the issues," pointing, for example, to the fatwa issued after this year's KUPI relating to pregnancy due to rape. Although abortion is legal in Indonesia in the case of rape or medical emergency, advocates have said that its difficult for victims of sexual violence to access abortion care. "It seems like at a national level the government is reluctant to push safe abortion access for rape cases," she says. "KUPI wants the government to really pay attention to this. We hope by having this fatwa, it can increase confidence among the government, and the government can accept as much as possible all recommendations relating to women rights and Islam and because they have a strong back up from KUPI."
Their prior work has already had an impact, according to organizers. Since 2017, when KUPI issued fatwas on sexual violence, child marriage, and environmental degradation, the Indonesian government has legislated changes relating to two of the fatwas issued. In 2019, the country raised the age that women can marry from 16 to 19. And in 2022, a sexual violence law was passed which provides protections to victims of sexual violence, including those in abusive marriages.
"Those two fatwas were very much successful and used by women activists and the government as a reference," says Kholifah, acknowledging, however, that the third fatwa, on environmental degradation, was less successful. "I think successful advocacy at the national level," she says, "stemmed from the contribution of KUPI to open the conversation."
Source: Time
https://time.com/6239993/muslim-women-indonesia-leadership-ulama/
--------
Arab mothers often unable to enroll children in preschool - study
DECEMBER 7, 2022
Employment rates among mothers decline after birth, although the decline is much sharper among Jewish mothers than it is among Arab mothers, according to research recently published in the Taub Center for Social Policy Studies' 2022 annual booklet of selected research findings.
The booklet is the work of The Taub Center Initiative on Early Childhood Development and Inequality. The Initiative's goal, per their own statement, "is to assist in the advancement of effective policy to improve the environmental conditions of children in Israel during their early years of life, in order to improve their outcomes and reduce disparities due to socioeconomic background."
This year's booklet focuses on parental employment and children's participation in early childhood education and care (ECEC) outside the home.
The sharp drop in employment after birth of Jewish mothers compared to Arab mothers is not quite as dramatic as it may first seem when taking into account the fact that the overall employment rate of Jewish women is significantly higher than that of Arab women.
The data from the Taub Center shows no significant changes in the employment rates of fathers of any demographic after their child's birth.
The diploma makes the difference
Mothers with higher education, i.e. those that have a high school diploma, tend to return to work more quickly than those without, across demographics. These mothers also have a higher overall rate of employment and, according to the Taub Center, it appears that the process of returning to work after maternity leave takes much longer for those without a high school diploma.
The study points out that mothers with low socioeconomic status face a difficult choice in deciding between staying home with children or returning to work. While working obviously adds income, it may not be enough to meaningfully offset the cost of ECEC outside of the home.
Consequently, children from birth until 3 years of age who are born to formally educated mothers attend ECEC frameworks (preschools) outside the home at higher rates than those born to mothers without a diploma. This is particularly evident in the Arab sector where the rate of preschool attendance for children of educated mothers is almost double that of those whose mothers do not hold a diploma.
What is more, Arab children tend to spend less time enrolled in an ECEC framework overall compared to Jewish children. The study states that 72% of Jewish children attend ECEC frameworks for at least four years. Conversely, only 20% of Arab children attend ECEC programs for at least four years although 43% do get three years. This is all to say that the overwhelming majority of Jewish children begin education outside of the home before age 3, while Arab children largely do not.
Despite this gap, enrollment in ECEC frameworks does not appear to impact later academic achievement. The study examined reading proficiency data from fourth-grade students and compared Jewish and Arab children according to the amount of preschool attendance. Though there is a large discrepancy overall between Arab and Jewish children's reading levels, the average reading proficiency did not appear to correlate at all with years spent enrolled in an ECEC program.
Barriers to enrollment and ineffective use of government funds
Despite significant funding and social initiatives provided by the Israeli government and private activists, Arab enrollment in preschool between ages 0-3 is particularly low. Per the Taub Center's assessment, this is primarily due to two factors. Firstly, acceptance into ECEC programs gives priority to children of working mothers. Second, any relevant tuition subsidies are granted on the condition that both parents are working. Given the overall low rate of employment among Arab women - particularly mothers of young children- the likelihood of a given Arab toddler being accepted into a program that their parents can afford is minimal at best.
What can be done to get kids into preschool?
The Taub Center presented its findings with the following proposed policy changes. The full study goes into more detail about each point and can be found at the Taub Center's website:
Modification of planning rules to accommodate the complex reality in Arab society.
Increasing the resources allocated to Arab local authorities for the planning and approval processes for the construction of daycare centers.
Additional positions and the hiring and training of professional manpower in the Arab local authorities for thedevelopment of ECEC frameworks.
Running a pilot program in a number of towns in order to assess the repeal of the employment condition foreligibility and subsidies for ECEC placement.
A comprehensive assessment of the registration process and uptake of subsidy rights.
Adoption of a more flexible public transportation system and the wider dispersion of supervised frameworksin Arab towns.
Increasing the subsidies of ECEC frameworks such that the tuition fees do not exceed NIS 1,000 per month.
Providing the possibility of a short school day in supervised frameworks.
Changing the way in which the tax benefit is provided to parents of young children and the full utilization ofthe tax benefit in order to reduce the fees for supervised frameworks.
Tax benefits for employers who finance their workers' childcare.
Source:JPost
https://www.jpost.com/health-and-wellness/pregnancy-and-birth/article-724247
--------
URL: https://newageislam.com/islam-women-feminism/iranian-women-regime-protests-genitalia/d/128598
New Age Islam, Islam Online, Islamic Website, African Muslim News, Arab World News, South Asia News, Indian Muslim News, World Muslim News, Women in Islam, Islamic Feminism, Arab Women, Women In Arab, Islamophobia in America, Muslim Women in West, Islam Women and Feminism