New Age Islam News Bureau
17 Sept 2015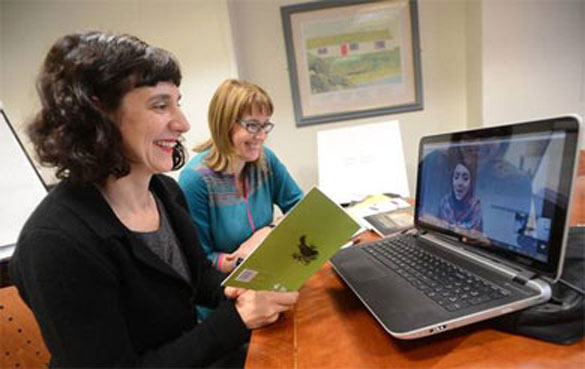 Professor Sinead Morrissey from the Seamus Heaney Centre for Poetry joins Julia Paul, a broadcast lecturer at Queen's University, for a Skype session to teach poetry to women in Afghanistan
----------
• Maternal Deaths in Childbirth in Afghanistan Still High and Shocking
• Helping Afghan Women Is Poetry in Motion
• Bollywood Veteran Shabana Azmi Sticks To 'Fight of Ideologies' Over 'Hindu-Muslim' Debate
• 'Girl Run Away From Home' Incidents Unprecedentedly Increased In Daikundi, Afghanistan
• 3,807 Women Voted In PK-93 By-Poll for First Time: DRO
• 'Saudi Women in The Arts' ignites intense debate
• Nigeria in Talks with Extremists over Kidnapped Girls
• Saudi Women's Rights Activist, LGBT Magazine Winners of Dink Award
Compiled by New Age Islam News Bureau
URL: https://newageislam.com/islam-women-feminism/iranian-women-fined-$260-bad/d/104615
----------
Iranian Women Fined $260 for 'Bad Hijabs' by a Tehran Court
September 17, 2015
TEHRAN - A Tehran court has fined two women $260 for violating the Islamic dress code by not wearing their mandatory Hijabs (headscarves) properly in the street, a judicial official was quoted Wednesday as saying.
"In recent days several cases have been filed in the court for bad Hijabs and, in two of them, the accused were sentenced to pay 9 million Rials ($260/232 Euros) in cash," reformist daily Arman quoted the official as saying.
When in public, all women in Iran, even foreigners, are required to wear the loose scarf, which covers the hair and neck. But since the mid-1990s, there has been a gradual relaxation of the dress code despite continued campaigns by police to enforce it.
In some rich neighbourhoods of northern Tehran, a city of 12 million, it is not uncommon to see women's scarves around their shoulders. Many young women also wear tight clothes and short coats.
No details were given on what the women had done wrong to warrant the fine, which is equivalent to the monthly minimum wage. Since his election in 2013, moderate President Hassan Rouhani has overseen some political and social reforms, but much Iran's political establishment remains deeply conservative.
Earlier this month, a police official said women drivers could have their cars impounded if they are caught driving with a poorly fixed veil or with their heads uncovered. "If a (female) driver in a car is poorly veiled or has taken her veil off, the vehicle will be seized in accordance with the law," said Tehran traffic police Chief General Teymour Hosseini.
In addition to the struggle to make women, and men, observe Islamic values in the public, police also interfere in people's private lives. In the past six months, managers of 73 residential buildings have been "called in" as part of the war against mixed "night parties," Arman quoted the same official as saying.
"The number of night parties has dropped sharply compared to last year," he said. Parties involving unmarried men and women are prohibited by law.
http://nation.com.pk/international/17-Sep-2015/iranian-women-fined-260-for-bad-hijabs
----------
Maternal Deaths in Childbirth in Afghanistan Still High and Shocking
By ZABIHULLAH MOOSAKHAIL - Thu Sep 17 2015
Chief Executive Officer (CEO) Abdullah Abdullah has said that maternal deaths in childbirth are still high and shocking in Afghanistan.
CEO Abdullah while inaugurating the emergency ward at Indira Gandhi Childrens' Hospital in Kabul said on Thursday that other countries have also been through difficult times but situation of Afghanistan is different.
He said that, even though, a lot of efforts have taken place in preventing such incidents but maternal deaths are still high and shocking during delivery, adding that this is not only a affecting a family but also the country.
Firozuddin Firoz, the Minister of Public Health had earlier said that Afghanistan is the 27th country having a high rate of maternal deaths during delivery and first on the regional level.
Ministry of Public Health, International experts and donors have vowed to save more than 35,000 children by the year 2020 in Afghanistan.
----------
Helping Afghan women is poetry in motion
By Lesley Houston
16/09/2015
The words of some of some of our most acclaimed bards are helping to give a voice to women in Afghanistan, whose past is heavily steeped in the oral poetry tradition.
Writers like Belfast Poet Laureate Sinead Morrissey are crossing timezones and thousands of miles this week through Skype to participate in the project Afghan Women Spread The Word in a bid to help heal their war-torn society.
Queen's University Belfast broadcast lecturer Julia Paul began the project in 2013 by visiting Kabul and training women to record their oral histories.
"Afghan women have a huge tradition of knowing poems by heart, and have such a passion and hunger for writing," she said.
"I think we can all learn a lot from each other, and how to heal through reconciliation. I love the idea that writing about trauma can be a therapeutic tool and help a society move forward."
http://www.belfasttelegraph.co.uk/news/northern-ireland/helping-afghan-women-is-poetry-in-motion-31529952.html
----------
Bollywood Veteran Shabana Azmi Sticks To 'Fight of Ideologies' Over 'Hindu-Muslim' Debate
16 September, 2015
No stranger to social activism, Bollywood veteran Shabana Azmi, has put forward her opinion on the recent case of a fatwa being issued to music mogul AR Rahman for his contribution to the controversial film 'Muhammad: The Messenger of God' .
She insisted that the issue be seen in its true form, as a 'fight of ideologies', rather than pitching Hindus against Muslims.
"The fight must not be posited as Hindu vs Muslim. It's a fight of ideologies- the liberal Hindu-Muslim on SAME SIDE vs intolerant HM (Hindu-Muslim) on other," Shabana tweeted.
On Tuesday, the actress featured in a panel discussion in a leading news programme, revolving around the same issue, and voiced her support to Rahman.
Even during the heated discussion, Shabana was quoted as stating that it wasn't a Hindu- Muslim debate, but one between ideologies.
She reiterated the point on the social networking platform, Twitter, on Wednesday.
Earlier, the man of the hour, Rahman, had also justified his stance on social media platform, Facebook, with a positive message, insisting that "the film was made in good faith with no intentions of causing offence".
"We are indeed fortunate and blessed to live in a country like India where religious freedom is practiced and where the aim of all communities is to live in peace and harmony sans confusion and violence," wrote Rahman, a self-proclaimed 'part rationalist, part traditionalist', following the 'middle path'.
http://www.thestatesman.com/news/bollywood/shabana-sticks-to-fight-of-ideologies-over-hindu-muslim-debate/90508.html
----------
'Girl Run Away From Home' Incidents Unprecedentedly Increased In Daikundi, Afghanistan
By ZABIHULLAH MOOSAKHAIL - Sep 16 2015
The Women Affairs Directorate of Daikundi province reports unprecedented increase in the incidents of girls leaving homes in order to marry according to their choices.
Zakia Razai, head of the Women Affairs Directorate of this province is quoted by VOA news as saying that it has turned into a tradition in this province that a girl would escape home in order to marry according to her choice.
She says it is rare to find a couple that has married as normal.
Razai said that Daikundi had record incidents of girls escaping from their homes in Afghanistan last year, adding that these incidents have increased violence against women, corruption and even the imprisonment of the escaped girls.
The Women Affairs Directorate of Daikundi has recorded 40 incidents of 'girl escaping home' in the first five months of the current year which shows an increase by %15 in comparison to the incidents recorded last year.
She says that these marriages usually do not last long and lead to divorce or violence against the girls.
She expressed concern over the matter and said that these incidents are rapidly increasing.
High cost of marriage, Mahr 'dowry' of up to 1,000,000 AFG against against the principals of and force marriage are said to be the main causes behind the incidents.
http://www.khaama.com/girls-running-away-from-homes-unprecedentedly-increased-in-daikundi-3913
----------
3,807 women voted in PK-93 by-poll for first time: DRO
September 16, 2015
UPPER DIR (Staff Report) – As many as 3,807 female voters utilized their right to vote in PK-93 by-poll for the first time in last forty years, said District Returning Office (DRO) Amjad Ali on Wednesday.
In a statement the DRO said the constituency has 57,708 registered female voters however only 6% of them came out to cast votes in Tuesday's by-poll.
According to Amjad Ali 13 polling stations out of total 120 were specified for women and on a good note female voters cast votes in all of them.
Chabar polling station remained on top where 914 women voted while only 68 female voters came at Gambat polling station putting it to the bottom of list.
Earlier on Tuesday the Pakistan People's Party (PPP) candidate Sahibzada Sanaullah clinched a historic victory in Jamaat-e-Islami's stronghold PK-93 Upper Dir in by-election, according to unofficial results.
PPP's Sanaullah bagged 21,788 votes in all 120 polling stations whereas the Jamat-e-Islami candidate Azam Khan remained second with 14,617 votes. An overall voter turn out was recorded to be 34% in the by-poll.
As many as four candidates including two independents, Jamshed Khan and Shah Faisal, have been in the run for by-poll. Jamat-e-Islami's Azam Khan was further backed by Pakistani Tehreek-e-Insaf (PTI) and Qaumi Watan Party (QWP) whereas PPP's Sahibzada Sanaullah also enjoyed support of Awami National Party (ANP), Pakistan Muslim League-Nawaz and Jamiat Ulma-e-Islam-Fazal group.
The seat went vacant upon disqualification of former MPA Behram Khan of Jamaat-e-Islami for holding a fake degree in July this year.
http://en.dailypakistan.com.pk/headline/3807-women-cast-votes-in-pk-93-by-poll-for-first-time/
----------
'Saudi Women in The Arts' ignites intense debate
September 16, 2015
JEDDAH — More than 30 Jeddah art aficionados and cultural cognoscenti gathered at the US Consulate General on Monday for a panel discussion on the topic of "Saudi Women in The Arts".
The gathering, part of the ongoing public affairs series "Friends of The Arts," presented the work and perspectives of artist/scholar Dr. Lina Kattan, painter/professor Samiah Khashoggi and photographer Suzan Iskandar. Lina Kattan, a graduate in Islamic Art Education from King Abdulaziz University and a PhD in Visual and Performance Arts from Texas Tech University, presented selections from her recent projects.
Employing a unique approach known as collaborative art, some of Kattan's works are a fusion of creativity from two or more artists. She also discussed pieces from her recent US exhibition, some of which portray women wearing niqab (face veil) and burkas (a long, loose garment covering the whole body, worn in public by many Muslim women).
Samiah Khashoggi, professor of Interior Design at Dar Al-Hekma University, has degrees from Kingston University and De Montfort University UK in 2006. Since 1990, Khashoggi's life has been divided between her academic profession and an art practice. In 2005, Khashoggi founded Saudiaat, a women artists' group diverse in their styles and techniques united by their gender and solidarity. She has extensive experience with digital art.
Born in Mecca, the artistic talents of Suzan Iskandar were discovered even while in elementary school. She began her professional career in 2002 as a newspaper photographer covering events and official ceremonies. This past summer she was the featured artist at the Jeddah Festival, with a pavilion exclusively devoted to her images of the Two Holy Mosques and the surrounding region.
Following the formal presentations, the three Saudi artists fielded numerous questions from an inquisitive, predominantly male, audience. Responding to a query on her series of women's face coverings, Dr. Kattan stated, "Whenever I do artwork, I like to research the religious documents. I put it as an open statement to the spectators for them to judge for themselves about the idea".
Kattan explained that "In every series I try to focus on an idea that there is a confusion between religion and tradition. I try to make the spectator think about the work. Whenever I do any artwork, I like to research the religious documents."
Kattan's international exhibitions include "Where East Meets West", shown in California in 2013. She has also published several essays, including Re-visiting Gender Roles and Expectations: A Saudi Female Artist Deconstructs Degas.
Khashoggi has exhibited in numerous group shows. Her first solo exhibition, "Reflections," was held in 2000 at Al-Alamiya Art Gallery in Jeddah. Her art developed from conventional realism to a more stylized expressionist approach.
Describing her recent work, she mentioned the collages as a process of "collecting textures" and incorporating collages. "I prefer that there is a bit of humanity and a bit of a personal touch in everything. The digital world is becoming too flat and too repetitive, computerized, robotic."
Women and nature have been Khashoggi's main subjects, moving from oil painting to acrylics, collage and mixed media, constantly exploring different methods of visual expressions. Her second solo exhibition Mashii Mashii debuting her Patches series, in 2014 at Tashkeil, Jeddah. She later curated Anonymous … Was A Woman at Hafez Gallery, Jeddah in 2015.
The desert atmosphere is dominant in Khashoggi's Patches paintings. "The colors are southern because I grew up in Abha," she explained.
Answering a question from the audience about the dominant, empty areas of her paintings of women in abayas, Khashoggi explained, "You give space for the composition to breathe. If I complicate it, it will take away from the structure itself. The presence of 'the ladies' has to be the most important thing."
In a discussion about the faceless features of the women she paints, Khashoggi mentioned, "Until now, I don't know if it's haram (prohibited) or not. It strengthens the fact that my figures are faceless, because they can be anyone. Now I am interested in social issues."
In her introductory comments, she said, "I love to add to the happiness of mankind."
Suzan Iskandar showed her recent book of photos of the Two Holy Mosques. She said photography uses a language that is universally understood and her message helps others understand more about Islam.
One of her thrilling experiences was how her photographs became a catalyst in a Chinese man converting to Islam. "My photographs convey an unseen message," she stated. She has covered major events in the region such and her first exhibition Jeddah was in 2008.
Iskandar recently published a book, Atyaf Al-Haramin, with images of sweeping panoramas and aerial photos of the Two Holy Mosques and environs. The US Consulate has recently held theme-based panel discussions on topics such as Saudi Photographers and Saudi Filmmakers and plans to continue the series each month. — SG
http://www.saudigazette.com.sa/index.cfm?method=home.regcon&contentid=20150917256855
----------
Nigeria in talks with extremists over kidnapped girls
Sep 17, 2015
LAGOS, Nigeria (AP) - The Nigerian government is talking to the Islamic extremist group Boko Haram to try to get the release of more than 200 kidnapped schoolgirls, the president said.
The government is talking to Boko Haram members and it is trying to make sure they are genuine leaders, presidential spokesman Femi Adesina said in a tweet late Tuesday quoting President Muhammadu Buhari. Buhari is in France on a three-day state tour.
Military from Nigeria and Chad freed hundreds of hostages from Boko Haram captivity earlier this year but none of those rescued were from the 219 girls abducted in April 2014 from a school in Chibok.
Nigeria's homegrown Islamic extremist group has used dozens of girls and women in recent suicide bombings in Nigeria and neighboring Chad, Cameroon and Niger, raising fears they are kidnap victims.
Buhari predicted in July that Boko Haram would be defeated in 18 months or less. But he conceded that Nigerian authorities lack intelligence about the girls still missing after the mass kidnapping from the northern town of Chibok - an act that stirred international outrage and a campaign to "Bring Back Our Girls" that reached as far as the White House.
Buhari said his government is open to freeing detained militants in exchange for the girls' freedom.
More than 1,000 people have been killed since Buhari was elected in March with a pledge to annihilate Boko Haram, whose 6-year uprising has killed around 20,000 people. At least 2.1 million people have been driven from their homes, some across borders.
Earlier this year, troops from Chad and Nigeria drove the extremists out of some 25 towns held for months by Boko Haram which had declared an Islamic caliphate aligned with the Islamic State group. The insurgents have returned to hit-and-run attacks and suicide bombings.
In Cameroon, a new report says that more than 380 people have been killed by Boko Haram in the north, and the military's response has left dozens more dead.
Amnesty International said Wednesday that the extremists have committed war crimes "and caused untold fear and suffering to the civilian population."
In the last two months alone, more than 70 people have been killed in a series of suicide bombings. A 13-year-old girl is among those who have been used to carry out the attacks.
Amnesty's report also said that the government's efforts to quash Boko Haram have led to dozens of deaths, and many more young men remain missing.
___
Edwin Kindzeka Moki in Yaounde, Cameroon contributed to this story.
Copyright 2015 The Associated Press. All rights reserved. This material may not be published, broadcast, rewritten or redistributed.
http://www.12newsnow.com/story/30043386/nigeria-in-talks-with-extremists-over-kidnapped-girls
----------
Saudi women's rights activist, LGBT magazine winners of Dink award
September 16, 2015
Saudi Arabian national Samar Badawi and LGBT rights magazine Kaos GL were awarded the International Hrant Dink Award on Tuesday evening in İstanbul for their ongoing efforts to improve the observance of human rights.
The Dink award is presented every year on the birthday of slain Armenian journalist Hrant Dink, who dedicated much of his life to the cause of human rights, particularly for minorities in Turkey. The Hrant Dink Foundation explained in their press statement that, "Badawi stands out as a leading voice for advocating for women's rights and for raising international awareness about the oppression of human rights defenders in her country, while Kaos GL was recognized for its persistence and efficient struggle for LGBT rights in Turkey, where violence against lesbians, gays, bisexuals and trans individuals continues to increase."
Badawi was unable to accept the award in person because her passport has been confiscated by the Saudi government; instead, her colleague, Elsa Saade, accepted the award on her behalf. Badawi is a veteran activist and has been fighting the oppressive Saudi regime since her youth. In the past, she filed a lawsuit against her abusive father, has been a leading figure in the women's suffrage movement and drove a car as part of a protest against the ban on women obtaining driving licenses in her country.
Founded in 1994, Kaos GL is Turkey's oldest LGBT publication and continues its efforts to reduce homophobia, transphobia and sexism in Turkey. They seek to draw attention to legal injustices as well was the violent attacks on the LGBT community that often go unvoiced in the mainstream media. Their motto, "The liberation of homosexuals will liberate heterosexuals as well," has inspired heterosexuals and homosexuals alike to join forces in taking to the streets to bring attention to human rights violations against the gay community.
Other inspirational activists and movements recognized during the ceremony were India's Robin Hood Army, which feeds the impoverished; the White Helmet group of Syria, which rescues people trapped in buildings destroyed in the ongoing civil war; Vyan Daxil, who was the first member of the Iraqi parliament to speak of the massacre of Yazidis; the Electric Yerevan movement in Armenia, which protested a raise in electricity prices in Armenia; the Black Lives Matter movement in the US and the Camp Armen activists of Turkey, who are continuing their occupation of the former Armenian orphanage which was unjustly usurped by the government in the 1980s. The ceremony also honored the young people who lost their lives in the July bombing in the southeastern town of Suruç, who were on their way to the Syrian town of Kobani to deliver toys to children whose lives have been devastated by the war in Syria, as well as providing other assistance to local residents.
Tuesday's ceremony also included performances by Turkish singer Ceylan Ertem and Lebanese-Armenian rock singer Eileeen Khatchadourian. Prominent historian Taner Akçam also gave an extensive speech on the 1915 massacres of Armenians by the Ottoman Empire, an event in history that he has argued for many years was "undoubtedly a genocide," a view for which he has received much criticism.
http://www.todayszaman.com/national_saudi-womens-rights-activist-lgbt-magazine-winners-of-dink-award_399313.html
----------
URL: https://newageislam.com/islam-women-feminism/iranian-women-fined-$260-bad/d/104615