New Age Islam News Bureau
24 Apr 2016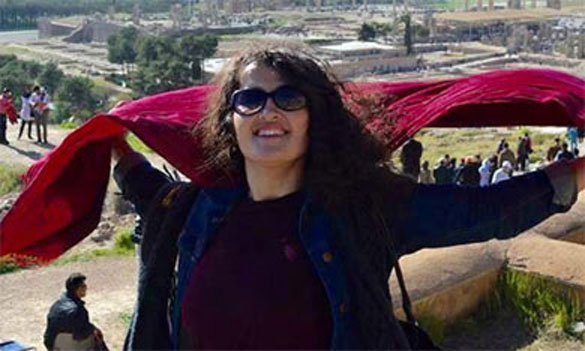 One of the Western tourists who joined the My Stealthy Freedom campaign against Iran's hijab law My Stealthy Freedom
--------
• Iranian Women Call On Tourists to Violate Hijab Law, Fight Oppression
• India: Kerala Mosque Opens Doors to Women for the First Time
• 'Patriarchy, Not Shariah, Blocks Women's Entry to Haji Ali Dargah'
• How Islamabad Literary Festival Treated Women's Issues
• Revisiting Shah Bano's Family, 31 Years Later: 'My Mother Got Threats after SC Order, But Stuck to Stand'
• Britain's Secret Honour Abuse: Charity Dealing With One Horrifying Case Every Day
Compiled by New Age Islam News Bureau
URL: https://newageislam.com/islam-women-feminism/iranian-women-call-tourists-violate/d/107085
-----
Iranian Women Call On Tourists to Violate Hijab Law, Fight Oppression
Apr 24, 2016
As more and more Western tourists visit Iran, foreign women are being urged to break the country's strict Islamic dress code to "make a stand" about the restrictive laws.
It is illegal for women to go out in public without wearing headscarf in the country, where thousands of undercover agents and "morality police" patrol the streets to check for violations. Women found to have their hair or bodies inadequately covered can be publicly admonished, fined or even arrested.
But thousands of Iranians have been risking punishment by taking off their hijabs (headscarves) in public and snapping photos as part of a defiant online campaign to counter the "oppressive" law.
Now, the founder of 'My Stealthy Freedom' is urging Western tourists to join them in a show of solidarity. Masih Alinejad, who left Iran in 2009 and now works as a journalist in New York, said non-Muslims should join the fight against compulsory dress codes. "When compulsory hijab affects all women, then all wo-men should raise their voice," Alinejad said, adding that she was inspired by the actions of an Air France cabin crew who refused to fly to Iran after being ordered to wear headscarves upon arrival in Tehran earlier this month.
Many international carriers have resumed flights to the country since the UK, US and other nations declared it formally safe for travel after an agreement on the government's nuclear ambitions was struck. "After decades of isolation, Iran after the nuclear deal is seen as a cool place to visit," Alinejad said. "Iran is a beautiful country but let's not kid ourselves, it's not heaven for women. As more people visit Iran, the women in particular will gain a sense of the issue," she added.
http://timesofindia.indiatimes.com/world/middle-east/Iranian-women-call-on-tourists-to-violate-hijab-law-fight-oppression/articleshow/51962399.cms
---
India: Kerala Mosque Opens Doors to Women For The First Time
Apr 23, 2016,
At a time when there is controversy over whether women can enter certain temples, a mosque in Kerala's Kottayam district has opened its doors to women. All women believers of the community can enter the Thazhathangady Juma mosque on April 24 and May 8, a first in its history.
The Thazhathangady Juma mosque is said to be almost thousand years old but one that was visited only by men. The women in the community were never allowed to take a look at the inside of the mosque.
The mosque committee has now decided to let women inside.
"Muslim women in the right attire can enter the mosque only on the two days as decided by the committee," said Moulauddeen Sirajjuddeen Hasni, the Chief Imam.
The right to enter however does not mean right to pray. The temple committee had to convince the men that the timing of their entry will not clash with the namaz timings on the two days.
"There are several people who are not happy with the decision. For now, outsiders cannot enter. Only Muslim women can and about women praying inside, we will discuss in future," said MP Nawab, president, mosque committee.
One of the oldest mosques in India, Thazhathangady Juma mosque is a tourist attraction famous for its architecture. But Haseena Kunjimon who lives close to the mosque, just 2 kms from Kottayam town has never been able to have a glimpse of the wonder. She is pleased that she now can.
"My friends from other religion ask me if I have ever seen the mosque because tourists come to see it often. Kids have seen the inside. Now I can see too," says Haseena.
http://indiatoday.intoday.in/story/kerala-mosque-opens-doors-to-women-for-the-first-time/1/649824.html
--
'Patriarchy, Not Shariah, Blocks Women's Entry to Haji Ali Dargah'
Apr 23, 2016
Hindi cinema has for long turned to Sufi saints' shrines whenever it needs to underline the message of inclusivism or reunion of estranged lovers. The camera pans on the saint's grave, covered under mounds of flower petals and colourful shawls, while men and women queue up to reach the tomb, the sanctum sanctorum where the holy soul rests. Quintessentially beautiful Sufi songs, belted out by long-haired and kohl-eyed qawwals, transport both the devotees there and the viewers sitting afar to a different world. Discrimination, envy and enmity evaporate into thin air quicker than the camphor-like, sweet-smelling substance called lobaan which burns and melts slowly into dense smoke.
But that picture of inclusive, secular spaces like Sufi shrines, including that of the iconic Haji Ali Dargah, is being shattered as women fight to get the ban on their entry to the shrine's sanctum sanctorum revoked. This past week, taking inspiration from the recent victory of Bhumata Rangragini Brigade at Shani Shingnapur Temple, some progressives in the city, joined by the Brigade's leader Trupti Desai, backed Muslim women's demand to be treated at par with men at Haji Ali Dargah.
The Dargah trustees cite Shariah (Islamic laws) which, according to them, prevent women's presence in the sanctum sanctorum. Interestingly, till 2011 such restrictions were not imposed. "We have never stopped women's entry into the shrine. It is just that there are different queues for men and women and women are not allowed to touch the saint's grave," says trustee Sohail Khandwani who is also managing trustee at Mahim Dargah. Some even say that Islam doesn't encourage women to visit graveyards and since Sufis' shrines house graves they should avoid visiting them.
But many scholars reject trustees' argument that Shariah don't permit women to be inside a shrine. Islamic scholar Zeenat Shaukat Ali explodes this "men only inside shrines" theory with examples from the early phase of Islam. "Prophet Muhammed was buried at his wife Hazrat Ayesha's house. The Prophet's daughter Fatema used to visit her granduncle Hamza's grave and pray there. Hazrat Ayesha used to visit her brother's grave. It is not Shariah but patriarchal mentality which prevents women's visit to shrines," says Ali. Senior cleric Maulana Shoeb Koti says that Islam wants its followers to remember death and visiting graveyards actually reminds us of the inevitability of death. "If men can go to graveyards and shrines, why can't women? Security can be an issue but not Shariah," claims Koti.
Senior Urdu columnist Hassan Kamal says Islam's four holiest shrines in as many different cities—Mecca, Medina, Najaf and Karbala (both in Iraq)—don't practice such strict rules. "During Haj and Umrah (mini-Haj) men and women perform the rituals together. If men and women are equal in Allah's holiest home, why can't women be allowed inside Sufis' shrines?," asks Kamal. The Saudi rulers, propagators of Wahhabism which militates against the moderate face of Islam, impose several restrictions on women, including a ban on driving in public. "Yet the Saudi rulers appear more liberal than the followers of Sufis who claim to be moderate but actually restrict women," adds Kamal.
Many question the women's blockade at Haji Ali when some of its trustees are also trustees at Mahim Dargah where women devotees have easy access. "Why are there different set of rules at two dargahs some of whose trustees are common?" asks Feroze Mithiborewala of Haji Ali Sabke Liye, a forum launched recently to fight for the women's right to enter the shrine's sanctum sanctorum. Mithiborewala says he is trying to establish dialogue with Haji Ali Dargah trus-tees and convince them to find an out-of- the-court solution (a petition is pending in the Bombay High Court). He adds a dharna will be staged outside the Dargah on April 28.
http://timesofindia.indiatimes.com/city/mumbai/Patriarchy-not-Shariah-blocks-womens-entry-to-Haji-Ali-Dargah/articleshow/51958777.cms
--
How Islamabad Literary Festival Treated Women's Issues
Apr 23, 2016
While the three-day Islamabad Literary Festival had quite a few panels on gender and women's issues, not all were conducted as they should have been. Perhaps the only satisfactory session was the one titled 'Women's Protection: Yeh Bill Maangay More', that discussed why religious parties oppose the Punjab Protection of Women Against Violence Act 2016 and whether they could legally oppose it.
Samia Raheel Qazi, who is the only woman on the Council of Islamic Ideology (CII), began by saying that although domestic violence was a reality, rather than focusing on the negative aspects of traditional families, the positive, "beautiful" relationships within families should also be highlighted. She said that the bill would only serve to break families apart.
"The West is also concerned about the breaking up of families, and we should take care that we do not break up our own", she said. She added that while a husband is thought to be superior to his wife in Islam, the balance is restored when she becomes a mother, and her status is three times that of the father. To this, retired justice Nasira Iqbal asked whether the religious leaders in opposition think that the lawmakers who drafted the bill, and those who support it, are not Muslims. "They think they are the only Muslims," she said.
From the women's protection bill to education issues and projection in art, several sessions focused on gender-specific themes
Addressing the popular criticism that points out that only violence against women is tackled, she added that there were no bans on drafting similar bills for other vulnerable groups as well. "Religious leaders also object to interference in a house by the police. Why do they only object when it comes to protecting women? The police will only be interfering if there is a crime, just like they do in murder cases, robberies and other crimes," she said.
Arfa Sayeda Zehra said that the bill did not call for anything un-Islamic as it talked about protecting a certain group. "The word 'man' or 'mankind' refers to our bodily form. What makes us 'human' is the way we think and feel and it seems like we have vowed to not give everyone their rights and [to] not be human," she said.
Director of Lok Virsa, Fouzia Saeed, maintained that opposition to the bill should not matter because parties which are not part of the Punjab Assembly do not have a say in the matter. "Why is it that all of our bad actions like karo-kari are considered part of our tradition and culture, and all the steps taken for the betterment of a vulnerable group are said to be Western?" she asked.
"Why is it that all of our bad actions like karo-kari are considered part of our tradition and culture, and all the steps taken for the betterment of a vulnerable group are said to be Western?" she asked.
On the same day of the festival, what was meant to be a session on issues of land ownership and governance of the forests in Swat, turned into a session on the women of Swat — for which the panellists were not prepared, since the topic had been changed at the last minute. As a result, the discussion was incoherent and confusing, and did not seem to have a unifying theme.
On Sunday, the third and final day of the festival, Aawaz held a session titled 'Barriers to Girls' Education', which was to discuss a recent study by the Society for the Protection of the Rights of the Child (Sparc). The study was carried out across three districts in southern Punjab and documented that most young girls drop out in primary school. The study further went on to reveal that even after dropping out, the girls who had attended school for even a short duration fared better than those who had never been enrolled. The young girls who dropped out went on to either take up embroidery and other craft work, or even became domestic help. Girls who are never enrolled usually ended up begging.
The report also identified the lack of basic facilities like toilets, furniture and security in schools as some of the factors that lead to young girls dropping out. Also of importance is the distance to the school and if the route was safe.
However, narrating the details of the study took a long time and the rest of the panellists as a result did not have enough space to make their arguments which would have been more interesting than details of the research. The findings could have been shared with the audience by distributing handouts.
Unesco Director Vibeke Jensen spoke about the need for making schools more attractive and entertaining for young children. Researcher and former joint education adviser at the Ministry of Education, Haroona Jatoi, said that there tends to be a gap between policies and legislation and this needs to be immediately addressed.
Professor at Quaid-i-Azam University A.H. Nayyar started off his very brief speech about identifying and separating the factors that cause young girls to drop out, from the factors which are applicable to all children. However, he was not allowed to complete his point because there was no more time left.
That the moderator did not stop Sadia Hussain from taking up three-quarters of the time that was to be shared by all the experts resulted in a boring, monotonous initial segment and a frustrating last 15 minutes because the audience wanted to know about the other experts' viewpoints.
The last ILF session on women's issues was a discussion on how women have been portrayed in art over time. The session was titled 'Translating Gender'. Miniaturist Ayesha Durrani said women have always been depicted as an object of desire in paintings. "They have always been used for their lyrical embodiment of beauty, and to portray the perfection that is expected of them," she said. Durrani said she paints silhouettes of women or mannequins without heads because women are considered less intelligent than men. "I thought women are not required to have heads, as long as their bodies are beautiful," she said.
Educationist and artist Salima Hashmi said that the change in how women are being portrayed in art started in the late 1970s and early 1980s when women started raising a voice against the Hudood Ordinance and the "horrific" dictatorship of Gen Zia. "We live in a country where a maulana opposes a women's protection bill saying that he is concerned that wives will return home at two in the morning ... no one speaks against children being sexually abused and about the high rate of incest," she said. The change in how women are depicted, she said, was a way of raising a metaphorical voice against these "sufferings" that are in a way a consequence of Gen Zia's regime.
Curator Aasim Akhtar agreed and said that the late 1970s and early 1980s was when the change in the depiction of women started to happen, if incrementally.
"Women were always painted either as waiting for a lover or as a courtesan, except for Hindu paintings where they were also shown as goddesses," he said, while referring to art in the subcontinent. "The change that came about at the end of the military rule came as a way for women to rebel against the status quo," he added. Another artist on the panel, Farida Batool, said she paints nudes to show the struggles of women and the effects their struggles leave on them. "I draw bodies because I grew up in a society where I was made very much aware of my body," she said.
After this, the discussion then ended up being about how the government does not care about art in general and how it is deliberately sidelining arts from the school curriculum. The experts also discussed how they cannot discuss and criticise art in Urdu because the language has been sensationalised. "You can be comfortable when describing a figure in a painting as 'naked' but not when you use the word 'nanga'," said Batool.
https://www.dawn.com/news/1254115/how-ilf-treated-womens-issues
--
Revisiting Shah Bano's Family, 31 Years Later: 'My Mother Got Threats after SC Order, But Stuck to Stand'
Apr 23, 2016
"My mother was a simple woman but circumstances made her tough. She was so angry with my father that she warned him, 'Vakil saab, if I go to court, you will never be able to wear your black coat again'. He lost the case and never wore his coat again,'' says Siddiqua Ahmed about her mother Shah Bano, who, as a 62-year-old, famously dragged her advocate husband Mohammed Ahmed Khan to court for maintenance, setting off a political battle over Muslim personal law.
Shah Bano won in 1985, with the Supreme Court ruling that she was entitled to maintenance like any other Indian woman. The Congress government headed by Rajiv Gandhi then enacted the Muslim Women (Protection of Rights on Divorce) Act, 1986, to set aside the Shah Bano verdict. Shah Bano eventually died in 1992, though her case continues to be a milestone.
It was the second marriage of Shah Bano's husband Mohammed Ahmed Khan, to a cousin of hers that tested the couple's already strained relationship. For years, however, the two women lived together in the same house. Khan later asked Shah Bano to move out to a separate house he owned, a shanty in an adjacent lane, with her three grown-up sons, before divorcing her. Both Khan and his second wife are no more. Khan, who had a law degree from Bahrain and who practised in the Supreme Court and in the High Court, died four years ago when he was in his eighties.
Siddiqua, 67, lives in Khajrana, a Muslim-dominated locality in Indore, only a few houses away from where she grew up with her four siblings and seven half-siblings. She lives with her husband Shafiaq Ahmed, a lawyer by training and an Income Tax consultant, two sons and their families.
Siddiqua says she and her younger sister Fatima were already married when their parents started living separately. Despite what happened to her mother, she adds, she hoped to someday make up with her father. But after the court case, he stopped talking to them.
"We once met at a funeral but did not speak. He was a good man but was under the influence of my stepmother. She would mistreat my mother and brothers,'' says Siddiqua.
According to her, her father Ahmed stopped practising law after losing the case because he took it as an insult.
Siddiqua's eldest brother Hameed Khan is no more while the youngest bother, Jameel, who, she says, accompanied their mother to meet Rajiv Gandhi in Delhi, has been unemployed ever since he lost his job with a cooperative bank. Siddiqua says she and her siblings are not on talking terms with her half-siblings.
Siddiqua recalls how, after the court victory, protesters would menacingly walk past her mother's house. "People even offered us money to toe their line. But she stuck to her stand,'' she says.
http://indianexpress.com/article/india/india-news-india/shah-bano-case-india-islam-divorce-muslim-women-alimony-2767429/
--
Britain's Secret Honour Abuse: Charity Dealing With One Horrifying Case Every Day
Apr 23, 2016
This type of domestic violence happens within communities of all faiths - however, a recent documentary highlighted the issue among the Muslim community.
Honour abuse is when an abuser feels they have lost respect within their community and attacks their partner in a twisted attempt to regain standing.
The UK charity The Sharan Project helps women, particularly of South Asian origin, who have been disowned by their families or who have left home forcefully or voluntarily.
Speaking to Express.co.uk, founder Polly Harrar said: "Honour based abuse is one of the main issues that we deal with on a daily basis.
"It is still very much an issue."
The charity has recently launched Our Girl, which is a national campaign to tackle forced marriages.
Since it was set up in 2008, it has helped over 500 women.
She added: "We have seen an increase in the demand for our service, but disclosure does not mean prevalence."
Mark Groves, Head of Operations at the National Centre for Domestic Violence, told Express.co.uk it is more difficult for Muslim women to break away from abusive relationships.
He said: "It is more difficult for Muslim women to break away because of their family ties.
"It is much easier for a white, middle class woman to be able to break away.
"Somebody may not understand what it [domestic violence] is, maybe they are kept away from news articles.
"There are countries in the world where it is acceptable to be abusive to your wife or your husband. It is even acceptable in some countries, like in South Africa, for women to disappear."
He highlighted the figure that one in four women suffer domestic abuse in their lifetime shows there is mass under reporting of the issue, as the number of reported incidents is far less than this.
The centre, which provides an emergency injunction service to survivors of domestic violence, has seen a vast increase in the number of legal injunctions they have helped with, from 5,620 in 2013 to 7,856 in 2015.
Mariem Omari works for the Muslims Women's Resource Centre in Scotland, which works to promote the welfare of Muslim women.
She highlighted that violence against women is in general under reported - it takes women 30 attempts to leave a violent partner.
She said: "It is not more of an issue for Muslims; it is a massive issue for the community as a whole.
"There are differences in the justification as to how violence is perpetrated within the Muslim community.
"Sometimes people can have a twisted view of the Koran and use that to justify why it is ok to beat women. This idea of honour and shame is very prevalent.
"Honour and shame is being used for violence against women, for example if a man and woman are not married and they are seen together out in public, this can have a negative impact and give her family a reason to beat her.
"It is not always partner violence; it can be her mother-in-law, father or uncle.
"The women need to preserve the honour of their family and if they do not, it is excusable to discipline them."
She continued: "Women who leave their partner are at the highest risk of being murdered by their partner in the first two weeks."
According to a recent poll conducted for the Channel Four programme 'What British Muslims Really Think", 39 per cent of Muslims surveyed believes wives should always obey their husbands, compared to five per cent of non-Muslims.
The programme also revealed that one in three Muslims think that it is acceptable for men to have more than one wife.
During the Channel Four programme, Trevor Phillips said: "The bland Quranic platitude, in my view, hides a clear invitation to legitimise domestic violence."
The issue does not just affect Britain - Salma Abugideiri works with the Peaceful Families Project to end domestic violence in Muslim families in America.
She works with imams and part of her work is about exploring ways that religious teachings have been misused to justify violence.
She said that there is under reporting of domestic violence in all communities - the reasons include the implications and ramifications of leaving and fear of what happens after leaving.
Ms Abugideiri said: "I think there may be many more reasons in the Muslim community, such as contributing to the negative perception people have about Muslims, fears of discrimination, fears that the abuser might be deported, fears related to being undocumented (the majority of Muslims in the US are citizens or legal residents, but some are undocumented), limited financial resources."
http://www.express.co.uk/news/uk/663639/Britain-s-secret-honour-abuse-Charity-dealing-one-case-daily
--
URL: https://newageislam.com/islam-women-feminism/iranian-women-call-tourists-violate/d/107085