New Age Islam News Bureau
26 Jun 2014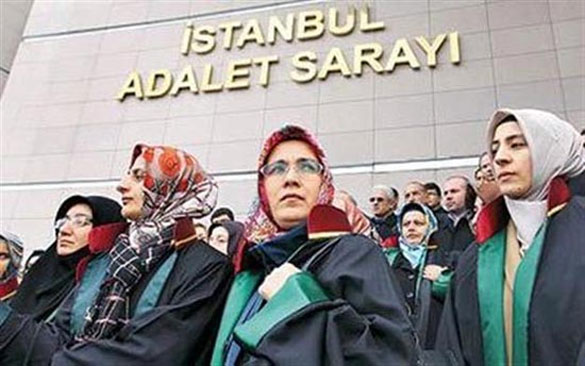 Headscarved lawyers are seen during a protest at the Istanbul Courthouse
-------
• Libyan Women's Rights Advocate Salwa Abugaigis Assassinated
• Palestinian-Syrian Actress Chosen as Judge for Emmy Awards
• Dismissal of head scarved lawyers from Turkey court violates their rights
• Jailed activist Mahienour El-Massry wins international rights award
• Women's Group in Philadelphia Offers Support to Iraqi Refugees
• Sudan Christian Woman Faces New Charges
• Christian Woman Freed After Death Sentence Ruled 'Faulty'
• Liberia: Senator Taylor Vouches for Islamic Girls Education
• Madonna covers up in black Burqa selfie
• "Women's Right to Education in View of Islam" Conference in Afghanistan
• Two Indian nurses evacuated From Iraq
Compiled by New Age Islam News Bureau
URL: https://www.newageislam.com/islam,-women-and-feminism/new-age-islam-news-bureau/iranian-interior-minister-dressed-down-over-revealing-women's-leggings/d/97751
--------------
Iranian Interior Minister Dressed down over Revealing Women's Leggings
26 June 2014
Skin-tight leggings popular among Iranian women have sparked an uproar in the Islamic republic's parliament, where the interior minister was dressed down over the female population's fashion choices.
Iranian Interior Minister Abdolreza Rahmani Fazli received a warning from parliamentarians at a June 24 hearing amid accusations that he is not doing enough to stop women from wearing the elastic leggings known as "supports" in Iran.
Fazli was summoned to the conservative-dominated parliament to answer questions regarding the enforcement of Iran's obligatory Islamic dress code, which requires women to cover their hair and bodies.
Lawmakers questioned Fazli specifically about the form-revealing leggings, which hard-liners have criticized as a symbol of decadent Western culture.
"Why the Interior Ministry is indifferent to the phenomenon of women who wear supports in Tehran and other cities?" lawmakers asked the official.
Fazli was also asked why a "small budget" designated for enforcing the dress code had been eliminated.
He responded by saying that the Interior Ministry is just one of 22 entities responsible for enforcing a law requiring women to wear the Islamic Hijab, which became obligatory following the 1979 revolution and the creation of the Islamic republic.
During the past three decades, the clerical establishment has used force and cultural measures to compel many women to wear the Hijab.
'National Security Issue'
Fazli said his ministry is actively working on the issue, which he said could not be solved in the short term. Budgetary funds have been allocated to promote the Hijab, he added.
The interior ministry has taken several measures to encourage the Islamic dress code, including the creation of nongovernmental organizations and dress-code supervision at department stores, airports and student dormitories, Fazli said
Iranian media reported that the official did not manage to convince lawmakers, who proceeded to issue him a warning -- or a "yellow card" in soccer parlance.
Lawmaker Ali Motahari said women who wear leggings should not be allowed into official buildings.
Motahari claimed that a majority of Iranian women have accepted the Hijab but that there are "rare" exceptions that threaten the foundation of families.
"It is the government's duty to act against clear sins. The government should prevent support clothing from being promoted," Motahari was quoted as saying by the semi-official news agency ISNA.
Iranian news agencies reported that Motahari caused a commotion during the hearing when he used large monitors to display photographs of women wearing leggings.
Motahari reportedly reacted by saying that lawmakers appeared to enjoy viewing the pictures.
Commenting on the debate in the parliament, a Tehran-based woman wrote sarcastically on Facebook that leggings are becoming a "national security issue" in the Islamic republic.
"Forget the nuclear issue, poverty and inflation, and the advances of ISIL [the Islamic State in Iraq and the Levant]. Support pants are the priority for our lawmakers."
http://www.rferl.org/content/iran-women-leggings-dress-code/25434051.html
--------------
Libyan Women's Rights Advocate Salwa Abugaigis Assassinated
26 June 2014
Human rights activist Salwa Bugaighis was shot dead by unknown assailants at her home in the restive east Libyan city of Benghazi late Wednesday, hospital and security sources said.
"Unknown hooded men wearing military uniforms attacked Mrs Bugaighis in her home and opened fire on her," said a security official, who did not wish to be named.
She was shot several times and taken to hospital in critical condition, where she died shortly afterwards, a spokesman for the Benghazi medical centre said.
Her husband, who was in the family home at the time of the attack, has since been reported as missing, according to a family member.
"We've lost touch with him," the relative said, adding that a security guard at the house had been shot and injured, but his life was not in danger.
Bugaighis, a lawyer, played an active part in Libya's 2011 revolution, which overthrew the regime of Muammar Qaddafi.
A former member of the National Transitional Council, the rebellion's political wing, she was vice president of a preparatory committee for national dialogue in Libya.
The U.S. ambassador to Libya, Deborah Jones called the news "heartbreaking", and on her Twitter account denounced "a cowardly, despicable, shameful act against a courageous woman and true Libyan patriot".
Earlier on Wednesday, Bugaighis had participated in Libya's general election. She published photos of herself at a polling station on her Facebook page.
Since the 2011 revolution, the east of Libya -- and in particular the country's second city of Benghazi -- has been a stronghold for jihadists, and the scene of attacks and assassinations targeting notably the military, police and judges.
At least three soldiers deployed to provide polling day security in Benghazi were killed in what security officials said was an attack on their convoy by Islamist militia.
Benghazi, which was the scene of a deadly attack on the U.S. consulate in 2012, has been tense since a rogue former rebel commander launched an offensive against powerful Islamist groups late last month, drawing many regular army units to his side.
http://english.alarabiya.net/en/News/africa/2014/06/26/Libyan-lawyer-and-women-s-rights-advocate-Salwa-Abugaigis-.html
--------------
Palestinian-Syrian actress chosen as judge for Emmy Awards
26 June 2014
Palestinian-Syrian actress Deema Bayyaa has been chosen as a judge for the 66th Primetime Emmy Awards, to be held in New York in November.
She will be a judge on the panel for best European actress.
The awards recognize excellence in the TV industry, and are considered as prestigious as the Academy Awards for film, the Tony Awards for theatre, and the Grammy Awards for music.
Judges pick the final four nominees in each category, then the public vote for their favorite online. The winner is announced live.
Bayyaa said she and the other judges had to assess the performances of 21 actresses by watching one episode from each series.
Nominees select one favorite episode from their series and submit it for judging.
"I had to watch each episode more than six times," because reading subtitles and watching at the same time "takes away from your attention, you wouldn't be focusing on her actions and her reactions," Bayyaa told Al Arabiya News.
"Sometimes the actress's performance is great, but the director isn't highlighting her very much, so you have to eliminate everything that's surrounding her and just judge her," Bayyaa added.
She said she felt a big responsibility judging industry veterans: "You'd be watching people who are very big actresses, and you think no one can judge them... Many of them are much older than me and very known."
Bayyaa started her acting career in Syria when she was 16, and has been in more than 30 Arabic series.
She will be in a new series titled 'Law' (What If), set to air during the holy month of Ramadan on MBC1 channel.
http://english.alarabiya.net/en/life-style/entertainment/2014/06/23/Arab-actress-chosen-as-judge-for-Emmy-Awards.html
--------------
Dismissal of head scarved lawyers from Turkey court violates their rights
26 June 2014
The prevention of a headscarf-wearing female lawyer from representing her client at a local court in Ankara violated her rights, Turkey's Constitutional Court has ruled.
The ruling was delivered following an individual application filed by the lawyer, after a local court refused to allow her to enter a hearing to represent her client because she was wearing a headscarf, Anadolu Agency reported on June 25.
The Constitutional Court reportedly stated that the local court's refusal was in violation of Article 10 of the Constitution, which covers equality before the law, and of Article 24, which covers freedom of religion and conscience.
The ruling was voted for by a majority of the Court, with only one of its 17-member General Assembly objecting.
The Council of State approved the removal of the headscarf ban for lawyers in November 2013, which allowed lawyers to register at the Bar Association with a picture of them wearing a headscarf.
Nevertheless, in late March a local court in Ankara delayed a divorce trial because one of the lawyers was wearing a headscarf.
Upon that incident, Labor and Social Security Minister Faruk Çelik said he believed that "state of emergency" dress code regulations should be removed and be replaced by "governance based on the people and the nation."
http://www.hurriyetdailynews.com/dismissal-of-headscarved-lawyers-from-court-violates-their-rights-top-court.aspx?pageID=238&nID=68269&NewsCatID=339
-----------
Jailed activist Mahienour El-Massry wins international rights award
26 June 2014
Egyptian human rights lawyer and leftist activist Mahienour El-Massry, sentenced to two years in jail for organising an unauthorised protest, has won this year's Ludovic Trarieux Award, given annually to a lawyer for contributions to the defence of human rights, AFP reported.
The award committee met in Paris late Wednesday, headed by lawyer Pierre-Olivier Sur and founder of the award, lawyer Bordeaux Bertrand Favreau. It decided to hand in this year's award to El-Massry, who was born in Alexandria, noting that she had been imprisoned many times under the rule of former presidents Hosni Mubarak and Mohamed Morsi.
The French AFP news agency reported that the award will be given in Florence, in October.
The committee is composed each year of lawyers from major human rights defence bodies and associations in Europe.
In May, a court in Alexandria upheld an earlier verdict sending a group of activists — including El-Massry — to jail for two years along with fining them LE50,000 for organising an unauthorised protest during the Khaled Said murder retrial.
Charges included organising an unauthorised protest, blocking roads, assaulting a police officer, and destroying a police vehicle on 2 December.
A "Free Mahienour" campaign was launched after her imprisonment and was supported by pro-rights groups and campaigns, among which is the April 6 Youth Movement and the Freedom for the Brave campaign, a grassroots movement calling for the release of all political prisoners in Egypt.
Egypt's protest law bans demonstrations not pre-approved by authorities. It was issued last November.
http://english.ahram.org.eg/NewsContent/1/64/104821/Egypt/Politics-/Jailed-activist-Mahienour-ElMassry-wins-internatio.aspx
-----------
Women's Group in Philadelphia Offers Support to Iraqi Refugees
26 June 2014
It's already hot and humid on the morning a school bus full of Iraqi refugees arrives at the Magic Gardens. As the passengers step down from the bus, they're greeted by volunteers with Philadelphia's Refugee Mental Health Collaborative.
The visitors to the colorful South Philadelphia landmark are sadly familiar with the escalating violence in Iraq. They are among the small community of about 900 Iraqi refugees who have settled in the city since 2007.
The collaboratives women's groups hold meetings and outings -- like this one -- in an effort to provide support and build connections with refugee communities often reluctant to enter formal mental health treatment.
"Unlike a lot of the other communities we're serving right now," says the collaborative's Melissa Fogg, the Iraqis, "have really recent, very severe trauma and traumatic things happening. Their families are still missing in a lot of cases. One of our interpreters' brother is kidnapped and missing still to this day."
The colorful row-house and adjoining courtyard of the Magic Gardens on South Street are covered in ceramic and mirrored tiles, bottles, and bicycle parts, the work of Philadelphia artist Isaiah Zagar.
Nadlaa Essa, who's almost eight months pregnant with her fifth child, stands in a shady corner of the courtyard, talking with Fogg and volunteer Marty Mollenhauer.
Essa, who is from Basra, also has family in the city of Mosul. The city's seizure by militants from ISIS (the Islamic State in Iraq and Syria) earlier this month precipitated the current crisis in Fallujah and in Baghdad.
The whole country, she says, "it's fire now."
Listening to Essa open up about her anxiety over being safe in the U.S while so many of her relatives are in danger in the splintering country is one aim of program, says Fogg.
"Defining mental health in a nonclinical setting is always something we struggle with with our program in general," she says, so the outings are designed to refugees a chance to talk about their experiences.
Essa has been able to communicate with her family only intermittently during the past several weeks. She says the Iraqi government has shut down websites like Facebook. But she has managed to reach her brother on the phone.
"Sometimes I feel it is not OK that I am here, my mother, my brother, my sister in Iraq. Very sad," she says. "I can't do anything to help him to come to America or another country. I can't do anything. I say 'God help him.'"
A professional photographer in Iraq, Essa left all of her equipment in Syria, where she lived in a refugee camp before coming to the United States.
Fogg notes that the loss of a career can itself be traumatic for many of the women.
Refugees, she says, make the same rationalizations an American will make about not going to therapy -- that don't "have the time in their schedule. They have kids. They have families. They have a job."
Then, she says, the refugees "don't feel like the care they get would be adequate given the language barrier."
Talking to a friend is easier, and if the women want to connect to more services, Fogg says, it's easier to ask a friend for help.
http://www.newsworks.org/index.php/homepage-feature/item/69436-womens-group-in-philly-offers-support-to-iraqi-refugees-as-violence-escalates-back-home?linktype=hp_impact
--------------
Sudan Christian Woman Faces New Charges
26 June 2014
A Sudanese Christian woman who faces death threats after a court cleared her of apostasy has been charged with forgery after trying to leave the country, a lawyer says.
'She is arrested,' Mohanad Mustafa told AFP on Wednesday.
The charge against Meriam Yahia Ibrahim Ishag, 26, relates to the travel documents she was carrying when authorities stopped the family from leaving Sudan on Tuesday following an annulment of her apostasy death sentence.
Ishag is also charged with providing false information, Mustafa said.
She was detained by national security agents at Khartoum airport, despite the presence of US diplomats who were escorting her and her family, her American husband Daniel Wani said.
They were trying to travel to Washington, Wani said, insisting there was nothing wrong with the travel documents.
'We are worried. That's why we want to get out of here as soon as possible,' Wani said of death threats against his wife.
A lower court judge sentenced Ishag to hang for apostasy on May 15, but an appeal court freed her on Monday from the women's prison where she had been detained with her children.
She immediately went into hiding because of the threats to her life.
Information Minister Ahmed Bilal Osman told AFP the woman should have used a Sudanese passport, but her lawyer said she does not have one.
'That is the whole problem, she took a foreign document for travelling,' he said. 'What she has done is an illegal act.'
However, Osman suggested the situation can be resolved.
'I'm sure she will clear herself, get the passport and she can travel. No problem.'
Kau Nak, charge d'affaires at the South Sudanese embassy in Khartoum, said he had signed the papers and they were valid.
After being stopped at the airport, the family and its two children, including a baby girl born while Ishag was on death row, were taken to a police station in Khartoum's Arkawet district.
Ishag remains in custody there.
On May 15, a lower court judge, referring to her by her father's Muslim name Abrar al-Hadi Mohamed Abdalla, sentenced her to death for apostasy.
It convicted her under Islamic Sharia law that has been in force in Sudan since 1983 and outlaws conversions on pain of death.
http://www.skynews.com.au/news/world/africa/2014/06/26/sudan-christian-woman-faces-new-charges.html#sthash.znqYNMZC.dpuf
--------------
Christian Woman Freed After Death Sentence Ruled 'Faulty'
26 June 2014
Khartoum — A Sudanese woman has been freed from prison a month after being sentenced to die by hanging for refusing to renounce her Christian faith.
"I am a Christian," Ms Meriam Yehya Ibrahim told the judge at her sentencing hearing in May, "and I will remain a Christian."
An appeals court in Sudan ruled that a lower court's judgment against the 27-year-old was faulty, her lawyer, Mr Mohamed Mustafa El-Nour, said Monday June 23. He declined to elaborate.
An international controversy erupted over Ms Ibraham's conviction in May by a Sudanese court on charges of apostasy, or the renunciation of faith, and adultery. Ibrahim was eight months pregnant when was sentenced to suffer 100 lashes and then be hanged.
"I'm so frustrated. I don't know what to do," her husband, Mr Daniel Wani told CNN in May. "I'm just praying." Wani, uses a wheelchair and "totally depends on her for all details of his life," Ms Ibrahim's lawyer said.
Ms Ibrahim was reunited with her husband after getting out of custody, her lawyer said Monday.
Ms Ibrahim gave birth to a girl in a prison last month, two weeks after she was sentenced. She was in the women's prison with her 20-month-old son, but Sudanese officials said the toddler was free to leave at any time, according to her lawyer.
According to CNN, the criminal complaint filed by a brother, a Muslim, said her family was shocked to find out Ms Ibrahim had married a Christian, U.S. citizen Mr Daniel Wani, after she was missing for several years. A Muslim woman's marriage to a Christian man is not considered legal in Sudan, thus the adultery charge.
The apostasy charge came because Ibrahim proclaimed herself to be Christian, not Muslim. Her mother, an Ethiopian Orthodox, was abandoned by her Sudanese Muslim father when Ibrahim was just 6 and she was raised as a Christian, she said.
Sudanese Parliament speaker Fatih Izz Al-Deen defended the conviction last month, insisting that claims that Ms Ibrahim was raised as non-Muslim are untrue. She was raised in an Islamic environment, Al-Deen said.
The lower court had warned Ms Ibrahim to renounce her Christianity by May 15, but she held firm to her beliefs while her lawyer appealed the conviction and sentence.
Her sentence had drawn international condemnation from rights groups and foreign embassies in Khartoum, including those of the United States, United Kingdom and Canada.
http://allafrica.com/stories/201406250826.html
--------------
Liberia: Senator Taylor Vouches for Islamic Girls Education
26 June 2014
Bong County Senator Jewel Howard Taylor has stressed the need to increase in the enrollment of female students in Islamic schools in the county.
She said unlike the past when the boys were given priority over girls, it was now time that Islamic educators encourage girls by affording them the chance to matchup with male students.
Senator Taylor spoke Sunday when she served as Guest Speaker at this year's closing program of the Arabic and Islamic School in Barwor-Quarter in Gbarnga City, Bong County.
The Senator indicated that gone are the days when females took the back seat and were answerable to their male counterparts, noting, "Female students must be given the chance to compete in a free and fair environment."
Senator Taylor then awarded scholarships to three students of the school and donated L$10,000 each to the first and second dux for academic 2013/2014.
http://allafrica.com/stories/201406250818.html
--------------
Madonna covers up in black burqa selfie
26 June 2014
She's done it before, and she's doing it again. Madonna shocked her fans on Instagram this week after she wore a black burqa and shared the snap.
The 55-year-old wore the burqa, an Islamic garment worn by some Muslim women, which was complete with bars over the part showing her striking blue eyes.
She wrote in the caption of the picture: "'Its that kind of day! #unapologeticb****."
While some users cheered on her latest edgy picture, others found the image offensive.
Madonna got her fans talking last year after posting a picture on Facebook from a photo shoot in which she wore what looked like a chainmail niqab.
http://english.alarabiya.net/en/variety/2014/06/25/-Material-girl-Madonna-covers-up-in-black-burqa-selfie-.html
--------------
"Women's Right to Education in View of Islam" Conference in Afghanistan
26 June 2014
A two-day conference titled "Women's Right to Education in View of Islam" has been held from June 24 in Mazar Sharif, Balkh Province of Afghanistan.
More than 200 female scholars, local officials and experts of religious affairs and directors of educational institutes for women have participated in the program.
Ahmad Javid Salehi, an organizer of Islamic conferences in this country said that presidents of Mazar Sharif universities have also attended the program.
The conference aims at promoting women's awareness about their capabilities and providing an opportunity for religious scholars of various countries to exchange their views and experiences.
An expert of religious affairs from Al-Azhar University is also among the guests at the conference.
Salehi noted that this is the first time that the province hosts such a conference.
He added that Afghan women have gained great successes in various educational and scientific fields during the recent years.
Head of Women's Affairs of the province also said in this respect that such programs help women to get informed of their status and human rights in the society.
http://www.abna.ir/english/service/iran/archive/2014/06/26/619170/story.html
--------------
Two Indian nurses evacuated from Iraq
26 June 2014
India's efforts at evacuating its nationals from Iraq continued to yield results with the rescue of two nurses from the conflict zone.
"The two nurses are now in Karbala which is a safe place. We are facilitating their tickets and they will soon be returning home," Ministry of External Affairs spokesperson Syed Akbaruddin said.
As for the 46 nurses trapped at a hospital in Tikrit, he said the government was in touch with them. "This is a difficult situation, it's a zone of conflict not under the control of Iraqi authorities," he said.
However, Mr. Akbaruddin denied that India was "in the dark" regarding the status of the 39 Indian nationals in captivity near Mosul. "For those sceptics who think we are in the dark about them, we are not, we again have confirmation from multiple sources that they remain in captivity but are unharmed, we will continue to follow this matter," he said.
Meanwhile, Union Home Minister Rajnath Singh said that India would explore all options to evacuate its nationals stranded in conflict zones.
"We are looking into all options. All suggestions are on the table. We are trying our best for the safety of every Indian in Iraq," the Home Minister said.
In view of the tenuous security situation in Iraq, India has called a meeting of its envoys in West Asia on Sunday.
External Affairs Minister Sushma Swaraj was personally monitoring the situation in Iraq, the Ministry informed.
"She has now summoned all Indian ambassadors in the Gulf to Delhi… There will be a meeting of these ambassadors in Delhi on June 29… We are exploring every option… Every effort is being made," Mr. Akbaruddin said.
"The ambassadors have been summoned in order to understand the complexity of the situation we are facing… both in Iraq and in the region generally," he said.
When asked about the Home Minister's statement on using all options to evacuate Indian nationals, he said Indian efforts continued at every front. "While it is not for me to elaborate on what the Home Minister has said, I think the statement is self-explanatory," Mr. Akbaruddin said.
http://www.thehindu.com/news/national/two-indian-nurses-evacuated/article6148938.ece
------------
URL: https://www.newageislam.com/islam,-women-and-feminism/new-age-islam-news-bureau/iranian-interior-minister-dressed-down-over-revealing-women's-leggings/d/97751