New Age Islam News Bureau
19 Jun 2020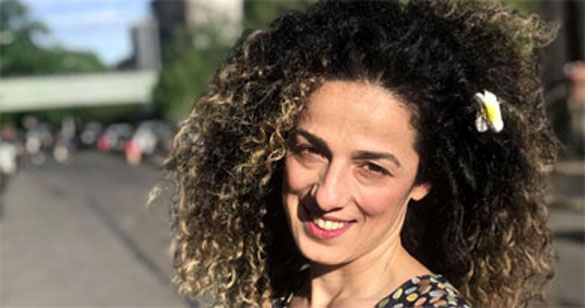 Masih Alinejad, who lives in exile in the United States, posted a video to Twitter in which the unnamed cleric insisted she should be punished for apostasy
------
• Al-Mu'minaat Organisation Seeks Better Training for Male Child from Muslim Women
• Is Mehwish Hayat, the Actress, Entering Pakistani Politics?
• Saudi Productive Families Trained to Make Cloth Masks
• Slow Progress on Women's Rights Across the World
• The Women of the Iranian Parliament Are Advocates of Misogynist Laws
• South Africa's Failure to Legislate on Religious Marriages Leaves Women Vulnerable
• Iran Ends Provision by State of Contraceptives and Vasectomies
• Egyptian Nadia Gamal El-Din Is Regional Winner Of 2020 Cartier Women's Initiative
• DelphineEdde, The Digital Pioneer, Went Back to Lebanon To Create Websites for Arab Women
• Journalists Must Remain Empathetic in Coverage of Gender-Based Violence: UN Agency
• Syrians File Complaint in Germany Over Sexual Abuse In Assad's Jails: NGO
• Afghan Women's Engagement in Peace Benefits Society as A Whole – UN Envoy
Compiled by New Age Islam News Bureau
URL: https://www.newageislam.com/islam-women-feminism/iranian-cleric-call-kill-activist/d/122164
--------
Iranian Cleric's Call to Kill Activist, MasihAlinejad, Challenging Country's Ban on Women Cycling
JUN 18, 2020
An Iranian cleric has called on followers to "kill" an award-winning journalist and women's rights campaigner after she challenged the country's ban on women cycling.
MasihAlinejad, who lives in exile in the United States, posted a video to Twitter in which the unnamed cleric insisted she should be punished for apostasy – the rejection or renunciation of a religious faith.
"You've seen accursed MasihAlinejad and her insult to Saint Zeinab," he said.
"How do you think we should punish this accursed hooligan?
"She should be punished for apostasy. This accursed person should be punished for apostasy.
"If no-one can kill her, she should at least lead an underground life.
"She provokes our youth – 'If someone tells you not to ride a bike, tell them this. Talk about Zeinab, Zahra'."
Making reference to the fatwa issued against Salman Rushdie following the publication of the novel The Satanic Verses, he said: "Wasn't there another infidel abroad who had said something against Islam? He was considered an apostate and killed.
"How about Salman Rushdie? He still lives underground," the cleric added.
In 2016, Iran's supreme leader issued a fatwa forbidding women from cycling – with some posting videos to social media of them riding their bikes in response.
A video of a mother and daughter riding their bikes was posted to Facebook group My Stealthy Freedom, founded by Alinejad.
The daughter in the video said: "Bicycle riding is part of our lives," adding that cycling "is our absolute right and we're not going to give it up."
Women's rights campaigners in many countries in the Middle East and North Africa see cycling as an essential form of freedom, and the right to ride a bike – and the response of the authorities in Iran to women who do so – is something that Alinejad regularly highlights on social media and elsewhere.
Alinejad also founded the White Wednesdays movement in which Iranian women are encouraged to post photos of themselves online without a hijab or with a white headscarf to protest against Iran's strict laws regarding women's dress.
Last July, secret police in Tehran arrested her brother, AlirezaAlinejad and two siblings of her former husband, in what she described as "hostage taking."
Philip Luther, Amnesty International's Middle East and North Africa research director, said at the time: "These arrests are a blatant attempt by the Iranian authorities to punish MasihAlinejad for her peaceful work defending women's rights."
https://road.cc/content/news/death-threat-activist-over-irans-ban-women-cycling-274647
--------
Al-Mu'minaat Organisation Seeks Better Training For Male Child From Muslim Women
19 June 2020
Al-Mu'minaat Organisation has urged women to take the upbringing of their male children seriously, noting that untrained male children are the one on rampage with violence against females.
The National Amirah of Al-Mu'minaat, HajiaNimatullahAbdulquadir, who made this call recently, said the group is seriously worried about the increasing incidence of rape cases in the country, describing it as a rape of the nation itself.
She said: " It has become a daily headline in the national news. Even religious houses are not spared. Parents with female children fear for the safety of their daughters. We are all guilty of this insanity going on. We all need to take a retrospect into how we might have contributed consciously or unconsciously to the evil deeds that are currently sweeping through our nation".
Abdul Qadir noted that the shaming and blaming of rape victims or survivors is dangerous.
She urged those who overtly or covertly seek to accuse victims of being responsible for their ordeal to desist immediately.
"No woman deserves to be raped, though Islam encourages decent dressing. Accusing victims of being responsible for rape because of their dressing or being in particular places at the time of the crime is a great injustice," she said.
She suggested that laws on rape should be reviewed and offenders should be adequately prosecuted.
"The legislatures at all levels must sit to review the laws on rape and provide stiffer punishment that can serve as deterrence to others. The law enforcement agents and lawyers must make sure that the law takes its cause on offending crimes.
"The Nigerian police must put their expertise into use to track down offenders. Looking for volunteer information is not enough; forensic audit and other modern means should be used to track perpetrators," Abduquadir said.
She called on civil and religious organisations to educate the populace on the ugly trend.
"Al-Mu'minaat also calls on The National Orientation Agency to rise up to educate the populace about this ugly trend and the need to protect the girl child" she said.
She however, consoled Nigerians who have lost their relatives to the global coronavirus pandemic. "We plead with Nigerians not to pressurise the government into opening of educational institutions, especially pre-tertiary institutions as not all schools in the nation have the capacity to prevent the spread of the virus, " she said.
https://guardian.ng/features/muslim-women-seek-better-training-for-male-child/
--------
Is Mehwish Hayat, the Actress, Entering Pakistani Politics?
Komal Fatima
19th June, 2020
Actress Mehwish Hayat inspires others through her contribution to Pakistan's entertainment industry. She is engaged in charity works as well. However, news sources say that Mehwish is looking forward to joining Pakistani politics as well.
She gave an interview to a UK-based website. Dillagi actress Mehwish Hayat hinted that she may enter politics by participating in 2028 general elections in Pakistan.
One of her fans even made a poster for 2028 under the title 'Qaum Ki Awaaz'.
The actress said that she has eight years to learn and consider herself for getting a position.
"I would like to say that I love the power that comes with politics – don't get me wrong, I am not some sort of megalomaniac.
"For me, politics is about being in a position to make a difference in the lives of people."
Mehwish also talked about what is significant in politics for her. She said, "I feel that I understand what the needs and worries of the average people are.
"It is really touching that they reach out to me on social media and ask me to highlight issues of concern to them.
"I also am a fighter, once I get my teeth into something, I will not let go till I achieve it."
On the other hand, Mehwish also shared her thoughts about the future of women in the country.
"I think that it is impossible for me to contemplate any sort of future for Pakistan without the involvement of women.
"We are no longer the image that films and dramas unfortunately still show us as. Women in Pakistan are CEOs, fighter pilots, doctors, politicians, engineers, and are in every single profession.
"Pakistan will stagnate if women are not part of its future development."
https://www.bolnews.com/entertainment/2020/06/81338is-mehwish-hayat-entering-pakistani-politics/
--------
Saudi productive families trained to make cloth masks
June 19, 2020
MAKKAH: Saudi productive families are being trained to make cloth masks through an initiative launched by the Al-Hayat Academy for Women's Empowerment. The 90 families will manufacture around 20,000 masks a month that conform to medical specifications. The masks are 100 percent cotton and available in different colors. They feature a comfortable elastic band and the option of carrying institutional or agency logos.
The academy currently offers a number of professional and vocational sessions such as fashion design, decoupage, and soap-making as well as others to prepare trainees for entering the job market and marketing their products online.
https://www.arabnews.com/node/1691916/saudi-arabia
--------
Slow progress on women's rights across the world
19 June 2020
Arecent World Bank study by Marie Hyland and colleagues has looked at the experience of legal discrimination against women around the globe. In many countries, gender discrimination is still woven into the fabric of legal systems and social norms. Of course, even when women are treated equally before the law, actual outcomes may be different. Nonetheless, ensuring equality before the law is an essential first step in creating a fair and modern society.
In Ireland, the first half of the 20th century saw fitful progress on women's rights. Winning the partial right to vote in 1918, and full equal women's suffrage in 1922, was a major landmark. However, in some spheres things went backwards with independence. For example, the 1924 Civil Service Regulation Act obliged women civil servants to retire on marriage, a provision that was not repealed until mid-1973. When we married in 1972, my wife lost her permanent civil service job, while I, who was only a wet week in the Department of Finance, became due a pay rise as a married man.
Ireland's entry to the European Economic Community at the start of 1973 marked a step forward in women's labour market rights. The founding Treaty of Rome enshrined the principle of equal pay for equal work. So legislation on equal pay and on ending the marriage bar followed Ireland's accession.
Earning power
The mere enactment of legislation did not result in women's pay equality. While the change in the law did help narrow the pay gap, successive research studies show a persistent significant pay gap remains in Ireland. Women can be clustered in lower-paid occupations. Interrupted careers for caring also mean differences in earning power, even with nominal equality.
The World Bank study shows that in legal terms, women continue to suffer substantial discrimination around the globe. Based on a measure of discrimination the researchers developed, they suggest that across the world today, women enjoy three-quarters of the legal rights of men. Unequal pay is among the most widespread practices across the globe, reflecting gender inequalities in very populous societies like China and India.
The legal framework in Eastern European communist countries of 40 years ago was more egalitarian towards women than it was in the West. However, as major improvements have taken place in the most advanced economies, the World Bank study now awards a legal equality score of 90 per cent to OECD countries.
Nevertheless, the legacy effects of the communist regime can still be seen in relatively poor countries in Central Asia, where women's rights are substantially protected in law. These countries also see equal access to education for women, a positive legacy of the old Soviet regime.
Not surprisingly, women suffer the biggest deficit in legal rights in the Middle East. The Taliban regime had an outright ban on women's employment. Saudi women until very recently were banned from driving. The research suggests that cultural factors are at least as important as religious practice in explaining legal regimes. And where cultural practices are deeply patriarchal, changing the law may make only a marginal difference.
Reforms
In recent years, the top reforming region in improving women's rights has been Sub-Saharan Africa, with the introduction of many reform measures between 2005-2008. One factor driving reform during this period was the African Union's adoption of the Maputo Protocol, which guarantees wide-ranging equal rights to women. International agencies have also played a role in promoting equality.
Legal reforms permitting women to work outside the home have been quite rapid in developing countries over the last couple of decades. This may reflect an economic driver during a time of rising demand for labour. In the 1920s and '30s in the US, demographic changes caused a labour market squeeze that contributed to the subsequent decline of "marriage bars" in employment. This process is now playing out across the developing world, as business seeks to raise female labour force participation.
However, the slowest pace of reform has been in the spheres of equal pay and access to pensions. Here, foot-dragging by the business sector is probably delaying progress. Business interests want skilled female labour, but they are much less keen on paying them their due.
Changing legal systems to outlaw gender discrimination is just a starting point. Changing what happens on the ground is a much bigger challenge. The UN Sustainable Development Goals emphasise the importance of equal access to education for girls in making a difference. Here in Ireland, rising educational attainment of women has played a significant part in progress towards a more gender-equal society.
https://www.irishtimes.com/business/economy/slow-progress-on-women-s-rights-across-the-world-1.4282524
--------
The Women of the Iranian Parliament Are Advocates of Misogynist Laws
18 JUNE 2020
By JubinKatiraie
There are 16 female members of Iranian parliament now, (5.7% of the parliament) all of whom, along with the 260 male MPs, are loyalists to a misogynist regime.
So, who are these women who betray Iranian women in order to be a stooge for supreme leader Ali Khamenei? And how can we use what we know about them to predict the parliament's future, especially over women's rights?
Nine of them (55% of all female MPs) come from Khamenei's fundamentalist faction, but perhaps more interesting are the four who declare themselves as "independent" but are loyal to the regime's fundamentalism and terrorism.
MassoumehPashaii is the daughter of IRGC Brigadier General HosseinPashaii, who was killed in January alongside noted terrorist and Khamenei's right-hand man QassemSoleimani by a US drone strike in Iraq. While SomayyehMahmoudi is the daughter of GholamrezaMahmoudi and Acting Commander of an IRGC Brigade who was killed during the Iran-Iraq War. Both of them had hard-line military fathers, so it would not be surprising if they were hard-line and support of the regime's warmongering as well.
Elham Azad's action after taking her seat in parliament was to follow up on the enforcement of Khamenei's misogynistic policies, stating some that had been announced but never implement in practice. One of these announcements, dating from 2013 and in response to the high levels of unemployment among women with higher education was Khamenei saying that women's most important roles were housekeeping and childbearing
Zohreh Sadat Lajevardi is the daughter of AssadollahLajevardi. Her case is particularly interesting because her father was Tehran's Revolutionary Prosecutor in the 1980s and thus in charge of the torture and execution of thousands of political prisoners, including the rape of several thousand women and girls before their execution, conducted under a fatwa by regime founder Ruhollah Khomeini. There is actually evidence that Lajevardi personally raped many prisoners and had various brutal physical and psychological torture methods for female political prisoners.
Less than a month ago, Lajevardi said that it was impossible to define a set age for marriage because girls developmentally and physically at different rates, before dismissing the issue entirely saying that it was not something women were particularly concerned about. This is clearly disturbing and sets the stage for more relaxation on the rules of child marriage, which currently allow nine-year-old girls to be married off to men twice or three times their age.
Of the total seats in the parliament, 207 of them were allocated to the fundamentalist faction of Khamenei during the rigged election in February, but that's not to say that those in the so-called reformist faction of President Hassan Rouhani are any better. In fact, all candidates for parliamentary elections need to prove devotion and adherence to Khamenei in order to be allowed to run. None of them could be considered independent. None of thems could be considered champions of women's rights. Nor will any Iranian politician until the mullahs are gone.
https://www.iranfocus.com/en/51-women/34579-the-women-of-the-iranian-parliament-are-advocates-of-misogynist-laws
--------
South Africa's Failure to Legislate On Religious Marriages Leaves Women Vulnerable
16 JUNE 2020
By WaheedaAmien
Until the end of apartheid in 1994, only civil marriages concluded under the Marriage Act were legally recognised in South Africa. Post 1994, the new Constitution enabled the recognition of different forms of marriages, including traditional and religious marriages.
But these rights haven't been translated into law for all marriages. To date, apart from civil marriages, only customary marriages and same-sex unions are legally recognised. Laws have not been passed to recognise religious marriages as legally valid.
There was some hope that progress had been made in 2010 when the Muslim Marriages Bill was approved by Cabinet. But it's never been passed into law.
Two years ago the state's failure to legally recognise Muslim marriages was challenged in the Western Cape High Court.
The Court held that by not having legislation that recognises and regulates the marriages, the state violated several constitutional rights. These included the rights of Muslim women to equality, dignity and freedom of religion.
The Court found that the state abdicated its constitutional obligations to "respect, protect, promote and fulfil the rights in the Bill of Rights", and to perform its constitutional obligations "diligently and without delay".
The Court ordered the state to prepare, initiate, enact and bring into operation legislation to recognise and regulate Muslim marriages by 31 August 2020. But, the judgment is being appealed in the Constitutional Court. The deadline imposed by the High Court is thus suspended pending the outcome of the appeal.
The arguments raised in the judgment are arguably also relevant to other minority religious marriages, including Hindu and Jewish marriages.
The failure of the state to recognise religious marriages is a major omission in a country that boasts a constitution that promotes diversity. In particular, the failure to have laws recognising - and regulating - religious marriages leaves women, in particular, vulnerable.
The missing marriages
Nonrecognition of religious marriages undermines the dignity of spouses. For instance, those who do not also have a civil marriage continue to be regarded as unmarried. When they die, their death certificates reflect that they were never married. This confirms that their spousal relationship had no legal significance.
Secondly, by not affording legal recognition to religious marriages, the right of spouses in those marriages to equal treatment and protection of the law is undermined.
Thirdly, women in religious marriages are unfairly discriminated against on the basis of gender and sex. For example, women in Muslim, Hindu and Jewish marriages have difficulty exiting religious marriages. Legal recognition - and regulation - of their marriages could assist them in doing so.
Hindu and Jewish spouses tend to enter into civil marriages in addition to their religious marriages. But most Muslims don't. That's mainly because civil marriages do not allow polygny and are, by default, in community of property. These are deemed by many Muslims to be unIslamic.
But even spouses who enter into civil marriages need their religious marriage to be legally recognised. This is so that features specific to the religious marriage, such as religious divorce, can be recognised, regulated and enforced by law.
Parallel processes
There are two parallel law reform processes underway to consider amendments to the country's marriage laws. One is managed by the South African Law Reform Commission, and the other by the Department of Home Affairs. Both appear to want to draft overarching legislation to afford recognition to all forms of marriages.
Home Affairs has not yet produced written documentation for consideration. The Commission has published a paper, in which it proposes the drafting of a single marriage statute.
It's not clear why there are two parallel processes to achieve the same result.
The Commission indicates that a single marriage statute could take the form of a single (unified) marriage act or an omnibus (umbrella) legislation.
A single marriage act "would comprise a unified set of requirements (and possibly consequences) for all marriages".
An omnibus legislation "would contain different chapters" for the recognition of different kinds of marriages such as civil marriages, civil unions, customary marriages and religious marriages.
A single marriage act and omnibus legislation could afford recognition to all types of marriages, including civil, religious and customary marriages, and same-sex unions. While a single marriage act would achieve this by pursuing a one-size-fits-all approach, an omnibus legislation would incorporate several chapters, each purporting to recognise a different type of marriage.
The inclination to want to afford legal recognition to all types of marriages is welcome. But the devil will be in the detail.
Recognition of all marriages will promote formal equality by ensuring that all marriages are legally recognised and treated as legally valid. But, if a single marriage act or omnibus legislation affords only legal recognition to religious marriages, the regulation of the marriages will still be left to religious communities.
This leaves the door open for gendered discriminatory religious rules and practices to be maintained. For example, polygyny in Muslim marriages could continue to be practised in a manner that discriminates against women. Husbands could still get away with not treating their polygynous wives equally.
It is, therefore, not good enough for the state to only recognise different forms of marriages. It needs to also regulate them. By regulating features that are specific to a religious marriage, such as polygyny and divorce, substantive equality can be promoted. Each type of marriage, the way in which it is practised within communities, and the consequences for especially marginalised members of those communities such as women, must be considered.
If the state is serious about affording sufficient protection to marginalised people in society - including women in minority religious communities - it should go beyond simply recognising all forms of marriages. It must also regulate them - in a nuanced way.
The state could do so by enacting separate legislation to recognise and regulate a particular type of marriage, such as the Muslim Marriages Bill. It could also enact an omnibus legislation that contains different chapters, which recognise and regulate the specific features of different types of marriages. For instance, the Muslim Marriages Bill could be incorporated into the omnibus legislation as a chapter. And existing legislation, such as the Recognition of Customary Marriages Act, Civil Union Act and Marriage Act, could be amended where necessary and included as separate chapters.
What needs to happen next
The state must consult all relevant stakeholders, including religious law and gender experts; members of affected communities, including women; and broader civil society. This is the only way that marriage laws in the country can be appropriately responsive to the lived realities of all, especially women.
The consultation processes could reveal that some marriages require more or less regulation than others. The outcome of the consultation processes must then be incorporated into legislation.
https://allafrica.com/stories/202006180801.html
--------
Iran ends provision by state of contraceptives and vasectomies
15 Jun 2020
Iran's state hospitals and clinics are no longer performing vasectomies or giving out contraceptives in an attempt to revive flagging population growth, a senior health official has told state media.
Iranian women were now having 1.7 children on average, well below the 2.2 required to maintain the population, HamedBarakati, director general of the Ministry of Health's Office of Population and Family Health, told the Islamic Republic News Agency in an interview on Sunday. On current trends about a third of the country would be over 60 years old by 2050. "Whether we like it or not … we will become an ageing country," he said.
Family planning procedures and products would continue to be available from pharmacies and private hospitals, however, and in public hospitals to women whose life was at risk, Barakati said.
Conservatives in Iran's government, including the supreme leader Ayatollah Ali Khamenei, have been pushing citizens to have more children for at least a decade, by limiting access to family planning services, increasing the number of infertility clinics and telling Iranians it is safe to have children every 18 to 24 months – down from earlier advice to wait three to five years. Maternity leave was extended to nine months and fathers given two weeks off as part of a suite of reforms in 2013.
Yet birth rates have kept falling, which Barakati blamed on poor economic conditions that deterred men from committing to marriage and a family. "The young man will not be willing to marry or have children, even if we give him a loan, as long has he does not feel secure," he said.
Women delaying marriage to pursue higher education as well as a cultural aversion to having more than two children were also factors the government needed to address, he added. The average Iranian has her first child at 29, compared to around age 26 for an American.
Hardliners have made the birth rate a national security issue and claimed foreign enemies have helped engineer the decline. Demography researchers have been arrested and accused of manipulating fertility statistics to try to hide the scale of the "population crisis", according to state media.
Khamenei has cast the falling birth rate as the result of imported western thinking and said the country of 80 million should aspire to a population nearly twice that size.
Iran was lauded in the late 1990s for family planning policies that slashed the country's birth rate from around seven children per woman in 1980 to fewer than two by 2011.
It did so with progressive initiatives including subsidised vasectomies, free condoms and cheap contraceptives, and countrywide education on sexual health and family planning with the slogans "Two children is enough" and "Fewer kids, better life".
The falling fertility rates were encouraged by the country's clerical rulers who worried that massive population growth during the 1980s – when families were encouraged to strengthen the wartorn country by producing "soldiers for Islam" – would stretch resources and lead to high unemployment in the future.
Rights groups have been critical of previous attempts to boost Iran's birth rate, arguing they risk raising new barriers to women's entry into the workforce and turning them into "baby-making machines". Women make up 60% of Iranian university students but have one of the lowest labour force participation rates in the world.
Public-health officials have also warned that attempts to fight Aids and other sexually transmitted diseases would be set back by restricting condoms and other contraceptives.
https://www.theguardian.com/world/2020/jun/15/iran-bans-vasectomies-and-contraceptives-to-improve-birth-rate
--------
Egyptian Nadia Gamal El-Din is regional winner of 2020 Cartier Women's Initiative
June 18, 2020
DUBAI: Egyptian entrepreneur Nadia Gamal El-Din is this year's winner of the Cartier Women's Initiative for the Middle East and North Africa region, the French luxury jeweler announced on Tuesday.
El-Din was one of seven winners of the main prize — which rewards for-profit startups launched by female entrepreneurs — each from different regions of the world, and each of whom received $100,000 to fund their companies. She was recognized for her Rahet Bally platform, which has over 136,000 Facebook followers and provides financial, mental and social support for Egyptian mothers.
"The idea of Rahet Bally came to me the moment I gave birth," El-Din said in a video shared on the network's Facebook page. "I was at the hospital, I had so many questions and I felt so lost.
"There isn't a single support platform here in Egypt that addresses those issues. So, I created a Facebook group… and I started inviting all of the doctors and experts I know and asking them to reply to moms' concerns instantly," the founder continued. "So, five years (on) from that hospital bed, we are serving around 3 million moms."
https://www.arabnews.com/node/1691726/lifestyle
--------
DelphineEdde, The Digital Pioneer, Went Back to Lebanon To Create Websites for Arab Women
June 08, 2020
PARIS: Twelve years ago, while still in her early 30s, Lebanese-French entrepreneur DelphineEdde held a prestigious position with renowned publishing house Conde Nast, as director of its digital operation in Paris.
However, she decided she wanted to return to her roots in her native Lebanon, with her French husband and their two young sons, and establish her own company, Diwanee, which she envisioned as a digital media provider for Arab women.
"Addressing Arab women was very important to me," Edde said. "It was the thread running through everything that I wanted to create, and this desire has motivated me and pushed me to create that content."
Edde's aim was to open offices in Beirut, Dubai and Saudi Arabia to create Arabic-language entertainment websites for women in the Gulf, in particular those in the Kingdom and the UAE. To help her achieve this ambitious goal, she had the experience she had gained in digital communications, fashion and the luxury sector while working in the US at the International Fashion Institute, followed by jobs in a number of advertising agencies in France before joining Conde Nast.
The first three sites she launched were Yasmina.com, which focuses on fashion and beauty, 3a2ilati.com, which specializes in parenting, and food site atyabtabkha.com. But she faced many challenges in the early days.
"It was hard because 12 years ago, Arab women in the Middle East were generally conservative," Edde said. "Nowadays, everything has evolved, especially in Saudi Arabia, and this has been very thrilling because it enabled our publications to evolve at the same time as our audience.
"It was essential for the publications to follow and also foresee the audience's needs. Some exciting social and cultural movements have occurred and we always find that we have a fast-moving audience. When we started there was no TikTok or Instagram; today these are indispensable tools for addressing Arab women, and so we all develop together.
"Arab women have always known what they wanted and were knowledgeable about the topics they discussed."
Six years ago, Webedia — a global media and technology company owned by French investment company Fimalac, led by businessman Marc Ladret de la Charrière — invested in Diwanee, contributing to its growth.
More recently, Diwanee merged with Saudi business UTURN Entertainment, owned by businessman Kaswara Al-Khatib. The new entity created by the merger, Webedia Arabia, received funding from Five Capital, a joint fund of French financial institution Caisse des Dépôtset Consignation and Riyadh-based Kingdom Holding. It has grown to become one of the largest Arabic digital networks, with an audience of more than 63 million people across its websites and social media.
During visits to Saudi Arabia, Edde said she has met many women who have worked hard and created small businesses to turn their passions into livelihoods. She also highlighted the rapid increase in the number of women graduating from university in Saudi Arabia, which exceeds that of men. This is interesting, she said, because the difference is not yet reflected in the Saudi work force. In general, she added, she has been impressed by the educational achievements of Saudi women.
"A year and a half ago I held a conference in Riyadh, at King Faisal University," she said. "I talked about my career, about women entrepreneurs, the challenges I had faced and how I had balanced my career and my personal life.
"I am the mother of two sons and what struck me were the questions the Saudi women asked about how I manage my career and the men in my family. I told them I was lucky to have a father and mother who always stressed that I needed to study and be independent. I have a husband who has always supported my work.
"Support from the men in your family encourages you to work and succeed in realizing your aspirations, which for me was to work on the content of these sites for Arab women and also to build the work teams and train them for the digital world. Building the company in three Arab countries has been a great experience."
Edde said her Lebanese roots provided the motivation for her return to the country. Though her parents were proud of her success in France, they were delighted at her decision to return home, where her grandfather, former Cabinet minister Henri Edde, was able to spend time with his great-grandsons.
However, working in Lebanon was initially more of a challenge than a joy, she admitted. The infrastructure was poor and internet connections were unreliable, though this improved with the arrival of fiber-optic lines. Edde said she and her team could have performed miracles if better infrastructure had been in place.
Another difficulty was recruiting technically qualified people in other countries and obtaining the necessary permissions and documents for them to work in Lebanon. It was an impossible mission in terms of legal requirements, and financing was hard to secure in Lebanon because nobody understood the kind of work Edde was doing, so she had to look for investment elsewhere.
Edde's most recent visit to the Kingdom was in February, when she was invited to AlUla by a client, the French jewelry firm Piaget, which was a sponsor of the three-day Tantoura Festival in the old town. She described the trip as "a three-day dream visit in an enchanting place."
She added: "The Royal Commission for AlUla did an extraordinary job. They succeeded in getting the best teams in all the different sectors and they achieved stunning results: the art exhibition with Desert X in the middle of the desert, the hotels in tents with perfect service, the training of guides plus the beauty of the place and the kindness and hospitality shown to the visitors made the stay just magical.
"It was amazing to see how AlUla's beauty had been successfully highlighted in terms of handicrafts and in creating an oasis."
https://www.arabnews.com/node/1686766/media
--------
Journalists must remain empathetic in coverage of gender-based violence: UN agency
June 18, 2020
DUBAI: Journalists should consider the safety of survivors when covering gender-based violence (GBV) stories, a UN agency said on Thursday.
The United Nations Population Fund (UNFPA) held a symposium for media professionals in the Middle East, with experts in the field to provide journalists with a framework on how to cover such topics subjectively and with empathy towards survivors.
Journalists should "not seek the sensationalization (of these stories), which sadly we have observed a lot recently," Lebanese journalist and women's rights activist Joumana Haddad said.
Lately stories have been affected by what is "trending" and what "gets clicks," she added.
Media professionals must be careful with the information and phrases they pick to cover stories on women and gender-based violence, Haddad said. "Sometimes the news is covered in a way which might suggest that the victim is responsible for the abuse she has been subjected to," she added.
Examples of such information include describing what the survivor had been wearing, or at what time of the day the incident happened, which can get entangled with social norms and taboos and turn into "victim blaming," Haddad said.
Journalists were also advised to put themselves in the shoes of interviewees before settling on questions.
"Would we like to be asked such a question? Would we like our own story to appear to the world in this way?" Jordanian human rights journalist Nadine Nemri said.
She added that a decrease in reports of domestic violence did not necessarily mean violence was less common. "(The) UN high commissioner for refugees in Jordan noticed a significant drop in the numbers of calls related to … violence. We can take this information and say violence has decreased, but there is a lot behind that … the victim could be unable to communicate," Nemri added.
Incorrect or inconsiderate reporting can have serious negative effects, both on journalists and interviewees. The organization has advised reporters to refrain from directly interviewing survivors.
"We have seen a lot of stories in the region were the survivor had to face revenge from their families or the local community for speaking up," UNFPA GBV expert YaraDeir said.
The UNFPA has reported that several of the measures taken to curb the spread of coronavirus have put survivors at greater risk of violence, through "limiting … ability to distance themselves from their abusers as well as reducing their ability to access external support."
https://www.arabnews.com/node/1691846/media
--------
Syrians file complaint in Germany over sexual abuse in Assad's jails: NGO
June 18, 2020
BERLIN: Seven Syrians who suffered or witnessed rape and sexual abuse in detention centres under President Bashar Assad's regime have submitted a criminal complaint to prosecutors in Germany, an NGO supporting them said Thursday.
The four women and three men were held in various detention centres in Damascus, Aleppo and Hama between April 2011 and August 2013, said the European Center for Constitutional and Human Rights (ECCHR), a Berlin-based legal group.
They were all victims or witnesses of torture and sexual violence, including rape, "electrical shocks to the genitals... and forced abortion", the ECCHR said.
The German federal prosecutor's office in the southwestern city of Karlsruhe was not immediately available for comment.
The plaintiffs named nine senior Syrian government and air force intelligence officials in their complaint, including Jamil Hassan, a former close associate of Assad and head of the air force intelligence services until 2019.
Hassan is already the subject of an international arrest warrant from Germany and France on suspicion of crimes against humanity.
Sexual and gender-based violence in Syrian detention facilities "were and continue to be part of a widespread and systematic attack against the civilian population" since the Syrian war started in 2011, according to the ECCHR.
"I want the international community and judicial authorities to know what we went through just because we are women," one of the victims was cited as saying in a press release.
In April, the first court case worldwide over state-sponsored torture by the Assad regime opened in Germany.
The two defendants in the case are being tried on the principle of universal jurisdiction, which allows a foreign country to prosecute war crimes and crimes against humanity.
Syria's civil war, which started with the brutal repression of anti-government protests, has killed more than 380,000 people and displaced nearly half the country's pre-conflict population.
The UK-based Syrian Observatory for Human Rights monitoring group estimates that at least 100,000 people have died from torture or as a result of the terrible conditions in regime prisons.
Half a million people have gone through regime jails since 2011, it says.
Several thousand people have died over the same period in prisons run by jihadists or other rebel groups, according to the Observatory.
https://www.arabnews.com/node/1691681/middle-east
--------
Afghan women's engagement in peace benefits society as a whole – UN envoy
17 Jun 2020
KABUL - Afghan women's meaningful engagement in peace efforts, and in all areas of society, will benefit Afghanistan as a whole, said UN envoy Deborah Lyons during a panel discussion that brought together many well-known Afghan women to address peace.
Lyons, together with Shaharzad Akbar, Chairperson of Afghanistan's Independent Human Right Commission, moderated the virtual event organized by UN Women and chaired by its country representative, Aleta Miller.
The outstanding panellists included Hasina Safi, Minister of Women's Affairs; HabibaSarabi and SharifaZurmati, members of the negotiating team for the Islamic Republic of Afghanistan; Mary Akrami, Executive Director of the Afghan Women's Network; and Mariam Safi, Founding Executive Director of the Organization for Policy Research and Development Studies.
In opening remarks, Lyons said it is important for Afghan women across the country – and especially for young girls – to see a peace process that has representation from the full population.
"It's important for Afghan society overall," she stressed, referring to a global study indicating that the critical factor in the stability of any country is that women are engaged and supported.
"It's important for us to recognize the collective role that Afghan women have already played in the search for peace," she said. "Dealing with issues that impact all of society, that impact women, will benefit all of Afghanistan."
The 'Crisis & Opportunity' panel today – part of a UN Women series of online discussions focused on the impact of COVID-19 and key issues in Afghanistan – addressed women's meaningful inclusion in Afghanistan's peace efforts. The goal of the discussion was to facilitate constructive debate around Afghan women's concerns, priorities and demands related to peace efforts and what avenues and strategies are available to support their meaningful participation in any peace process.
"Well-functioning networks throughout Afghanistan, where women can participate nationally and at the local level, are critical," said Lyons, who is the Secretary-General's Special Representative for Afghanistan.
"Using these networks to prepare for the many discussions around peace allows Afghan women to be peace advocates, experts and advisers, and most importantly full participants in the negotiating teams in the peace process," said the UN envoy, who is also head of the UN Assistance Mission in Afghanistan (UNAMA).
"The call for Afghan women's greater inclusion in the peace process, and for a peace settlement that allows the whole of society to benefit from the gains achieved in the last decades – all of this will be critical," she said. "There is incredible support for women's participation in the process and for a peace agreement that brings about a just society for young boys and girls in Afghanistan."
Lyons called attention to UN Security Council Resolution 1325 on Women, Peace and Security and said the peace process for Afghanistan will be "precedent setting" in that it will demonstrate the full engagement of women.
"I want you all to know that the United Nations considers this to be one of our top priorities, and we stand with the people of Afghanistan in this process," she concluded.
https://reliefweb.int/report/afghanistan/afghan-women-s-engagement-peace-benefits-society-whole-un-envoy
--------
URL: https://www.newageislam.com/islam-women-feminism/iranian-cleric-call-kill-activist/d/122164
New Age Islam, Islam Online, Islamic Website, African Muslim News, Arab World News, South Asia News, Indian Muslim News, World Muslim News, Women in Islam, Islamic Feminism, Arab Women, Women In Arab, Islamophobia in America, Muslim Women in West, Islam Women and Feminism