New Age Islam News Bureau
23 November 2020
• Curtains Come Down On Sheikha Hind Women's Sports
• The First Women's Football League In Saudi Arabia Has Officially Launched
• Iranian Women Sets Herself On Fire To Stop Her Shed's Demolition
• Australian Qatar Airport Victim Describes Invasive Search 'Nightmare'
• Saudi Study Shows That Men Resort To 'Misyar' Marriage To Avoid Hurting Feelings Of The First Wife
Compiled by New Age Islam News Bureau
URL: https://www.newageislam.com/islam-women-feminism/iranian-cinema-big-winner-herat/d/123549
-----
Iranian Cinema Big Winner Of Herat Intl. Women's Film Festival
November 21, 2020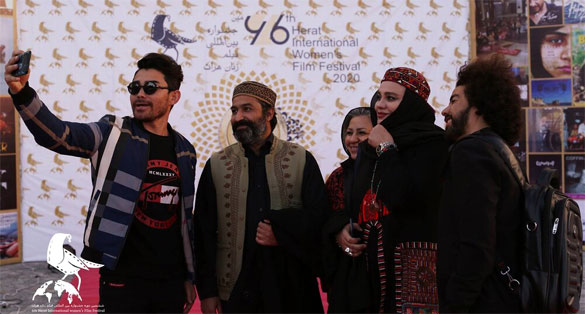 Iranian cinema was the big winner at the 6th Herat International Women's Film Festival (HIWFF) as movies from the country garnered awards in six categories of the Afghan event on Thursday.
-------
The Golden Earring Statue for Best Feature Narrative in the World Cinema competition went to "Just 6.5" by Saeid Rustai.
Afshin Hashemi's "Goodbye Shirazi Girl" also received a certificate of appreciation for its different view of women.
In this category, Sara Bahrami, the star of the Iranian drama "Axing" directed by Behruz Shoeibi, shared the award for best actress with Ruby Ruiz for "Iska" from the Philippines.
"The Visit" by Azadeh Mousavi won the Bronze Earring Statue for Best Short Narrative, while the Bronze Earring Statue for Best Animation went to "Tangle" by Maliheh Gholamzadeh.
"Khatemeh" co-directed by Hadi Zarei and Mehdi Zarei was selected as best feature documentary.
The documentary is about a 14-year-old Afghan girl named Khatemeh living in Iran with her family. She is forced to marry the husband of her late sister who died by suicide, but after a while, she escapes from home to save her life from her husband and her brother's torture and takes refuge in the Welfare Organization of Shiraz.
The closing ceremony of the most prestigious women's film festival in the region was held on Thursday evening at Darul Aman Palace in Kabul.
Minister of Information and Culture Tahir Zahir and Iranian filmmaker Narges Abyar, who was a jury member for the International Narrative Feature Films Competition, were among the attendees of the ceremony.
Afghan filmmaker Sahra Karimi's drama "Hava, Maryam, Ayesha" won the Golden Earring Statue for Best Feature Narrative in the Women's Cinema.
The Jury Special Mention for Best Documentary Feature was awarded to "Midnight Traveler", a co-production between Afghanistan and the USA by Hassan Fazili.
In addition, "Five Minutes to Sea" by Armenian filmmaker Natalia Mirzoyan received the Jury Special Mention for Best Animation.
Greek filmmaker Anna Antonopoulou's "Cleoniki" was named best short documentary.
A lineup of 73 films from different countries, including India, Iran, France, Britain, Greece, Italy, the USA, Egypt, Russia, Croatia, Germany, Spain, Belgium and Poland, were screened during the four-day event.
https://www.tehrantimes.com/news/454921/Iranian-cinema-big-winner-of-Herat-Intl-Women-s-Film-Festival
--------
Curtains Come Down On Sheikha Hind Women's Sports
November 23, 2020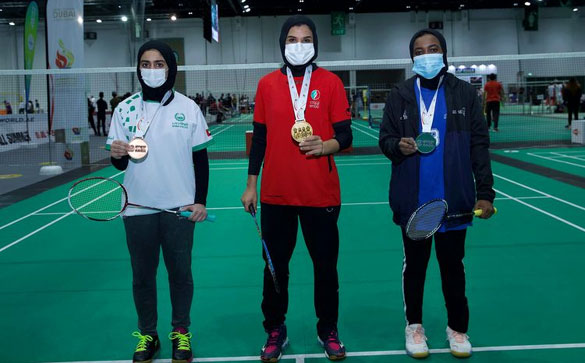 It's officially kick-off for Saudi Arabia's first women's football league.
-----
Dubai: Mona Al Sahlawi of Emirates National Oil Company (ENOC) and Nafeesah Sara Siraj of Dubai Media Inc. clinched the badminton crowns as eighth season of Sheikha Hind Women's Sports Tournament drew to a close on Sunday.
The 2020 season of the tournament - which featured six individual sports: bowling, road run, cycling, badminton, CrossFit and table tennis – started on November 8 and came to a close on November 21 with the badminton finals taking place on the courts of Dubai Sports World inside the Dubai World Trade Centre.
Al Sahlawi, who had finished runners-up to Dubai Public Prosecution's Heba Sami in the table tennis competition earlier, defeated Amal Youssef of Dubai Public Prosecution for the badminton title in the Emirati section, while Rawda Al Hajri of Dubai Police took the bronze medal.
In the non-Emirati badminton final, Nafeesah Sara Siraj defeated Gyanu Maya Baral for the title, while Jeanielie Cabulong of Dubai Health Authority took the bronze medal.
CrossFit Championship
In the CrossFit championship, which took place on November 20 at the Max & Aegle fitness centre in Meydan, Noura Al Sarrah of Dubai Electricity and Water Authority (DEWA) took the top spot among Emiratis, finishing ahead of Hamda Al Marri of Zayed of Zayed University and Latifa Al Falasi of Dubai Culture and Arts Authority. Heba AlSyed Salahuddin took the title in the non-Emirati section, while Anna Zih of Dubai Municipality finished second and Sara Shehady of DEWA was third.
In the 18km Cycle Race that took place on November 17 on the Nad Al Sheba cycling track, Safia Al Sayegh of General Directorate of Residency and Foreigners Affairs took the top honours among Emiratis, while Ruqayya Ahmed of Dubai Police came second and Abu Dhabi Commercial Bank's Farah Al Marri was third.
Dubai Police's Mariam Mubarak had taken the gold among Emiratis in the Road Run, finishing ahead of Rawda Al Mansouri of Dubai Electricity and Water Authority, while Noura Jassim of State Security took the bronze.
In the bowling competition, Suad Yousef Saeed of Dubai Police finished ahead of Dubai Municipality's Fatima Sabeel in the Emirati category and Sheikha Aba Bangit of Dubai's Department of Tourism and Commerce Marketing came third. In the non-Emirati category, Lady Liz-Ann of FAME Training Institute took the top honours, while Aura Michello of Idea Art Interior took silver and Jennifer Mamoun of Dubai's Department of Tourism and Commerce Marketing got the bronze.
In the table tennis competition, Heba Sami was the champion among Emiratis, defeating Al Sahlawi, while Fatima Mohammed of Dubai Municipality took the bronze medal. In the non-Emirati table tennis competition, Sondos Salem of Roads and Transport Authority of Dubai (RTA) defeated her RTA Ma Bermadette for the title, while Yolanda of Dubai Corporation for Ambulance Services finished third.
https://gulfnews.com/sport/uae-sport/curtains-come-down-on-sheikha-hind-womens-sports-1.75446340
--------
The First Women's Football League In Saudi Arabia Has Officially Launched
November 22, 2020
It's officially kick-off for Saudi Arabia's first women's football league.
-----
The new female-focused league was set to launch in the Kingdom earlier this year, but had a lengthy postponement due to the global COVID-19 pandemic.
However, the new league is now officially underway being run by the Saudi Sports for All Federation (SFA).
The new league includes a total of 24 teams with over 600 players. And the teams are located in three different cities in the Kingdom – Dammam, Jeddah and Riyadh.
Excitingly, seven matches took place in Saudi Arabia last week in Jeddah and Riyadh.
Per the SFA, the new women's league aims "to empower women and to encourage them to become active and to participate in sports at the community level".
It was only two years ago that women in Saudi Arabia were allowed to attend sporting events in public stadiums.
Since this history-making moment in 2018, the attitude towards women in sport in the Kingdom has transformed. At the forefront of the pivotal shift in the country is the Saudi Greens Team, which became the first Saudi women's team ever to join an international event.
In 2019, the Greens competed in the Global Goals World Cup (GGWCup) – a tournament that was launched to champion the role of sport in achieving the United Nation's Sustainable Development Goal (SGD) No. 5.
In September's – 'The Power Issue', Emirates Woman discussed the shift for women in sport in the Kingdom with Shaima Saleh Al-Husseini, Managing Director for the SFA.
"Everything has improved by leaps and bounds for women in sport in Saudi," she said. "There are now dedicated programs to foster women in sport, and in our case, at the community level, to turn athletics and physical activity into a daily habit for girls from a very young age.
"There's now huge support for elite women athletes as well; as I am sure you know there was not before."
It's another great step in the right direction for women in sport in the Kingdom.
https://emirateswoman.com/the-first-womens-football-league-in-saudi-arabia-has-officially-launched/
--------
Iranian Women Sets Herself On Fire To Stop Her Shed's Demolition
November 20, 2020
A video is circulating on Iranian social media showing officers from the Bandar Abbas municipality destroying a single mother's shed has triggered a series of protests on the internet. The state-run Iran Labor News Agency, ILNA, reported on Thursday that the woman had set herself on fire.
According to Bandar Abbas mayor Abbas Aminzadeh, "They were building a house on occupied land. After several warnings and notifications for evacuation, the authorities demolished the building by official order."
ILNA quoted Aminzadeh's deputy, Esmaeil Movahedinejad, as saying, "No one lived in the half-built shed, and our emphasis on evacuating the house was more for the safety of the family--- and only one of the four walls of the shed were destroyed."
As the shed was being demolished, the woman suddenly set herself on fire. "She was taken to a hospital while suffering from an 18 percent burn, mostly in her left hand," Movahedinejad said
Similar incidents in Iran have led to public outcries on social media in Iran, including the case of Asieh Panahi.
Living with her daughter and granddaughter in a slum in Kermanshah, Panahi died on May 20 while preventing municipal officials from destroying her home.
A video posted on social media of Panahi's resistance to Kermanshah municipal agents showed that she threw herself into a loader's bucket. However, the details of her death are still unknown, with some reports suggesting she may have been beaten, which the Kermanshah municipality has denied.
https://en.radiofarda.com/a/30963356.html
--------
Australian Qatar airport victim describes invasive search 'nightmare'
November 22, 2020
LONDON: An Australian victim who went through an invasive examination at Qatar's airport has spoken out about her "nightmare" experience on 60 Minutes Australia this week.
The show begins with 60 Minutes reporter Sarah Abo describing how "dangerous" Qatar is for foreign women following the airport examination in October.
Abo said that Qatar "promotes itself as a modern and progressive state that welcomes and respects foreign visitors."
"But that's far from the truth. In reality Qatar is a dangerous destination, especially for western women."
The international scandal grabbed headlines after a large group of women, including 13 Australians, said that they were strip-searched by Qatar's airport authorities without their consent.
The Qatari officials at the time said they did that after finding a newborn child abandoned inside one the airport's bathrooms.
The episode interviews an Australian woman who was transiting in Doha. They called her Jane to protect her real identity in the interview as she speaks of the humiliation of going through the physical check in Doha.
After boarding the Qatar Airway's aircraft, bound for Sydney, Jane said: "There was an announcement by a male speaker, who did not specify if he was a pilot, officer or cabin crew, saying all females need to disembark the airplane and take their passports with them."
Without any warning, Jane and other Australian female passengers were snatched off the plane by "heavily armed guards."
"There was no chance we could step up for ourselves . . ." she said with a voice choked with tears.
"At that point, scenarios were going through my mind . . . are we getting kidnapped? Are we being taken somewhere? Am I gonna see my husband or my family?
At the tarmac, there were ambulances awaiting the female passengers. They were then forced to enter the ambulances and told that they needed to be "tested" because a baby had been found inside a bathroom bin at the airport.
Jane said that they were asked to lie on the stretcher and take off their underwear for checking by another female.
"We felt like criminals, I just kept thinking, if they think that I'm guilty of something, what's gonna happen to me in this country?"
The show's presenter said that the incident should make passengers reconsider choosing Doha as a transit destination: "The story of how she was assaulted is so unbelievable that not only will it outrage all Australians, it's sure to make people reassess future travel to or via Qatar."
https://www.arabnews.com/node/1766831/middle-east
--------
Saudi Study Shows That Men Resort To 'Misyar' Marriage To Avoid Hurting Feelings Of The First Wife
November 22, 2020
Samir Salama
Abu Dhabi: A Saudi study confirmed the necessity of working to reduce the exorbitant costs of marriage so that some men do not have to resort to a misyar marriage for economic motives.
The thesis entitled "Attitudes of faculty members towards misyar marriage in Saudi society ... a study applied to King Saud University", by Mada Bint Abdul Rahman Al Qurashi, presented to complete the requirements for obtaining a master's degree in sociology at King Saud University, stressed the need not to exaggerate the dowry, as it is one of the main reasons for the spread of misyar marriage in Saudi society.
A misyar marriage is legal across Arab countries. It is a contract under which the husband and wife give up several rights by their own free will, such as living together, equal division of nights between wives, the wife's rights to housing, and maintenance money, and the husband's right to home-keeping and access etc.
The couple continue to live separately from each other, as before their marriage, but get together regularly, often for sexual relations in a permissible and halal manner. Although allowed in some Muslim countries, misyar is not popular with many because women lose nearly all their rights in a confidential marriage. A large number of such marriages end up in divorce.
Misyar marriage is one under which a couple get officially married in courts, but later on, the man does not complete the processes of the marriage. He doesn't add the wife under his official civil document, which is a must so that the wife gets her full official rights, sources said.
The Saudi study showed that one of the reasons for husbands resorting to misyar marriage is that women do not accept the idea of polygamy. It, however, called for women's awareness of the husband's right to marry the second, third and fourth. The study further called for conducting studies aimed at uncovering the reasons for the spread of a Misyar marriage among different segments and groups of the Saudi society in different cities of the Kingdom.
"Some Saudi men resort to misyar marriage, because they do not want to assume life responsibilities, as this marriage does not require alimony, and perhaps not having children, and the woman's rejection of the idea of polygamy makes the husband resort to misyar marriage to avoid hurting the feelings of his first wife, and for his concern for his first family and fear of his children being lost," the study said.
It showed that women often resort to misyar marriage, forfeiting their right to maintenance and overnight stay, in order to obtain a husband who provides her with the life needs that were difficult for her, and that most divorced women resort to misyar marriage because of their desire to marry and chastity, as well as the woman's desire to move and travel freely.
The study showed in these cases, the man normally hides his Misyar marriage from his first wife and children. Thus, he doesn't spend the night with the second wife. He only visits her during the day after work and spends some time with her without his first wife's knowledge."
She added that the girl's family also doesn't mind such marriages as they want their daughter to have someone in their lives. "In a Misyar marriage, the couple get married officially and have marriage certificate from the courts. They avoid having children, but if this happens, the children will be given their father's name and will be issued passports. The man is not obliged to spend on the wife and the children. He is exempted from paying for anything for them. However, he can pay from his own will," it said.
Arab women generally accept to get into this kind of marriage when they reach 40 years of age and above and need male companionship. These women don't want to be alone. They seek male companionship, and thus accept to get married instead of being alone. In many cases, these women are divorced or widows according to marriage counselors.
Counselors noted almost all men who seek this type of marriages are getting married for the second time.
https://gulfnews.com/world/gulf/saudi/saudi-study-shows-that-men-resort-to-misyar-marriage-to-avoid-hurting-feelings-of-the-first-wife-1.1606016415538
--------
URL: https://www.newageislam.com/islam-women-feminism/iranian-cinema-big-winner-herat/d/123549
New Age Islam, Islam Online, Islamic Website, African Muslim News, Arab World News, South Asia News, Indian Muslim News, World Muslim News, Women in Islam, Islamic Feminism, Arab Women, Women In Arab, Islamophobia in America, Muslim Women in West, Islam Women and Feminism