New Age Islam News Bureau
13 Oct 2016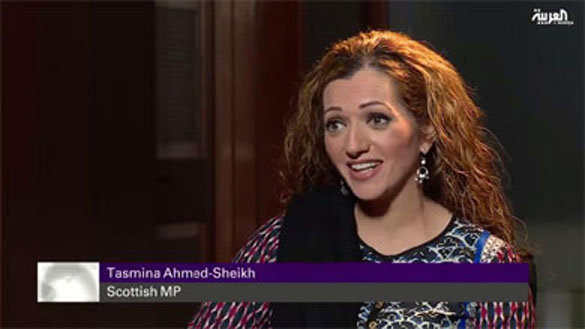 "Space needs to be created for women across the world, and particularly women in the Muslim world," Tasmina Ahmed-Sheikh said in an interview to Al Arabiya. (Photo courtesy: Al Arabiya)
--------
• First Scottish Muslim Woman MP, Tasmina Ahmed-Sheikh: Islam Is the Antidote to ISIS
• Muslim Mothers Unite to Stop Their Kids from Joining ISIS
• Nigeria Says 21 of Abducted Chibok Schoolgirls Are Freed
• Pakistan Supreme Court Adjourns Hearing of Asia Bibi Case
• Women in Burqas Will Become National Symbol: Hollande Admits France 'Has an Islam Problem'
• Muslim Woman Who Was Victim of Hate Crime in Brooklyn Speaks Out
• Who Benefits From A Chess Championship Boycott? Not Iranian Women
Compiled by New Age Islam News Bureau
URL: https://newageislam.com/islam-women-feminism/iranian-child-bride-be-executed/d/108848
-----
Iranian Child Bride to Be Executed Within Days After 'Grossly Unfair Trial'
Wednesday 12 October 2016
Amnesty International has urged the Iranian authorities to halt the execution of a 22-year-old woman accused of murdering her husband at the age of 17.
Zeinab Sekaanvand is due to be executed by hanging as soon as Thursday 13 October, after what Amnesty International has described as a "grossly unfair trial".
Ms Sekaanvand was arrested on February 2012 for the murder of her husband, whom she married at the age of 15.
She subsequently became pregnant after forming a relationship with a fellow prisoner while in custody, but delivered a stillborn child on 30 September.
Now Iranian authorities have told her she will be executed in the next couple of weeks as she is no longer pregnant.
According to Amnesty International, following Ms Sekaanvand's initial arrest she was held in a police station for 20 days, where she says she was beaten by male police officers. She "confessed" that she stabbed her husband after he'd subjected her to months of physical and verbal abuse and had repeatedly refused her requests for divorce.
In her subsequent trial she was denied access to a lawyer during the entire pre-trial detention period and only met her state-appointed lawyer for the first time at her final trial session on 18 October 2014, when she retracted "confessions" made when she'd had no access to legal representation.
Ms Sekaanvand told the court that her husband's brother, who she said had raped her several times, was responsible for the murder and had coerced her into "confessing", promising he would pardon her.
This statement was ignored by the court, which instead relied heavily on her "confessions" to reach its verdict. Two years later the Criminal Court of West Azerbaijan Province sentenced Ms Sekaanvand to death.
Amnesty International's Middle East and North Africa research and advocacy director, Philip Luther, has described the case as "extremely disturbing" and condemned the continued use of the death penalty against juvenile offenders in Iran.
Mr Luther said: "This is an extremely disturbing case. Not only was Zeinab Sekaanvand under 18 years of age at the time of the crime, she was also denied access to a lawyer and says she was tortured after her arrest by male police officers through beatings all over her body.
"Iran's continued use of the death penalty against juvenile offenders displays the authorities' contempt even for commitments they themselves have signed up to. The Iranian authorities must immediately quash Zeinab Sekaanvand's conviction and grant her a fair retrial without recourse to the death penalty."
The Iranian courts reportedly failed to apply juvenile sentencing guidelines from Iran's Islamic penal code and order a forensic report to assess Ms Sekaanvand's "mental growth and maturity" at the time of the crime. They are also said to have failed to inform her that she could submit an "application for retrial".
Despite being a signatory to the UN Convention on the Rights of the Child (CRC), which outlaws the use of the death penalty on a person who was under 18 when they committed a capital offence, Iran has executed at least one child in 2016.
Another 49 people who were children when they committed their offence are currently said to be on death row in the country.
http://www.independent.co.uk/news/world/middle-east/iranian-child-bride-executed-giving-birth-stillborn-baby-a7356636.html
--
First Scottish Muslim Woman MP: Islam Is the Antidote To ISIS
Thursday, 13 October 2016
"Da'esh (ISIS) doesn't represent Islam indeed and, in fact, I feel that Islam is the anti-dote to ISIS," Tasmina Ahmed-Sheikh, the first Scottish Muslim woman Member of Parliament in Westminster, has said.
In an exclusive interview to Al Arabiya English, Tasmina said that we need to make sure that women across the world have an opportunity to work together and try and find a solution to combat whatever is driving people to these actions that are certainly not representative of Islam.
"One of my plans is to introduce an annual international Muslim women parliamentarian summit. The idea is to bring Muslim women parliamentarians from all over the world to talk about how we can share our good policies in action and what we can do to alleviate poverty and have a different narrative about Islam and about what Muslim women stand for," she said.
"I think space needs to be created for women across the world, and particularly women in the Muslim world, because we have a sense of validity when we talk about our religion," Tasmina said.
Burkini ban and Donald Trump
On the issue of what women should wear, she said that it should entirely and always be a matter for women [to decide]. "Women have had to fight for every single right that they now have and we will continue to fight it," she said.
Tasmina said that she has faith in the American people and hopes that they will see through some of "the horrendous rhetoric, not the least in terms of what has been said about Muslims, wouldn't be welcome in America".
"I was the first in the House of Commons to ask the then Home Secretary Theresa May, who is now Prime Minister, to treat such rhetoric in the same manner we should treat other hate preachers. So let us see what happens," she said in the interview.
She called the growing trend of right-wing politics in Europe a challenge and narrated the circumstances that led to Brexit. "Unfortunately for the people of UK, the European referendum was fought in the backdrop of anti-immigrant sentiment," she said.
According to her, as a result, the country now has a prime minister who is leading a party now known almost universally as "toxic Tories" pursuing a right-wing agenda".
"This is not good for United Kingdom, and for our standing in the world. We would challenge all of this rhetoric because we want to be part of a world that welcomes each other," Tasmina said.
https://english.alarabiya.net/en/perspective/features/2016/10/13/First-Scottish-Muslim-MP-to-Al-Arabiya-Islam-is-antidote-to-ISIS.html
--
Muslim Mothers Unite to Stop Their Kids from Joining ISIS
Thursday 13 October 2016
VIENNA — Edit Schlaffer, a jolly, petite woman, has seen many crying and terrified mothers of radicalized Muslim boys. Often the women have lost their children to the so-called Islamic State, to jihadist suicidal attacks, to violent battles.
Today, Schlaffer and her unique group called Women Without Borders (Frauen Ohne Grenzen) know exactly what their mission is: to help mothers around the world to stop their children from radicalizing, from joining international extremist groups.
It is a hard job to teach a mother who is often too stressed to listen, to watch, to feel the concealed emotions of her son. But Schlaffer and her Women Without Borders are building confidence among the mothers they train so they stop feeling helpless.
Schlaffer, a mother of two, founded Women Without Borders in 2002. Today they are five women working in a cozy office in Vienna with a few Central Asian carpets on the floor.
"Parenting for Peace!" is the main slogan of the Mothers Schools they have opened in nine countries and are expanding in the Balkans, in Macedonia.
"I started the Mothers Schools because I realized over many years working in regions affected by terrorism that women were the missing building block in a sustainable security architecture; they have unique access and need to use it, they are the frontline of defense," Schlaffer, a veteral social scientist, told The Daily Beast.
The Mothers Schools have trained over 1,500 mothers around the world. In every country where they worked, including Kashmir, Nigeria, Pakistan, Tanzania, Tajikistan, and Zanzibar, Women Without Borders teamed up with local teachers and social activists.
This month, a new project began in Vienna: The Mothers School has admitted 25 Chechen mothers who escaped from Russia to Austria during the period between 1994 and 2004 and whose sons may fall prey to jihadist propaganda. Classes with Turkish and Bosnian women also are in preparation. The joint graduation ceremony will take place in December. Women Without Borders also is preparing programs in the United Kingdom and Germany.
How do violent jihadist ideas creep into a family?
Schlaffer believes that often it begins with domestic violence that the children witness at home. "Kids I see now, ISIS kids, are used to domestic violence as a normal part of their lives, on a daily basis," says Schlaffer.
After the 9/11 attacks, Women Without Borders worked with affected and concerned mothers to understand who the women trusted, besides their family members. One of their case studies was Zakarias Moussaoui, a French citizen who had studied at flight schools in Oklahoma and Minnesota as part of the 9/11 hijacking plot, but was arrested before it took place.
Moussaoui's mother, Aisha Al-Wafi, conceded that her son the future terrorist had witnessed her husband beating her, and even once attempting to kill her by throwing her out of a window.
"Boys often side with the side of power, identify themselves with the perpetrators, leaning towards the world of masculinity, strength, promise, being strong and big; it is often about kids longing to have their own empire," says Schlaffer.
Mothers can be a huge influence on their sons, and not always in a positive way.
In the case of the Boston Marathon bombers, the Chechen-Dagestani brothers Tamerlan and Dzhokhar Tsarnaev, that was certainly the case. After many emotional scandals and violent scenes between Zubeidat Tsarnaeva and her husband Anzor Tsarnaev, they drifted away from each other.
"I hated my husband! We parted when we lived in America," she told me angrily in a long sitdown interview in her home town of Makhachkala soon after the tragic marathon attack. What did she think of her sons? In her eyes they were perfect: "gentle, loving, and tender, like girls."
The mother admitted that together with her sons she listened to the same Muslim preachers on YouTube.
Could Women Without Borders have helped prevent her sons' radicalization? It is hard to say now. "We would assume all mothers wish their children good," Schlaffer told The Daily Beast.
A unique survey by Women Without Borders involved one thousand Muslim mothers concerned about their sons' radicalization. They were in several countries affected by violence including Pakistan, Nigeria, Israel, Palestine, and Northern Ireland.
The monitors asked the mothers how they felt, who they trusted, and what they needed.
Most mothers talked about dangerous recruiters hunting for their sons; but in terms of trust, the mothers trusted each other, they trusted their family members and, outside their families, they trust their children's teachers.
"Although sometimes talking to teachers they felt concerned that their kids would be reported to authorities, we still realized that we had to bring teachers to our side and build the bridge to mothers," Schlaffler said. The group's experience showed that a majority of teachers had good intentions, and that they also felt alarmed by the large number of children affected by the radicalization process.
Before the study, the group's monitors assumed that the mothers would trust their religious leaders. "But on the contrary, I found it really interesting that the mothers felt suspicious, realizing that a lot of recruitment for radical groups took place around the mosques," said Schlaffler.
Many women around the world would benefit from studying at Women Without Borders' schools. In Georgia's Pankisi Gorge, I interviewed several mothers whose sons went to Syria; two of them were teenagers who their mothers believed went to school until the day both sons disappeared and later reappeared in ISIS-land.
Last November, Aminat wept over her boy, Muslim Kushtanashvili, who had gone to Syria and then to Iraq. He was only 16 years old. When I interviewed Aminat, her phone rang—it was Muslim calling her from his ISIS base. She begged him to come home but his answer was: "Never begin this talk again, mother." Aminat knew that it was too late for her to learn how to stop her son from running away from home. When she did not find time to listen to her son better, to watch him every day, his recruiter found enough time.
When Women Without Borders mobilize mothers, they help women to feel a part of one strong community. The Mothers Schools' classes continue for three hours at a session, some meet once again for several hours together with two teachers and one note-taker.
"During our training we want to see how much women and trainers understand each other, what sort of feedback they have, how to help the mothers to feel more self-confident," Schlaffer told The Daily Beast. "We recently made a film about Chechen and Afghani gangs fighting in Vienna, with two fathers and their sons from Chechnya and Afghanistan, who say that no matter what they do, how hard they work to become Austrian, Europeans still continued to ask them a question: 'But where are you really from?'"
There were over 20,000 Chechen refugees in Austria. According to Women Without Borders, about 100 Austrian Chechens have joined ISIS and there are altogether about 250 Austrian Muslims fighting in Syria.
Women Without Borders contends that Western countries receiving the refugees have to pay more attention to embracing children. "In America, when you ask an ethnically Chechen kid who he is, he would often say that he is an American, and in Austria they often say that they are Chechen" Schlaffer said. Even now, after 16 years of working with mothers of Muslim boys, Schlaffer believed that recruiters of radical groups are still in the lead. "We are still behind the curve," she said.
http://www.thedailybeast.com/articles/2016/10/13/muslim-mothers-unite-to-stop-their-kids-from-joining-isis.html
--
Nigeria Says 21 of Abducted Chibok Schoolgirls Are Freed
October 13, 2016
MAIDUGURI, Nigeria — Twenty-one of the Chibok schoolgirls kidnapped by Boko Haram Islamic extremists more than two years ago have been freed in negotiations, officials said Thursday.
Some 197 girls remain captive, though it is not known how many of them may have died.
The freed girls, the first to be released as a result of government action, are in the custody of Nigeria's Department of State Services, Nigeria's secret intelligence agency, according to presidential spokesman Garba Shehu.
He said their release was negotiated between the government and Boko Haram in talks brokered by the International Committee of the Red Cross and the Swiss government. He said negotiations will continue for the release of the other students.
Boko Haram long has offered to free the girls in exchange for detained leaders of the group. It was unclear if an exchange has taken place. The ICRC in the past had tried to negotiate a swap, which failed. Information Minister Lai Mohammed said last month that negotiations last year ended when Boko Haram demanded a ransom of $5.2 billion for the girls' freedom.
The abduction of 276 schoolgirls in April 2014 and the government's failure to quickly free them has caused international outrage and brought Boko Haram, Nigeria's home-grown Islamic extremist group, to the world's attention. Dozens of the girls escaped on their own, but most remain missing.
In May, one of the girls, Amina Ali Nkeki, escaped on her own. Shortly after her release Nkeki told her family that some of the kidnapped girls died of illness and that others, like her, have been married to fighters and are pregnant or already have babies, her mother told the press.
Since then Nkeki has been in the custody of the secret service where she is receiving medical care and trauma counseling, according to President Muhammadu Buhari's government. The government has been criticized for keeping her isolated. The Bring Back Our Girls group and Human Rights Watch have asked whether Nkeki now is a detainee of the government.
http://www.stripes.com/news/middle-east/2.1198/nigeria-says-21-of-abducted-chibok-schoolgirls-are-freed-1.433871
--
Pakistan Supreme Court Adjourns Hearing of Asia Bibi Case
Thursday, 13 October 2016
The Supreme Court on Thursday adjourned a hearing of the final appeal against the execution of Asia Bibi, accused for blasphemy.
Police and troops had been stationed across Islamabad as the apex court readied to hear the appeal of Bibi who has been on death row since 2010.
One of the three-judge bench, Justice Iqbal Hameed-ur-Rehman, told the court he had to recuse himself, claiming a conflict of interest.
"I was a part of the bench that was hearing the case of Salman Taseer, and this case is related to that," he told the court. A letter was written to the chief justice to appoint another judge to the bench.
The SC did not immediately set a new date for Bibi's appeal.
In 2011, former Punjab governor Salman Taseer, who spoke out in support of Bibi, was gunned down in broad daylight in Islamabad. His assassin Mumtaz Qadri was executed earlier in 2016 after the court found him guilty of murder. Justice Rehman was chief justice on the Islamabad High Court which heard Qadri's appeal in 2011.
The allegations against Bibi date back to June 2009, when she was labouring in a field and a row broke out with some Muslim women she was working with.
Asia Bibi, accused of insulting the Prophet Mohammed (PBUH) during an argument with a Muslim woman over a bowl of water, was convicted and sentenced to death in 2010 despite her advocates maintaining her innocence and insisting the accusers held grudges against her.
She was asked to fetch water, but the Muslim women objected, saying that as a non-Muslim she was unfit to touch the water bowl.
The women went to a local cleric and accused Bibi of blasphemy against the Prophet Mohammed (PBUH), a charge punishable by death under legislation that rights groups say is routinely abused to settle personal vendettas.
Bibi's supporters maintain her innocence and insist it was a personal dispute, and the Vatican has called for her release.
But successive appeals have been rejected, and if the SC bench eventually upholds Bibi's conviction, her only recourse will be a direct appeal to the president for clemency.
If that fails, she could become the first person in Pakistan to be executed for blasphemy.
The repercussions for minorities, human rights and the blasphemy laws would be "tremendous", says Shahzad Akbar, a human rights lawyer.
Blasphemy is a hugely sensitive issue in Pakistan. Anyone even accused of insulting religion risks death at the hands of vigilantes.
Rights groups complain the controversial legislation is often abused to carry out personal vendettas, mainly against minority groups.
Observers had warned of possible violence if Bibi's conviction was overturned, with some calling the case a battle for Pakistan's soul as the state walks a line between upholding human rights and appeasing hardliners.
A senior police official told AFP that up to 3,000 security personnel had been deployed in the capital earlier Thursday.
Judges 'apprehensive'?
Zohra Yusuf, chair of the independent Human Rights Commission in Pakistan, told AFP the appeal delay was "regrettable", noting that Bibi was already being held in solitary confinement due to security concerns.
The judges may be "apprehensive", she said, adding that after the SC announced its decision to uphold Mumtaz Qadri's death sentence, justices had to sneak out the back door to the court.
"It's a sensitive case. I think they (the judges) have realised that if Asia Bibi [is] acquitted, they may be putting their own lives on the line," Yusuf said.
http://www.dawn.com/news/1289726/supreme-court-adjourns-hearing-of-asia-bibi-case
--
Women in Burqas Will Become National Symbol: Hollande Admits France 'Has an Islam Problem'
Wed, Oct 12, 2016
In the French President's new book named 'A president should not say that', he declared women who wear the veil will be the "Marianne of the future".
Marianne is France's national icon and a symbol of its values of liberty, egality and fraternity.
But his comment on the wild-haired, bare-breasted Marianne angered scores of hardline politicians, who bitterly condemned the leader's words via social media this morning.
They claim Mr Hollande has "given up" and is no longer willing to wage a war against radical Islam.
Brigitte Kuster, the Republican mayor of Paris's 17th arrondissement, said she wished she could erase Mr Hollande's words from her memory, that his statement about Marianne was "indecent and provocative".
Presidential hopeful Bruno Le Maire, a right-wing candidate, tweeted: "Marianne will never wear the Islamic veil!"
An extreme-right mayor, Jacques Bompard, said Mr Hollande was gearing up for next year's presidential elections, and that his words were an "attempt to woo Muslim voters".
Marianne will never wear the Islamic veil!
Bruno Le Maire
Another right-winger, Guillaume Larrivé, said: "No, Marianne will never wear the full-face veil. The French must fight against submission, and will not take a step backwards."
But Mr Hollande's supporters say his words have been taken out of context and misread.
According to French newspaper Le Monde, Mr Hollande was trying to say sometime in the near future, Muslim women would have liberated themselves from the shackles of religion and would be fully integrated into French society.
They will only wear the headscarf because they want to, and not because they have to, he said.
He said: "Muslim women could still feel that the Islamic veil is a form protection, but they will no longer be forced to wear it."
But the 'Arabic Marianne' comment is not the tell-all book's only shocking revelation.
The president also said "too many" illegal immigrants were "pouring" into France, and his country had a "problem" with Islam, because religious leaders were "imposing" their beliefs and values on the secular Republic.
Mr Hollande also said he would vote for Nicolas Sarkozy – whom he called cynical and money-oriented – if he had to choose between the latter and far-right candidate Marine Le Pen, who, according to polls, will make it through to the final round of the presidential elections, no matter what.
The French leader is currently facing a conservative backlash over immigration.
Mr Hollande is also alleged to have targeted ethnic minority football stars who he branded "guys from the estates, without references, without values, who leave France too early".
In explosive revelations made by investigative journalists, the socialist Mr Hollande emerges every bit as right wing as his hated opponents from the National Front and Republican parties.
It is claimed he reveals his true feelings in a private conversation - launching a general attack on people from Muslim backgrounds whom Mr Hollande views as a major difficulty for his country.
According to investigators, Mr Hollande reveals he no longer supports mass immigration, saying: "I think there are too many arrivals."
And he adds: "It's true there's a problem with Islam, it's true. It's not in doubt."
http://www.express.co.uk/news/world/720358/Francois-Hollande-book-Burka-Muslim-women-future-symbol-France
--
Muslim Woman Who Was Victim Of Hate Crime In Brooklyn Speaks Out
OCTOBER 12, 2016
BATH BEACH, Brooklyn -- A Muslim woman who was the victim of a hate crime last month in Brooklyn is speaking out about the vicious attack.
The woman spoke exclusively with PIX11 News about how she and her 15-month-old child were the victims of a hate crime on September 8.
Out of fear of retaliation, the woman and her husband spoke through a Russian translator and asked PIX11 not to use their names or show their faces.
As she and another Muslim woman walked in Bath Beach, Brooklyn in the area of 20th Avenue and Cropsey Avenue, 32-year-old Emirjeta Xhelili allegedly launched into a vicious attack.
According to a criminal complaint, Xhelili hit the victims with her fists multiple times, then "pushed the (victim's) stroller toward the ground" and "tried to pull the (victim's) hijab off (her) head."
Police say Xhelili also shouted at the Islamophobic comments at the Muslim women, telling them to leave America and they "don't belong here."
"First and foremost, I was afraid for my baby and like any other mother in this time, this is my main concern," the victim told PIX11. "I wasn't concerned for my own life or well-being, but the baby is what scared me the most."
NYPD officers responding to the attack said Xhelili didn't even stop the attack when they showed up and continued to spew racially charged words towards the victims. Evidence of hate-filled language continued on Xhelili's Facebook page, which was flooded with anti-Muslim and anti-black remarks.
According to groups like the Council for American and Islamic Relations, Islamophobic attacks are on the rise across the country. Muslim women wearing traditional Islamic head scarves in particular are falling victim more and more often, CAIR officials said.
The victim says she has worn a niqab -- an Islamic veil covering her entire face and body -- for three years now, but has never encountered anything like the attack she suffered last month.
Her husband says he's now scared to drop off the couple's older children at school or let her run her usual errands.
"I had a feeling because of the environment now changing so rapidly, so fast, that one day, yes, it may happen with my family," the husband said. "We are not terrorists ... We are peaceful. We want peace and that's why we came here to be with American people. To be peaceful, to be a strong nation."
Xhelili continues to sit behind bars. Her bail was set at $50,000. She is scheduled to appear in court Nov. 16.
http://pix11.com/2016/10/12/muslim-woman-who-was-victim-of-hate-crime-in-brooklyn-speaks-out/
--
Who Benefits From A Chess Championship Boycott? Not Iranian Women
Thursday 13 October 2016
The American chess champion Nazí Paikidze has announced that she will boycott next year's women's world chess championship hosted by Iran, in protest at the Islamic Republic's mandatory hijab rule for women. In an online petition, she says that she views wearing of the hijab – which is compulsory for female visitors in Iran – as supporting the oppression of women.
In response to the hijab controversy, Sara Khadem and Mitra Hejazipour, Iranian woman grandmasters, have made clear in interviews with the Guardian and the New York Times that they believe a boycott would be detrimental to women's sports in Iran. The story – which was immediately reduced to a binary between women's sport versus the right to wear what you want – has stirred widespread discussions in the media and on social networks.
My personal experience might be helpful to other chess players considering whether or not to follow Paikidze's example or to support her position. Two years ago, I was detained in my home country Iran by the morality police for not adhering to hijab standards. I was transferred to a detention centre, and what I saw there took me by surprise.
Iranian women are not afraid of these detentions any more. They are usually released within a few hours, and afterwards they go back to the same loose, half-hearted form of hijab they were wearing before. The morality police have been defeated by the daily actions of millions of ordinary Iranian women, and this policing is failing to bear the fruit its founders had hoped for. Women have challenged the official standards of hijab promoted by the government and have pushed boundaries by simply refusing to keep out of public.
Upon my release, I realised that I had not been aware of the significance of the daily, uncoordinated, decentralised acts of resistance put up by Iranian women.
Iranian women provide opportunities for collective action through their everyday defiance of government policies. Their acts of resistance, though mainly instinctive and uncalculated, are the most important instruments in the development of collective identities.
Obviously, I recognise Pakidize's right – and that of every other human being – to choose how to dress and I applaud her insistence on her rights as a woman. But I believe that her choice to boycott the games is misguided.
A reductionist approach to the mandatory hijab has, in the past, functioned as a pretext to reinforce a rift between Iran and the west, as well as insinuating that Iranian women are passive beings who simply lack the will to improve their situation.
Lack of knowledge about the complex networks of Iran's patriarchal system and misunderstanding the issue of gender in Iran has prompted simplistic campaigns outside Iran. These campaigns focus solely on the law requiring hijab and overlook the activism of Iranian women not just against this oppressive law, but also against other forms of prejudice, from social and economic to political discrimination. There is the implication that Iranian women need a foreign saviour to be liberated from their own country's rules.
It is Paikidize's right not to adhere to the compulsory hijab, a visible form of oppression, but boycotting the event and not traveling to Iran will not help Iranian women realise their demands. The Iranian women's movement for equality began decades ago and Iranian women have endured heavy costs in this path.
As an Iranian woman who fights for women's rights, I would like to extend an invitation to Paikidize to travel to Iran and to see our society with her own eyes , so that she can learn and recognise the achievements of Iranian women. It is an invitation for her to familiarise herself with the daily lives of a nation that, consciously or unconsciously, has not acquiesced to oppression.
Presenting the international community with a one-sided narrative is ineffective. In order to fight oppression, we should not act as saviours, but stand beside each other in solidarity and sympathy. A boycott is not the way.
https://www.theguardian.com/commentisfree/2016/oct/13/chess-championship-boycott-iranian-women-iran-hijab
--
URL: https://newageislam.com/islam-women-feminism/iranian-child-bride-be-executed/d/108848
New Age Islam, Islam Online, Islamic Website, African Muslim News, Arab World News, South Asia News, Indian Muslim News, World Muslim News, Women in Islam, Islamic Feminism, Arab Women, Women In Arab, Islamophobia in America, Muslim Women in West, Islam Women and Feminism